Planning a trip to Paris?
Take a look at the Black Friday deals and sales on offer for Paris travel, and scoop up savings of up to 25% or more through Thanksgiving weekend. Cyber Monday discounts may save you even more.
Here are the 2 most important tips for protecting your Black Friday savings investments:
1. Make sure the travel deals you book are refundable, offer free cancellation, or can be rescheduled, if you have any concerns about your plans changing, especially as the Covid pandemic lingers on. For example, book refundable instead of non-refundable hotel reservations. If you make flight reservations, know what the airline's policies are if you need to change your dates - or cancel your flight completely.
2. Know that you must be fully vaccinated against Covid to enter France. If a third dose is available to you, get it at least two weeks before your departure date to be fully protected. Nothing wipes out travel savings faster than unexpectedly having to extend your stay due to a breakthrough case.
Black Friday for 2021 falls on Friday, November 26. Cyber Monday takes place on November 29.
Some of the sales last several days or even a week, and many start well before Thanksgiving this year.
Here's a round-up of some of the best Black Friday and Cyber Monday deals for saving on travel to Paris - and many other locales.
Keep checking back, because we post more additions as they get revealed.
Please note: Black Friday Deals posted below are from last year, as 2021 deals have not yet been announced. We're leaving them up to give you an idea about what to expect this year.
---
Black Friday Deals from Booking.com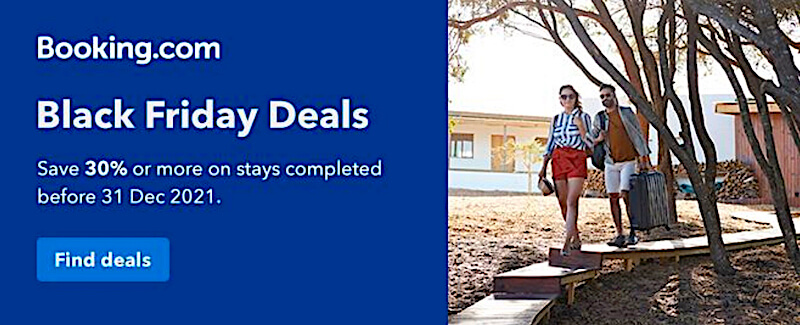 Booking.com's Black Friday deal saves you 30% or more off select properties in Paris and other cities. Look for last-minute savings and deals, or book farther in advance.
You have until December 31, 2022 (to be confirmed for 2021) - yes, until the end of next year! - to complete your stay, which is a phenomenal deal.
How to get Booking.com's Black Friday discount: To receive the 30% and higher savings, you must make your reservations through the Booking.com Black Friday deals page, which will show you all the fantastic deals available for the location where you want to stay.
All you have to do is go to the booking page, enter your destination and travel dates, and you'll see the fantastic deals.
Book your hotel or apartment by Tuesday, December 1. That's almost 2 whole weeks to book - but don't wait because the best properties in the best locations will fill up fast.
Stay dates are between now and December 31, 2021.
And don't forget - your savings will be at least 30%!
---
Black Friday Deals from Hotels.com

Hotels.com's Black Friday deal offers you savings of up to 50% off select properties in Paris and other places around the world. Best of all, many offer free cancellation, which means you can lock in savings right now with no risk if your plans change later.
To see the special savings deals for Paris, enter "Paris, France" and your dates into the search bar.
Hotel rates in Paris and just about everywhere else are already amazing low - so with these extra Black Friday savings, travel is more affordable than ever.
Still deciding on a Paris hotel? Check out our most popular articles
---
Black Friday Sales at Amazon (ad)

Black Friday sales at Amazon.com
range from good to phenomenal. And they're starting earlier than ever this year - and with deeper discounts!
The fastest way to find Amazon's deals on what you want is to go to the Black Friday deals page and enter what you're looking for in the search box at the top.
For example, let's say you want to relax with fantastic audio but block out most of the noise from your flight when traveling to and from Paris but still enjoy fantastic audio quality while listening to music. Just enter wireless noise-canceling headphones into the search box, and you'll see a page of deals, with Deals of the Day at the top.
But you can also just scroll down the page to see what's available, or click on one of the product category icons at the top.
Although Amazon's Black Friday discounts and deals typically start on the Friday before Thanksgiving and run through Black Friday, the day after Thanksgiving - but this year, they're offering Early Black Friday Deals starting right now!
---
Black Friday Deals from CheapOAir
Get Black Friday/Cyber Monday savings at CheapOAir.com on their already-low prices when you use the code BFRIDAY35 at checkout when booking flights.
How much can you save on flights with CheapOAir.com? Up to $35.
Here's how to do it: Book Your Trip by December 5 and at checkout, enter BFRIDAY35 to save on flights.
More Special Deals & Savings from CheapOAir
- Cyber Monday Deals - Save up to $35 on flights by using promo code CMONDAY35 when you book by December 6 - Book Now!
- Travel Tuesday Deals - Save up to $25 on flights by using promo code TRAVELT25 when you book by December 7 - Book Now!
- New Year Travel Deals - Save up to $25 on flights with promo code NY25 when you book by January 2, 2021- Book Now!
More Great Deals from CheapOAir
Vacation Packages - Save when you bundle your trip! Take up to $30 off with promo code VP30 through 12/31/20 - Book Now!
Exclusive Car Deals - Save on your rental car now! Save up to $10 with promo code CAR10 through 12/31/20 - Book Now!
---
Why You Can Save BIG on Black Friday and Cyber Monday
If you're not from the U.S., you may be wondering: What exactly is Black Friday? Or Cyber Monday? And how does Thanksgiving come into play?
In short, Black Friday is the day after the American Thanksgiving holiday (the 4th Thursday in November) when shoppers traditionally flood into retail stores (or browse online) to start holiday shopping.
To compete for these customers, retailers offer big discounts on Black Friday - but many merchants now extend the sales throughout all of the week. Online vendors vie for shoppers with their own large discounts on Cyber Monday, the first day of the following week - but as part of the general grab for customers, online sales start well before Thanksgiving as well.
Over the past couple of decades, Black Friday and Cyber Monday have become the most important sales period of the year for savvy shoppers as brands around the world offer the discounts.
---
Plan Ahead for Black Friday Bargains
Sometimes you have to move fast to grab the best Black Friday savings.
If you want to scope out possibilities and target your top choices for savings before the sale, you can get a head start on the competition by checking out these categories:
Paris Attraction Tickets, Tours, & Cruises
Check out Paris skip-the-line attraction tickets, tours, cruises, day trips, and other experiences offered by GetYourGuide now.
Due to distancing requirements caused by the current coronavirus pandemic, attractions can accept far fewer visitors at a time than normal, and only small groups (no large groups) can be accommodated on tours - so competition for available slots is much heavier than normal. Plan accordingly!
---
Paris Hotels & Apartments
You'll have a better chance of scoring the best deal on your Paris hotel and apartment if you already know exactly where you want to stay once the Black Friday deals become available, so that you don't waste time choosing while others snap up the cheapest rates.
Use this Paris accommodations map from Booking.com to help you find a hotel or apartment in your favorite neighborhood. Enter your travel dates to see what's currently available and find the best rates:
Check out the newest Paris hotels
If you're not sure which neighborhood you want to stay in, use our Paris arrondissement map to figure out locations and which district will be the most convenient for the attractions and activities on your "bucket list."
Sometimes you have to move fast to grab the best Black Friday savings.
---
Are Black Friday Sales Banned in France?
Black Friday sales have been a topic of controversy in France since they first appeared in 2013 because of concerns that they glorify consumerism and wasteful over-consumption that contributes to endangering the planet while encouraging the underpayment of laborers, manufacturers, and independent retailers.
A movement underway in France seeks to ban these sales because they lead to wasteful over-consumption. In 2019, the French Parliament outlawed any advertising of Black Friday sales or discounts in France, and hundreds of retailers and brands boycotted Black Friday.
So the current status is that while stores can't advertise in France about their Black Friday sales, they can still discretely hold them and of course shoppers can also buy online from international companies that do advertise Black Friday deals. With the sale of non-essential items halted right now due to the current lockdown related to the worsening of the Covid-19 pandemic, most retailers are closed anyway. Stay tuned for possibly more developments next year!
---
Unadvertised Black Friday Sales & Bargains in Paris
Finally, if you're lucky enough to be in Paris during the Black Friday period (or are in the process of planning a visit), keep in mind that many local stores will be featuring some terrific markdowns, discounts, and sales to entice early holiday shoppers - even if they're not labeled "Black Friday Soldes."
Although Thanksgiving may be a U.S. celebration (and Canadian, too, in October ), Black Friday sales have become a global tradition - so don't miss this opportunity to stock up on French fashion and home goods!
---
Pin Now, Read Again Later
---