Planning a trip to Paris?
Take a look at the Black Friday deals and sales on offer for Paris travel, and scoop up savings of up to 25% or more through Thanksgiving weekend. Cyber Monday discounts may save you even more.
Black Friday for 2020 on Friday, November 27. Cyber Monday is on November 30.
Some of the sales last several days or even a week.
Here's a round-up of some of the best Black Friday and Cyber Monday deals for saving on travel to Paris - and many other locales - right now. (Please note - these deals were from last year - but they'll give you an idea about what to expect in 2020)
Keep checking back, because we post more additions as they get revealed later in the week.
Black Friday Discounts from Get Your Guide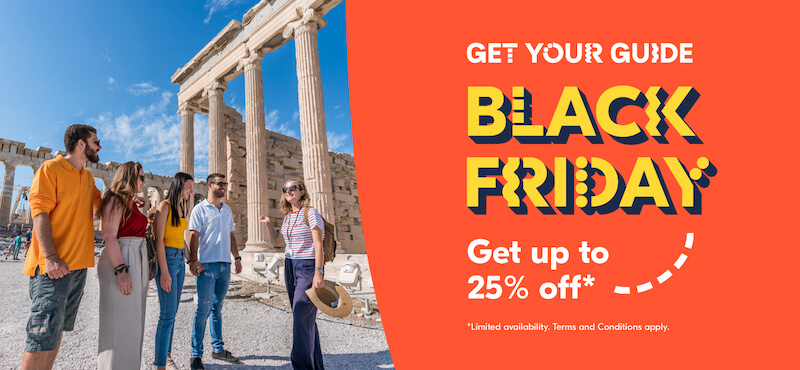 Get Your Guide gives you up to 25% off on all tours, entrance tickets, and experiences in Paris - and everywhere else in the world.
You get 25% off on all of GYG's top-rated "Originals" tours, and 15% on all* other activities. (*There are a few exceptions for tours provided by 3-4 German suppliers - but that doesn't affect Paris.)
How to get Get Your Guide's Black Friday deals: To receive the 15% discount, you must enter BLACKFRIDAY19 in the "Enter gift code or promo code" box. To get GYG's 25% promo discount on the Originals tours, you must make your booking through the GYG Black Friday booking page, which automatically applies your 25% discount code as you checkout.
Need some ideas? Book skip-the-line tickets for museums and other attractions such as the Eiffel Tower and Disneyland Paris, a guided tour of the Catacombs or Versailles Palace, a day trip to Giverny, a wine tasting and dinner experience in Paris, a French pastry making class - the possibilities are almost endless!
Here's this deal's superpower: even if your trip is many months away - let's say, next summer or fall - you can use GYG's Black Friday sale to book your tours now and lock in the 15-25% savings.
Get Your Guide's Black Friday discounts and savings start on November 28 (Thanksgiving Day) at 9am PST and run through November 29 (Black Friday) until 11:59pm PST.
Black Friday Deals from Booking.com

Booking.com's Black Friday deal saves you 40% or more off select properties in Paris and other cities. Look for last-minute savings and deals, or book farther in advance.
How to get Booking.com's Black Friday discount: To receive the 40% and higher savings, you must make your reservations through the Booking.com Black Friday deals page, which will show you all the fantastic deals available for the location where you want to stay.
All you have to do is go to the booking page, enter your destination and travel dates, and you'll see the fantastic deals.
Book your hotel or apartment starting Monday, November 25 through Monday, November 2nd. That's a whole week to book - but don't wait because the best properties will fill up fast.
Stay dates are between November 27 and March 31.
And don't forget - your savings will be at least 40%!
Black Friday Sales at Amazon

Black Friday sales at Amazon.com
range from good to phenomenal.
The fastest way to find Amazon's deals on what you want is to go to the Black Friday deals page and enter what you're looking for in the search box at the top.
For example, let's say you want to relax with fantastic audio but block out most of the noise from your flight when traveling to and from Paris. Just enter wireless noise-canceling headphones into the search box, and you'll see a page of deals, with Deals of the Day at the top.
But you can also just scroll down the page to see what's available, or click on one of the product category icons at the top.
Amazon's Black Friday discounts and deals typically start on the Friday before Thanksgiving and run through Black Friday, the day after Thanksgiving - so from November 20 through November 27.
Black Friday Deals from CheapOAir
Get Black Friday/Cyber Monday savings at CheapOAir.com on their already-low prices when you use the code BFRIDAY40 at checkout when booking flights, hotels, cars, and vacation packages.
How much can you save with CheapOAir.com? Up to $40 on flights, $10 on hotels, and $8 on cars and vacation packages.
Here's how to do it: Book your trip by December 2 and at checkout, enter BFRIDAY40 for flights, BFRIDAY10 for hotels, BFRIDAY8 for cars, and BFVAC for vacations.
Why You Can Save BIG on Black Friday and Cyber Monday (& Why these Sales May Be Banned in France)
If you're not from the U.S., you may be wondering: What exactly is Black Friday? Or Cyber Monday? And how does Thanksgiving come into play?
In short, Black Friday is the day after the American Thanksgiving holiday (the 4th Thursday in November) when shoppers traditionally flood into retail stores (or browse online) to start holiday shopping.
To compete for customers, retailers offer big discounts on Black Friday - but many merchants now extend the sales throughout all of the week. Online vendors vie for shoppers with their own large discounts on Cyber Monday, the first day of the following week.
Over the past couple of decades, Black Friday and Cyber Monday have become the most important sales period of the year for savvy shoppers as brands around the world have started offering the discounts.
But are they sustainable? A movement underway in France may ban these sales because they lead to wasteful over-consumption, which contributes to endangering the planet. The sales are safe for now - but stay tuned.
Black Days from Nat & Nim
Finally, here's a too-good-to-pass-up Black Days deal from our favorite Paris handbag designers, Nat & Nim (look for the Black Days link on their website), valid between November 11 and December 3: a huge selection of their fabulous bags (including current styles) as well as some shoes and other leather accessories are on offer for 30%-50% off.
You can find Nat & Nim in Paris at 70 Blvd Beaumarchais 75011 and at 12 Rue Montmartre 75001, but if you're in the U.S. or another international location, don't worry - they ship overseas as well as within Europe at a reasonable cost, or you can shop on their English-language website.
---