The Eiffel Tower - Le Tour Eiffel - symbolizes the city of Paris to the world. The 7+ million visitors who visit each year prove its enduring popularity!
If you are planning to be among them during your trip to Paris, you've probably heard horror stories about long waits in the ticket lines - up to 4 hours and even longer during the busiest (and often the hottest) times.
Unfortunately, these stories are true.
Especially if you visit during the summer or on a sunny weekend without a reservation that lets you skip the ticket line, you'll swear at least half of those 7 million visitors are waiting to buy tickets on the same day you are.
Book Your Eiffel Tower Tickets Now
But don't worry - this is where our list of seven easy ways to see the Eiffel Tower comes in.
Once you know all the ways to avoid waiting in line for tickets, you can choose the best strategy for your visit, and spend your time enjoying the views as you create priceless memories.
Because after all, there's nothing else quite like the thrill of experiencing the Eiffel Tower!
Book your Eiffel Tower tickets now:
Top photo: The Eiffel Tower, seen from Trocadero Gardens, (c) Paris Discovery Guide
Paris Discovery Guide is a reader-supported publication. When you buy through our links, we may earn a commission at no additional cost for you. Learn more
---
Eiffel Tower Ticket Requirements: A Quick Overview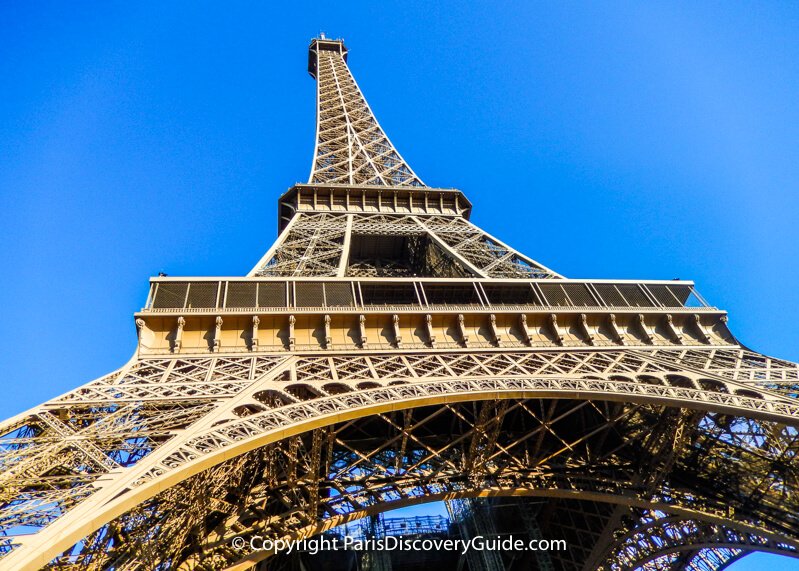 Let's start with a quick refresher of what you can experience inside the Eiffel Tower, how to get to each of the three floors above ground level, and available ticket types.
As you may already know, the Eiffel Tower has three platforms, or floors, above ground level for you to visit, and each offers unique amenities and of course, its spectacular 360 degree views.
You can reach the 1st and 2nd Levels by either stairs or elevators. Going up, elevators stop only at the 2nd Level, but do stop at the 1st Level on the way down. A ticket is required to access the 1st and 2nd Levels. Several types of tickets are offered, based on whether you want to take the elevator and/or stairs.
You can go up to the Summit (3rd and highest) Level by elevator only - but it is a different elevator than those going from the Ground Level to the 2nd Level, so to go to the top, you always have to change elevators and must have a separate ticket.
If you visited in the past, you may remember how you could buy Eiffel Tower Summit tickets from yellow ticket machines on the 2nd Level - but they have been removed. 
Now, if you want to visit the 3rd Level, you must purchase a Summit ticket in advance.
Eiffel Ticket Types
You must have Eiffel Tower reservations such as a ticket (or a tour voucher, or Eiffel Tower restaurant reservation confirmation) to enter the Eiffel Tower. Four types of tickets are available based on which floors you want to explore, and whether you want to ride or climb.
Here are your ticket choices:
1. Ticket to 2nd Level by elevator (elevator stops at the 1st Level on the way down)
2. Ticket to the Summit (Top) Level by elevator (elevator goes to the 2nd Level; you change to another elevator to go to the top; on the way down, you get off the elevator on the 2nd Level and change to another that stops at the 1st Level on the way down)
3. Ticket to the 1st and 2nd Level by stairs
4. Ticket to the 1st and 2nd Levels by stairs, and to the Summit (Top) Level by elevator; coming down, you get off the elevator at Level 2 and take the stairs down to the Ground Level (and no, you can't sneak onto the other elevator).
So how do our 7 easy ways to avoid the Eiffel Tower ticket lines help you? Well . . . there are lots of different ways to get your ticket without standing in long lines.
We'll show you the pros and cons of each option - plus a couple of ways to experience the Eiffel Tower without tickets.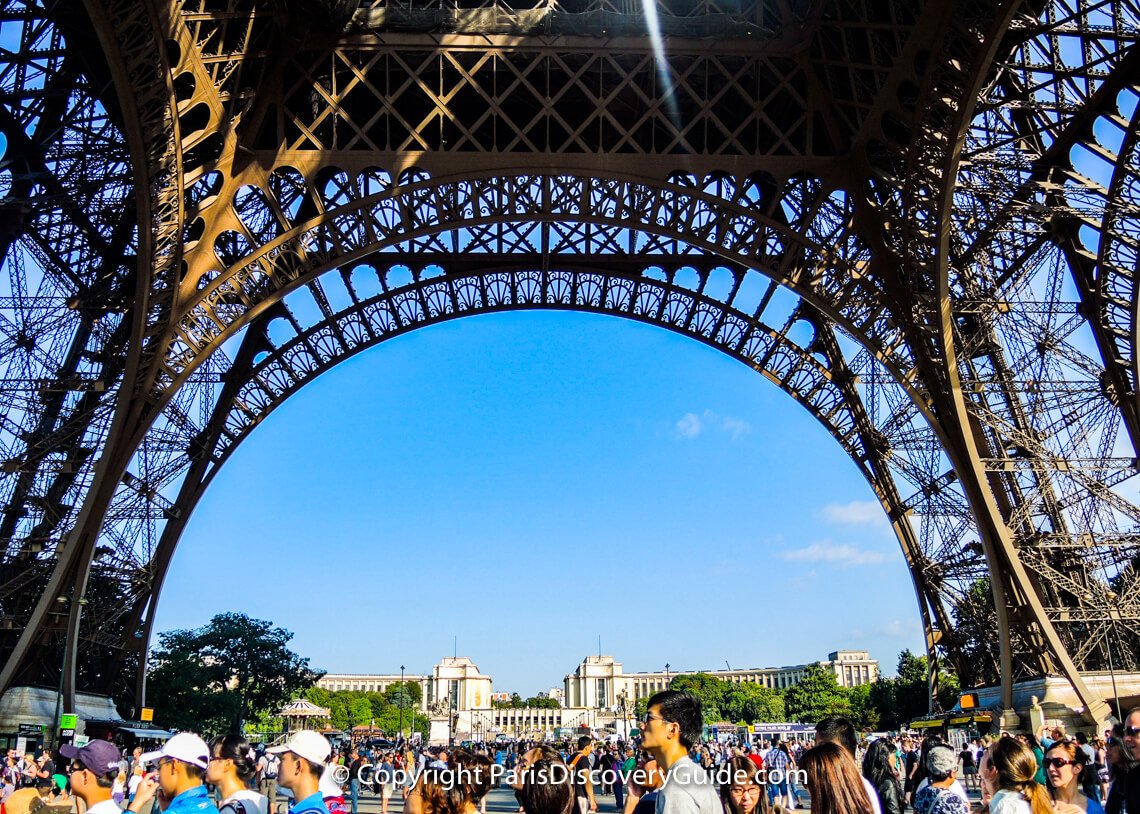 ---
Option 1: Buy Your Eiffel Tower Entrance Tickets in Advance
You can choose from 2 ways to buy your tickets in advance online:
Buy Your Tickets on the Eiffel Tower Website
Go to the Eiffel Tower's website and make your Eiffel Tower reservations by buying your tickets online for a specific date and time, and print it on your home printer.
You'll pay the same price as you would at the Eiffel Tower's ticket window.
When you arrive at the Eiffel Tower, you skip the ticket line, although you'll still need to go through a couple of security checks and perhaps wait for the elevator to the 2nd Level.
Sounds good, right? It is - but be aware of these 3 "catches":
Catch #1: Only a limited number of tickets are offered online. They become available about 2 months in advance and usually sell out quickly, so to get the best (or any) date/time reservation choice, you need to start looking for tickets as soon as they are available. If you can't get them for the date/time you want, sometimes a few become available later - but they also sell out quickly.
Catch #2: These tickets are non-refundable and cannot be exchanged for another date or time slot. If your plans change for any reason including bad weather, illness, delayed flights, a transportation strike, or anything else - or even if you arrive more than half an hour late for your time slot for reasons beyond your control such as an unexpected delay on the metro - you forfeit the cost of your tickets.
Catch #3: The Summit occasionally closes due to strong winds or other dicy weather conditions. Less frequently, the entire Eiffel Tower closes due to labor strikes or security precautions. Occasionally, a celebrity will buy out the whole place and host a wedding there. If you have already purchased tickets, getting a refund may be difficult or impossible, as the Eiffel Tower website does not appear to provide a way to do this.
Buy "Skip-the-Line" Eiffel Tower Tickets through a Tour Company
Tour companies are much more likely to have skip-the-line Tour Eiffel reservation tickets available until almost the last moment, long after the last time slots get snapped up on the Eiffel Tower's website.
Do "skip-the-line" tickets really let you skip the long lines?
Yes... and no. You do get to skip the very long lines of people waiting to buy tickets on site. You do NOT get to skip the security lines, but those lines are much shorter and typically move more quickly.
Skip-the-line tickets bought through tour companies usually include the services of a "host" or "greeter" who will escort you and your group through the "groups" security line, which is almost always faster (and usually a LOT faster) than the non-group entry. A host or greeter does not provide a tour, but will expedite your entry.
You can choose skip-the-line tickets to the 2nd Level or 2nd Level plus Summit - just like the options offered on the Eiffel Tower's website.
Tour companies also offer stairs-only tickets. You can usually select a "Summit" options, which means that after you've climbed the 704 steps to the Tower's 2nd floor, you will take an elevator to the top.
Some skip-the-line tickets through a tour company may even be refundable up until 24 hours before your visit (read the details very carefully when booking to make sure).
Tickets booked through tour companies typically cost more. However, because you usually can buy them much closer to your preferred date and you may be able to cancel or change them if your plans change (or if you want to avoid a rainy day), you have a much better chance of getting tickets for the date/time you want, and you reduce the risk of not being able to use them.
---
Option 2: Tour the Eiffel Tower with a Guided Tour
For the fastest and most stress-free access to the Eiffel Tower as well as an enjoyable and informative experience, book a tour with a guide.
Your guide will make the Eiffel Tower reservations and will bring you (and a small group of usually 10-20 others) to the site, expedite your entrance through a special (and faster) security check, accompany you onto the elevator up to the 2nd Level, and give you lots of interesting information about the Eiffel Tower.
If your chosen tour includes the Summit, you'll either do it on your own or accompanied by your guide, depending on your particular tour.
Here are two of the most popular guided Eiffel Tower tours:
More Eiffel Tower Skip-the-Line Experiences
---
Option 3: Make Lunch or Dinner Reservations at an Eiffel Tower Restaurant
You can choose from two enticing restaurants within the Eiffel Tower where you'll enjoy wonderful views while you enjoy your meal:
These reservations give you restaurant access only; if you want to spend time exploring the Eiffel Tower beyond the restaurant, you'll need to get admission tickets.
In case you've heard or read that in the past, restaurant reservations would get you into the rest of the Eiffel Tower, that was indeed true... in the past. Today, that's no longer possible due to security barriers.
Are Jules Verne and Madame Brasserie expensive restaurants? Yes - but you get a wonderful experience. In addition to a delicious meal, you also get priceless city skyline views from an iconic Paris location.
Does the Eiffel Tower have other less-expensive places to eat?
Yes - although you'll need to enter the Tower with a regular admission ticket or group.
Snack bars on the ground, first, and 2nd (in the U.S. and Canada, that would be first, second, and third) levels provide a variety of affordable (although still somewhat pricey) casual choices. On the 2nd floor, you can also stop by the tempting Pierre Hermé macaron bar.
And don't forget the Champagne Bar on the Eiffel Tower's top level - the perfect spot to toast the City of Light.
---
Option 4: Get Eiffel Tower Skip-the-Line Tickets in Combo with the Moulin Rouge, Louvre Museum, or Seine River Cruise
If you want to combine an Eiffel Tower visit with sightseeing to other top Paris attractions, look for a combination tour package to make the most of your time. You'll find a variety of options with skip-the-line tickets, so pick the one you like the best.
These combos can also be a good strategy when other Eiffel Tower ticket options are sold out.
Here are 3 of the most popular tour combinations:
---
Option 5: Stand in Line to Get Your Tickets
Standing in line to buy Eiffel Tower admission tickets is a feasible option - but ONLY if there are no crowds or you have the time and patience to spend in line for hours.
Those "only if" conditions generally rules out summer, weekends as well as many week days in other months popular with tourists such as April, May, September, and October, French and other European school holiday weeks, and periods around major events attracting visitors such as the Paris Marathon
Avoid the wait - get skip-the-line tickets
So what does that leave?
- Bright, sunny (although chilly) days in March and November when the sky is crystal-clear.
- Those special winter days in January or February when gently falling snowflakes transform the city (but don't accumulate enough for the Tower's 3rd level to close).
- December evenings when you want an aerial view of the sparkling holiday lights twinkling across the city.
In fairness, at even the busiest times you can occasionally find shorter lines, especially late at night close to closing time - but you can't count on it, even on those chilly, rainy Paris afternoons when you might think no one else would be crazy enough to be there (but they are!).
If you're visiting Paris for a short time and don't want to risk the hassle and stress of standing in line for hours, you're far better off getting skip-the-line tickets in advance. Think of it as insurance against wasting hours of your precious time in Paris.
---
Option 6: Buy Walk-Up Stairs-Only Eiffel Tower Tickets - Bonus: Great Exercise & Usually No Ticket Line!
If you want Stairs-Only tickets to the 2nd Level, you used to have to buy them onsite or through a tour operator because they weren't offered on the Eiffel Tour's website.
The good news: 1) now, sometimes you can buy them online (but sometimes not, depending on your date), and 2) but if you do decide to buy onsite, there is often a dedicated line for Stairs-only tickets and it usually moves quickly - so this is the one time (other than winter months) when buying your tickets onsite makes sense.
Don't forget, though, you can usually get stairs-only tickets online through a tour company even if the Eiffel Tower's website is sold out, or if you want the options of taking the elevator to the Summit level at the top.
Assuming you're reasonably fit and don't mind heights, climbing the stairs is a fabulous experience because of the wonderful perspectives of Paris as well as close-up views of Eiffel Tower mechanics. (If heights make you feel queasy, do yourself a huge favor and go up by elevator, and maybe also consider skipping the Summit.)
Stair tickets are a particularly popular choice of families visiting with kids (beyond the toddler stage) and teens since the climb burns up a lot of excess energy.
---
Option 7: See the Eiffel Tower Without Eiffel Tower Tickets
This is the easiest of all our 7 Eiffel Ticket ticket options - avoid the need for a ticket altogether.
If you're in Paris for just a short time and want to see the famous "Iron Lady" but not tour it - or maybe you don't like heights - you'll have plenty of opportunities to get wonderful ground-level (or Seine River-level, if you take a cruise) views of the famous Paris attraction.
Here are just a few of the many excellent Eiffel Tower viewing locations around the city:
---
More Articles about How to See Top Paris Attractions
---
Want to Save on Your Paris Hotel?
Check our tips on how to find discounts, deals, and bargains for Paris hotels. Whether you're looking for cheap accommodations or want to pay less for luxury, we'll show you how to save on hotels in Paris.
Here are some shortcuts: