8th Arrondissement Paris hotels and apartments give you the perfect beginning point for exploring top attractions, shopping, and dining in this wealthy part of the city.
Check out all the designer showrooms as you stroll down famous Champs Élysées, enjoy sweeping Paris views from the top of the Arc de Triomphe, and reward yourself in the fashion boutiques along the Golden Triangle and Place de la Madeleine.
Need a break? You'll have your choice of the 8th district's numerous wonderful restaurants, bistros, and cafés.
Staying in the 8th Arrondissement also lets you explore lesser-known treasures: Parc Monceau, Musée Jacquemart-André, the (free) Museum of Art in the Petit Palais. Be sure to stop by Place de l'Alma on the Seine River for superb Eiffel Tower views.
Not surprisingly, the dazzling 8th district has more than its share of 4-star and 5-star properties, including several with the coveted "Palace" designation given to only a select group of special hotels offering superb facilities, service, and pampering. If you're looking for budget accommodations, that's hard to find in the 8th, although we do recommend a few options including a popular youth hostel in the "hidden gem" category.
Find best things to do & see in Paris 8
Whichever hotel or apartment you choose, you'll love staying in the leafy 8th arrondissement - the perfect location for exploring Paris!
Top photo: Barrière Hotel Le Fouquet's Paris on Champs Élysées in Paris's 8th Arrondissement, (c) Paris Discovery Guide
Paris Discovery Guide is a reader-supported publication. When you buy through our links, we may earn a commission at no additional cost for you. Learn more
---
Where to Stay in Paris 8th District
Paris Marriott Champs Elysees Hotel
★★★
★★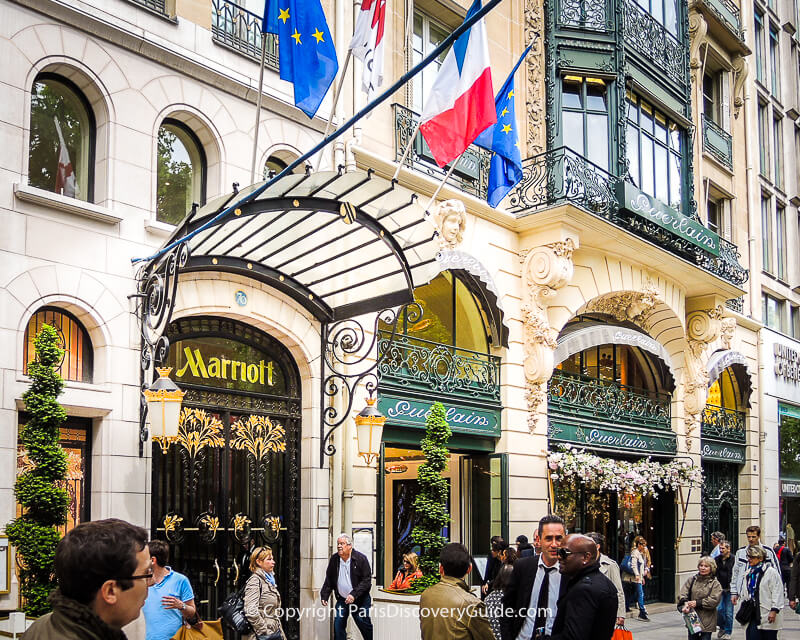 70 Avenue des Champs-Elysees, 8th Arrondissement
The posh 5-star Paris Marriott Champs Elysees Hotel overlooks the famous avenue, and puts you in the perfect location to cheer for Paris Marathon runners in April, watch the pageantry of the Bastille Day parade in July, and the light show at the Arc de Triomphe on New Year's Eve. Of course you're also in the perfect location for shopping in the Golden Triangle designer boutiques, visiting the neighborhood's top museums as well as exhibitions and shows at the Grand Palais, and hopping on the metro to explore the rest of Paris.
You'll also enjoy all the amenities that 5-star Marriotts are known for, including a well-equipped fitness room and sauna, onsite dining, and a sky-lit atrium bar where you can celebrate your visit to the City of Light with a glass or two of your favorite French Champagne.
---
Hotel La Canopée
★★★
15 Rue de Penthièvre, 8th arrondissement
Chic and modern with 25 well-appointed guest rooms, 3-star Hotel La Canopée offers lovely parquet floors, air conditioning, in-room safes, and super-comfy beds. As a bonus, there's a small fitness room on the lower level - rare in a 3-star hotel, and not common even in 4-stars. You can enjoy breakfast and your morning coffee on a terrace offering tranquil garden views.
Another plus: affordable rates, especially considering the hotel's superb location close to Champs-Élysées, Jacquemart-André Museum, Madeleine Church, and all of the wonderful designer boutiques along Rue du Faubourt Saint-Honoré. You'll also find lots of excellent restaurants and bars nearby.
---
Hotel de Crillon
★★★★★

Palace Hotel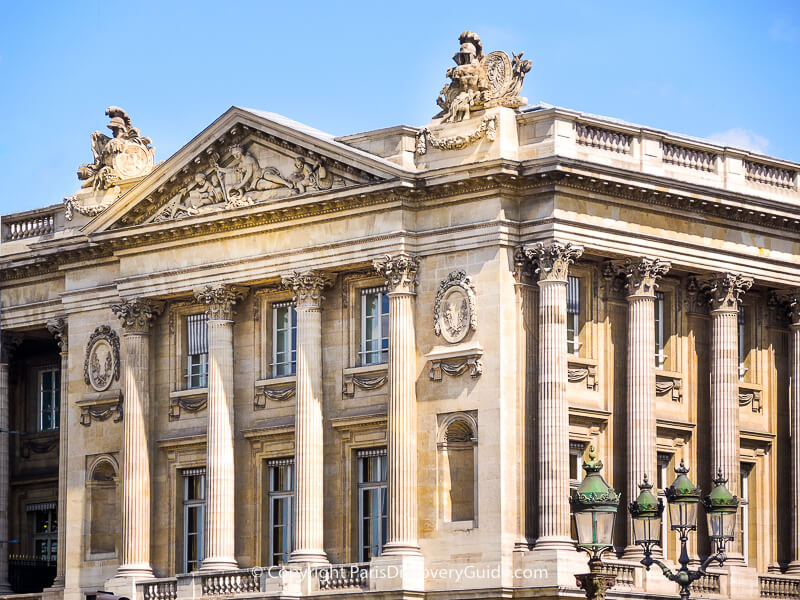 10 Place de la Concorde, 8th arrondissement
With a magnificent location on Place de la Concorde close to Tuileries Garden in the heart of Royal Paris, Hotel de Crillon holds the coveted "5-star Palace" designation. From its gorgeous French neoclassical facade to its sumptuous public spaces and guest rooms, the Crillon exemplifies serene elegance, understated luxury, and comfort.
Considered by some to be Paris's most elite hotel ever since Marie-Antoinette took piano lessons here, the Crillon counts numerous celebrities, past and present, among its guests.
Its 78 guestrooms, 36 suites, and 10 "signature" suites offer a range of choices, including a mega-suite with a 2-ton bathtub crafted from Carrara marble and and even larger suite, said to be the biggest in the city.
Beautifully ornate public areas combine with contemporary luxury in the guestrooms to provide a welcoming cocoon, with attention to details such as underfloor heating in the spacious marble bathrooms, luxurious Italian linens, and impeccible service.
Relax in the spa, float serenely in the indoor swimming pool, and dine in the hotel's gastronomic restaurant and the more casual brasserie. A secluded outdoor terrace provides the perfect oasis for afternoon tea. For a special treat, head to the bar where you can choose from over 200 kinds of Champagne and savor your choice under the beautifully restored hand-painted ceiling.
---
Fauchon L'Hotel
★★★★
★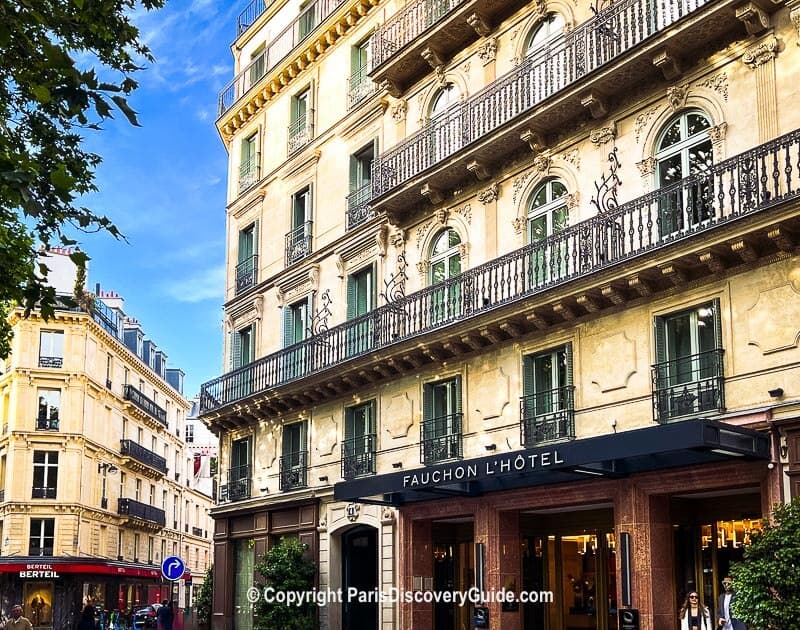 4 Boulevard Malesherbes, 8th Arrondissement
Located in an elegant Haussmannian building just a few steps from Place de la Madeleine and all of its designer boutiques, the luxurious 5-star Fauchon L'Hotel offers 54 guestrooms, suites, and family rooms featuring neutral shades punctuated by pops of hot pink.
You can pamper yourself with treatments in the hotel's luxury spa, work out in the onsite fitness center, and perhaps best of all, sample all the gourmet treats at the famous food brand's Grand Cafe Fauchon and Tea Room.
You're also just a 5-10 minute walk from the Palais Garnier opera house, Tuileries Garden and the Louvre Museum, and some of the best city's best fashion boutiques and showrooms.
---
Barrière Hotel Le Fouquet's Paris
★★★★
★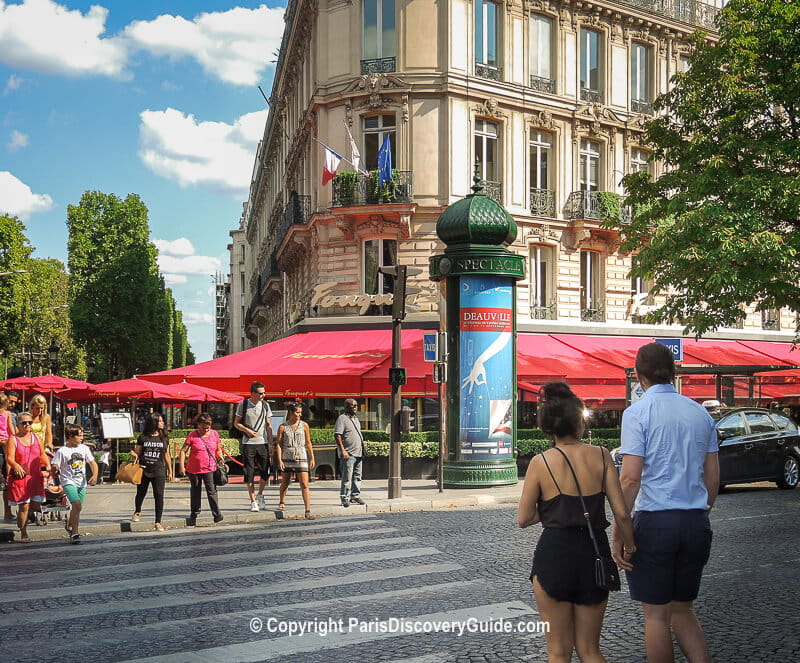 99 Avenue des Champs Elysees, 8th Arrondissement (shown at top of this article)
With a fantastic location on the corner of Champs Elysees and Avenue George V above the legendary brasserie Le Fouquet, Barrière Hotel Le Fouquet's Paris puts you in the perfect spot for your Parisian experience.
The decor in the hotel's 62 guest rooms and 39 suites is designed to evoke the ambiance of a luxury apartment.
A gorgeous indoor swimming pool and sauna, spa, and fitness room gives you the perfect place to relax after a day of shopping in the adjacent Golden Triangle district of designer showrooms and famous boutiques.
You're also just a 3-minute walk from the Arc de Triomphe, and close to numerous museums, restaurants, and top attractions.
For a special experience, indulge in fine dining downstairs at the famous Fouquet's restaurant, a listed historical monument featuring traditional brasserie decor, two fabulous terraces, and black and white photos of famous guests who have attended the prestigeous César Awards ceremony held here for the past 40+ years.
Tip: Even the smallest rooms at Le Fouquet's Paris are larger than many Paris apartments, and the largest suites are palatial.
---
Le Royal Monceau Raffles Paris
★★★★

★

Palace Hotel

37 Avenue Hoche, 8th Arrondissement

Expect a superb experience at Le Royal Monceau Raffles Paris and you won't be disappointed. Luxurious contemporary furnishings in the 85 spacious guest rooms and 64 palatial suites, the high levels of service that define the Raffles brand, and a perfect 8th arrondissement location just two blocks from the Arc de Triomphe and less than a 5-minute walk from Parc Monceau and Champs Elysees combine to give you the perfect place to stay in Paris.

Whether you relax in the hotel's renowned spa with a hamman and 23-meter pool, savor the choices of onsite dining, or simply enjoy the hotel's excellent art collection (perhaps with the guidance of the art concierge), you'll have a memorable stay that will inspire you to make the Royal Monceau your own special haven in Paris.
---
"Ash & Timber" Apartment near Arc de Triomphe & the Golden Triangle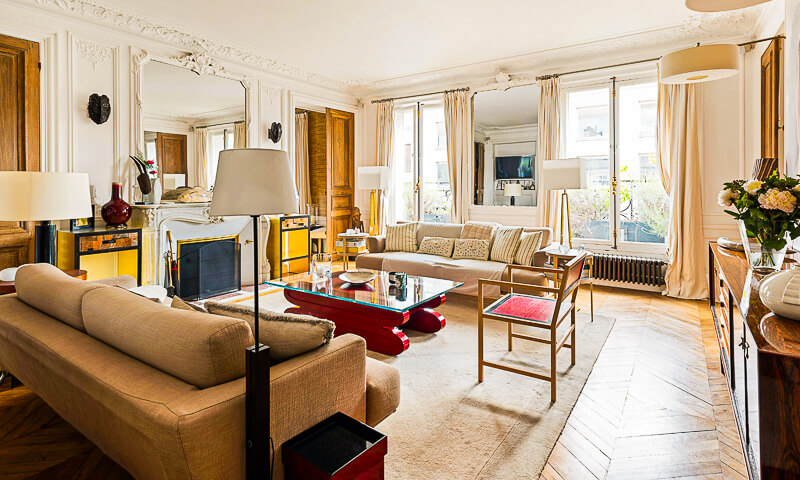 Prefer more space for your money than a hotel typically offers? The posh but homey "Ash & Timber" apartment near Arc de Triomphe, Champs Elysées, and the Golden Triangle luxury shopping area offers two bedrooms, two baths, and at over 1,500 square feet, a huge amount of space in Paris's most exclusive neighborhood.
The apartment features a mix of unique historic details with an eclectic mix of contemporary and vintage furnishings to give a fun vibe. A fantastic modern chef's kitchen, gorgeous marble bathrooms, and a long balcony give you plenty to enjoy.
Don't want to cook? Your host can arrange for a chef - or a baby sitter, if you prefer to go out.
---
Fraser Suites Le Claridge Champs Elysees
74 Avenue des Champs-Elysees, 8th Arrondissement
Located in a gorgeous 1914 heritage building, the newly renovated Fraser Suites Le Claridge Champs-Elysees offers a superb location a few blocks from the Arc de Triomphe with enviable views from its 114 serviced suites and apartments, including huge 3-bedroom penthouse spread offering the ultimate in convenience and privacy for families and friend groups.
You'll find a lot to enjoy onsite: a well-equipped gym, a dining room offering a sumptuous breakfast, and family-friendly touches including a welcome package for the youngest guests. But the real advantage to staying here is the excellent location on the most famous avenue in Paris bordering the Golden Triangle designer shopping mecca. You're also about a 2-minute walk from the Grand Palais, and just a few minutes more will take get you to Tuileries Garden and the Louvre Museum.
---
Monsieur George Hotel & Spa
★★★★
★
17 Rue de Rivoli, 8th arrondissement
Each of the 46 rooms and three suites at the super-chic 5-star Monsieur George Hotel & Spa offers a unique experience with designs ranging from Art Deco to Asian design, unified by luxurious fabrics, furnishings, and a deep sense of cocoon-like comfort.
Eiffel Tower views from some rooms, an onsite restaurant and bar, a wellness area with a hamman, spa, and fitness room, and a concierge service and tour desk give you everything you need at your fingertips, yet you're just a few steps away from Champs-Elysées and close to all the Arc de Triomphe, numerous museums and parks, and other top Paris attractions.
---
Suites & Hôtel Helzear Etoile
★★★★
12 Rue Christophe Colomb, 8th Arrondissement
You get the best of both worlds at the relatively new Suites & Hôtel Helzear Etoile: the service and management you'd expect in a 4-star hotel, plus a kitchenette in all of the suites and apartments. Located in a classic light-filled Haussmannian building with air conditioning, and an elevator, each of the 29 suites and apartments offer a unique layout and classic contemporary decor.
Start your day with the breakfast served by the hotel, and then take advantage of the superb location close to the Arc de Triomphe, Champs Elysees, and Golden Triangle boutiques.
Walk down to the Seine River, sample the neighborhood's fabulous bistros and restaurants, and stop by the Museum of Modern Art (free admission) to admire the monumental murals by Dufy and Matisse; the temporary (ticketed) exhibitions are also usually fantastic.
Like these suites? The owner has a very similar property, Suites & Hotel Helzear Champs-Elysees, located on Avenue Marceau in the next-door 16th arrondissement that's actually just a few feet away from the 8th - check it out
---
Le Bristol
★★★★★

Palace Hotel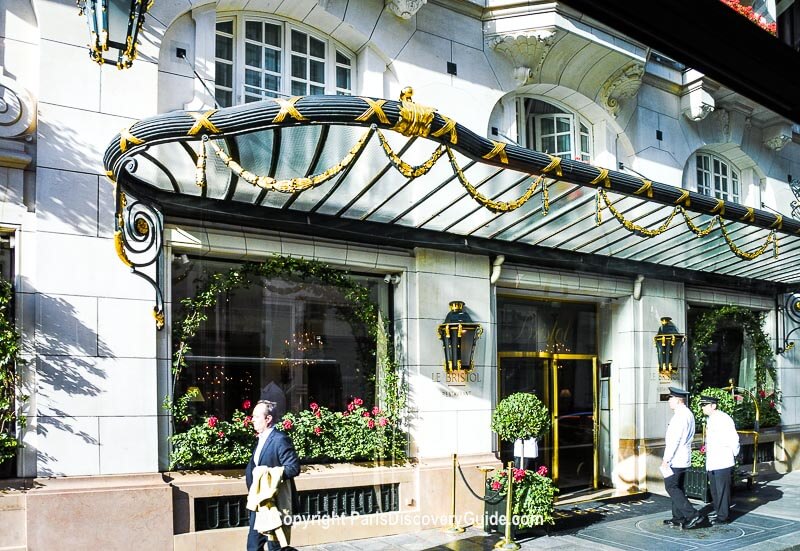 112 Rue du Faubourg Saint-Honoré, 8th arrondissement; nearest metro: Miromesnil
Tradition and personalized service reign at the 5-star "Palace" hotel, Le Bristol, where acres of pink and white marble, 18th century Regency style furnishings and antiques, crystal chandeliers, and magnificent fresh flower arrangements combine luxury and comfort.
Many of the 188 guestrooms and suites feature floral prints in the hotel's signature pink and green combination. Lavish marble bathrooms could double as spas - but the hotel also has an exceptionally good spa, as well as a wonderful rooftop indooor pool.
A robust children's program and facilities make Le Bristol a longtime favorite for families, and the exclusive Rue du Faubourg Saint-Honoré location in the 8th arrondissement puts you at the epicenter of exclusive fashion showrooms and art galleries.
---
Le Damantin Hotel & Spa
★★★★★
1 Rue Bayard, 8th arrondissement
Housed in a gorgeous newly renovated 19th century red-brick mansion overlooking the Seine River and Eiffel Tower, the family-owned Le Damantin Hotel & Spa offers every luxury in its 44 guestrooms and suites: luxuriously comfortable beds and seating, elegant decor, impeccable service, an ideal location within walking distance of Paris's top attractions, and a fantastic indoor pool, spa, wellness center, and sauna.
You'll also love the gorgeous marble bathrooms with huge tubs and separate showers. And as a bonus, the guestrooms are large by Paris standards. Book a room with a terrace, order a bottle of champagne, and you may never want to leave.
---
Hôtel Alfred Sommier
★★★★
★
20 Rue de l'Arcade, 8th Arrondissement
Built as a private mansion near fashionable Place de la Madeleine in 1860 by wealthy sugar refiner Alfred Sommier and now transformed by his descendant into a luxury hotel with 60 guestrooms and 20 fabulous suites, Hôtel Alfred Sommier gives you a unique opportunity to experience the gilded era of the Second French Empire.
You'll find all the stunning original architectural details still in place: gorgeous parquet floors, high ceilings and lots of gilded moldings, painted wall frescoes, a huge staircase - but plush beds, new marble baths, carefully selected modern furnishings, and up to date technology for all your electronic devices keep the ambiance fun and 21st century convenience. For a special treat, request a room with a balcony or the top suite with Eiffel Tower and Montmartre views.
---
Grand Powers Paris
★★★★
★
52 Rue François, 8th arrondissement
Although the Grand Powers Paris is not a new hotel, a recent top-to-bottom renovation makes this 50-room 5-star boutique hotel occupying a prime Golden Triangle location feel totally new, fresh, and dazzling. Luxurious furnishings, period details, chevron floors, and tranquil colors make the Powers an oasis amid in Paris's buzzy top location for haute-couture designer showrooms.
Relax in the onsite spa, work out in the fitness room, dine in the hotel's restaurant. For a special treat, request a room with a balcony and Eiffel Tower view. Traveling with your family? Book adjoining guest rooms or suites. There's a lot to love here, but your fondest memory after you return home may be the superb service.
---
Royal Madeleine Hôtel & Spa
★★★★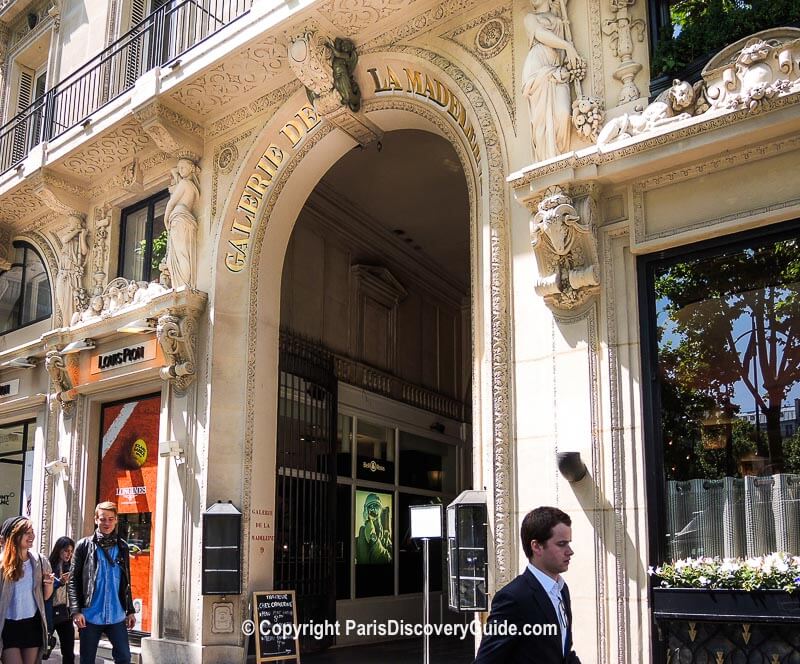 29 Rue de l'Arcade, 8th arrondissement
After a complete redesign, Le Royal Madeleine has reopened as a 4-star hotel with 59 guestrooms and suites with comfortable modern furnishings plus an onsite restaurant and bar close to Place de la Madeleine.
After a day of enjoying Paris, you can relax in the hotel's private heated pool, the spa with sauna, and the relaxing herbal tea room - or work off calories in the well-equipped fitness room.
---
La Clef Champs Élysées Paris
★★★★
★
46 Rue de Bassano, 8th arrondissement
Located in a grand Haussmannian building on a quiet side street close to Arc de Triomphe and just 2 short blocks from Champs Elysées, the new La Clef Champs Elysées Paris offers 63 rooms and suites as well as 7 apartments. Studios and apartments include fully equipped kitchens and tables for dining, ideal for family trips. Apartments also feature terraces overlooking views of the Eiffel Tower, Sacre Coeur, and other Paris cityscapes.
You'll also find plenty of other amenities: a perfume bar, fitness room, laundry room, a lavish breakfast buffet, an excellent restaurant and bar, and hidden behind the building, a wonderful private terrace. You can also experience the top-notch individualized service you would expect in a 5-star property.
---
Hôtel Fauchon
★★★
★★
4 Boulevard Malesherbes, 8th Arrondissement, Paris
Fashion, style, and fabulous food by famed gourmet French food purveyor Fauchon converge in the new 5-star Hôtel Fauchon in a magnificent Haussmann building across from elegant Place de la Madeleine that once housed Fauchon's original 1886 headquarters.
In addition to the luxurious comfort, sweeping city views, and joyful splashes of hot pink offered by the boutique hotel's 20 guestrooms and 17 suites, you will love the many food and drink offerings on the hotel's ground floor as well as the superb location near the Paris Opera House, Champs Elysées, and some of the best shopping streets in Paris.
Reserve a room with a balcony and Eiffel Tower view, and enjoy the nightly light show.
---
Les Jardins du Faubourg Hotel & Spa
★★★★
★
9 Rue d'Aguesseau, 8th arrondissement
Get ready to love the plushly comfortable 36 guestrooms and suites, beautiful public spaces, and a beautiful garden in the private courtyard at the new and luxurious Les Jardins du Faubourg Hotel & Spa, an 8th Arrondissement hidden gem tucked away in a quiet, upscale enclave between the Presidential Palace and Madeleine Church, just steps away from Champs Elysées and Tuileries Garden.
You'll find coveted amenities such as a top-notch spa, a fitness center with the latest equipment, sauna, and hamman, beautiful decor throughout the hotel, and superb personalized service. For a special occasion, book one of the jewel-like suites - you'll feel like you've found your own apartment in Paris.
---
Hôtel de Berri
★★★★
★
18-22 Rue de Berri, 8th Arrondissement
Located close to Champs Elysées and Arc de Triomphe in a former office building now transformed into a luxury hotel with 76 guestrooms (including 37 suites), Hôtel de Berri combines vibrant colors with Parisian chic including style elements borrowed from Art Deco, the French decorative arts period, and 20th century moderne.
You'll find lots to enjoy: the hotel's art collection, a spa with two Turkish hammams, an excellent onsite restaurant, and a private garden encompassing almost three-quarters of an acre.
---
Sonder Atala Champs Élysées
★★★★
10 Rue Chateaubriand, 8th Arrondissement
A collection of contemporary art mingles with Picasso lithographs at Atala Champs Élysées, an art-inspired hotel located on a quiet street just 2 minutes away from lively Champs Élysées and perhaps a 5-minute walk from the Arc de Triomphe.
You'll love the Art Deco touches in the spacious 48 guestrooms and suites, as well as the luxurious fabrics and linens. Even better: Eiffel Tower views from some of the balconies. A lovely art-filled garden in the hotel's courtyard gives you the perfect place to relax in the morning over coffee and croissants, or in the evening with a drink from the bar. You'll also enjoy the well-equipped fitness room.
And of course, you'll find plenty to do nearby - but you can also easily hop on the Métro and be at the Louvre and other top Paris attractions within minutes!
---
More Places to Stay in the 8th Arrondissement
Le Plaza Athénée - From its glitzy chrome-and-crystal lobby to the 208 opulent guestrooms, suites, and apartments, this splendid 5-star hotel in the elite "Palace" category oozes sophisticated glamour
Four Seasons George V - Splurge at this fantastic Golden Triangle hotel, another 5-star "Palace" property, with a lovely swimming pool, fantastic spa, and huge dressing rooms in the suites
Hotel Marignan Champs Elysees - Housed in a historic residence with 50 rooms and suites, this luxury hotel offers amazing Eiffel Tower views from its terrace
Hotel Chateau Frontenac - With a spectacular glass roof and an Art Deco vibe, this 4-star hotel offers 104 charming rooms and suites
Hotel Ekta Champs Elysees - This 3-star hotel offers excellent value, a fun 1970s vibe, helpful and friendly staff, and convenient location close to the Arc de Triomphe and Champs Elysees - treat yourself to a room with a balcony
Adveniat Paris - This is highly-rated a "youth" hostel run by a Catholic religious community - but you can stay there regardless of your age. Decor is simple but you can't beat the price or superb location - and there's a lovely garden and even a shared kitchen. The catch? Because of the comparatively low rates, you need to book far in advance
---
Find More Hotels & Apartments in the 8th Arrondissement
More Paris Hotels from Booking.com
Enter your check-in date below to see hotels and rates available for your visit.
Tip: If you enter just your check-in date, the map will display rates for one night for the cheapest available room. If you plan to stay more than one night, enter your check-in and check-out dates to see the total cost for your visit.
More Paris Apartments from Plum Guide
Check out more Paris apartments vetted by Plum Guide
---
Popular Ways to Explore Paris
---
More Articles about Where to Stay in Paris