Paris sales - les soldes - offer savvy shoppers huge bargains twice each year in January-February and June-July as stores slash their prices on current merchandise to make room for the new season's collections.
The next Winter 2024 sale is scheduled start on January 10 and end on February 6. (to be confirmed)
This is your chance to save from 30% to as much as 70%-80% and more as Prada, Hermès, Chanel, Dior, Valentino, Armani, Missoni, Moreau Paris, Maje, Sandro, Gucci, Louboutin, and other famous fashion labels go on sale during these special events.
Here's the catch: During each official 4-week sale period, prices drop in stages. First-day shoppers get the best selection, but usually only a 30-40% reduction.
During the second stage reduction, and possibly even if a third if offered, you can save much more... but you'll have fewer choices. Wait too long for the price to drop more on those Prada sneakers you've been coveting, and you risk losing them to someone else.
So to make the most from the biannual Paris sales, you need a strategy and a solid plan.
Keep reading to discover savvy shoppers' 10 best tips and tricks to scoring the biggest bargains and finding the best places to shop for bargains during les soldes.
Top photo: Sale signs in the Marais, (c) Paris Discovery Guide, (c) Paris Discovery Guide
Paris Discovery Guide is a reader-supported publication. When you buy through our links, we may earn a commission at no additional cost for you. Learn more
---
Tip 1: Identify What You Want to Buy Before the Paris Sales Start
How do you know when the sales start? Exact dates, determined and announced by the government, vary a bit each year, but here's what you can expect:
Winter Paris sales - Les soldes d'hiver - begin in January - usually (although not always) on the second Wednesday in the month. Check our January events article for exact dates for 2024.
Summer Paris sales - Les soldes d'été - also typically start on a Wednesday during late June or even early July. Check our June events article for 2023 dates.
Hermès sample sales - Held twice a year for just 2-3 days, these sales usually (but not always) happen within the same time period of the Winter and Summer sales. (See Tip 2 below)
About a week before the sales begin, savvy Parisian fashionistas locate and try on coveted items before the sales start.
Then on the first day of les soldes, all they need to do join the line outside their favorite store at 7am or so, sprint toward their top item as soon as the doors open,* and snatch it before anyone else does - no need to waste time trying it on to find the perfect size.
* If they haven't already reserved it - more in a moment about how you can do that too.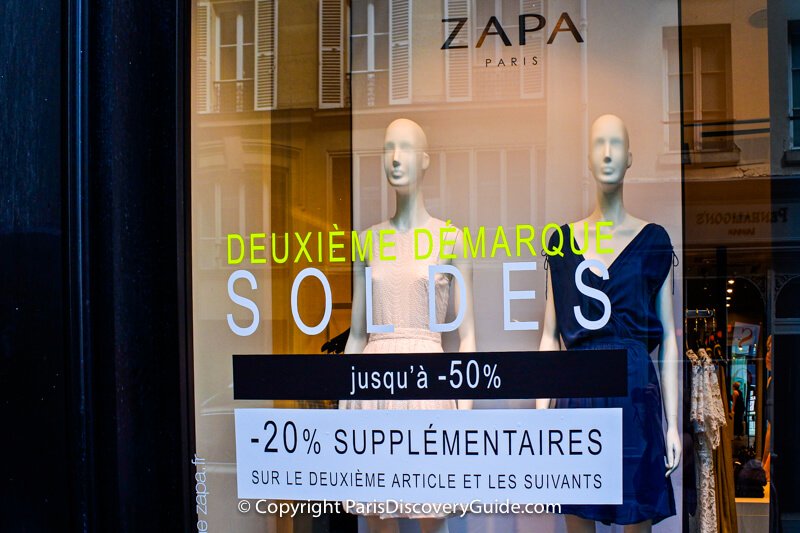 Shopping on the first day of winter sales in Paris is a competitive sport with iconic (and usually very, very expensive) iconic designer creations as the prize.
If you are traveling to Paris for the sales, consider arriving a couple of days or even a week early.
Tell yourself that if you can snag a coveted half-price Hermès Birkin bag at the sale, for example, you will save enough to pay for an extra night or two in a hotel. (Of course, the notoriously hard-to-get Birkin bags never actually appear at the sales - but you don't need to admit that to yourself.)
If you don't have time to pre-select items before the sales, at least identify your top goal (shoes vs toys, for example), hone in on your priorities as much as possible (red Armani jacket vs black Mephisto boots vs an iconic Moreau Paris bag, and search online to familiarize yourself with store locations.
Unless you have unlimited funds, this is also the moment to set a budget for how much to spend.
Otherwise, you may get carried away by the thrill of the hunt and end up with a big credit card bill (but remember, if you live outside of the European Union, you may be able to get a tax refund for a portion of the cost - more about that in a moment).
Next, map out your shopping route from your hotel or apartment.
On the day you plan to hit the sales, wear comfy shoes, and easy-to-shed clothing to minimize dressing room time.
If you shop on the first day of les soldes, you'll face the toughest competition from crowds of other fashionista trying for discounted Valentino rockstud sandals, Chanel jackets, and Gucci black slippers on sale at the famous luxury boutiques around the Golden Triangle near Champs Élysées in the 8th arrondissement.
Guards allow only a few shoppers in at once, which means you risk wasting a lot of time standing in line only to discover not even a Dior Addict lipstick is left to buy when you finally get to enter.
So don't forget about other, perhaps slightly less competitive luxury shopping districts: Saint-Germain-des-Prés in the 6th, and Rue Saint-Honoré in the 1st.
You may find the same luxury brands and slightly-smaller crowds - and therefore enhance your chances of snagging the item of your dreams.
Pro Tip #1: For luxury and other well-known designer brands, determine if the designer has a boutique in the big Paris department stores (see Tip 7 for a list).
Of course, crowds there will also be fierce plus guards will be controlling access to the luxury brands, but if you are hoping to buy several items from different designers, you will save time if you can find everything under one roof.
Pro Tip #2: Buying in one store also consolidates your Paris purchases if you are a non-EU citizen and want to get a VAT tax refund - another automatic 12%-20% discount (find out more in Tip 9).
Pro Tip #3: Make sure you're in tip-top shape before the sales start. Get plenty of sleep the night before. Eat something with energy-pumping carbs and protein for breakfast. And be sure to hydrate by drinking plenty of water.
Because yes, people do sometimes faint during the rush to score the bag of their dreams, and dehydration is often the culprit.
Don't let that person being carted away by the Paris EMTs be you!
---
Tip 2: Lusting for a Hermès Bag? Here's Where to Find the Sales & Discounts . . .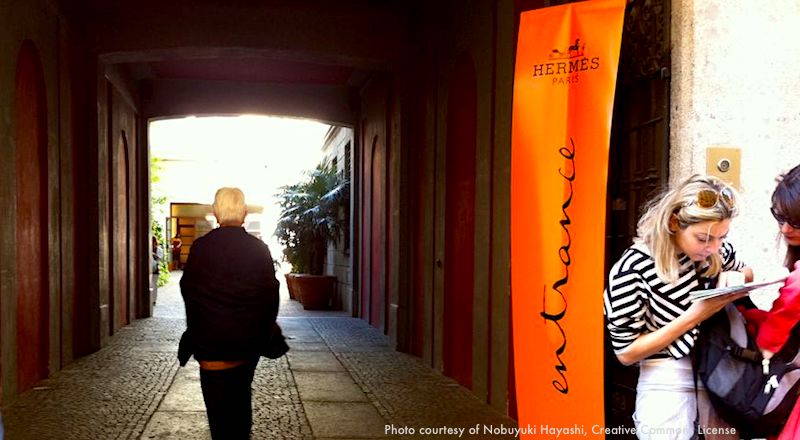 Luxury French brand Hermès offers discounted items for a much shorter time - usually only 2-3 days - and usually within the official sales period.
Instead of using their own showrooms, Hermès holds their sale at the much larger Palais de Congrès next to the Porte Maillot metro station in the 17th arrondissement in order to accommodate the crowds of bargain hunters who converge from all over the world hoping to save thousands at the event.
If you're serious about bringing home a prized Hermès cashmere scarf, silk tie, or enamel cufflinks at bargain prices, plan to arrive early and stand in line, as guards let only small groups of shoppers in at once.
How early? Hard-core addicts will be in line by 5am for the 9am opening. You can reduce your wait by arriving later in the day, but expect some line time whenever you arrive.
Or you can enhance your chances by arriving even earlier - perhaps 4am instead of 5am. Hermès sale discounts run about 40%-50% and don't increase toward the end of the sale, so you don't save by waiting.
What can you expect to find at the Paris Hermès sales? Available items vary, although scarves, ties, and jewelry are fairly predictable staples. What you're highly unlikely to find: a coveted Kelly, Birkin, or Constance bag - but still, you can always dream! Never say "never," right?
Who else shops the Paris Hermès sales? Your competition in the quest for discounted designer goods includes plenty of chic Parisians and style-conscious tourists, but also international fashionistas who fly to Hermès sales around the world for the thrill of the chase.
And consider this: if you buy enough, between what you save on your purchase plus the VAT tax refund available to non-EU residents, you can easily pay for your plane ticket to Paris, hotel room, and a few nice dinners.
Dates for the Hermès sales vary each year, but you can check our Paris June Events and January Events pages to find the announcements - usually just shortly ahead of the sales.
---
Tip 3: Define Your Price vs Risk Strategy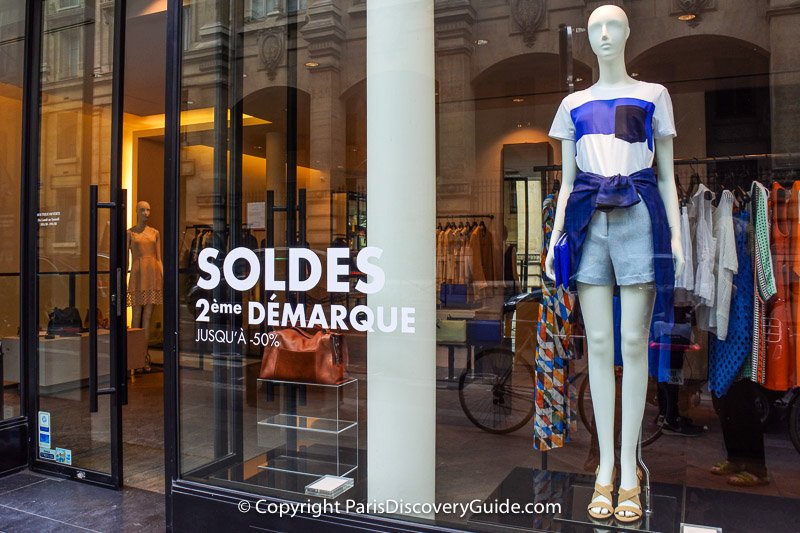 During the semi-annual Paris sales, prices drop in stages: a first markdown (usually about 30%), a second markdown (50-60%), and at some stores, a final or last markdown (70-80%, or sometimes even more).
Crowds can be ferocious on the first day or two of les soldes, but then diminish (except around lunchtime and on weekends). Obviously the most coveted items may be gone after the first rush, but plenty of merchandise is left - although choices do narrow as prices drop.
So here's what you need to decide: Are you driven by the thrill of the hunt - that is, bagging a great buy at 80% off? Or do you feel fine about buying something you really, really want for only 30% off in order not to risk losing it to someone else? Can you tolerate the crush of crowds enough to line up early on the first day of the sales? Or are you ok with waiting for saner days, even if that means your first choices may be gone?
Remember . . . even during the final sale days, you'll still find plenty of bargains - and you'll get the biggest discounts.
How to Immerse Yourself in Paris Fashion
Scope out the Paris fashion scene with these popular fashion experiences:
More Fashion Tours
---
Tip 4: Indulge in French Designers for Biggest Fashion Savings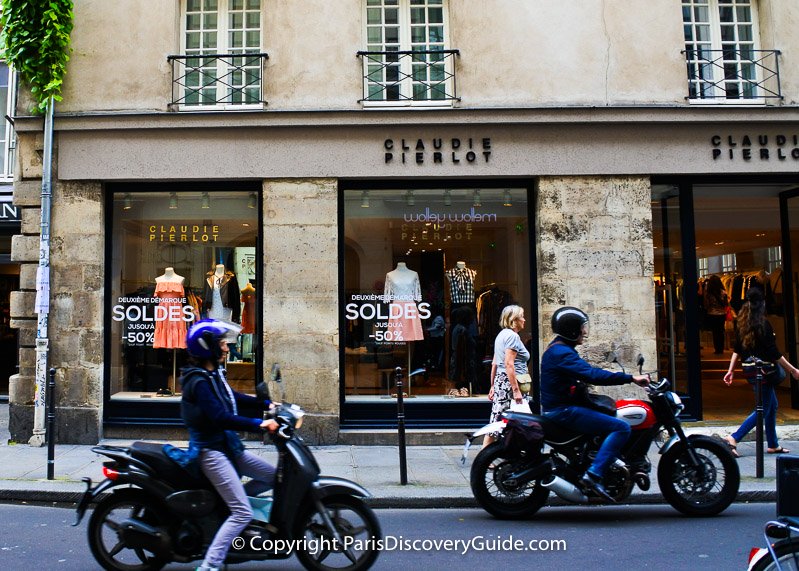 If you are American, Canadian, or Australian, you'll find some of the biggest savings if you focus on French fashion labels that get marked up to stratospheric levels in the U.S., Canada, and Australia - if you can find them at all. Even their regular prices in France seem like relative bargains, but on sale, they can be - well, if not a steal, MUCH more affordable.
So look for Sandro, Maje, Zadig et Voltaire, The Kooples, Claudie Pierlot, Inès de la Fressange, Les Petites, ba&sh, Iro, Celine, Atelier Notify, and Comptoir des Cotonniers for clothing; Mephisto and Arche for shoes (or Chanel, if you're aiming at the highest echelon); Moreau Paris and Nat et Nim for bags and shoes.
All of these French brands have boutiques scattered across Paris - in particular, look for them in the Marais, Saint-Germain-des-Prés (6th arrondissement), Abbesses (18th), Place des Victoires, Rue Saint-Honoré, and Canal Saint-Martin.
Galeries Lafayette and other grands magazins (big department stores) offer many of these labels. You'll also find a few of them in Paris shopping complexes (see Tip 7 for a list), which may also give you the "shopping under one roof" tax refund advantage.
Can't make it to the Paris sales in person this year? Check your favorite French designer's website. Most designers offer sales items on them - but three caveats: 1) you'll typically see them only during the two official sales periods, 2) items and markdowns may not be the same as those shown in the Paris boutiques, and 3) not every brand ships overseas. Here are several to get you started: Ines de la Fressange - Nat & Nim - Zadig et Voltaire - The Kooples - Iro
---
Tip 5: Learn the 7 Most Important French Sales-Related Words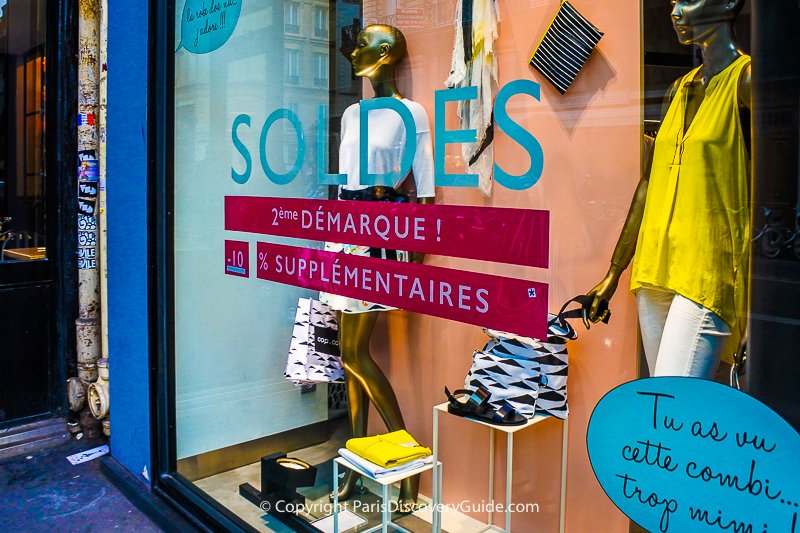 Most people working in Paris department stores and boutiques speak at least some English . . . but most of the signs on store windows announcing sales will be in French.
So to avoid confusion, here are the seven most important French words and phrases to know:
Soldes = Sales
Démarque = Markdown
Supplémentaires = Additional, as in "additional markdown"
Jusqu'a = Up to, as in "up to 60% off" (in other words, some items may be marked down by a lesser amount and/or some may not be marked down at all
Moins = Less, as in, "less 60%" (so, the regular price less 60% equals the sale price)
Deuxième = Second (also written as 2ème - so deuxième démarque means second markdown)
Dernier = Last, as in dernier démarque
Speaking of the dernier démarque . . . some stores do a third and last markdown, but others do only two. If the second is underway but you want to hold out for the lowest prices, how do you know if there will be a third? Just ask! Most stores are happy to tell you, and may even give you the date when it will happen.
In this case - and in all other interactions with the stores, you need to know two more French words, and these you need to be able to say.
Hopefully, you already know the first one - Bonjour ("boh jure") - since it's rude to enter any store or other esbablishment without saying "good morning."
The second one is also essential: Merci! (Thank you!)
Saying merci is easy - just say: "mare-see." And one more tip: smiling as you say merci improves your accent.
Seriously - try it!
---
Tip 6: Insider's Secret: How to Reserve Your Coveted Sale Items . . . Before the Sales Begin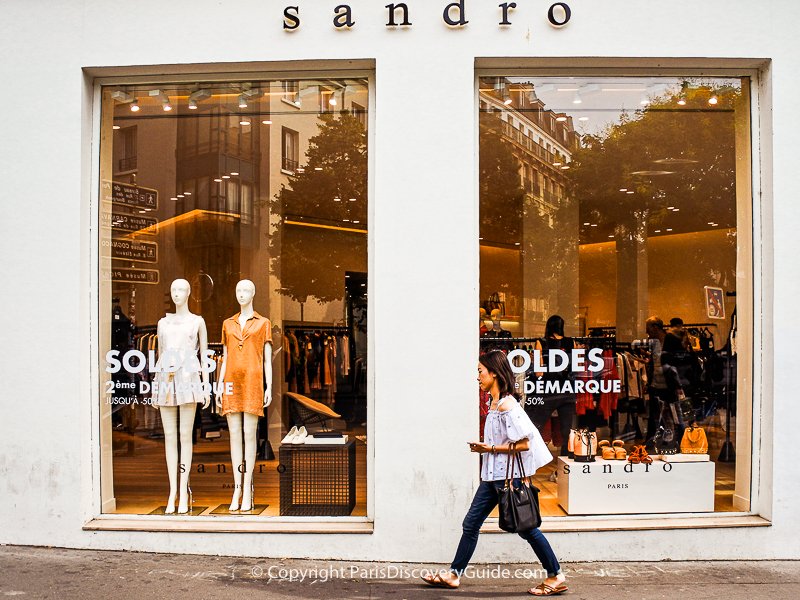 Here's the insider's secret about the sales: just like in the United States and other countries, many French boutiques invite their "preferred" customers to private sales before the public sales begin. The lucky ones get to come in early and reserve their purchases with a post-dated check, credit card hold, or even full cash payment - then, after the initial frenzy of the public sale has died down, they stroll in calmly, pick up their items, and complete the sale.
Even better: An increasing number of stores now allow their best customers to reserve items online. Then on the first day of the sale, all you have to do is go to their website, click a few times, and the coveted items are yours.
Look for this option to create a digital "wish list" among mid-range and upscale French and European brands such as Caroll, Sézane, Rouje, The Frankie Shop, NafNaf, Eres, Minelli, and San Marina - plus some of these retailers offer substantial discounts at other times, so no need to wait until the winter or summer sales to get that perfect jacket or bag.
How do you get to be a preferred customer? Just like in your own country - purchase something and sign up for their email list. Or . . . just sign up. Easy to do on their website!
Although this approach works well if you're in Paris frequently (and will be there long enough after the sale to receive your items when they ship), what if you're there for only a week or even just a day or two before the sales begin?
It's still not too late to try for a discount . . . just stop by (or if you're reasonably fluent in French, call) and ask a few questions about when the sales begin, will the item you're considering be discounted, can you put it on hold until the sales begin? If the store is holding a private sale, they may offer you the same discount they give their preferred customers - perhaps as much as 30%-40%.
If you're going to leave Paris before the sales begin, mention that as well and ask if you can get the sale discount if you pay in cash. After all, their objective is to clear out the current stock to make way for the new, so as long as they can sell you the item at a great price without violating any regulations, it is in their self-interest to do so.
You lose nothing by trying - and when you win, your rewards can be big!
---
Tip 7: Where to Shop in Paris during the Sales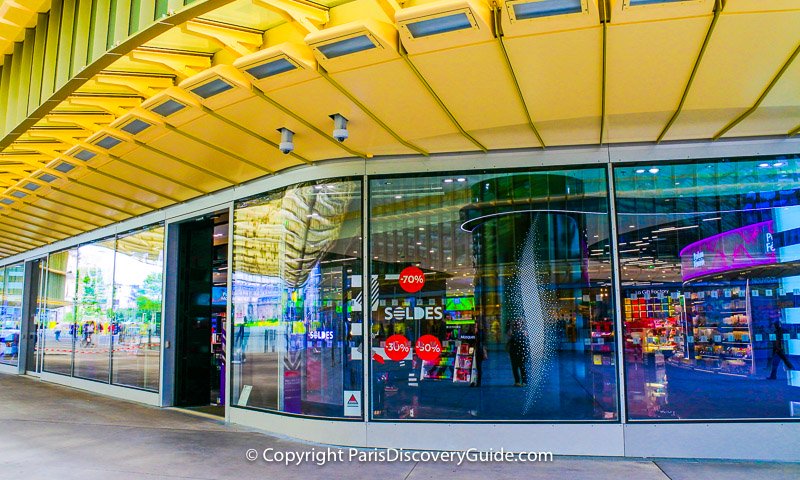 With practically the whole city of Paris on sale, where should you shop, particularly if you are not targeting a particular designer or store?
Conserve your time for shopping by focusing on areas with high concentrations of tempting opportunities. Here are our favorites in several categories:
12 Top Areas for Shopping in Paris
Golden Triangle - Hermès, Dior, Louis Vuitton, Ralph Lauren, Gucci, Celine, Armani, and Valentino - these are just a few of the luxury designers with showrooms in this famed enclave along Avenue Georges V, Rue Francois 1er, and Avenue Montaigne in the 8th arr; closest metros: Georges V, Alma-Marceau, Franklin D Roosevelt
Champs-Élysées - Between Place de la Concorde and Arc de Triomphe - An almost endless number of high-end global brands and smaller stores; explore the arcades along the way to find even more choices, or detour to the Golden Triangle for super-luxury
Rue du Faubourg Saint-Honoré / Rue Saint-Honoré / Place Vendôme - A tantalizing mix of luxury and haute couture boutiques; expect to see lots of drool-worthy fine leather gloves, designer bags, jewelry
Rue Saint-Dominique, between Avenue Bosquet and Blvd de la Tour-Maubourg, 7th arr, metro: La Tour-Maubourg - Nice selection of boutiques featuring mostly French designer labels, ranging from affordable to very expensive
Marais, starting along Rue des Francs Bourgeois - Filled with trendy boutiques; many younger French designers, especially in the Upper Marais, the portion of the neighborhood in the 3rd arrondissement
Saint-Germain-des-Prés neighborhood, 6th arr - Wonderful mix of well-known and emerging luxury labels and smaller boutiques
Rue des Abbesses, 18th arr - Small boutiques, lesser-known but trendy designers
Place des Victoires, between 1st and 2nd arr - Elegant luxury and high-end designer boutiques
Canal Saint-Martin neighborhood in the 10th arr, metro: République - Hip clothing and concept boutiques, lots of rising young French designers, plus usually a few interesting pop-ups
Grand Magasins, Madeleine, Blvd des Capucines, Blvd Haussmann, Avenue de l'Opéra - This large swath of high-end shopping includes parts of the 1st, 8th, and 9th arrondissements, and includes the large department stores, Au Printemps and Galeries Lafayette, plus hundreds of stores and boutiques featuring French and international brands
Rue de Rivoli, between the Place de la Concorde and Louvre-Rivoli metro stations - Everything for souvenirs to global chains to high-end fashion and art
Bercy Village - Former wine market, with 42 storehouses repurposed as boutiques, restaurants, and cinemas. Next to the Seine River in the 12th arr, nearest metros: Cour Saint Émilion, Bercy
Famous Luxury Paris Department Stores
Galeries Lafayette, 40 Blvd Haussmann, 9th arrondissement; also in Montparnasse Tower, 22 rue de Départ, 15th arr - Find out about their fashion shows (currently on hold due to the pandemic)
Printemps, 64 Blvd Haussmann, 9th arr; also in Carrousel du Louvre, 99 Rue de Rivoli, 1st arr; Place de la Nation, 21 Cours de Vincennes, metro: Place de la Nation, 20th arr
BHV, 52 rue de Rivoli, 4th arr; BHV Men's Store, 36 rue de la Verrerie, 4th arr; metro for both stores: Hôtel de Ville
Bon Marché, 24 rue de Sèvres, 7th arr, metro: Sèvres
La Samaritaine, 19 Rue de la Monnaie, 1st arr, metro: Louvre-Rivoli
Paris Shopping Malls
Beaugrenelle - A gorgeous modern shopping center with about 110 stores and restaurants including a branch of Galeries Lafayette and other French and international stores and boutiques - 12 rue Linois, 15th arr, Metro: Charles Michel
Passage du Havre - Located in a space once occupied by a 19th century covered passage, this totally modern small shopping shopping mall with 35-40 shops is an almost-hidden city gem close to Galeries Lafayette, Printemps, and the Gare Saint Lazare train station - 109 Rue Saint-Lazare, 9th arr, Metro: Havre-Caumartin
Passy Plaza - This small shopping center at the base of a posh residential building features about 15 clothing and home decor stores plus a large Monoprix; also, check out the sales offered by the luxury boutiques along rue de Passy; behind the mall, you can find wonderful food shops along pedestrian-only Rue de l'Assomption - 53 rue de Passy, 16th arr, Metro: La Muette
Forum des Halles - With 120+ stores and restaurants plus a central location, this modern shopping center under an undulating golden canopy is one of the most-visited shopping centers in France - 101 rue Berger, 1st arr, Metro: Les Halles
Les Quatre Temps, across from the Grande Arche in the La Défense business district, is the the biggest shopping center in France - Metro: La Défense - about 9 minutes from the Étoile station (Line 1)
Carrousel du Louvre ("Le Carrousel") - A bustling underground high-end shopping complex under the Louvre Pyramid, this almost-hidden underground mall offers fashion, home decor, and a terrific food court featuring international cuisine - 99 rue de Rivoli, 1st arr, Metro: Palais Royal Musée du Louvre
Italy Deux - The second largest shopping center in Paris - Place d'Italie, 13th arr; Metro: Place d'Italie
Bercy Village - This open air shopping center, once the heart of Paris's wine trade, offers a number of small boutiques - Cour Saint-Emilion, 12th arr; Metro: Cour Saint-Emilion
See our article on top Paris shopping districts & locations for more ideas
---
Tip 8: Be Flexible - And Have a Plan B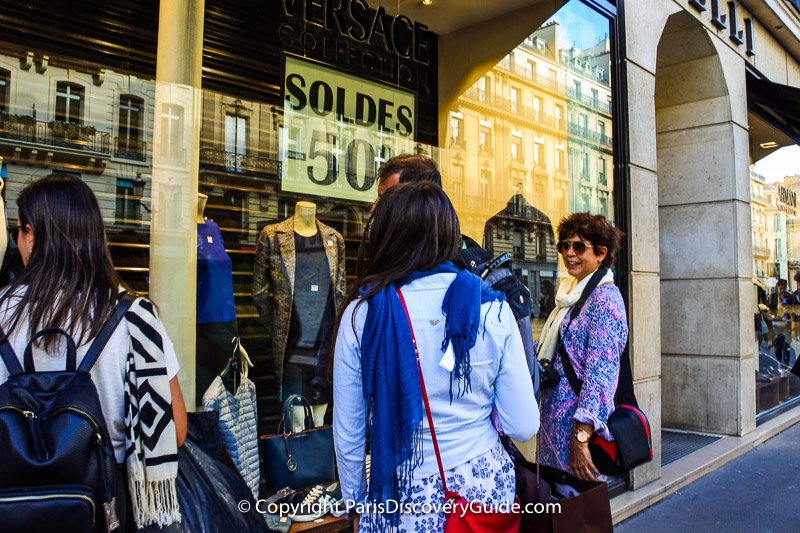 No matter how much you may have your heart set on scoring a specific item during the Paris sales, fate may intervene - other shoppers may grab your prized goal first, the size may wrong, or you simply may not like it as much as you thought you might.
To avoid making perhaps imperfect decisions in the heat of the moment, make your Plan B in advance: decide what merchandise to try for if your first doesn't work out and where you will go to find it.
Remember, plenty of wonderful bargains await you - you just need to find them!
---
Tip 9: Tax Savings Increase Your Paris Sales Savings . . . although not as much as you might expect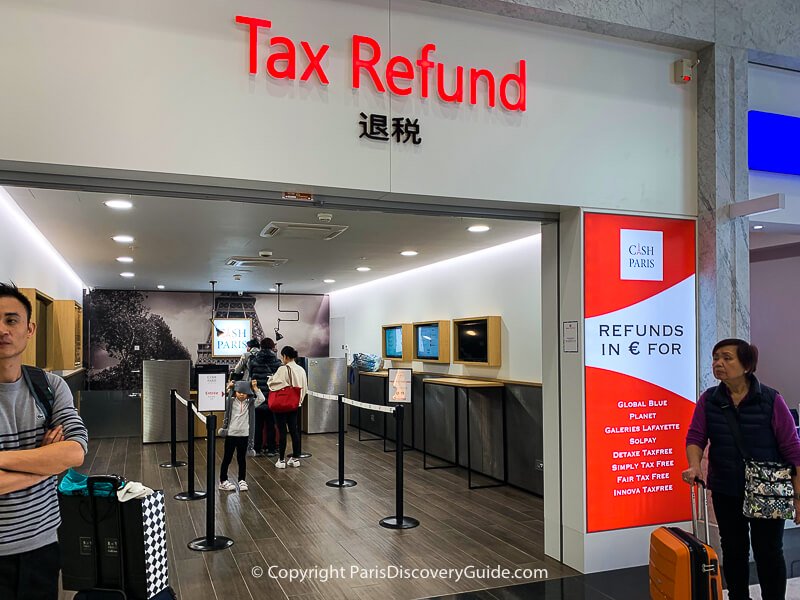 If you are a non-EU resident, you may be eligible to claim a refund on the VAT (value added tax) included in the price tags of products sold in France. The VAT rate in France is currently 20% on most items - but you're not likely to get all that back due to processing fees.
There are, of course, rules: You must spend over 175€ in the same store in one day, you must acquire a valid Customs stamp - and before departing France, you need to take the items out of the country within 90 days of purchase, and you must have spent fewer than 180 days in France.
And - the process of getting the refund is not particularly easy. First (and this is actually the easiest part), you need to get forms filled out in the store where you make your purchase on the day that you make the purchase; most large stores and multi-store chains will do this, but many small or individually owned boutiques will not.
If the store does provide VAT refund service, you will need to show your passport and possibly your dated plane ticket as proof of your visitor status. Some stores will accept a copy of your passport, while others will not. Obviously, carrying your passport around while you shop is not ideal due to the risk, however small, of losing it.
Second (and this is what can be a huge hassle, especially if you don't allow enough tine before your flight), you also may have to show your purchased items before you check your bags at the airport in order to get the Customs stamp, which can mean standing in a special (and often long and slow) line at the airport BEFORE you check your luggage. And, your items must be in their original packaging (so you can't wear or use them in Paris), and of course you have to show your receipts. The recommendation is to allow two hours before boarding time to do this, but during peak tourist season, it can take even longer. Sometimes much, MUCH longer.
In some cases, if you're lucky, you get your refund on the spot after you get the Customs stamp; once you pass through Security into the waiting area, you'll see small tax refund services like the one in the photo above.
In other cases, you have to send back the stamped refund form to the store in order to get the refund - it varies based on the processing company used by the store, which is something you have absolutely no control over and likely won't even know until you're slogging through the process.
So how much of the 20% VAT will you get back in the end? Hard to say in advance - but about 12% is usually a reasonable expectation.
You'll need to decide if the hassle is worth the savings - but if you've spent a few thousand dollars at the sales on the Louis Vuitton bag of your dreams, your answer is probably "yes!"
Bonus tip:
---
Tip 10: Your Paris Sales Savings Can Pay for Your Trip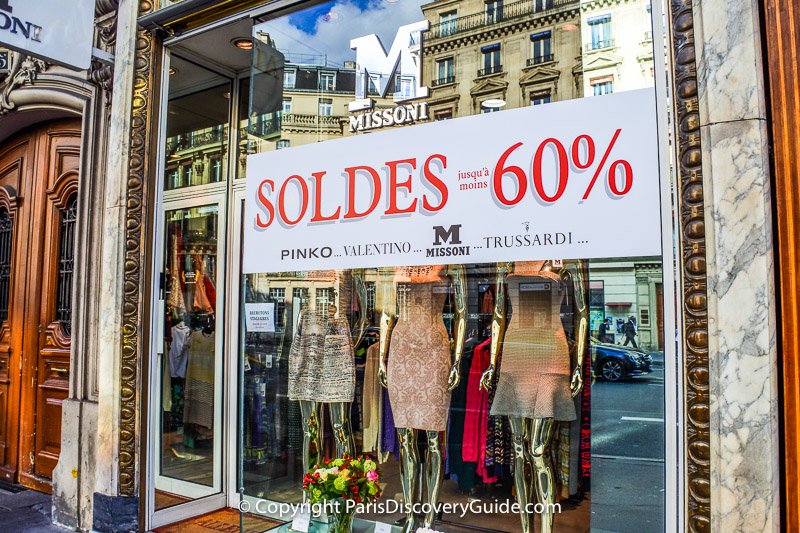 Buy several items during the Paris sales and if they are relatively expensive, your savings may easily cover the cost of your plane ticket to the City of Light, and perhaps even some or all of your other travel expenses. And that doesn't even count the VAT refund.
For even more savings, visit Vallée Village Outlet Shopping Mall in the Paris suburbs where the already-discounted designer fashions will get even steeper price cuts.
And remember, now that the French government has relaxed its rules and allows stores to hold other unofficial sales, you can find "promotiones" and "soldes exceptionnels" at other random times during the year - useful to know if you need to justify a shopping trip to Paris in, say, May or October. In fact, American-style "Black Friday" (yes, in English) signs have started popping up in windows during the last half of November - just in time for your holiday shopping.
Of course, saving more than the cost of your trip depends not only on how much you spend during the sales, but also what you pay for your flight, hotel, meals, and other expenses.
However, if you have a cheap flight (especially easy to find if you're heading to January sales), limit your stay to just a long shopping weekend vs the week-long Paris vacation you'd prefer, stay at an affordable 3-star hotel, and eat in modest bistros, brasseries, and maybe a bakery or two rather than gourmet restaurants, the math may work to cover the cost of your entire visit. When all the stars align, it's like getting a free trip to Paris - so hey, it's worth a try!
Because, as Audrey Hepburn tells us in Breakfast at Tiffany's, "Paris is always a good idea."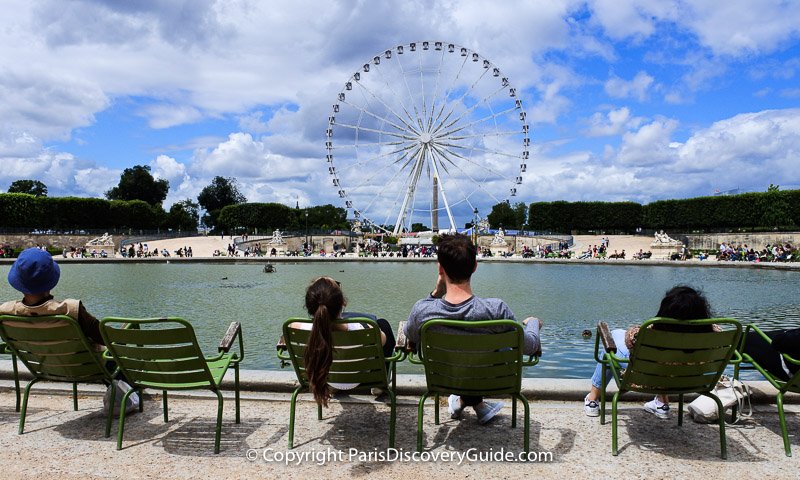 ---
Behind the Scenes: Rules of the (Paris Sales) Game
Although the French national government sets the start date for each sale, individual stores decide when to start the second markdown and whether/when to do a third markdown. This means that if you're waiting for prices to drop, you'll need to closely watch the stores you're most interested in. As a rule of thumb, the first markdown stage usually lasts 2-3 weeks, depending on the overall length of the sale period, which varies between three and four weeks.
If you want to know if a store is going to do a third markdown, just ask - most stores will tell you.
In addition, the government defines strict consumer protection rules for the sales - for example, items must have been offered at the regular price for at least a month before they go on sale (in other words, stores can't bring in cheap merchandise and immediately "discount" it), items must not be defective, and stores must abide by their posted return policy - although for most stores, that means Les Soldes sales are final - no returns, no refunds.
The best part? By law, the semi-annual soldes are the only times of the year when stores are allowed to sell their merchandise below cost.
In earlier times, the government prohibited sales at other times of the year. That's no longer the case - but the most exclusive stores still don't put items on sale at other times, although that's slowly changing.
Among those stores that do, you'll still find the biggest discounts and savings during the twice-yearly les soldes.
Find summer sales dates on our June calendar
---
Paris Hotel & Apartments Map
Planning to visit Paris? Use this Paris hotel and apartments map to find accommodations and make your reservations:
Check out the newest Paris hotels
---
More Articles about Where to Shop in Paris
---
More Fun Things to Do in Paris