If you want to experience the City of Light slightly outside of its touristic center (and perhaps save on hotel rates), take a close look at 17th Arrondissement Paris hotels and apartments.
The rather sprawling 17th district includes the Arc de Triomphe and top exhibition venue Palais de Congrès on the west and extends all the way to the leafy village-like Batignolles and more modest Épinettes neighborhoods toward the east.
Toward its middle section, the 17th borders the gorgeous Parc Monceau, surrounded by stately upscale residences, several embassies and consulates, a few small cultural venues, and the spectacular new Cité de l'Économie, Europe's first economics museum.
Choosing a hotel in Paris 17 puts you in the ideal spot to explore this lovely and fascinating part of northwest Paris.
To get to famous attractions such as the Eiffel Tower and the Louvre Museum, you can either walk (for example, Tour Eiffel is only about a 10-minute walk from the Arc) or hop on the metro.
So take a look at these attractive hotels in Paris's 17th arrondissement. You may find the perfect spot for your next visit!
Top photo: Walking through Square des Bagatelles in the 17th arrondissement, (c) Paris Discovery Guide
Paris Discovery Guide is a reader-supported publication. When you buy through our links, we may earn a commission at no additional cost for you. Learn more
---
Where to Stay in Paris 17th District
TRIBE Paris Bagatelles
★★★★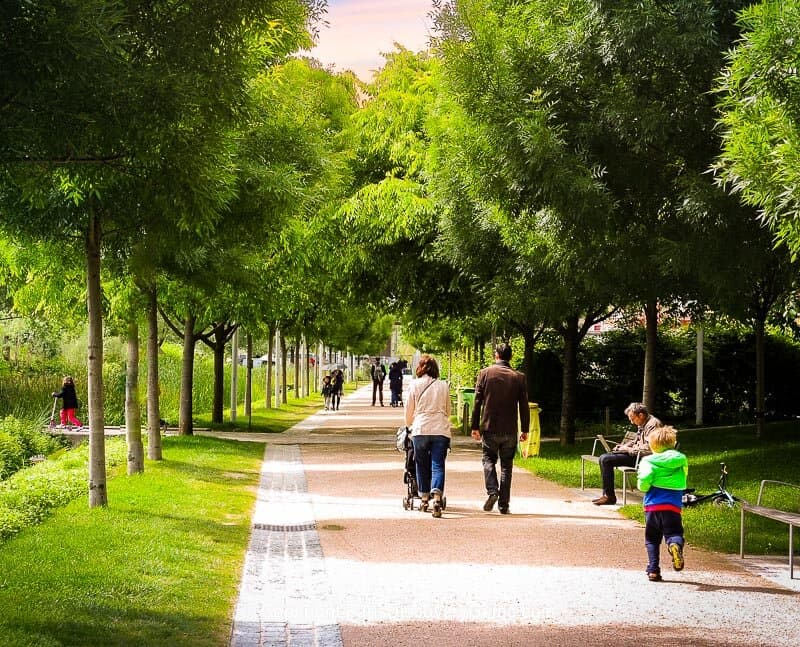 176 Rue Cardinet, 17th arrondissement
With a location across the street from Clichy-Batignolles Martin Luther King Park in the 17th arrondissement, 4-star TRIBE Paris Bagatelles offers affordable rates and a mix of contemporary minimalist decor in its 79 guestrooms and lively public areas in the hip Bagatelles neighborhood.
In addition to its wonderful location, the hotel offers air conditioning, an onsite fitness area, and parking available.
Explore the Bagatelles neighborhood's wonderful covered market, the open air organic market, and the interesting neighborhood vintage shops. The neighborhood also offers lots of fun places to eat.
To see more of the city, a nearby metro station gives you easy access to other parts of Paris as well as to the famous Les Puces Flea Market about 10-15 minutes away in nearby Saint-Ouen.
---
Hôtel Marmotel Étoile
★★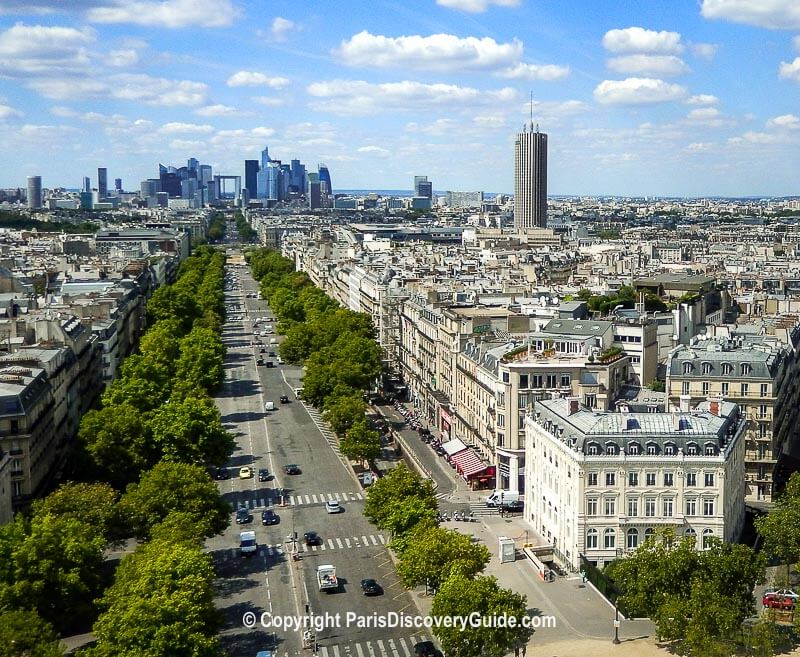 34 Avenue de la Grande Armée; nearest metro: Argentine
You can see the Arc de Triomphe as you walk out the door of 2-star Hôtel Marmotel Étoile, located in an upscale part of the 17th Arrondissement and about 300 feet - the length of an American football field - from the famous Paris monument. The affordable rates are a bargain in this neighborhood.
The hotel's 23 guestrooms feature jewel-tone fabrics, modern furnishings, and private bathrooms. Those in back overlook a leafy courtyard where you can enjoy breakfast.
You can easily walk to the Arc de Triomphe and Champs Élysées from the hotel, as well as to the Palais des Congrès concert hall/convention center/shopping center to the west.
The hotel is next to the convenient Argentine Métro Station on Line 1.
---
Hôtel des Pavillons
★★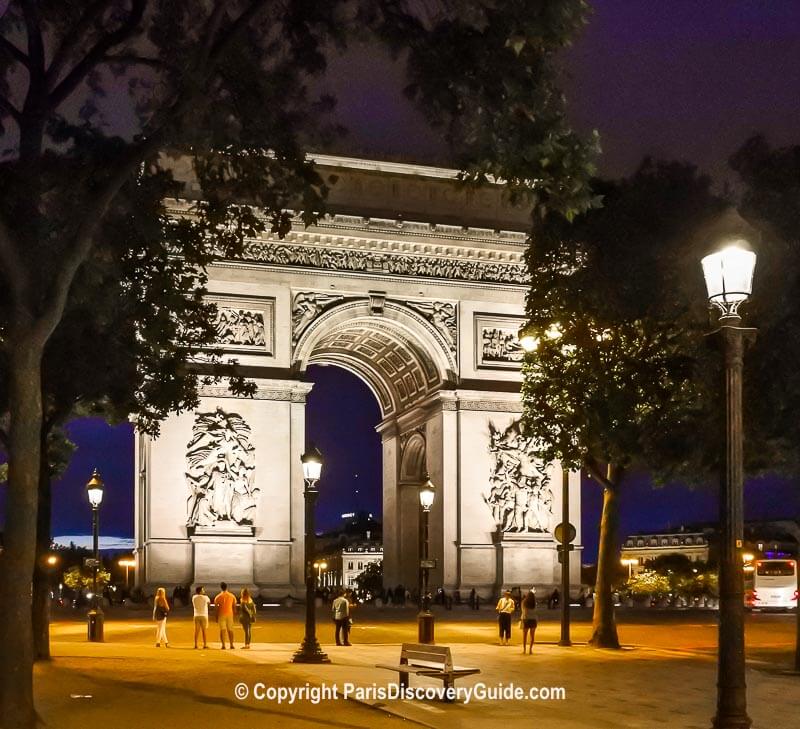 16 Rue des Acacias; nearest metro: Argentine
En suite bathrooms, private safes, and air conditioning in all guestrooms, plus an elevator to all floors make Hôtel des Pavillon stand out among 2-star Paris hotels.
The hotel overlooks a quiet side street near the Argentine Métro station in the 17th Arrondissement, about 3 blocks from the Arc de Triomphe.
The hotel's 30 rooms are decorated in calm neutral tones or warm colors.
---
Splendid Étoile Hôtel
★★★★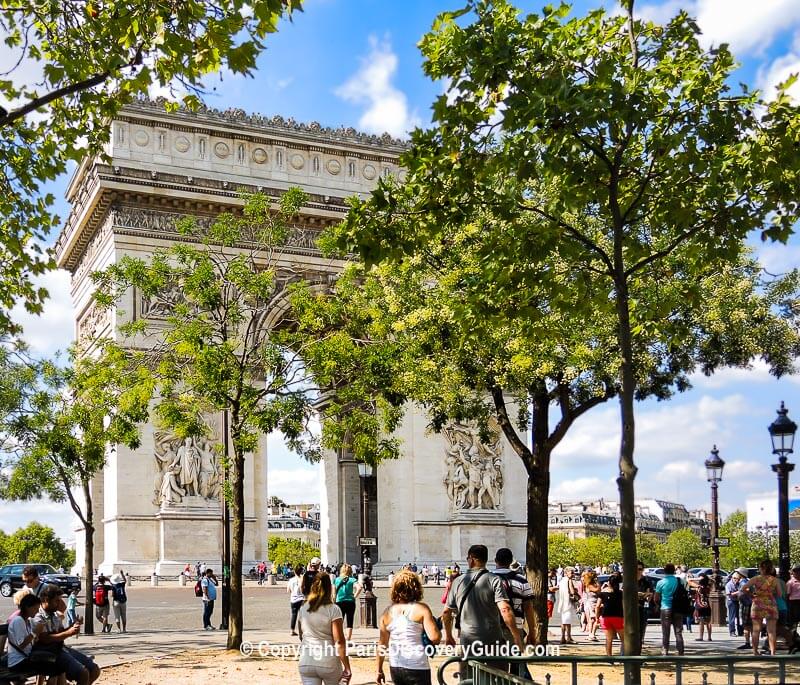 1 Avenue Carnot, 17th arrondissement; nearest metro: Charles de Gaulle/Etoile
You may feel like you can reach out and touch the Arc de Triomphe from your balcony when you stay at the 4-star Splendid Étoile Hôtel - and in fact, you almost can. (Be sure to request a room with a view when you make your reservations.)
Inside a stately 19th century Haussmannian building, the hotel's 57 guestrooms and suites feature restful tones of gray and cream with jewel-like pops of color. You'll love the onsite gourmet restaurant, where you can experience classic French cuisine.
Of course you'll enjoy the wonderful sights and stores along Champs Élysées, but the hotel's 17th Arrondissement location also gives you easy access if you want to attend an event at the Palais des Congrès, visit the modern Grande Arche at La Défense, or explore the Fondation Louis Vuitton in the Bois du Bologne.
---
Paris j'Adore Hotel & Spa
★★★
★
★
7 Rue Beudant, 17th arrondissement
For the perfect romantic Paris get-away and perhaps some serious pampering, choose the chic Paris j'Adore Hotel & Spa, a gorgeous new adults-only 5-star luxury boutique hotel nestled in the 17th arrondissement not far from Parc Monceau, Musée Jacquemart-André, and Montmartre.
In the 28 guest rooms, you'll find luxurious decor, an iPad to control the mood lighting and intoxicating scent options, and plush robes, but that's just the beginning of what you'll enjoy here. Spend time in the hotel's spa, complete with hamman and swimming pool, sample the international cuisine at the onsite restaurant, relax in the whirlpool bath and salt cave, and book yourself a relaxing massage and facial.
Pro tip: Book the "Prestige" double room with a jacuzzi and terrace to enjoy rooftop views of Paris while you relax.
---
Hôtel Archétype Étoile
★★★
6 Rue des Acacias, 17th arrondissement; nearest metro: Argentine
The 3-star boutique Hôtel Archétype Étoile, located almost next to the Argentine Métro station in the 17th Arrondissement, puts you close to the Arc de Triomphe and all the other nearby attractions.
The 27 newly renovated guestrooms feature sophisticated black and cream Deco-inspired decor with splashes of color, plush linens, and robes for your use during your stay. A dramatic glass wall and roof on the courtyard side of the hotel gives a special touch.
You'll enjoy the lovely terrace, evening room service, and personalized service.
---
Acacias Étoile
★★★
11 Rue des Acacias; nearest metro: Argentine
Soothing neutral decor and a location on a quiet side street make the 3-star Hôtel Acacias Étoile a comfortable haven in the 17th Arrondissement, only 2 blocks from the Arc de Triomphe and Champs Elysées.
The 36 air conditioned guestrooms offer private safes, double-glazed windows and soundproofing, and plenty of amenities.
Enjoy the hotel's hot and cold breakfast buffet, evening room service for light meals and desserts, and honor bar. You'll also like the neighborhood's lively cafes and restaurants.
---
Hôtel Élysée Étoile
★★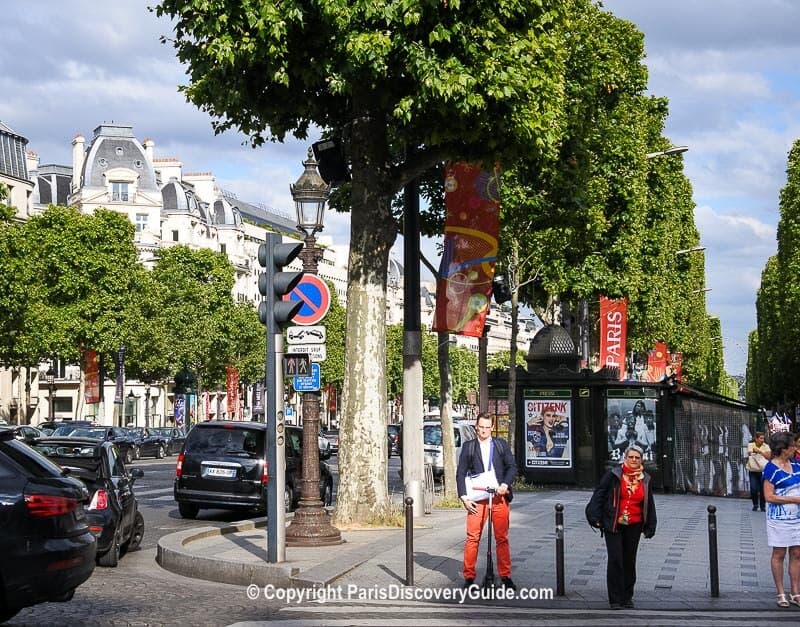 5 Rue de l'Étoile; nearest metro: Ternes
With air conditioning, an elevator, 24x7 front desk service, and a great location on a quiet street about a 4-minute walk north of the Arc de Triomphe, Hôtel Élysée Étoile is a 2-star gem - an increasingly scarce category of budget accommodations in central Paris.
The 18 guestrooms feature jewel-like tones and contemporary decor. You'll enjoy the recently renovated modern bathrooms and friendly service. For families, the triple rooms are a plus!
The hotel's location means you're close to Champs Élysées, and also to Parc Monceau, where you'll find lovely English-style gardens, a miniature Egyptian pyramid, and pony rides.
---
Popular Ways to Explore Paris
---
More Articles about Where to Stay in Paris