Do you want to know where to find the most famous graves in Père Lachaise Cemetery, the world's first garden cemetery?
Perhaps the tombs where your favorite celebrities are buried... or war heroes or Résistant fighters... or the artists whose work you've just seen in the Louvre... or the memorials to unnamed victims of mass killings... or stunningly beautiful and poignant sculptures celebrating people you've never heard of?
Explore Pere Lachaise with a Professional Guide
Père Lachaise Cemetery Guided Small Group Tour - During this 2-hour guided tour, you'll see the graves of Jim Morrison, Oscar Wilde, Chopin, Edith Piaf, and many other famous artists, writers, & musicians
Haunted Père Lachaise Cemetery Guided Tour - Fun, freaky, & macabre - you'll find out about all the spooky secrets at Pere Lachaise on this popular and fascinating tour
Père Lachaise Cemetery Private Tour - Explore the famous cemetery on this private tour customized to your interests with your family, couple, or friend group of up to 15
With 70,000 burial plots packed into its 106 acres (43 hectares) and a dizzying array of family mausoleums, ornate sepulchers, ancient-looking family chapels, and funerary art all competing for your attention, locating specific celebrities buried at Père Lachaise can be challenging and time-consuming. As the largest cemetery in Paris and most-visited necropolis in the world, Père Lachaise attracts crowds at times, making individual quests even harder.
To make your search faster, easier, and therefore more rewarding, we've put together a guide featuring the top 101 celebrity graves and significant memorials at Cimetière du Pere Lachaise along with the division where you'll find them. Here's who you'll find:
What's the best way to get started? First, download a Père Lachaise Cemetery grave location map showing the graveyard's avenues, lanes, and most important, all 97 divisions. Next, consider joining one of the popular Père Lachaise tours to gain an insider's perspective from your guide and get oriented to the cemetery's layout.
Finally, use this list of 101 memorable people and tombs to decide who to see, and start exploring.
Find out more about what to expect at Pere Lachaise Cemetery plus visitor information
Top photo: Sculpture on the grave of actor Fernand Arbelot at Père Lachaise Cemetery, (c) Paris Discovery Guide
Paris Discovery Guide is a reader-supported publication. When you buy through our links, we may earn a commission at no additional cost for you. Learn more
---
Musicians, Performers, & Directors in Père Lachaise Cemetery
1. Jim (James Douglas) Morrison: 1943-1971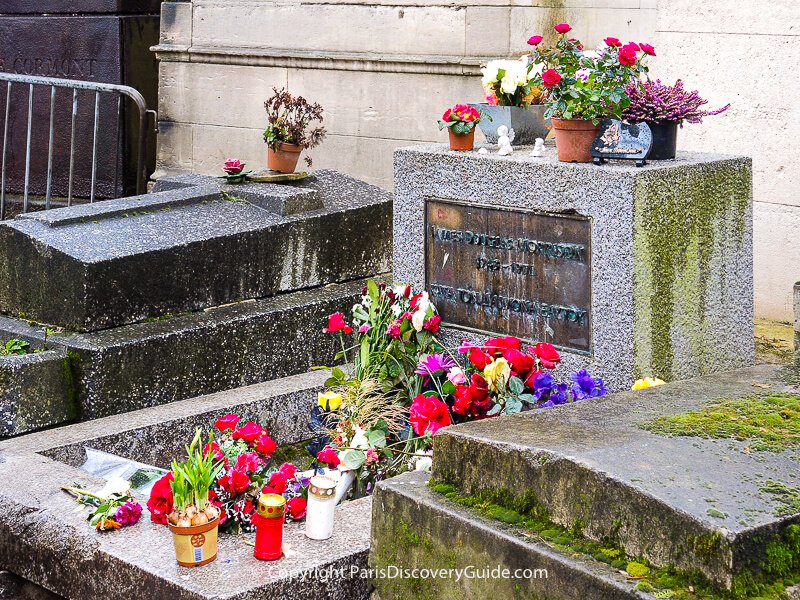 Jim Morrison was an American singer/songwriter, charismatic frontman of The Doors, and international rock star. He died in Paris at age 27 under ambiguous circumstances, most likely from a heroin overdose. His longtime girlfriend, Pamela Courson, found his body in the bathtub at the Marais apartment where they were living.
Half a century after his death, Morrison's grave continues to be the most visited site in Père Lachaise. A bronze plaque on his tombstone includes his full name, birth and death dates, and a Greek phrase chosen by his father, KATA TON DAIMONA EAUTOU: "True to his own spirit" or "True to his own demons." (Division 6)
2. Edith Piaf: 1915-1963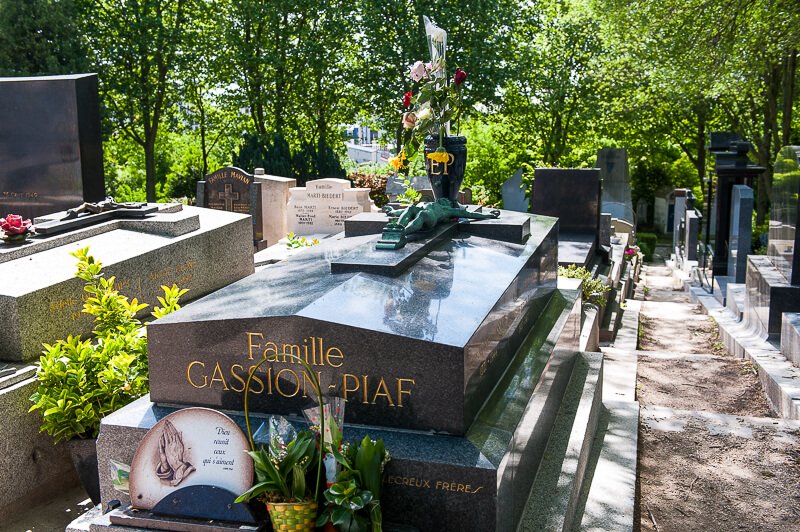 Singer/songwriter and actress Edith Piaf began her career by singing on the streets of Paris before progressing to brothels, nightclubs, and cabarets. She became the most popular entertainer in France after World War II, toured internationally to great acclaim, and performed frequently at the Olympia music hall, the most famous venue in Paris. Her grave is one of the most-visited at Pere Lachaise, and artists still cover her most popular song, "La Vie en Rose," today. (Division 97)
3. Mano Solo: 1963-2010
Mano Solo (born Emmanuel Cabut) was a popular French singer/song writer, guitarist, artist, activist for restoring equality ("Les Enfants de FaZa SoMa" on his tomb refers to his support for indigenous people of Madagascar), and occasional actor and DJ, well known in the avant-garde Paris music scene for his performances at the Bataclan and Olympia.
He died in 2010 at age 46 after battling AIDS for 20 years. (Division 10)
4. Simone Signoret: 1921-1985 and Yves Montand: 1921-1991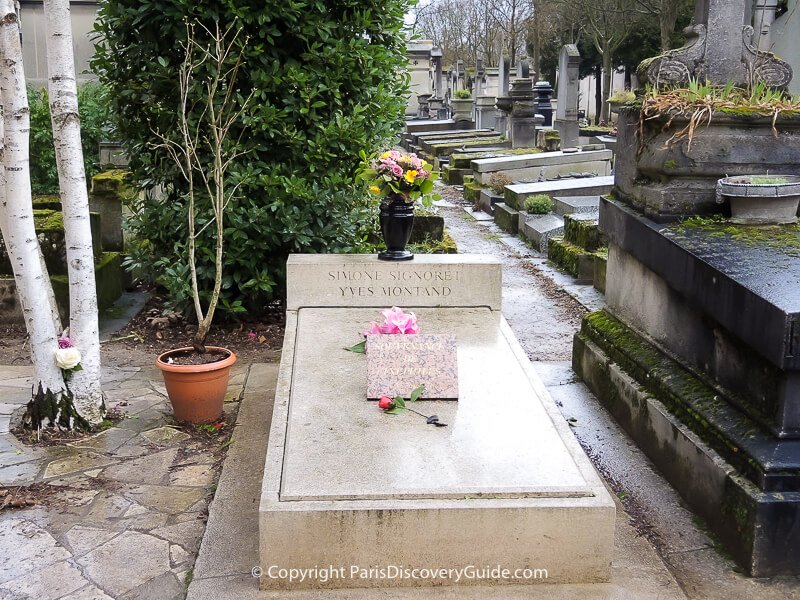 Simone Signoret and Yves Montand were German-born and Italian-born, respectively, French actors who married in 1951 and co-starred in a number of films. Signoret, who had been part of a group of intellectuals who gathered at Café de Flore during World War II, one an Academy Award as Best Actress for her role in Room at the Top. Montand, whose good looks landed him roles in numerous French and American films as well as on stage on Broadway, was also a singer and frequently performed in Paris at the Olympia.
As you can see in the photo, their simple grave rests under a beautiful birch tree - a quiet spot in this "City of the Dead." (Division 44)
5. France Clidat: 1932-2012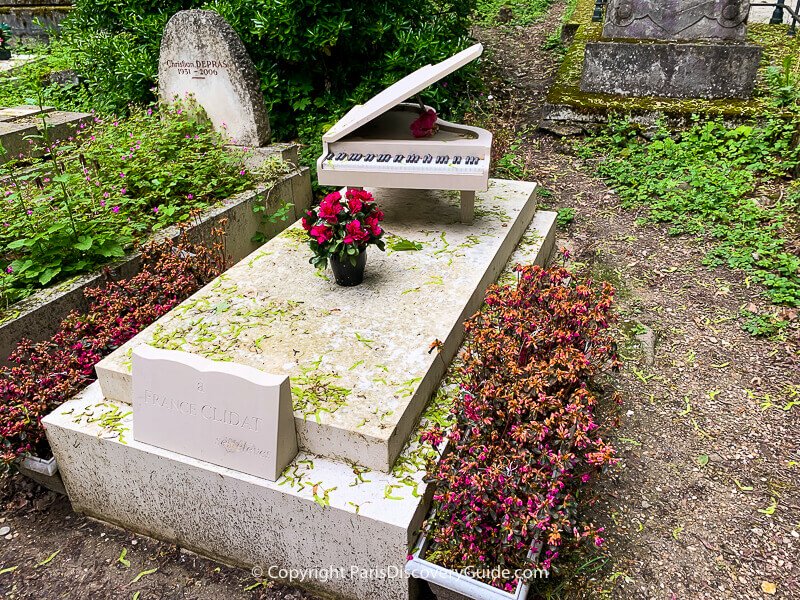 Renowned French pianist France Clidat was best known for her recordings of Franz Liszt and the complete piano works of Eric Satie during the 1960s, '70s, and '80s. She also taught master classes and gave roughly 2,700 performances in concert halls around the world. (Division 13)
6. Etienne Robertson: 1763-1837
Etienne Robertson (born Etienne Gaspard Robert) was actually a well-known Belgium physicist with a specialty in optics who entertained the masses as a stage magician and illusionist who performed a "phantasmagoria" show by using a "magic lantern" to project ghosts and spirits, complete with optical illusions, sound effects, and spooky music. (Today, you can experience a small flavor of what it was like if you visit Musée Grevin, the famed Paris wax museum, where visits begin with a fantastic lights-and-mirrors show.)
Robertson's huge tomb fairly drips with winged ghouls and demons, and is well worth seeking out. A bas-relief on one side depicts a scene from one of his shows, with ghosts, ghosts, and winged monsters frightening his audience. The absolute best image: a winged skeleton flying over the audience while playing a horn. (Division 85)
More Graves of Musicians & Performers
7. Ahmet Kaya: 1956-2000
Singer Ahmet Kaya, a Turkish Kurd, gained success and fame in his homeland of Turkey before facing massive opposition when he decided to sing and record in Kurdish. Following political persecution, he fled to Paris where he died from a heart attack in 2000 at age 43. (Division 71)
8. Sarah Bernhardt: 1844-1923
Sarah Bernhardt was an enormously successful French stage actress who gained international acclaim after multiple world tours, and transitioned to starring roles in moving pictures late in her life. She was renowned for her numerous lovers, many of whom remained her friend, from the top echelons of French society. In addition, Bernhardt was an accomplished painter and sculptor, and she also wrote a textbook on the art of acting toward the end of her life. (Division 44)
9. DJ Mehdi (Mehdi Vavéris-Essadi): 1977-2011
Mehdi Vavéris-Essadi, known by his stage name DJ Mehdi, was a prolific French musician and DJ who helped shape the French hip hop, indie, and electronic music scene. His life was cut short when the skylight of his Paris home collapsed during a birthday celebration on the roof with a group of friends. (Division 73)
10. Max Orphuls: 1902-1957
German-born film director, known for his fluid camera work and tracking shots. Unusual for his time, he showed a female perspective in some of his films. Orphuls fled Germany in the 1930s as Nazis rose to power, and became a French citizen in 1938; after the German invasion of France, he fled again to the U.S. in 1940. (Division 87, Box 6219-exterior)
11. Yilmaz Güney: 1937-1984
Kurdish actor and then film director from Turkey who focused on the plights of working class people in his country. After political persecution and imprisonment, he fled to France in 1980 and lived in Paris for the remainder of his life. (Division 62)
12. Isadora Duncan: 1878-1927
American dancer and choreographer known for her emphasis on organic fluidity of movement rather than the structured form of classical ballet. She died when the long scarf she was wearing caught in the spokes of the wheel of an open-air auto in which she was riding. (Division 87, Box 6796 in the Columbarium)
13. Maria Callas: 1923-1977
Acclaimed American opera star, famous for the unique quality of her mezzo-soprano voice and her acting skills that enabled to bring her characters to life on stage. She was also known for a long-standing romance with Aristotle Onassis that continued after his marriage to Jacqueline Kennedy. (Division 87, Box 16258, 1st sub-level of the Columbarium; ashes scattered over the Aegean Sea)
14. Marcel Marceau: 1923-2007
Renowned French mime artist and actor, best known for his "Bip the Clown" persona. As a member of the the French Resistance during the Nazi occupation of France during World War II, Marceau helped rescue and save numerous children from being deported to concentration camps. After the war, his career as a mime began slowly at first, and then his fame skyrocketed thanks to his performances on televisions and in movies. (Division 21)
15. Jane Avril: 1868-1943
Jane Avril (born Jeanne Louise Beaudon) overcame crushing poverty and an abusive family life to become the Moulin Rouge can-can dancer immortalized in posters and painting by Henri de Toulouse-Latrec to whom she was both friend and muse, and later portrayed in the Moulin Rouge movies by Zsa Zsa Gabor (1952 version) and Nicole Kidman (2001). Her remains are buried at Pere Lachaise in the family tomb of her husband, printmaker Maurice Biais. (Division 19)
---
The Most Beautiful, Most Poignant, & Weirdest Memorials at Père Lachaise
Although Père Lachaise has plenty of spectacular celebrity graves, some of the most memorable funerary art commemorates people not in the public eye, or whose former fame has faded.
These may be the tombs you remember best.
16. Remina Maggiori: Died 1985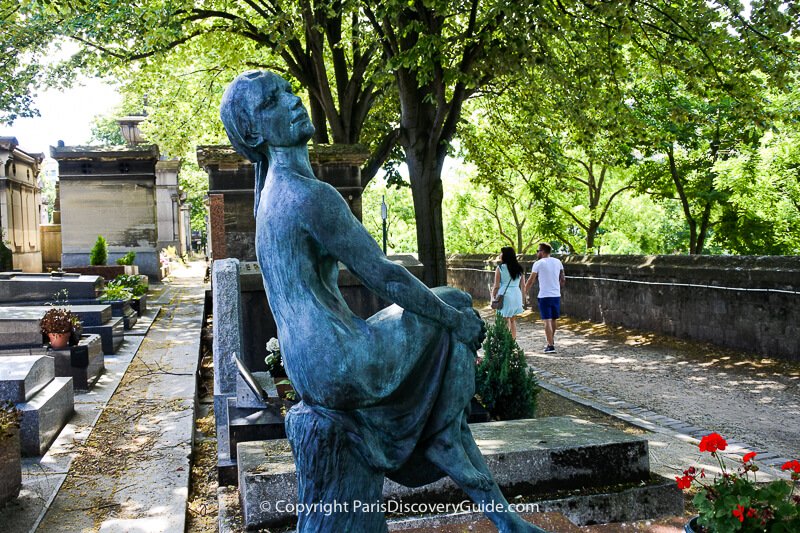 On top of the polished brown marble grave of Remina Maggiori, one of the many Père Lachaise permanent residents known only to their family and friends, a beautiful bronze statue created in Florence by well-known Italian sculptor and painter Marcello Tommasi exudes life and joy. It's contagious - you may smile back as you walk by. (Division 60)
---
17. Fernand Arbelot (1880-1942)
Although French actor Fernand Arbelot may no longer remembered for his own accomplishments, the realistic sculpture by Belgium sculptor Adolphe Wansart of him lying on his tomb while holding a mask representing his grieving wife (see the tear dripping from her eye?), supposedly to enable him to gaze at her through eternity, seems at first glance to be touchingly romantic.
Unless his fixed stare brings to mind Sting's 1983 hit with The Police, "Every Breath You Take (I'll Be Watching You)" - in which case it begins to feel a bit creepy. (Division 11)
18. Louis-Sébastien Gourlot (1778-1816)
Although almost nothing is known about Louis-Sébastien Gourlot, this striking stone and golden-tinted plaster statue representing his sorrowful widow stands out among the grays and taupes of other nearby memorials. (Division 11)
19. Legru and Lhenoret Family Tomb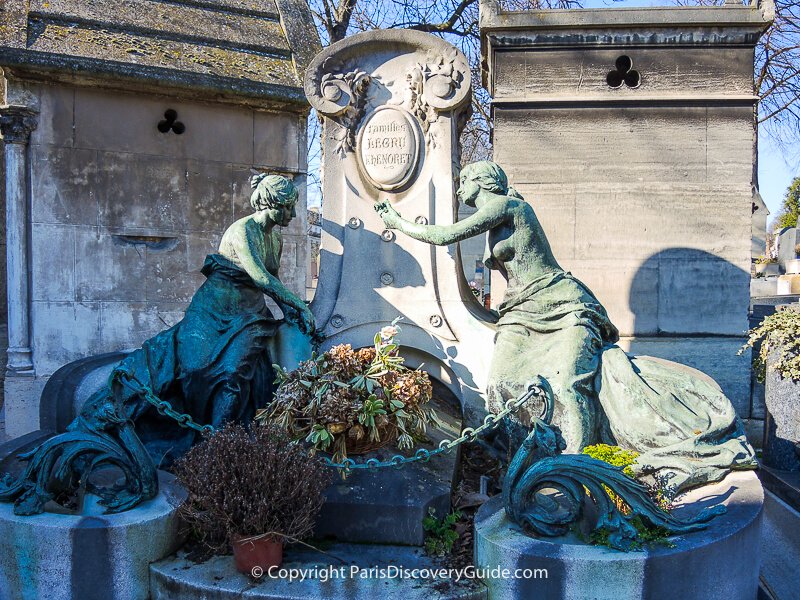 Several members of the Legru-Lhenoret family are buried in this tomb, but what makes it remarkable is the beautiful bronze sculpture of two scantily clad women created by architect-sculptor Marcel Rouillère, who was told to avoid traditional forms and figures of funerary art. He created it around 1905-09 and you can see it in the flowing organic forms of Art Nouveau. (Division 1)
20. Moreau-Vauthier Monument
The Moreau-Vauthier family tomb at Pere Lachaise is topped with a beautiful bronze statue of a grieving woman signed "A. Moreau Vauthier," who was mostly likely French sculptor Augustin Jean Moreau Vauthier (1831-1893), father of Paul Moreau-Vauthier (1871-1936), creator of the cemetery's bas-relief wall memorial to commemorate victims who died during the Paris Commune fighting. The tomb contains the remains of over a dozen family members, including Augustin Jean and Paul. (Division 14)
21. Christiane Nitzel (1938-2011) and Jean Nitzel-Henri (1937-2017)
In a cemetery filled with mostly traditional memorials and sculptures, this surrealistic piece by Andrey Lekarski stands out on the tomb of Christiane and Jean Nitzel, philanthropists who meticulously restored Château de Vaux, a 15th century pre-Renaissance castle, after it had fallen into almost total ruin. (Division 10)
22. Leon Philippe Beclard: 1821-1864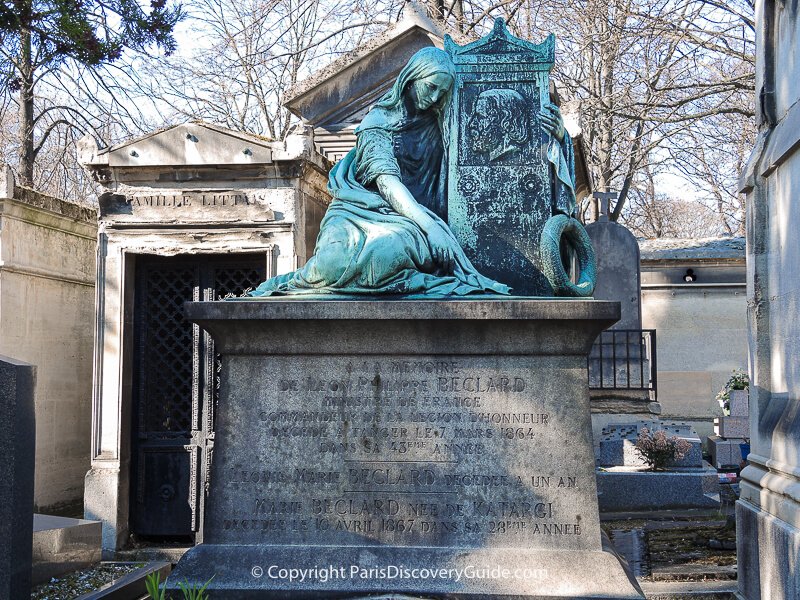 This beautiful bronze sculpture depicting a sorrowful woman holding a picture, presumably of the deceased, is on the tomb of Leon Philippe Beclard who died in Tangier, Morocco while serving as Minister of Finance for Napoleon III. (Division 4)
23. Georges Rodenbach: 1855-1898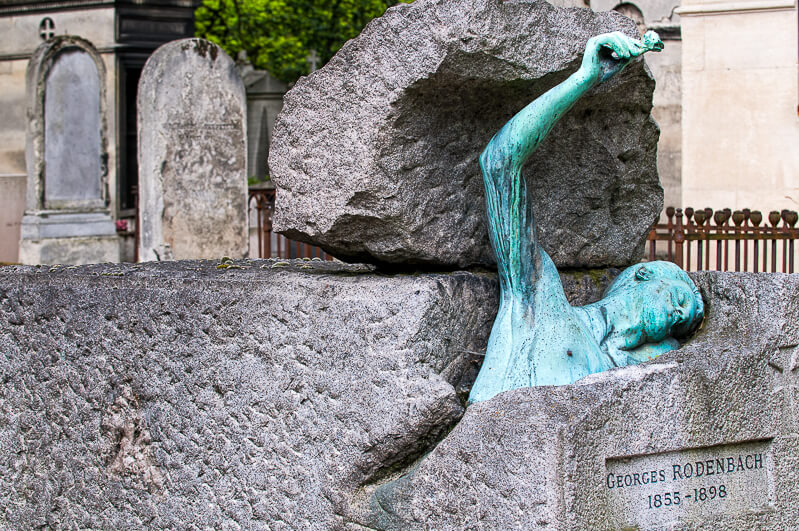 Belgian novelist and poet Georges Rodenbach embraced fin de siècle symbolism and emphasized the interplay between romance and tragedy in his novels - so maybe it's not a surprise to see a bronze figure in his likeness holding a rose as he bursts out of his granite tomb.
Don't be surprised to see crowds around the Geroges Rodenbach grave, as it's easily one of the most dramatic in the cemetery. His epitaph: Lord, give me this hope to live again in the melancholy eternity of the book. (Division 15)
More Fascinating Pere Lachaise Tours to Consider
---
Where to Find Writers & Composers in Père Lachaise Cemetery
24. Oscar Wilde: 1854-1900
Just as Irish playwright, novelist, journalist and poet Oscar Wilde achieved immense success and popularity, he was convicted by a British court of "gross indecency with men" and sentenced to two years of imprisonment with hard labor. Upon his release, he fled for France where he remained in exile until his death from meningitis three years later.
Wilde's Egyptian-themed tomb at Pere Lachaise, created by sculptor Jacob Epstein, has sustained damage through the years after visitors started applying heavy coats of lipstick to their lips and then kissing the monument; efforts to clean the stone has caused it to degrade. A glass barrier erected in 2011 has been only partially effective at preventing the kisses, as you can see in the photo above. (Division 89)
25. Frédéric Chopin: 1810-1849
Plagued by poor health for most of his short life, Polish composer and pianist Frédéric Chopin received acclaim during his lifetime for epitomizing the Romantic era, and his reputation has only grown since his death. His grave at Pere Lachaise receives numerous visitors. Jean-Baptiste Clésinger created the statue of Euterpe, Muse of Music, for his tomb.  (Division 11)
26. Miguel Angel Asturias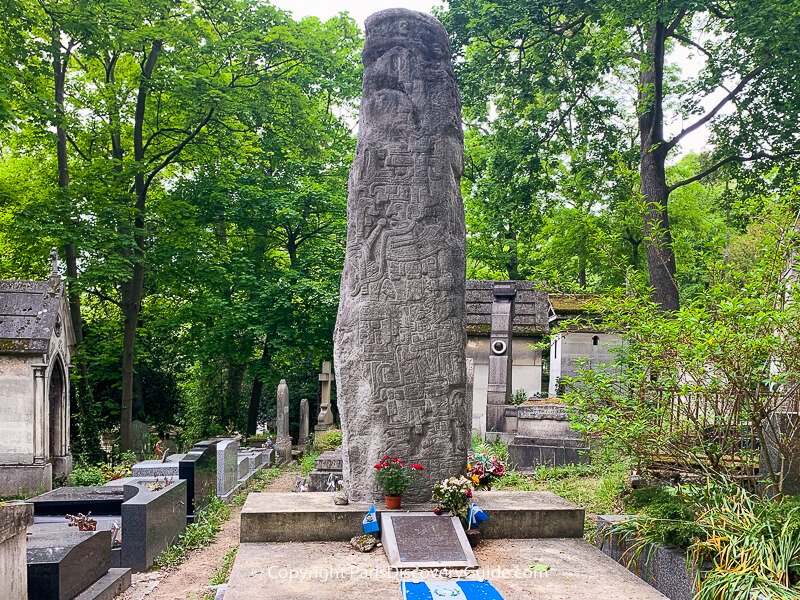 Miguel Angel Asturias was a Guatemalan poet, novelist, and diplomat who was awarded the Nobel Prize in Literature in 1967 as well as numerous other awards. He studied at the Sorbonne, lived in Paris for several periods, served as the Guatemalan ambassador to France from 1966-1970, and then lived in Paris as a permanent resident for the rest of his life. (Division 10)
27. Gioacchino Rossini: 1792-1868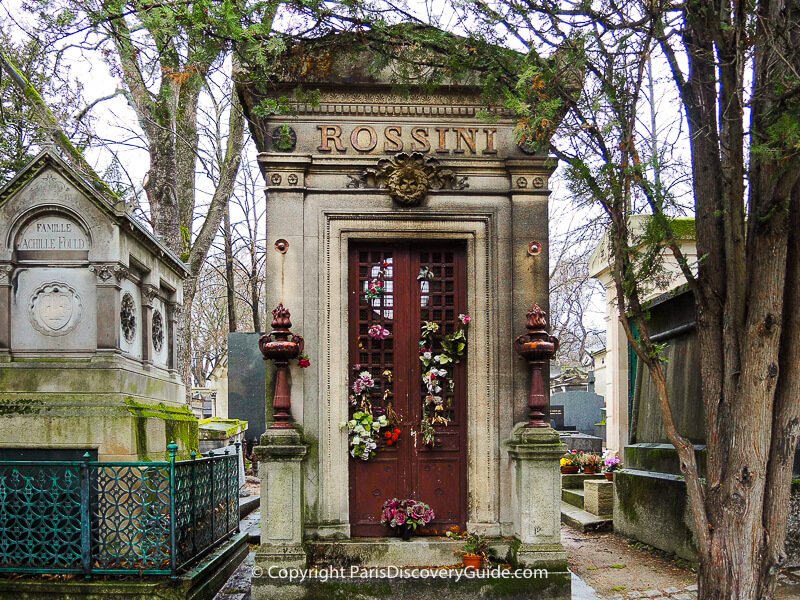 Italian composer famous for his operas, including The Barber of Seville, Otello, and William Tell. He wrote operas for the Paris Opera during the 1820s, and then after a period in Bologna, returned to Paris in 1855 where he lived for the rest of his life and held popular musical salons every Saturday attended by musicians and artists including Franz Liszt, Guiseppe Verdi, Giacomo Meyerbeer, Anton Rubenstein, and Joseph Joachim. (Division 4)
28. Colette: 1873-1954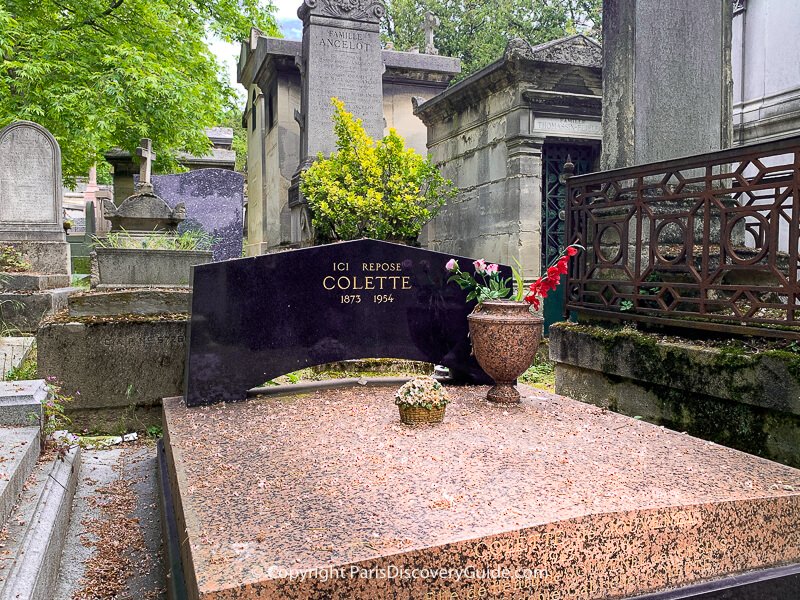 Colette (born Sidonie-Gabrielle Colette) was a prolific French writer and stage actress. Her best known works are The Vagabond, which explores a woman's quest for an independent life in a male-dominated society, and Gigi, the story of a young girl who realizes she is in love with a friend while training to become a courtesan. Like many of Colette's other works, these novels explore the opportunites for French women to forge independent lives for themselves in an era when they were treated as property.
Gigi has inspired a number of film and stage adaptations since Colette published it in 1944. Although Audrey Hepburn played Gigi in a 1951 Broadway version that closed after less than a year but launched Hepburn into stardom, the best known production is a 1958 musical film by Alan Jay Lerner and Frederick Loewe that starred Maurice Chevalier and Leslie Caron, who coincidentally had earlier played Gigi in a short-lived stage production. The movie went on to win 11 Oscars. (Division 4)
29. Victor Noir: 1848-1870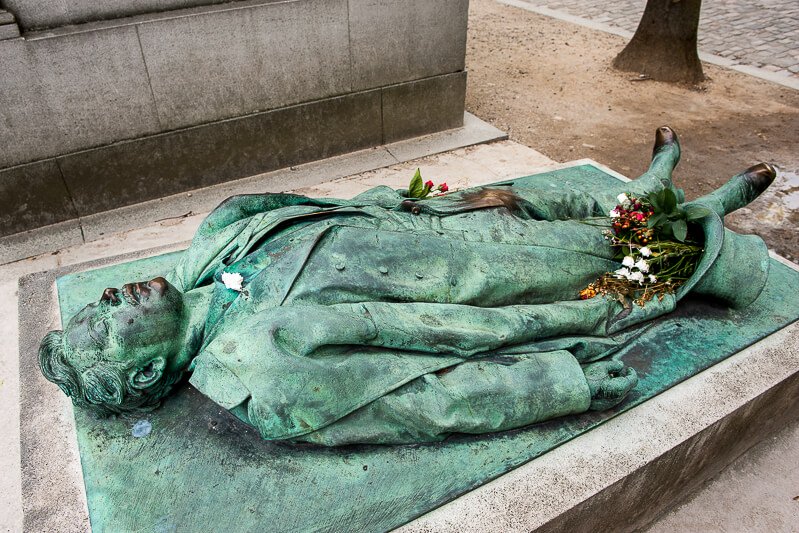 Victor Noir (born Ivan Salmon) was a journalist killed by Prince Pierre Bonaparte, nephew of Napoleon and cousin of Emperor Napoleon III. A dispute between two newspapers, including the one where Noir worked, escalated and led to an altercation when ended with the prince calling Noir and his colleagues "menials," slapping Noir's face, and then shooting him dead. When a court acquitted the prince of murder, an uproar including violent demonstrations took place. Nine months later, the Emperor's unpopular regime was overthrown during the Franco-Prussian War.
Sculptor Jules Dalou created the realistic life-size bronze sculpture of Noir to appear as though he has just fallen in the street. The slight bulge in his trousers has made Noir's grave one of the most popular in the cemetery due to a legend that rubbing it will provide fertility benefits. (Division 92)
30. Luigi Cherubini: 1760-1842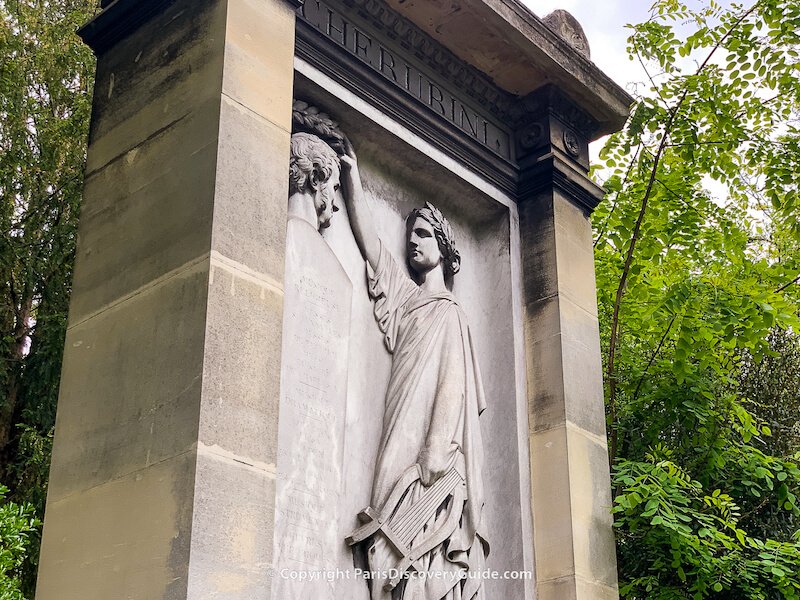 Italian composer and child prodigy Luigi Cherubini was best known for his operas during his life, which he mostly spent in France where he was highly acclaimed. Today, you're more likely to hear his church music and in particular his chamber music, especially in the concerts in historic churches that take place in Paris.
Cherubini's large tomb includes a bas-relief sculpture designed by Augustin-Alexandre Dumont showing "Music" crowning a bust of the composer with a laurel wreath. (Division 11)
More Graves of Writers & Composers
31. Guillaume Apollinaire: 1880-1918
Guillaume Apollinaire (born Wilhelm Albert Włodzimierz Apolinary Kostrowicki) was French poet, playwright, novelist, and art critic who coined the words "Cubism" and "Surrealism" to describe emerging art and literary movements. He was part of the artistic and intellectual Paris communities in the Montmartre and Montparnasse neighborhoods, and socialized with the leading lights of the prewar Paris intelligencia: Pablo Picasso, Gertrude Stein, Andre Breton,Jean Cocteau, Andre Derain, Eric Satie, Jean Cocteau, Marc Chagall, Henri Rousseau, and Marcel Duchamp. On top of his tomb in Pere Lachaise is a rough-hewn granite monument shaped like a menhir. (Division 86)
32. Honoré de Balzac: 1799-1850
Honoré de Balzac was a French novelist and playwright best known for his fiction series, "The Human Comedy." As a master of realism, he brought to life diverse characters as well as the city of Paris, which served as the backdrop for much of his work, and he strongly influenced a variety of younger writers such as Charles Dickens and Henry James. (Division 48)
33. Pierre Augustin Caron de Beaumarchais: 1732-1799
Beaumarchais (born Pierre-Augustin Caron - he added the "de Beaumarchais" for dramatic effect after his first marriage) was a renaissance man - a spy, diplomat, musician, inventor, publisher, watchmaker, horticulturist, aspiring slave trader, supplier of drinking water to Paris, teacher, financier, and strong supporter of both the American and the French Revolutions.
Today, Beaumarchais is best remembered for two of his plays, The Marriage of Figaro and The Barber of Seville, which Mozart and Rossini, respectively, turned into operas that are still frequently performed.
34. Vincenzo Bellini: 1801-1835
Italian composer Vincenzo Bellini achieved enormous success during his short life for his many bel canto style operas. Today, he is best remembered for his final masterpiece, I Puritani, which is still performed periodically in Paris. (Division 11)
35. Georges Bizet: 1838-1875
French opera composer Georges Bizet was just beginning to gain success and widespread recognition when his life was cut short by a heart attack at age 36. His final and best opera, Carmen, is still immensely popular today and much of its music such as "Habanera" and "The Toreador's Song" is instantly recognizable. A stately upright monument on his tomb features a bronze laurel wreath encircling a lyre. (Division 68)
36. Jean de la Fontaine: 1621-1695
French writer Jean de la Fontaine became famous for his Fables - poetic renditions of tales with a moral twist dating back to the Middle Ages - and his popularity continued long after his death, making his supposed remains ideal for giving the new Pere Lachaise Cemetery the needed cachet to attract other burials. He was close friends with other leading literary figures of his time, including playwrights Moliere and Racine. (Division 25)
For a couple of centuries before Pere Lachaise opened in 1804, Paris graveyards (typically small plots next to churches) had become so overcrowded that the bodies of everyone except the nobility, high ranking church officials, and the very rich were tossed into common graves.
So despite their fame at the time of their deaths, La Fontaine and Moliere had been buried in common graves in the former Les Innocents and Saint Joseph Cemeteries. The bones that were moved and reburied at Pere Lachaise almost certainly belonged to someone else.
The possibly of having one's own burial plot with no bones of strangers mixed in was part of Pere Lachaise's initial promotional campaign.
37. Molière: 1622-1673
Playwright, actor, and director Molière (born Jean Poquelin) is considered one of the world's greatest writers, right up there with Shakespeare. Today, his most popular are his comedies, such as Le Misanthrope ou L'Atrabilaire Amoureaux (The Misanthrope, or the Cantankerous Lover) and Tartuffe or L'Imposteur (Tartuffe, or the Impostor). He and his troupe of actors performed regularly at the Comédie-Française, the oldest active theater company in the world, which was popularly known as La Maison de Molière (The House of Molière). Molière collapsed on stage while performing the lead role in, ironically, his play Le Malade Imaginaire (The Imaginary Invalid) and died a couple of hours later.
Molière's supposed remains, like those of La Fontaine, were reburied at Pere Lachaise in 1817 as part of a promotional campaign for the then-new cemetery. (Division 25)
38. Francis Poulenc: 1899-1963
Francis Poulenc was a French pianist and composer whose music spanned a range of genres. He's particularly well-known for his solo piano pieces, much of which is light-hearted and playful in the spirit of Eric Satie, and his religious music. His compositions are widely performed in Paris concert venues, and around the world. (Division 5)
39. Gertrude Stein: 1874-1946
American writer who settled in Paris in 1902 where she met her life partner, Alice B. Toklas, developed her literary skills, collected early 20th century art, and hosted a weekly Saturday night salon attended by the top French, American, and British writers and artists in Paris at that time, including Ezra Pound, Henri Matisse, Ernest Hemingway, Pablo Picasso, Francis Picabia, Georges Braque, André Derain, Henri Rousseau, Guillaume Apollinaire, Joseph Stella, Carl Van Vechten,and F. Scott Fitzgerald. (Division 94)
40. Gerda Taro: 1910-1937
German-Jewish Gerda Taro (born Gerta Pohorylle) was a photojournalist and anti-fascist who fled to Paris in 1934 to escape the rising antisemitism in her homeland. She and fellow photographer/ boyfriend Endre Friedmann, a Hungarian Jew, photographed events leading to the rise of the Popular Front in France and sold them under the name of a fictional American photographer, Robert Capa, in order to avoid the increasing anti-Jewish sentiment sweeping Europe.
When civil war broke out in Spain, she traveled there and photographed from the front lines, publishing her photos under her own name; in some cases, her war photography provided the only testimony to contradict propaganda by the Nationalist forces. She died in an accident during a battle on the front at age 26, and was given a grand funeral in Paris. Sculptor Alberto Giacometti created the monument for her grave. (Division 97)
41. Richard Wright: 1908-1960
American writer who focused much of his work on the effects of racial discrimination violence on African Americans. He is best known for his novel Native Son, which he completed with financial support from a Guggenheim award, and memoir Black Boy. In 1946, he moved permanently to Paris where he became a French citizen and developed friendships with French writers Jean-Paul Sartre, Albert Camus, and Simone de Beauvoir as well as fellow ex-pats James Baldwin and Chester Himes. (Division 87)
42. Alice B. Toklas: 1877-1967
American writer as well as confidant, lover, secretary, and cook for Gertrude Stein, who cast Toklas in the role of narrator in Stein's own memoire, "The Autobiography of Alice B. Toklas." Toklas's own best-known work is "The Alice B. Toklas Cookbook," famous during the 1960s hippie culture for its recipe for hashish fudge. Toklas is buried next to Stein. (Division 94)
When is the best time to visit Pere Lachaise? Learn about what to expect during each season
---
Tombs of Artists, Architects, & Designers Buried in Père Lachaise Cemetery
43. Arman: 1928-2005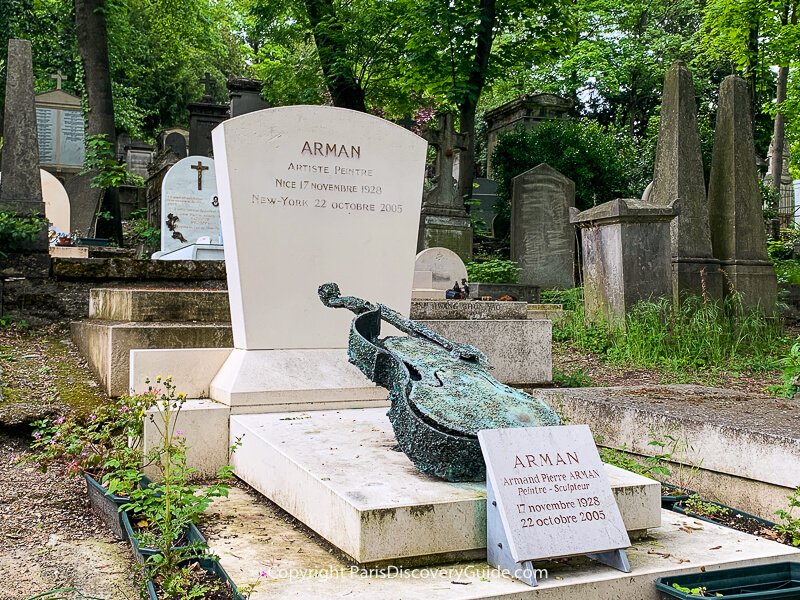 Arman (born Armand Fernandez, later changed to Armand Pierre Arman) was a French-born American conceptual artist renowned during the second half of the 20th century for creating sculptures out of "accumulations" of identical objects such as cellos or cars, and out of garbage. Along with other artists sharing a similar perspective such as Christo, Jean Tinguely, and Niki de Saint Phalle, he worked to created a "new realism." His work continues to be seen in large retrospective exhibitions, including one at Centre Pompidou in 2010-11. (Division 11)
44. Lucien Gibert: 1904-1988
Lucien Gibert was a major 20th sculptor who created numerous monuments, as well as over 200 medals for the Monnaie de Paris, where he served as director. You can see his work in the City of Paris Museum of Modern Art, as well as other museums around the world. (Division 61)
Book Your Pere Lachaise Tour Now
Père Lachaise Cemetery Guided Small Group Tour - During this 2-hour guided tour, you'll see the graves of Jim Morrison, Oscar Wilde, Chopin, Edith Piaf, and many other famous artists, writers, & musicians
Haunted Père Lachaise Cemetery Guided Tour - Fun, freaky, & macabre - you'll find out about all the spooky secrets at Pere Lachaise on this popular and fascinating tour
Père Lachaise Cemetery Private Tour - Explore the famous cemetery on this private tour customized to your interests with your family, couple, or friend group of up to 15
45. Alexandre Falguière: 1831-1900
Alexandre Falguière was a French artist, best known for his sculpture which you can see today in the Orsay Museum. He's not well-remembered as an artist today, so if his name sounds familiar to you, that may be cause there is a street and a Metro station named after him in Paris's 15th arrondissement.
The beautiful statue on his tomb represents "Inspiration" and was created by his pupil, Laurent Marqueste, whose works are also at the Orsay as well as in Tuileries Garden, Luxembourg Garden, and other public areas around Paris. (Division 4)
46. Theodore Géricault: 1791-1824
Although painter Theodore Géricault died young at 32, he exerted a huge impact on the French Romanticism movement, influencing younger artists such as Delacroix, Turner, Courbet, and Manet. Today, his best-known work is The Raft of the Medusa which you can see in the Louvre - and executed by sculptor Antoine Etex in bronze on the front of his tomb, with a reclining statue of himself perched on top. (Division 12)
More Tombs of Artists, Architects, & Designers
47. Louis Visconti: 1891-1853
Italian-born French architect who is best known for designing Napoleon's tomb at Invalides but who also designed several of Paris's loveliest public monuments and spaces, such as Fontaine Moliere in the 1st arrondissement, Fontaine Louvois in the 2nd, and the monumental fountain in Place Saint-Sulpice in the 6th. (Division 4e)
48. Albert Bartholomé: 1848-1928
French sculptor and painter who created the magnificent Monument to the Dead (Aux Morts) in Pere Lachaise in 1895, which led to numerous other commissions for funerary monuments. (Division 4)
49. Eileen Gray: 1878-1976
Irish designer, architect, and a leader of the Modern Movement, perhaps best known for her Art Deco furniture designs and rugs. Her work was "rediscovered" during the last decade of her life, resulting in a new surge of popularity. Gray's body was cremated at Père Lachaise and her ashes put into a niche in the Columbarium, but when no relatives could be found to renew the lease in 1998, they were removed and presumably placed in the onsite ossuary.
50. Alexandre-Théodore Brongniart: 1739-1813
Architect Alexandre Brongniart designed a number of Paris hôtel particuliers (private mansions) and the Paris Bourse (stock exchange) which was named Palais Brongniart in his honor, but his greatest achievement was the design, at the request of Napoleon Bonaparte, of Père Lachaise Cemetery, where his remains are interred under a limestone grave marker with a carving of a medallion representing the Bourse. (Division 11)
51. Pierre-Joseph Redouté: 1759-1840
Belgian painter and botanist best remembered for the vividly life-like botanical illustrations of roses, lilies, and other flowers that he painted with watercolors during a stint as the official court artist for Marie Antoinette and later under the patronage of the wives of Napoleon and the final French king, Louis Philippe I. (Division 28)
52. Gustave Caillebotte: 1848-1894
French painter famous during his lifetime for supporting Impressionist painters by buying their paintings, and to a lesser degree for his own paintings. In recent years, Caillebotte's own work has gained new appreciation. The Orsay Museum owns about 40 of his paintings and usually has one of his best known, The Floor Planers, on display along with others. (Division 70)
53. Marie Laurencin: 1883-1956
French printmaker and painter Marie Laurencin was a key participant in the Cubist movement in Paris in the early 20th century, working alongside better known male artists of the period such as Pablo Picasso, Robert Delaunay, Georges Braque, and Francis Picabia. Her work is in the permanent collection of Musée de l'Orangerie in Paris. (Division 88)
54. Bernard Verlhac (Tignous): 1957-2015
French political cartoonist at satirical publication Charlie Hebdo, murdered by terrorists during the January 2015 attack on the magazine's Paris office. (Division 95)
55. Camille Corot: 1796-1875
French artist famous for his neoclassical landscape paintings, especially those that embrace the plein-air approach of the early Impressionists. In Paris, you can see his paintings at the Louvre Museum and the Orsay Museum, as well as many other museums and galleries around the world. (Division 24)
56. Jacques-Louis David: 1748-1825
Best known today for paintings in the Neoclassical style such as "Death of Marat" and "Intervention of the Sabine Women," David was an ardent supporter of the French Revolution and the Reign of Terror that followed, often incorporating political subjects into his work to such a degree that some paintings crossed the line into propaganda.
David was fortunate to survive the purge of radicals after the Reign of Terror ended, although he did end up in prison. His wife, a royalist, divorced him after he voted for the execution of Louis XVI although got him released from prison and they later remarried in 1796.
Most of David's body is buried in Belgium where he spend his last years in self-imposed exile after the restoration of the monarchy, but his heart is buried with his wife's body in Pere Lachaise. A bronze medallion with his image is placed on his wife's white marble tombstone. (Division 56)
57. Eugene Delacroix: 1798-1863
Delacroix was a prolific, highly regarded, and enormously influential French Romantic painter whose treatment of light and color profoundly influenced the Impressionist painters. You can see a number of his paintings in Paris at the Musée National Eugène Delacroix and at the Louvre where his most famous work, Liberty Leading the People, featuring a triumphant female figure bearing the French tricolor flag symbolizing liberty, equality, and fraternity, is on display. (Division 49)
58. Vivant Denon: 1747-1825
Dominique Vivant, Baron Denon was a French artist, writer, diplomat, and Egyptologist. Napoleon named him as first Director of the Louvre Museum and conferred upon him the title of Baron. The Denon Wing is named for him. His grave at Pere Lachaise is topped with a life-sized statue of himself. (Division 10)
59. Max Ernst: 1891-1976
German-American-French artist who was a founding member of the Dada movement as well as Surrealism. His ashes are interred in the Columbarium. (Division 87)
60. Jean-Auguste Dominique Ingres: 1780-1867
Ingres was an acclaimed French Neoclassical painter, most famous during his lifetime and since his death for his portraits. Although he embraced classic traditions and academic style, the abstract qualities of some of his nudes influenced some of the Surrealists and modern painters. His work can be seen in Paris in the Louvre, the Musée d'Orsay, and the Musée de l'Armée.
Architect Victor Baltard, famous for designing the dozen glass and steel pavilions at the Les Halles market and Saint-Augustin Church, designed Ingres's tomb, and sculptor Jean-Marie Bonnassieux created a white marble bust of the artist for the tomb. (Division 23)
61. René Lalique: 1860-1945
French glass designer known for his stunning Art Nouveau art glass and glass objects. In Paris, you can see his work in the Museum of Decorative Arts, the Orsay Museum, and very high end antique shops. (Division 23)
62. Ted Lapidus: 1929-2008
French fashion designer Edmond "Ted" Lapidus started his own fashion label after an apprenticeship with Dior and rose to fame during the 1960s and 1970s when he became a favorite of celebrities such as Brigitte Bardot and Twiggy. He is credited with designing the "safari suit" popular during the 1970s and 80s, and also designed the white linen suit worn by John Lennon in the photograph on the Beatles' Abbey Road album cover. He is buried in his family tomb in Pere Lachaise. (Division 53)
63. Amadeo Modigliani: 1884-1920
Modigliani was an Italian Jewish modern artist who moved to Paris at age 18 and spent most of the rest of his life there. Best known for his paintings of women with elongated faces and bodies, he died destitute at 35 from tubercular meningitis, but today his work sells for tens and hundreds of millions. He is buried next to his life partner, Jeanne Hebuterne. Crazed by grief, she jumped from a fifth floor window to her death two days after he died. (Division 96)
64. Camille Pissarro: 1830-1903
Danish-French artist Camille Pissarro played such a key role in the Impressionist and Post-Impressionist movements that he is sometimes called the "Father of Impressionism." Despite being the only artist to exhibit his work at all eight Impressionist shows held in Paris from 1874-1886, he sold few paintings during his lifetime. Today, they bring millions. The best place to see them in Paris is at the Orsay Museum. (Division 5)
65. Georges Seurat: 1859-1891
Georges Seurat is remembered today as a French Post-Impressionist painter who developed pointillism, a painting technique designed to capture tiny dots of light on canvas so that the viewer's eye can blend them optically. His best-known work is the huge 10-foot wide A Sunday Afternoon on the Island of La Grande Jatte which took him two years complete. The Orsay Museum owns about 20 of his paintings, including The Circus which he completed not long before he died at age 31. His remains were interred in the Seurat family tomb at Pere Lachaise. (Division 66)
---
Scholars, Spiritual Leaders, & Philanthropists at Père Lachaise
66. Héloise (1101-1164) & Abélard (1079-1142)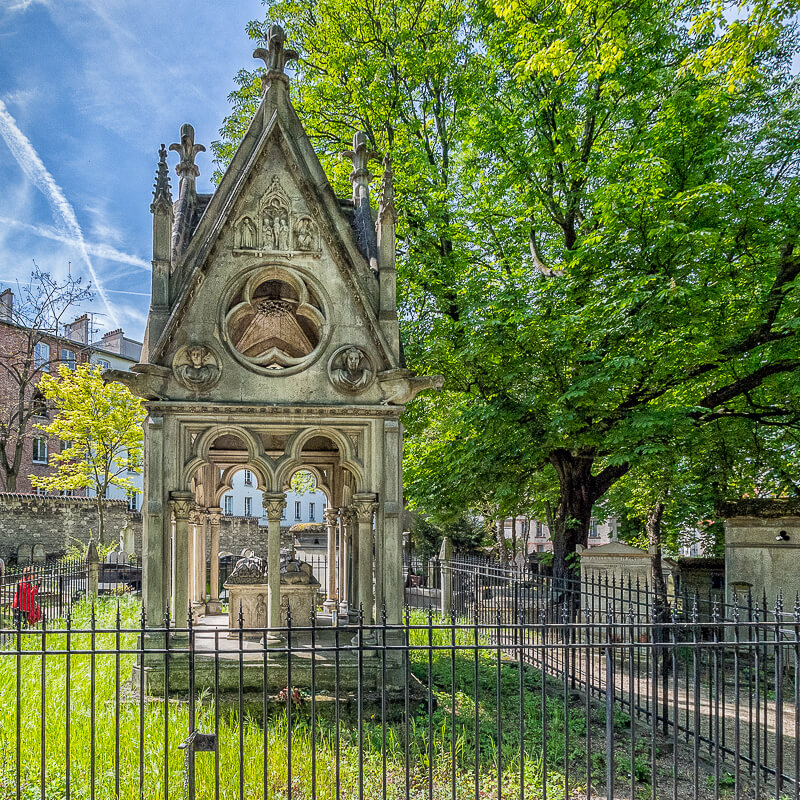 Héloise and Abélard met when Abélard became Héloise's teacher, and soon fell in love. But after Héloise's uncle discovered their secret marriage and erupted with rage, they were forced to live apart for the rest of their lives, Heloise in a nunnery and Abelard as a monk, only to be finally reunited centuries after their deaths when their remains were dug up and reburied next to one another in 1817 in a beautiful canopy tomb.
During their time apart, they became renowned scholars, and today their tomb is revered as a symbol of Romantic Love. (Division 7)
67. Allan Kardec: 1804-1869
Allan Kardec (birth name: Hippolyte Leon Denizard Rivail) founded " Spiritism" - a belief in the possibility of communicating with the Dead through mediums, seances, and other psychic phenomena. His grave often attracts a crowd - perhaps of people hoping to communicate with the Departed through him. (Division 44)
68. Swami Vijayananda: 1914-2010
Swami Vijayananda (born Abraham Jacob Weintraub), a French atheist who was the son of a rabbi, traveled to India when he was 36, inspired by a book about Hindu philosophy that described the quest to "find God within oneself." After studying Indian Vedic philosophy with a well-known teacher at an ashram, he eventually became her successor at the ashram and a highly regarded teacher and healer user herbal and ayurvedic medicines.
Swami Vijayananda wrote numerous books as well as music, and spoke at least three Indian languages as well as English and French in order to communicate with the many visitors to his ashram. Prior to his death at age 96, he had requested that his body be buried rather than cremated so that he could be buried by his family in France according to Jewish tradition. His remains were flown back to Paris where his family buried him at at Pere Lachaise and recited the Kaddish at his grave. (Division 41)
69. Sir Richard Wallace: 1818-1890
Sir Richard Wallace was a wealthy Englishman who was made a baronet by Edward VII in 1871 but spent much of his time from childhood on in Paris. After inheriting a fortune in 1870 from his father, the British Marquess of Hertford, he contributed millions to the Parisian poor during the Siege of Paris (September 1870-January 1871) in the Franco-Prussian War.
The contribution from that period for which Wallace is best remembered today are the beautiful dark-green fountains that he designed and had made to supply free clean drinking water to the poor who otherwise had no access to potable water and could not afford to buy it. Almost 100 of them, now called Wallace Fountains in his honor, still remain in Paris. You can refill your water bottle from them throughout most of the year, aside from winter months when the city shuts them down to prevent freezing pipes.
Wallace is buried in the Hertford-Wallace family sepulchre in Pere Lachaise. (Division 28)
French Food Lovers & Creators at Père Lachaise
Paris is rightfully famous for its fantastic cuisine - so if you'd like to pay your respects to those who have helped shape the gourmet fare you can enjoy today, here's who to search for:
70. Marcel Proust: 1871-1922
Although Marcel Proust may be remembered for his massive 7-volume novel/memoire, À la Recherche du Temps Perdu (Remembrance of Things Past), probably few people outside of French literature classes have willing read it. But if you have, what you may remember best are his evocative descriptions of the small but rich buttery molded shell-shaped cakes called madeleines. That's what most visitors seem to remember for, as you'll almost see at least a few madeleines stacked on his grave.
Madeleines are available in bakeries and specialty boutiques throughout Paris. If you develop an addiction while sampling them (each bakery makes its own special version), a special madeleine baking pan from one of the cookware shops near Les Halles could be your favorite Paris souvenir. (Division 85)
71. Louis Ernest Ladurée: 1836-1904
By founding the Ladurée bakery at 16 Rue Royale in 1862 and along with his wife, Jeanne Souchard, opening one of the first tea salons in Paris, Louis Ernest Ladurée created the demand for fabulous new pastries such as the macaroons bearing his name we still love today. No, this is not the originator of the famous macaroons you can buy today at any Ladurée shop in Paris - that honor goes to his cousin, Pierre Desfontaines. (Division 54)
72. Antoine-Augustine Parmentier: 1737-1813
Agronomist Antoine-Augustine Parmentier may owe his lasting fame to a stint of imprisonment during the Seven Years' War (1754-63). Captured and forced by Prussians to exist on potatoes, a plant tuber so reviled in France at that time that they'd been officially banned in 1748, he developed a new appreciation for their nutritional benefits. Once the war ended and he returned to France, he became an evangelist for the lowly spud.
Despite some ups (recognition from royalty!) and downs (the French Revolution guillotined the royalty), he eventually succeeded so well that numerous tasty French potato dishes now bear his name: Pommes Parmentier (cubed potatoes fried in butter with herbs, onions, and/or bacon), Potage Parmentier (potato and leek soup), Hachis Parmentier (shepherd's pie topped with mashed potatoes), and as fans of Clotilde Dusoulier's The French Market Cookbook know, even a potato-less vegetarian riff on hachis, Parmentier de Brocoli. (Division 39)
73. Anthelme Brillat-Savarin: 1755-1826
Although Jean Anthelme Brillat-Savarin served as a French judge, his fame came from his essays as a food writer advocating a low-carb diet. He's still quoted frequently today - for example, "Tell me what you eat: I will tell you what you are."
Cheese lovers today recognize his name because of the lusciously rich triple-cream Brillat-Savarin cheese from Burgundy named in his honor - perhaps inspired by his claim that "A dessert without cheese is a beauty with only one eye." Savarin ring molds and Gâteau Savarin (a.k.a. rum baba) were also named in his honor. (Division 28)
74. Henri Mariage: 1827-1907
Along with his brother Edouard, Henri Mariage founded the Mariage Fréres Tea Company in 1854, part of a 200 year family tradition trading and supplying premium tea to first-class hotels, restaurants, and tea shops throughout France, UK, and the rest of Europe which continued through 4 more generations until the business opened its first retail operation in 1983 at 35 Rue du Bourg-Tibourg in the Marais, where Henri Mariage once had his office in the same building. Huge success followed.
You'll now see Mariage Fréres shops and tea rooms at several locations around the city where you can buy your favorite blend in one of their distinctive black and gold canisters or sample one of the 250 or so premium blends to discover your favorite. (Division 7)
Politicians, Bureaucrats, & Military Leaders Buried at Père Lachaise
75. Félix Faure: 1841-1899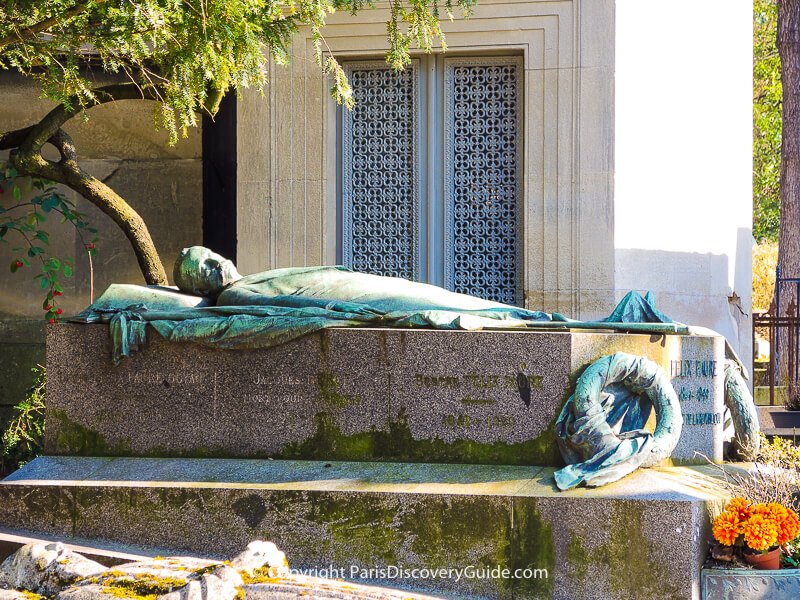 Félix François Faure served as President of France from 1895 until he died four years later, supposedly while having sex with his much younger mistress. While alive, it was said that his best qualification for being President was that he didn't offend anyone. Once dead, the circumstances of his demise inspired a huge outburst of hilarity in the form of puns, double entendres, and wordplays (let's just say that many of them involved French words and synonyms for "pumped up." It's hard to say whether the sculpture of him lying dead on top of his tomb makes him look at peace or just deflated. (Division 4)
More Politicians, Bureaucrats, Military Leaders, Résistants
76. Colonel Fabien (Pierre Felix Georges): 1919-1944
A memorial in Pere Lachaise honors the legendary French Resistance fighter Colonel Fabien (born Pierre Georges; field name Frédo) and his squad including Lt Colonel Dax, Capitaine Katz, and Capitaine Lebon who fought aggressively against the Nazi occupiers of Paris and elsewhere during World War II. They blew up German equipment, initiated targeted assassinations, and organized and led a Free French battalion which played a key role in the Liberation of Paris during August 19-25, 1944. Fabien then organized the Paris Brigade of 500 resistance fighters to continue the fight against the occupiers. He and the others named on the monument died in 1944 during an operation near Germany.
Although Colonel Fabien's fights against the Nazi occupation of France did not always achieve success, especially in the beginning, the importance of his efforts to prevent his country from falling into the "loyal collaboration" advocated by the Vichy puppet government installed by Germany cannot be understated. If you want to learn more about his efforts to free France, visit the Musée de la Libération. (Division 97)
77. Marie-Madeleine Fourcade: 1909-1989
Leader of the French Resistance "Alliance" espionage network during the occupation of France by the Nazis during World War II. She operated under the code name "Hérisson" ("Hedgehog"), and as commander of 3,000 resistance agents, tracked and reported on the movement of submarines and other critical information. She was captured twice but escaped both times, and was named a Commander of the Legion of Honor after the war ended. (Division 90)
78. Jean-Jacques Cambacérès: 1753-1824
Jean-Jacques Cambacérès (full name: Jean-Jacques-Régis de Cambacérès, duc de Parme) was a French lawyer and nobleman who was the primary author of the Napoleonic code, France's first civil laws, which remains in place today as the foundation of civil law in France and other former French colonies and possessions around the world. He was buried with military honors at Pere Lachaise. (Division 39)
79. Georges-Eugene Haussmann: 1775-1825
Georges-Eugene Haussmann (known as Baron Haussmann) was a civil servant who became Prefet of the Seine, transformer of Paris during the Second Empire, partly because of his "audacious" personality. At the request of Napoleon III, he radically transformed Paris, which had been a warren of narrow, winding medieval streets lacking adequate sewage systems and clean drinking water to become a cleaner and healthier, much more modern, and much grander city with broad, sweeping avenues lined with new ornately detailed buildings built according to a strict formula (shops on the ground level with five floors above) now known as Haussmannian architecture. Paris also became larger; to relieve congestion, Napoleon annexed 11 surrounding communes (towns) and increased the number of arrondissements from 12 to 20.
During a 3-decade period starting in 1854, Paris was a construction zone. Baron Haussmann brought in clean water, rebuilt the sewer system, put in place a system to wash the streets and water public parks, installed streetlights and a gas distribution system to keep them lit, created four new large parks (including the two bois, or woodlands, sometimes called the "lungs of Paris") and 20 smaller ones, and oversaw the building of the Paris Opera House, Palais Garnier. Haussmann was eventually fired and Napoleon III overthrown. Today, he's simultaneously remembered as the man who destroyed the beautiful medieval Paris and the man who created the beautiful modern Paris. His remains are interred in his family tomb at Pere Lachaise. (Division 4)
80. Imre Nagy: 1896-1958
Prime Minister of Hungary from 1953-1955 who was forced to resign and expelled from the Communist Party because of his "liberalizing" tendencies. He became a leader of the Hungarian Revolution of 1956 against the Soviet Union-backed government, and after it was suppressed, he was sentenced to death, executed, and buried in an unmarked grave in Hungary. At this time, a cenotaph was placed as a memorial to him in Pere Lachaise. In 1989, his remains were retrieved and reburied in Hungary with full honors. His cenotaph remains Paris. (Division 44)
81. Maximilien Foy: 1775-1825
French military leader during the French Revolutionary Wars and Napoleon Bonaparte's various battles and expeditions. He wrote a history of the Peninsular War that is still considered definitive. His tomb is quite large and impressive. (Division 28)
82. François Raspail: 1794-1878
Respected French chemist who was one of the founders of cell theory in biology. He became involved in politics after the Revolution of 1830, which overthrew Charles X and put Louis Philippe on the throne. He ran for President during the Second Empire but Louis-Napoleon Bonaparte (later Napoleon III) defeated him. He joined couple of revolts that failed, which led to him being imprisoned and exiled. While he was in prison, his wife died. A large sculpture on his tomb shows a shrouded spirit representing his dead wife trying to visit him in prison.
If Raspail's name seems surprising familiar, that's because the longest boulevard in Paris, Boulevard Raspail, and a metro station are named for him. (Division 18)
Scientists, Inventors, & Business Tycoons Buried at Père Lachaise
83. Cino Del Duca: 1899-1967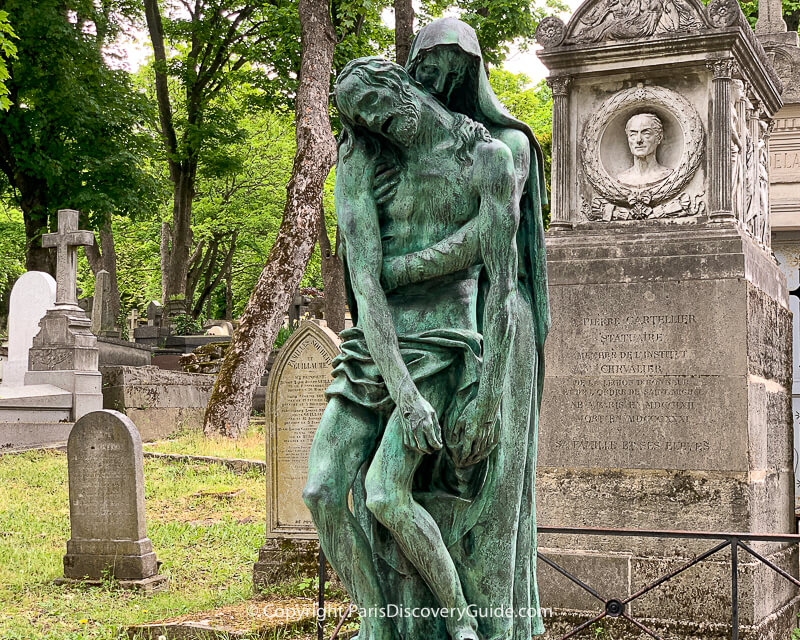 After playing a major role in the French Resistance against the Nazi occupation of France during World War II, Italian-born Cino Del Duca became a successful magazine publisher before moving into movie production. The Pieta sculpture by acclaimed Italian sculptor Francesco Messina on the tomb he shares with his wife Simone is one of the most beautiful works of art in the cemetery. (Division 53)
84. Auguste Bain: 1856-1916
Auguste Bain made his enormous fortune as an inventor, manufacturer, and seller of useful cutting devices, including a mechanical razor, shaver, and numerous other items such as a precision egg cutter that made life easier and better for the average person.
But after the death from an abscessed tooth of his youngest son Robert at age 13 in 1904, he spent much of the rest of his own life commemorating Robert, who you can see depicted with his dog under a bust of August in the bronze sculptures by Pierre Vaudrey adorning the family tomb at Père Lachaise. The identity or meaning of the two little boys below Robert is unclear. (Division 93)
85. JRD Tata: 1904-1993
Jehangir Ratanji Dadabhai (JRD) Tata was a French-Indian aviator and businessman who served as president and chairman for the family business, now known as the Tata Group, for 50 years and led it through a period of exponential growth. In 1948, he also launched Air India, the country's first international airline, and served as chairman for 25 years. His remains are in the family tomb inscribed with his father's name, RD (Ratanji Dadabhoy) Tata. (Division 88)
More Scientists, Inventors, & Business Tycoons
86. Georges Cuvier: 1769-1832
French naturalist and zoologist credited with being the "founding father" of paleontology and comparative anatomy. On the negative side, he rejected the theory of evolution (this was pre-Darwin), promoted theories about "scientific" racism, and proclaimed that all large animals had already been found; had he lived 10 years longer, he might have been surprised to learn about the discovery of dinosaurs. (Division 8)
87. Fulgence Bienvenue: 1852-1936
French engineer who is called the "Father of the Metro" for his leadership designing the system and developing innovative ways to build it swiftly and safely. (Division 82)
88. Etienne Goeffroy Saint-Hilaire : 1769-1832
Naturalist who chaired the first Department of Zoology when the Museum of Natural History opened in 1793 in Paris, and was involved with the creation of the Ménagerie (ie, Paris Zoo) which you can still visit today in the Jardin des Plantes (Botanical Garden) in the 5th arrondissement. (Division 19)
89. Sophie Germain: 1776-1831
French mathematician remembered for her prize-winning work in elasticity and number theory. (Division 16)
90. Ettore Bugatti: 1881-1947
Born in Italy and later a naturalized French citizen, Ettore Bugatti designed the first generations of the legendary autos bearing his name. In 1909, he founded a manufacturing company to produce them. Although he was initially buried in Pere Lachaise beneath large tombstone carved with the Bugatti name, as his remains were moved to Dorlisheim in northeastern France. His grave marker remains at Pere Lachaise, but now looks a bit forlorn. (Division 97)
---
Important Memorials at Père Lachaise
91. Monument Aux Morts (Monument to the Dead)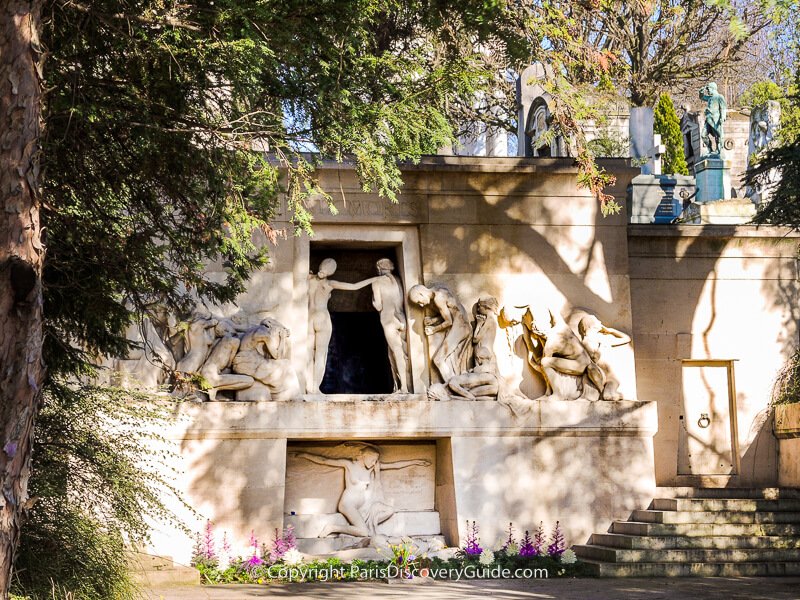 Sculptor Albert Bartholomé created this large memorial in 1895, inspired by Rodin's "The Gate of Hell" sculpture.
Under the hill behind Aux Morts is Pere Lachaise's own "catacombs" - an ossuary or common grave containing the bones of Parisians from all over the city as well as abandoned tombs at Pere Lachaise itself. When it gets too full, bones are removed, cremated, and returned as ashes. It is believed that the remains of at least 2 million people (and possibly a lot more) are stored there. (Division 4)
92. Communards Wall - Mur des Fédérés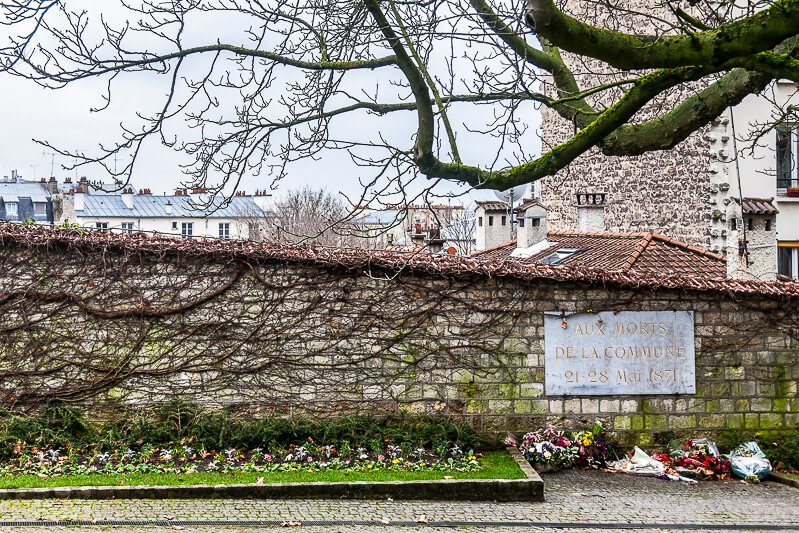 This simple aux morts plaque commemorates 147 men, women, and children who were massacred by the French army along this wall on May 28, 1871, ending a working-class coalition known as the Paris Commune that had ruled the city for just over two months during a power vacuum resulting from the Franco-Prussian War. During the week leading up to the executions, battles raged in neighborhoods throughout the city; it is estimated that between 10,000 and 30,000 Communards were killed by the French army.
93. Monument Commemorating the Communard Revolution Victims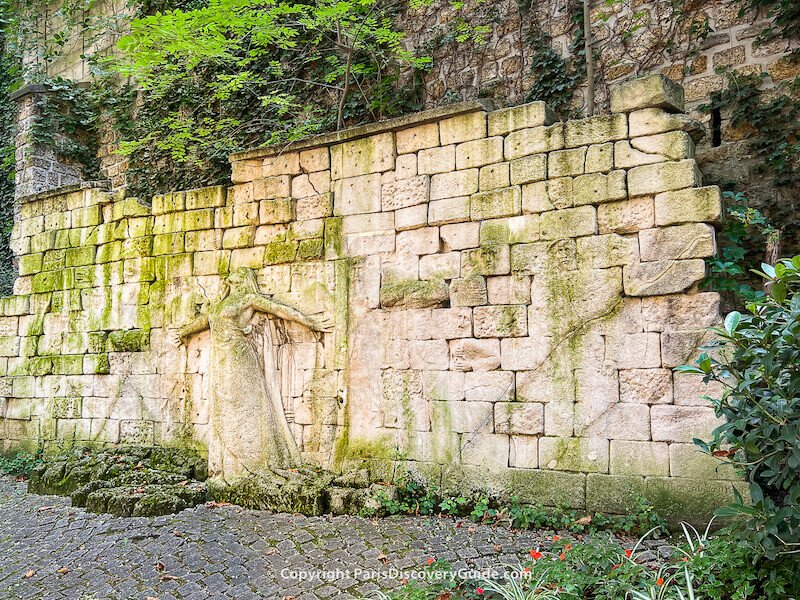 French sculptor Paul Moreau-Vauthier created this poignant wall entitled Victimes des Révolutions on Avenue Gambetta in 1909 to commemorate victims on all sides of the Paris Commune fighting - not to be confused with the Mur des Fédérés, which is specific to the slaughtered Communards.
94. Monuments to Deportees to the Nazi Death Camps during World War II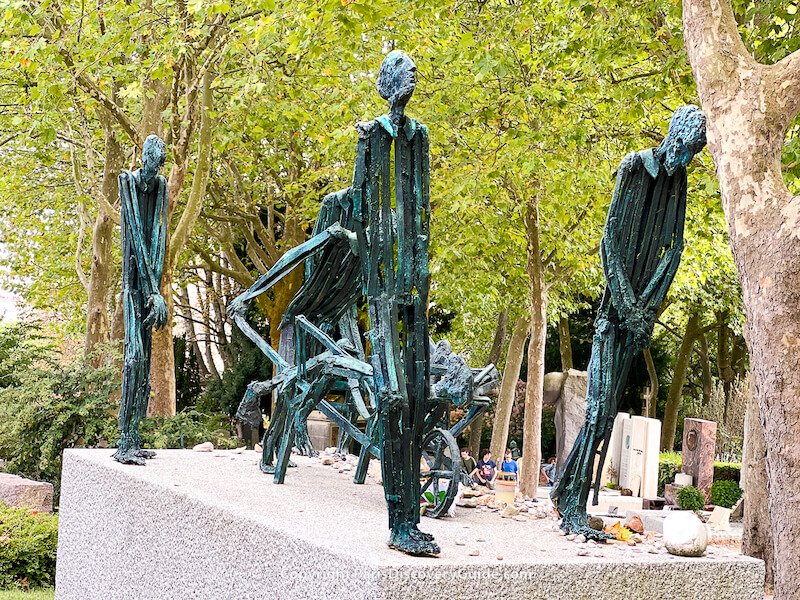 Divisions 77 and 97 contain a number of memorials to honor the memory of the victims of Nazi concentration and extermination camps, including Auschwitz, Dachau, Bergen-Belsen, Birkenau, Buchenwald, Ravensbruck, and others, as well as unknown deportees to other labor camps.
95. Monument to Parisians Dead & Missing in the Great War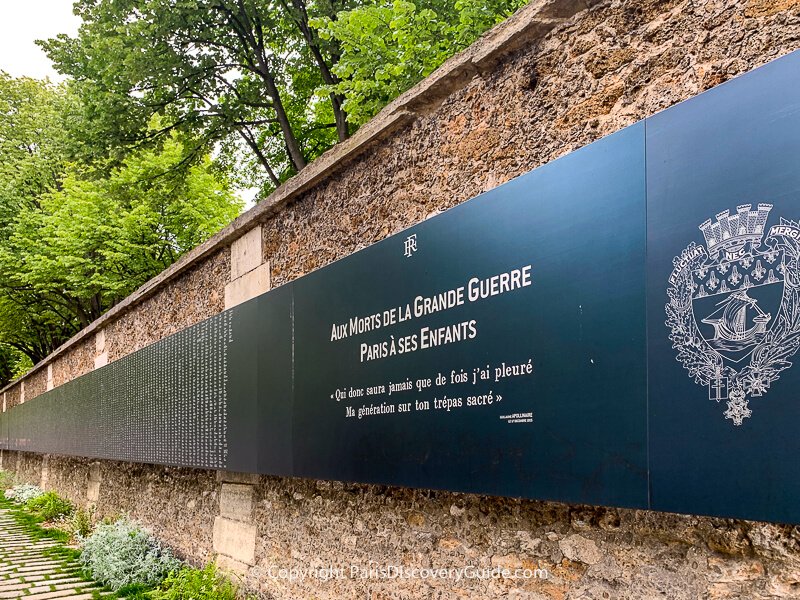 On November 11, 2018 on the centenary of the World War I Armistice, the City of Paris unveiled the most recent war memorial at Pere Lachaise along Boulevard de Menilmontant: a 280 meter (919 feet) long wall engraved with the names of the 94,415 Parisians who died in combat between 1914-1918 and the 8,000 whose bodies have still not been found. A chronology at the bottom provides a narrative about the progress of the war and the battles where people may have died.
For context: if the wall extended upright instead of horizontally, it would be much taller than the tallest building in Paris, Montparnasse Tower (210 meters) as well as taller than the highest skyscraper in France, the Tour First building (231 meters) in La Defense. Historical research to gather the names, confirm identities, and remove duplicates consumed more than six years.
---
More Notable Memorials at Pere Lachaise
Most of the these memorials to combatants from other countries who died while fighting for France are near Pere Lachaise's Gambetta Gate.
96. Memorial to Greek Combatants
A marble Ionic column topped with a copy of the famous Winged Victory of Samothrace statue (you can see the real one in the Louvre) commemorates Greek soldiers who died while fighting for France in 1870, World War I, and World War II. (Division 88)
97. Memorial to Fighters in Belgian
Commemorates Belgian soldiers killed in France when fighting in Argonne during World War I. (Division 84)
98. Memorial to Italian Soldiers
This large memorial by Italian sculptor Alberto Cappabianca (a former Garibaldian) honors the Italian soldiers in the Garibaldi regiment of the French Foreign Legion and other Italian volunteers who fought with the French in Argonne during World War I. (Division 84)
99. Memorial to Armenian Combatants
An octagonal monument meant to invoke the bell towers on Armenian chapels honors Armenians who died while fighting with the French army during World War I and World War II. (Division 88)
100. Memorial to Russian Fighters
This statue features a marble pedestal topped with a realistic sculpture of a soldier, and commemorates Russians who fought with France during World War II. (Division 84)
101. Memorial to Polish Soldiers
This memorial commemorates Polish soldiers who were killed in combat during the liberation of France in World War II. (Division 88)
Book Your Pere Lachaise Tour Now
Père Lachaise Cemetery Guided Small Group Tour - During this 2-hour guided tour, you'll see the graves of Jim Morrison, Oscar Wilde, Chopin, Edith Piaf, and many other famous artists, writers, & musicians
Haunted Père Lachaise Cemetery Guided Tour - Fun, freaky, & macabre - you'll find out about all the spooky secrets at Pere Lachaise on this popular and fascinating tour
Père Lachaise Cemetery Private Tour - Explore the famous cemetery on this private tour customized to your interests with your family, couple, or friend group of up to 15
---
Want to Find Out More about Famous & Unknown Graves at Père Lachaise Cemetery?
Whether you're searching for a particular tomb at Père Lachaise or you're sorting through the hundreds of photos you may have taken during a visit there, it's easy to get hooked on finding out more about who's buried there and who created the beautiful sculptures and memorials. There's actually a lot of misinformation on the internet - so here are two of the most meticulously researched sources we turn to:
Paristoric.com - Click on the link for Museums, and then Father Lachaise on the drop-down menu. You'll find details on about 1,000 of the graves and memorials, and best of all if you're searching for a particular tomb, GPS latitude/longitude information.
Findagrave.com - Use the search function to find a specific grave. The information is usually accurate, plus there are useful photos and links to primary information sources as well as GPS coordinates.
Find more questions about Paris travel, and our answers
---
Need a Hotel or Apartment for Your Paris Visit?
Find recommended Paris hotels in the 20th arrondissement
Use this hotel booking map to find more hotels and apartments during your travel dates:
Check out the newest Paris hotels
---