Paris events during July include some of the year's most exciting things to do and see: the Tour de France bicycle race finishes with a flourish down the Champs-Élysées, city beaches complete with sand and palm trees pop up next to the Seine River, and Bastille Day fireworks at the Eiffel Tower lights up the night skies.
And that's just the beginning of the exciting events in July - many of them free and outdoors, taking advantage of the glorious July weather.
You can drop in on a Fireman's Ball for some pre-Bastille Day celebration, catch the famous summer sales, and perhaps spot a few models from Paris Fashion Week - Haute Couture takes place in July.
You'll also find free outdoor film festivals, concerts, and art shows.
Get ready to have a spectacular time in the City of Lights, and enjoy the long sunny days and fun things to do that makes July one of the best months for visiting Paris.
Bastille Day Celebrations & Fireworks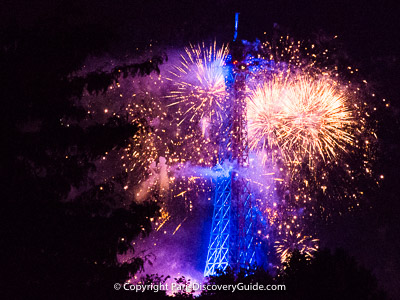 Bastille Day, the biggest Paris summer holiday and a national celebration throughout France, always takes place on July 14, the anniversary of the storming of the infamous Bastille prison in 1789 - a turning point in the French Revolution.
The day starts with a huge military parade down the Champs-Élysées from the Arc de Triomphe to the Place de la Concorde including a flyover of military aircraft that you can see from most points in the city. A special tribute will be given to the United States this year to commemorate the 100-year anniversary of our entry into World War I.
Military ceremonies begin at 10am, the flyover takes place at about 10:45am, and the parade kicks off at 11am, and lasts almost an hour. Arrive early if you want to stake out a good viewing location along the Champs Élysées.
A spectacular fireworks show at the Eiffel Tower on the Champ de Mars begins at 11pm, and lasts about half an hour. Gather on the Champ de Mars with a blanket and picnic from noon on to relax and enjoy free concerts, including an opera under Tour Eiffel beginning at 9:30pm.
More to Enjoy: Firemen's Balls (see next July event) at the fire station in each Paris district (arrondissement) on July 13th or 14th.
More about celebrating Bastille Day in Paris
Top photo: Tour de France riders going into the tunnel under Tuileries Garden
Special Bastille Day Fireworks Cruises - 2020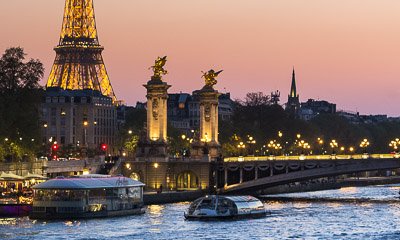 Perhaps the best place to see the Bastille Day fireworks is from a cruise boat on the Seine on July 14. Enjoy dinner and fine wine as you float past all the iconic landmarks along the Seine, and then watch the dazzling fireworks overhead.
The Paris Sightseeing Bastille Day Cruise combines a romantic cruise down the Seine past the city's top landmarks with a perfect location on the river across from the Eiffel Tower for watching the fireworks light up the sky. Enjoy a picnic dinner on board. Available on July 14th only, and sells out early - so don't wait to book.
One of our favorites is this magical Bastille Day Dinner Cruise with a 6-course gourmet dinner, wine and Champagne, live music, and a perfect view of the fireworks from the deck. This cruise takes place on Bastille Day only and always sells out - so book early!
Another popular choice is the Bateaux Parisiens Dinner Cruise on the Seine, which includes pickup and dropoff at your hotel. You'll enjoy a 3-hour Seine River cruise, a 3-course dinner with wine, live music, and panoramic views of the Eiffel Tower and other famous landmarks. Available every evening - but book far ahead for Bastille Day.
Firemen's Balls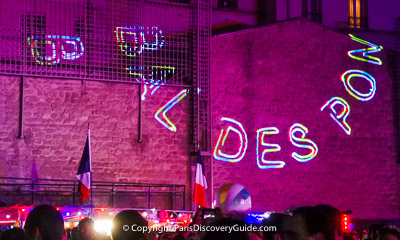 Want to celebrate Bastille Day like a true Parisian? Attend one or more of the Firemen's Balls- Bals des Pompiers - held on July 13th and/or 14th as the main fire house in each Paris arrondissement (district) opens its barracks and courtyards and welcomes the public for an all-night party with music, dancing, and drinking Champagne or beer.
The Bals des Pompiers start at 9pm and end at 4am. Depending on the fire house, they take place on July 13 or July 14 - and in a few cases, on both dates.
Find out more about what to expect at the Bals des Pompiers, locations, and date(s) for each firehouse.
Tour de France Grand Finale in Paris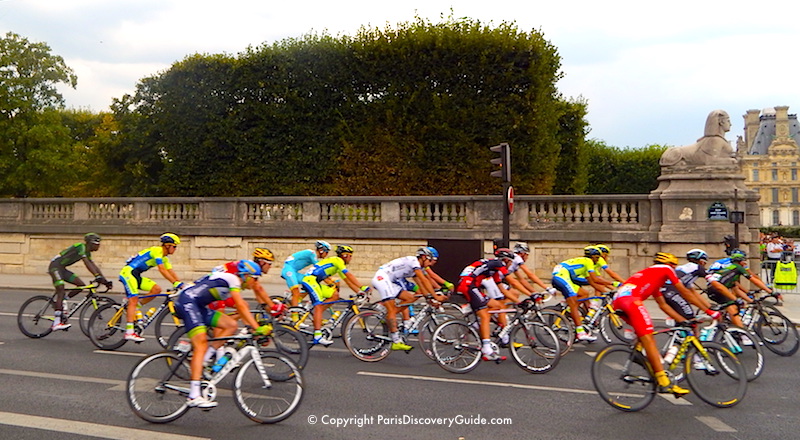 The famous Tour de France bicycle race - 23 days and 2,000 miles (3,540 kilometers) long - comes to an exciting close in Paris on Sunday, July 28.
Arrival time in Paris is hard to predict and varies every year, but somewhere between 3:30 and 5:30 is a reasonable guess. The final Paris stretch includes 10 laps up and down Champs-Élysées and around the Tuileries Garden - which gives you plenty of chances to see the racers.
You can watch the race anywhere along this route, but viewing areas along Champs-Élysées fill up quickly due to barriers keeping you back from the street and "privitized" areas used for outdoor dining by restaurants and other businesses. Tuileries Garden and areas on the other side of surrounding streets are usually somewhat less crowded, and especially if you get there early, you can usually find a good place.
Keep in mind that most metro stations along and near the route will be closed for much of the day, and city buses will be re-routed.
July Concerts in Paris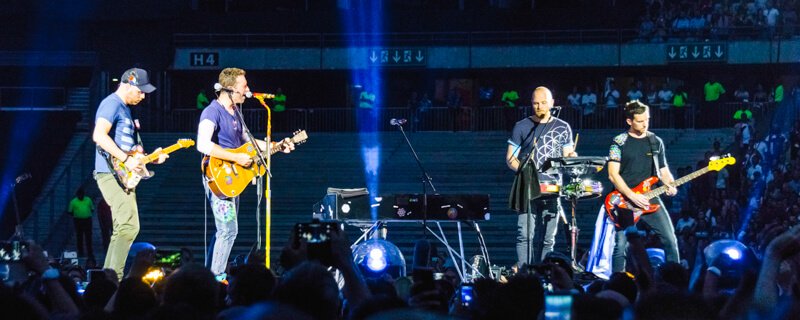 Swan Lake - Parc Jean Bouin (across from Parc des Princes, 16th arr) - July 1
La Bohème: Paris National Opera - Opéra Bastille - July 1, 2, 4, 5, 7, 8, 10, 11, 13
Alicia Keys - AccorHotels Arena - July 1
Concerts - Sainte Chapelle - July 3, 4, 5, 6, 10, 11, 12, 13, 14, 15, 16, 17, 18, 19, 20, 21, 22, 23, 24, 25, 26, 27, 28, 29, 30, 31
Rigoletto: Paris Opera - Opéra Bastille - July 3, 6, 9, 12
Billie Eilish & Pearl Jam @ Lollapalooza Paris - Longchamp Racecourse (Bois de Boulogne) - July 18 & 19 (2 days)
More Paris classical concerts in historic churches during July
More Paris rock, pop, jazz, rap, & other performances during July
More concerts throughout the year
Giverny Tours in July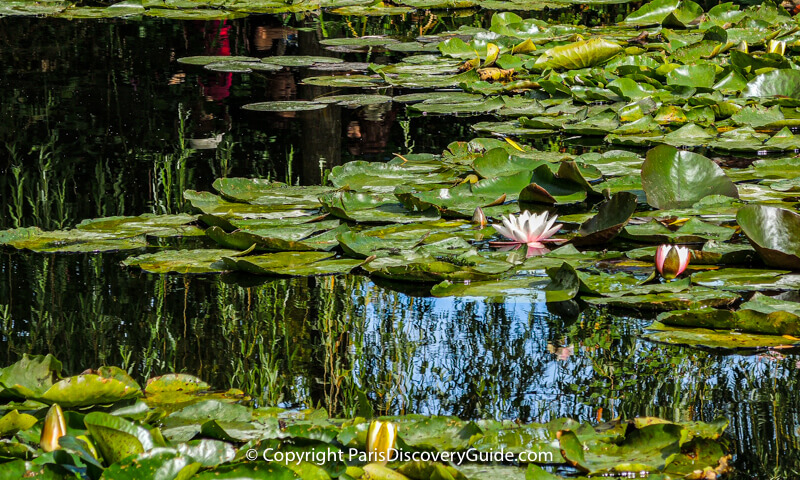 Impressionist artist Claude Monet spent the last half of his life in Giverny, a small village in Normandy about 45 miles (about 1 hour and 15-30 minutes) outside of Paris, where his famed water lily ponds burst into bloom during July and August.
Visiting Giverny is a quick and easy day trip from Paris, and if you're a Monet fan, it's an experience you'll want to put at the top of your bucket list. Thanks to a meticulous restoration after Monet's death, you will see his house, gardens, and water lily pond much as they were when he lived here and painted some of his finest masterpieces. The easiest way to visit, especially if you want to maximize your time in Paris, is by joining a tour.
Popular Giverny Tours from Paris
All of these tours include transportation to/from Paris and fast entry into the attractions:
Find out about other exciting Day Trips from Paris
Paris Plages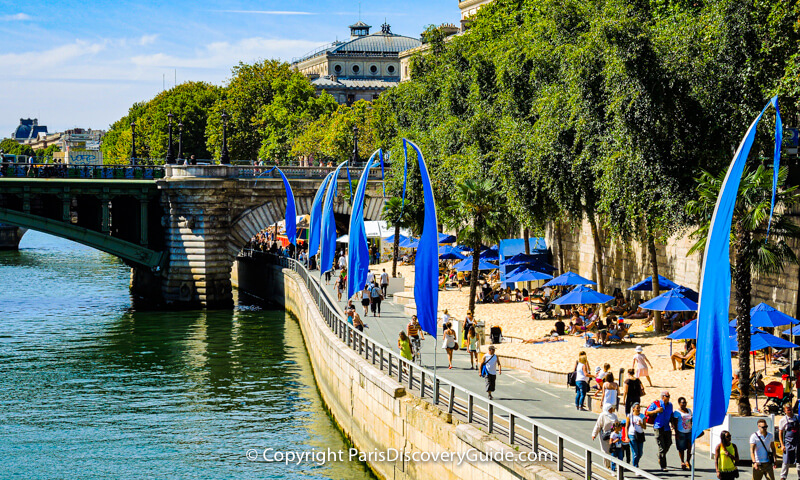 Paris Plages ("Paris Beaches") transforms parts of Paris into fun-filled beaches each summer.
You'll find Paris Plages at two main locations: Parc Rives de Seine where deck chairs, umbrellas, sand, grass, palm trees, and games line the Right and Left Banks of the river, and La Villette Canal Basin in the 19th arrondissement where you can float in the huge Paris Plages swimming pools as well as enjoy canoeing, other water sports, and even a zipline along the Quai de Loire.
Dates: July 6 - September 1
---
Popular Seine River Cruises
Summer Sales on Designer Fashions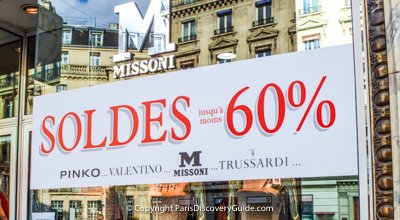 The famous Paris summer sales run from June 26 - August 6.
Look for Soldes signs in store windows all over the city, often followed by the amount of the reduction - typically 30-40% at the beginning, and soaring as high as 70-80% at toward the end.
Best places to find bargains? Everywhere! Luxury labels such as Chanel, Valentino, and Armani draw huge crowds - ditto for Galeries Lafayette, BHV, Bon Marché, and Au Printemps - but don't ignore smaller boutiques and even global mid-market chains.
Coveted Hermès bags, shoes, clothing, and other goodies go on sale for the general public for only 2 days this time - June 26 (9am-8:30pm) and June 27 (9am-6pm) offsite at Palais de Congrès near Porte Maillot. A VIP invitation-only sale takes place on June 25, but is rumored to be for spendy French customers only.
Find out more about Paris Summer Sales 2020
---
Paris Tours for Fashionistas
Paris Fashion Week - Summer 2020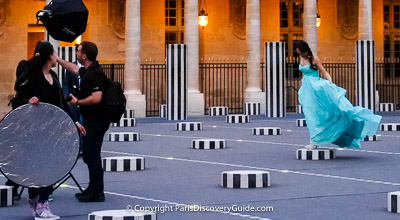 Haute Couture Fashion Week takes place in Paris from June 30 - July 4 for designers to present their latest high fashion collections.
The best places to catch a glimpse of the models (assuming you're not going to the invitation-only shows) are near the venue locations - the Grand Palais in the ritzy 8th arrondissement near the ornate Pont Alexandre III bridge, Espace Eiffel near the Branly Museum on the other side of the Seine, and at a variety of smaller, hipper venues scattered around the city such as Palais de Tokyo and Musée Galliera in the 16th. The trendy Marais neighborhood, especially around Place des Vosges, and Palais Royal (shown in photo) are always good model-spotting locations.
Paris l'Été (formerly Paris Quartier d'Été)
Want a fun excuse to explore different Paris neighborhood while celebrating summer in the city?
The annual Paris l'Été Festival (Paris SummerFestival) offers free or inexpensive outdoor music, dance, circus, and performances in all parts of the city, often in unusual places - more than 70 events in 30 different locations. - and celebrates the city's cultural diversity while mixing avant-garde/off-beat events with more mainstream traditions. A pass to 4+ ticketed events starts at 10€. The festival runs from July 12 - August 3.
Check Paris l'Été for schedule details.
Fnac Live Music Festival at Hotel de Ville - Free Concerts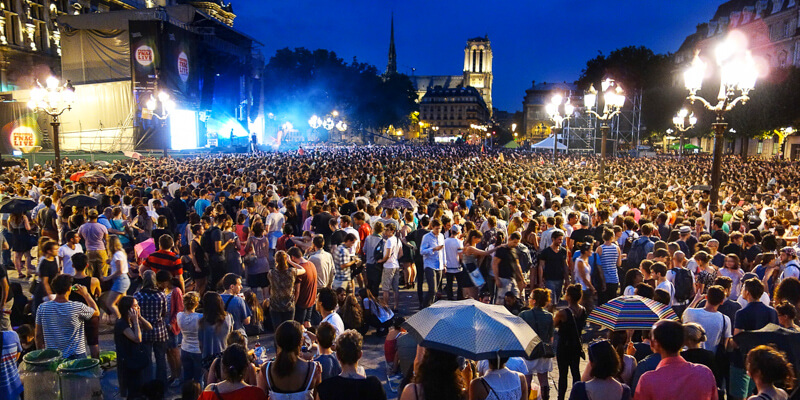 Don't miss three days of free live concerts by 30 artists including Columbine, Stephan Eicher, and Radio Elvis in front of Hôtel de Ville (Paris's City Hall) from 7:40pm-midnight on July 3 and 6pm-midnight on July 4 and 5 by contemporary French musicians as part of the big Paris Plages (beaches) summer event. Concerts are sponsored by French electronic retail chain Fnac and usually attract around 100,000 fans.
Location: Place de Hôtel de Ville, 4th arrondissement.
Tickets: Pick up your free tickets (maximum 2 per person) starting at noon on July 2 at any Fnac ticket office in Paris and the Ile-de-France
Nearest Metros: Châtelet, Cité, Saint-Paul
Paris Jazz Festival
Jazz concerts take place every Saturday and Sunday for 4 weekends at Parc Floral (the Paris Botanical Garden) in Bois de Vincennes through July 22. Bring a blanket and a picnic or buy wine and a sandwich at the park's snack bar, and get ready for a relaxing afternoon and evening enjoying the sunshine, flowers, wandering peacocks, and virtuoso jazz. Concerts are free, although the park charges a small (2.50€) entrance fee during summer and early fall. Check the Festival's website for concert times and - they vary each weekend - but generally take place in the afternoon and early evening.
Getting there: Bois de Vincennes, located in 12th Arrondissement on the eastern edge of Paris, is easy to reach - just hop on RER A train or Metro Line 1 to the Chateau de Vincennes Metro Station - the park is about a 3-minute walk from the station.
Bonus idea: Arrive early and stroll through Parc Floral's famous gardens, or explore Bois de Vincennes' other attractions such as its spectacular zoo, Lac Daumesnil, the aquarium, and 14th century Château de Vincennes.
Outdoor Movies at Parc de la Villette
Free outdoor movies return to Parc de la Villette again this summer for the Cinéma en Plein Air (Open Air Cinema).
On most Wednesday through Sunday evenings during five weeks in July and August, great mix of classic films and recent hits are shown in their original language with French subtitles as soon as the sky is dark enough. (Sunset in Paris occurs around 10pm at the beginning of July and 9:30pm at the en..)
Bring a blanket to sit on, or rent a folding chair for 7€, or 5 folding chairs for 20€.
Movie selections feature a theme each year - and this year's theme is "the world of tomorrow." So get ready to see utopias and dystopias.
Cinéma en Plein Air Lineup for July:
July 17 - Blade Runner 2049 (English)
July 18 - ARTE Fait Son Karaoke (French) (French)
July 19 - Tomorrow (French)
July 20 - Ponyo on the Cliff - Hayao Miyazaki (dubbed into French)
July 21 - Jeremiah Johnson (English)
July 24 - Little Peasant (French)
July 25 - The Red Turtle (no dialogue; only music)
July 26 - Her (English)
July 27 - Welcome to Gattaca (English)
July 28 - Modern Times (English)
July 31 - The Girl of July 14 (French)

Dates: July 17 - August 18; see Paris Events in August for the August lineup and dates
Nearest Metro: Porte de Pantin
Paris Exhibits - Must-See Shows during July 2020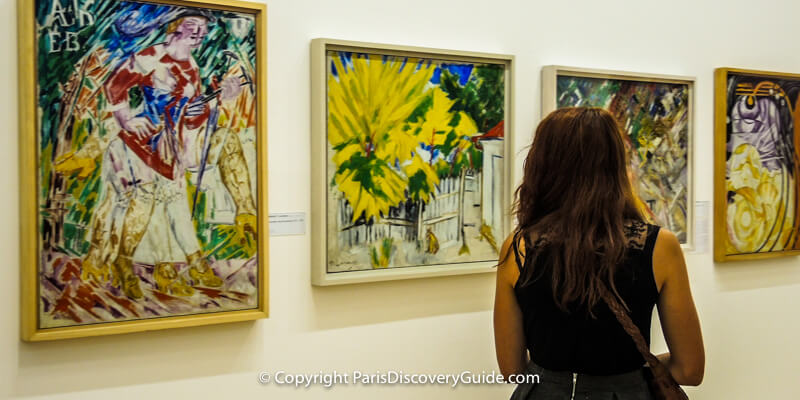 Revolutions 1966-1970: 5 Years that Changed the World
@ Grande Halle de la Villette - April 22 through August 23, 2020 - An exploration of the end of the 1960s through the lens of 5 "revolutions," and how they shape today's world. Tickets 15-18€ for adults and 5€ for children
Where: 211 Avenue Jean Jaurès, 19th arrondissement
Metro: Porte de Pantin or Porte de La Villette
Giorgio de Chirico: Metaphysical Painting
@ Musée de l'Orangerie, April 1-July 13, 2020 - This exhibition traces the artistic and philosophical influences on Giorgio de Chirico from Munich to Turin to Paris, and finally to Ferrara. Tickets 9€; free admission when you have a Paris Museum Pass
Location: Jardin des Tuileries, 1st arr. Nearest Metro : Concorde
Turner: Exposure
@ Musée Jacquemart-André, March 13-July 20, 2020 - Major retrospective of British landscape master Joseph Mallord William Turner with watercolors and oil paintings on loan from Tate Britain in London. Tickets 14.50€ (includes admission to the permanent collections plus this exhibition)
Location: 158 Boulevard Haussmann, 8th arr.
Nearest Metro : Saint Philippe du Roule
Monet, Renoir, Chagall - Journeys Around the Mediterranean
@ Atelier des Lumières - February 28 through Dec 31, 2020 - Immersive video/digitized exhibition of Monet's, Renoir's, and Chagalls's masterpieces accompanied by original music. Tickets must be purchased online on the L'Atelier website
Open: 7 days/week
Where: 38 Rue Saint Maur, 11th arrondissement
Metro: Saint-Maur

Body and Soul: Italian Sculpture from Donatello to Michelangelo
@ Musée du Louvre, Through August 17, 2020 - Explores main themes and ideas developed in late 14th century Italy, with sculptures by Donatello, Michelangelo, and more Quattrocento masters.
Location: Rue de Rivoli, 1st arrondissement
Closed: Tuesdays, January 1, May 1, and December 25
Tickets: 17€ (purchased online); includes special and permanent exhibits; free for under 26
Stay nearby: Hotels near the Louvre
Nearest Metro: Palais Royal/Musée du Louvre, Pyramides
More info: https://www.louvre.fr
Interested in a Louvre Museum guided tour? Find out how to choose one
Picasso Comics
@ Picasso Museum, March 31-July 21, 2020 - An exploration of the links between Picasso's works and the world of comics.
Admission: Adults 14€. Exhibit included with museum admission. Get skip-the-line priority tickets online or with a Paris Museum Pass
Location: 5 rue de Thorigny, 3rd arrondissement; closed Mondays
Metro: Saint-Sébastien-Froissart
The Golden Age of Danish Painting
@ Petit Palais, April 28 - August 16, 2020 - More than 200 works by leading Danish artists from the "golden age" between 1800-1864. Show tickets 12€. (Free admission to Petit Palais' permanent collection)
Location: Petit Palais, Avenue Winston Churchill, 8th arrondissement
Nearest Metro: Champs-Élysées-Clemenceau
More info: www.petitpalais.paris.fr
---
Paris Museum and Attractions Passes
Get free admission and skip-the-line access to 60+ museums in and near Paris when you have a Paris Museum Pass for 2, 4, or 6 days. More info
La Fête Foraine des Tuileries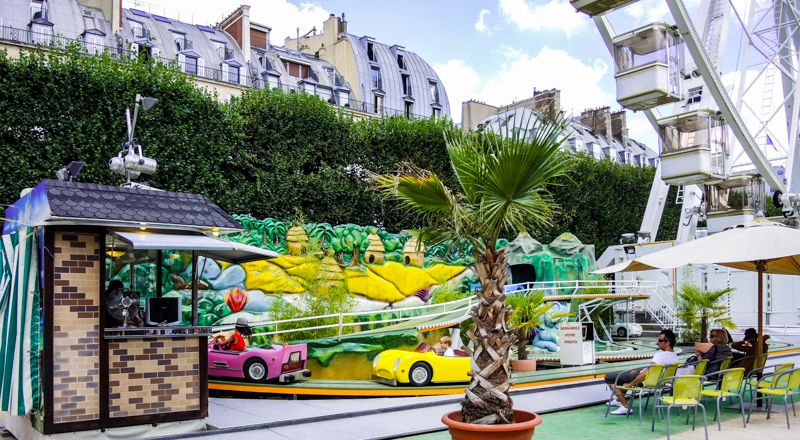 La Fête Foraine des Tuileries - literally, a "Fun Fair," or carnival - suddenly pops up in Paris's Tuileries Garden toward the end of June for two months of non-stop entertainment. With a giant ferris wheel (hint: bring your camera for great shots of Sacre Coeur and the Eiffel Tower), carousels, bumper cars, gut-wrenching rides for thrill seekers, children's games, and a lot more, the carnival entertains families with kids, teens, and everyone else seeking fun throughout the rest of the summer.
If you're visiting Paris, combine a stroll through Tuileries Garden and the Fête Foraine with a visit to other nearby attractions: the treasure-filled Louvre, Monet's giant Water Lily paintings at Musée de l'Orangerie at the opposite corner of the garden, and the Carrousel du Louvre underground shopping center next to the Tuileries metro station.
When: Through August 24, 11am to 11:45pm (12:45am Friday-Sunday)
Where: Jardin Tuileries (Tuileries Garden), 1st arrondissement (enter through the gate near the Tuileries metro station)
Metro: Tuileries
Admission: Free - plus whatever you spend on rides and games (most cost between 2-12€)

More Top Paris Things to Do & See in July