Paris events during July include some of the year's most exciting things to do and see: the Tour de France bicycle race finishes with a flourish down the Champs-Élysées, the huge (and free) Fnac Music Festival at Hotel de Ville, city beaches complete with sand and palm trees pop up next to the Seine River, and Bastille Day fireworks at the Eiffel Tower lights up the night skies.
You'll also find more Bastille Day celebrations including a huge parade and Firemen's Balls, free outdoor film festivals, concerts, and art shows.
Get ready to have a spectacular time in the City of Lights, and enjoy the long sunny days and fun things to do that makes July one of the best months for visiting Paris.
Top photo: Tour de France, (c) Paris Discovery Guide
Paris Discovery Guide is a reader-supported publication. When you buy through our links, we may earn a commission at no additional cost for you. Learn more
---
Bastille Day Celebrations & Fireworks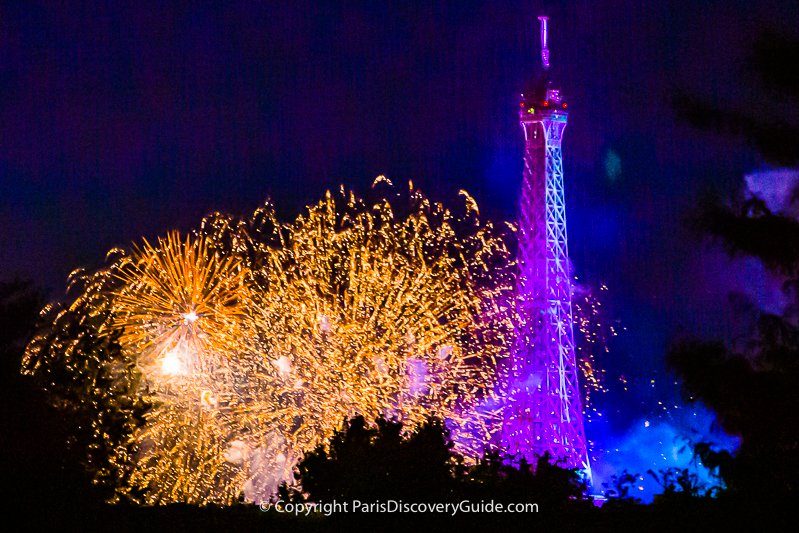 Bastille Day, the biggest Paris summer holiday and a national celebration throughout France, always takes place on July 14, the anniversary of the storming of the infamous Bastille prison on July 14, 1789 - a turning point in the French Revolution.
The day starts with military ceremonies and a huge military parade down the Champs-Élysées from the Arc de Triomphe to the Place de la Concorde including a flyover of military aircraft that you can see from most points in the city.
The military ceremonies begin at 10am, the flyover takes place at about 10:45am, and the parade kicks off at 11am, and lasts almost an hour. Arrive early if you want to stake out a good viewing location along the Champs Élysées.
A truly spectacular fireworks show at the Eiffel Tower on the Champ de Mars begins at 11pm, and lasts about half an hour. Gather on the Champ de Mars with a blanket and picnic from noon on to relax and enjoy free concerts, including an opera under Tour Eiffel beginning at 9:30pm. Find more top places to watch the fireworks
More to Enjoy: Firemen's Balls at the fire station in each Paris district (arrondissement) on July 13th and 14th.
More about celebrating Bastille Day in Paris
---
Special Bastille Day Fireworks Cruises 2023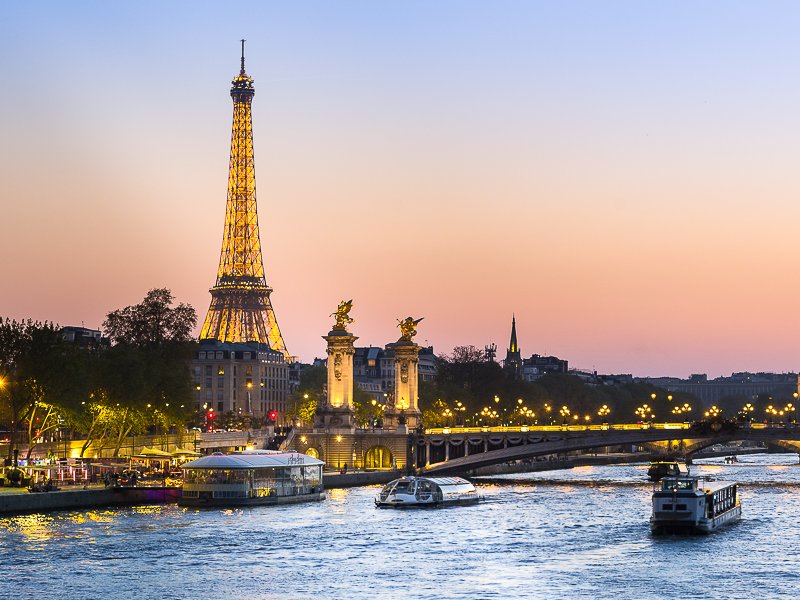 Perhaps the best place to see the Bastille Day fireworks is from a cruise boat on the Seine on July 14. Enjoy dinner and fine wine as you float past all the iconic landmarks along the Seine, and then watch the dazzling fireworks overhead. Here are three wonderful choices (Please note: all are sold out for this year):
For a fun Bastille Day river excursion during the middle of the day, choose a 2-Hour River Seine Lunch Cruise offering a 3-course gourmet lunch, white and red wine, an optional cheese course, and live music on board. Although this cruise takes place every day starting in July (and on selected days in June), the Bastille Day cruise will be especially popular - so book early if you want to do it.
---
July Concerts in Paris - 2024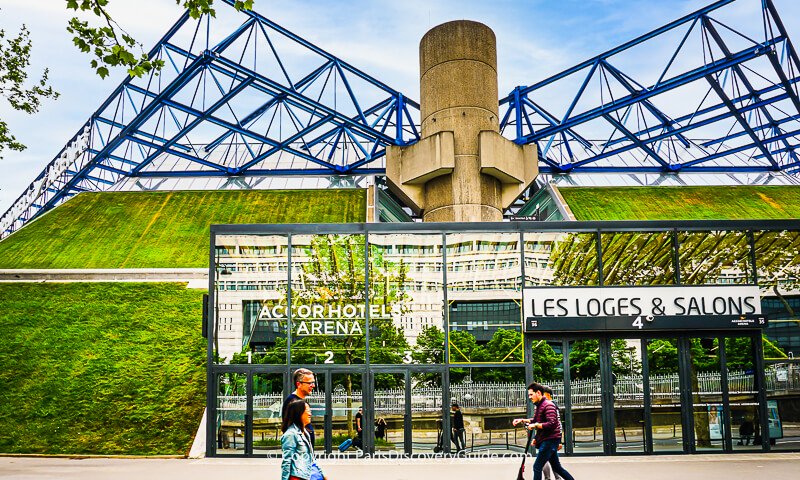 More Paris classical concerts in historic churches during July
More Paris rock, pop, jazz, rap, & other performances during July
More concerts throughout the year
---
Visiting Giverny in July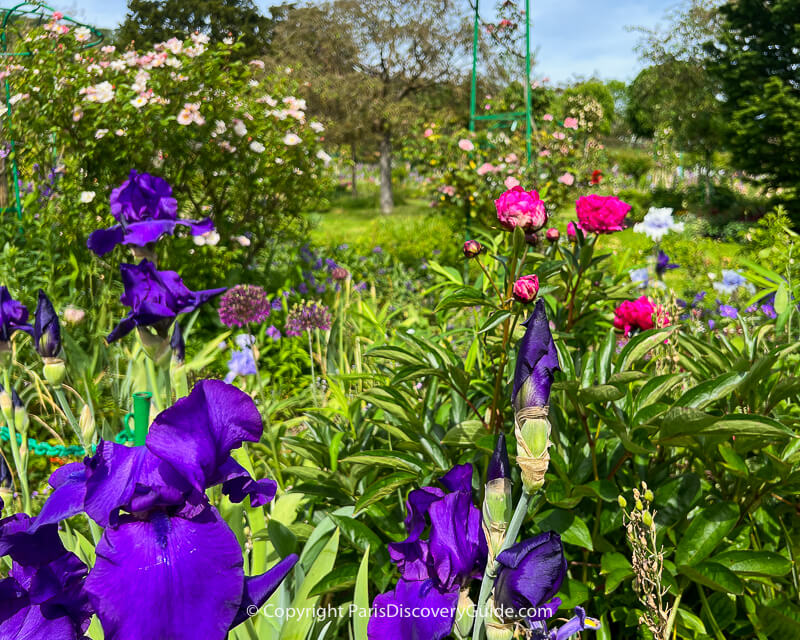 Impressionist artist Claude Monet spent the last half of his life in Giverny, a small village in Normandy about 45 miles (about 1 hour and 15-30 minutes) outside of Paris, where his famed water lily ponds burst into bloom during July and August.
Visiting Giverny is a quick and easy day trip from Paris, and if you're a Monet fan, it's an experience you'll want to put at the top of your bucket list. Thanks to a meticulous restoration after Monet's death, you will see his house, gardens, and water lily pond much as they were when he lived here and painted some of his finest masterpieces. The easiest way to visit, especially if you want to maximize your time in Paris, is by joining a tour.
Popular Giverny Tours from Paris
All of these tours include transportation to/from Paris and fast entry into the attractions:
Find more Giverny tours from Paris
See Monet's famous water lily paintings on display at the Orangerie Museum in Paris
Find out about other exciting Day Trips from Paris
---
Firemen's Balls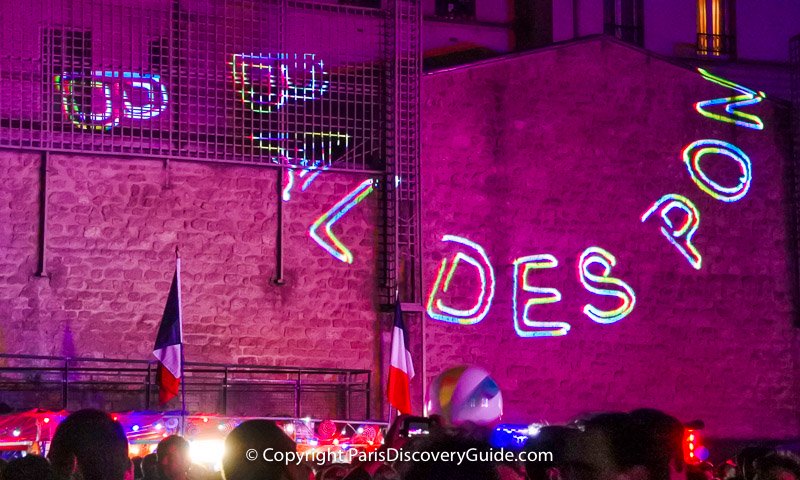 Want to celebrate Bastille Day like a true Parisian? Attend one or more of the Firemen's Balls - Bals des Pompiers - held on July 13th and/or 14th as the main fire house in each Paris arrondissement (district) opens its barracks and courtyards and welcomes the public for an all-night party with music, dancing, and drinking Champagne or beer.
The Bals des Pompiers start at 9pm and end at 4am. Depending on the fire house, they take place on July 13 or July 14 - and in a few cases, on both dates.
Find out more about what to expect at the Bals des Pompiers, locations, and date(s) for each firehouse.
---
Summer Sales on Designer Fashions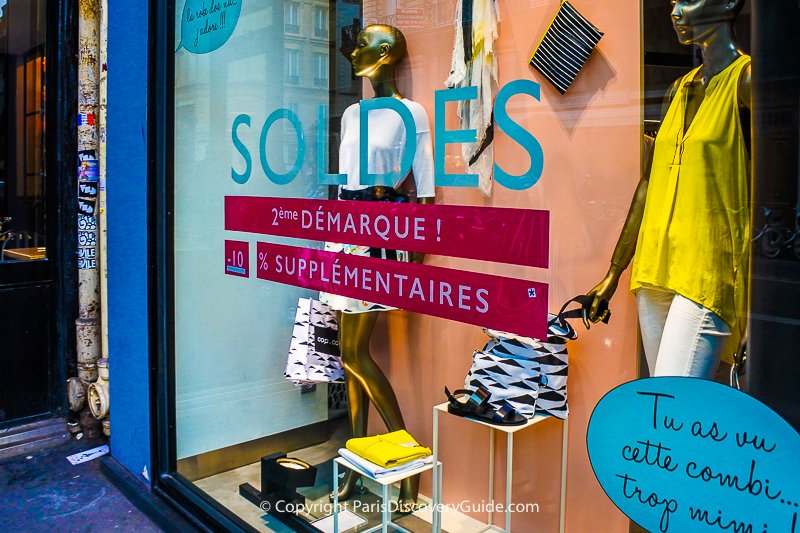 The famous Paris summer sales continue through July this year, ending on July 25.
For many savvy fashionistas, the July portion of the sales marks the sweet spot when stores proceed to the 2nd and even 3rd reduction, changing the Soldes signs in their store windows to soar as high as 70-80% at toward the end.
Best places to find bargains? Everywhere! Luxury labels such as Chanel, Valentino, and Armani draw huge crowds - ditto for Galeries Lafayette, BHV, Bon Marché, and Au Printemps - but don't ignore smaller boutiques and even global mid-market chains.
Find out more about Paris Summer Sales 2024
---
Paris Tours for Fashionistas
---
Fnac Live Music Festival at Hotel de Ville - Free Concerts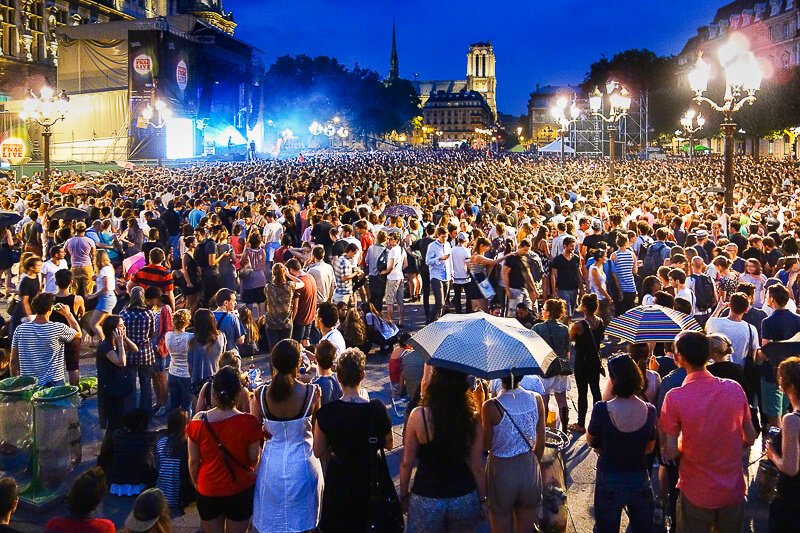 Don't miss three days of free live concerts by 30 artists in front of Hôtel de Ville (Paris's City Hall) from 7:40pm-midnight on June 29 and 6pm-midnight on June 30 and July 1 as part of the big Paris Plages (beaches) summer event. French electronic retail chain Fnac sponsors the concerts, which usually attract around 100,000 fans.
Location: Place de Hôtel de Ville, in front of the Paris Town Hall and also inside in some of the salons, 4th arrondissement.
Admission: Free, but you must have a ticket. Usually you can pick them up (maximum 2 per person) starting at noon on the first day of the concert at any Fnac ticket office in Paris and the Ile-de-France - to be confirmed for this year
Nearest Metros: Châtelet, Cité
---
Paris Plages 2023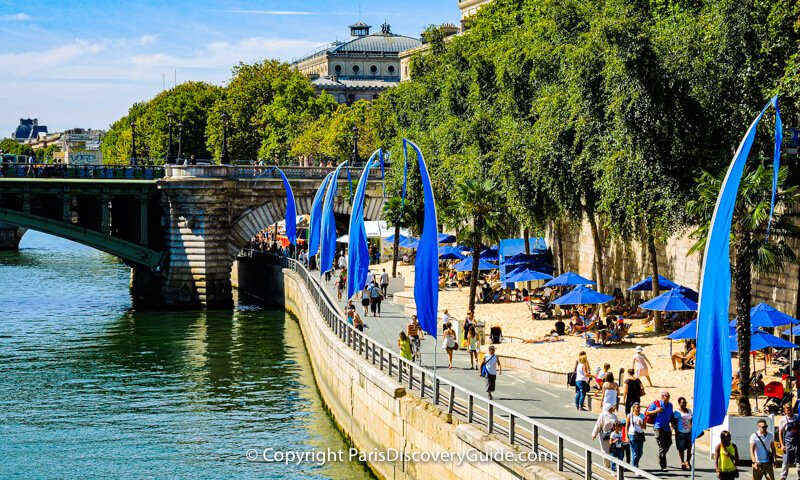 Paris Plages ("Paris Beaches") transforms parts of Paris into fun-filled beaches each summer.
You'll find Paris Plages at three main locations this year: the Seine River Banks (Parc Rives de Seine) and Trocadero Gardens in central Paris, and La Villette Canal Basin in the 19th arrondissement.
The Seine River Bank "beaches" focus on relaxation, while Trocadéro features games and activities. Relax in deck chairs, visit the many floating theater, restaurants, ice cream stands, and bars along the water.
At the Bassin de Villette, you can cool off in the 4 huge Paris Plages swimming pools, enjoy kayaking and other water sports, play pétanque and table football, and take part in other activities. You'll also find lots of kids' workshops, board games, exhibitions, and libraries.
Open: 10am-10pm, and until midnight on weekends.
Dates: July 9 - August 21
---
Popular Seine River Cruises
---
Paris l'Été ("Paris in the Summer")
Want a fun excuse to explore different Paris neighborhood while celebrating summer in the city?
The annual Paris l'Été Festival (Paris Summer Festival) offers free or inexpensive outdoor music, dance, circus, and performances in all parts of the city, often in unusual places - usually more than 70 events in 30 different locations - and celebrates the city's cultural diversity while mixing avant-garde/off-beat events with more mainstream traditions. The festival runs from July 11-31. (to be confirmed) Events are free or moderately priced. Don't miss it!
Check Paris l'Été for schedule details.
---
Paris Fashion Week - 2023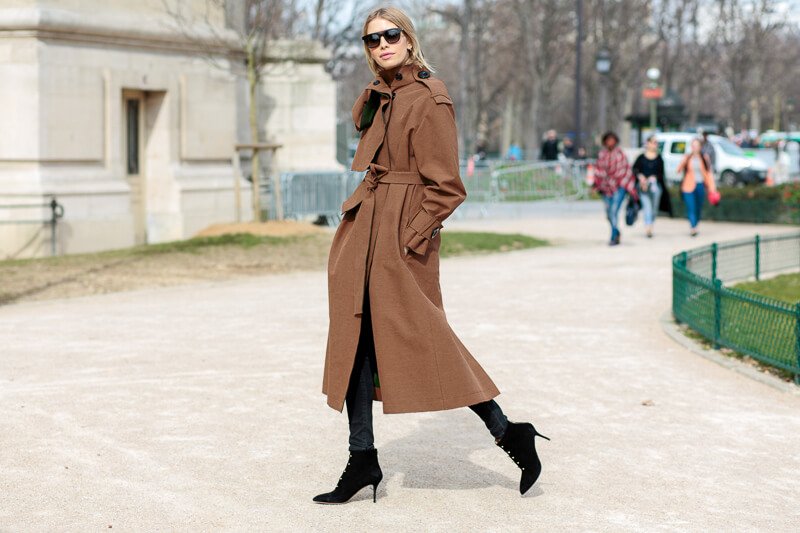 Haute Couture Fashion Week takes place in Paris from July 3 - July 6 for designers to present their latest haute couture collections.
Fashion Week always brings a noticeable buzz to the city, along with designers and models from around the world.
The best places to catch a glimpse of the models (assuming you're not going to the invitation-only shows) are near the venue locations - the Grand Palais in the ritzy 8th arrondissement near the ornate Pont Alexandre III bridge, Espace Eiffel near the Branly Museum on the other side of the Seine, and at a variety of smaller, hipper venues scattered around the city such as Palais de Tokyo and Musée Galliera in the 16th. The trendy Marais neighborhood, especially around Place des Vosges, and Palais Royal (shown in photo) are always good model-spotting locations.
---
Outdoor Movies at Parc de la Villette
Free outdoor movies return to Parc de la Villette again this summer for the Cinéma en Plein Air (Open Air Cinema). This year's theme: Dancing!
On most Wednesday through Sunday evenings during 5 weeks in July and August, great mix of classic films and recent hits are shown in their original language with French subtitles as soon as the sky is dark enough.
Screenings start time: July 16-18 - 10:30pm; July 21-25 - 10:15pm; July 28-31 - 10pm (to be confirmed)
Bring a blanket to sit on, a picnic dinner, and a bottle of wine. Food will also be sold at the site
These movies are from last year, but they will give you an idea of what to expect this year. Look for updates soon!
Cinéma en Plein Air Lineup for July:
July 20 - Flash Dance (English)
July 21 - Ballet by Alexander Ekman (French)
July 22 - Pulp Fiction (English)
July 23 - The Aristocats (English; animated film about cats)
July 24 - The Ladies of Rochefort (French)
July 27 - Cold War (French)
July 28 - Birth of Octopuses (French)
July 29 - Billy Eliott (English)
July 30 - Saturday Night Fever (English)
July 31 - The Red Shoes (English)

Dates: July 20 - August 21; see Paris Events in August for the August lineup and dates
Cost: Free
Nearest Metro: Porte de Pantin
---
Paris Exhibits - Must-See Shows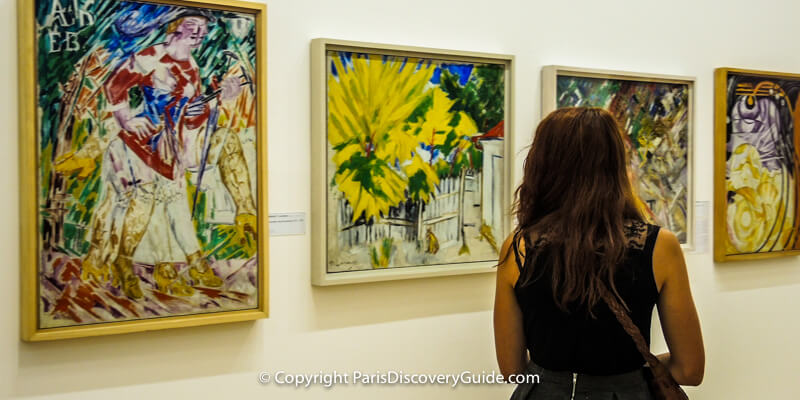 Shirley Jaffe, an American in Paris - Pompidou Center
Through August 29, 2022; Gallery 4 - A close look at the abstract works of this American artist, who died in 2016.
Tickets: 14€ adults; book online (includes show plus permanent collections) or use your Paris Museum Pass for free entry; shows in several galleries require an additional ticket (best to select a start time) at no extra cost, so book the "permanent and temporary" ticket if you want to see one of these exhibits.
Getting there: Rue Saint-Martin between Rue Rambuteau and Rue Merri, 4th
Metro: Rambuteau, Hôtel de Ville, Châtelet; RER: Châtelet les Halles, lines A, B, D
Aristide Maillol (1861-1944): The Quest for Harmony - Orsay Museum
A major retrospective of the work of this important early 20th century sculptor whose monumental female nudes can be seen not only in the Orsay's permanent collection but also in Tuileries Garden next to the Louvre.
Dates: Through August 21, 2022
Location: Rue de Rivoli, 1st arrondissement
Closed: Tuesdays, January 1, May 1, and December 25 Tickets: 17€ ( plus 3€ online booking fee); includes special and permanent exhibits; free for under 26; book in advance with a reserved time slot and skip-the-line access; can also book in advance for free admission with a Paris Museum Pass
Stay nearby: Hotels near the Louvre
Nearest Metro: Palais Royal/Musée du Louvre, Pyramides
Interested in a Louvre Museum guided tour? Find out how to choose one
Find more Paris museum exhibitions for July & future months
---
Paris Museum and Attractions Passes
Get free admission and skip-the-line access to 60+ museums in and near Paris when you have a Paris Museum Pass for 2, 4, or 6 days. More info
---
La Fête Foraine des Tuileries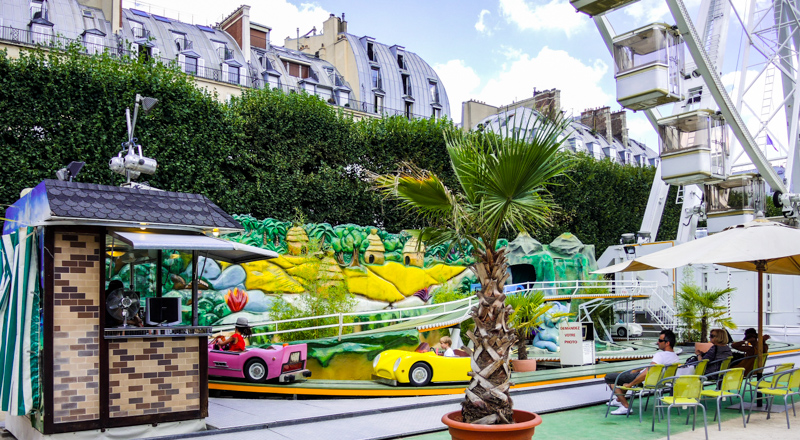 La Fête Foraine des Tuileries - literally, a "Fun Fair," or carnival - suddenly pops up in Paris's Tuileries Garden in early July for two months of non-stop entertainment. With a giant ferris wheel (hint: have your camera or phone ready to take great skyline photos of Sacre Coeur and the Eiffel Tower), carousels, bumper cars, "fun houses," gut-wrenching rides for thrill seekers, children's games, and a lot more, the carnival entertains families with kids, teens, and everyone else seeking fun throughout the rest of the summer.
And of course, massive amounts of carvival food will be for sale: cotton candy, waffles (gaufres), crepes, ice cream, fried dough, BBQ, and drinks.
If you're visiting Paris, combine a stroll through Tuileries Garden and the Fête Foraine with a visit to other nearby attractions: the treasure-filled Louvre, Monet's giant Water Lily paintings at Musée de l'Orangerie at the opposite corner of the garden, and the Musée d'Orsay almost directly across the river.
When: July 2 through August 28, 11am to 11:45pm (12:45am Friday-Sunday) - (To be confirmed)
Where: Jardin Tuileries (Tuileries Garden) between the Louvre Museum and Place de la Concorde, 1st arrondissement (enter through the gate near the Tuileries metro station)
Metro: Tuileries
Admission: Free - plus whatever you spend on rides and games (most cost between 2-12€)
---
Tour de France Grand Finale in Paris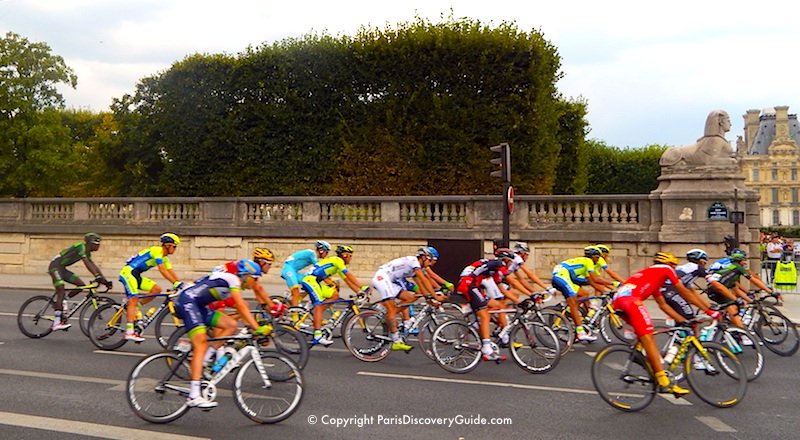 The famous Tour de France bicycle race - 23 days and 2,000 miles (3,540 kilometers) long - comes to an exciting close in Paris on Sunday, July 24. (to be confirmed)
Arrival time in Paris is hard to predict and varies every year, but somewhere between 3:30 and 5:30 is a reasonable guess. The final Paris stretch includes 6-10 laps around the Arc de Triomphe, up and down Champs-Élysées and around the Tuileries Garden - which gives you plenty of chances to see the racers.
You can watch the race anywhere along this route, but viewing areas along Champs-Élysées fill up quickly due to barriers keeping you away from the street and "privitized" areas used for outdoor dining by restaurants and other businesses. Tuileries Garden and areas on the other side of surrounding streets are usually somewhat less crowded, and especially if you get there early, you can usually find a good place.
Keep in mind that most metro stations along and near the route will be closed for much of the day, and city buses will be re-routed. Traffic usually becomes gridlocked, so taxis and ride services such as Uber and Bolt will cost much more than usual. Be prepared to walk.
---
Festivals du Parc Floral: Paris Jazz Festival, Classic in Green, Pestacles, Nocturnes 2023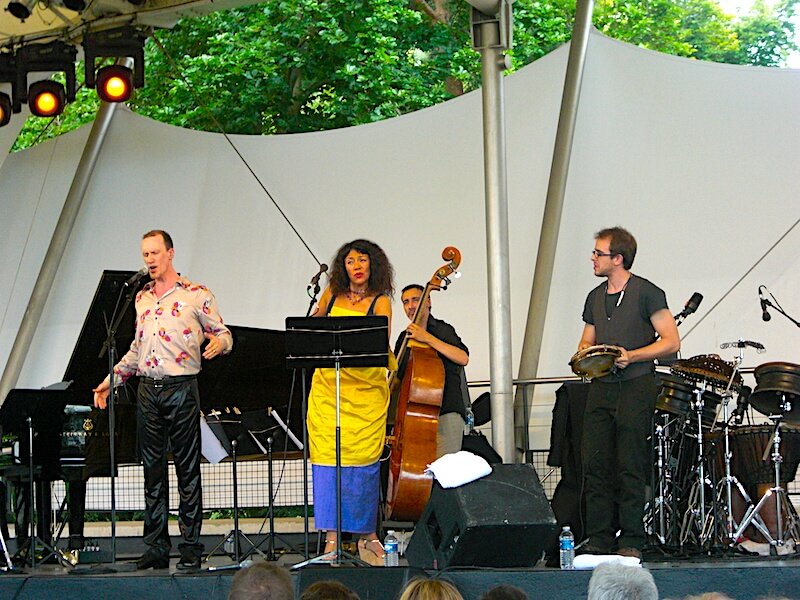 Parc Floral (the Paris Botanical Garden) in Bois de Vincennes hosts four concurrent musical festivals: Paris Jazz Festival, Classic in Green (classical music), Pestacles (a children's concert series for ages 4 and up), and Nocturnes (night concerts of contemperary, jazz, or classical music).
The outdoor concerts take place every Saturday and Sunday on several stages in the park from late June through early September. Almost all of the concerts are free, although Parc Floral charges a small 3€ entrance fee during summer and early fall.
Check the Festival's website to download a brochure with dates, lineups, and concert times. Most take place in the afternoon and early evening, except for the Nocturnes concerts which tend to be late at night. The brochure is in French, but the information is easy to figure out even if you only know a few words. One tip: "gratuit" means the concert is free.
Bring a blanket and a picnic or buy wine and a sandwich at the park's snack bar, and get ready for a relaxing afternoon and evening enjoying the sunshine, flowers, wandering peacocks, and virtuoso musicians.
Dates: June 28 - September 6
Getting there: Bois de Vincennes, located in 12th Arrondissement on the eastern edge of Paris, is easy to reach - just hop on RER A train or Metro Line 1 to the Chateau de Vincennes Metro Station - the park is about a 3-minute walk from the station.
Bonus activities: Arrive early and stroll through Parc Floral's famous gardens, or explore Bois de Vincennes' other attractions such as its spectacular zoo, Lac Daumesnil (rent a row boat!), the aquarium, and 14th century Château de Vincennes.
---
Paris l'Été ("Paris in the Summer")
Want a fun excuse to explore different Paris neighborhood while celebrating summer in the city?
The annual Paris l'Été Festival (Paris Summer Festival) offers free or inexpensive outdoor music, dance, circus, and performances in all parts of the city, often in unusual places - usually more than 70 events in 30 different locations - and celebrates the city's cultural diversity while mixing avant-garde/off-beat events with more mainstream traditions. The festival runs from July 17 - 31. (to be confirmed) Events are free or moderately priced. Don't miss it!
Check Paris l'Été for schedule details.
---
La Défense Jazz Festival 2023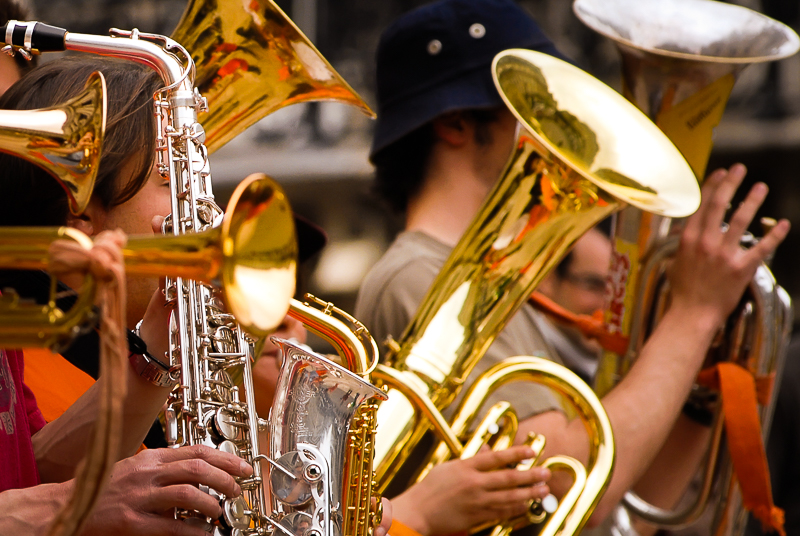 Stop by the La Défense Esplanade, the Paris business district just to the west of the city, to hear emerging jazz artists playing in all genres at the annual La Défense Jazz Festival. Confirmed for this year include Marcus Miller, Joey Bada$$, Tigran Hamasyan, Anne Paceo, Chocho Cannelle, and more.
Most concerts take place at lunch time and after work from 5pm-7pm on the plaza in front of the Grande Arche. Enjoy the music, and treat yourself to an apéritif at the cafes and bars along the Esplanade.
While you're there, enjoy the 69 massive sculptures in the open-air museum along or near the Esplanade.
Dates: June 26 - July 2
Admission: Free
Metro: La Défense (about a 5-minute ride from the Charles de Gaulle/Etoile station on Line 1)
While you're there: Go to the top of the Grande Arche for skyline views of Paris
---
Les Extatiques Festival at La Défense 2023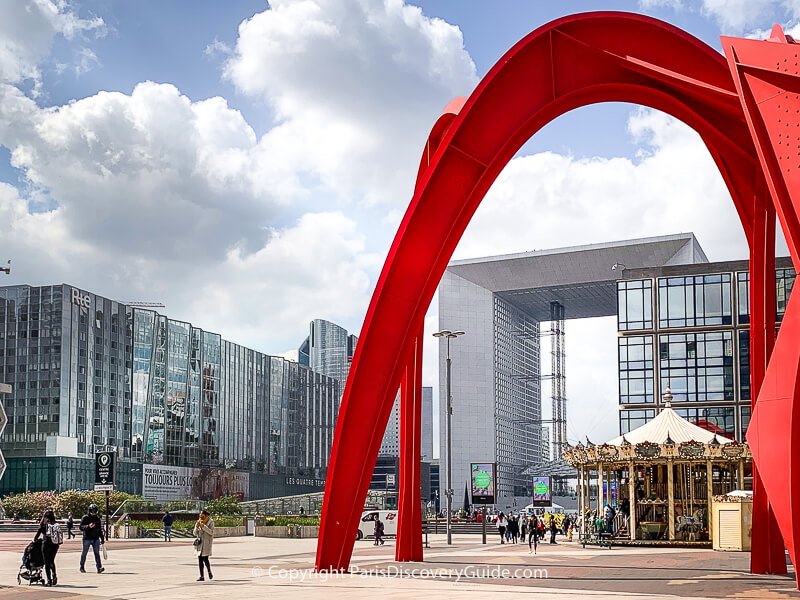 The annual Les Extatiques Festival at La Défense, located in Paris's skyscraper-filled business district just beyond the city limits, features new monumental sculptures by eight contemporary French and International artists.
Look for the sculptures along La Défense's Esplanade, a long park-like paved space that functions as an outdoor art gallery (and also hosts La Défense's enormous Christmas Market). You'll find them in the stretch between the Grande Arche and the multi-colored Bassin pool and fountains.
Dates: Through October 1, 2023
Admission: Free
Metro: La Défense (about a 5-minute ride from the Charles de Gaulle/Etoile station on Line 1; if you walk down the whole 1 km (.6 m) length of the Esplanade, you'll end up at the Esplanade de La Défense station and can hop on the metro there to go back to Paris - or continue walking for another mile or so to the Arc de Triomphe.
While you're there: Go to the top of the Grande Arche to enjoy skyline views of Paris from the terrace
---
---
More Top Paris Things to Do & See in July
Want to Save on Your Paris Hotel?
Check our tips on how to find discounts, deals, and bargains for Paris hotels. Whether you're looking for cheap accommodations or want to pay less for luxury, we'll show you how to save on hotels in Paris.
Here are some shortcuts:
---
Related Paris July Events & Activities Articles