Paris Events for July 2018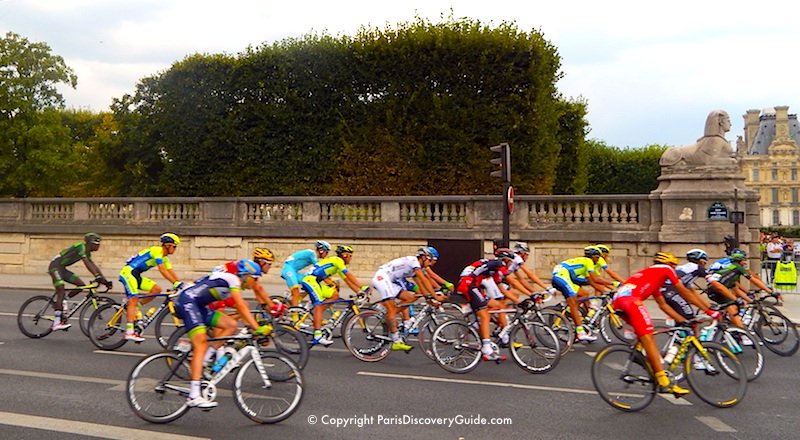 Paris events during July include some of the year's most exciting things to do and see: the Tour de France bicycle race finishes with a flourish down the Champs-Élysées, city beaches complete with sand and palm trees pop up next to the Seine River, and Bastille Day fireworks at the Eiffel Tower lights up the night skies.
And that's just the beginning of the exciting events in July - many of them free and outdoors, taking advantage of the glorious July weather.
You can drop in on a Fireman's Ball for some pre-Bastille Day celebration, catch the famous summer sales, and perhaps spot a few models from Paris Fashion Week - Haute Couture takes place in July.
You'll also find free outdoor film festivals, concerts, and art shows.
Get ready to have a spectacular time in the City of Lights, and enjoy the long sunny days and fun things to do that makes July one of the best months for visiting Paris.
Bastille Day Celebrations & Fireworks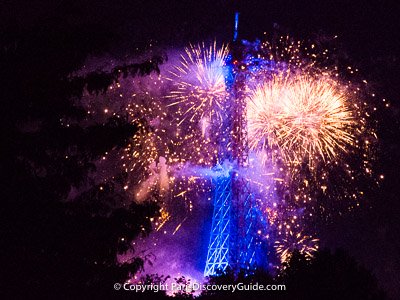 Bastille Day, the biggest Paris summer holiday and a national celebration throughout France, always takes place on July 14, the anniversary of the storming of the infamous Bastille prison in 1789 - a turning point in the French Revolution.
The day starts with a huge military parade down the Champs-Élysées from the Arc de Triomphe to the Place de la Concorde including a flyover of military aircraft that you can see from most points in the city. A special tribute will be given to the United States this year to commemorate the 100-year anniversary of our entry into World War I.
Military ceremonies begin at 10am, the flyover takes place at about 10:45am, and the parade kicks off at 11am, and lasts almost an hour. Arrive early if you want to stake out a good viewing location along the Champs Élysées.
A spectacular fireworks show at the Eiffel Tower on the Champ de Mars begins at 11pm, and lasts about half an hour. Gather on the Champ de Mars with a blanket and picnic from noon on to relax and enjoy free concerts, including an opera under Tour Eiffel beginning at 9:30pm.
More to Enjoy: Firemen's Balls (see next July event) at the fire station in each Paris district (arrondissement) on July 13th or 14th.
---
Firemen's Balls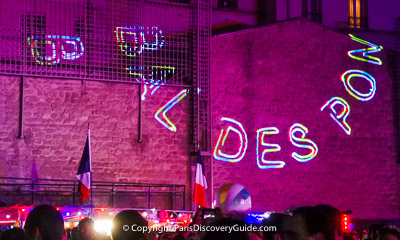 Want to celebrate Bastille Day like a true Parisian? Attend one or more of the Firemen's Balls- Bals des Pompiers - held on July 13th and/or 14th as the main fire house in each Paris arrondissement (district) opens its barracks and courtyards and welcomes the public for an all-night party with music, dancing, and drinking Champagne or beer.
The Bals des Pompiers start at 9pm and end at 4am. Depending on the fire house, they take place on July 13 or July 14 - and in a few cases, on both dates.
Find out more about what to expect at the Bals des Pompiers, locations, and date(s) for each firehouse.
---
Tour de France Grand Finale in Paris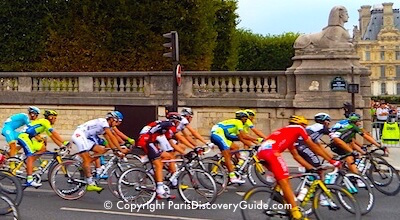 The famous Tour de France bicycle race - 23 days and 2,000 miles (3,540 kilometers) long - comes to an exciting close in Paris on July 23.
Arrival time in Paris is hard to predict and varies every year, but somewhere between 3:30 and 5:30 is a reasonable guess. The final Paris stretch includes 10 laps up and down Champs-Élysées and around the Tuileries Garden - which gives you plenty of chances to see the racers.
You can watch the race anywhere along this route, but Champs-Élysées tends to be crowded as there are barriers keeping you back from the street as well as some "privitized" areas used for outdoor dining by restaurants and other businesses. Tuileries Garden and areas on the other side of surrounding streets is usually somewhat less crowded, and especially if you get there early, you can usually find a good place.
Keep in mind that most metro stations along and near the route will be closed for much of the day, and city buses will be re-routed.
---
July Concerts in Paris - 2018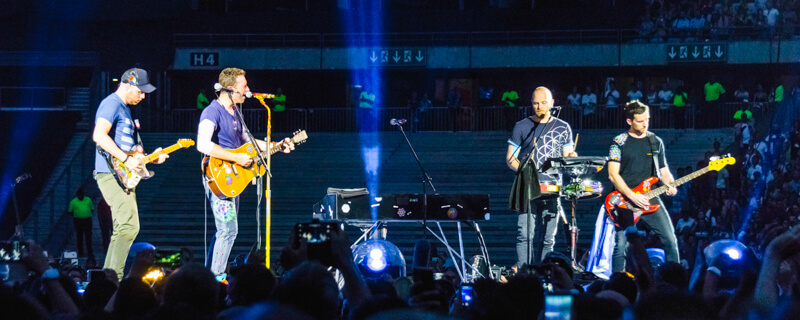 ---
Paris Plages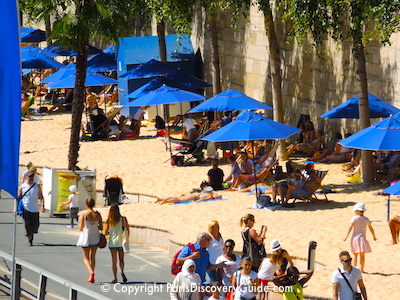 Paris Plages ("Paris Beaches") transforms parts of Paris into fun-filled beaches each summer.
You'll find lounge chairs, umbrellas, sand, grass, and palm trees along the Parc Rives de Seine on both sides of the river, sports activities and more sand in the square in front of City Hall (Hotel de Ville), and huge Paris Plages swimming pools as well as canoeing, other water sports, and even a zipline along the Quai de Loire along the La Villette Canal Basin in the 19th arrondissement.
Dates: Mid-July thru August - 2018 dates to be announced
---
Summer Sales on Designer Fashions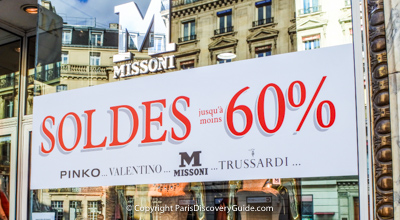 The famous Paris summer sales run from June 28 - August 8. Look for Soldes signs in store windows all over the city, often followed by the amount of the reduction - typically 30-40% at the beginning, and as high as 70-80% at toward the end.
Best places to find bargains? Everywhere! Luxury labels such as Chanel, Valentino, and Armani draw huge crowds - ditto for Galeries Lafayette, BHV, Bon Marché, and Au Printemps - but don't ignore smaller boutiques and even global mid-market chains.
As usual, coveted Hermès bags, shoes, clothing, and other goodies go on sale for only 3 days - July 5, 6, and 7, offsite at Palais de Congrès near Porte Maillot.
Paris Tours for Fashionistas
---
Paris Fashion Week - July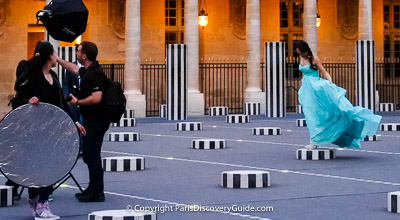 Haute Couture Fashion Week takes place in Paris from July 2 - July 6 for designers to present their Fall/Winter 2017-2018 collections.
The best places to catch a glimpse of the models (assuming you're not going to the invitation-only shows) is near the venue locations - the Grand Palais in the ritzy 8th arrondissement near the ornate Pont Alexandre III bridge, Espace Eiffel near the Branly Museum on the other side of the Seine, and at a variety of smaller, hipper venues scattered around the city. The trendy Marais neighborhood, especially around Place des Vosges, and Palais Royal are always good model-spotting locations.
---
Paris Quartier d'Été
Want a fun excuse to explore different Paris neighborhoods? The annual Paris Quartier d'Été Festival (Summer Paris Neighborhood Festival) offers free or inexpensive outdoor music, dance, theater, and clown performances (or get a pass to all events for 10€) - more than 70 events in 30 different locations. The festival runs from July 17 - August 5. Check Paris Quartier d'Été for schedule details.
---
Hotel de Ville Free Concerts - Fnac Live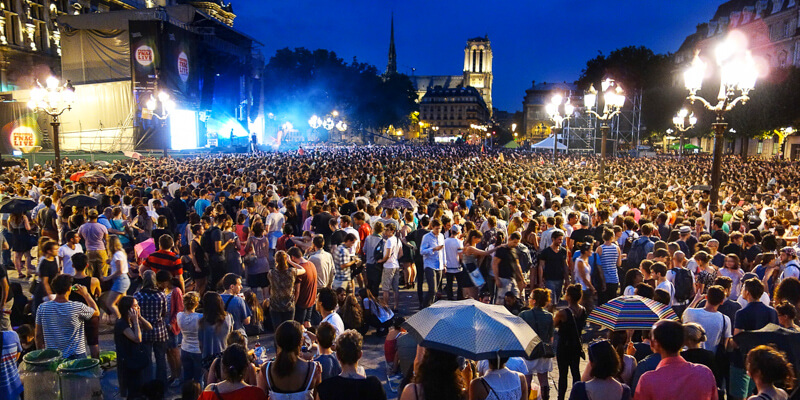 Don't miss three days of free live concerts by 30+ artists in front of Hôtel de Ville (Paris's City Hall) from 5pm - midnight on July 6, 7, 8 by contemporary French musicians as part of the big Paris Plages (beaches) summer event. Concerts are sponsored by French electronic retail chain Fnac (you'll see branch locations all over Paris) and usually attract around 100,000 fans.
Location: Place de Hôtel de Ville, 4th arrondissement.
Nearest Metros: Châtelet, Cité, Saint-Paul
---
Paris Jazz Festival
Jazz concerts take place every Saturday and Sunday at Parc Floral (the Paris Botanical Garden) in Bois de Vincennes through July 30. Bring a blanket and a picnic, and get ready for a relaxing afternoon and evening enjoying the sunshine, flowers, and virtuoso jazz. Concerts are free, although the park charges a small (2.50€) entrance fee. Check the Festival's website for concert times - they vary each weekend - but generally take place in the afternoon and early evening.
Getting there: Bois de Vincennes, located in 12th Arrondissement on the eastern edge of Paris, is easy to reach - just hop on RER A train or Metro Line 1 to the Chateau de Vincennes Metro Station - the park is about a 3-minute walk from the station.
---
Outdoor Movies at Parc de la Villette
Free outdoor movies return to Parc de la Villette again this summer for the Cinéma en Plein Air. A great mix of classic films and recent hits are shown in their original language with French subtitles as soon as the sky is dark enough (sunset in Paris is around 10pm at the beginning of July and 9:30pm at the end). The theme for 2017 is "In the Kitchen." Bring a blanket to sit on, or rent a folding chair for 7€, or 5 for 20€.
2017 Lineup for July:
July 20 - The Grand Budapest Hotel (English)
July 21 - Babette's Feast (Danish)
July 22 - Lastman (French - a spaghetti western-inspired anime film)
July 23 - Soylent Green (English)
July 27 -The Lunchbox (Hindi)
July 28 - Stranger than Paradise (English, some Hungarian)
July 29 - Bridges of Madison County (English)
July 30 - Le Chat (French)

Dates: July 20 - August 20; see Paris Events in August for the August lineup and dates
Nearest Metro: Porte de Pantin
---
Paris Exhibits - Must-See Shows during July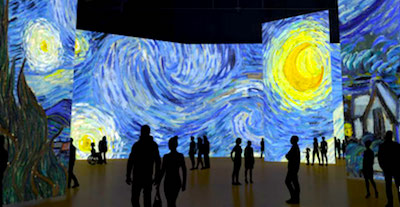 Imagine Van Gogh Exhibit
@ The Grand Hall at Parc de la Villette, July 23 - September 10 - An immersive experience based on the work of Vincent Van Gogh with music by Saint-Saens, Satie, Bach. Open daily 10am-7pm, and Saturday until 10pm (last admission at 8:30pm). Tickets 14.90€.
Location: Parc de la Villette (19e). Nearest Metro: Porte de Pantin.
More info: www.imagine-vangogh.com
Rodin, the Centennial Exhibition
@ Grand Palais, through July 31, 2017 - More than 200 magnificent works by Rodin plus his contemporaries - Matisse, Picasso, Bourdelle, Brancusi, Giacommetti, and others. Tickets 14€.
Location: Grand Palais, 8e. Nearest Metro: Champs-Élysées-Clemenceau
More info: rodin100.org
David Hockney
@ Centre Pompidou (Rue Saint-Martin, 4e), June 21 - October 23 - In celebration of David Hockney's 80th birthday, this retrospective exhibition lets you see over 100 of this English artist's representative works almost 20 years after his Paris debut at the Pompidou. Exhibit included with museum admission of 12€.
Location: Rue Saint-Martin, 4e. Nearest Metros: Rambuteau, Hôtel de Ville, Châtelet. RER: Châtelet les Halles, lines A, B, D
More Top Paris Things to Do & See in July