Best Paris Christmas Markets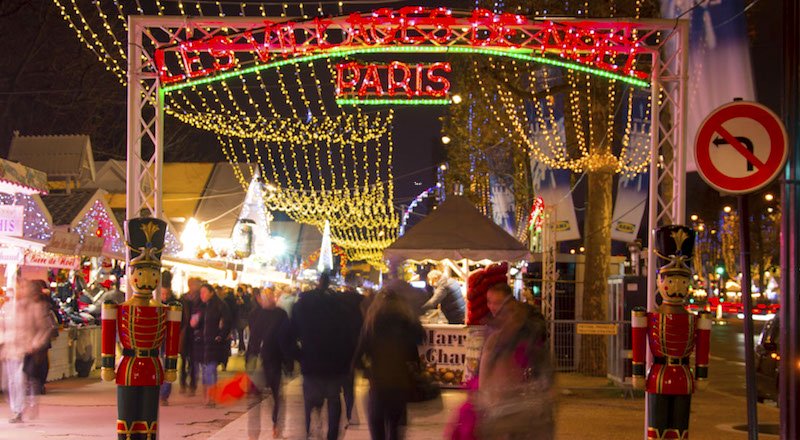 A visit to a Paris Christmas Market is the fastest way to get into the holiday spirit when visiting the City of Light during the shortest days of the year.
With sparkling lights, bright decorations, and even occasional visits from Saint Nicolas - or Père Noël, as Parisian children call him, these festive street markets filled with Swiss-style chalets carry on a tradition begun in the Middle Ages in Germany.
Copy the Parisians - sip warm mulled wine, munch on hot roasted chestnuts, and sample delicious sausages and cheese while shopping until well into the night.
During a typical year, about 15-20 Christmas Markets appear across Paris, joined by occasional "pop-up" weekend markets.
Traditionally, these picturesque markets span the Advent season beginning four Sundays before Christmas. In reality, look for opening dates from mid-November to mid-December. Although some markets may stay in place for only a week or two, many remain open through Christmas Eve. Check the December Events Calendar for exact dates, as they vary each year.
Here are Paris Discovery Guide's recommendations for outstanding Paris Christmas Markets, plus other market locations around the city.
Paris Notre-Dame Christmas Market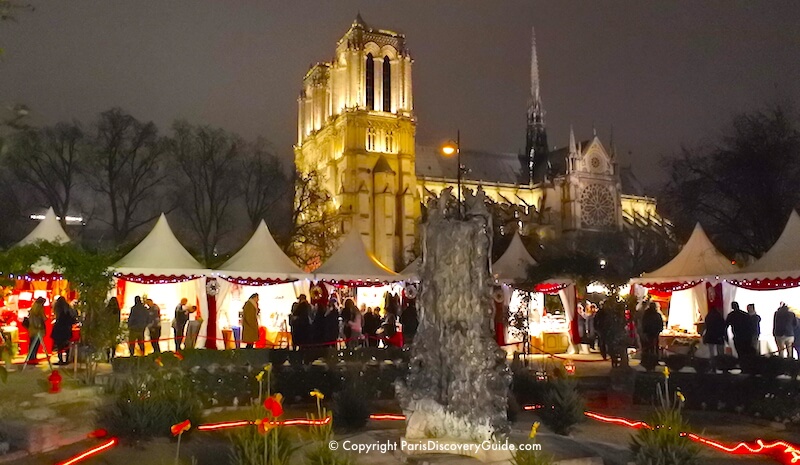 Perhaps the most picturesque of the Paris Christmas Markets is the Marché de Noel Notre Dame, located on the Left Bank just across the Seine from the famous cathedral.
With Notre Dame's soaring medieval towers and spires as a backdrop, this cheerful market offers the usual warm mulled wine and hot roasted chestnuts.
However, its specialty is high-quality arts and artisan crafts made in France. You can usually find an especially nice selection of clothing and accessories here.
Best of all, Santa makes frequent appearances - sometimes with a glass of vin chaud in hand.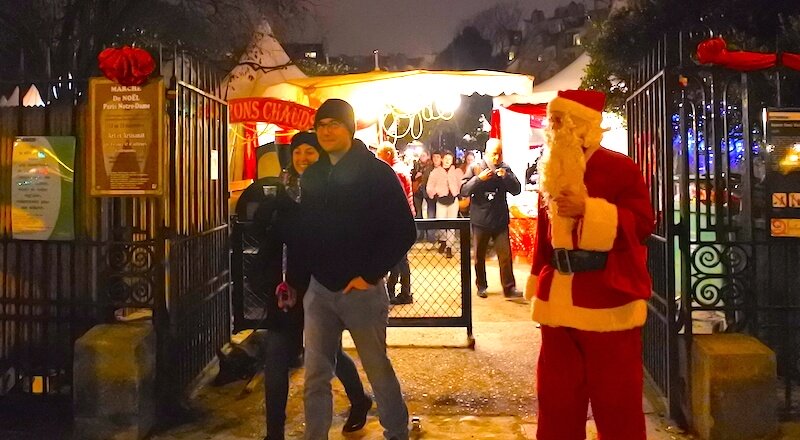 New Paris Christmas Market at Les Halles
The Les Halles Christmas Market is one of the largest in Paris, second only to the huge one along Champs-Élysées.
Look for 70 chalets featuring crafts, local products, and gourmet foods around the Fontaine des Innocents, just a stone's throw from La Canopée at newly renovated Forum des Halles.
Location: Square René-Viviani, at the edge of the Latin Quarter in the 5th Arrondissement
Métro: Saint Michel, Maubert-Mutualité
RER: B and C, Saint-Michel - Notre-Dame
Open: Mid-December until (usually) Christmas Eve
More to Do Nearby: Shop in Forum des Halles (the below-ground shopping complex surrounding the metro/train station), visit adjacent Église Saint-Eustache, or explore market street Run Montorgueil to the right (as you face it) of the church
Place des Abbesses Christmas Market in Montmartre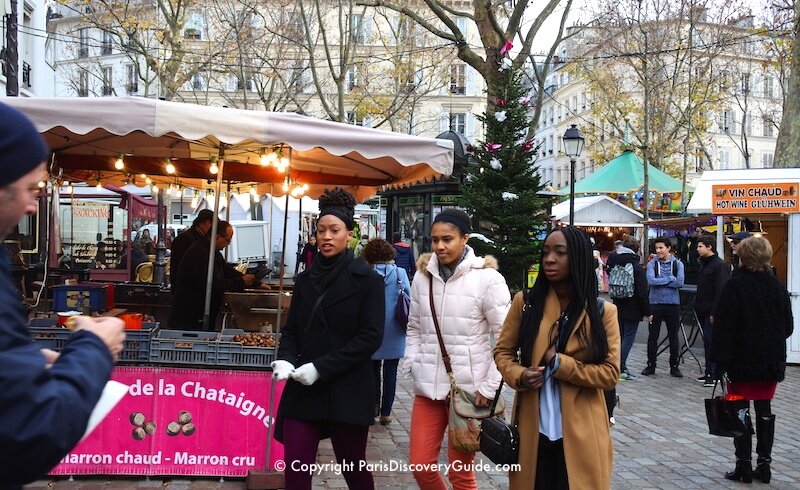 Located next to the Place des Abbesses Metro station on one of the most photo-worthy streets in Montmartre, the Place des Abbesses market is small but charming.
Look for hand-knit scarves, one-of-a-kind fashions, and children's toys.
For kids, there's a colorful carousel, and usually appearances by Père Noël on the weekends.
This is a fun market to visit if you want to get a taste of the Christmas markets but avoid the crowds filling the larger markets.
Coming here is also a great excuse to explore the winding hills of Montmartre and make your way to Sacré-Coeur to enjoy the sweeping city vistas.
Location: Next to the Abbesses Butte Montmartre Métro station in Montmartre, 18th Arrondissement
Métro: Abbesses Butte Montmartre
Bus: 80, 95 (get off at Cimetière de Montmartre and walk a few blocks east on Rue Joseph de Maistre/Rue des Abbesses to the market)
Open: Late November - end of December
More to Do Nearby: Check out the "Wall of Love" (le mur des je t'aime) while sipping a cup of hot mulled wine in Square Rictus next to the market. Explore Montmartre. And of course visit the boutiques along Rue des Abbesses, one of the great market streets in Paris.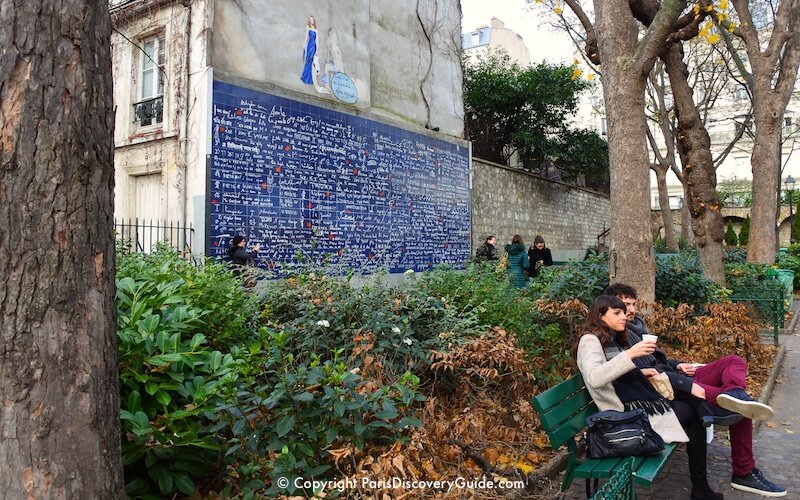 Saint-Germain-des-Prés Christmas Market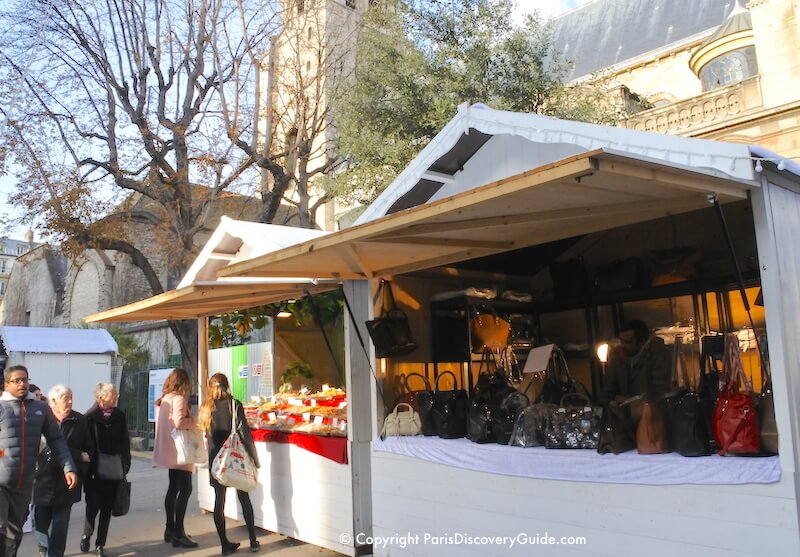 The 25 or so chalets of this Christmas Market border Boulevard St-Germain next to the famous St-Germain-des-Près Church.
This is one of the smaller markets in the city, and specializes in luxury items, such as fine leather pocketbooks, lovely jewelry, and handcrafted items. This is a good place to buy scented candles, notebooks made in France, and fine chocolates.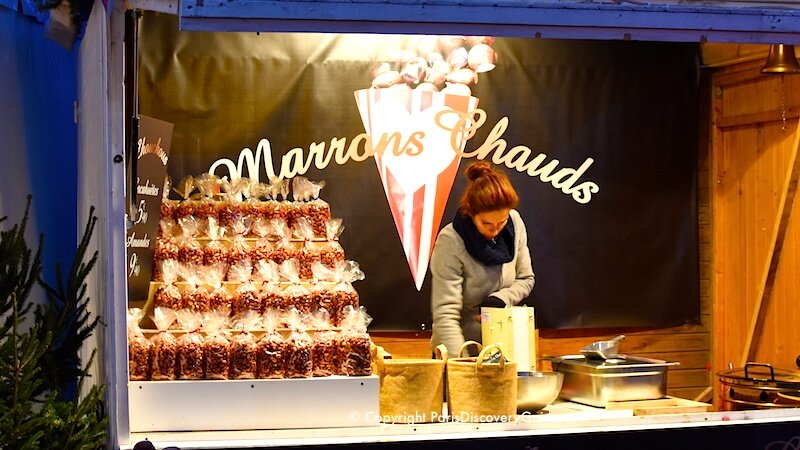 You'll find the usual hot wine and roasted chestnuts, along with mouth-watering displays of macaroons, marrons glacés (candied chestnuts) from Southern France, and jewel-like jars of fruit jams.
For even more variety, walk a couple of blocks to the Saint-Sulpice Christmas Market, where you'll find delicious prepared food to eat on the spot from various regions of France.
Location: Blvd Saint-Germain, next to Saint-Germain-des-Prés Church, 6th Arrondissement
Métro: Saint-Germain
Bus: 39, 63, 70, 86, 96
Open: Mid-December until early January
More to Do Nearby: Walk over to the Christmas Market at Saint-Sulpice Church (Place Saint-Sulpice on Rue Bonaparte) - and explore all the tempting boutiques along the way. Continue walking for another block and you'll be at Luxembourg Garde
La Défense Marché de Noël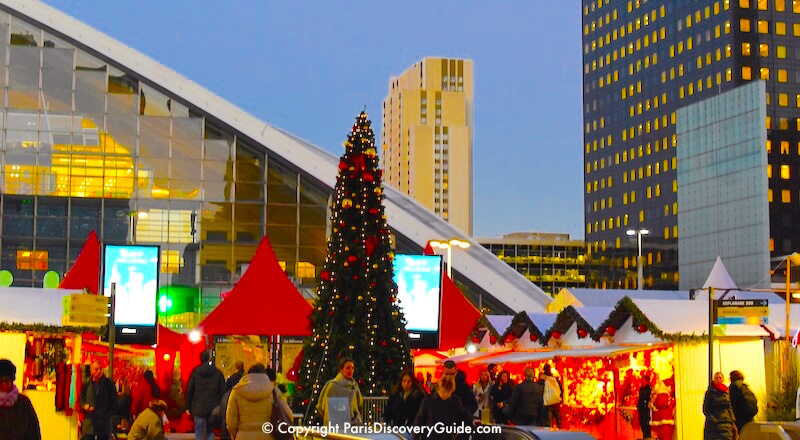 The huge Christmas Market along the Esplanade at La Défense boasts over 250 chalets, making it the largest in the Paris region.
The market's spectacular setting in this glittering business district make the 9-minute ride from the Étoile metro station well worth the time - plus you'll find a vast selection of gifts ranging from trinkets to high-quality jewelry and leather goods, and well-equipped kitchens and restaurants turning out steaming plates of delicious Alsatian fare.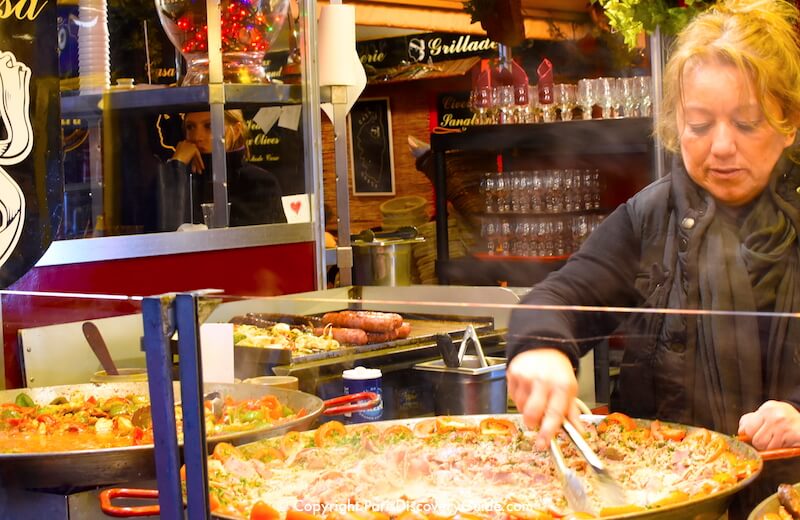 You'll find lots of specialty items not seen in smaller markets - Santa costumes, stuffed animals, huge bins brimming over with clementines and other seasonal fruits, candies from the South of France, freshly baked gingerbread, antique books and fine paintings, and large pop-up stores filled with Christmas decorations.
One stall features many different varieties of exquisite nativity figures at surprisingly affordable prices - you may be tempted to fill your suitcase!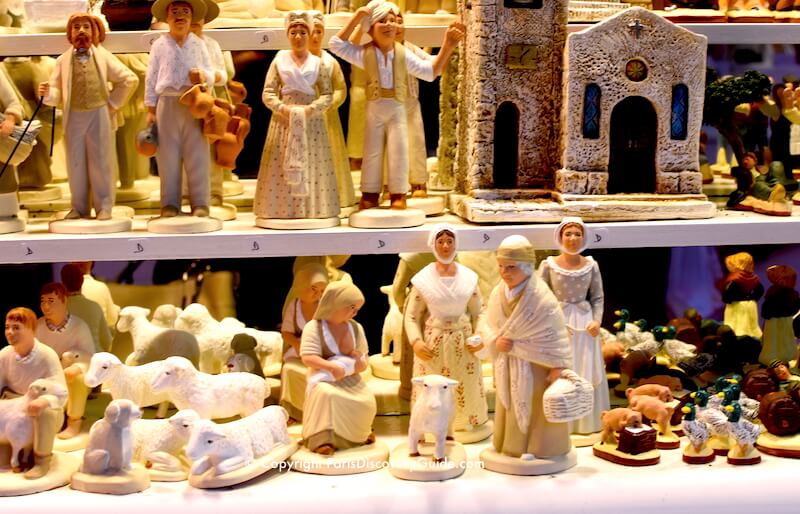 Several stalls offer gorgeous finely-tooled leather goods from Morocco, while others have large selections of fashionable scarfs and coats, candies, and tins of herbal teas.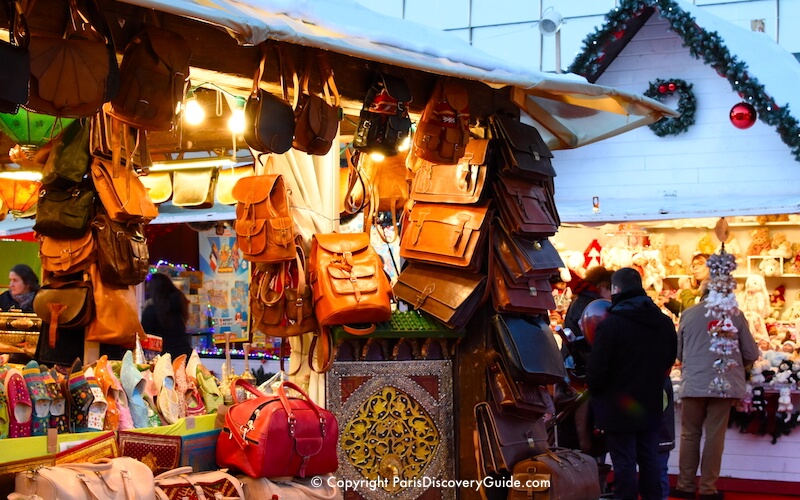 Kids will also find lots to do and see here, including multiple Santas and a small pen filled with very cute miniature donkeys for petting.
Location: Esplanade de la Défense
Métro: Grande Arche de la Défense
RER: A (from Étoile)
Open: Late-November - late-December
More to Do Nearby: Arrive in daylight hours and check out the 60 sculptures and monuments along the Esplanade. Admire the huge arch, which along with the Arc de Triomphe at Étoile and the Arc de Triomphe du Carrousel near the Louvre, forms the Historical Axis of Paris. After you've explored the Christmas Market, check out the enormous Quatre Temps shopping mall next to the Esplanade. Sports fans won't want to miss the gigantic Décathlon store on the other side.
Champs-Élysées Christmas Market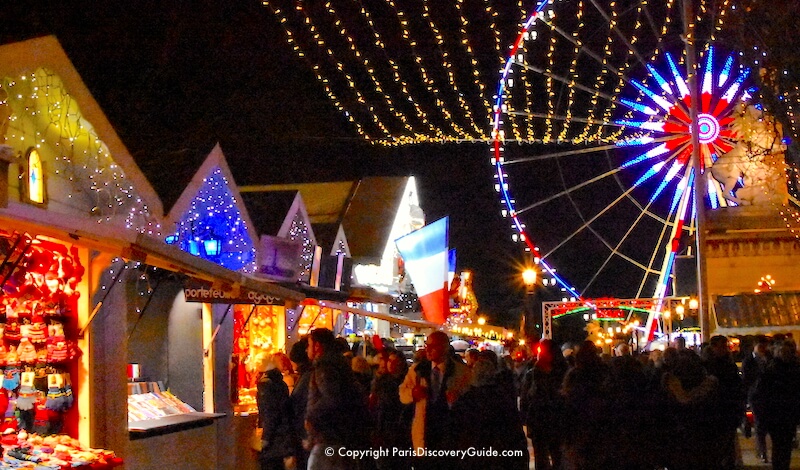 The largest and most famous Marché de Noël in Paris lines both sides of brightly-lit Avenue des Champs-Élysées between Place de la Concorde and Avenue Montaigne.
If you have time to visit only one Christmas Market while you are in Paris, love the excitement of glittering holiday lights and festive crowds, and perhaps want a ride on the huge carousel at Concorde, this is the one to choose.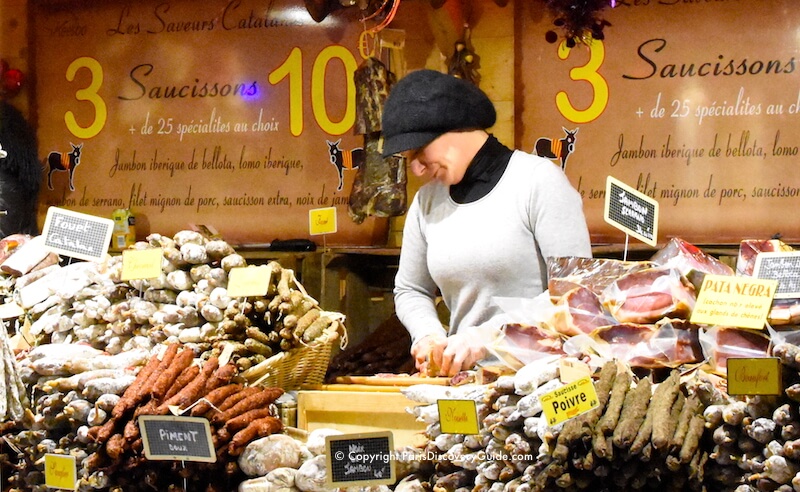 Fortify yourself with a cup of warm spiced wine and a small packet of hot roasted chestnuts, straight off the grill - look for Vin Chaud and Marrons Chaud signs, or just follow your nose.
You'll find plenty of other opportunities for dining here - everything from freshly cooked crepes with Nutella to local specialties to magnificent displays of regional sausages and cheeses.
However, most of the 200 or so chalets at this market feature gift items - clothing, leather goods, jewelry, sparkling glass ornaments, nativity scenes, imported teas, and books. One area highlights craftsmen and artisans, another offers larger-than-life-size plastic Santas where children can pose for photos. There is even a small neon-lit amusement park.
You can easily spend an entire evening at this market.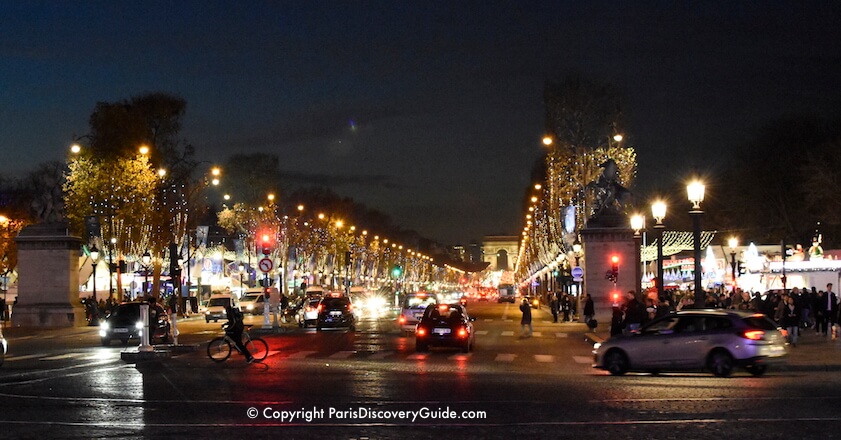 Where to Find More Christmas Markets
Other Major Paris Christmas Markets (many are next to major train stations)
Saint-Sulpice, near the St-Sulpice Métro station, Luxembourg neighborhood in the 6th Arrondissement, usually early December through Christmas Eve
Trocadéro Christmas Market, at Palace of Chaillot in the 16th Arrondissement next to the Trocadéro Métro station, typically mid-December through early January
Montparnasse, next to the train station
Alsatian Christmas Market at Gare de l'Est (in front of the Gare de l'Est train station, 10th Arrondissement) - First two weeks in December (check December Events Calendar for exact dates) - Stock up on tasty Alsatian traditional food, with daily free tastings
Gare Saint-Lazare
Place de la Nation
Champs de Mars - Christmas Market and ice rink next to the Eiffel Tower; free access to the market, and 6€ if you want to skate. Closest Metro: Bir Hakeim, 7th Arrondissement - New this year!
Pop-Up Stalls Selling Holiday Fare
Pop-up stalls come and go in some areas, so you will most likely happen upon them. One area this frequently occurs is near Galeries Lafayette, across from the main building on Blvd Haussmann. Look for luxury goods, such as perfume, designer scarves, and fine leather gloves.
Even the regularly-held Paris street markets expand their offerings at this time of the year.
For example, even the small tucked-away Marché Saint-Honoré (Wednesday afternoon/evening and Saturday until 3pm) in the 1st Arrondissement expands with stalls offering knit garment, fancy confits, and jewelry.
Where to (Maybe) Find a Pop-Up Market
Pop-up Christmas markets, by their nature, are ephemeral and can be hard to find if you don't live in Paris - but a place always worth checking is the spacious Halle des Blancs Manteau (48 Rue Vielle du Temple, 4th Arrondissement), an old covered market dating back to the early 1800s in the heart of the Marais.
If you don't find a pop-up market underway, you'll find plenty of other shopping opportunities in this part of the Marais - or walk a few more blocks to Village Saint-Paul.
Find more Pop-Up Christmas Markets and dates in the December Events Calendar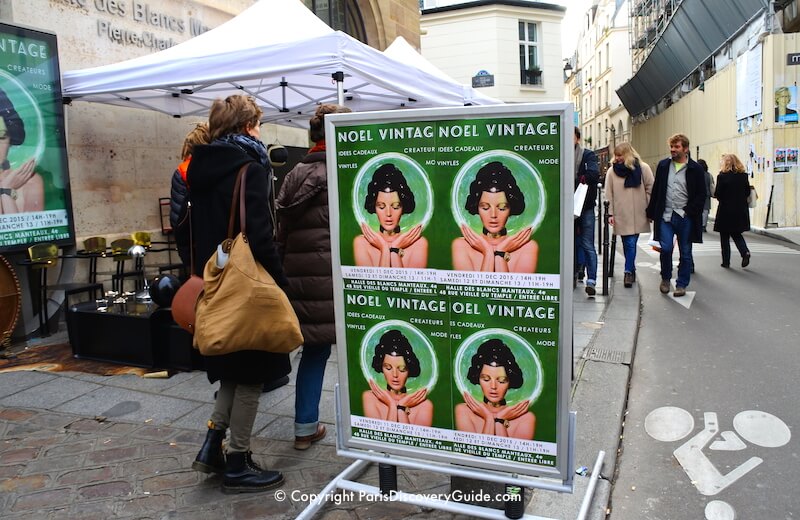 When do Les Marchés de Noël Open?
Opening dates vary - but the larger markets usually open during the last of November or early December. A few smaller ones wait until mid-December.
Closing dates vary from just before or after Christmas to early January.
You can find exact dates on the December Paris Events Calendar.