Hotels near the Paris Opera House put you in the perfect location for attending an opera or ballet performance at Palais Garnier, plus they're also conveniently close to the famous Galeries Lafayette and Au Printemps department stores.
Staying near the Paris Opera House places you in the heart of the most elegant part of 19th century Paris envisioned by Napoleon III's plans to modernize the city. The broad tree-lined Grands Boulevards feature stunning Haussmannian architecture and more stores, boutiques, bistros, and cafes than you'll ever have time to visit.
The Opera House is also close to the Grevin Wax Museum, Place Vendôme where you'll find France's finest luxury jewelers, the neoclassical Église de la Madeleine church known for its classical concerts, and L'Olympia music hall.
A short walk down Avenue de l'Opéra brings you to Tuileries Garden and the Louvre Museum - or you can hop onto one of the numerous bus and metro lines in the area to reach other Paris attractions.
No matter which hotel near the Paris Opera House you choose for your visit, you'll be close to some of the city's top restaurants, bistros, and cafes. For a special treat, sit at a table on Café de la Paix's terrace facing Palais Garnier and order a celebratory glass of Champagne.
Find more top things to do & see in Paris 9, home to the Paris Opera House
Our recommendations for the best hotels near Paris Opera House include mostly 4- and 5-star hotels featuring wonderful terraces, spectacular views, indoor swimming pools, and other special amenities. We also include one 3-star hotel hotel - a rarity in this expensive part of the city.
You're sure to find the perfect place for your stay in Paris!
Top photo: View of Paris Opera House taken from a balcony at Hotel Edouard 7
Paris Discovery Guide is a reader-supported publication. When you buy through our links, we may earn a commission at no additional cost for you. Learn more
---
Where to Stay near the Paris Opera House
Hotel de Noailles
★★★★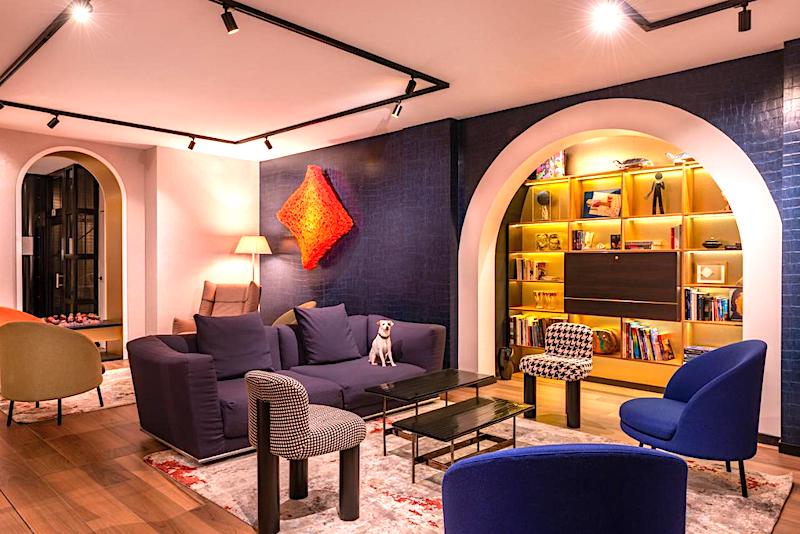 9 Rue de la Michodière, 2nd Arrondissement
You'll have the Paris Opera House (Palais Garnier), Galeries Lafayette and Printemps, and the luxury jewelers near Place Vendome practically at your doorstep when you stay at the beautiful 4-star Hotel de Noailles in the 2nd arrondissement. The Louvre Museum and Tuileries Garden are only about a 10-minute walk away. Several metro lines at the nearby Quartre Septembre and Opera stations give you easy access to the rest of Paris.
This family-owned hotel features interesting and sometimes quirky art throughout its public spaces, comfy beds and contemporary furnishings in its guestrooms (some with balconies), a small fitness room and sauna, and a warm ambiance combined with excellent service.
Traveling with family or friends? Book one of the family rooms with accommodations for four.
---
Chateau Voltaire
★★★
★★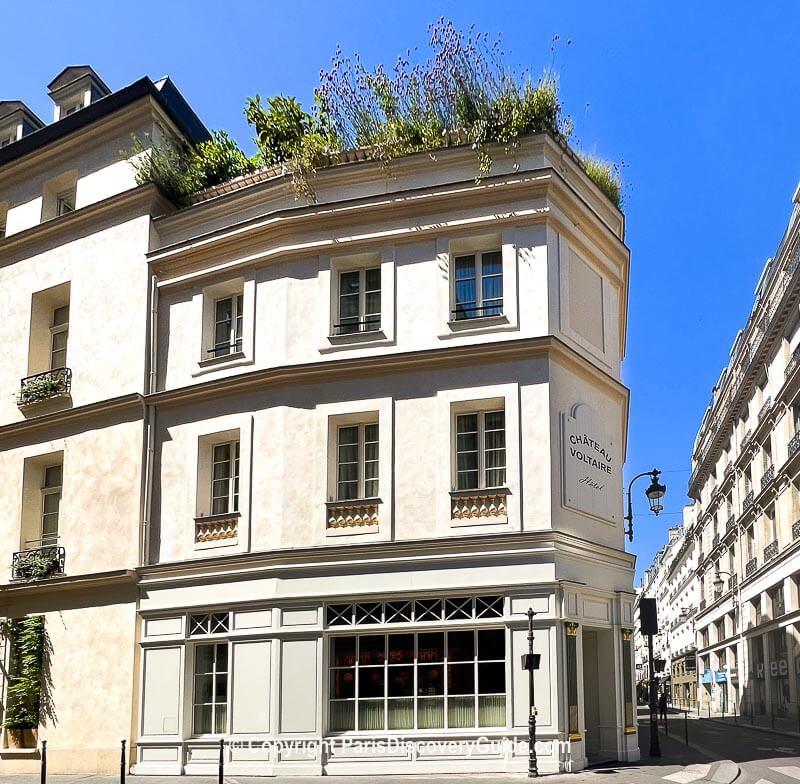 55 Rue Saint-Roch, 1st arrondissement
Understated luxury, 32 spacious-to-huge guestrooms large enough to contain a sofa along with the bed, superb service, and an excellent location between the Louvre Museum and Palais Garnier Opera House make Chateau Voltaire stand out among the recent bevvy of new 5-star Paris hotels.
The hotel also offers wonderful amenities: an indoor pool, a spa, and an excellent restaurant and bar popular where you're just likely to see Parisians along with hotel guests. In your guestroom, you'll have a real espresso (not Nespresso) machine.
The hotel is owned by Thierry Gillier, founder of the French fashion house Zadig & Voltaire, known for its chic but timeless designs, luxurious high-quality fabrics, and comfort. You'll see that same aesthetic reflected in his hotel.
---
Kimpton - Saint Honoré Paris
★★★
★
★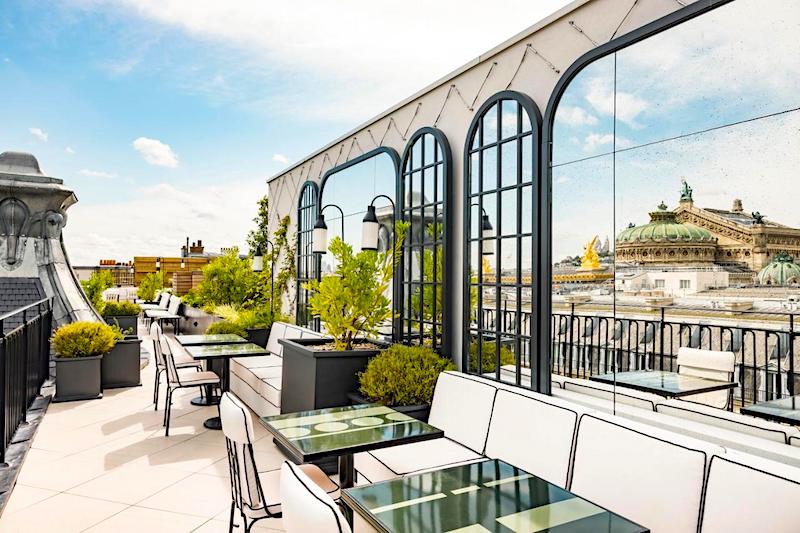 27 Boulevard des Capucines, 2nd Arrondissement
Behind the Art Nouveau façade of its 1917 building, the new and luxurious 5-star Kimpton St Honoré Paris offers everything you could want for your stay in Paris: a superb location about a 2-minute walk from the Palais Garnier Opera House and famous fashion designer showrooms, chic Art Deco-inspired decor by acclaimed Paris-based designer Charles Zana in its 123 guest rooms and 26 suites, a gorgeous sun-lit patio outside its onsite restaurant, and a full-service spa with a heated indoor swimming pool and gym.
But perhaps best of all, the hotel's rooftop garden and bar offer spectacular 360-degree views of the city's most famous monuments and attractions. There's nothing else like it in Paris.
Find more of Paris's newest hotels
---
Blue Lagoon Apartment
You'll love the restful Blue Lagoon apartment's perfect Paris location in the 9th Arrondissement's SoPi neighborhood close the Paris Opera House, Galeries Lafayette, and Au Printemps.
This comfortable 1-bedroom apartment sleeps up to 4 people, and features plush furnishings with contemporary decor. Take advantage of the central Paris location to explore the wonderful Haussmannian architecture in the neighborhood, nearby historic 19th century shopping passages, and the fascinating boutiques, vintage shops, and the gourmet food markets in this upscale part of Paris.
Nearby Metro stations put the entire city within easy reach.
---
citizenM Paris Opera
★★★
★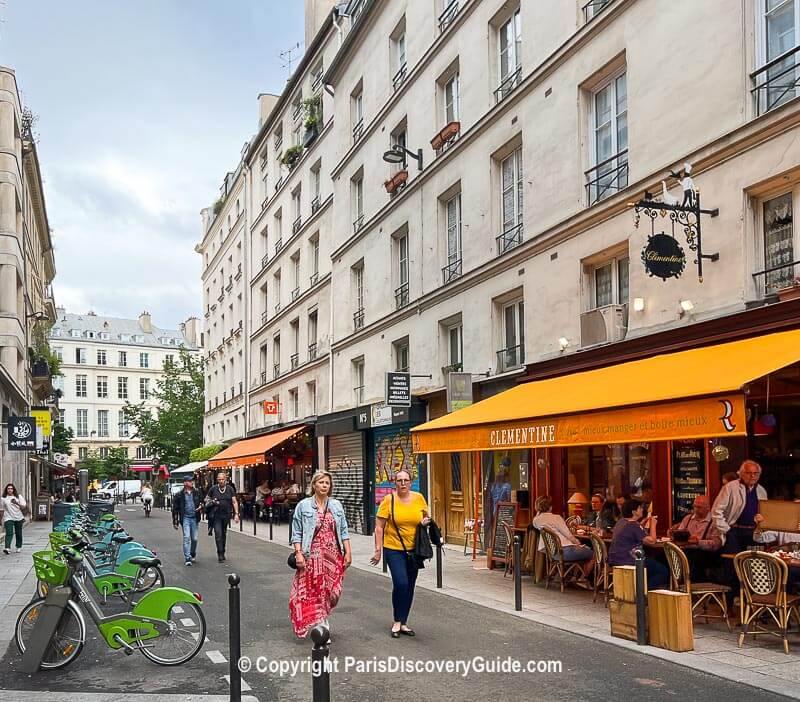 18 Rue du Croissant, 2nd arrondissement; nearest metro: Bourse
The new 4-star citizenM Paris Opera delivers affordable value in a fascinating part of Paris near the Opera Garnier (Paris Opera House), 19th century Passage du Panoramas, and the buzzy Sentier neighborhood where it seems like a new bar or bistro opens every week.
You're also just a short walk to Galeries Lafayette and Au Printemps, the Louvre, Palais Royal Garden, Pompidou Center, and the Marais. With a metro station nearby, you can easily get to other parts of Paris as well.
Like at other citizenM hotels, you'll find the brand's usual mix of affordable luxury: compact minimalist rooms paired with desireable amenities including comfortable king-sized beds, air conditioning, appealing public spaces filled with comfy sofas, an onsite bar and restaurants, and rates on the cheap end of the spectrum for 4-star hotels in Paris.
---
Hotel Etats-Unis Opéra
★★★
★
16 Rue d'Antin, 2nd Arrondissement
With 45 recently renovated rooms, a fantastic location on a quiet side street very close to Palais Garnier (Paris Opera House), and just a few steps away from lively Avenue de l'Opéra with all of its specialty shops, wonderful restaurants, bakeries, and gourmet chocolatiers, Hôtel Etats-Unis Opéra puts you in the perfect location to explore Paris. A 10-minute walk takes you to the Louvre Museum, Tuileries Garden, Grevin Wax Museum, and Galeries Lafayette. Numerous metro stations and bus lines give you fast and convenient access to other parts of the city.
Guest rooms feature contemporary decor, comfortable beds, and even a family suite that sleeps 4. A small onsite bar by the lobby makes it easy to relax with a drink at the end of the day. Best of all, rates are surprisingly affordable for a 4-star hotel in this expensive part of Paris.
---
Hotel Edouard 7 Paris Opera
★★★
★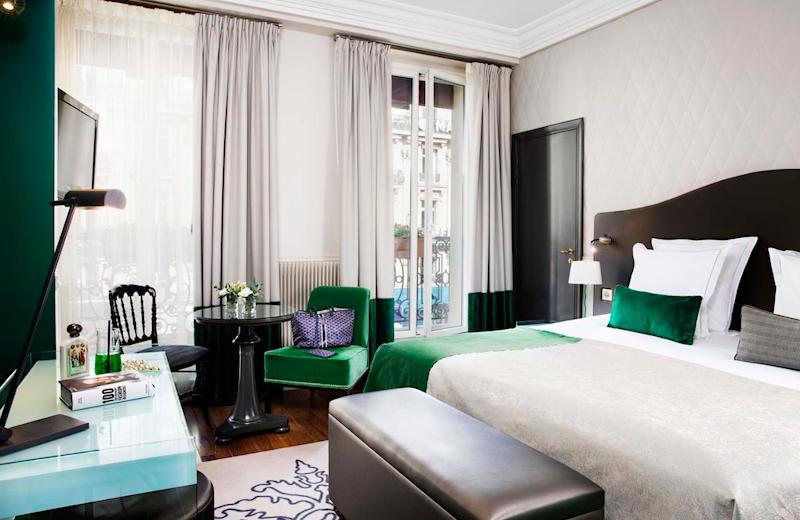 39 Avenue de l'Opéra, 2nd Arrondissement
An elegant lobby, onsite dining in the E7 Restaurant, fitness room, and 69 attractively furnished guest rooms and suites, are just a few of the things you'll love at Hôtel Édouard 7, located in a beautiful Haussmannian building on Avenue de l'Opéra. You can expect wonderful service and request a street-facing guestroom with balcony offering views of the Paris Opera House for a special experience. The hotel's excellent soundproofing mean you won't hear any outdoor noise when your windows are closed.
You really can't beat Édouard 7's location for its location closes to the Garnier Opera, the Louvre, the Sainte-Anne Asian restaurant district, and shopping Galeries Lafayette, Printemps, and surrounding stores. A few blocks behind the hotel are a number of acclaimed small theaters including Théâtre Édouard VII (10 Place Édouard VII) and the popular l'Olympia Paris (28 Boulevard des Capucines) concert venue. Place Vendôme and the Rue Saint-Honoré shopping district are also nearby.
---
Chouchou
★★★
★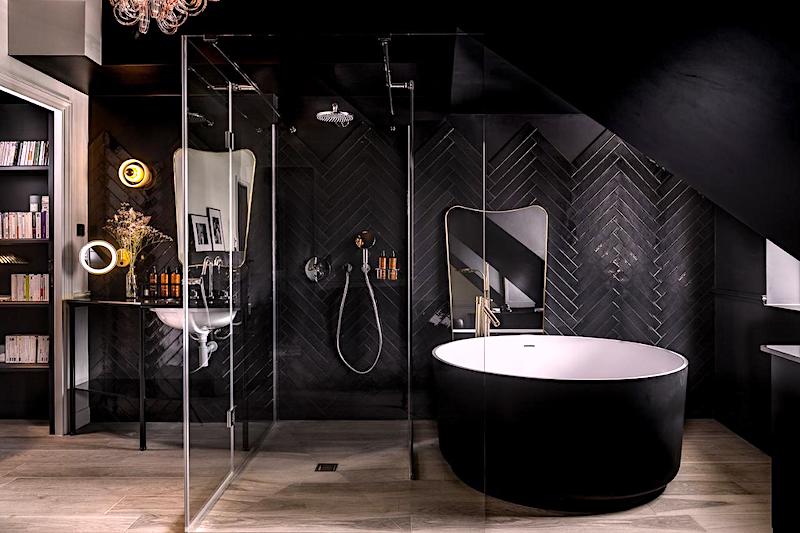 11 Rue du Helder, 9th arrondissement
Similar to a "concept store" that combines retail with culture, the 4-star Chouchou might be considered a "concept hotel" due to the way it combines accommodations in its 63 sleekly sophisticated guestrooms and suites with entertainment: a guinguette-style bar complete with dance floor, a concert and live performance space called La Scène, a mini-food hall occupied by multiple vendors, and even a bath house of sorts with spa-like private tubs large enough for two available for rent by the hour, complete with champagne, a tasting menu, and music.
Book a stay at Chouchou (chouchou, in case you're wondering, is a term of endearment in French based on the word for, of all things, a cabbage), and you may have so much fun that you won't want to venture from the hotel - but if you do, you can walk to Palais Garnier - aka the Paris Opera House - and Galeries Lafayette in less than 5 minutes, and easily explore the rest of Paris and its top attractions from the hotel's location on a quiet side street in the lively 9th arrondissement.
---
Park Hyatt Paris Vendôme
★★★★
★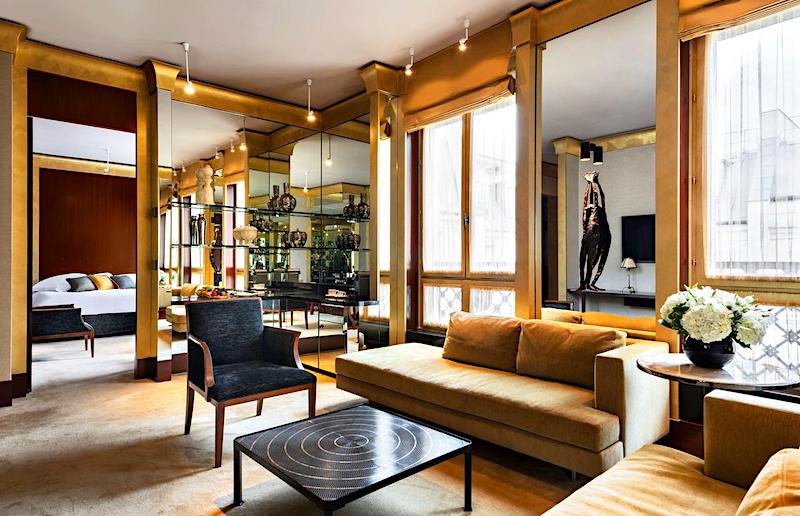 5 Rue de la Paix, 2nd Arrondissement
Whether you choose a spacious guest room or a palatial suite with terrace views of nearby Place Vendôme at the luxurious 5-star Park Hyatt Place Vendôme, you'll love the posh contemporary furnishings, deep soaking tubs in the bathrooms, heated floors, onsite spa, well-equipped fitness room, and Michelin-starred cuisine at this wonderful oasis with 156 rooms and suites located in a historic Parisian palace.
A 3-minute walk brings you to the Paris Opera House (Opéra Garnier) or Tuileries Garden, and in just a couple more minutes you can reach the Louvre Museum, Seine River, and Galeries Lafayette.
The hotel is also surrounded by the world's best jewelers in Place Vendôme, and is steps away from the designer showrooms along Rue Saint-Honoré. And during the Christmas holiday season, sparkling lights covering dozens of majestic conical trees make Place Vendôme the most magical spot in Paris.
---
Hôtel Dress Code & Spa
★★★★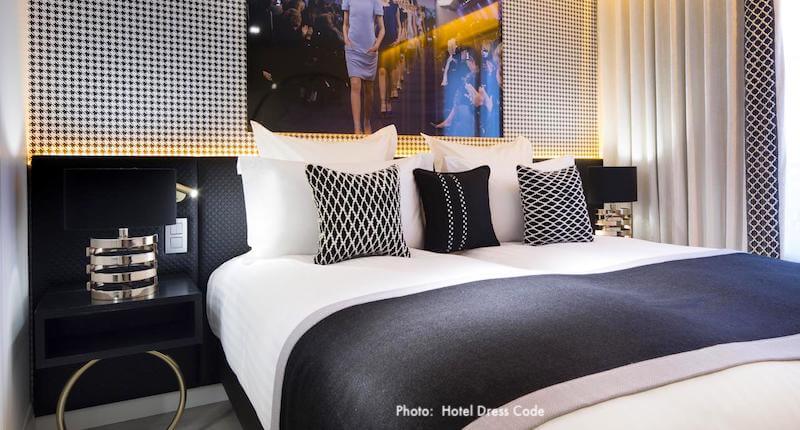 5 Rue de Caumartin, 9th Arrondissement
Located in the former French Prêt-à-Porter (ready to wear) headquarters, Hôtel Dress Code celebrates chic contemporary Parisian design, with public spaces enlivened by a Baccarat chandelier, pale white-washed wood floors, and white walls. You can choose among 33 unique guest rooms by French decorator Stéphanie Coutas, each offering a unique combination of styles, size, colors, and ambiance - no cookie-cutter designs here!
Near the hotel, you'll find plenty to explore and enjoy: the Paris Opera House, concert venue L'Olympia, Galeries Lafayette department store, the Louvre Museum, and Tuileries Garden. Just remember to save time at the end of your day to relax in Hotel Dress Code's beautiful mirrored pool and hammam.
---
Le Basile Hotel
★★★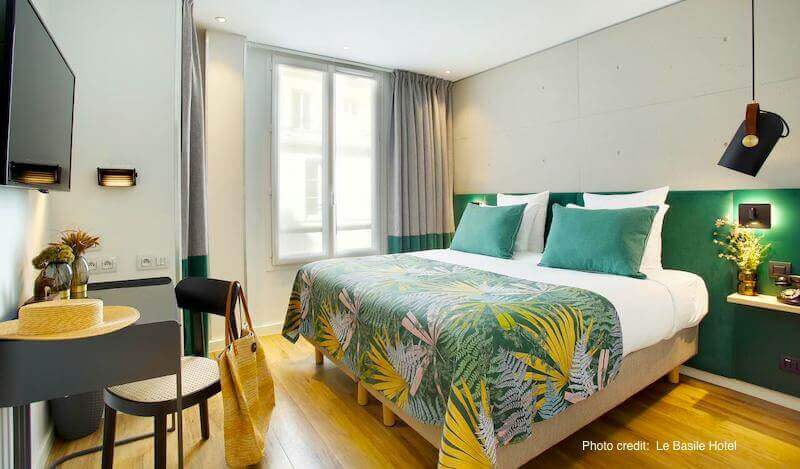 23 Rue Godot de Mauroy, 9th Arrondissement
The highly-rated 3-star family-run Le Basile Hotel near the famous Galeries Lafayette and Au Printemps department stores, Opéra Garnier (Paris Opera House), and Madeleine Church offers bargain rates on its 27 guestrooms with air conditioning in this expensive part of central Paris.
Although the guestrooms tend to be small (true for so many Parisian hotels at every star level), the cheerful colors and simple furnishings create an appealing contemporary vibe. You'll love the quiet side street location and numerous nearby bistros in the otherwise bustling Opéra/Grands Magasins neighborhood. And the value is hard to beat.
But here's the catch: Le Basile fills up quickly because it offers cheap rates in this expensive neighborhood - so don't wait to book.
---
More Places to Stay near the Paris Opera House
InterContinental Paris Le Grand (2 Rue Scribe) - Spectacular historic 5-star hotel with 470 guestrooms 1 block from Palais Garnier; the outdoor terrace of onsite Cafe de la Paix is an ideal people-watching spot. Check out the great views of the opera house
Lyric Opera Hotel Paris (2 Rue de Gramont) - Located close to Palais Garnier, the 4-star boutique hotel features lush fabrics and contemporary decor combined with classical details in its 47 guest rooms, plus a swimming pool with a glass roof, gym, sauna, and steam bath.
Hotel Banke Opera Autograph Collection (20 Rue de la Fayette) - Use your Marriott points at this classy 5-star hotel located in an early 20th century bank building with a glass dome ceiling, Roman-style mosaic floors, and an exclusive art collection
Find best things to do & see in Paris 9
---
Popular Ways to Explore Paris
---
More Articles about Where to Stay in Paris