Reserve a room or suite at almost any hotel in Paris - or, for that matter, anywhere in France - and you'll see stars.
That's because France has an official hotel star rating system that awards every hotel in the country one to five stars. By law, hotels must post their stars near their main entrance to enable visitors to know what to expect.
A small select group of exceptionally outstanding five-star hotels receive an additional honor: the Palace designation.
But when you're booking a room in Paris, what does the number of stars say to you about the quality of the experience you'll have in the hotel? Should you even care how many stars a hotel has?
Here's a quick overview about what you can tell about a Paris hotel based on its number of stars - and, surprisingly, what you can not tell.
Top photo: Official French star rating plaque on 5-star Hotel du Louvre, (c) Paris Discovery Guide
Paris Discovery Guide is a reader-supported publication. When you buy through our links, we may earn a commission at no additional cost for you. Learn more
---
What Do French Star Ratings for Hotels Mean?
What does a star mean? You might think the stars displayed by almost every hotel door in France measure quality, but in fact, they show how well a hotel rates based on factors that may - or may not - add up to quality.
The key thing to know about the French star system is that it awards points based on almost 300 criteria related to hotel facilities, service, and a commitment to accessibility and sustainable development.
The rating criteria gets updated periodically to reflect changes in technology and other areas. The most recent update occurred in 2022.
Some of the criteria, such as room size, define mandatory standards for each star level and must be considered when determining the hotel's score.
Other criteria, such as having an onsite fitness center or private terrace, are optional. Still other criteria, such as whether a hotel's restaurant (if there is one) is air-conditioned may be mandatory or optional, based on the star level. So in short, it's complicated.
Each hotel is re-evaluated once every five years to ensure that its star rating is correct, and the star rating system is also reviewed periodically to make sure it stays up-to-date with visitors' evolving expectations.
The easiest way to understand what French hotel stars mean is to look at the basic rating points and then at an actual hotel at each level.
We'll start at the most basic level, 1-star hotels, and go up from there.
---
1-Star Paris Hotels
★
If you're looking for cheap accommodations in Paris, you may be tempted to book a 1-star hotel.
But be aware: cheap rates usually mean tiny guest rooms (as small as 80 square feet - for example, 8' by 10'), shared bathrooms (or an en suite bathroom as small as 16 square feet - 4' by 4'), a staff that speaks only French, and almost no amenities.
You may also be relatively far from the more popular parts of the city. Most central Paris hotels close to major tourist attractions now have at least two, and usually three or more, stars.
In fact, even 3-star hotels are becoming somewhat scarce as many have upgraded in order to qualify for 4- star status.
But let's get back to 1-star hotels.
Like all Paris hotels, 1-star hotels are required to serve breakfast, and to offer at least five menu choices, such as fruit juice, hot tea and coffee, jam, bread, and croissants - oops, that's six, so maybe you won't get croissants. Or maybe you can get coffee but no tea.
Bottom line, the breakfast will probably be simple and basic - although in reality, perhaps not that different from what you'd have at home on a busy weekday morning. Since Paris practically overflows with small cafes and bakeries, you can usually find plenty of inexpensive options nearby.
Finally, you should expect a minimalist (meaning tiny) hotel lobby, no elevator, almost certainly no air conditioning, and reception staff available for as little as only 8 hours.
Also, don't expect to have a toilet or a shower in your room. In 1-star hotels, en suite facilities are not the norm, which is why many hostels fall into the 1-star category even though they may offer other amenities.
And if you usually pay with plastic, you should know that 1-star hotels are not required to accept your credit card - so be prepared, if necessary, to head for the nearest ATM machine before checkout.
But ... keep in mind that some 1-stars do in fact exist in central locations - usually in small centuries-old buildings where enlarging the room size to even the 2-star standard is not possible due to stairwell locations or other structural features.
However, only a very few of these fall squarely into the "hidden gem" category and when they do, these 1-star gems can be extremely hard to book.
For example, the highly-rated Hotel Marignan (13 Rue du Sommerard, 5th arrondissement) is a favorite among budget-savvy travelers who love its superb location, top-notch service from its friendly long-time owner, low rates, and high-speed fiber optic connections in the heart of Paris's Latin Quarter. You'll need to book far in advance if you want to stay more than a night or two here. Good luck!!!
Another type of 1-star Paris hotel you might consider because they may offer more amenities: select hostels. By definition, most are quite basic and won't necessarily be in the most central locations. But you can find a couple of nice surprises, such as the Generator Paris "designer" hostel near the trendy Canal-Saint-Martin, complete with air conditioning and a 9th-floor terrace bar offering fantastic views of Sacre Coeur.
To be fair, some 1-star hotels in Paris really don't deserve another star. Read hotel reviews from other travelers before you book. If anything alarms you such as repeated comments about lack of cleanliness or even excessive noise, you may want to keep looking.
But if you like what you see, reserve quickly to get your desired nights, and congratulate yourself on finding a hidden gem!
1-Star Hotel Example: Generator Paris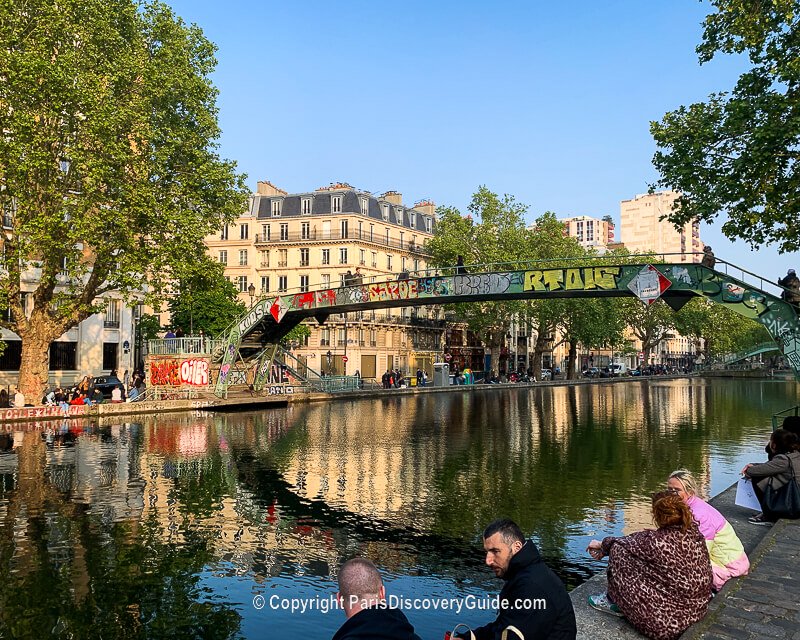 Generator Paris (9-11 Place du Colonel Fabien, Paris 10), located in a formerly-abandoned office building next to the Colonel Fabien Metro station and close to the trendy Canal Saint-Martin and Parc des Buttes-Chaumont provides a whopping 916 beds.
The Gare du Nord train (including Eurostar) station is about a 15-20 minute walk away.
While most rooms provide dormitory-style bunk beds for 4-10 guests (including rooms for single and mixed genders), you can also opt for one of the private twin rooms, or even a "queen" (full bed) room or "king" (queen bed) room.
If you're feeling spendy, book a deluxe room with a private terrace.
Sticking with a budget? Shared rooms typically go for well under €100 (in fact, we're seeing "starting" rates of €19/bed in the larger rooms for 10, although you should expect higher rates on some dates). Some rooms offer private bathrooms; others do not.
In addition to cheap rates, Generator Paris offers desirable amenities, such as air conditioning, elevators, and free wifi, as well as a few cool ones: a basement-level bar for 18+, a rooftop terrace on the 9th floor with views of Sacre-Coeur and Montmartre, and fairly frequent events.
Security is fairly tight, possibly because school groups often stay here.
---
2-Star Hotels in Paris
★★
Two-star Paris hotels can be bargains, especially if you find one with nicely updated decor near popular attractions. If you don't care about decor, you'll have even more choices.
Don't expect much in the way of space or amenities: minimum room size requirements are almost the same as for 1-star hotels. However, at least 75% of guestrooms must have private bathrooms for a hotel to get two stars, and in some 2-star hotels, all rooms will have them.
Lobbies will be larger (although still small in most cases), and the reception staff will speak at least one European language (not necessarily English) other than French. (If you are an English-language speaker and don't know French, it is worth noting that having English-speaking reception staff is a requirement only at the 5-star level, although most hotels in Paris do.) Two-star (and higher) hotels are required to accept credit cards.
If a French hotel has as many as 5 levels (including the ground floor), it must have an elevator in order to get 2 stars - but not all 2-star hotels have this many floors.
Air conditioning is not a requirement and is a rarity in 2-star hotels in Paris. Elsewhere in France, air conditioning is almost non-existent in 2-star hotels.
2-Star Hotel Example: Hôtel Clémont, 6th Arrondissement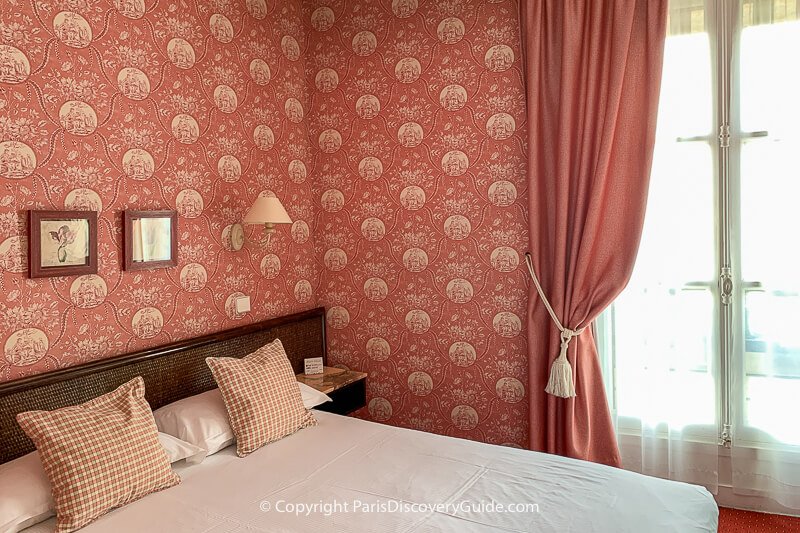 Tucked away in the popular Saint-Germain neighborhood on a quiet street across from the Marché Saint-Germain market and close to Saint Sulpice Church, 2-star Hotel Clémont offers 28 guest rooms with private bathrooms and - not a "given" in 2-star Paris hotels - air conditioning. The hotel is in an 17th century building with an elevator going to all floors.
An attractive reception area, free fast wifi in the guestrooms, and a nice breakfast area plus 24x7 front desk service makes this a 2-star hidden gem in one of the city's most popular neighborhoods. Decor, as you can see in the photo, is simple and charming (and, quite frankly, nicer than what some 3-stars with higher rates offer).
Hotel Clémont is the sister hotel of 4-star Hotel Molière near the Louvre.
Book your stay in Hotel Clémont
Check out Paris Discovery Guide's recommendations for more bargain 2-star Paris hotels in another popular area:
Another 2-Star Hotel (Previously a 1-Star) in Paris 6: Hôtel du Dragon
Hôtel du Dragon, located near Sciences Po and Saint-Sulpice Church in the heart of the upscale 6th Arrondissement, was once a rare find: a 1-star hotel with private modern bathrooms in each of its 28 guestrooms (spread over 7 floors; no elevator).
However, it is now an almost as rare 2-star offering (in addition to the private bathrooms) free luggage lockets, a substantial morning continental buffet breakfast, and free wifi.
The hotel occupies a building built in 1700 on a quiet street in a wonderful neighborhood, where you'll find numerous cafes, bistros, bookstores, antique shops, and boutiques. Decor is simple but charming - you may feel like you're staying in your great-aunt's guestroom.
---
3-Star Hotels
★★★
Three-star Paris hotels can be the sweet spot for comfort and charm at affordable rates.
If you look carefully, you can find plenty of lovely boutique 3-star hotels located in 17th and 18th century townhouses and even the somewhat larger buildings called hotels particuliers (private mansions once occupied by a single family).
According to the French star rating system, all guestrooms in 3-star hotels must have an en suite bathroom. Rooms may still feel tiny (but this is the norm in Paris hotels, almost regardless of the star rating) - together, the guestroom plus bathroom must total almost 50% more square footage than guestrooms (without bathrooms) in 1- and 2-star hotels, so this still doesn't add up to much space.
It's not uncommon to find 3-star hotels where the bathroom is almost the same size as the bedroom (a hint that these may have once been two separate rooms).
However, many 3-star hotels will offer rooms in several different size categories, so you may want to consider booking a larger room. Booking.com does a good job of showing you different room choices when you click on the hotel name.
You can expect lobbies and other public spaces in 3-star hotels to feel more spacious. Reception staff members typically speak English in addition to French and other languages, although this is not required.
You'll also find a bar - a 3 star requirement - in the lobby. It may be a small unattended "honor" bar - but handy if you want a drink at night without venturing out.
An elevator is also required in 3-star hotels with 4 or more floors (including the ground floor), which means that virtually all 3-star Paris hotels will have one since very few city buildings have fewer than 4 floors.
Air conditioning is not required, but for competitive reasons, most 3-star Parisian hotels do have it.
Although you may think of 3-star Paris hotels as mid-range, in reality, many of them compete based on quality and decor (something that the star system doesn't measure). So look for many of the luxury and high-end design touches and personalized service that you'll find in 4-star and higher hotels - but usually at a somewhat lower price tag because they typically don't have other amenities such as a fitness room or onsite restaurant.
3-Star Hotel Example: Hotel Perreyve - 6th Arrondissement near Luxembourg Garden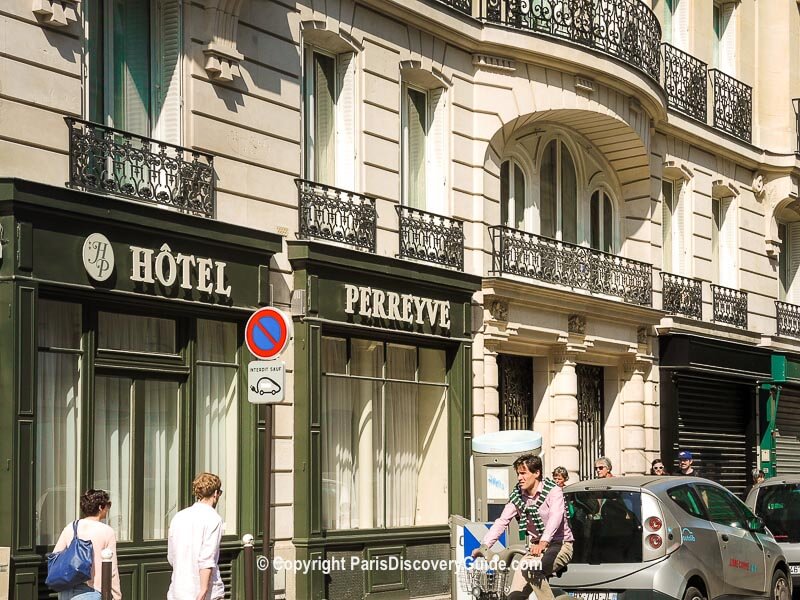 Located in a 1901 Art Nouveau-ish building just one very short block from Luxembourg Garden, the family-owned 3-star Hotel Perreyve (63 Rue Madame) features 30 small guestrooms with simple but stylish furnishings, air conditioning, an elevator, and free wifi.
Rates are usually budget-friendly - actually, considering the superb location on a quiet side street near one of Paris's most beautiful parks, they're downright cheap. Basically, you get the requisite amenities of a 3-star hotel at a 2-star price point.
Find more hotels in the 1st arrondissement
---
4-Star Paris Hotels
★★★★
Most 4-star hotels in Paris fall squarely in the luxury range, offering more spacious guestrooms and bathrooms, mandatory air conditioning, and a lot more amenities than required. If the hotel has 3 or more levels (ground floor plus 2 or more higher floors), it must provide an elevator. Those with more than 30 rooms must provide reception services 24x7, and it is not unusual for those with 30 or fewer rooms to do so as well.
Virtually all reception staff will speak English as well as other European languages, although English-speaking staff is a requirement only for the 5-star level. Four-star (and 5-star) hotels are required to provide concierge services to make dinner and entertainment reservations, provide sightseeing information, and have someone available to carry your bags to your room. They must also have internet access available in all guestrooms.
If you forget to bring an adapter for your electrical devices, they will provide you with one for use during your stay. A growing (and welcome) trend among 4-star hotels is to provide umbrellas for guests to use on rainy days.
Four-star hotels must serve at least 11 food and beverage choices for breakfast, which usually means a lavish spread with plenty of fresh fruits, fancy pastries, nuts, smoked salmon, cold meats, cereals, hot dishes such as bacon and eggs, gourmet jams and honey, and cold cereals such as muesli (ie, European granola).
To earn 4 stars, hotels must offer a lot beyond the minimum - so expect to see amenities such as fitness rooms, outdoor dining terraces, car services, business services, laundry, high-speed internet, and late-night dining options. The latest and trendiest amenities in new 4-star Paris hotels are spas, hammams, and indoor pools.
4-Star Hotel Example: Lyric Hôtel - 9th Arrondissement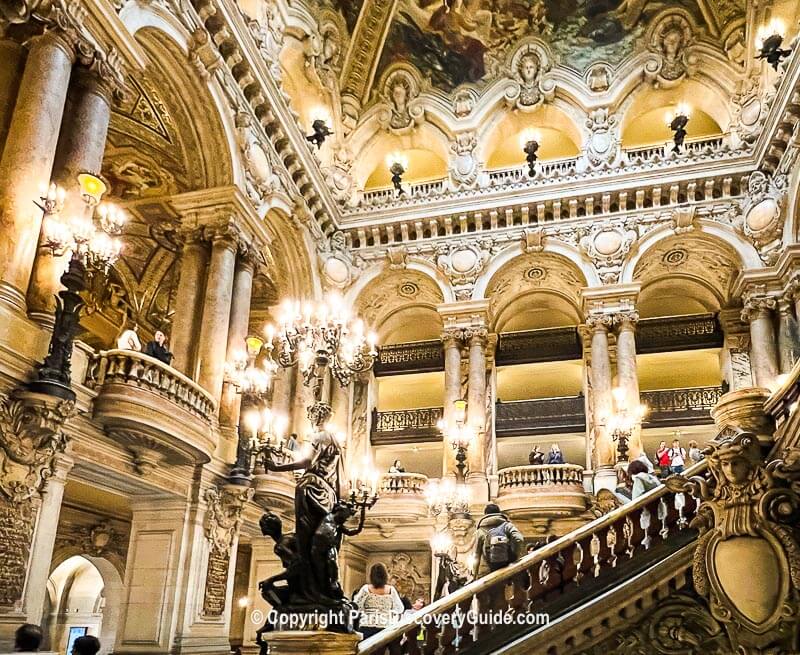 With 47 beautifully decorated guestrooms and suites, luxury bathrooms, and a dazzling lobby and other public spaces, Lyric Hôtel easily fits into the 4-star hotel category, even without considering its multilingual reception staff, concierge services, splendid hot and cold breakfast buffet, and excellent location near the Paris Opera.
What sets this hotel apart, though, is the spa, complete with an indoor swimming pool under a glass roof, a sauna, steam bath, and fitness room.
Another 4-Star Hotel Example: Relais du Louvre, 1st Arrondissement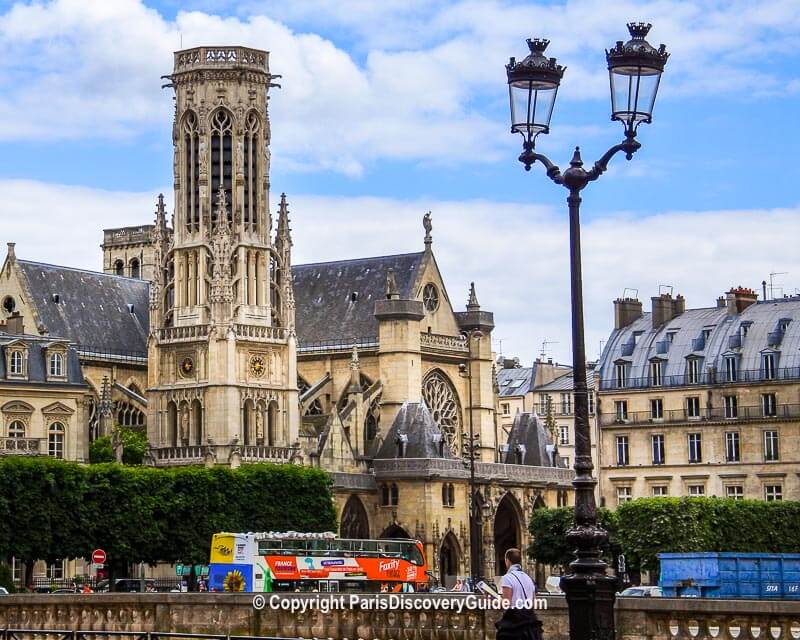 19 Rue des Pretres-Saint-Germain-l'Auxerrois - Nearest metro: Palais Royal-Musee du Louvre
With a terrific location about 200 feet from the Louvre and the Seine River, and also close to Notre Dame on the Ile de la Cite, 4-star Relais du Louvre features 21 guestrooms and suites with appealing country French decor. You get lots of accommodations choices here: everything from a tiny budget-friendly single to spacious connecting rooms for up to 5 people.
With air conditioning, an elevator, evening room service for warm and cold meals, an airport shuttle service, concierge services, multiple languages (including English) spoken by the 24x7 front desk staff, private safes in all rooms, and gluten-free options for breakfast, Relais du Louvre fullfills the 4-star requirements yet offers competitive rates in this super-popular part of the city.
Find more hotels in the 1st arrondissement
---
5-Star Hotels
★★★★★
In terms of mandatory requirements, the biggest visible difference between 4-star and 5-star hotels is space - guestrooms, bathrooms, and public spaces will be larger, and there will be an onsite restaurant and room service. English is a required language for 5-star hotels. Five-star hotels must have safes in all guestrooms.
Whereas 3-star and even 4-star hotels often have space limitations due to being in historic townhouses that simply don't accommodate large guestrooms, 5-star hotels typically occupy much larger commercial buildings or mansions. A number of 5-star hotels have spas, and even swimming pools - part of how they earn the number of points required to gain the 5-star rating.
Breakfast choices will be extensive. The onsite restaurant may be headed by a famous chef, and perhaps be Michelin-starred. (Of course, this comes with a price. If all you want is just a cup of coffee and a croissant, you may be better off stepping out to the nearest neighborhood bakery or cafe.)
A car service with drivers must be available.
Safes are required in guestrooms (although you'll also find them in most 3-star and 4-star hotels).
Typically, you can expect top-notch service.
5-Star Hotel Example: Marignon Champs-Élysées - 8th Arrondissement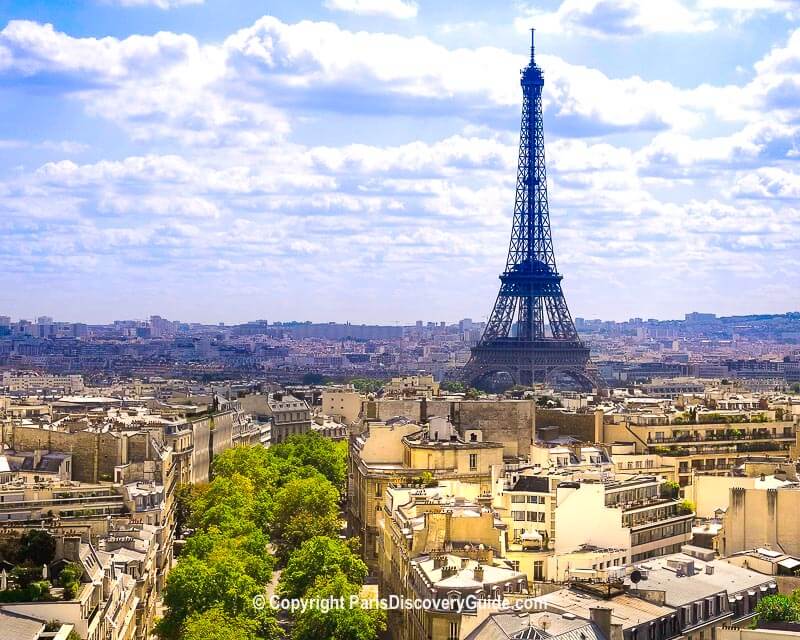 Situated in Paris's Golden Triangle, famous for its designer showrooms and superb shopping, Marignon Champs-Élysées offers 50 rooms and suites furnished to emulate luxurious modern Parisian apartments.
With views of the Eiffel Tower from the private terraces of some of the rooms and suites, personalized service, and an excellent on-site restaurant serving lunch and dinner, this hotel epitomizes sophisticated 5-star luxury and comfort in an ideal location.
---
Palace Hotels
★★★★★
+
Palace hotels are a special category of high-end five-star hotels.
This coveted designation is awarded to a small number of establishments with exceptional facilities (look for swimming pools, spas, roof-top terraces, gourmet Michelin-starred restaurants), amenities, and services. They must represent the highest standards of French hospitality and culture.
Only 11 Paris hotels have been selected for Palace status: Le Bristol, Four Seasons George V, Le Meurice, Le Réserve Paris, Le Park Hyatt Vendôme, Le Plaza Athénée, Shangri-La, Mandarin Oriental, L'Hotel de Crillon, The Peninsula, and Le Royal Monceau Raffles.
Worth noting: Not every palace-like hotel applies for this designation, including the palatial Hôtel Ritz Paris and Hotel Lutetia, just to name a couple.
Palace Hotel Example: Shangri-La Hotel - 16th Arrondissement
Luxury Palace Shangri-La's large, lavish 101 guestrooms and suites offer Eiffel Tower and sweeping Paris views from private terraces. With 3 restaurants, a renowned spa complete with large indoor swimming pool, and every service and amenity you can imagine, this special hotel deserves its special Palace designation.
More about Paris 5-Star Palace Hotels, & what makes each one special
---
What Do French Star Ratings NOT Tell You?
A lot.
The biggest thing the stars don't measure is quality. They won't tell you if service is warm and attentive, if your bed will be comfortable, or if the hotel's interior is clean.
They don't tell you anything about the view from your room, the noise you may hear from the street, or the convenience of the location.
To find out about all of these things, read reviews. TripAdvisor is a good place to start, especially if you disregard the outliers - you know, those reviewers who totally slam a hotel that most others seem to like, as well as those who gush about how wonderful everything is while the majority seems skeptical. Look for the consensus rather than the anomaly.
The star ratings also don't tell you much about price. Sure, any 2-star hotel will be a lot cheaper than any 4-star or 5-star. But you'll find lots of overlap among the ranges, particularly between 3-star and 4-star hotels, as well as between some 4-star and some 5-star properties.
But if you look hard enough, you can find real bargains at each star level - hotels that deliver more than you'd expect for the price.
---
More Articles about Paris Hotels