Top Paris events in November 2023 include Armistice Day ceremonies, lots of wonderful concerts and museum shows, and the chance to immerse yourself in all things chocolate at the popular Salon du Chocolate show packed with demos, tastings, and even a fashion show.
By the second week in November, the big Paris department stores unveil their spectacular holiday window displays and dazzling lights and decorations begin to sparkle across the city.
You may notice the days getting shorter and the air crisper, but November weather in Paris usually offers mellow sunny days for enjoying the changing leaf hues.
Stroll through any of the city's many parks such as Tuileries Garden and Luxembourg Garden to soak up the fall foliage colors and enjoy the last late-blooming flowers.
Want to get a taste of the holiday season? Toward the middle of the month, you can start visiting festive Paris Christmas markets and enjoying the hot mulled wine, regional food specialties, and gift shopping. Or head to Disneyland Paris where Christmas celebrations begin during the second week of November.
Save on your Paris travel with Black Friday sales on tours, flights, hotels, & more
French holidays in November: All Saints Day (November 1) and Armistice Day (November 11) are public holidays, so banks, many stores and businesses, post offices, and some restaurants (especially outside of central Paris) will be closed.
Please note: The Toussaints school holiday weeks take place across France between October 22 and November 5 in 2023 (and Oct 20-Nov 3 next year, in case you're planning ahead), which means that some attractions may be more crowded than usual.
Top photo: Bouquiniste on the Left Bank of the Seine River, (c) Paris Discovery Guide
Paris Discovery Guide is a reader-supported publication. When you buy through our links, we may earn a commission at no additional cost for you. Learn more
---
Concerts in Paris - November, 2023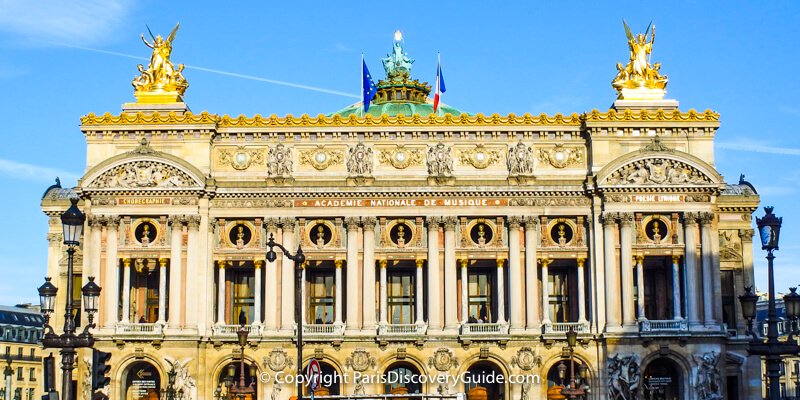 From rock to indie to jazz, from opera to ballet, you'll find every type of music you can imagine at top concerts in Paris during November 2023:
Short days and chilly nights make November an especially good month for classical concerts held in centuries-old churches. Look for candlelight concerts for a special experience!
Check the lineup to find top concerts, opera, ballet, and other music shows happening throughout November, and get your tickets now:
More Paris classical concerts, opera, & dance performances during November
More Paris rock, electronic, pop, jazz, & other performances during November
Find Paris concerts for other months
---
Christmas Window Displays in Paris 2023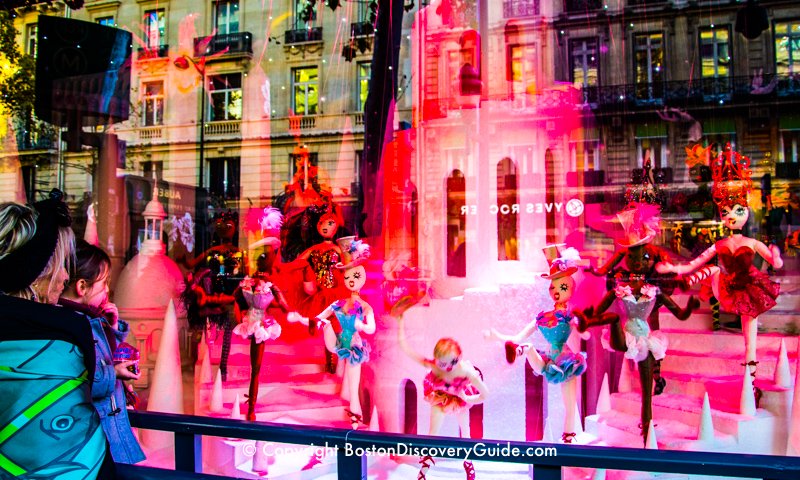 The five famous big Paris department stores - Galeries Lafayette, Printemps Haussmann, BHV Marais, and La Samaritaine - reveal their highly-anticipated spectacular decorations in late October - early November.
The imaginative Christmas window displays enchant adults and children alike, and become more fantastic and creative with animations and music each year - and of course draw shoppers inside where even more dazzling decorations create holiday cheer.
Galeries Lafayette usually boasts the most elaborate - and most anticipated - windows, although displays at all of the stores seem to get more elaborate and creative each year.
Want to join the crowds of fans that gather for each Parisian department store's annual holiday windows "reveal" ceremony?
Here's the store window unveiling schedule for 2023:
Le Bon Marché Rive Gauche (Le Bon Marché Rive Gauche - 24 rue de Sèvres, Paris 7) - Santa's Workshop with plenty of elves will be year's special Christmas windows; inside the Rive Gauche store, look for 4 huge Christmas trees with unique decorations - starts October 28, 5pm
BHV Marais (52 rue de Rivoli, Paris 4) - Christmas windows this year will feature Province - starts November 8
Printemps Haussmann (64 boulevard Haussmann, Paris 9) - Christmas windows on display: starts November 8, 5:30pm
Galeries Lafayette (40 boulevard Haussmann, Paris 9) - In addition to the fabulous Christmas windows, don't miss the gigantic Christmas tree, with a glass walkway for closeup views and selfies - starts November 15
La Samaritaine (19 Rue de la Monnaie, Paris 1) - Dancing mannequins! Each window features a different music genre: rock, disco, hip-hop, voguing, ballet, contemporary - To be announced
---
Christmas Lights & Holiday Decorations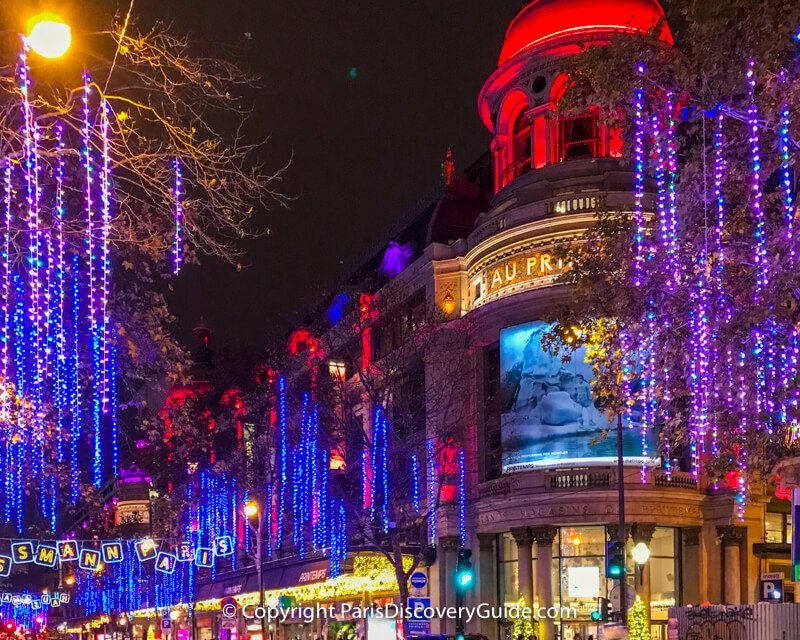 Christmas lights ("Illuminations") and decorations start to appear in Paris starting in early November and continue through early January (until just before the January sales begin).
By December, you can see festive lights, decorations, and Christmas trees in all the city's key shopping districts. But don't miss the spectacular store window displays at Paris's five grand department stores!
More about holiday window displays and Christmas decorations in Paris department stores
Get tickets for a Paris Christmas Lights Tour
---
Armistice Day Ceremony in Paris - November 11, 2023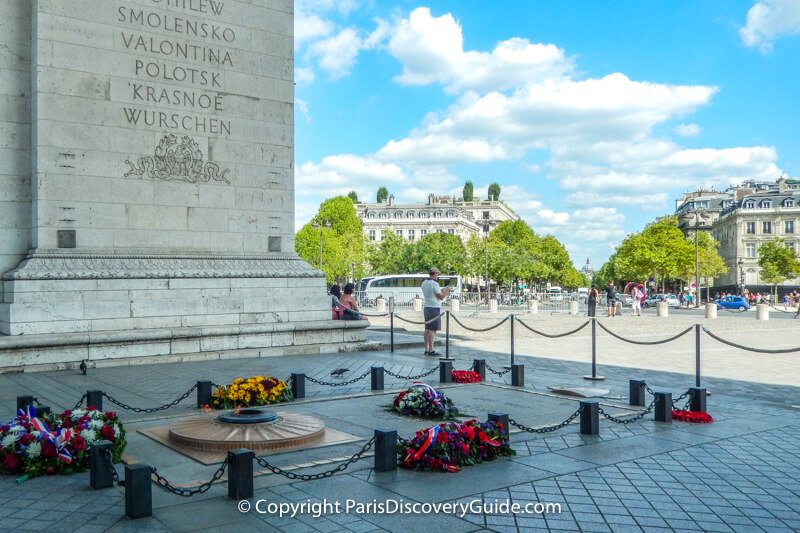 Pay your respects to those who died or were injured during war - almost 1.6 million French soldiers died during World War I and II combined - on Armistice Day, November 11. Armistice Day was established on November 11, 1918 as combat ended during World War I - the "war to end all wars."
In a somber ceremony at the base of the Arc de Triomphe,the French president inspects the troops and lays a red, white, and blue wreath near the eternal flame at the Tomb of the Unknown Soldier, which honors all French troops who died in the war. A solemn vigil takes place at the Tomb in the evening. Both remembrances always occur on November 11.
When: Wreath-laying 11am, vigil at 9pm (to be confirmed)
Want to know more? Visit the Georges Clemenceau Museum (8 rue Benjamin Franklin, 16e); Clemenceau became France's prime minister in 1917 and orchestrated both France's final assaults on the Axis powers as well as the armistice agreement after the Allied victory. Usually open only in the afternoon; check hours
Visit World War I battlefields - These special small-group and private tours take you to visit the most famous World War I French battle sites, museums, and memorials:
World War I Battlefields - Explore sites of important battles involving American troops at Aisne, Marne, Belleau Wood, Cote 204, the Museum of the Great War in Meaux, and cemeteries. Private tour for a group of up to 7 - More
Verdun and Meuse-Argonne - Tour these famous battlefields as well as the Fort of Douaumont, Château-Thierry, the Romagne War Museum, the Trench of Bayonets, and cemeteries - More
Find out more about visiting the Arc de Triomphe
---
Paris Christmas Markets Opening in November 2023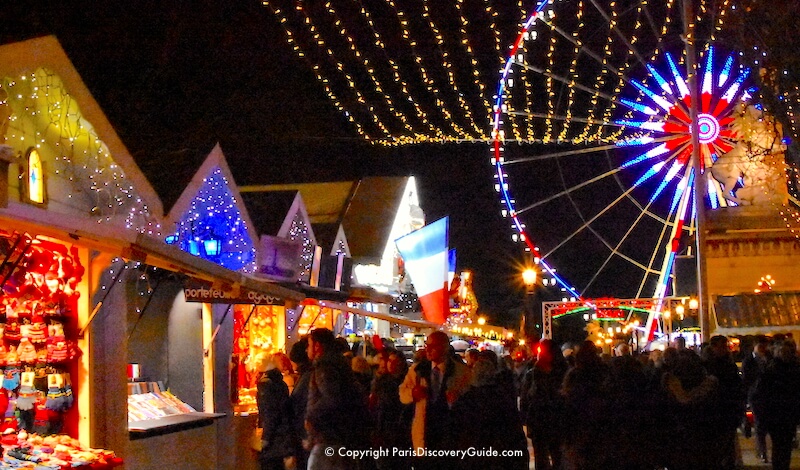 Filled with sparkling lights and decorations, the smell of roasting chestnuts, cups of hot mulled wine, and Swiss-style chalets overflowing with special holiday foods, hand-crafted gifts, and decorations, Christmas Markets start popping up all over Paris in mid-to-late November.
These festive holiday markets originated in Germany, but have been a popular tradition in Paris and other French cities since Medieval times. Today, you'll find them all over the city, with the largest ones attracting large crowds.
The Paris Christmas Markets opening during November typically include three of the biggest and best: Tuileries Garden Christmas Market (opening this year on November 18, (to be confirmed) usually the first to open each year), Saint Germain Christmas Market, and La Defense Christmas Market. Exact dates are usually announced about 3-4 weeks in advance.
Check the Paris Christmas Market Schedule for 2023
Find out more about each of the major Paris Christmas Markets
---
Things to Do in Paris in November
Visiting Paris in November? Enjoy these fun activities, including a few indoor choices in case the weather turns chilly:
---
Christmas at Disneyland Paris Starts in November 2023
Enchanted Christmas celebrations start at Disneyland Paris in early November and continue into January with plenty of entertainment and holiday spirit for everyone.
You'll find a spectacular giant tree, entertaining shows, festive Christmas parades, and sparkling holiday decorations everywhere. Each year brings new holiday features, lights, and shows at both Disney Parks, an immersive nighttime extravaganza, and singing carols with Santa, Mickey, and Minnie for a magical experience you won't forget. You can even expect snowflakes to fall a few times each day!
When: November 11 - January 7 (to be confirmed)

Disneyland Paris and Transportation
Take RER A to the Marne-la-Valée station across a small plaza from Disneyland Paris, and buy your tickets at the gate - or check out these options to make your trip faster and easier:
---
Paris Exhibits - Must-See Shows for November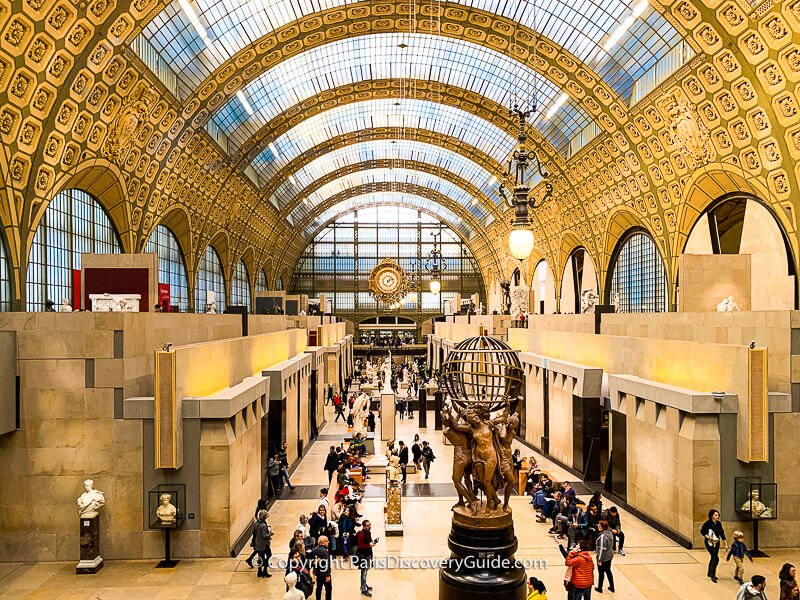 November weather in Paris can be tricky, and you should always have a few bad-weather day activities in mind. Visit these museum shows when you want to stay warm indoors and immerse yourself in Paris's top cultural treasures:
Rosa Bonheur@ Orsay Museum
This major retrospective of French artist Rosa Bonheur on the bicentenary of her birth takes a close look at 200 of her paintings and other works, especially in her portraits of animals.
Dates: October 18, 2022 - February 15, 2023
Musée d'Orsay Tickets: 16€ adults. Book a reserved-access ticket for skip-the-line access, save with a combo ticket to Musée de l'Orangerie and the Orsay Museum, or use your Paris Museum Pass for free entry
Location: 1 Rue de la Légion d'Honneur, Paris 7; Metro: Pont de l'Alma; Invalides
Christian Marclay @ Centre Pompidou
First French exhibition since 2007 of contemporary American artist Christian Marclay, whose work spans multimedia, sound, collages, and montages as he depicts a postmodern pop world.
Dates: November 16 - February 27, 2023; Gallery 1, Level 6
Pompidou Tickets: 15€ adults; book online (includes show plus permanent collections) or use your Paris Museum Pass for free entry; shows in several galleries require an additional ticket at no extra cost, so book the "permanent and temporary" ticket if you want to see one of these exhibits. Or enhance your visit with a private tour by an expert guide.
Getting there: Rue Saint-Martin between Rue Rambuteau and Rue Merri, 4th; Metro: Rambuteau, Hôtel de Ville, Châtelet; RER: Châtelet les Halles, lines A, B, D
Picture Picasso @ Picasso Museum
See Picasso in front of cameras in art films, film and sound archives, reports, and documentaries in all kinds of settings: with his family, creating art in his studio, frolicking on the Mediterranean coast, and relaxing with films. Especially cool: all these images are juxtoposed with his art from the museum's collection.
Dates: Through February 12, 2023; Tickets: 14€. Use a Paris Museum Pass for both museums, choose a Picasso Museum ticket only, or get a combined ticket for both museums; all ticket types also include permanent collections
Location: 5 Rue de Thorigny, Paris 3; Metro: Saint-Paul or Filles du Calvaire
Find more Paris museum exhibitions for November & future months
---
Paris Museum and Attractions Passes
Get free admission and skip-the-line access to 60+ museums in and near Paris when you have a Paris Museum Pass for 2, 4, or 6 days. (Access to special shows may require an additional ticket.) More info
---
Christmas Lights Turn On in Paris 2023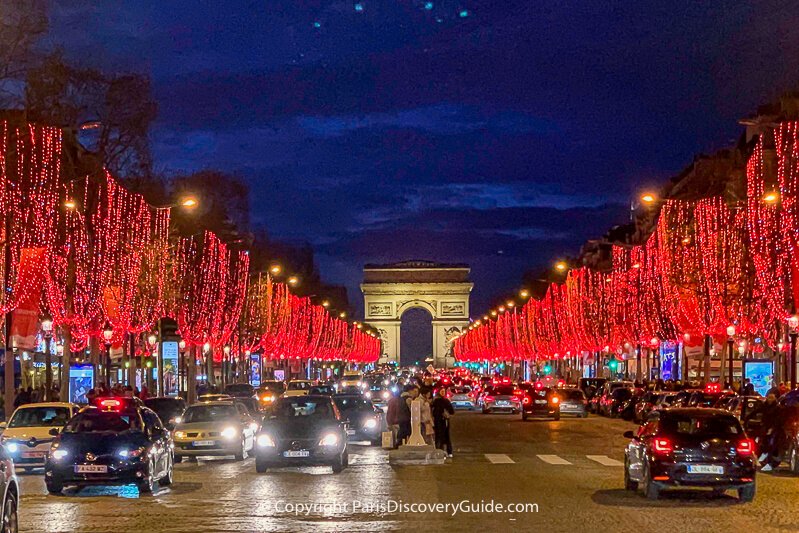 Christmas lights ("Illuminations") and decorations start to appear in Paris starting in mid-November and continue through early January (usually until right before the January sales begin).
Where can you see the city's most gorgeous lights? Head to Champs-Elysees, where thousands of strands of energy-efficient lights covering 400 trees light up the famous avenue. A lighting ceremony takes place at 5pm on November 19 (to be confirmed) , with the avenue pedestrian-only for the occasion. Lights will be on 5pm - 11:45pm every day through January 2, 2024, except for Christmas Eve and New Year's Eve when they stay on all night.
Find the best places to see Christmas lights in Paris
Go on a Paris Christmas Lights Tour
Find out more about Christmas in Paris
---
Day Trip to Mont Saint Michel in November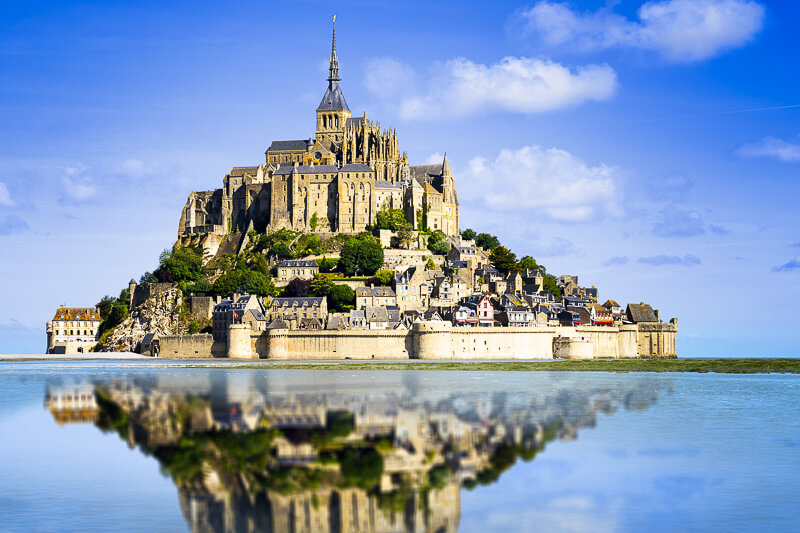 November is the perfect month to visit Mont Saint Michel, the magnificent medieval abbey rising from a tiny island just off the Atlantic Coast between Normandy and Brittany.
Comfortable private coach transportation from Paris makes it possible to visit Mont Saint Michel in just one day, while seeing the picturesque French countryside along the way.
Here are two of the most popular day trip choices:
---
Paris Hotel Map
Planning to visit Paris in November? Use this Paris hotel map to find accommodations and make your reservation:
Check out the newest Paris hotels
---
Festival of Lights at Paris's Jardin des Plantes - 2023-2024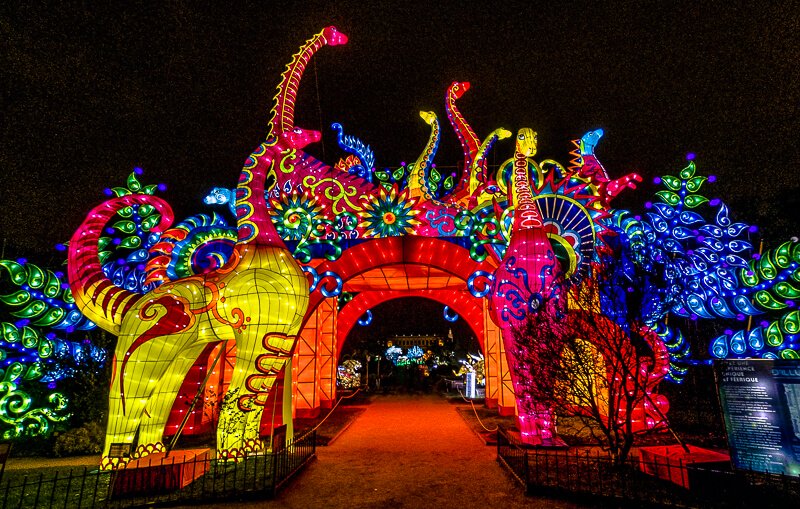 The annual winter Festival of Lights returns to the Jardin des Plantes (Botanical Garden) in Paris's 5th arrondissement, with giant illuminated statues of animals creating a magical experience during the evening. Each year, the animals represent a different phase of evolution, and this year you'll see butterflies, dragonflies, frogs, snails, spiders, and other insects as you stroll through the garden's enchanting imaginary universe filled with lights and colors.
Although the exhibition attracts almost 400,000 visitors each year, the garden never seems crowded.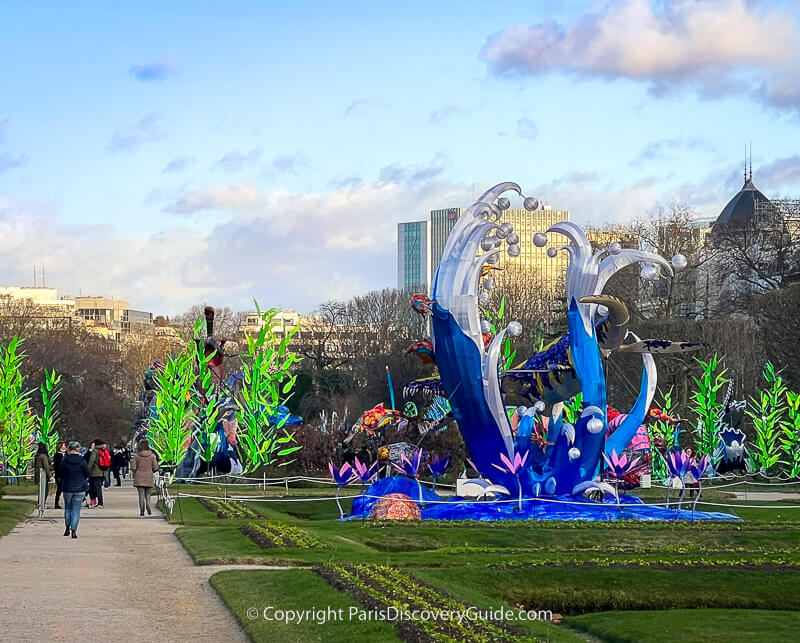 You can see the creatures unilluminated during daytime hours without a ticket (in other words, for free), but the ticketed event which begins after dark is more spectacular.
Dates: November 13, 2023 - January 14, 2024, (to be confirmed) except for Dec. 24 & 31, 6pm l- 9:30pm, with last entry at 8:30pm, and until 11pm (last entry at 10) on Friday, Saturday, & school holidays
Location: Jardin des Plantes, 57 Rue Cuvier, 5th arr
Tickets for evening strolls: 15€-17€, with reduced prices for children and families; tickets must be bought online (and get yours early, as they will sell out on many nights, especially during the holidays)
---
Festival d'Automne (Autumn Festival) Paris - 2023-2024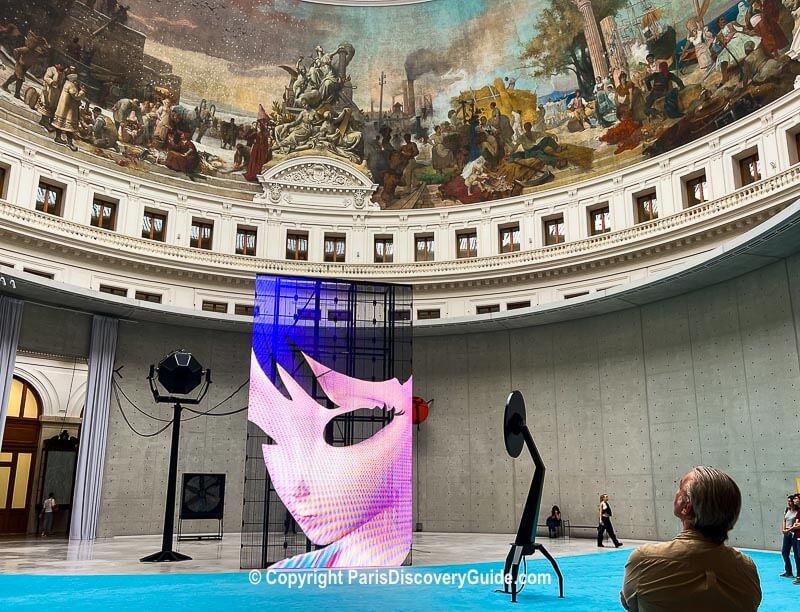 The Paris Autumn Festival (which extends into February) showcases the latest creations and artists (international as well as French) in contemporary dance, theater, music, cinema, and visual arts at a variety of venues around Paris, include the Grand Hall at Parc de la Villette in the 19th arrondissement, the Pinault Collection at Bourse de Commerce and Louvre in the 1st, and Pompidou Center in the 4th, just to name a few.
This is a hugely popular festival, with over 50 events (many of which extend over several or more days) at over 70 venues in and near Paris.
Most events are ticketed, and many sell out quickly, so don't wait to book, which you can do through the event's website.
---
PhotoSaintGermain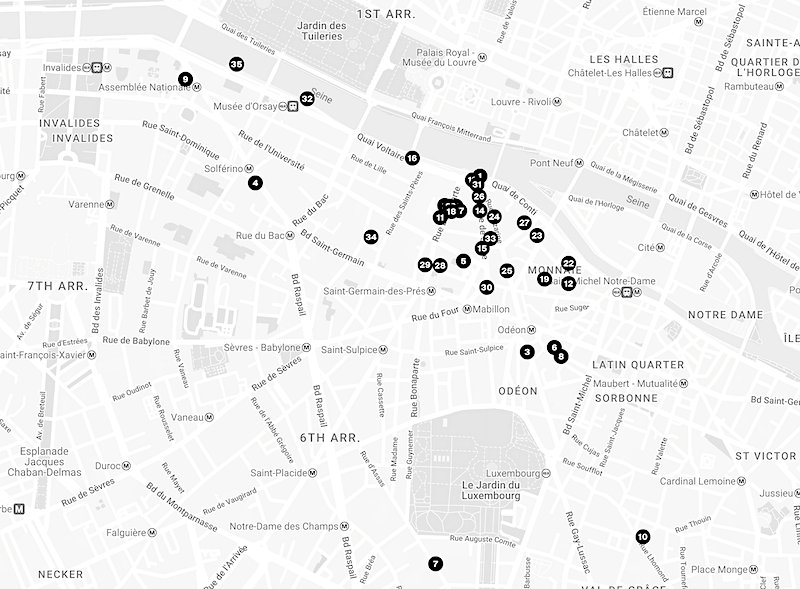 Almost three dozen Saint Germain galleries, specialty museums, bookstores, cultural venues, and even Hotel La Louisiane (storied haunt of jazz age and later musicians, including Jim Morrison) host PhotoSaintGermain each November to celebrate contemporary photography and emerging photographers with exhibitions, presentations, studio visits, and meet-ups.
If you love to see what's new and trending in the art of photography, don't miss this wonderful opportunity to visit the participating galleries and other venues. Check the event's website for addresses, event dates, and an interactive map of locations. As you'll see, many of the galleries are clustered in Saint-Germain's "Design District," so you can easily do your own self-directed art stroll.
Dates: November 2 - 25; hours and open/closed days vary based on venue and activity
Admission: Free (although most of the art is available for purchase)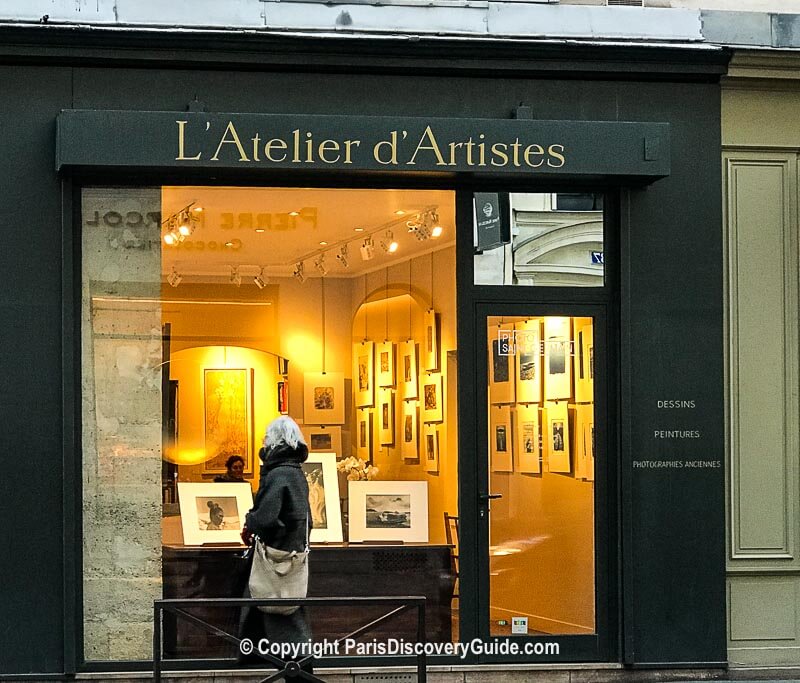 ---
More about Paris in November
Paris Weather during November
---
More Top Paris Things to Do & See in November
---
More Articles about Things to Do in Paris in November
---
Coming Soon: Christmas in Paris
How to celebrate Christmas in the City of Light: