Should you bring an electric plug adapter or power voltage converter on your trip to Paris? And if so, what is the best power adapter and converter for France?
If you are like many travelers to Paris or elsewhere in France, you may be wondering: How do I charge my iPhone (or Android) and laptop? What about my hair dryer? My electric shaver? Do I need a special US- or Canada-to-France (or other country to France) adapter or converter to use my electronics in Paris?
First, a couple of quick definitions:
A electrical outlet adapter lets you insert electric plugs from your country into wall sockets in the country you're visiting. It's needed because the electric plugs (and outlets) may have different shapes - in fact, 14 different power outlet types are in use around the world. For example, if you live in the U.S., Canada, Japan, or a couple of other countries where electric plugs have two flat blade prongs for ungrounded devices plus perhaps a round prong for grounded devices (Types A and B) and you visit Paris or anywhere else in France, you'll discover electrical sockets with holes for two round prongs (ungrounded - Type C) plus perhaps one round prong (grounded - Type E). So by using a U.S. to Paris adapter, you can fit a plug of one shape into a socket of a different shape. The best type of electrical outlet adapter to buy for use in Paris and elsewhere in France is Type E, because it accommodates both grounded and ungrounded devices.
An electric power converter (sometimes called a transformer or voltage converter) lets you use an electrical device designed for 110-127 volts in a country with 220-240V electricity - and vice-versa.
If you're planning to charge or use your mobile phone, electric shaver, hair dryer, laptop, or other electrical device by plugging it into an electrical outlet and are traveling to Paris from the U.S., Canada, Australia, China, Japan, or any other country where electric plugs and outlets differ from those used in France, then yes, you will need a plug adapter.
Fortunately, adapters are cheap, light to carry, and easy to get while you're still in your home country. But don't wait to get one until you're in Paris or elsewhere in France, because the configuration you need - US-(or other country)-to-Paris adapter - can be tough to find. (But if you need a Paris-to-other-country adapter, no problem!)
Popular brands include Ceptics, Schuko, and Tessan.
What about an electrical power converter?
If you live in a country with 100-127V electrical power such as the US, Canada, Japan, or a few other places in the Caribbean, South America, and Asia/South Pacific, you may also need an electric power converter when you travel to Paris (230V) or elsewhere in France (or most other places in the world), depending on the specific devices you plan to bring.
Fortunately, most modern electronic devices such as laptops, phone chargers, and tablets such as iPads run on either voltage thanks to built-in voltage converters/transformers.
Other appliances such as hair dryers, hair straighteners, heating pads, and shavers may have dual voltage switches for you to set manually.
For any remaining devices, a couple of strategies can help you avoid the expense of buying a converter as well as the hassle of carrying the extra weight of this relatively heavy device in your suitcase.
We'll walk you through everything you need to know about how to get what you need, including determining if you need to bring an adapter or two with you on your trip to Paris, where to buy the best type for French electric power adapter, how to determine if you need to bring a converter, how to avoid buying a converter, and what features to look for in a converter if you really do need to buy one.
Top photo: Travel adapters for Paris & elsewhere in France
Please note: Some links on this page go to Amazon.com. As an Amazon Associate, ParisDiscoveryGuide.com earns from qualifying purchases.
---
Why Do I Need to Bring an Electric Plug Adapter to Paris?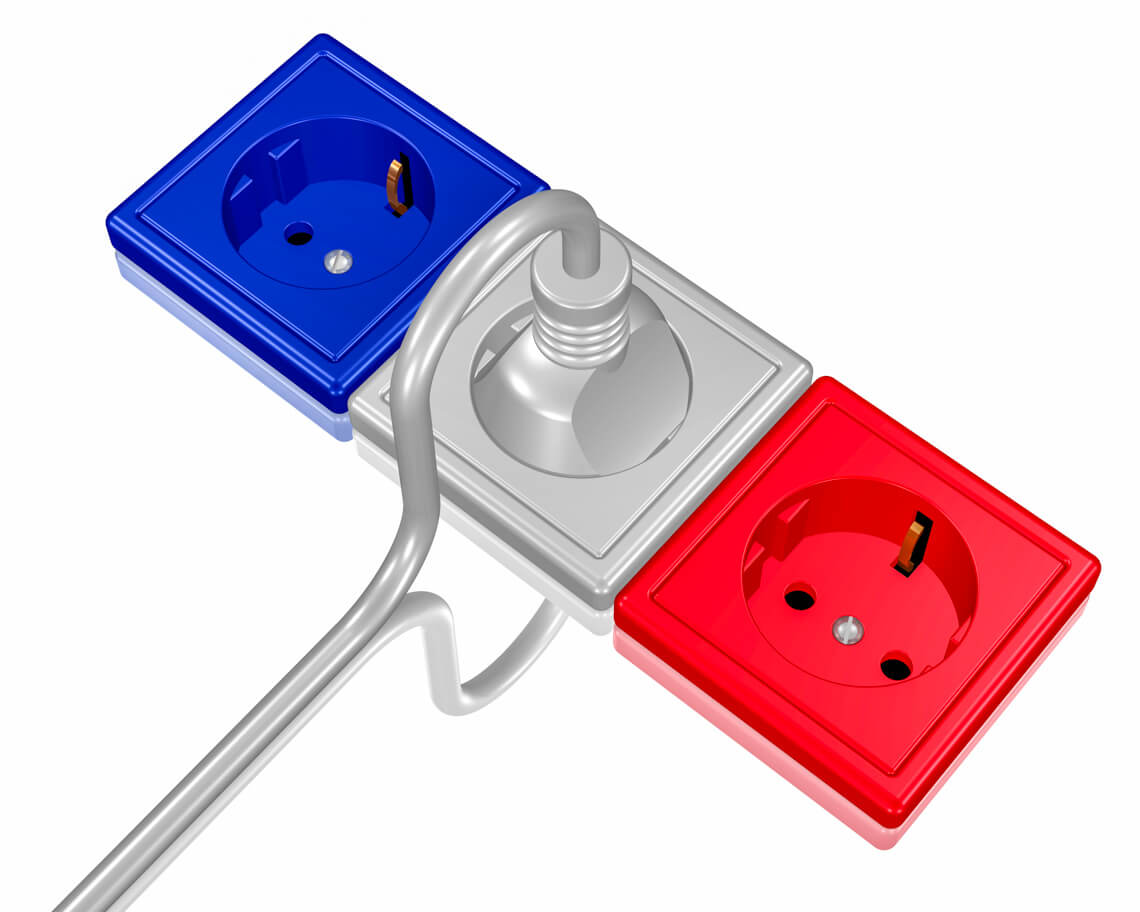 With 14 different types of plugs and sockets in use around the world, you'll need an adapter to connect to electric power whenever you visit a country where the plug/socket shapes differ from those where you live.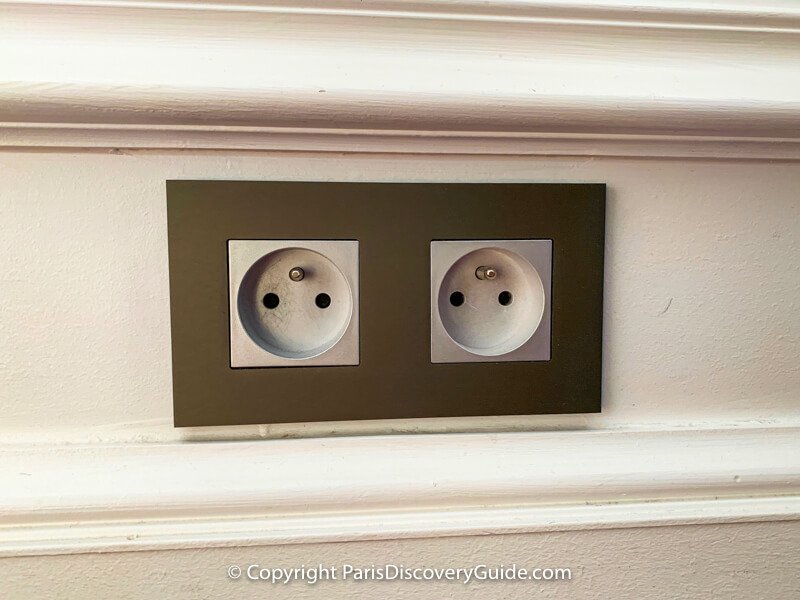 Once you know the type of plug your electric devices use and the type of electrical sockets used in Paris, France, and any other countries where you're traveling, figuring out the kind of adapter you need is easy because each type of socket and plug is associated with a letter from A to N: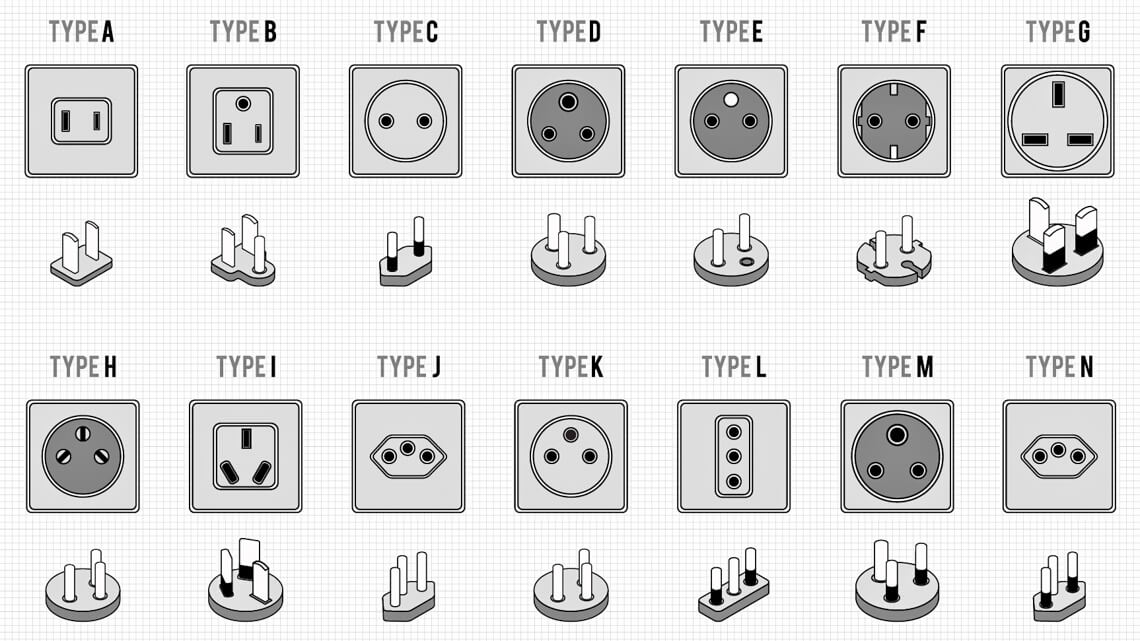 Here are a few examples of the types of plugs/sockets used around the world:
United States, Canada, Japan, Columbia, Taiwan: Type A (ungrounded) and Type B (grounded)
France, Belgium: Type C (ungrounded), Type E (grounded)
United Kingdom, Ireland, Kenya: Type G
China: Type A, Type C, Type I
Israel: Type C, Type H, Type M
South Africa: Type C, Type D, Type M, Type N
Germany, Korea, Iceland, Finland, Norway, Sweden, Greece, Spain, Netherlands, Indonesia: Type C, Type F
Australia and New Zealand: Type I
Although "universal" sockets designed to accommodate plugs from multiple countries do exist, relatively few Paris hotels have them - so in most places, you'll need an adapter.
If you want to charge or plug in more than one device at a time, consider bringing two or more adapters.
You can also buy adapters with more than one socket and with USB ports to connect phones, tables, and other electronic devices, as well as sockets for charging cables.
Some adapters provide only USB ports and no plug sockets - so think about what you'll really need based on the devices you're bringing. For example, laptops usually require an adapter with a socket.
A small but growing number of Paris hotels, especially those with four or five stars, now provide combo electric sockets and USB plugs near desk areas, or grounded versions in the bathrooms. But don't count on it - bring what you need.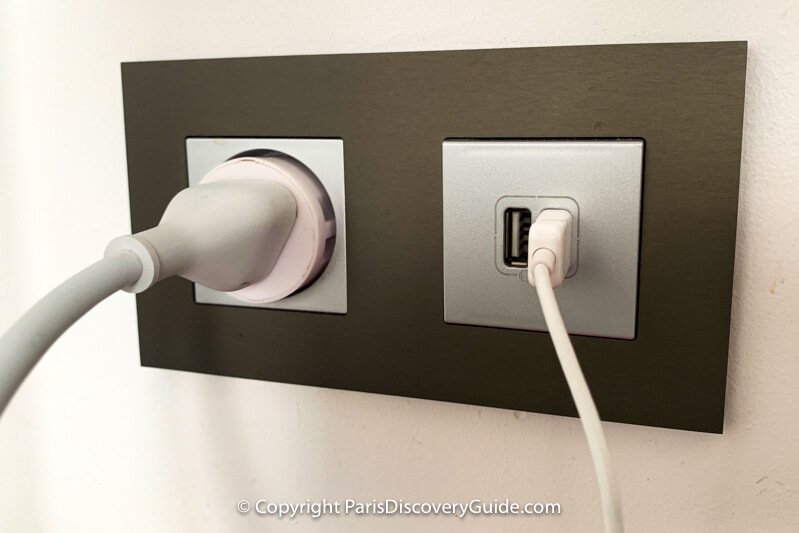 If you're also visiting other countries with different plug/socket types, you may need additional adapters.
Will My Paris Hotel or Apartment Provide Plug Adapters?
Maybe.
Many Paris hotels do provide adapters to their guests to use during their stay, especially if you're staying in a 4-star or higher hotel. Many 3-star hotels will also provided them on request. If you're staying at a 5-star hotel, you can feel assured your hotel will provide the type of adapter you need - although it never hurts to touch base with them before you arrive just to let them know what your needs will be.
More about the star ratings used by Paris hotels
However . . . you can't always count on your hotel having an adapter for your plug/socket type available. On average, apartments are much less likely to provide adapters, except for luxury properties.
You are always wise to bring your own adapters in order to avoid the hassle of not having one when you need it, or worse, trying to buy one locally.
---
Where Can I Buy Plug Adapters for My Trip to Paris, France?
The easiest way to find the type of adapter you need is to shop online. For example, if you live in the US or Canada and plan to visit Paris, you need an adapter with sockets to fit Type A/B plugs and prongs to connect to the Type C/E sockets used in France. Amazon usually has a good selection (#ad).
Adapters for US Plugs and French Sockets:
US Plugs: A Type A plug has only 2 flat prongs and is ungrounded, while a Type B plug has the same two flat prongs plus a round prong and is grounded. If you're bringing devices with Type B plugs, buy an adapter with a socket for Type B plugs, because Type A plugs will also fit.
French Sockets: A Type C socket has 2 round holes to accept a plug with 2 round prongs, and is ungrounded. A Type E socket has 2 round holes (like Type C) but also has a round prong, and is grounded. Type E sockets will accept ungrounded 2-prong Type C plugs, which have rounded or pointed ends like the one in the diagram above, as well as 2-prong 1-hole Type E plugs.
Although you can buy Type A to Type C adapters, always be sure the ends are rounded or pointed rather than square. Modern French sockets are recessed (you can see this in the above diagram) and square-ended adapters will not usually fit into them. If you see square-ended adapters labeled for use in "Europe," they will work in some European countries but possibly not in France. So before you buy an adapter, make sure its packaging states it will work in France.
You can also buy a "universal" adapter - but make sure its labeling states it will work in the countries you plan to visit. By definition, "universal" should mean it will work everywhere . . . but that's not always true.
Where Can I Buy Plug Adapters in Paris?
The Paris store most likely to have whatever type of adapter you need is Relay, but there's a catch - they're located primarily in train stations such as Gare du Nord and Gare Saint-Lazare, and in airports, such as Roissy-Charles de Gaulle (you may have to search around a bit for one after you get through Customs - depending on your terminal, you may need to go up or down a floor.
Large Paris electronic stores such as Fnac (74 Avenue des Champs-Elysees, 75008 and other locations), neighborhood hardware stores such as Mr Bricolage and Castorama (many locations across Paris), and even the hardware section in the basement of the large BHV department store (55 Rue de la Verrerie, 75004) in the Marais usually sell adapters.
However . . . most of the adapters you find will be for French residents planning to travel to other countries, and therefore the opposite of what you need. So be smart: bring adapters with you. You don't want to spend your time in Paris shopping in hardware stores for something you could have easily have bought online before leaving home.
---
Why Do I Need to Bring a Converter to Paris?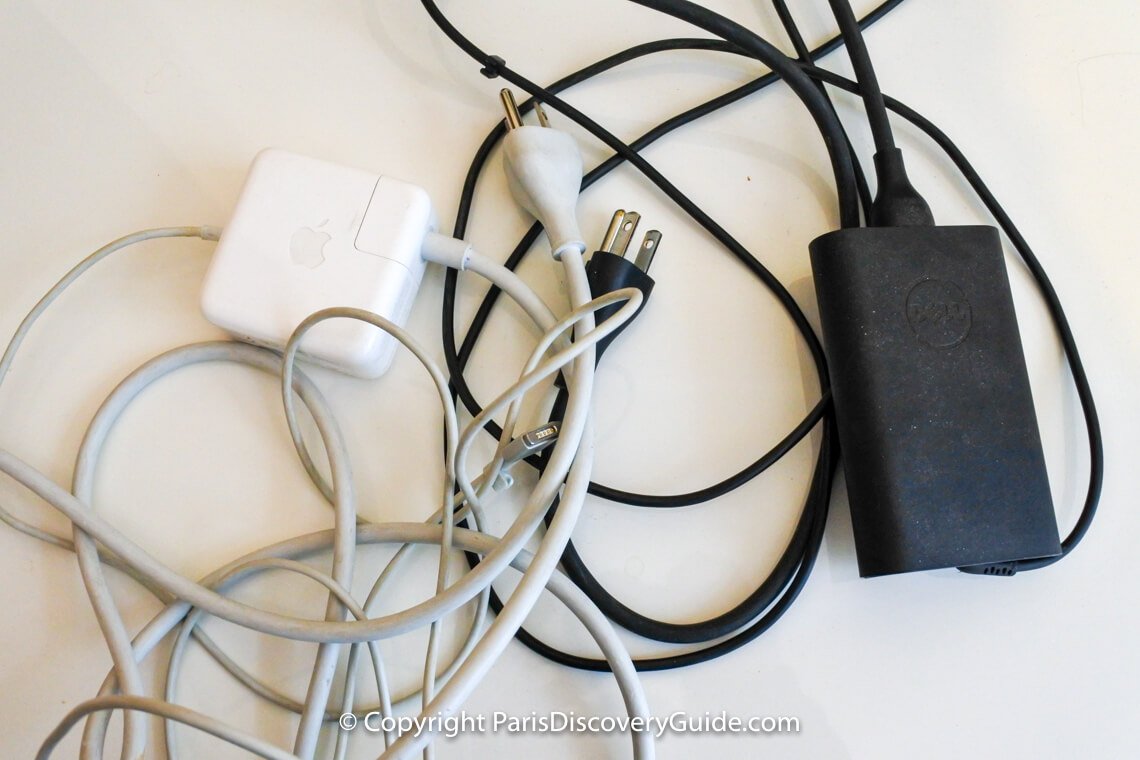 Good news - you may not need to, depending on what you're bringing, even if you live in a country with 100-127 volt electricity.
Laptops, Tablets, Mobile Phone Chargers - No Converter Needed
Virtually all modern electronics such as laptops, tablets, and mobile phone chargers have auto-switching voltage converter/transformers (often called "power adapters") built into their power supply or charger.
As long as you have an adapter to let you plug into a local electric outlet, you should be fine. But if in doubt, check on the bottom of your charger. You should see tiny print stating something similar to "Input: 100-240v 50/60/hz."
Other Electric Devices - Shavers, Hair Driers, Curling Irons, Heating Pads - Dual Voltage?
First, virtually all 3-star and higher Paris hotels have hair dryers for you to use during your stay, so no need to bring one. Many apartments also have them. If you're staying at a 1- or 2-star hotel (or a really cheap apartment), check to make sure a hair dryer will be available.
For all other devices you plan to bring, you will need to check the device's voltage.
If you can pull up specs for the exact model on the internet or find it in the user's manual, that's usually easiest and quickest.
Otherwise, look for tiny type somewhere on the device - usually the bottom or plug - where you'll find the input voltage.
If you see dual voltage listed, check to see if there's a switch where you must change it manually - for example, from 110v to 220v. If so, make a note on your trip check list to flip the voltage switch when you pack for your trip, and when you pack to leave Paris. If you wait until you arrive in Paris or return home, the fog of jet lag may cause you to forget to do it. Plugging a 110v hairdryer into a 220v outlet will fry it before you notice what's happening.
Bottom line: as long as your device has dual voltage and you remember to switch it manually if necessary, you don't need to get a converter.
Other Electric Devices - NOT Dual Voltage
If you're planning to bring something that is not dual voltage, then you have three choices: you can either replace it with a similar dual voltage model, leave it at home, or buy and bring a converter/transformer.
Assuming you can't do without whatever the device is, the easier option is to buy and bring a dual voltage model. Especially if your device is more than 2-3 year old, you may need to replace it soon anyway - so do it now, and avoid the cost of a converter, not to speak of the extra weight in your bag.
For some items such as electric heating pads, dual voltage models may be hard to find or expensive. In that case, look for a 220v only model - they're usually much cheaper.
If you do decide to buy a converter and if you are going to use it with a high-wattage device - anything that uses 1200 watts or more such as a hair dryer, curling iron, or heating pad - you need to make sure it can handle the load.
Generally, that means buying a converter listed as "dual wattage" or with a high-wattage setting as high or higher than the device you're bringing. For a 1,800 watt hairdryer, you'd need a converter with 1,800+ watt capacity.
Buyer Beware Tip: Inexpensive converters can usually handle only 200 watts.
Finally, make sure the converter you buy either has a built-in plug adapter of the type you need - or remember to bring one with you.
---
---
Built-in Dual Voltage Outlets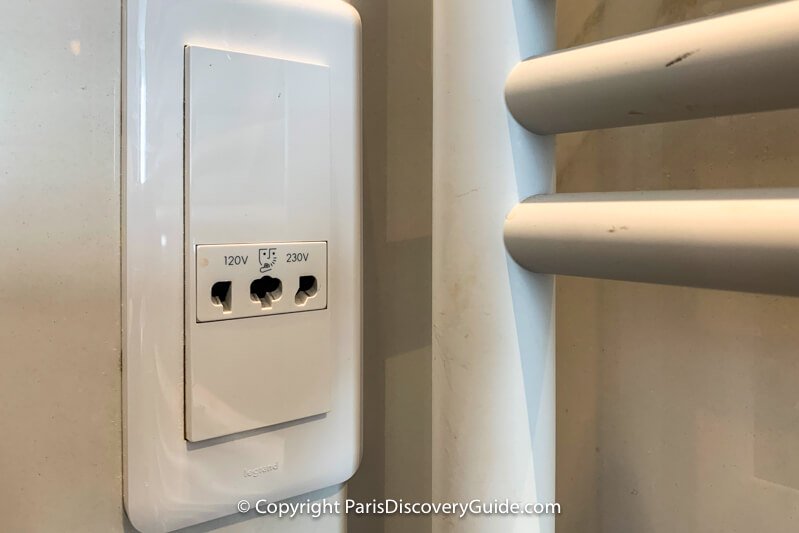 Some hotels (mostly 4-star and higher) have begun to install dual voltage outlets with built-in converters and often with more or less universal adapters. These are relatively rare and often only in the bathroom - but may be a future trend?
As for now, don't count on either your hotel or apartment having one.
---
Pin Now, Read Again Later
---
More Articles about Planning Your Trip To Paris
---
Want to Book a Paris Hotel or Apartment?
Enter your travel dates to see best rates for available Paris hotels and apartments:
---
Trending: Most Popular Paris Attractions Right Now