9th Arrondissement Paris hotels put you in the perfect location to explore and enjoy the fascinating mix of top attractions and hidden gems in this district packed with famous shopping destinations, renowned entertainment venues, smaller museums, and a market street cherished by Parisian foodies.
Staying in the 9th District gives you easy access to shop in Galeries Lafayette, Printemps, and the numerous nearby shops and boutiques, attend an opera or tour the magnificent Palais Garnier, enjoy yourself at the Grevin Wax Museum and Folies Bergère, and savor the many bistros in the so-trendy SoPi (South of Pigalle) neighborhood.
But you'll also find so much more to do and see: the 9th's smaller but highly regarded museums such as the Musée de la Vie Romantic and art-filled Musée Gustave Moreau, the treasure-filled Drouot auction house, Passage Jouffroy and other 19th century covered arcades, and the delights of all the markets, artisinal products, and small cafes and bars along Rue des Martyrs.
Find best things to do & see in Paris 9
Our recommendations for the best 9th arrondissement hotels in Paris include a variety of budget-friendly 3-, 4-, and 5-star hotels featuring wonderful terraces, views, and other special amenities, including one with a special yoga room for guests, as well as a curated selection of apartments. We also include a much-loved 2-star hotel.
You're sure to find the perfect place for your stay in Paris!
Top photo: View of Paris rooftops from a guest room terrace at Hotel Parister in the 9th arrondissement
Paris Discovery Guide is a reader-supported publication. When you buy through our links, we may earn a commission at no additional cost for you. Learn more
---
Where to Stay in Paris 9th District
Maison Mère
★★★
★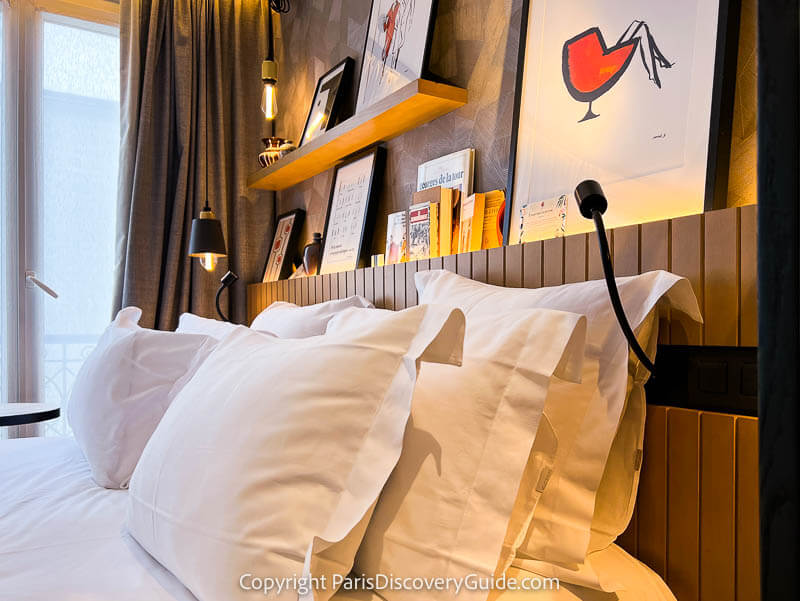 7 Rue Mayran, 9th arrondissement
You'll feel the friendly, upbeat vibe as soon as you enter the warmly contemporary 4-star Maison Mère hotel located on a tranquil side street next to Square Montholon, a charming leafy oasis in the lively SoPi (South of Pigalle) neighborhood, best known for its appealing Rue des Martyrs market street where you'll find a colorful mix of fruit and vegetable vendors, florists, boutiques, award-winning bakeries, fromageries (cheese shops), vintage jewelers, bistros, and coffee bars.
Explore the "Montholon Village" neighborhood around the hotel and square, and you'll find numerous art galleries, artisan ateliers (workshops), and gourmand bistros. Walk up Rue des Martyrs to Moulin Rouge, La Cigale music hall, and Sacre Coeur in Montmartre. Or walk 5-10 minutes in other directions from Maison Mère, and you'll reach the Paris Opera House (Palais Garnier), the Galeries Lafayette and Printemps department stores, Folies Bergère, the Grevin Wax Museum, and the always-fascinating historic covered arcades: Passage Jouffroy, Passage Verdeau, and Passage des Panoramas.
Maison Mère combines the best of this authentic part of Paris with locally-sourced products and art throughout the hotel, including a concept shop where you can purchase your favorite art and other items to take home. You'll love the super-comfortable beds, excellent lighting, spacious rainfall showers, and multiple outlets including USB ports for recharging your phone and laptop in the 51 guestrooms. Want a place to hang out and perhaps squeeze in a bit of work without leaving the hotel? You can choose from a comfortable co-working space, several seating areas, or even Hey Honey, the hotel's onsite restaurant/cocktail which doubles a coffee bar during the afternoon. And no need to miss your regular workouts just because you're traveling: Maison Mère provides free passes to a fully equipped gym nearby.
Pro tip: Traveling with your family? Book a "triple superior" room or one of the spacious suites.
---
HOY Hôtel
★★★★
68 Rue des Martyrs, 9th Arrondissement
HOY Hotel's 22 uniquely configured rooms feature calming blue and cream tones, super-comfortable beds, and natural hardwood floors. What sets this boutique property apart, though, is its focus on wellness and a healthy lifestyle: a yoga studio, onsite vegan restaurant, and designs based on feng shui. You'll even find a yoga stretching bar in your room instead of a television. An onsite florist adds to the serene ambiance.
You'll also love HOY Hotel's location on the famous Rue des Martyrs. Explore the neighborhood bookstores, bakeries, cheese shops, florists, hardware stores, wine sellers, produce markets, little epiceries offering all kinds of groceries, and delis with mouthwatering carryout. The hotel is also just a quick walk from the celebrated Le Trianon and La Cigale concert halls, Moulin Rouge, the Paris Opera House, and Montmartre.
If you're arriving in Paris at Gare du Nord, perhaps on the Eurostar from London for a quick weekend trip, you'll appreciate how close HOY Hotel is to the station - just a quick 10-minute walk, so no need for a taxi.
---
Hotel Rochechouart
★★★
★
55 Boulevard de Rochechouart, 9th arrondissement
After closing down for a complete top-to-bottom renovation, the 4-star Hotel Rochechouart has emerged with a poshly elegant Art Deco vibe in its public spaces and 106 guestrooms and suites. The real show-stopper, though, is the fabulous rooftop terrace/bar offering sweeping views of Paris. Pro tip: Book a room on an upper floor with a Sacre Coeur view.
The hotel's location puts it at the edge of the Pigalle neighborhood, once known for its sex shows (only a few remain) and now home to an increasing number of trendy bars and bistros. Famed Montmartre music halls La Cigale and La Trianon are almost directly across the street, and a leisurely 5-minute walk will bring you to the Moulin Rouge caberet, while you can reach Sacre Coeur in less than 10 minutes - if you take the funicular up the hill!
---
Hôtel Parister
★★★★★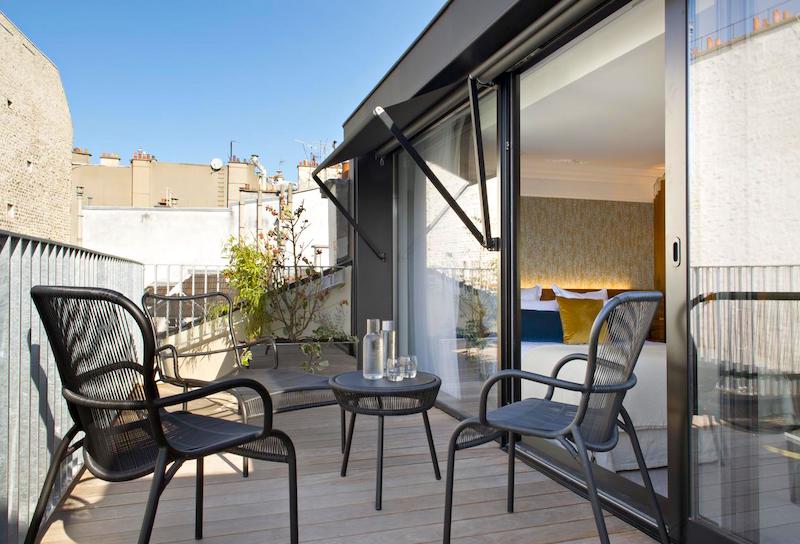 19 Rue Saulnier, 9th Arrondissement
Located in the SoPi (South of Pigalle) neighborhood and close to the famous Folies Bergère, Grand Rex theater, and the Grand Boulevards and big department stores, highly rated 5-star Hôtel Parister offers you lots of opportunities for fun, fitness, and relaxation: a stunning 60 foot long indoor swimming pool, rental bikes, a full-fledged fitness program complete with trainers and classes for you to book, and a wonderful spa and hammam.
The hotel's 45 guestrooms and suites feature high-end modern furnishings and amenities. For a special treat, book one with a terrace overlooking the Paris rooftops. The onsite restaurant and bar have a lovely outdoor terrace, as well as a light-filled space for cozier indoor seating. You can also enjoy the hotel's art, ceramics, and jewelry collections displayed in the public areas.
---
Chouchou
★★★
★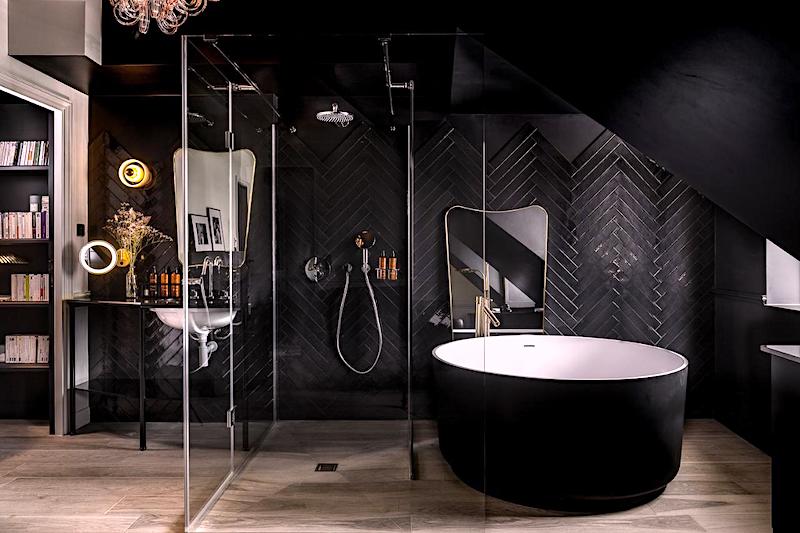 11 Rue du Helder, 9th arrondissement
Similar to a "concept store" that combines retail with culture, the 4-star Chouchou might be considered a "concept hotel" due to the way it combines accommodations in its 63 sleekly sophisticated guestrooms and suites with entertainment: a guinguette-style bar complete with dance floor, a concert and live performance space called La Scène, a mini-food hall occupied by multiple vendors, and even a bath house of sorts with spa-like private tubs large enough for two available for rent by the hour, complete with champagne, a tasting menu, and music.
Book a stay at Chouchou (chouchou, in case you're wondering, is a term of endearment in French based on the word for, of all things, a cabbage), and you may have so much fun that you won't want to venture from the hotel - but if you do, you can walk to Palais Garnier - aka the Paris Opera House - and Galeries Lafayette in less than 5 minutes, and easily explore the rest of Paris and its top attractions from the hotel's location on a quiet side street in the lively 9th arrondissement.
Find more hotels near the Paris Opera House
---
Hôtel Chopin
★★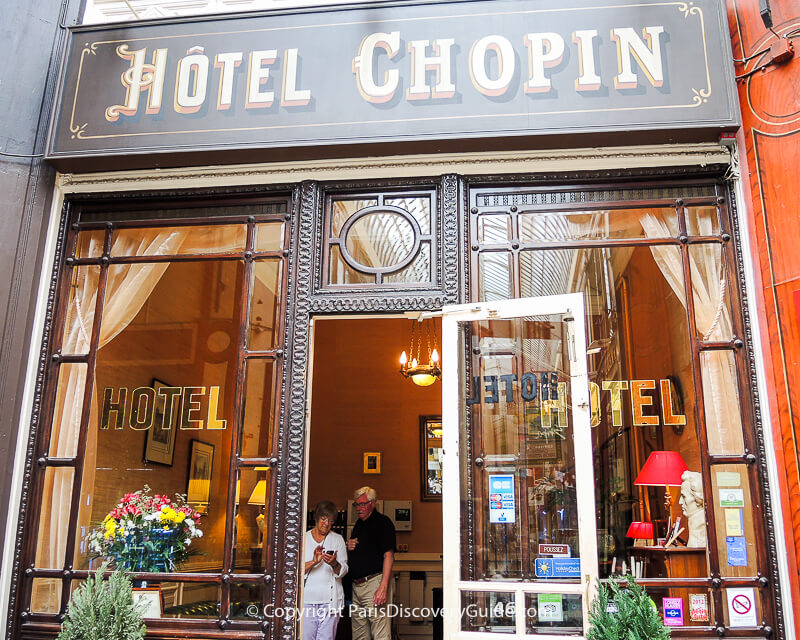 10 Boulevard Montmartre, Passage Jouffroy, 9th Arrondissement
Located inside a historic glass-roofed arcade, the charming 36-guestroom Hôtel Chopin represents a quickly shrinking category in the Paris hotel scene by sporting only two stars. All guestrooms feature en-suite bathrooms, air conditioning, safes, charming Toile Jouy decor, and simple furnishings, and the hotel even has a tiny elevator - not a "given" in 2-star properties.
What sets Hotel Chopin apart aside from the budget-friendly rates is its location in Passage Jouffroy, one of the city's wonderful historic glass-roofed arcades. In addition to bookstores, toy shops, boutiques, and cute cafes, Passage Jouffroy is also home to the very fun Grevin Wax Museum. Both the hotel and the passage opened in 1946, and both are now classified as historical monuments.
How did Hotel Chopin get its name? It's a tribute to the composer who regularly used the passage as a short cut between his home and Playel, his favorite piano maker. Supposedly he also met his lover, novelist George Sand, in the hotel for rendevous... but that's just a rumor.
---
Hôtel Bienvenue
★★★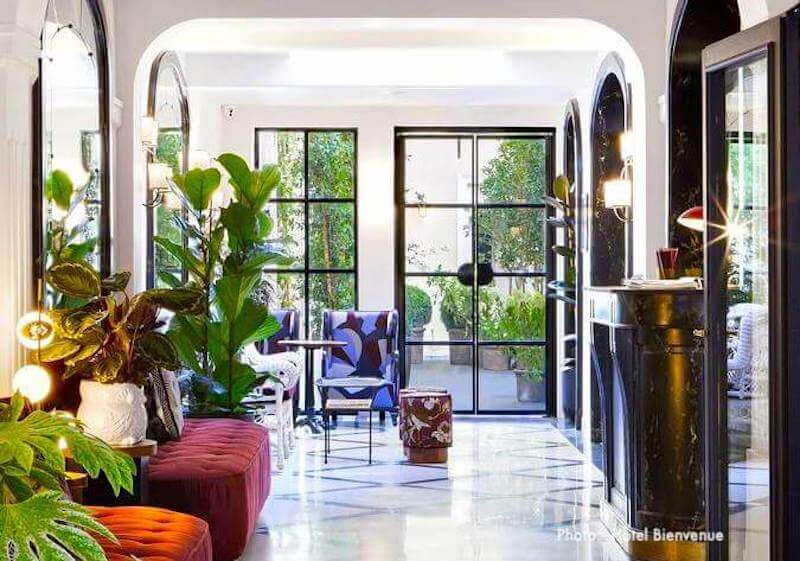 23 Rue Buffault, 9th Arrondissement
Light-filled airy spaces with splashes of bright colors and a garden motif welcome you as soon as you walk through Hôtel Bienvenue's Art Deco entrance. The hotel's 37 rooms feature sleekly contemporary modern furnishings, and are divided between two adjoining buildings - reserve a room in "Town" for serene pastel decor, or "Countryside" for more florals. Spring for one of the larger rooms if you'd like a steam shower in your bathroom.
Although the hotel has a nice restaurant and even a pastry chef who offers onsite classes for adults and children each week. part of the hotel's appeal is its location in ultra-trendy SoPi (South Pigalle) - so leave plenty of time to explore the cafes, bars, and boutiques along nearby Rue des Martyrs as well as the 19th century covered passages throughout the 9th and nearby 2nd arrondissements.
---
Laz' Hôtel Spa Urbain
★★★★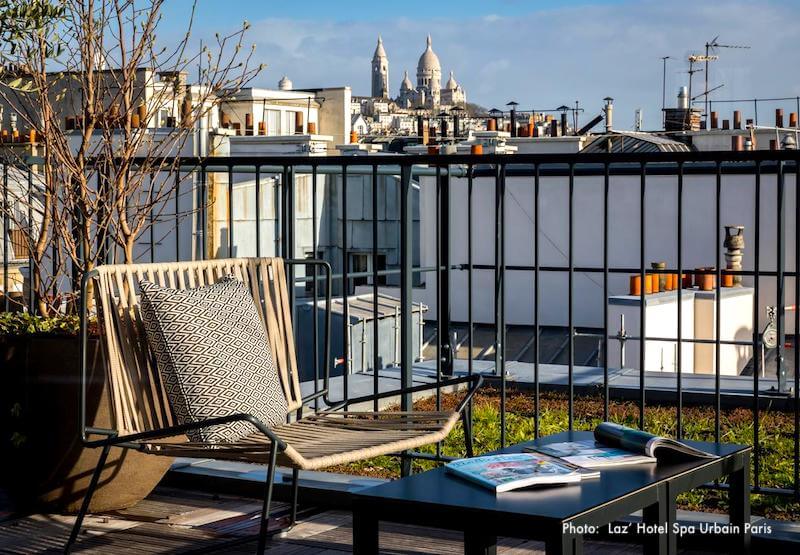 17 Rue de Milan, 9th Arrondissement
Located conveniently close to the Gare Saint-Lazare (or Laz', as Parisians call it) rail/metro station close to the ritzy Galeries Lafayette and Printemps department stores, the Olympia concert hall, and the Paris Opera House, 4-star Laz' Hôtel Spa Urbain offers 56 comfortable guest rooms and suites, an indoor pool, fitness room, spa, and hammam.
For a special experience, book one of the 12 guest rooms on upper floors with terraces or balconies giving you wonderful views of the Paris rooftops.
---
Hôtel Dress Code & Spa
★★★★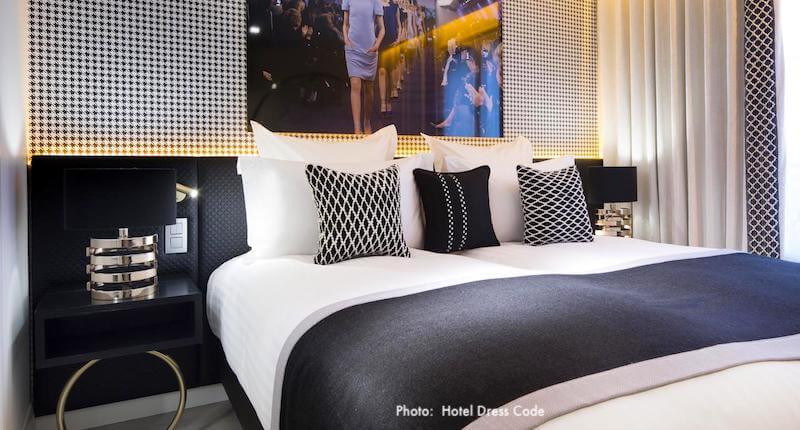 5 Rue de Caumartin, 9th Arrondissement
Located in the former French Prêt-à-Porter (ready to wear) headquarters, Hôtel Dress Code celebrates chic contemporary Parisian design, with public spaces enlivened by a Baccarat chandelier, pale white-washed wood floors, and white walls. You can choose among 33 unique guest rooms by French decorator Stéphanie Coutas, each offering a unique combination of styles, size, colors, and ambiance - no cookie-cutter designs here!
Near the hotel, you'll find plenty to explore and enjoy: the Paris Opera House, concert venue L'Olympia, Galeries Lafayette department store, the Louvre Museum, and Tuileries Garden. Just remember to save time at the end of your day to relax in Hotel Dress Code's beautiful mirrored pool and hammam.
---
Hygge Mood Apartment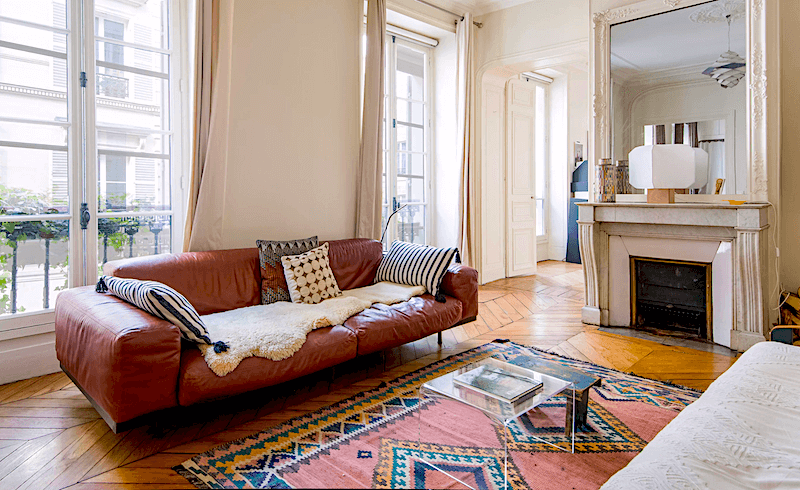 Arts et Metiers neighborhood, 3rd Arrondissement
With lots of natural light from the floor-to-ceiling windows, a balcony, and beautiful original features such as the parquet flooring and fireplace, plus a modern kitchen and other conveniences, the Hygge Mood apartment lets you experience life in the trendy SoPi (South of Pigalle)/Saint-Georges neighborhood, once home to famous 19th century writers and artists who called it the "New Athens" of Paris.
You can easily explore all the small nearby bistros and boutiques, shop along the famous Rue des Martyrs food and market street, and enjoy a caberet performance at Moulin Rouge, a show at Le Cigalle music hall, and the neighborhood's other nightlife. The Montmartre neighborhood, Galeries Lafayette, and the Louvre Museum are short walks away.
The spacious 3-bedroom, 2-bath apartment sleeps 6, and features a modern kitchen, you'll feel right at home. Plenty of natural light and the exposed white-painted wooden ceiling beams add to the apartment's charm.
---
Le Basile Hotel
★★★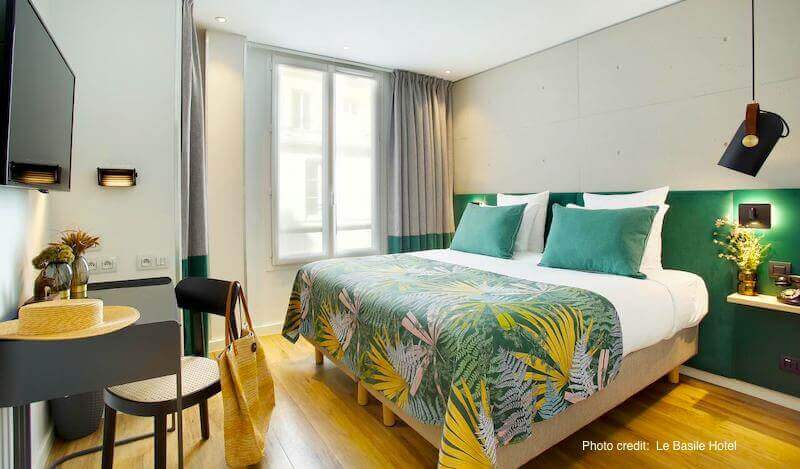 23 Rue Godot de Mauroy, 9th Arrondissement
The highly-rated 3-star family-run Le Basile Hotel near the famous Galeries Lafayette and Printemps department stores, Opéra Garnier (Paris Opera House), and Madeleine Church offers bargain rates on its 27 guestrooms with air conditioning in this expensive part of central Paris.
Although the guestrooms tend to be small (true for so many Parisian hotels at every star level), the cheerful colors and simple furnishings create an appealing contemporary vibe. You'll love the quiet side street location and numerous nearby bistros in the otherwise bustling Opéra/Grands Magasins neighborhood. And the value is hard to beat.
But here's the catch: Le Basile fills up quickly - so don't wait to book.
---
More Places to Stay in the 9th Arrondissement
InterContinental Paris Le Grand (2 Rue Scribe) - Spectacular historic 5-star hotel with 470 guestrooms 1 block from Palais Garnier; the outdoor terrace of onsite Cafe de la Paix is an ideal people-watching spot. Check out the great views of the opera house
Hotel Amour (8 Rue Navarin) - This wildly popular and slightly risque 3-star boutique hotel with 24 guest rooms featuring erotic art occupies a former maison close (brothel) in an area of the trendy Sopi neighborhood once filled with Pigalle caberets
Hotel Banke Opera Autograph Collection (20 Rue de la Fayette) - Use your Marriott points at this classy 5-star hotel located in an early 20th century bank building with a glass dome ceiling, Roman-style mosaic floors, and an exclusive art collection
Maison Souquet (10 Rue de Bruxelles) - 5-star luxury hotel with 20 guest rooms with a "pleasure house" theme, private butlers, onsite restaurant, spa, and pool located in a former "Belle Époque pleasure house" in SoPi
Find best things to do & see in Paris 9
---
Popular Ways to Explore Paris
---
More Articles about Where to Stay in Paris