What is the weather in Paris in March really like?
"Changeable" describes it in one word!
Spring officially arrives on March 21st. But in reality, March weather in Paris offers a few reminders that winter isn't quite finished along with plenty of beautiful days filled with bright blue skies and warm, almost hot, sunshine.
As Paris temperatures in March warm up, magnolias and early-blooming cherry trees light up the city with their gorgeous pink blooms, and sidewalk tables outside of every bistro and cafe fill up with Parisians relaxing in the fresh spring air.
So as long as you pack for a range of temperature and weather conditions during March, you'll be comfortable indoors and outside.
Plan some fun outdoor activities such as a food tasting walking tour in the Marais or a bike tour of Saint Germain and other iconic neighborhoods to take advantage of the sunny days. And of course, have in mind a few indoor things to do if the Paris March weather turns chilly or wet.
In this article, you'll everything you want to know about March weather in Paris, packing tips, some fun things to do during your March visit, and even recommendations about where to stay this month.
Article contents:
Top photo: Sacre Coeur Basilica in Montmartre on a sunny (but cold) March afternoon, (c) Paris Discovery Guide
Paris Discovery Guide is a reader-supported publication. When you buy through our links, we may earn a commission at no additional cost for you. Learn more
---
What Is Paris Weather in March Really Like?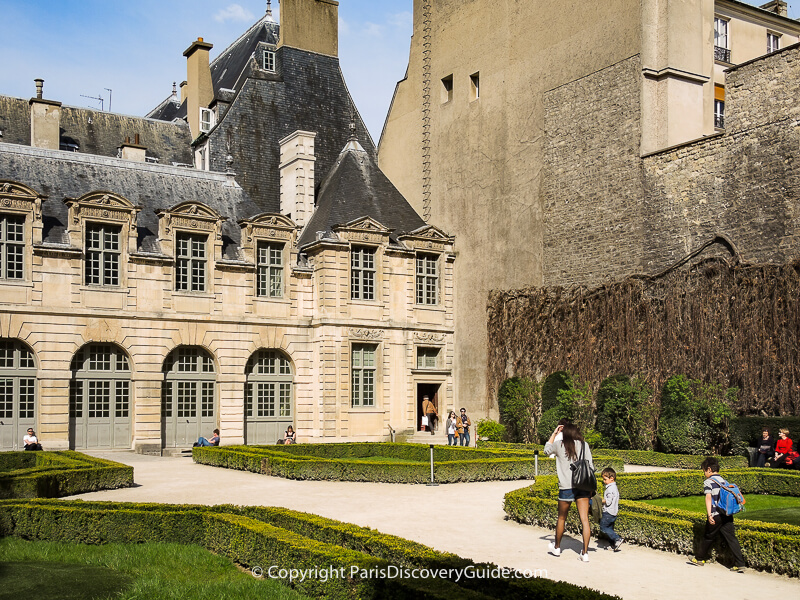 What is the weather in Paris in March really like?
Check out the following temperature ranges for March to see highs, lows, and averages.
Average Weather in Paris in March: Average Temperature Highs & Lows
Here's a quick look at what March weather in Paris looks like on Fahrenheit (F) and Celsius (C) degree scales for average daily high and low temperatures.
What you should know: Average highs have increased by 1-2 degrees Fahrenheit during the past decade.
Average March high temperature: 55°F (13°C)
Average March low temperature: 39°F (4°C)
Remember, these are the averages of what you might encounter - definitely not a weather forecast for Paris in March.
To better understand what actual temperatures might be during your March visit, always check the March high and low temperature ranges in the following section.
Weather Statistics for March in Paris: High & Low Temperature Ranges
These temperature ranges for highs and lows in Paris in March will give you a better idea than the monthly averages about what you might experience. You'll find these ranges especially useful for deciding what to pack.
Here's the range of daily highs and lows throughout a typical Paris March:
Range of maximum temperatures during March: 44°F to 78°F (7°C to 26°C)
Range of minimum temperatures during March: 15°F to 50° F (-9°C to 10°C)
Here are the record-breaking temperatures for the past three decades, and when they occurred:
Highest March temperature (1991-present): 78°F (26°C) in 2021
Lowest March temperature (1991-present): 15°F (-9°C) in 2005
While daytime temperatures in the 40s are not necessarily typical, when they do occur, they are often accompanied by cloud cover, rain, and perhaps an uncomfortable amount of wind - not gale force, but strong enough to make you feel even colder if you're not dressed warmly. So you should be prepared in case this happens (and feel thankful if it doesn't).
Daily temperatures in the 70s have become more common during the past decade, which is lovely - but 78°F (24°C) can feel uncomfortably close to a steamy 80°F (25°C) if you're overdressed. You definitely want to pack layers you can peel off if necessary, including perhaps a sleeveless top if the temperature soars.
More about what to pack in a moment...
Sun and Clouds during March: What to Expect
March in Paris offers a mix of cloudy, overcast conditions and brilliant, vividly blue skies - often during the same day. Sometimes this even happens at the same moment - look one way and you'll see dense clouds, but in the opposite direction, you'll see a clear sky and sunshine.
Statistically, slightly more than half of March days will be overcast or mostly cloudy - but even the mostly cloudy days have moments (maybe even a couple of hours) of sunshine.
With daylight for half of the day by the middle of March, you'll definitely have longer days to enjoy:
Average hours of daylight:  12 hours, 0 minutes
Average hours of sunshine during March: 4 hours per day

Daylight hours in Paris lengthen rapidly this month, and by March 31, you'll experience 12 hours and 39 minutes of daylight.
---
How Much Rain & Wind Does Paris Get in March?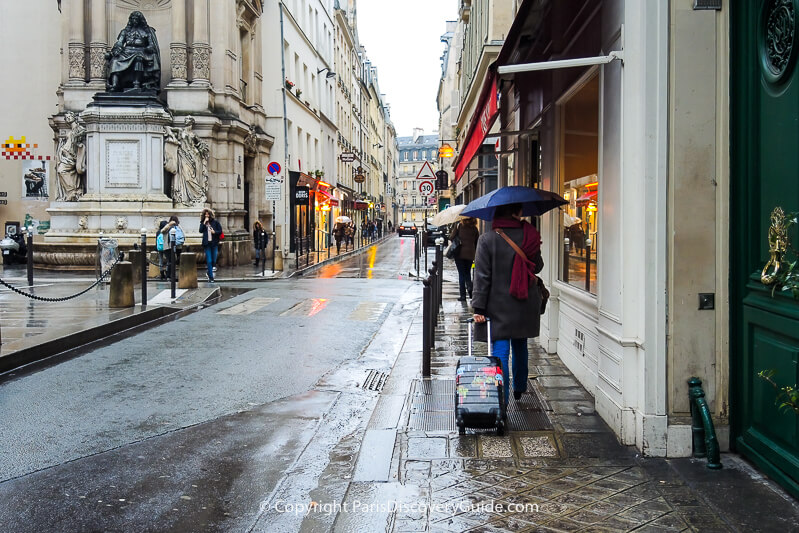 Paris records about 2 inches (about 51 mm) of precipitation during 10 days on average during March.
Typically, you can expect a combination of a brief showers or scattered rain showers on perhaps two-thirds on these 10 days, with steadier rain on a few others. The high end of the rain range in recent years has been 2.6 inches (6.6 cm), so the amount of rain that actually falls on even the rainiest days doesn't add up to much.
As you can see from the record minimum of 15°F (-9°C), the temperature can occasionally dip low enough in March to produce snow - but this is a rarity and if it happens, Paris gets just a dusting.
---
What about the Weather at Day Trip Locations?
In case you are planning to take a day trip outside of the city during your visit, rest assured that March weather at nearby locations such as Versailles Palace and Disneyland Paris will be very similar to Paris. For locations further away such as Mont Saint-Michel or Bruges, check their local weather before you go.
---
What to Pack for March Weather in Paris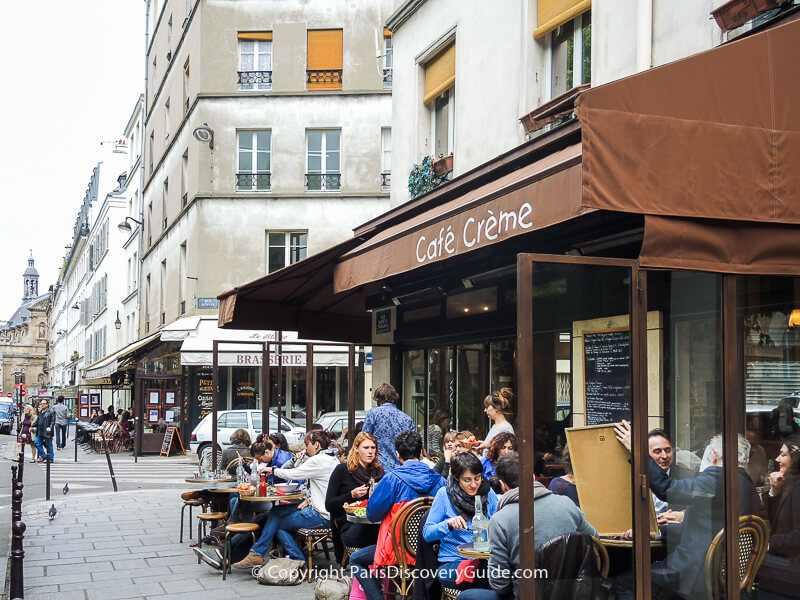 Layers should be a staple in any Paris packing list, and for March, they are even more important.
In addition to your core wardrobe of tops, bottoms, comfortable walking shoes, and under garments, these are the essentials and options to consider for March:
A warm jacket or a trench coat with a zip-out lining - water-resistant is ideal. Light-weight puffer jackets such as these from Amazon (#ad) work well because they compress easily and take up little space in your luggage. Make sure you buy a size large enough to fit 2-3 layers underneath, if necessary. If you'd prefer a trench but don't already have one, you can easily buy one in Paris. During March, almost every clothing store offers them - prices run not much more than 100€ at inexpensive stores such as Camaïeu to thousands at French designers such as Isabel Marant.
One or two sweaters to layer under your jacket or trench on the coldest days and evenings, or alone when the thermostat reaches the 60s and 70s. And remember, on a Seine River sightseeing cruise or open-top hop-on hop-off bus, the temperature will feel at least 10 degrees colder. Cashmere (check options on Amazon) will keep you toasty outdoors while not making you sweat when you're inside.
One or two scarves; ideally, bring one warmer one and one light one.
A warm scarf, hat, and gloves are useful on cooler days and chilly nights, especially if you're on an evening Seine River cruise or an open-top tour bus. Likewise, if you have room in your suitcase, consider throwing in a pair of fleece-lined leggings.
Boots? You don't really need boots in March, but if you have a pair of comfortable ankle boots, don't hesitate to bring them. You'll see plenty of Parisians wearing them. Otherwise, just bring 1-2 pairs of your favorite walking shoes. Lighter-weight socks are fine for March weather.
A rain hat or umbrella for rainy days - or buy an umbrella once you get there if you need it. Small convenience stores and souvenir shops sell them for 5-10€, or you can get a pricier one at boutiques and department stores.
A sleeveless or short-sleeve top. You'll be thankful you have it when the thermometer reaches 70°F (21°C) above. Likewise, lightweight pants or skirt will help keep you comfortable when the temperature soars.
Pro Tip: Right before you start packing for your trip, check the 7-day Paris weather forecast in case of any surprises. Here's the forecast in both Fahrenheit and Celsius:
PARIS WEATHER
PARIS WEATHER
---
Is March a Good Month to Visit Paris?
Yes, definitely. You get the benefit of lower "shoulder season" plane fares and hotel rates (usually significantly lower than what you'd pay during "high season" in the summer).
Here are more benefits to visiting Paris in March:
Lower "shoulder season" plane fares and hotel rates (usually significantly less than what you'd pay during "high season" months.
Fantastic exhibitions at many Paris museums and a huge lineup of concerts, opera, and ballet
Much of the time, the weather is not too hot and not too cold - so just right (more or less)
Magnolia and cherry trees bloom all over the city, and daffodils light up the parks in large yellow patches, and massive swaths of flowers spill onto the sidewalks in front of every Paris florist.
Street markets all over the city feature the earliest (and sweetest) strawberries and radishes fresh from the countryside
Few tourists - so no huge crowds at popular attractions such as the Eiffel Tower, Louvre Museum, and Musée d'Orsay
---
Weather-Proof Things to Do in Paris in March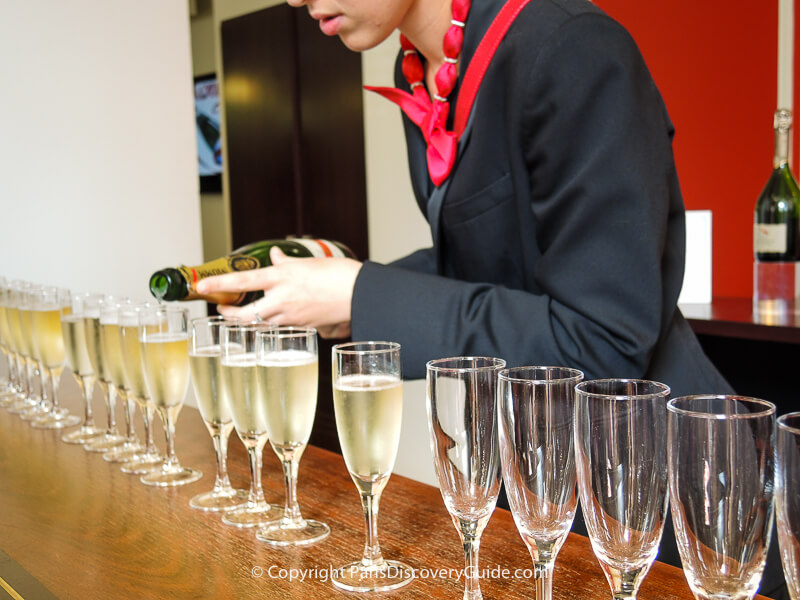 Here are some fun Paris sightseeing things to do during all types of March weather:
---
More Fun Things to Do & See in Paris in March
---
Where to Stay in Paris during March
March weather in Paris can be variable so a smart strategy is to stay in central Paris neighborhoods close to top attractions, lots of restaurants, and convenient metro stations. On warm days, stroll by the Seine River and soak up the sun in nearby parks.
With these criteria in mind, we recommend staying in these top locations during March:
Paris Hotels near the Louvre Museum and Tuileries Garden - These hotels in the heart of historic Paris close to the Louvre and gorgeous Palais Royal Garden, Jardin des Tuileries, as well as other top attractions, the Seine River, and too many wonderful restaurants and bistros to count!
Paris Opera House neighborhood - When you stay in the lively neighborhood surrounding the Paris Opera House, you'll also be close to the famous Galeries Lafayette and Au Printemps department stores, the Grevin Wax Museum, and Madeleine Church, home to classical concerts. Find concert schedules for the Opera House and Madeleine Church
Saint Germain neighborhood - Choose the popular Saint Germain neighborhood on the Left Bank of the Seine River, and you'll be close to famous bistros such as Les Deux Magots and Cafe de Flore, fabulous shopping, the Orsay Museum, and evening concerts at the medieval Saint-Germain-des-Prés church
Use this hotel booking map to find more hotels and apartments for your travel dates:
Check out the newest Paris hotels
---
More about Paris in March
---
Paris Weather Resources
Want current Paris weather predictions? This is a good French source: Meteoblue
Historical weather data sources: The Weather Channel, Weather Spark, and Time and Date
---
More Information for Your Paris Visit in March