Staying at an apartment or hotel in Paris's Latin Quarter means you're in the ideal location to soak up this popular neighborhood's culture and charm, explore its top attractions, and relax in its beautiful parks and gardens.
Our recommended Latin Quarter hotels and apartments put you close to the Seine River and Notre Dame, the Pantheon which honors French heroes, numerous historical churches where you can attend classical concerts, the Cluny Museum with its Medieval treasures and Roman baths, and the impressive Institute de Monde Arabe (don't miss its rooftop terrace and restaurant).
Also nearby: Luxembourg Garden, the Jardin des Plantes with its small menagerie, museums, greenhouses, and hilltop maze, and Arenes de Lutece, a 1st century Roman arena. And don't forget colorful street markets, wonderful boutiques, bistros, bakeries, and the delightful tea room at the Paris Mosque. For a unique experience, stroll along Tino Rossi Park and join one of the impromptu dance sessions overlooking the Seine.
So take a look at our top 21 choices for hotels and apartments in the Latin Quarter. You'll find a range from a budget-conscious (but highly-rated) 1-star hotel to spacious apartments, including several in hotels, plus everything in between.
Worth noting: all of our recommended hotels in this historical part of Paris are small boutique properties, most with 35 or fewer guestrooms and suites.
You're sure to find the perfect place for your stay in Paris!
Top photo: Cafe and street scene in Paris's Latin Quarter, (c) Paris Discovery Guide
Paris Discovery Guide is a reader-supported publication. When you buy through our links, we may earn a commission at no additional cost for you. Learn more
---
Where to Stay in Paris's Latin Quarter: 21 Wonderful Hotels & Apartments
Hotel Monge
★★★
★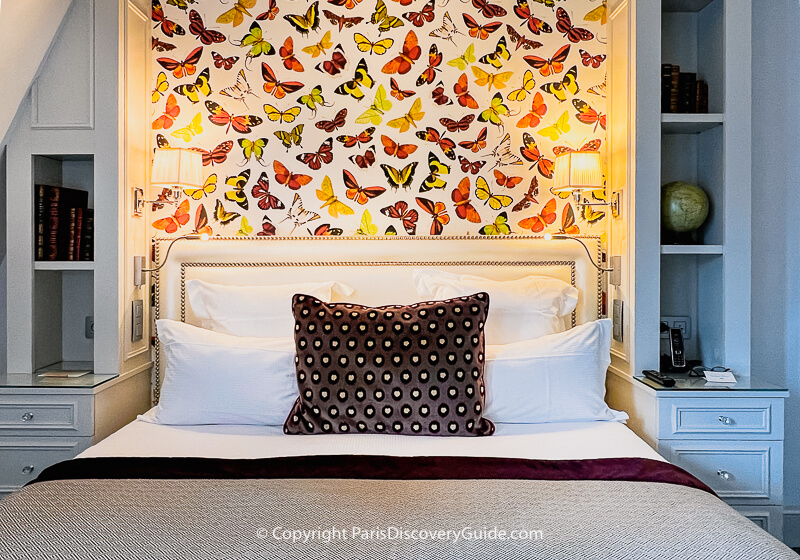 55 Rue Monge, next to Arenes de Lutece, 5th arrondissement
With airy nature-inspired contemporary decor mixed with a few vintage finds, luxuriously comfortable beds in its 30 guest rooms, and superb service, 4-star Hotel Monge offers an excellent location next to Arenes de Lutece and about a 5-minute walk from the Jardin des Plantes.
A short stroll brings you to Rue Mouffetard, the Latin Quarter's best market and food street, where you'll also find Place de la Contrescarpe, chosen by Ernest Hemingway for the opening scene in A Moveable Feast. Continue walking, and in another few minutes, you'll be at the Pantheon and Luxembourg Garden.
Pro tip: Request a room overlooking the arena.
---
Relais Hotel du Vieux Paris
★★★
★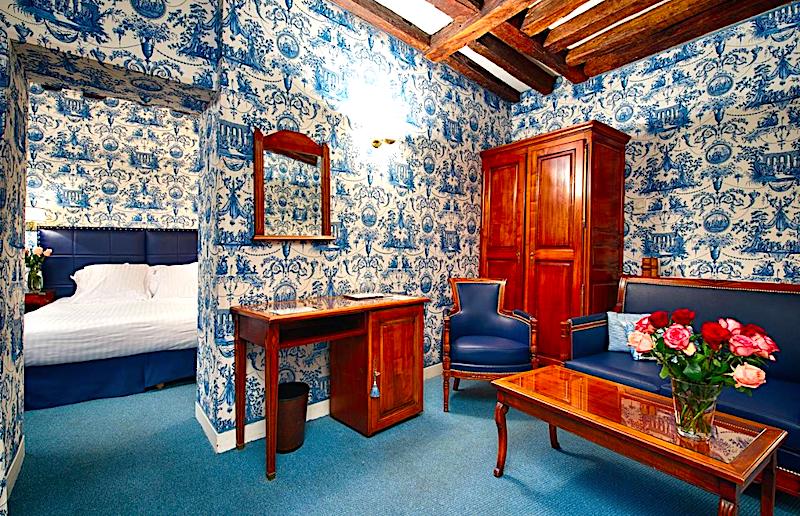 9 Rue Git-Le-Coeur, 6th arrondissement
(Although most of the Latin Quarter neighborhood is in the 5th arrondissement, a small section is in the 6th next to the Saint Germain neighborhood.)
Located in a 15th century residence built by a duke, Relais Hotel du Vieux Paris became known as the "Beat Hotel" during the 1950s and '60s when American "Beat Generation" poets and writers such as Allen Ginsburg, Gregory Corso, and Jack Kerouac made it their home in Paris.
Today, the recently renovated 4-star hotel features charming toile fabrics and exposed beam in a nod to earlier centuries, along with high-quality furnishings, comfortable beds, and contemporary conveniences.
Rates for the least-expensive (and quite compact) guestrooms are a real bargain for accommodations in a 4-star hotel in this location, and are also surprisingly affordable for the spacious suites.
Best of all: you'll love the superb Latin Quarter location near the Seine River and the Saint Germain neighborhood, where you'll have easy access to all of Paris's top attractions.
---
"Pantheon Pagentry" Apartment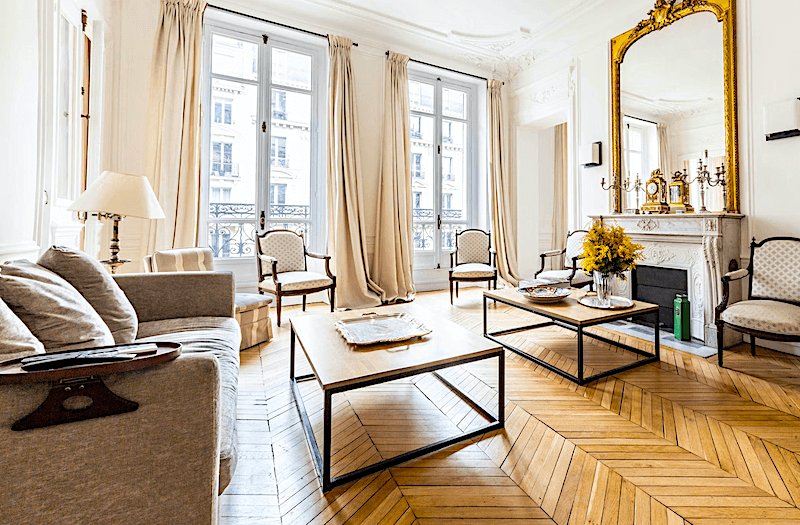 Want to stay in an ideal Latin Quarter location between the Pantheon and Luxembourg Garden? Consider the spacious Pantheon Pagentry 2-bedroom, 2.5 bathroom apartment, just a 4-minute walk from both locations. You'll love the light-filled rooms with elegant but comfortable furnishings, beautiful parquet floors, and convenient location.
The bonus? Relaxing on the apartment's balcony, glass of wine in hand, and enjoying all the wonderful views of this iconic neighborhood.
---
Hotel du College de France
★★★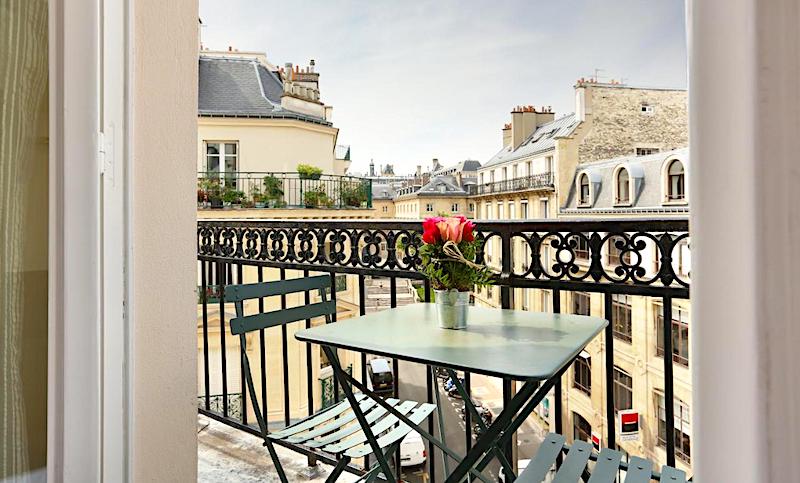 7 Rue Thénard, 5th arrondissement
For a quintessential Parisian experience, book a guestroom with a balcony at the highly-rated 29-room, 3-star Hôtel du College de France, located on a quiet side street close to the Cluny Museum and the Seine River, and sip a glass of wine after a day of sightseeing. The hotel's location in the heart of the Latin quarter gives you an excellent base for exploring all of Paris.
Ceiling fans keep the guestrooms cool during summer months, and you'll love the hotel's affordable rates - a real bargain for this sought-after area in the Left Bank.
---
Hôtel Parc Saint-Séverin
★★★★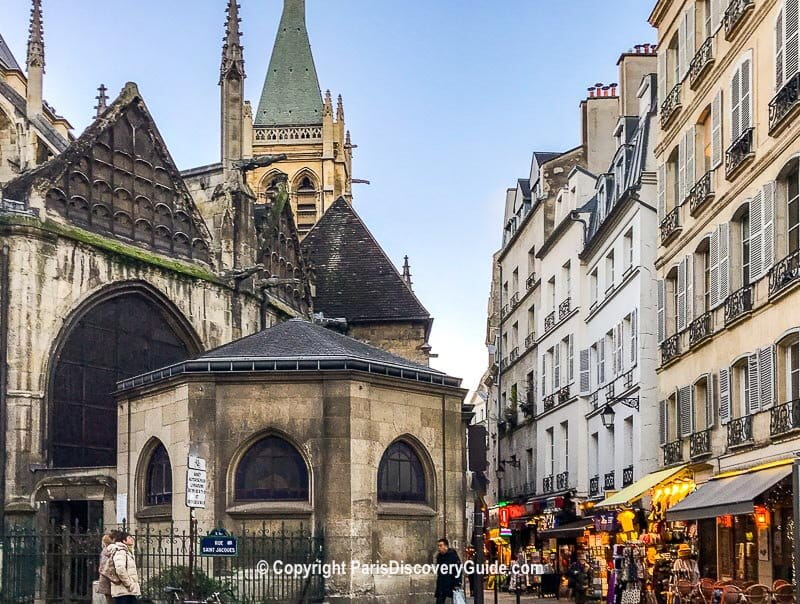 22 Rue de la Parcheminerie, 5th arrondissement
The charming 4-star Hôtel Parc Saint-Séverin overlooks a quiet pedestrian-only street behind Église Saint-Séverin in Paris's Latin Quarter.
The hotel's 27 rooms are decorated in calm neutral shades with pops of jewel-like colors and many luxury touches. The hotel's smaller rooms offer bargain rates for this location, while larger ones with balconies give you wonderful Paris rooftop and skyline views.
Take time to explore the medieval tapestries and Roman baths at Cluny Museum, the English-language bookstore and café at Shakespeare & Company, and if you're here in December, the wonderful Christmas market held each year at Square René Viviani, directly across the Seine from Notre Dame.
---
Hotel les Dames du Pantheon
★★★★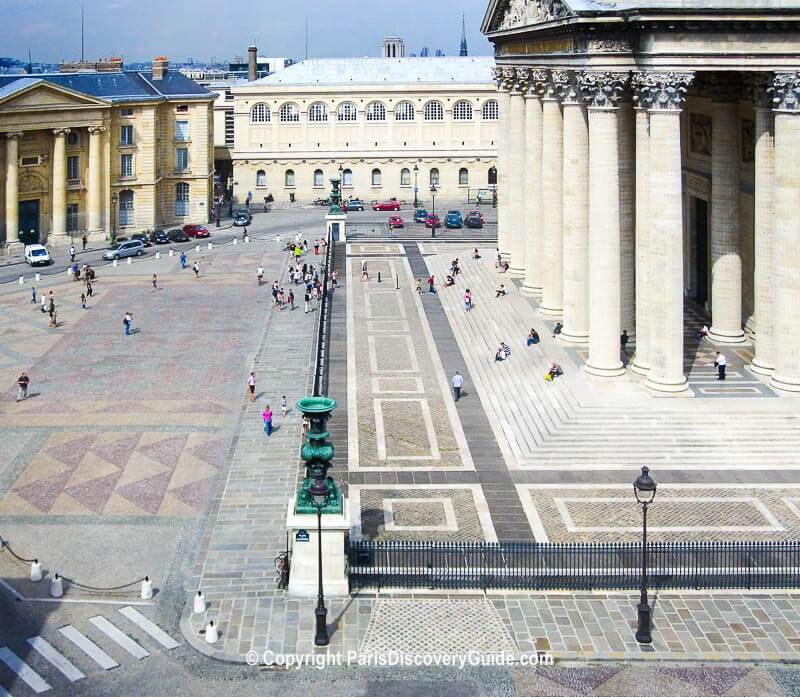 19 Place du Pantheon, 5th Arrondissement
Located in an 18th century building next to the Pantheon, 4-star Hotel les Dames du Pantheon features decor and fabrics in its 35 guestrooms and suites that reflect the eras and culture of several iconic women. You'll enjoy wonderful close-up views of the Pantheon from the hotel's front-facing rooms.
Whether you choose one of the smaller budget-friendly guest rooms or splurge on a spacious suite, you'll love the friendly staff and the glamorous 1940s vibe of the comfortable seating areas in the lobby. You'll also appreciate being in the heart of the Latin Quarter, the perfect position to explore the Left Bank and the rest of top Paris attractions.
You may also want to consider the hotel's upscale 3-star sibling next door, Hotel Grand Hommes, where the 31 cozy guestrooms' classic decor, comfortable beds, and welcoming staff make it a favorite of budget-savvy travelers.
---
Hotel Jardin de Cluny
★★★
★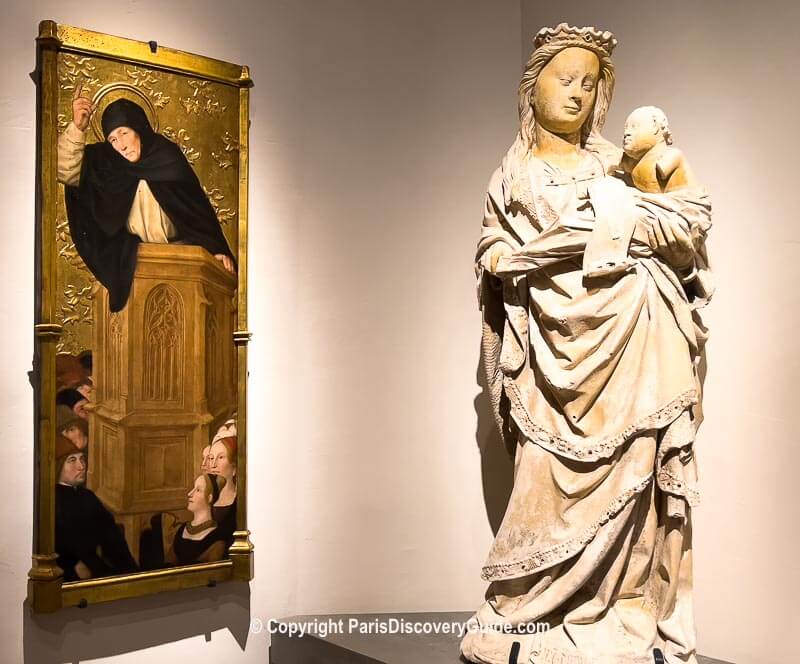 9 Rue du Sommerard, 5th arrondissement
Thanks to a transformative top-to-bottom makeover, Hotel Jardin de Cluny is now a gorgeous 4-star oasis with lush floral touches and Art Deco-inspired furnishings. Super-comfortable beds, sleekly modern bathrooms, and excellent lighting add to your comfort.
You'll also love the hotel's superb Latin Quarter location near Cluny Museum and just a short 5-minute walk to the Seine River and Notre Dame Cathedral. Stroll through the nearby Maubert open-air food market, pay your respects to French heroes (including American-born singer Josephine Baker, honored for her work with the French Resistance) at the Pantheon, and of course see the famous "Lady and the Unicorn" tapestries, other medieval treasures, and Roman baths at the recently reopened Musée de Cluny.
Bonus for families: Book the spacious Junior Suite, which sleeps four.
Find more of Paris's newest hotels
---
Hotel Marignan
★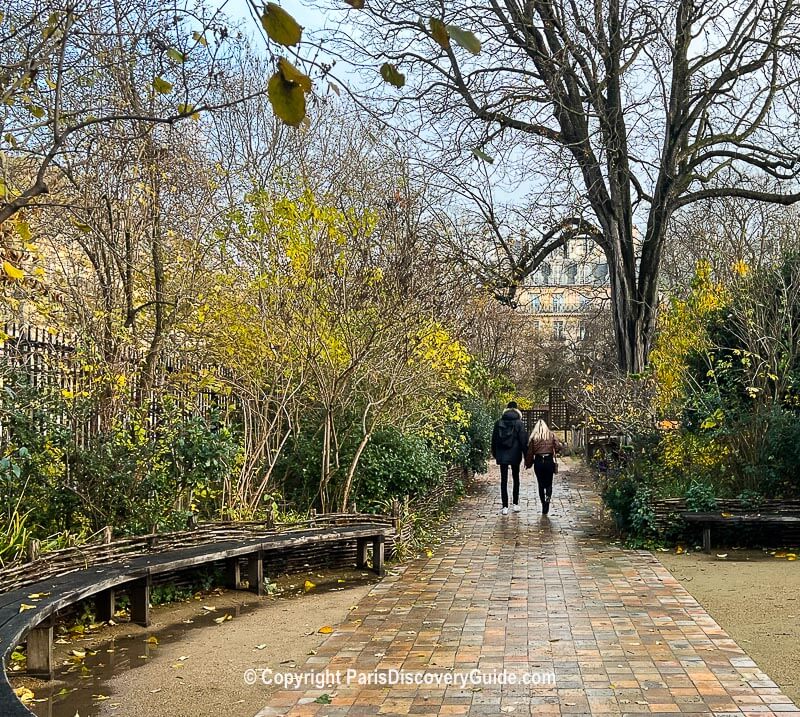 13 Rue du Sommerard (near the Cluny Museum and a 5-6 minute walk to the Seine River); nearest metro: Maubert-Mutualité
In a city where 1-star hotels in sought-after neighborhoods have mostly vanished, Hotel Marignan is an insiders' secret among budget-savvy travelers who love its location, low rates, and high-speed fiber optic connections in the heart of Paris's Latin Quarter.
Although the guestrooms tend to be small (which is also true for so many Parisian hotels at every star level), cheerful colors and simple furnishings create a contemporary vibe.
Choose accommodations with a shared toilet and/or bathroom, and you'll find (depending on the season) rates well under 100€/night.
Single rooms, in particular, are tiny but cheap. Or book a guest room with a private bathroom, private toilet, and perhaps even a balcony, and pay a bit more. No elevator or air conditioning, but fans are available on request.
The owner/manager and staff are applauded for being helpful and accommodating. The value is hard to beat.
---
Le Prince Regent Residence & Spa
- Latin Quarter "ApartHotel"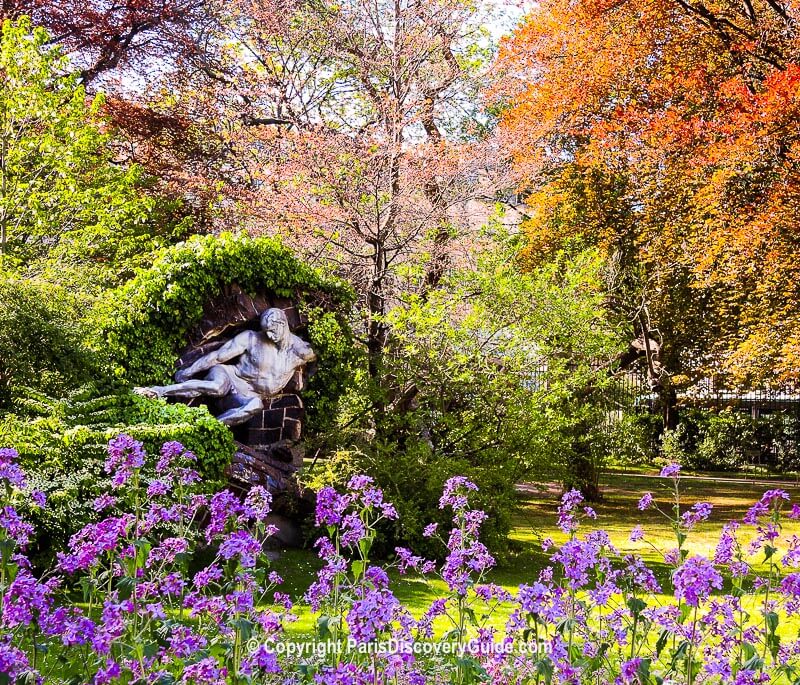 28 Rue Monsieur le Prince, 6th arrondissement
Can't decide if you want the amenities, daily housekeeping, and convenience of a 4-star hotel or the greater space and kitchen facilities offered by an apartment?
Le Prince Regent Residence & Spa, an "ApartHotel" in a fantastic location just one short block from Luxembourg Garden, combines the best of both options.
Housed in a beautiful 18th century building, the 17 recently renovated apartments feature contemporary decor and comfortable high-quality furnishings.
From spacious studio apartments for two guests to palatial 3-bedroom suites for up to eight, all accommodations include fully-equipped kitchens, air conditioning, and washing machines.
Relax at the onsite spa and swimming pool, and enjoy the daily breakfast delivered to your apartment. Staff is available 24x7 to provide service.
The best part? Rates are very affordable.
---
Hôtel Baume
★★★
★
7 Rue Casimir Delavigne, 6th arrondissement
Revel in the spirit and glamour of the 1930s at Hotel Baume, where lush fabrics, comfortable furnishings, and Art Deco-inspired decor in the 35 guestrooms and suites surround you with sophisticated jewel-like tones. For a special treat (and lots of space!), reserve a suite with a spacious private balcony overlooking the nearby Odeon Theatre and garden patio.
Located less than two blocks from Luxembourg Garden, the hotel puts you in the perfect spot to explore the nearby Cluny Museum, stroll along the Seine River, and savor the neighborhood's many wonderful restaurants.
---
"La Libellule" Apartment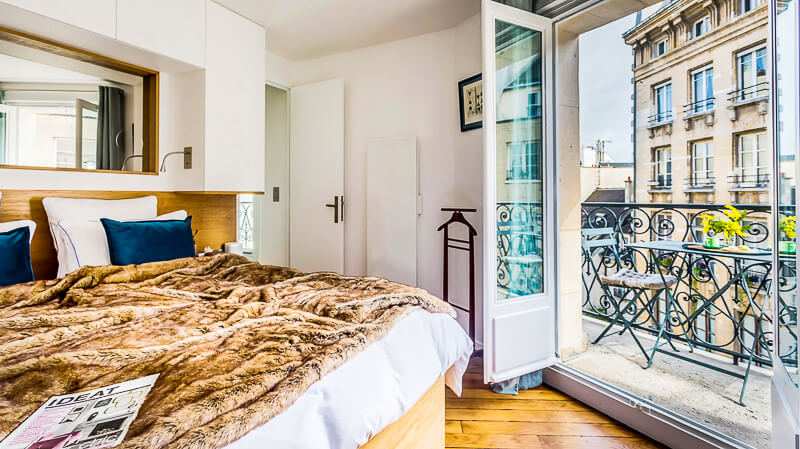 When you want more space than most hotels offer, not to mention your own kitchen, the La Libellule apartment could be perfect for you. Located just a 2-minute walk from the Maubert-Mutualité metro station, the 1-bedroom apartment includes a spacious living/dining room, fully equipped kitchen, and luxurious modern bathroom.
As you relax on the apartment's balcony with a glass of wine, cheese, and fruit after a day of exploring Paris, you can even spot Île de la Cité and Notre-Dame in the distance.
---
Residence Henri IV
★★★
★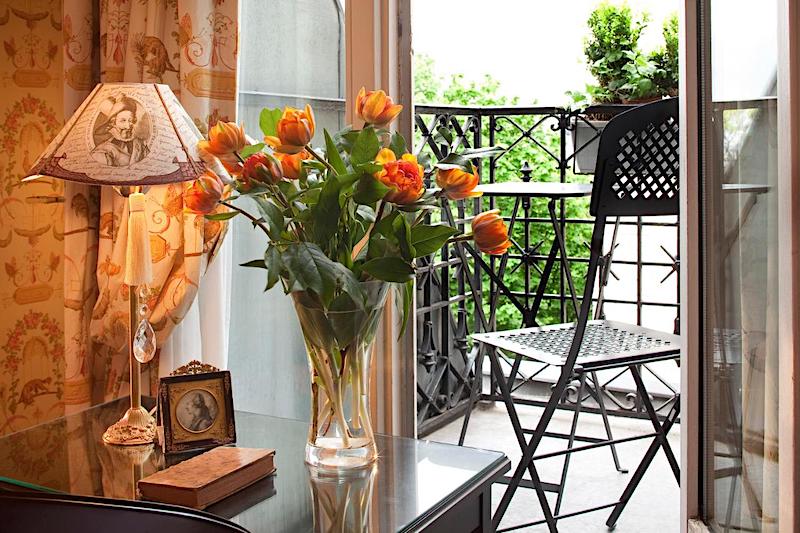 50 Rue des Bernardins
Romantic Parisienne furnishings, including some rooms with canopy or 4-poster beds and a location in a quiet part of the the Latin Quarter between the Seine River and the Pantheon, make the small 4-star Residence Henri IV a favorite haven for Paris visitors who value the exquisite attention to detail and personalized service.
With just 8 guestrooms and 5 spacious suites, you may feel like you're staying in a posh private dwelling rather than a hotel - especially since they all feature compact kitchenettes, a rare amenity in a hotel. You'll also love the luxurious modern bathrooms. For a special treat, book one of the rooms or suites with a private balcony.
---
Hotel Dame des Arts
★★★
★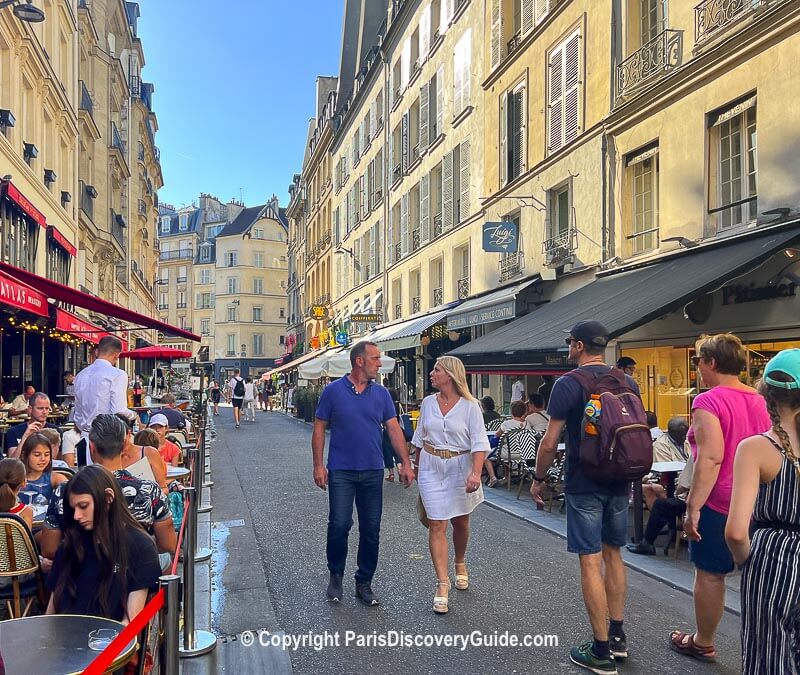 4 Rue Danton, 6th arrondissement
With an onsite restaurant, courtyard garden, and rooftop bar with 360 views of Paris including the Eiffel Tower, the 4-star Hotel Dame des Arts also offers a fantastic Latin Quarter location about a 2-minute walk from the Seine River.
Cross the Seine, and you're on Ile de la Cité, where you can experience the magnificent stained glass and candlelight concerts at Sainte-Chapelle, the gothic splendor of Notre Dame, and the fascinating Sunday morning bird market.
Guestrooms come in all sizes, ranging from affordable small rooms to quite spacious suites, as well as adjoining rooms. The hotel also includes a fitness room and electric bike rentals.
For a special treat, book a terrace room with sweeping city views. The show-stoppers are the four top-floor Premium Signature Terrace Eiffel Tower View guestrooms with Eiffel Tower views.
Hôtel Le Lapin Blanc
★★★
★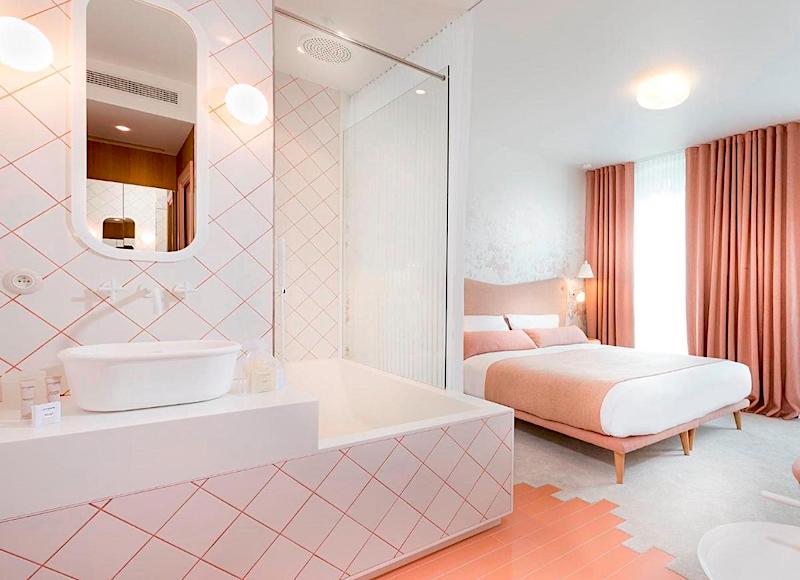 41 Boulevard Saint Michel
The 4-star Hotel Lapin Blanc (White Rabbit Hotel) transports you to a chic hideaway of mid-century modern decor in fantasy tones of white and fresh pastels designed by two artists and inspired by Alice in Wonderland.
A subtle but cute bunny theme appears throughout the 27 guestrooms, ranging from cocoon-like (and budget-friendly) singles to spacious-to-huge suites with extra-long king beds. Need accommodations for up to five people? Choose two connecting rooms.
Best of all, the hotel boasts an ideal location between the Seine River and Luxembourg Garden, close to several metro stations.
---
Hôtel La Lanterne
★★★
★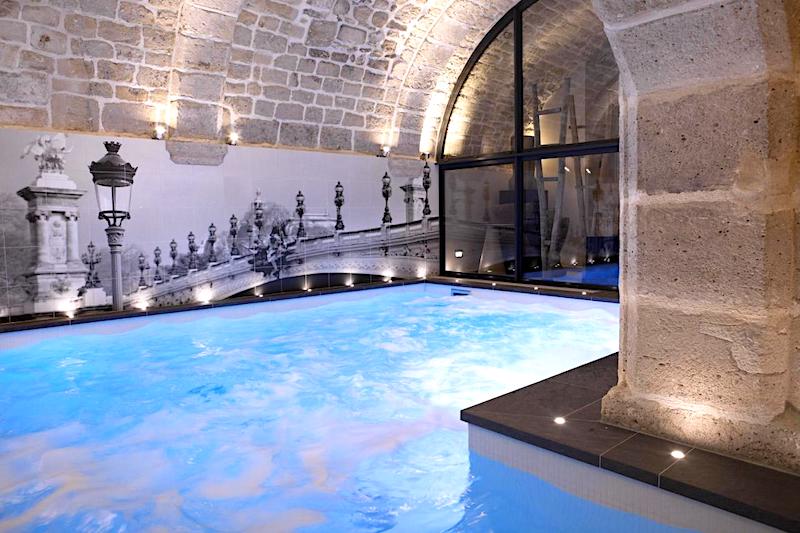 From its original art, Murano chandeliers, and antique accents to its serene indoor swimming pool, hammam, and fitness room, 4-star Hôtel La Lanterne delivers a wonderful experience during your visit. There's even a yoga room.
You'll also appreciate the comfortable modern furnishings and luxurious fabrics in the hotel's 27 guestrooms and suites. For a special treat, reserve one of the guestrooms with its own private balcony.
---
Hotel Saint-Paul Rive-Gauche
★★★
★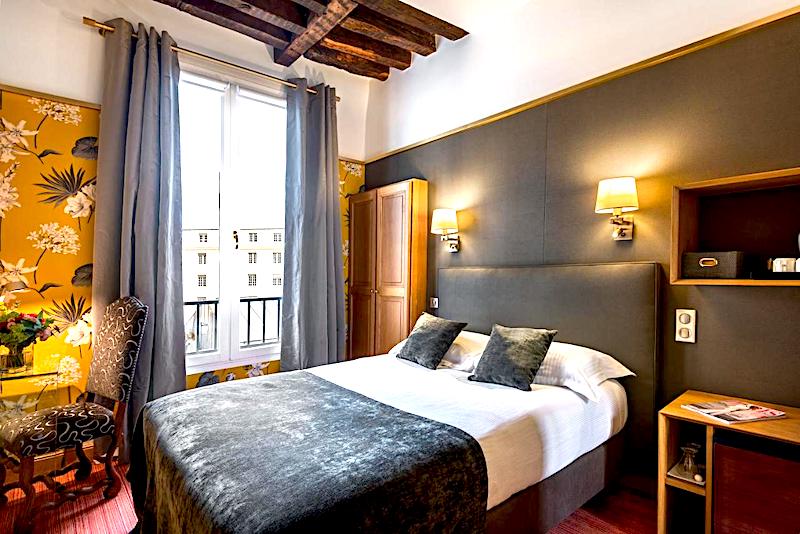 43 Rue Monsieur le Prince, 6th arrondissement
Located in a 17th century building on a quiet side street where King Philippe Auguste built a high stone wall back in the early 1200s to protect Parisians from barbarian invaders, 4-star Hotel Saint-Paul Rive-Gauche combines charm and elegance with luxe fabrics and comfortable modern furnishings in its 31 guest rooms and suites.
Families especially like the connecting rooms.
For longer stays, reserve one of the larger rooms or suites - but if you're staying just a night or two, you'll find great value in the compact smaller rooms while using the hotel's wonderful location near the Latin Quarter/Saint Germain boundary as your base to explore all of Paris. When you return at the end of the day, relax on the hotel's lovely patio.
---
Hôtel Henri IV
★★★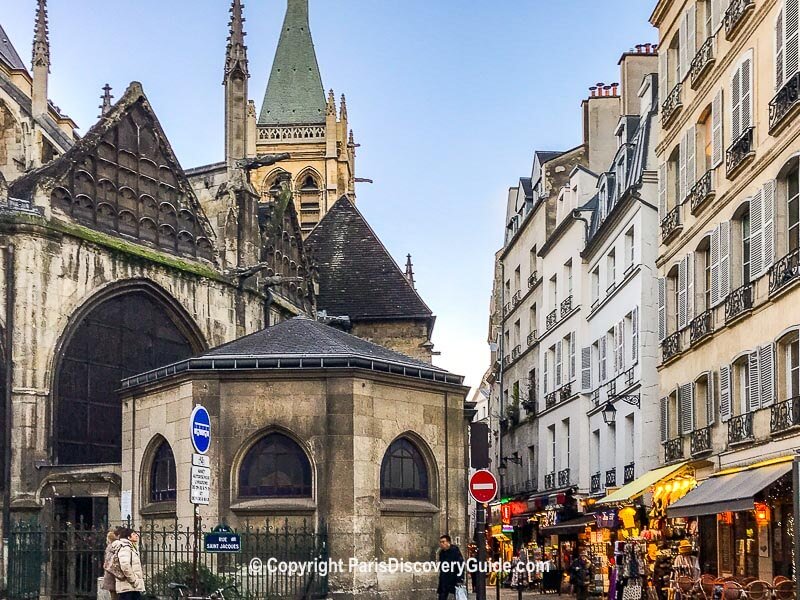 9 Rue Saint-Jacques, 5th arrondissement
Located almost next to 13th century Église Saint Séverin in the Latin Quarter, the 3-star boutique Hôtel Henri IV - Rive Gauche is also only about a 3-minute walk from Notre Dame Cathedral.
With only 23 guestrooms in the stately 17th century townhouse, Hotel Henri IV feels like a cocoon with antique furniture, warm woodwork, tapestries, and vintage tiles - but you'll also enjoy the luxuriously modern 21st century bathrooms, comfortable beds, and air conditioning.
For a special treat, request a room with a balcony overlooking Latin Quarter rooftops. And don't miss the small guests-only private rooftop terrace!
The hotel's location means you're close to all the top Latin Quarter attractions in addition to Notre Dame and Île de la Cité. Be sure to take some time to go inside and explore Saint Séverin Church, one of the most beautiful churches in Paris.
---
Hôtel Albe Saint-Michel
★★★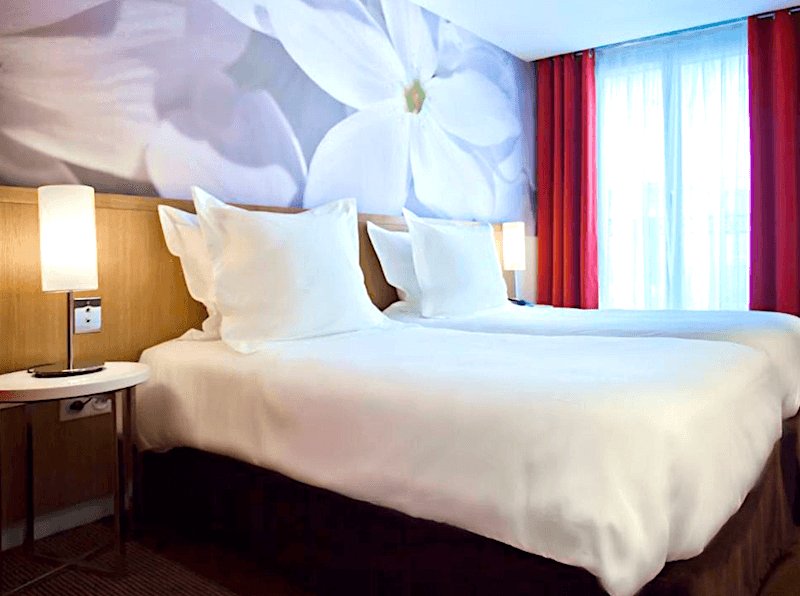 1 Rue de la Harpe, 5th arrondissement
Chic modern furnishings and a location just one very short block away from the Seine River make the 3-star Albe Hôtel Saint-Michel a comfortable haven and gateway to the lively Latin Quarter. The hotel's location just steps away from the Saint Michel Métro/RER station makes it a convenient choice if you're traveling by train from Charles de Gaulle Airport or Gare de Nord.
Each of the Albe Hotel's 43 guestrooms and suites is decorated with a unique theme, with a Scandinavian vibe in the clean design and splashes of color against monochromes. Plenty of triples make this hotel a great option for small families or friend groups.
You'll have easy access to Notre Dame, Sainte-Chapelle, and other Île de la Cité attractions, as well as to all the wonderful Latin Quarter bistros, galleries, and boutiques.
---
More Places to Stay in Paris's Latin Quarter
Last but certainly not least, here are three more very special places to stay in the Latin Quarter (by coincidence, they are all also very close to the Saint-Germain neighborhood). But, they are are also highly popular and therefore not easy to reserve. Needless to say, you'll need to book far in advance, especially if you want to get one of the larger suites or apartments for more than a night or two.
Hotel Saint-Andre des Arts (66 Rue Saint-André des Arts, 6th arr) - Cool 4-star hotel with an Art Deco/Pop Art vibe on a lively street in the Odeon area; very, very popular. Sister hotel to 3 other highly-rated Latin Quarter Hotels: Hotel Les Dames du Pantheon, Hotel des Grands Hommes, and Hotel Baume.
Hotel Villa d'Estrées (17 Rue Gît-le-Cœur, 6th arr) - Gorgeous 4-star boutique hotel with just 10 spacious guestrooms and suites (including family suites for up to 5 guests), and elegant, charming decor located very close to the Seine River on a quiet side street where one of King Henri IV's favorite mistresses lived in the 1590s. If you've drooled over showrooms featuring antique objects, beautiful tiles, and Pierre Frey, Farrow & Ball, Brunschwig & Son, Osborne Little, and Lelievre fabrics, wallpapers, and paints during your strolls around Paris, you can experience them first hand in this exquisitely decorated hotel.
Hotel Residence des Arts (14 Rue Gît-le-Cœur, 6th arr) - Beautiful 3-star hotel with 11 guestrooms on 6 floors in a 17th century building; sister hotel to Hotel Villa d'Estrées across the street, so you'll find similarly elegant decor, high quality materials, and attention to details. Although the double guestrooms are smaller than those at Hotel Villa d'Estrées, what's special here are the very spacious junior suites (2-4 people) and apartments (4-6 people) with kitchenettes.
Find best things to do & see in Paris
---
Popular Ways to the Latin Quarter
---
More Articles about Where to Stay in Paris