To experience Paris a bit beyond the city's touristy center, check out 20th Arrondissement Paris hotels in and near the arty Belleville, Menilmontant, Charonne, and Saint-Blaise neighborhoods.
Choosing a hotel in Paris 20 puts you in the ideal spot to explore and enjoy the eclectic mix of attractions and fun places to explore in this increasingly trendy but still authentic corner of East Paris, formerly home to factories and light industry and now a favorite of artists and makers.
You can search among the fascinating graves at sprawling Pere Lachaise Cemetery for the final resting spots of well-known celebrities such as Oscar Wilde, Jim Morrison, and Chopin, mingle with artists at the open art studios in Belleville, Menilmontant, and Charonne during June, and immersive yourself in the digitized art experiences at nearby Atelier des Lumieres.
To indulge in the thrill of hunting for vintage treasures, visit the weekly flea market at Montreuil. If you love street art, walk around the streets to the east of Parc de Belleville - Rue Piat, Rue de la Mare, and Rue des Cascades usually offer plenty to see.
The district's ethnic diversity also adds to the vitality and the culinary scene, where within even one block you savor the specialties from Asian, North and West African, and Middle Eastern bistros.
You can also save money - sometimes a lot - by staying in a hotel in the 20th district. The hotels that we recommend in this article range from a budget-friendly 2-star to a posh 4-star, and it's fair to say that all of them would cost you quite a bit more in a single-digit arrondissement.
Best of all, though, these 20th arrondissement hotels give you the chance to experience living, if only for a few days, in the "real" Paris. Take a few moments to relax at a sidewalk table at one of the many small cafes and bistros, and enjoy the life around you.
Top photo: Street art in Paris's 20th arrondissement, (c) Paris Discovery Guide
Paris Discovery Guide is a reader-supported publication. When you buy through our links, we may earn a commission at no additional cost for you. Learn more
---
Where to Stay in Paris 20th District
Babel Belleville Hotel
★★★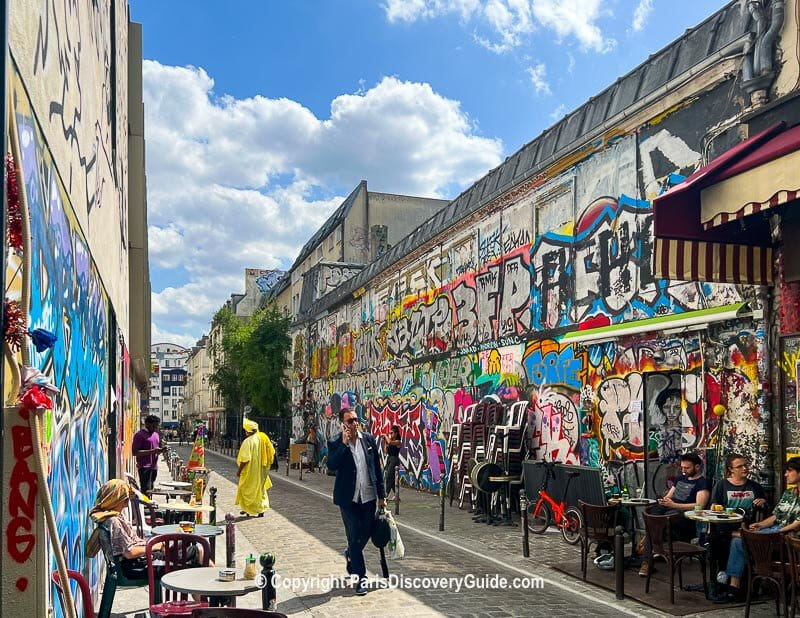 3 Rue Lemon - Nearest metro: Belleville
If you're looking for an affordable but chic hotel in a non-touristy but cool part of Paris, 3-star Babel Belleville Hotel may be the perfect fit.
Located on a quiet lane in the heart of the arty Belleville neighborhood almost at the point where the 10th, 11th, 19th, and 20th arrondissements intersect, the hotel is just a few steps away from Rue Denoyez, known for its street art.
Surrounding streets are home to numerous artists studios (if you're visiting in June, be sure to check out Belleville and Pere Lachaise Artists' Open Studios).
You'll also find lots of excellent small bistros, cafes, and bars nearby, as well as the big Marché Belleville-Ménilmontant outdoor street market (open Tuesdays and Fridays), Parc de Belleville, and slightly farther away, Parc des Buttes-Chaumont and Pere Lachaise Cemetery.
Although the 35 guestrooms are on the smaller size, furnishings and bedding are high quality, and again, you'll enjoy the low rates and great location! An onsite restaurant offers delicious Lebanese food and terrace seating (you should make reservations, as it's a popular neighborhood spot). The Belleville Metro is around the corner; take Line 2 to reach Montmartre and the Arc de Triomphe, or Line 11 to get to the Marais and Hotel de Ville on the edge of the Seine River.
Pro tip: Book a Superior room for more space, or the Family room if you need accommodations for up to four.
---
Novotel Paris 20 Belleville
★★★
★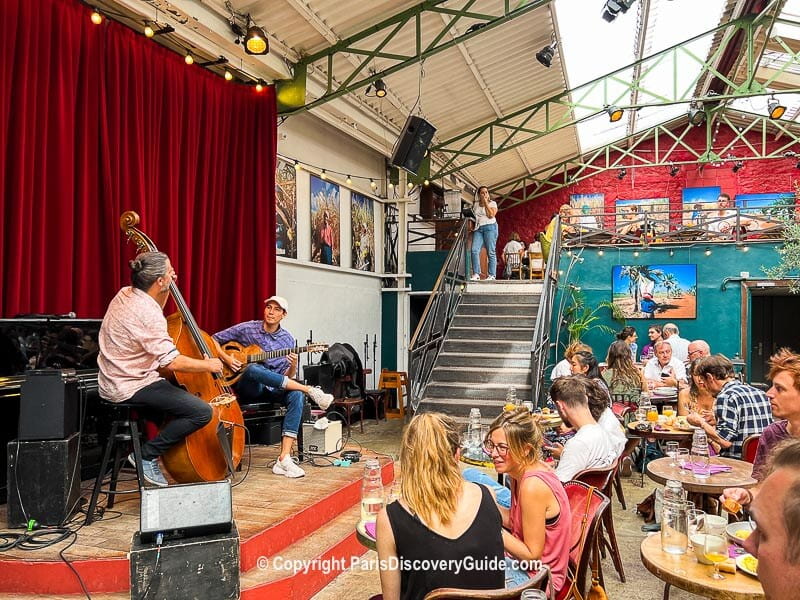 64 Boulevard de Belleville - Nearest metro: Couronnes
With a cool industrial-chic vibe in the lobby and guest rooms, the onsite bistronomic restaurant, and many other appealing restaurant options nearby, the 4-star Novotel Paris 20 Belleville has quickly become popular with both with business and leisure visitors who appreciate the laid-back but trendy multicultural Belleville neighborhood and the fast access to central Paris, thanks to the Couronnes metro station across the street.
The hotel's bargain rates (for a 4-star Paris property) are well-known to savvy travelers - so book well in advance of your dates, especially if you want one of the rooms with a balcony.
Pro Tip: Take time to explore all of the nearby attractions: Pere Lachaise Cemetery, Canal Saint-Martin, the immersive art shows at Atelier des Lumieres, street art, the large and vibrant Marché de Belleville open air market along Boulevard de Belleville (Tuesdays and Fridays, about 8am-2:30pm), and Belleville's two great parks, Parc des Buttes Chamont, and Parc de Belleville.
---
Hotel Scarlett
★★★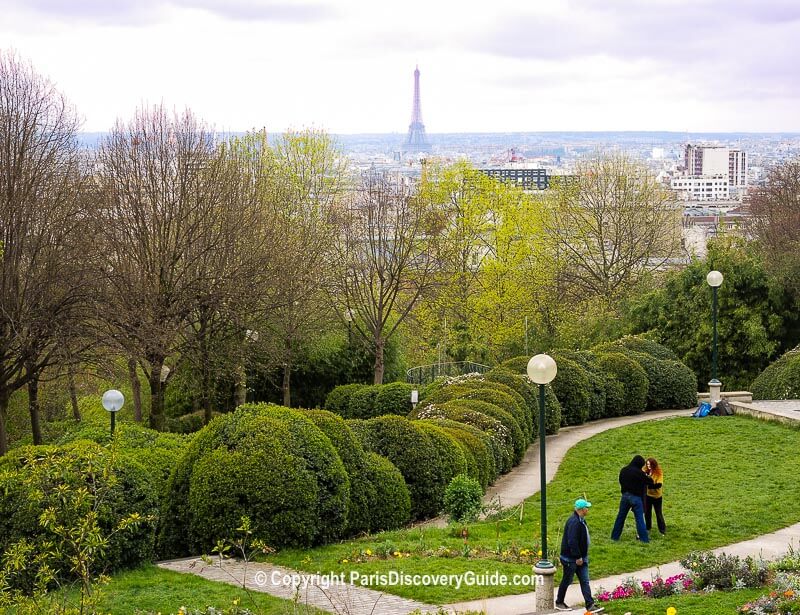 1 Rue Jouye-Rouve, 20th Arrondissement - Nearest metro: Pyrénées
If you want to stay in a less-touristy part of Paris, the highly-rated but budget-friendly 3-star Hotel Scarlett gives you a lot to love in the Belleville neighborhood on the border between the 11th and 20th arrondissements, starting with an excellent location about a 5-7 minute walk from two of the city's most picturesque parks, Parc de Buttes-Chamont (in the 19th district) and Parc de Belleville.
The neighborhood offers many excellent small cafes and bistros. For a special treat, make reservations for a musical performance and light meal at cultural center La Bellevilloise.
Pere Lachaise Cemetery, Atelier des Lumieres, and Parc de la Villette (home to the Cité des Sciences et de l'Industrie museum, the Grande Halle de la Villette exhibition space, and the spectacular Philharmonie de Paris concert hall) are nearby.
All the top tourist attractions in central Paris are just a short metro ride away.
Each of the 30 guestrooms feature a unique design and vibrant contemporary furnishings. While most rooms are fairly small, as is typical for 3-star Paris hotels, the hidden treasure here is the deluxe family suite with almost twice the space for only a modest increase in rates (but book well if you want the suite).
---
Nadaud Hotel
★★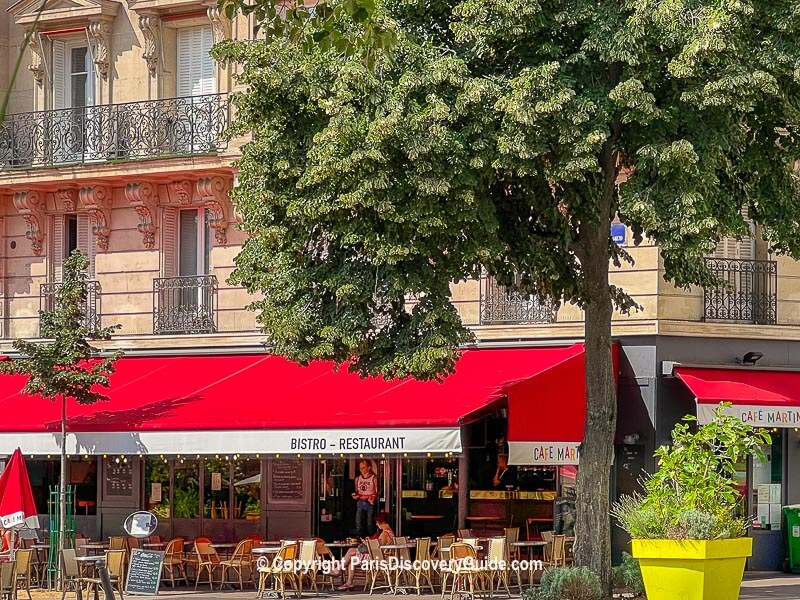 8 Rue de la Bidassoa; nearest metro: Gambetta (about a 3-minute walk from the hotel)
Family-run Nadaud Hotel, situated on a quiet street about a 1-minute walk from Pere Lachaise Cemetery's Porte Gambetta entrance near the Crematorium on Rue des Rondeaux, is a small, highly-rated 2-star hotel with 26 guestrooms with a "green" environmental approach.
If you're looking for simple but attractive accommodations at budget rates, Nadaud Hotel offers a lot of value, including amenities not found in most 2-star properties: in-room safes, free wifi, and elevator service to all six floors. Most rooms do not have air conditioning; in the few that do, it is provided only when the City of Paris issues "high heat" alerts.
Although you can request a continental breakfast to be served in your guestroom (there is not an onsite breakfast room), you also have plenty of neighborhood choices for enjoying a leisurely (or quick, if you prefer) coffee and croissant.
In addition to checking out all the fascinating graves at Pere Lachaise Cemetery, check out the bargains at one of Paris's value-packed flea markets, Marché de Montreuil, about a 15-minute walk from the hotel.
Nadaud Hotel's popularity with budget-savvy travelers means that it books up quickly, so make your reservations here as soon as you know your dates to avoid disappointment.
---
Popular Ways to Explore Paris
---
More Articles about Where to Stay in Paris