Paris Events in May celebrate Mother's Day, music, and fun as flowers fill the city during this gorgeous late-spring month!
Hear top musicians at the Saint Germain des Prés Jazz Festival, visit the huge Foire du Trône festival that's been entertaining Parisians since medieval times, experience Parisian-style BBQ at an electronic dance music (EDM) party in the beautiful Bois de Vincennes park, and attend concerts at Sainte Chapelle and other top venues.
Join Parisians across the city in celebrating art and culture at Night in the Museums on one special Saturday evening in May, and see the latest museum shows throughout the month. Fans of street art will flock to the Printemps des Rues Festival.
In addition, the Paris Contemporary Drawing Fair near Palais Royal as well as Open Studios hosted by artists in the Belleville and Pere Lachaise (Charonne) neighborhoods give you the chance to see excellent contemporary art, chat with the artists, and perhaps purchase an original piece for your home - a perfect "souvenir" from Paris.
May starts with a public holiday - Fête du Travail or Labor Day, always on May 1st. When this national holiday falls during the week, as it does this year, you can expect most museums, stores, and many restaurants to be closed as everyone enjoys a day of leisure. A huge parade and rallies take place, usually at Place de Bastille, to mark this important ocasion.
Parisians usually celebrate Mother's Day on the last Sunday of May - the perfect time to do something special to honor your mom, yourself, or another important mom-like person in your life.
If you're visiting Paris in May, get ready to enjoy warm weather and have fun!
Top photo: Children sailing wooden boats on the pool in Luxembourg Garden, (c) Paris Discovery Guide
Paris Discovery Guide is a reader-supported publication. When you buy through our links, we may earn a commission at no additional cost for you. Learn more
---
May Concerts in Paris - 2023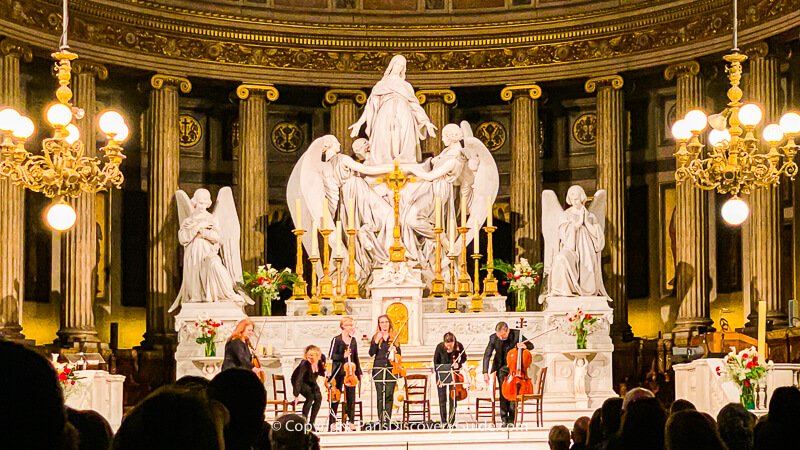 More Paris classical concerts in historic churches during May
More Paris rock, pop, jazz, etc concerts at concert halls during May
Find Paris concerts for other months
---
May 1 Holidays in Paris (and France) 2023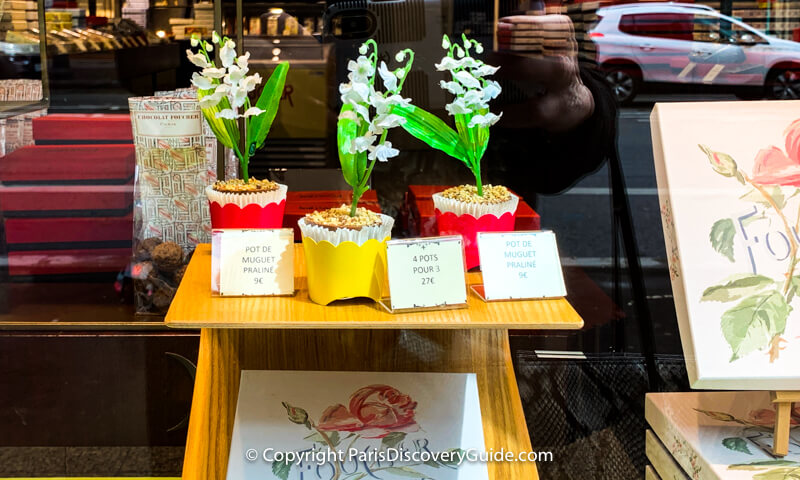 If you're visiting Paris during May, be aware of the many official and observed (unofficial) holidays taking place this month. On official holidays, you should expect many places including stores and restaurants to be closed. The most significant holiday is May 1.
May 1 - Fête du Travail (International Workers Day - ie, Labor Day) - Except for essential services such as hospitals and public transportation (which will operate on a slower holiday schedule), most places including museums, stores, and restaurants will be closed as this is the one day of the year when employers legally must give all workers a paid day off.
May 1 is also May Day (totally unrelated to Labor Day), a celebration of spring and love dating to the ancient Celtic people in western Europe. In Paris, the Renaissance custom of giving Lily of the Valley (called Muguet in French) flowers to friends and loved ones continues to be popular, and you'll see the beautiful sprays of white flowers in all the florist shops and sometimes even decorating candies (see above photo) and cakes.
---
Jazz Festival at Saint Germain des Prés in Paris 2023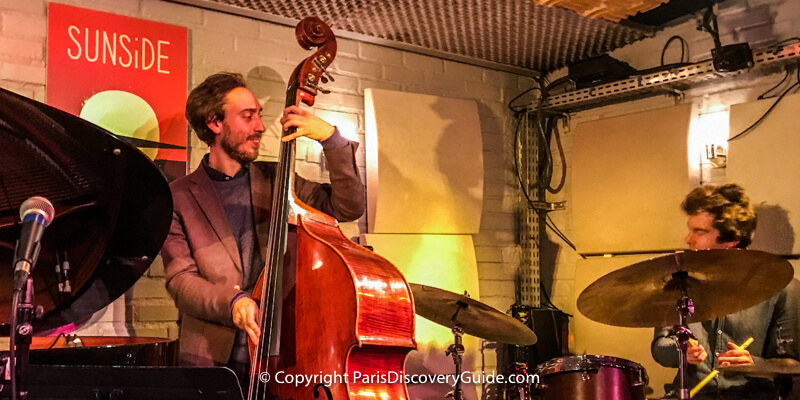 Immerse yourself in jazz during the Saint Germain des Prés Jazz Festival when talented musicians perform in unique theaters, clubs, and historic spaces in the Paris neighborhoods where jazz first blossomed almost a century ago. With multiple concerts and venues to choose from each evening, plus conferences and conversations, exhibits and Champagne, you'll get to celebrate the best of Paris jazz.
When: May 10 - 17
Where: Odeon Theatre, Cluny Museum Frigidarium, Sunset-Sunside Jazz Club, Sorbonne, plus more clubs and cool venues in the 1st, 5th, 6th, and 14th arrondissements
Admission: Many performances and other events are free; some concerts require tickets but prices are reasonable
More Information & Complete Schedule: Saint Germain des Prés Jazz Festival website
---
French Bread Festival - Fête du Pain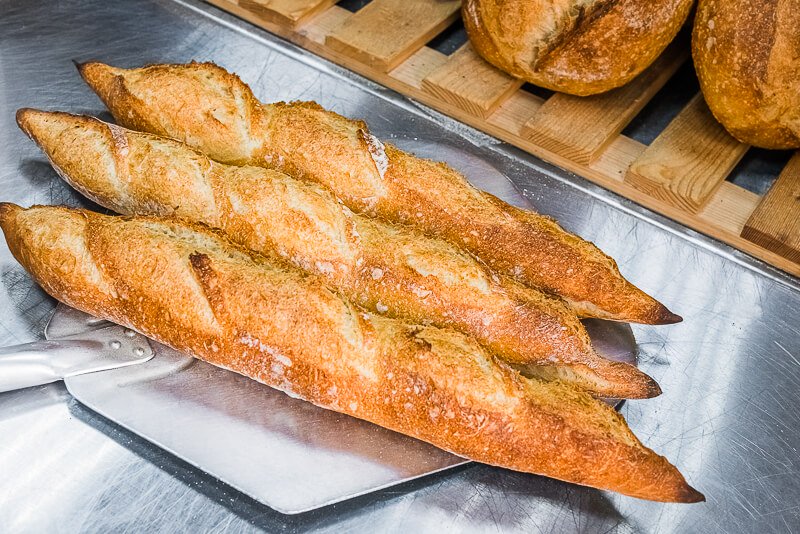 The Fête du Pain (French Bread Festival) takes place in Paris from Saturday May 13 to Sunday May 21 (to be confirmed) on the plaza in front of Notre Dame Cathedral.
You can see traditional bakehouses, ovens, and of course baguettes, and learn about the art, science, and rules of making these favorite treats at this celebration that takes place each year around May 16, the day that honors Saint-Honoré, patron saint of millers, flour merchants, bakers, and pastry chefs.
The event is free, so stop by, or check the details on the sponsoring organization's website.
Want to learn how to make French baguettes and croissants? Take this class in a Paris bakery!
---
La Nuit des Musées (Night at the Museums) - 2023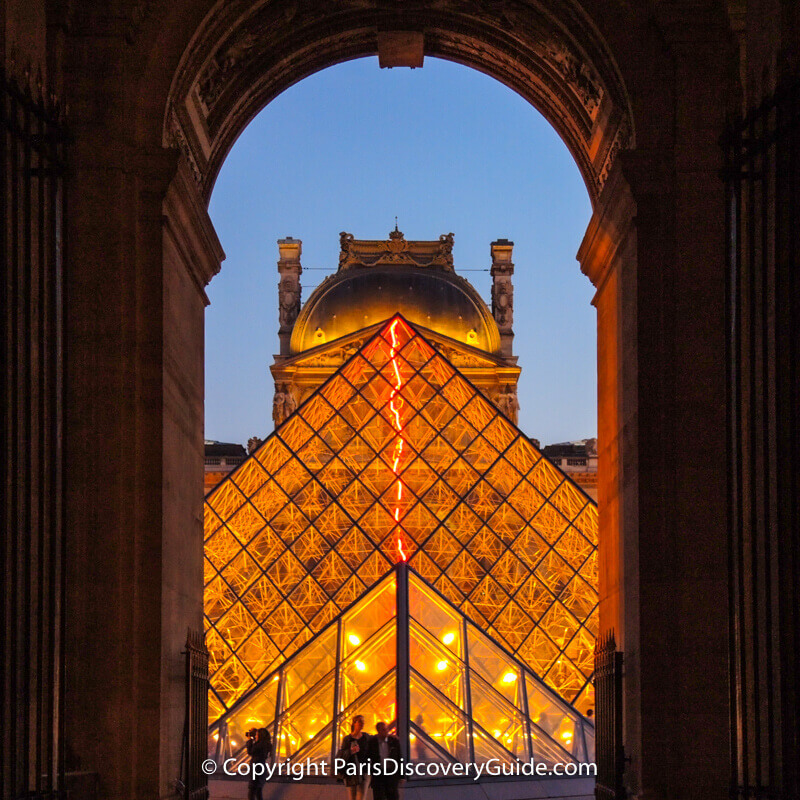 La Nuit des Musées Date: Saturday, May 13
La Nuit des Musées is a magical evening when most museums in Paris, the rest of France, and 30 or so other European countries open their doors to visitors for free and stay open until very late into the evening. Look for guided tours, workshops, special screnings, tasting, live shows, and other special events.
Whether you're visiting a new-to-you museum or making a return visit to an old favorite, join Parisians at the Louvre, Musée de l'Orangerie, Musée du Quai Branly, Musée de l'Armée, Centre Pompidou, and about 80 other museums across the city in this celebration of art and culture. You can find all venues once they're officially announced, usually a few weeks before the event on the Cultural Ministry's website by entering "nuit des musees" in the search block.
---
Paris Museum Shows - Top Events during May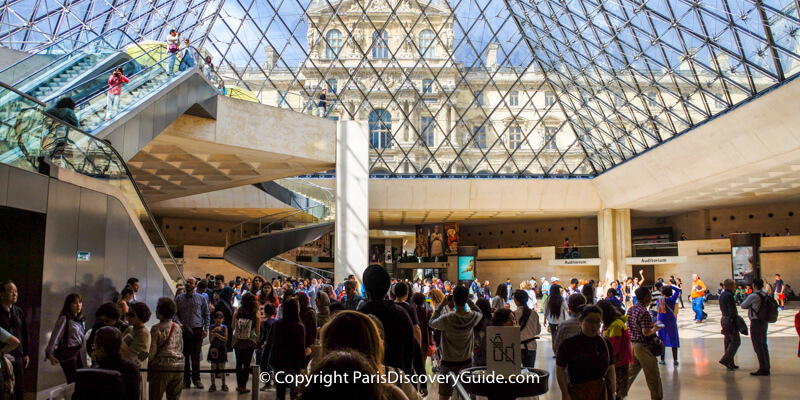 Kimono @ Musée du Quai Branly
Exploration of the history of the Japanese kimono, including modern use by designers such as Galliano and McQueen, and innovative and subversive use by younger Japanese.
Dates: Through May 28, 2023
Tickets: 12€ adults; includes permanent collections & temporary exhibitions in the Garden Gallery; some special shows may require a separate ticket. Book online, or get free entry (not including ticketed shows) with a Paris Museum Pass
Location: 37 Quai Branly (almost next door to the Eiffel Tower), 7th arrondissement; Metro/RER: Pont d'Alma
Pharoah of the Two Lands: An African Epic - The Kings of Napata
@ Musée du Louvre, April 28, 2022 - July 25, 2022 - Based on the Louvre's archaeological campaign in Sudan, this exhibit highlights an 8th century BC kingdom around the Nile Delta which founded the 25th Dynasty of Kushite kings.
Location: Rue de Rivoli, 1st arrondissement
Closed: Tuesdays, January 1, May 1, and December 25 Tickets: 17€ ( plus 3€ online booking fee); includes special and permanent exhibits; free for under 26; book in advance with a reserved time slot and skip-the-line access; can also book in advance for free admission with a Paris Museum Pass
Stay nearby: Hotels near the Louvre
Nearest Metro: Palais Royal/Musée du Louvre, Pyramides
Interested in a Louvre Museum guided tour? Find out how to choose one
Gaudí
@ Orsay Museum, April 12, 2022 - July 17, 2022 - First major show of Antoni Gaudí's work in Paris in 50 years, including pieces of his furniture never seen before in France, and focusing on his creations of palaces, urban hotels, parks, and churches including the Sagrada Familia.
Musée d'Orsay Tickets: 16€ adults. Book a reserved-access ticket for skip-the-line access, save with a combo ticket to Musée de l'Orangerie and the Orsay Museum, or use your Paris Museum Pass for free entry
Location: 1 Rue de la Légion d'Honneur, Paris 7; Metro: Pont de l'Alma; Invalides

Find out about many more exhibitions at Paris museums in May
---
Paris Museum and Attractions Passes
Get free admission and skip-the-line access to 60+ museums in and near Paris when you have a Paris Museum Pass for 2, 4, or 6 days. More info
---
Paris Contemporary Drawing Fair: DDESSINPARIS - 2023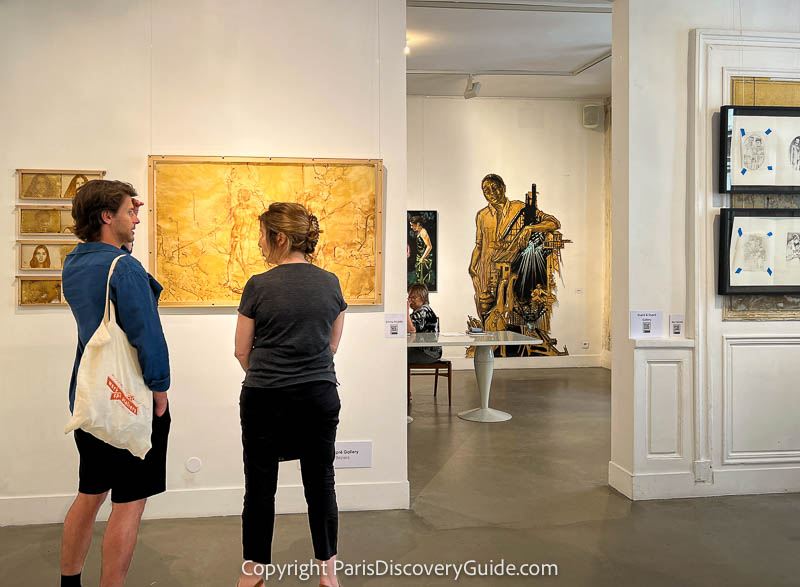 DDESSINPARIS (Paris Contemporary Drawing Fair), a Parisian art fair celebrating the best contemporary drawing in all forms, takes place in Le Molière, a historic mansion in the 1st arrondissement not far from the Louvre Museum. The exhibition displays works created by emerging and established young artists who are nominated by a dozen French and international galleries.
If you are interested in viewing exciting new art, chatting with the artists and gallery owners, and perhaps acquiring a special piece, this is a show you won't want to miss!
Dates: March 24 - 26
Tickets: 14€
Location: Atelier Richelieu, 60 Rue de Richelieu, Paris 1; Metro: Bourse, Palais Royal
More information: DDESSINPARIS website
---
Paris Foire du Trone - Throne Fair 2023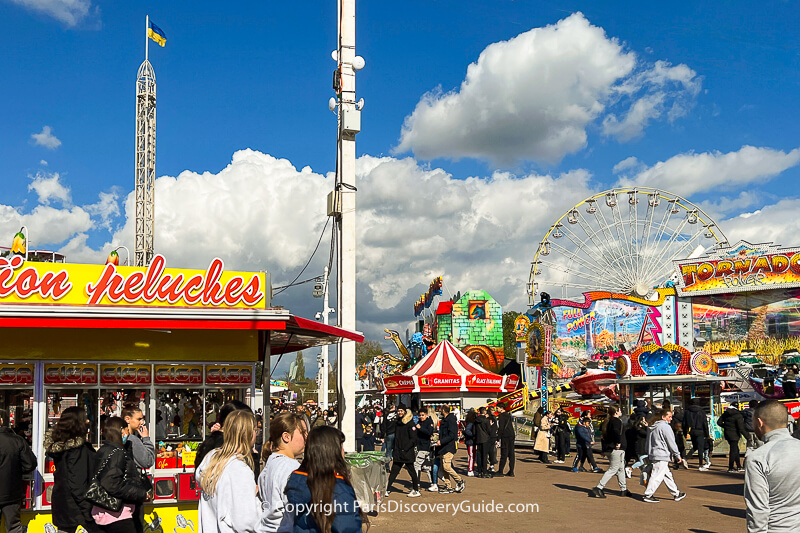 Visit Paris's huge Foire du Trone, and you'll become part of a tradition and cultural event stretching back to 957 when 15-year old King Lothair established the first Fun Fair, once a festive market featuring gingerbread as a top seller and acrobats and gambling to entertain the crowds. Today, roughly 350 attractions including carnival rides, stuffed animals, fries, and beer rule as the fair attracts an estimated 5 million visitors for the shared goal of having fun during its 2-month spring season. Especially if you're staying in the Marais, getting to the fair takes less than 10 minutes on the Metro's Line 8.
When: Through May 29, noon to midnight (1pm on Saturdays, Sundays, and the eves of public holidays)
Where: Bois de Vincennes on the Reuilly Lawn (Pelouse de Reuilly), 12th arrondissement (Look for the fair on your right after you pass through the entrance near the Porte Dorée metro station)
Metro: Porte Dorée; once you enter the park, take the path that veers to the right, and in 3-5 minutes, you'll see (or hear) the fun fair
Admission: Free - plus reasonable prices for food, drinks, rides, etc
More information: Faire du Trone website
---
---
Electronic BBQ Festivals at Bois de Vincennes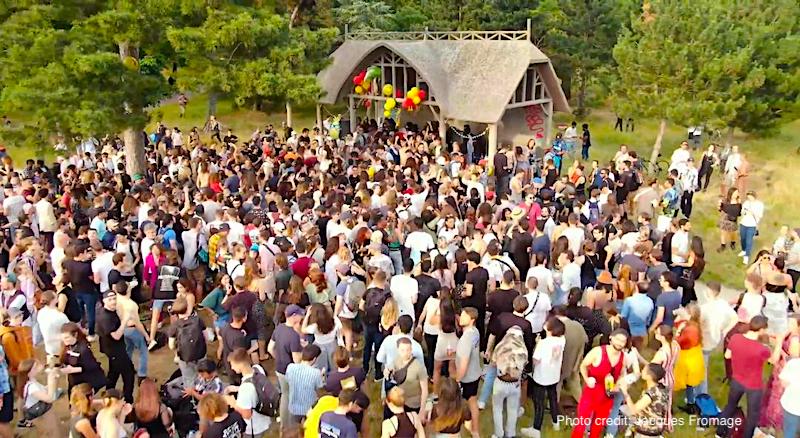 To enjoy electronic dance music along with BBQ, fries, and beer, head out to Bois de Vincennes on Paris's east side for an all-day party staged by Paris-based DJ extraordinaire, Jacques Fromage. In addition to dancing and tasty food, you can relax or play games on the open lawn.
Time & dates: 10am - 9pm on May 8, May 22, and June 21 (to be confirmed)
Admission: Free, but you'll need a ticket for admission, which you can get on the Jacques Fromage website
Getting there: Take the Metro's line 8 to Charenton-Ecole station (about 10 minutes from the Bastille station). From the station, walk down Rue de la Republique to the park's entrance and continue along the main path, veering left right before the pond to the Jacques Fromage "cabane" near the Pagoda.
---
Open Studios: Pere Lachaise Neighborhood
Numerous artists live and work in a leafy neighborhood tucked between the southern wall of Pere Lachaise cemetery, Blvd de Charonne, Rue d'Avron, and Rue des Pyrénées in the 20th arrondissement.
During May 12-15, (to be confirmed) 33 painters, sculptors, photographers, and print-makers invite the public to their annual Open Studios, where you can browse original art, chat with the artists, and perhaps purchase a favorite piece. Visiting the Open Studios also gives you also a great opportunity to explore this little-known corner of the city as well as nearby Pere Lachaise cemetery.
Admission: Free
More information, including a map showing all studios (& nearby restaurants): Pere-Lachaise Studios' website
---
Spring Street Festival (Le Printemps des Rues)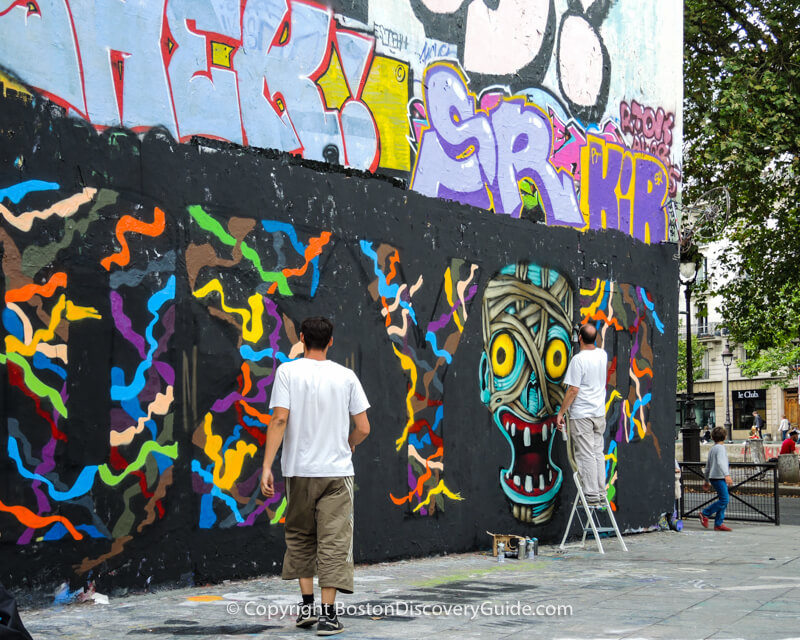 The Printemps des Rues Festival celebrates emerging artists and performers each spring with events centered around the Saint-Martin canal and other locations in the 10th, 18th, and 19th arrondissement. Look for lots of innovative music, dance, comedy, theater, and art.
The festival takes place on May 27-28. (to be confirmed) Check the Festival website for specific events, times, and places. All performances are free.
---
Victory in Europe Day in Paris 2023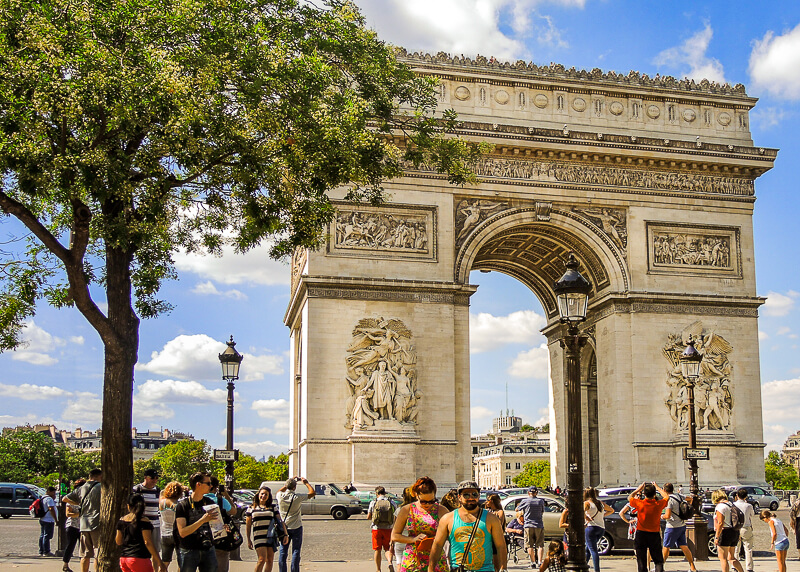 Victory in Europe Day (le Jour de la Victoire en Europe) on May 8 celebrates the surrender of the Nazis in East Berlin on May 8, 1945, a day after their surrender in Reims, France, and almost 9 months after the Liberation of Paris on August 25, 1944.
The event is always celebrated on May 8 and is a public holiday, which means banks, most businesses including stores and restaurants, and all schools will be closed, public transportation will run on a holiday schedule, and most bakeries and supermarkets will close early (if they're open at all).
In Paris, official ceremonies take place at the Arc de Triomphe with the French President and other officials laying wreathes on the Tomb of the Unknown Soldier. During some years, a parade marches down Champs Elysees, but so far, no announcements about that occurring this year.
Find out more about visiting the Arc de Triomphe and its rooftop terrace
---
Paris Beer Festival - 2023
Although wine usually overshadows beer as the beverage of choice in Paris, rising stars among local craft brewers may change your loyalties once you explore what's on offer. There's no better way to do that than stopping by the Paris Beer Festival and savoring the lineups on tap.
The first three days of the festival focus on events hosted by bars, gastro pubs, and breweries located mostly in the Marais, Canal Saint-Martin, and other eastern arrondissement neighborhoods. The last two days take place in Ground Control, a former rail depot repurposed as a popular theater, food, music venue, and community space with restaurants, food trucks, outdoor seating, and shops behind Gare de Lyon train station in the 12th arrondissement, where you'll have the chance to do a lot more sampling of brews from 50+ microbreweries.
When: May 8-14
Where: Days 1-5, various locations; Days 5 & 7: Ground Control, 81 Rue de Charolais, Paris 12
Tickets (Sat & Sun only): 6-8€; e-payment only
More information: Event website

Want to visit Ground Control at other times? It's open Wednesday through Sunday (see their website for hours and events)
---
More Fun Things to Do & See in Paris in May
Want to Save on Your Paris Hotel?
Check our tips on how to find discounts, deals, and bargains for Paris hotels. Whether you're looking for cheap accommodations or want to pay less for luxury, we'll show you how to save on hotels in Paris.
Here are some shortcuts:
Booking.com: Need last minute reservations? Check out Today Deals on their website
Trip Advisor: Use their Best Value Deals & save BIG on your Paris hotel
Priceline: Find the lowest prices on Paris hotels with their Express Deals
---
More Articles about Things to Do in May in Paris