Paris Events in May celebrate Mother's Day, music, and fun as flowers fill the city during this gorgeous late-spring month!
Enjoy top musicians at the Saint Germain des Prés Jazz Festival, visit the huge Foire du Trône festival that's been entertaining Parisians since medieval times, and enjoy concerts at Sainte Chapelle and other top venues.
Join Parisians across the city in celebrating art and culture at Night in the Museums on one special Saturday evening in May, and see the latest museum shows throughout the month.
May starts with a public holiday - Fête du Travail or Labor Day, always on May 1st. When this national holiday falls during the week, as it does this year, you can expect most museums, stores, and many restaurants to be closed as everyone enjoys a day of leisure.
Parisians usually celebrate Mother's Day on the last Sunday of May - the perfect time to do something special to honor your mom, yourself, or another important mom-like person in your life. (More about May's many holidays)
If you're visiting Paris in May, get ready to enjoy warm weather and have fun!
---
May Concerts in Paris - 2022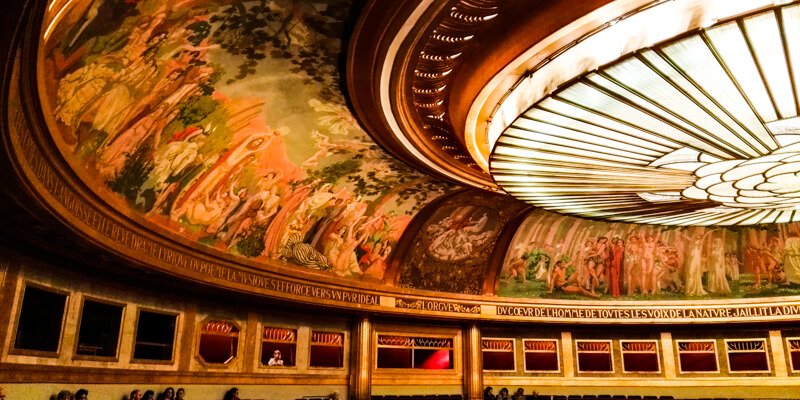 More Paris classical concerts in historic churches during May
More Paris rock, pop, jazz, etc concerts at concert halls during May - In the search box, enter: Paris May
Find Paris concerts for other months
---
Jazz Festival at Saint Germain des Prés in Paris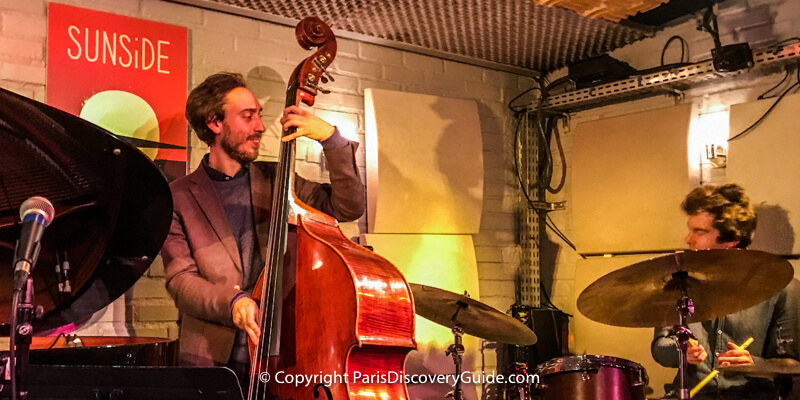 Immerse yourself in jazz during the Saint Germain des Prés Jazz Festival when talented musicians perform in unique theaters, clubs, and historic spaces in the Paris neighborhoods where jazz first blossomed almost a century ago. With multiple concerts and venues to choose from each evening, plus conferences and conversations, exhibits and Champagne, you'll get to celebrate the best of Paris jazz.
When: May 14 - 25 - to be confirmed
Where: Odeon Theatre, Cluny Museum Frigidarium, Sunset-Sunside Jazz Club, Sorbonne, plus more clubs and cool venues in the 1st, 5th, 6th, and 14th arrondissements
Admission: Many performances and other events are free; some concerts require tickets but prices are reasonable
More Information & Complete Schedule: Saint Germain des Prés Jazz Festival website
---
Mother's Day in Paris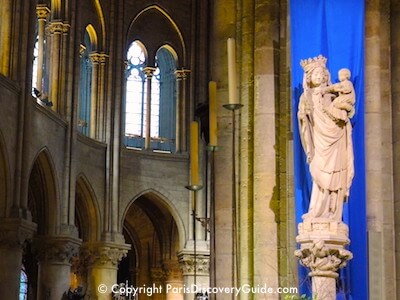 Mother's Day (La Fête de Mère) takes place on Sunday, May 30. Traditional French Mother's Day celebrations involve flowers, food, and perhaps an outing - anything from a picnic in a park to a river cruise to a day trip.
Flowers are easy. Florists in every Paris neighborhood offer lovely choices ranging from simple pots of blooming bulbs to lavish bouquets.
Mother's Day brunch, lunch, or dinner in a restaurant takes more planning, as they'll be packed. Make reservations in advance, or if you're visiting and not sure where to go, ask your hotel concierge for help.
More about how to celebrate Mother's Day in Paris
---
La Nuit des Musées (Night at the Museums)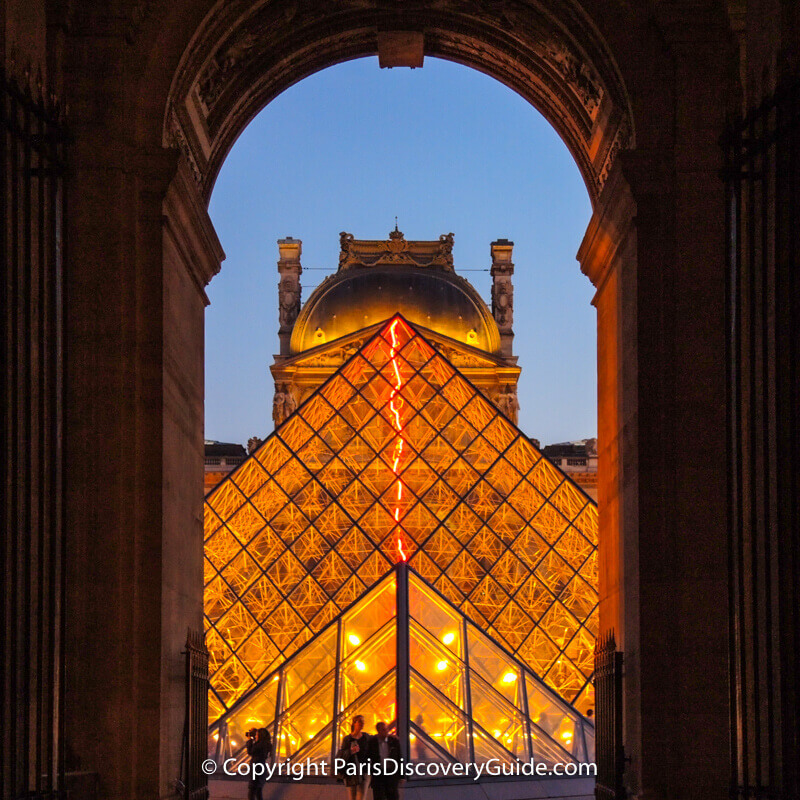 La Nuit des Musées Date: May 16
On the 3rd Saturday in May, La Nuit des Musées is a magical evening when most museums in Paris, the rest of France, and 30 or so other European countries open their doors to visitors for free and stay open until late into the evening. Whether you're visiting a new-to-you museum or making a return visit to an old favorite, join Parisians at the Louvre, Musée de l'Orangerie, Musée du Quai Branly, Musée de l'Armée, Centre Pompidou, and about 80 other museums across the city in this celebration of art and culture.
---
Paris Museum Shows - Top Events during May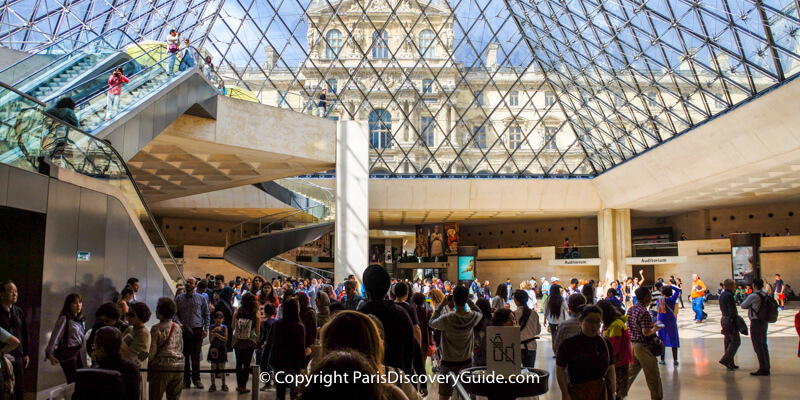 Turner: Exposure
@ Musée Jacquemart-André, March 13-July 20 - Major retrospective of British landscape master Joseph Mallord William Turner with watercolors and oil paintings on loan from Tate Britain in London. Tickets 14.50€ (includes admission to the permanent collections plus this exhibition)
Location: 158 Boulevard Haussmann, 8th arr.
Nearest Metro : Saint Philippe du Roule
Monet, Renoir, Chagall - Journeys Around the Mediterranean
@ Atelier des Lumières - February 28 through Dec 31 - Immersive video/digitized exhibition of Monet's, Renoir's, and Chagalls's masterpieces accompanied by original music. Tickets must be purchased online on the L'Atelier website
Open: 7 days/week
Where: 38 Rue Saint Maur, 11th arrondissement
Metro: Saint-Maur

Body and Soul: Italian Sculpture from Donatello to Michelangelo
@ Musée du Louvre, Through August 17 - Explores main themes and ideas developed in late 14th century Italy, with sculptures by Donatello, Michelangelo, and more Quattrocento masters.
Location: Rue de Rivoli, 1st arrondissement
Closed: Tuesdays, January 1, May 1, and December 25
Tickets: 17€ (purchased online); includes special and permanent exhibits; free for under 26
Stay nearby: Hotels near the Louvre
Nearest Metro: Palais Royal/Musée du Louvre, Pyramides
More info: https://www.louvre.fr
Interested in a Louvre Museum guided tour? Find out how to choose one
Picasso Comics
@ Picasso Museum, March 31-July 21 - An exploration of the links between Picasso's works and the world of comics.
Admission: Adults 14€. Exhibit included with museum admission. Get skip-the-line priority tickets online or with a Paris Museum Pass
Location: 5 rue de Thorigny, 3rd arrondissement; closed Mondays
Metro: Saint-Sébastien-Froissart
The Golden Age of Danish Painting
@ Petit Palais, April 28 - August 16 - More than 200 works by leading Danish artists from the "golden age" between 1800-1864. Show tickets 12€. (Free admission to Petit Palais' permanent collection)
Location: Petit Palais, Avenue Winston Churchill, 8th arrondissement
Nearest Metro: Champs-Élysées-Clemenceau
More info: www.petitpalais.paris.fr
---
Paris Museum and Attractions Passes
Get free admission and skip-the-line access to 60+ museums in and near Paris when you have a Paris Museum Pass for 2, 4, or 6 days. More info
---
Paris Foire du Trone - Throne Fair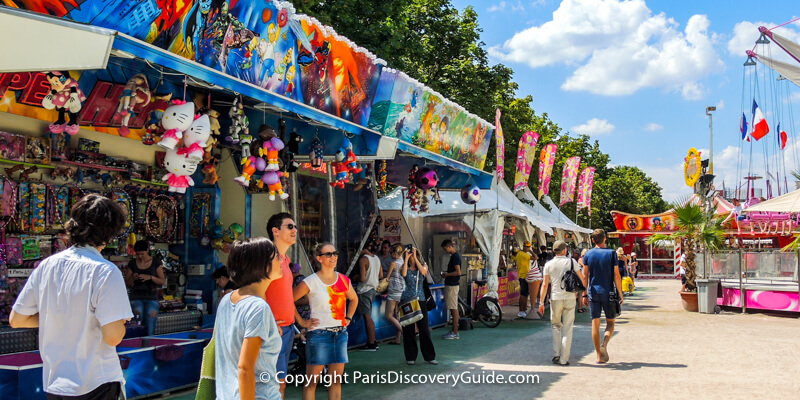 Visit Paris's huge Foire du Trône, and you'll become part of a tradition stretching back to 857 when 15-year old King Lothair established the first Fun Fair, once a festive market featuring gingerbread as a top seller and acrobats and gambling to entertain the crowds. Today, carnival rides, stuffed animals, fries, and beer rule as the fair attracts an estimated 5 million visitors during its 2-month spring season. Fireworks take place in the evening of the last Saturday - May 22 this year.
When: Through May 22, noon to midnight (1pm on Saturdays and the eves of public holidays)
Where: Bois de Vincennes, 12th arrondissement (Look for the fair on your right after you pass through the entrance near the Porte Dorée metro station)
Metro: Porte Dorée
Admission: Free - plus reasonable prices for food, drinks, rides, etc
---
May Holidays in Paris (and France)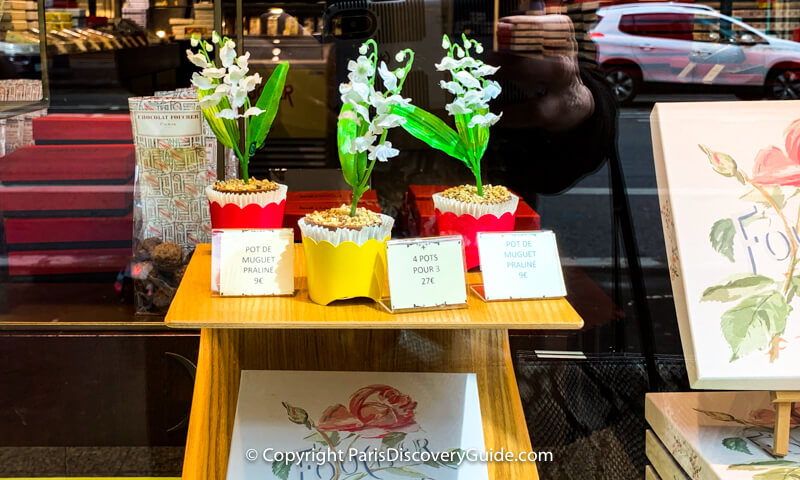 If you're visiting Paris during May, be aware of the many official and observed (unofficial) holidays taking place this month. On official holidays, you should expect many places including stores and restaurants to be closed.
May 1 - Fête du Travail (International Workers Day - ie, Labor Day) - Except for essential services such as hospitals and public transportation (which will operate on a slower holiday schedule), most places including museums, stores, and restaurants will be closed as this is the one day of the year when employers legally must give all workers a paid day off. May 1 is also May Day (totally unrelated to Labor Day), a celebration of spring and love dating to the ancient Celtic people in western Europe. In Paris, the Renaissance custom of giving Lily of the Valley (called Muguet in French) flowers to friends and loved ones continues to be popular, and you'll see the beautiful sprays of white flowers in all the florist shops and sometimes even decorating candies (see above photo) and cakes.
May 8 - Victory in Europe Day - Celebrates the surrender of the Nazis in Reims, France in 1945. Banks, most businesses including stores and restaurants, and all schools will be closed, public transportation will run on a holiday schedule, and most bakeries and supermarkets will close early (if they're open at all).
---
Spring Street Festival (Le Printemps des Rues)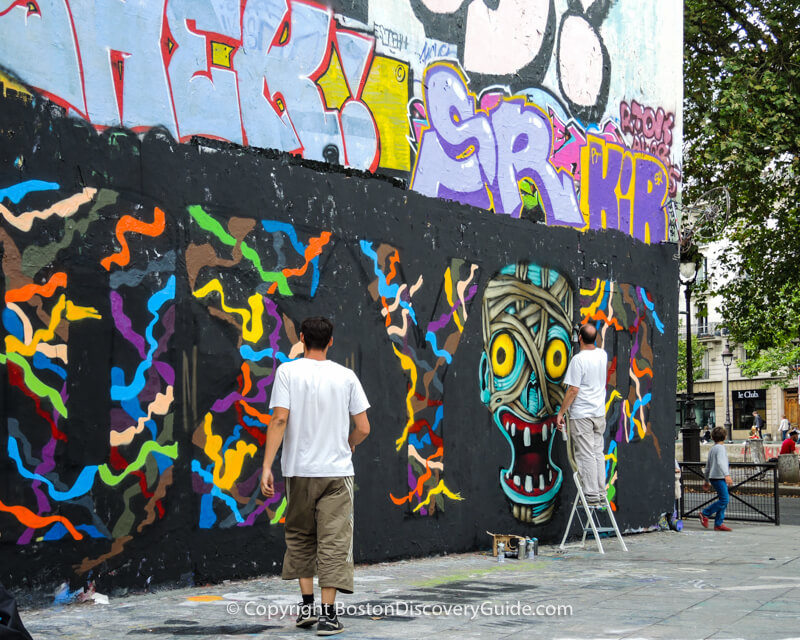 The Printemps des Rues Festival celebrates emerging artists and creations each spring with events centered around the Saint-Martin canal in the 10th arrondissement. Look for lots of innovative music, dance, comedy, theater, and art.
The festival takes place on May 29-30, and performances will take place in a variety of locations in the 10th, 18th, and 19th arrondissements - so check the Festival website for times and places. All performances are free.
---
More Fun Things to Do & See in Paris in May
Want to Save on Your Paris Hotel?
Check our tips on how to find discounts, deals, and bargains for Paris hotels. Whether you're looking for cheap accommodations or want to pay less for luxury, we'll show you how to save on hotels in Paris.
---
More Articles about Things to Do in May in Paris