Paris Events in May celebrate Mother's Day, music, and fun as flowers fill the city during this gorgeous late-spring month!
Enjoy top musicians at the Saint Germain des Prés Jazz Festival, visit the huge Foire du Trône festival that's been entertaining Parisians since medieval times, see the latest museum shows, and enjoy concerts at Sainte Chapelle and other top venues.
May starts with a public holiday - Fête du Travail or Labor Day, always on May 1st. When this national holiday falls during the week, as it does this year, you can expect most museums, stores, and many restaurants to be closed as everyone enjoys a day of leisure. Parisians usually celebrate Mother's Day on the last Sunday of May - the perfect time to do something special to honor your mom, yourself, or another special mom-like person in your life.
If you're visiting Paris in May, get ready to enjoy warm weather and have fun!
Jazz Festival at Saint Germain des Prés in Paris - 2019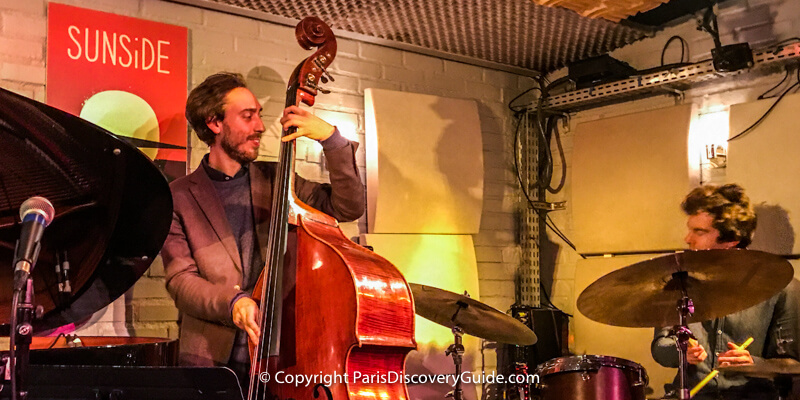 Immerse yourself in jazz during the Saint Germain des Prés Jazz Festival when talented musicians perform in unique theaters, clubs, and historic spaces in the Paris neighborhoods where jazz first blossomed almost a century ago. With multiple concerts and venues to choose from each evening, plus conferences and conversations, exhibits and Champagne, you'll get to celebrate the best of Paris jazz.
When: May 16 - 27, 2019
Where: Odeon Theatre, Cluny Museum Frigidarium, Sunset-Sunside Jazz Club, Sorbonne, plus more clubs and cool venues in the 1st, 5th, 6th, and 14th arrondissements
Admission: Many performances and other events are free; some concerts require tickets but prices are reasonable
More Information & Complete Schedule: Saint Germain des Prés Jazz Festival website
Mother's Day in Paris 2019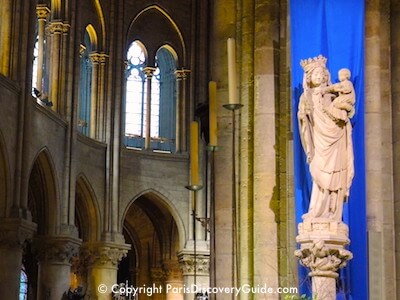 Mother's Day (La Fête de Mère) takes place on Sunday, May 26. Traditional French Mother's Day celebrations involve flowers, food, and perhaps an outing - anything from a picnic in a park to a river cruise to a day trip.
Flowers are easy. Florists in every Paris neighborhood offer lovely choices ranging from simple pots of blooming bulbs to lavish bouquets.
Mother's Day brunch, lunch, or dinner in a restaurant takes more planning, as they'll be packed. Make reservations in advance, or if you're visiting and not sure where to go, ask your hotel concierge for help.
More about how to celebrate Mother's Day in Paris
May Concerts in Paris - 2019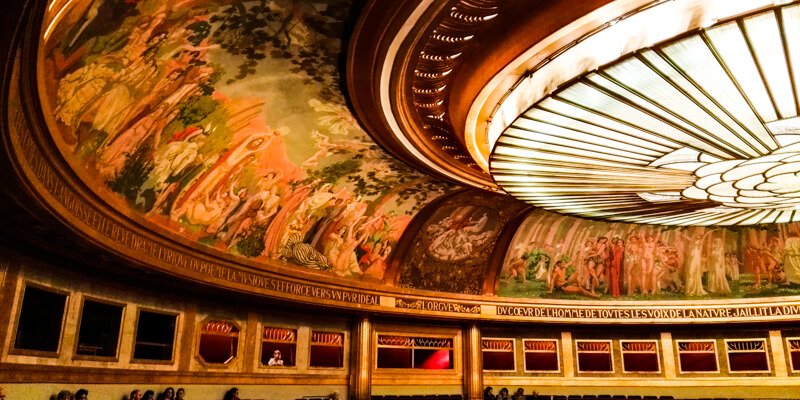 More Paris concerts during May
Paris Museum Shows - Top Events during May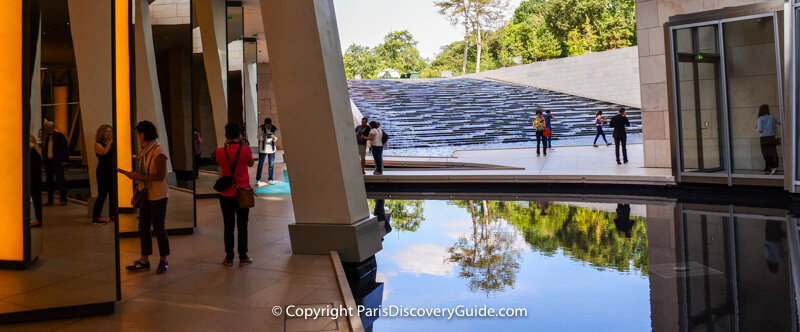 In Tune with the World
@ Fondation Louis Vuitton, April 11 - August 27, 2018 - Modern and contemporary works by 25 French and International artists exploring the place of humans in the universe through a reappropriation of founding myths. Tickets 16€.
Location: 8, Avenue du Mahatma Gandhi in Bois de Boulogne (16th arr). Getting there: Take the Fondation shuttle (2€) from Avenue de Friedland near the Étoile Metro exit; copy of your Fondation ticket booked online in advance required to board the shuttle
Chagall, Lissitzky, Malevich: The Russian Vanguard at Vitebsk (1918-1922)
@ Centre Pompidou, March 28 - July 16, 2018 - This major exposition of the post-World War I Russian avant-garde brings together 250+ works to explore the contributions of its three most emblematic figures. Tickets 14€.
Location: Place Georges Pompidou (4th arr) - Rue Beaubourg between Rue Rambuteau and Rue Saint-Merri. Nearest Metro: Rambuteau
Mary Cassatt: An American in Paris 
@ Musée Jacquemart-André, March 9 - July 23, 2018 - This Mary Cassatt restrospective brings together works from top American and French museums. Tickets 13.50€
Location: 158 Boulevard Haussmann, 8th arr. Nearest Metro : Saint Philippe du Roule
Franz Marc and August Macke, 1909-1914 - 2019
@ Musée de l'Orangerie, March 6 - June 17, 2019 - This exhibition brings together two major figures from the hedonist, colorful, and seductive side of German Expressionism and explores the influence of French artists such as Cézanne, Van Gogh, and Gauguin as well as the Fauvism movement on their work during this pre-World War I period. Tickets 9€; free admission when you have a Paris Museum Pass
Location: Jardin des Tuileries, 1st arr. Nearest Metro : Concorde
Paris Foire du Trone - Throne Fair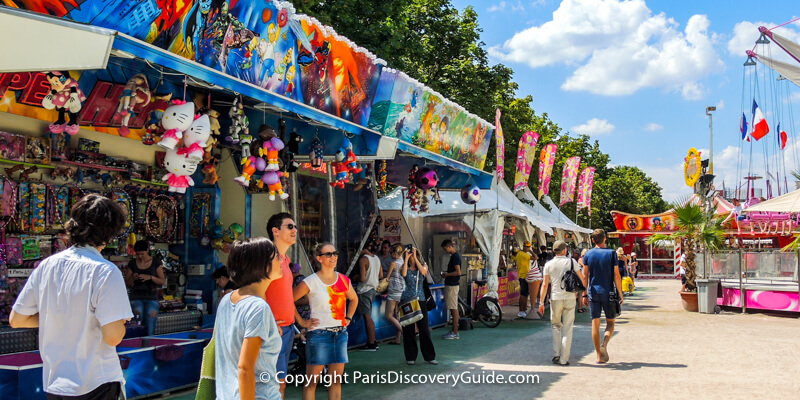 Visit Paris's huge Foire du Trône, and you'll become part of a tradition stretching back to 857 when 15-year old King Lothair established the first Fun Fair, once a festive market featuring gingerbread as a top seller and acrobats and gambling to entertain the crowds. Today, carnival rides, stuffed animals, fries, and beer rule as the fair attracts an estimated 5 million visitors during its 2-month spring season.
When: Through May 27, noon to midnight (1pm on Saturdays and the eves of public holidays)
Where: Bois de Vincennes, 12th arrondissement (Look for the fair on your right after you pass through the entrance near the Porte Dorée metro station)
Metro: Porte Dorée
Admission: Free - plus reasonable prices for food, drinks, rides, etc
More Fun Things to Do & See in Paris in May