Planning visit Claude Monet's gardens in Giverny? If so, you may be wondering: "What's the best way to get there from Paris?"
If you love Monet's famous water lily paintings, a visit to his home in the small village of Giverny located in the Normandy countryside northwest of Paris may be one the top things to do during your time in the City of Light.
From the moment Monet's estate opens to the public in late March/early April until it closes at the end of October or early November, the densely-planted gardens surrounding Monet's home and large lily pond produce a dazzling display of flowers.
With around 100,000 perennials, another 100,000 or so annuals, and rhododendrons, roses, and other flowering bushes and trees, you'll see an incredible display of flowers whenever you visit. And touring the house where Monet lived with his second wife and their eight children gives you fascinating glimpses of his comfortable furnishings, favorite art, and gorgeous French country kitchen.
Although Giverny lies 50 miles (80 km) from the center of Paris, you can travel there quickly and easily, making Monet's garden a perfect destination for a day trip - or longer.
We describe 6 different ways for you to get to Monet's garden in Giverny from Paris. We point out the pros and cons of each option so that you can decide which one works best for you.
Here's what you'll find in this article:
Top photo: Monet's home and garden in Giverny, (c) Paris Discovery Guide
Paris Discovery Guide is a reader-supported publication. When you buy through our links, we may earn a commission at no additional cost for you. Learn more
---
1. How to Get from Paris to Giverny with a Tour Group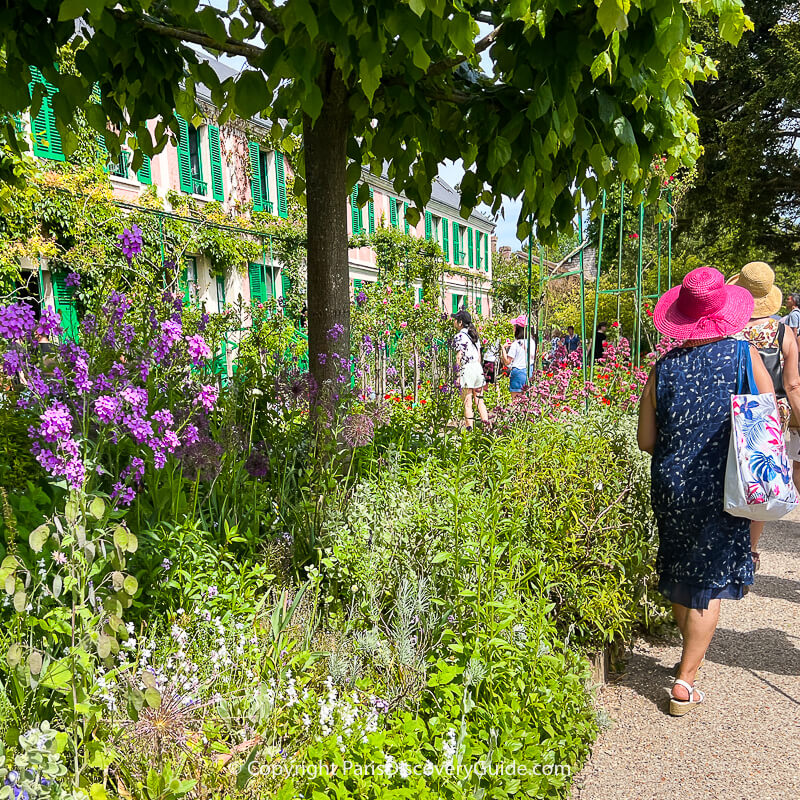 The easiest, most convenient, and by far the most popular way to get to Giverny is to join a group tour that includes air-conditioned minivan or coach transportation from Paris.
All you have to do is show up at a designated meeting spot in Paris.  For the ultimate convenience, you can even choose a private tour where you'll be picked up at your Paris hotel or apartment.
Your tour organizer handles everything else, including transportation, your ticket to the house and gardens, and priority entry through a gate available only to tour groups. The drive to and from Giverny typically takes a little more than an hour each way.
Although most tours of Giverny from Paris include information and insights from an expert guide, you'll typically explore Monet's house, gardens, and lily pond on your own, which allows you to decide how much time to spend in each area based on your interests.
If you want to make the most of your visit to Versailles while not spending (and perhaps wasting) time figuring out all the details, these transportation-included tours are the way to go.
Popular Half-Day Giverny Tours from Paris
Here are three of the most popular choices:
Giverny: Monet's Garden Half-Day Tour - Small guided group tour (up to 8 participants) - You'll visit Monet's house, gardens, and pond, Giverny village, and a graveyard with Monet's tomb and a moving memorial to seven British RAF airmen after the D-Day landings.
Half-Day Trip to Giverny from Paris - Large group tour to Monet's house, gardens, and pond. Choose between 2 options: 1) Tour on your own with an audioguide (less expensive), or 2) Guided tour (more expensive).
Private Tour of Monet's Gardens & House with an Art Historian - Private tour for 2-8 participants with pickup/dropoff at your Paris hotel with a professional licensed guide who is also a historian; per-person cost drops as group size increases. You'll also explore the village of Giverny.
Best Full-Day Giverny & Versailles Tours
These tours combine a half-day visit to Monet's estate and gardens in Giverny with a half-day at the Palace of Versailles, where you'll see the Hall of Mirrors and the Royal Apartments. Depending on which tour you choose, you'll also get to spend time in Versailles' gardens and perhaps see a Musical Fountains or Musical Gardens show.
Here are three popular choices:
Giverny & Versailles Palace Guided Day Trip - Medium-sized guided group tour (up to 20 participants) - You'll visit Monet's house and gardens in Giverny, and Versailles Palace and gardens which special Musical Fountains/Gardens show included if you choose a date when it's available. You'll have time to get lunch on your own.
Giverny & Versailles Day Tour with Lunch - Medium-sized guided tour group (up to 14 participants) - You'll visit Monet's house and gardens in Giverny, and Versailles Palace and gardens which special Musical Fountains/Gardens show when available on your chosen date. Includes a 3-course lunch with wine in a scenic mill house restaurant near Giverny.
Giverny & Versailles Private Full-Day Trip - Private VIP tour of Giverny and Versailles (including the gardens and a show when available) for your family or friends group of up to 8 people, with pickup/dropoff at your Paris hotel or apartment.
A Fun Giverny Tour by Bike
Monet's Garden Bike Tour - This full-day excursion combines a 3 mile (5k) bike ride from the town of Vernon with a visit to Monet's estate. Along the way, you'll stop at an outdoor market for food and enjoy a picnic in a park. Later, you can explore the village of Giverny. Includes transportation from Paris to Giverny and back to Paris.
Find more Giverny & Giverny-Versailles tours from Paris
Pros & Cons for Getting to Giverny With a Tour Group
Pros:
Easy & Convenient - The tour operator takes care of transportation, your tickets to Monet's estate and Versailles, if you choose a combo tour, any other tour inclusions (bikes, lunch, separate Versailles garden tickets, audioguides, etc.), and fast entry through the tour-only gate available only to tour groups. All you have to do is show up at the meeting location - and if you choose one of the VIP tours with pickup/dropoff included, you don't even have to do that.
Saves Time - One of the quickest ways to get to Giverny, plus the Giverny-Versailles full-day tours are ideal when you want to visit both but don't have much time in Paris.
Cost - Wide range, which lets you find a tour to fit your budget. The cheapest tour, which is the Half-Day Trip to Giverny from Paris tour's audioguide/tour-on-your-own option, costs only a little more than going on your own by train and taxi.
Cons:
Time Constraints - You will have only a specific amount of time at Giverny (and other activities, depending on which tour you choose).
Cost - Higher (in most cases) than going by train or a rideshare.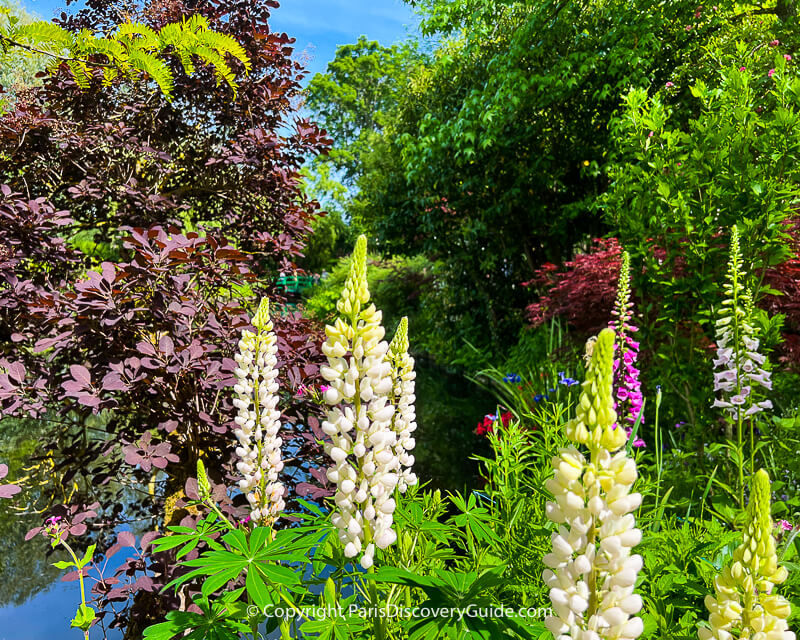 ---
Prefer to Go to Giverny on Your Own?
The rest of this article describes how to get from Paris to Giverny on your own by train (the most popular choice), bike, car, and a few other options. Here are a couple of things you might want to know:
How to Get Admission Tickets for Monet's House & Gardens
The Monet Foundation, which operates Monet's estate, offers two options:
At the entrance (you may have to wait in line for awhile): 11€
Online in advance (dated, timed tickets - they cost 1€ more, but you'll usually save time by not having to wait in the ticket line) on the Foundation's website (in the "Practical Information" section - click the Admission link): 12€
Reduced rates are available for students, children under 7 (free), and people with disabilities.
Local Tour Guides for Monet's House & Gardens
Even though Giverny is easy to visit on your own, an experienced tour guide can provide information and insights to give you a deeper appreciation of what you're seeing. Here are some local options:
Private Giverny Guides
In the Practical Information: Admission section on the Foundation's website, you'll find a link to a list of private guides based in Giverny. The list indicates languages spoken and contact information so that you can get more details.
Group Tours
Meet up with these local guides in Giverny village near Monet's estate:
Monet's House & Gardens Guided Tour - Small group tour (up to 9 people), 1.5 hours, includes your priority entrance ticket. What makes this tour unique is that it starts with Monet's water lily pond garden, where your guide will point out the different features of the garden and the flower species blooming in it. You'll also visit Monet's house. At the end, you can stay as long as you want to explore more on your own.
Monet's House & Garden Skip-the-Line Tour - 2 hours, includes your priority entrance ticket. Your guide will show you a bit of Giverny village, tell you about Monet's role in leading the Impressionist movement, and describe the other artists such as John Singer Sargent, Mary Cassatt, and Paul Cezanne who he inspired to form an artists' colony in Giverny. You'll explore the gardens and pond, as well as his house.
---
2. How to Get from Paris to Giverny by Train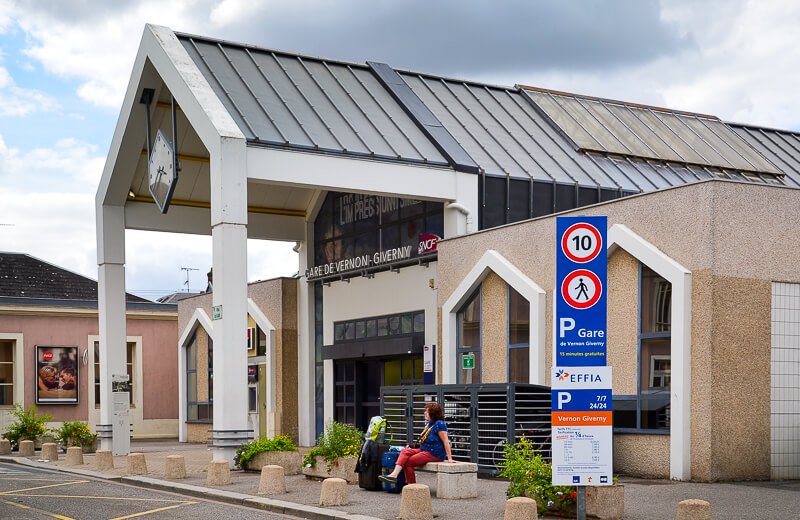 The second most popular option for getting to Giverny from Paris is take a train in the SNCF network, the French national railway company (Société Nationale des Chemins de Fer Français) for providing rail service across France.
Giverny, a tiny village with barely more than 500 residents, does not have direct train service from Paris, but you can take a train from Paris's Gare Saint-Lazare (memorialized by Monet in his "Gare Saint-Lazare" series of a dozen oil paintings) to Vernon, a somewhat larger town located only 3 miles (5 km) from Giverny.
To get to Giverny from the Vernon station, Gare de Vernon-Giverny, you have several options: a seasonal shuttle bus (navette, in French), taxi, biking, or walking.
The total time to get from Paris to Monet's estate at Giverny is about 1.5 hours, assuming you take the shuttle bus.
How to Get Your Train Tickets from Paris to Vernon
Here's how to get Vernon by train from Paris, and then to get to Giverny by shuttle bus, taxi, biking, or walking.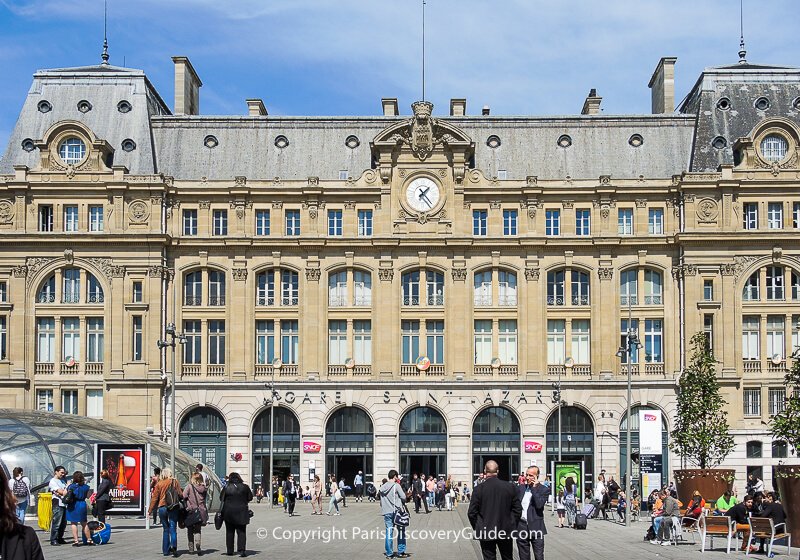 Trains to northwestern France including Normandy, where Vernon is located, depart from Gare Saint-Lazare (this is also where you can catch trains to Versailles and the Normandy D-Day beaches).
Although Saint-Lazare is the second-busiest of Paris's seven big rail stations serving long-distance trains to other parts of France, commuters from nearby suburbs account for the vast majority of the station's almost half-million daily passengers.
You can either buy your train tickets from a ticket machine in Gare Saint-Lazare on the day you travel or in advance, or get them online in advance.
Transit time varies based on time of day and type of train (several types serve this route), but typically is less than one hour. Trains run every hour or two throughout much of the day.
How to Buy Your Giverny Tickets at the Station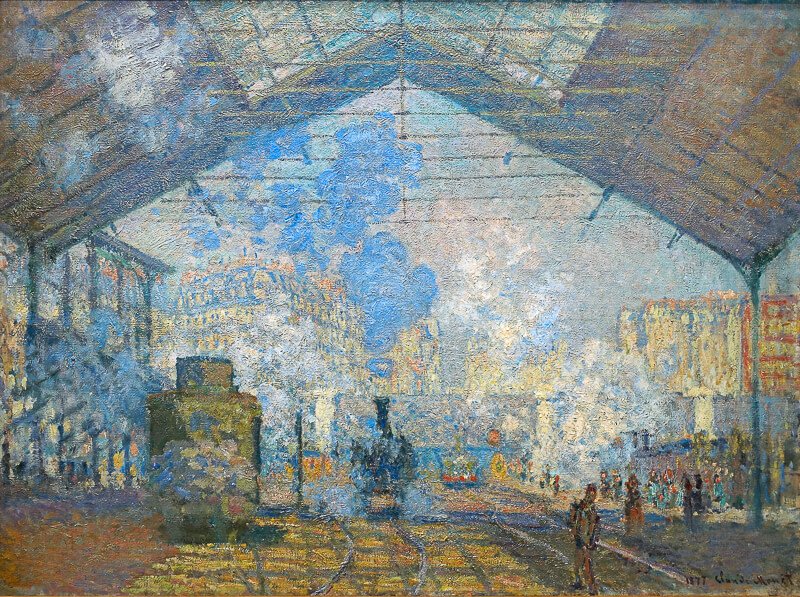 Navigating around Gare Saint-Lazare can seem a little tricky at first because of the 3-level shopping center stretching across one side of the building - very convenient for the suburban commuters, but a bit confusing if you're familiar with the station.
But actually, all you need to do when buying your tickets to Vernon, whether you enter at street level or take the subway or RER to the station is to look for and then follow the "Grande Lignes" (long-distance trains).
Once you reach the Grandes Lignes part of the departure concourse, you'll easily spot the ticket machines. Ignore the ones labeled "Ile de France" and look for a machine for "Grandes Lignes."
Find details about getting your Vernon train tickets at Gare Saint-Lazare
Why to Keep Your Train Tickets Until After You Arrive
Important Tip: Keep your ticket once you board the train at Gare Saint-Lazare because you'll need to show it to the conductor during your trip, and possibly insert it into a turnstile in order to exit the Vernon station.
If you don't have your ticket when you exit, you'll most likely be fined.
---
How to Get from Vernon to Giverny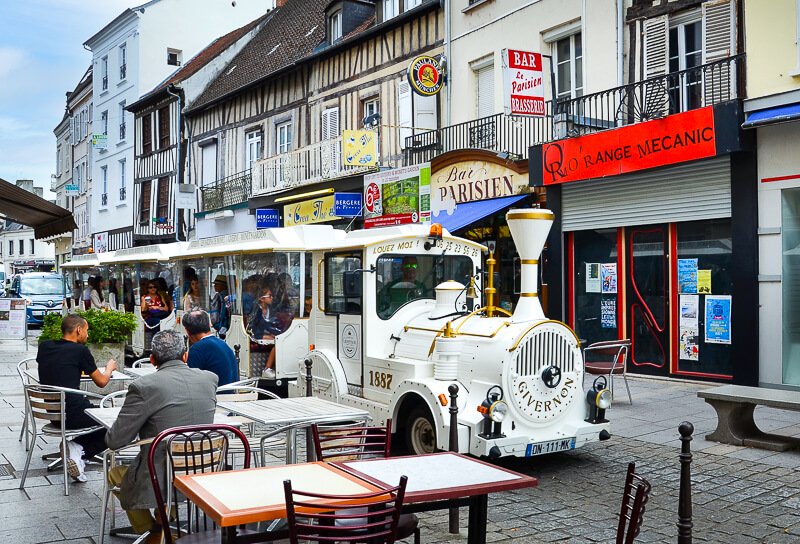 Once you get off the train at the Vernon station, Gare de Vernon-Giverny, you have four choices for traveling the 3 miles (8 km) to Giverny: a seasonal shuttle bus (navette, in French), taxi, biking, or walking.
Here's what you need to know about each option:
Shuttle Bus from Vernon to Giverny
A shuttle bus designed to look like a small train runs to and from Giverny during the months when Monet's house and gardens are open for touring - late March/early April through late October/early November. The shuttle drops you off in the Giverny parking lot. Currently, the fare is 5€ each way, and 10€ for a round-trip ticket. You pay the driver directly, in cash, or with credit card inside the station (look for shuttle or Agence SNgo! signs).
The shuttle bus departs across from Gare de Vernon-Giverny about 20 minutes after the arrival of each train from Paris during hours when Monet's estate is open, and departs Giverny in time to arrive at the Vernon station about 20 minutes before trains depart for Paris. The ride each way takes about 10-15 minutes.
Here are the current schedules to give you a sense of availability - but always confirm times with the Normandy transportation network in case of updates (on the home page, click Giverny Shuttle).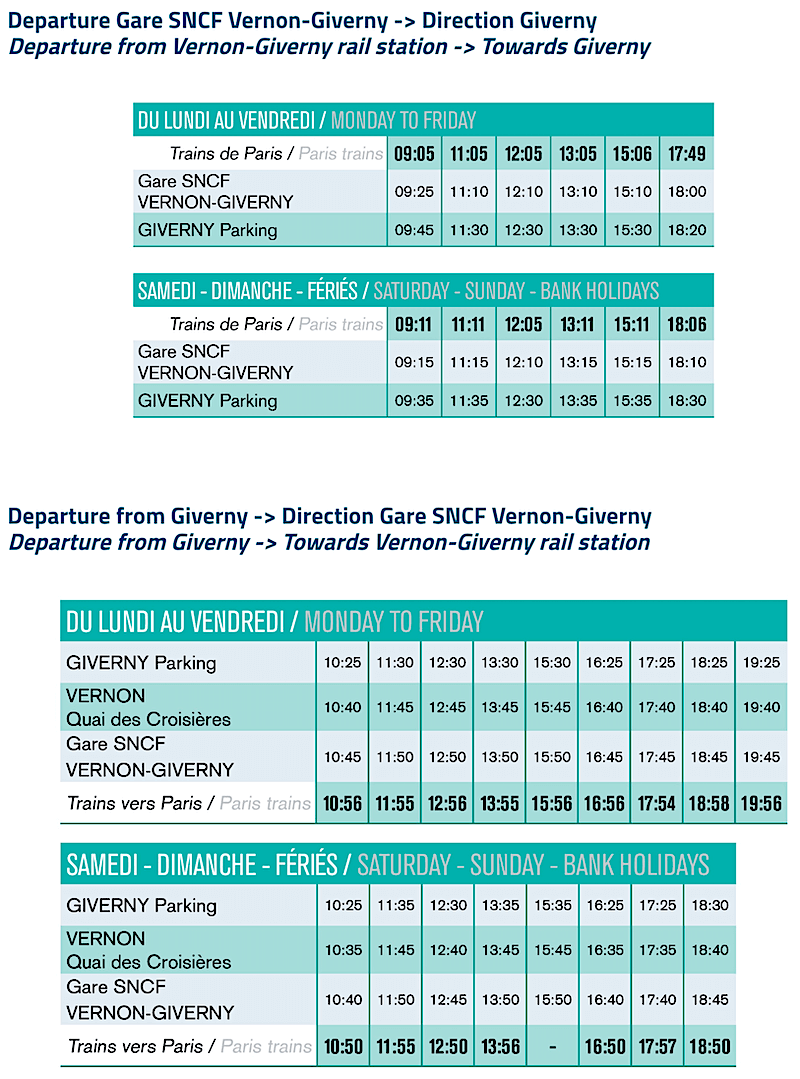 Taxi to Giverny
As you exit Gare de Vernon-Giverny, you'll probably see a couple of taxis waiting for passengers by the station. One-way fares to Monet's estate are about 15€ - 20€ for up to 3 people.
The biggest advantage of taking a taxi to Giverny is that you can grab one as soon as you exit the station, rather than wait 15-20 minutes for the shuttle to depart.
If you're traveling with one or more other people, the taxi will cost you the same or less per person than the shuttle.
However, getting back to the station by taxi is trickier. Your best bet is to ask the driver for a phone number to call for pickup. If that doesn't work out, you can always take the shuttle bus back to Vernon.
Walking to and from Giverny
The 3-mile (5 km) walk to Giverny will take you about an hour or a little less, depending on how fast you walk, and you'll most likely enjoy the scenery along the way - especially since much of the walk is along the Seine River. You'll see plenty of signs from the station, so just follow the walking path.
Walking can be a wonderful choice if you arrive on an early train, the weather is lovely, and you like to walk. Plus, you'll save a few euros. And you can always take the shuttle bus back if you don't want to walk both ways.
Biking to and from Giverny
When you get off the train from Paris and come out of the station, look for bike rental signs.
One of best full-service places, with is highly rated, is the Givernon Rental Station at 39 Rue Emile Steiner, located about half a block from the train station. The long row of bikes parked in front of the shop is easy to spot. Your rental includes a helmet, lock, and, if you rent an electric bike (or scooter) for more than a day, a charger. Rates are very reasonable, and you can reserve on their website.
After your visit to Monet's house and gardens, you can explore Giverny, Vernon (which has some interesting attractions), and the surrounding areas using the good bike paths and enjoying the fairly flat terrain.
Pros & Cons for Getting to Giverny by Train
Pros:
Flexibility - You can spend as long as you exploring Monet's home and gardens, Giverny village (full of nice cafes, boutiques, artist studios), and even Vernon (attractions include a medieval castle, a 10th century romanesque/gothic church depicted in several of Monet's paintings, a small museum with some Impressionist paintings, including a couple by Monet, and picturesque half-timbered dwellings dating back to the Middle Ages). With so much to do and see in the area, you may even want to stay overnight in one of the many small inns and B&Bs - which are much cheaper than most Paris hotels.
Cost - May be cheaper than a transportation-and-ticket-only tour, depending on when and where you buy your train tickets, and how you get to Giverny (more about that in a moment).
Cons:
Somewhat More Complicated than Going on a Tour from Paris - Although getting to Giverny from Paris and back is not particularly complicated, there are more steps involved than just joining a tour, particularly since you should book tickets to Monet's estate in advance during the busiest season (mid-May - early September).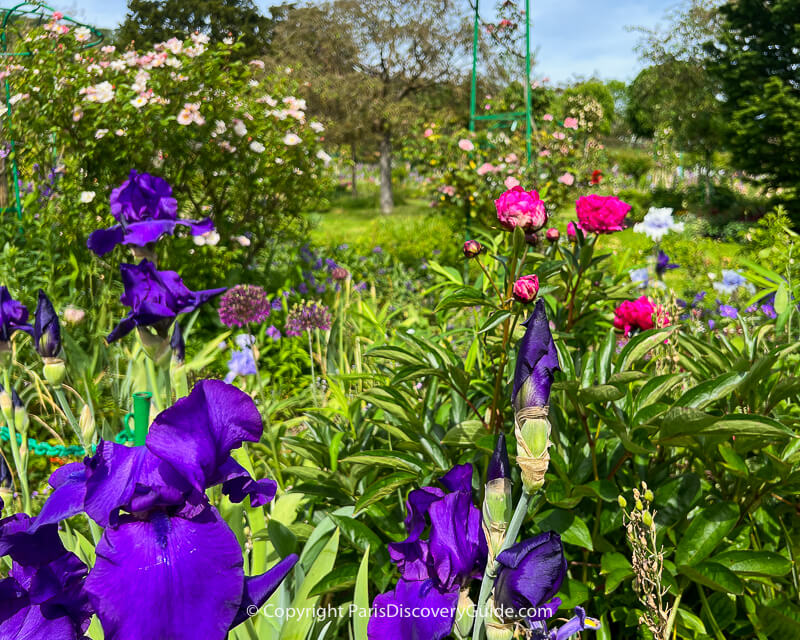 ---
3. How to Get to Giverny from Paris with a Ride Share
A ride share - basically, a car-pooling service where you catch a ride from Paris to Giverny in exchange for a few euros with someone who is driving on the same day/time you want to go - is an option you may not have considered.
France's ride-share app, BlaBlaCar (which also operates in other European countries and UK) makes this easy.
You simply go to the app, enter your departure point, your destination, and travel date. A list pops up showing available offers from drivers who have room in their car one or more passengers. If buses are available for your route (which they are not from Paris to Giverny), you'll see them too. Click on the offer you like, and you'll see additional details, such as the meet-up location.
Paris to Giverny (or Vernon) is not a particularly popular route for non-tourists, but if the stars align and you see an offer, a ride share can be an interesting experience and will save you a few euros in transportation costs compared with going by train. Unless you get very lucky, though, you'll probably need to take the train back to Paris.
And of course, similar to going by train, you'll need to get your own admission ticket to Monet's estate.
---
4. Can You Go to Giverny from Paris by Bike?
Yes, although not for a day trip.
According to France Velo Tourism (velo means "bicycle" in French), the go-to resource for traveling by bike in France, and whose excellent website you'll certainly want to consult, the fastest route (55 miles/88.5 km over mostly roads vs bike paths) will take you almost 7 hours each way.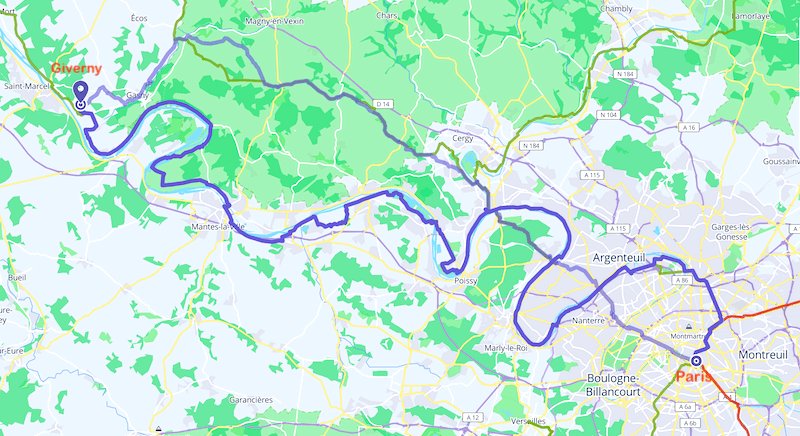 If you ride on bike paths 97% of the time, the route extends to 90 miles (145 km), which France Velo suggests staging over the course of 3 days.
Probably neither option will appeal to you if you're the average Paris visitor who just wants to spend a few hours strolling around Giverny - but if you love long-distance biking and have time to make this trip, you'll certainly have some memorable experiences.
---
5. When to Consider Going to Giverny by Car
Normally, as a Paris visitor, there's no point in being burdened with a car in Paris because a) driving in the city can be a nightmare if you're not used to it, and b) parking can cost more than dinner, and c) paying for petrol in Europe can quickly flatten your wallet. Getting around Paris on the metro or walking or even the occasional taxi or Uber is much faster, cheaper, and easier.
Even renting a car just to get from Paris to Giverny and back doesn't makes sense in terms of saving time or money, especially since the process of picking up/returning your rental car can be a hassle. If your goal is private car transport, ask the concierge at your hotel to recommend a reliable chauffeured car service.
But if you are planning to make a trip outside the city to multiple destinations including Giverny, then renting a car can make a lot of sense.
If you are considering doing this, here are a couple of tips:
First, instead of renting a car in Paris and having to battle city traffic on congested roads, consider picking up your rental in the nearby business district of La Défense, easily reached on Line 1 of the metro. You'll find European, British, and even American car rental agencies such as Avis and Budget. From La Défense, you'll have an easy drive to Giverny and beyond.
Second, consider spending the night at one of the wonderful hotels or apartments in Giverny (make sure you choose one with onsite parking) where both hotel rates and parking fees are significantly cheaper than in Paris. This also gives you more time to explore Monet's charming home and magnificent gardens at your own pace.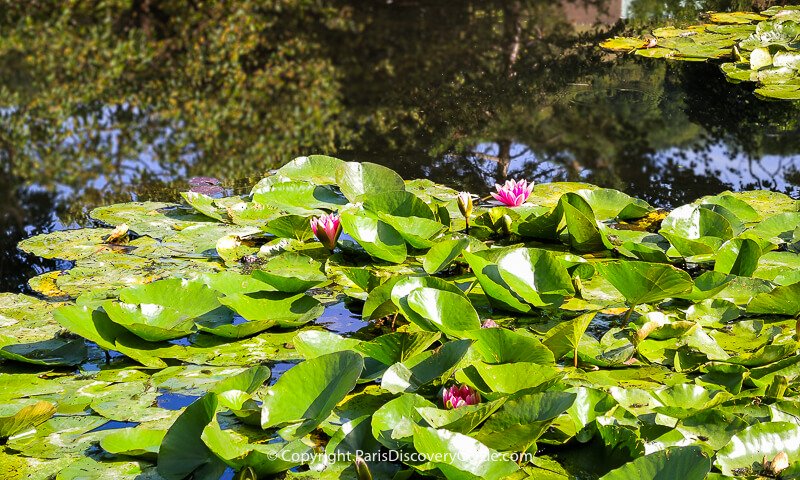 ---
6. Why Getting to Giverny by Bus, Uber, or Taxi Is Not a Good Idea
Public bus service from Paris to Giverny (or Vernon) is not available.
Should you consider using a ride-share service such as Uber or a taxi for getting to Giverny from Paris?
No, not unless you don't mind paying as much as 200€ or even more Euros each way, finding an Uber or taxi willing to take you (at 50 miles/80 km, most will not), and risking getting stuck there if you can't find a ride service willing to take you back to Paris.
If you want to travel to Giverny by car, you're much better off finding a chauffeured car service to take you. Ask your hotel concierge to make arrangements for you. Most hotels have trusted car services that they're happy to recommend. You'll still have to pay a lot, but you'll be assured of not getting stuck in Giverny and scrambling to find overnight accommodations.
---
More Articles about Visiting Giverny & Other Day Trip Destinations