2nd Arrondissement Paris hotels put you in the ideal spot to explore and enjoy the eclectic mix of attractions and fun places to explore in this small, often-overlooked district convenient to the Louvre Museum, the Palais Garnier Opera House, Galeries Lafayette and other top shopping destinations, and the Marais and Les Halles neighborhoods next door.
Staying in this area also gives you easy access to discover the 2nd District's own attractions: the city's biggest concentration of 19th century glass-roofed covered passages, a cool medieval tower, the many popular Asian restaurants along Rue Sainte-Anne, the fascinating shops along the Rue Montorgueil market street, and the newly-cool Sentier neighborhood.
Keep in mind, the 2nd arrondissement is also very close to the Seine - about a 5-minute walk if you can avoid getting distracted along the way by all the many interesting things to see (admittedly, that's almost impossible).
Once you're there, hop on a river cruise, or walk across the Pont Neuf bridge to see Sainte-Chapelle and Notre Dame on Île de la Cité or continue across to the Left Bank.
Find best things to do & see in Paris 2
Our recommendations for where to stay in Paris's 2nd arrondissement include a variety of budget-friendly 3-, 4-, and 5-star 2nd arrondissement hotels and apartments featuring wonderful terraces, views, and other special amenities.
You're sure to find the perfect place for your stay in Paris!
Top photo: Ornate Grands Boulevards architecture in Paris's 2nd arrondissement, (c) Paris Discovery Guide
Paris Discovery Guide is a reader-supported publication. When you buy through our links, we may earn a commission at no additional cost for you. Learn more
---
Where to Stay in Paris 2nd District
Edouard 7 Paris Opéra
★★★
★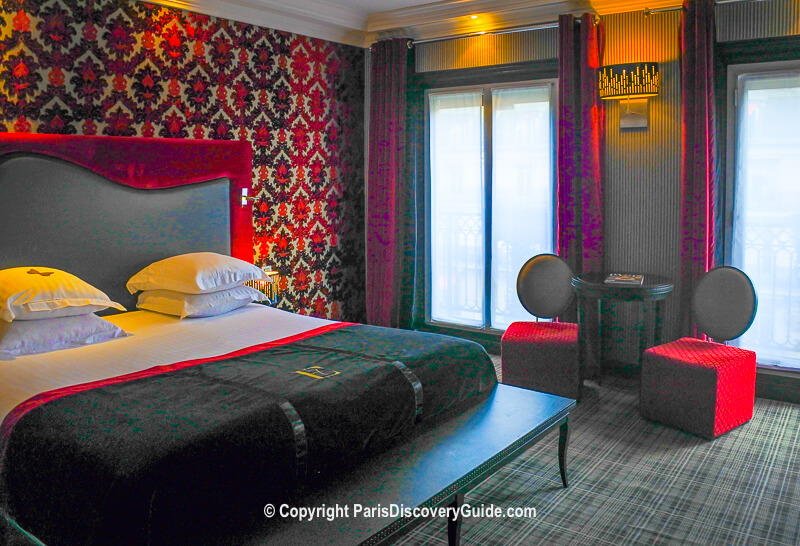 39 Avenue de l'Opéra, 2nd Arrondissement
An elegant lobby, onsite dining in the E7 Restaurant, fitness room, 69 attractively furnished guest rooms and suites, and small balconies with views of Palais Garnier are just a few of the things you'll love at Hôtel Édouard 7, located in a beautiful Haussmannian building on Avenue de l'Opéra. You can expect wonderful service and request a street-facing guestroom with balcony without concerns about noise, thanks to the hotel's excellent soundproofing.
You really can't beat Édouard 7's location near Garnier Opera, the Louvre, the Sainte-Anne Asian restaurant district, and shopping Galeries Lafayette, Printemps, and surrounding stores. A few blocks behind the hotel are a number of acclaimed small theaters including Théâtre Édouard VII (10 Place Édouard VII) and the popular l'Olympia Paris (28 Boulevard des Capucines) concert venue. Place Vendôme and the Rue Saint-Honoré shopping district are also nearby.
---
Kimpton - Saint Honoré Paris
★★★
★
★
27 Boulevard des Capucines, 2nd Arrondissement
Behind the Art Nouveau façade of its 1917 building, the new and luxurious 5-star Kimpton St Honoré Paris offers everything you could want for your stay in Paris: a superb location about a 2-minute walk from the Palais Garnier Opera House and famous fashion designer boutiques, chic Art Deco-inspired decor by acclaimed Paris-based designer Charles Zana in its 123 guest rooms and 26 suites, a gorgeous sun-lit patio outside its onsite restaurant, and a full-service spa with a heated indoor swimming pool and gym.
But perhaps best of all, the hotel's rooftop garden and bar offer spectacular 360-degree views of the city's most famous monuments and attractions. There's nothing else like it in Paris.
---
citizenM Paris Opera
★★★
★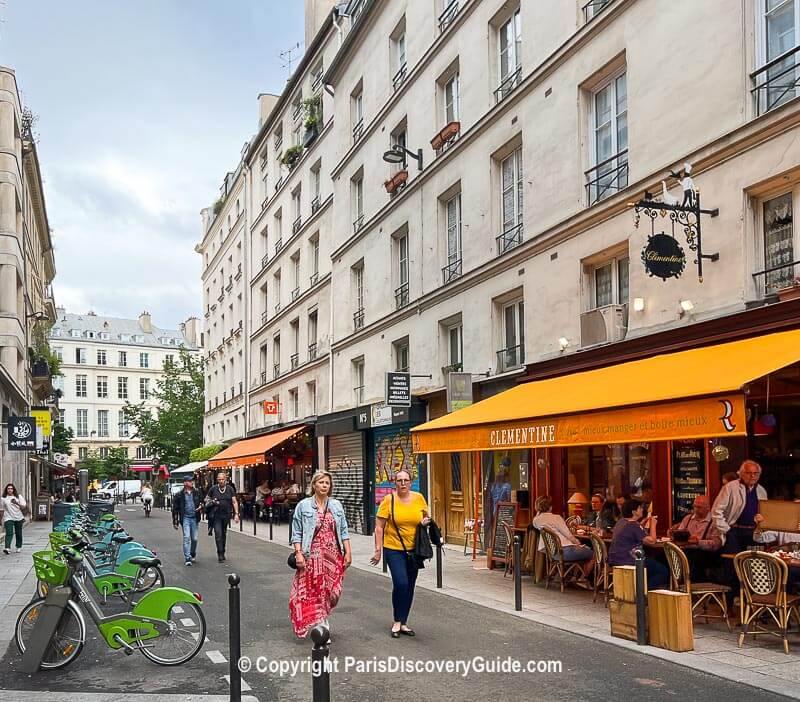 18 Rue du Croissant, 2nd arrondissement; nearest metro: Bourse
The new 4-star citizenM Paris Opera delivers affordable value in a fascinating part of Paris's 2nd arrondissement near the Opera Garnier (Paris Opera House), 19th century Passage du Panoramas, and the buzzy Sentier neighborhood where you can explore all the trendy bars and bistros.
You're also just a short walk to Galeries Lafayette and Au Printemps, the Louvre, Palais Royal Garden, Pompidou Center, and the Marais. With the Bourse metro station nearby and 2-3 others within a 5-minute walk, you can easily get to other parts of Paris as well.
As at other citizenM hotels, you'll find the brand's usual mix of affordable luxury: compact minimalist rooms paired with desireable amenities including comfortable king-sized beds, air conditioning, appealing public spaces filled with comfy sofas, an onsite bar and restaurants, and rates on the cheap end of the spectrum for 4-star hotels in Paris.
---
Golden Tulip Opera de Noailles
★★★★
9 Rue de la Michodière, 2nd Arrondissement
You'll have the Paris Opera House (Palais Garnier), Galeries Lafayette and Printemps, and the luxury jewelers near Place Vendome practically at your doorstep when you stay at the beautiful 4-star Golden Tulip Opera de Noailles, and the Louvre Museum and Tuileries Garden are only about a 10-minute walk away.
Several metro lines at the nearby Quartre Septembre and Opera stations give you easy access to the rest of Paris.
This family-owned and run hotel features interesting and sometimes quirky art throughout its public spaces, comfy beds and contemporary furnishings in its guestrooms (some with balconies), a small fitness room and sauna, and a warm ambiance combined with excellent service.
Traveling with family or friends? Book one of the family rooms with accommodations for four.
---
Hotel Bachaumont
★★★★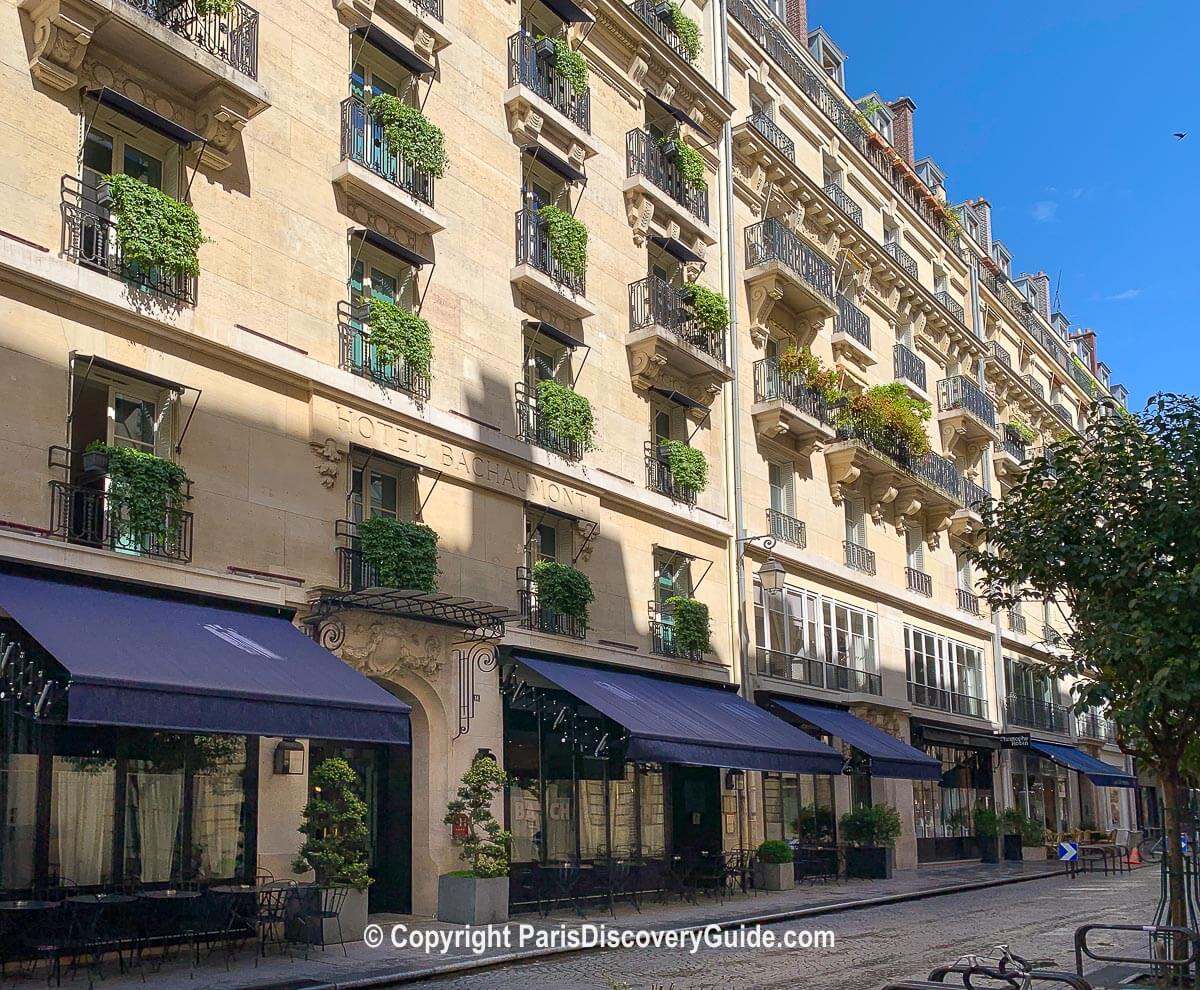 18 Rue Bachaumont
Located on a quiet side street but just half a block from the pedestrian-only Rue Montorgueil market street, 4-star Hotel Bachaumont offers luxurious decor with an Art Deco vibe, gracious public areas, comfortable beds in the 49 guestrooms and suites, and an onsite restaurant and bar.
You'll love strolling around the neighborhood, savoring coffee or a drink and sampling treats from the dozens (maybe hundreds?) of wonderful places to eat nearby, and exploring the famous A. Simon kitchenware store less than a block away on Rue Montmartre. Plus, the Louvre Museum, Pinault Collection at the Paris Bourse, the Marais, Centre Pompidou, the Paris Opera House, Notre Dame Cathedral, and so many other top attractions are just 5-15 minutes away on foot.
---
The Hoxton
★★★★
30-32 Rue du Sentier, 2nd Arrondissement
The Hoxton, situated in a lovely 18th century hôtel particulier (a private mansion) in the trendy Sentier neighborhood, features 172 rooms in a variety of sizes, shapes, and configurations. The building's original spiral staircases and beautiful old mosaic marble floors are stunning in public spaces, while the guestrooms feature chevron timber floors, wood paneling, high ceilings, and drop-dead gorgeous windows.
You'll find lots more to love here as well - a lovely outdoor dining courtyard, an on-site restaurant offering French-style food made from locally-sourced ingredients, and a cozy bar. You're also ideally situated when you stay here to walk to the Picasso Museum, the Louvre, the newly-glamorous Les Halles, Centre Pompidou, the Louvre, and so much more!
---
Park Hyatt Paris Vendôme
★★★★
★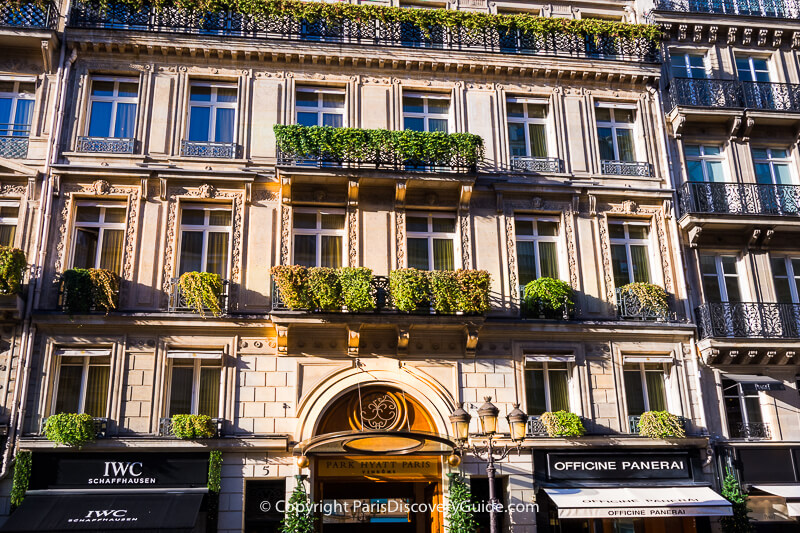 5 Rue de la Paix, 2nd Arrondissement
Whether you choose a spacious guest room or a palatial suite with terrace views of nearby Place Vendôme at the luxurious 5-star Park Hyatt Place Vendôme, you'll love the posh contemporary furnishings, deep soaking tubs in the bathrooms, heated floors, onsite spa, well-equipped fitness room, and Michelin-starred cuisine at this wonderful oasis with 156 rooms and suites located in a historic Parisian palace.
You'll also love the hotel's location surrounded by the world's best jewelers, and steps away from the designer showrooms along Rue Saint-Honoré. A 3-minute walk brings you to the Paris Opera House (Opéra Garnier) or Tuileries Garden, and in just a couple more minutes you can reach the Louvre Museum, Seine River, and Galeries Lafayette. And during the Christmas holiday season, sparkling lights covering dozens of majestic conical trees make Place Vendôme the most magical spot in Paris.
---
Hotel du Sentier
★★★★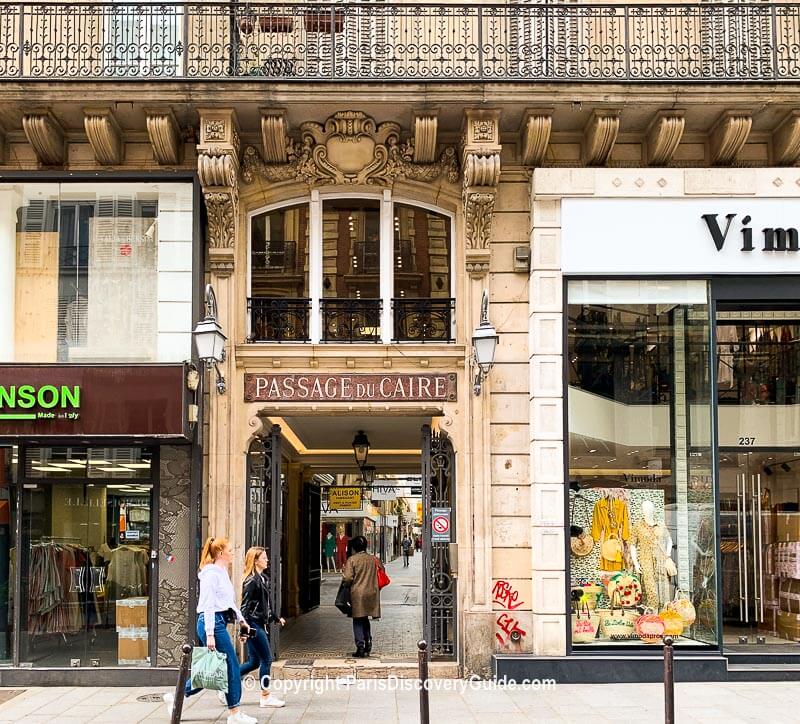 2 Place du Caire, 2nd arrondissement
Located at the entrance to Paris's oldest covered arcade, Passage du Caire, the new 4-star Hotel du Sentier features 30 beautifully designed guest rooms including some upper floors overlooking the glass-roofed passage. For a special treat, book one of the spacious top-floor rooms with rooftop terraces overlooking Paris rooftops. All guest rooms feature beautiful wooden floors, marble bath rooms, fast wifi, air conditioning, and plush beds - "quiet luxury" is the theme here .
A small onsite brasserie serves bistro-type fare throughout the day, plus the surrounding neighborhood is considered a foodie paradise, with the famous food streets Rue de Nil and Rue Montorgueil about a 1-minute walk away.
A 5-10 minute walk will get you to the Grand Rex movie theater (the largest in Europe!), Les Halles, the Musée des Arts et Métiers, and the Grevin Wax Museum, and you can easily (15 minutes or less) walk to the Louvre Museum, Centre Pompidou, and Palais Garnier (Paris Opera House).
---
"Free as a Bird" Apartment near Avenue de l'Opéra in Paris 2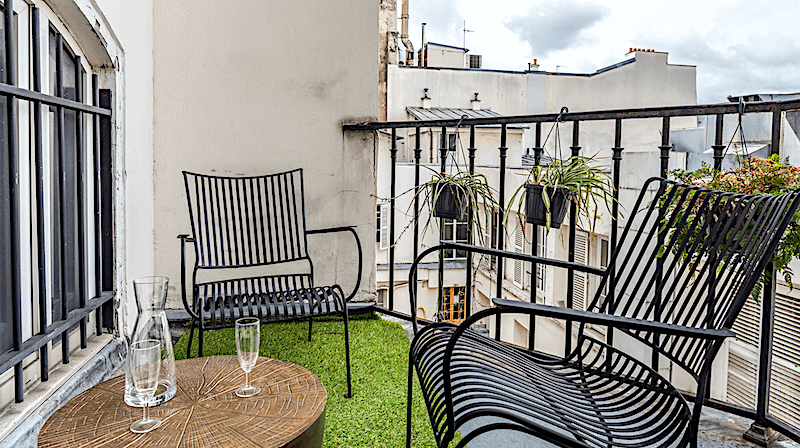 Book a stay in the nicely decorated "Free as a Bird" apartment offered by Plum Guide, and you'll be only about a 3-minute walk from Opera Garnier. Fantastic shopping along Rue de l'Opera, the fascinating Galerie Choiseul, and Rue Sainte-Anne will be at your fingertips, plus Galeries Lafayette, Place Vendôme, Palais Royal Garden, and the Louvre Museum are also nearby. Gracious Haussmannian buildings with street-level stores and residences on upper floors line the apartment's neighborhood, placing you in one of the most convenient Right Bank spots, yet you'll enjoy the tranquility of a quiet location.
This 1-bedroom apartment sleeps up to 3 people, and features a comfortable bed and seating combined with charming vintage furniture. Sit on your balcony with a glass of wine overlooking the building's courtyard, and you'll never want to leave.
---
Hôtel des Grands Boulevards
★★★★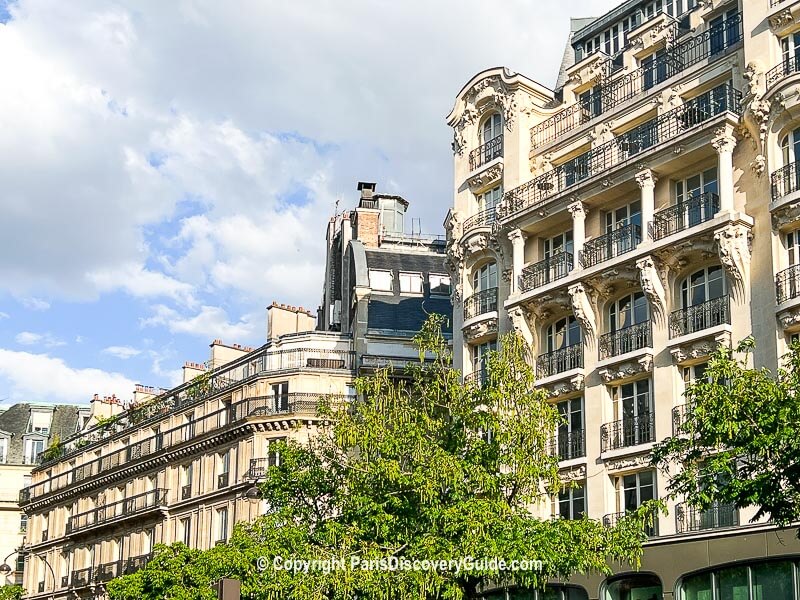 17 Boulevard Poisonniere, 2nd Arrondissement
You're sure to love the stunning views from Hôtel des Grands Boulevards' leafy rooftop terrace bar, but there's plenty more to enjoy here as well: the lighthearted mix of Louis XVI-meets-21st-century-chic in the 50 guestrooms and public spaces, the excellent onsite restaurant, and even a secret garden along the passageway leading to the hotel's elegant 18th century building.
The hotel's Sentier location puts you close to all the lively restaurants and night spots in this newly hip 2nd arrondissement neighborhood. Just a short walk takes you to the Paris Opera House (Opéra Garnier), Musée Grévin (wax museum), and the famous department stores and smaller boutiques lining the "grand boulevards" created after Emperor Napoleon III ordered urban planner Baron Haussmann to modernize the city in the mid-1800s.
---
Hôtel Baudelaire Opera
★★
★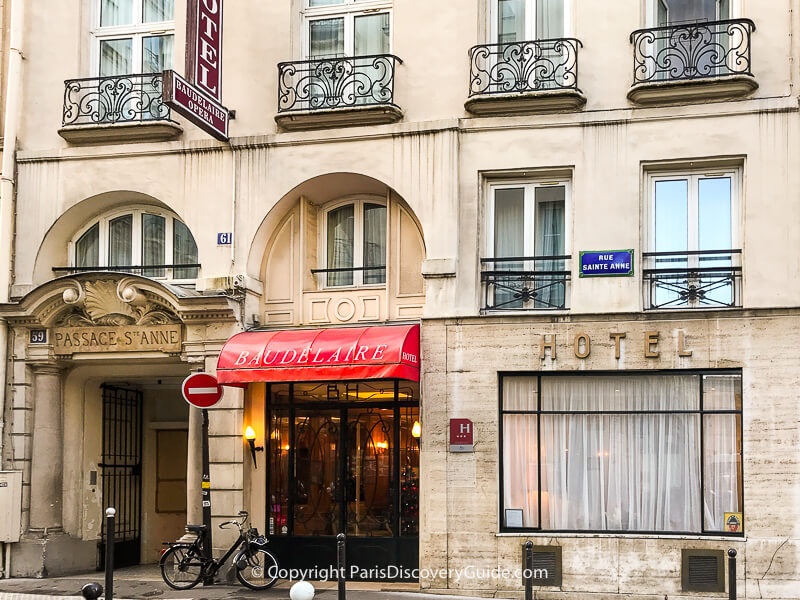 61 Rue Sainte-Anne, 2nd Arrondissement
Located next to Passage Saint-Anne (which connects to Passage Choiseul) in a 17th building where French poet Charles Baudelaire lived for a few months in 1854, 3-star Hôtel Baudelaire Opera features a lovely spiral staircase (plus a small elevator) and small but nicely furnished guest rooms.
The hotel serves breakfast, but you'll find so many choices as well in the immediate neighborhood - including a Starbucks if you're craving American coffee.
Although the hotel does not have air conditioning, you may feel that the attractive rates in this generally expensive part of the city more than compensate.
The location is superb: very close to the Palais Garnier opera house, Galeries Lafayette and other wonderful shopping, the Sainte-Anne neighborhood filled with excellent Asian restaurants, the Louvre Museum and Tuileries Garden, plus many more top attractions. Multiple nearby Metro stations give you easy access to other parts of the city.
---
More Places to Stay in the 2nd Arrondissement
Hotel Square Louvois (12 Rue de Louvois) - Modern decor with a literary theme, plus a pool with hydromassage, fitness room, spa services, and tea room make this 4-star hotel a wonderful choice near the Palais Garnier opera house, Musee Gravin wax museum, and the 2nd arrondissement's many covered passages
Hotel Malte - Astotel (63 Rue de Richelieu) - The 64 guest rooms, family rooms, and duplexes (great for friends) in this 4-star hotel near Palais Royal and Rue Sainte-Anne feature contemporary designs and attractive rates for this convenient neighborhood
Lyric Opera Hotel Paris (2 Rue de Gramont) - Located close to Palais Garnier, the 4-star boutique hotel features lush fabrics and contemporary decor combined with classical details in its 47 guest rooms, plus a swimming pool with a glass roof, gym, sauna, and steambath.
Find best things to do & see in Paris 2
---
Find More Hotels & Apartments in the 2nd Arrondissement
More Paris Hotels from Booking.com
Enter your check-in date below to see hotels and rates available for your visit.
Tip: If you enter just your check-in date, the map will display rates for one night for the cheapest available room. If you plan to stay more than one night, enter your check-in and check-out dates to see the total cost for your visit.
More Paris Apartments from Plum Guide
Check out more Paris apartments vetted by Plum Guide
---
Popular Ways to Explore Paris
---
More Articles about Where to Stay in Paris