Dazzling Paris Christmas lights begin to appear all over the city in mid-November ("lights on" happens mostly between November 17-22 this year) and continue to glow across the City of Lights through early January.
The Paris Illuminations, as they are called, take many forms: lavish displays on Champs Élysées and other famous avenues, sparkling decorations on 150+ more streets throughout the city, elaborate creations in department store windows, spectacular over-the-top light shows at Disneyland Paris, and cheerful strings of lights at the famous Paris Christmas markets.
Even the city's market streets such as Rue Cler, Rue Montorgueil, and Rue des Martyrs, normally daytime destinations, contribute to the display with lavish decorations and lights
Look for special Christmas lights and decorations in Tuileries Garden, where you can also stroll through a huge Christmas Market featuring lots of family-friendly amusements, specialty foods and hot mulled cider, and artisan products. You'll find more lights at Place de la Bastille, Avenue Montaigne, Place de la Vendome, Bercy Village, and along the banks of the Seine River.
You can see some of the loveliest, although more subdued, Christmas decorations and lights inside Paris churches. Or, for a completely different type of experience, take one of the evening cruises and see the Illuminations of historic buildings and monuments while you enjoy a gourmet dinner or Champagne as you float down the Seine River.
In addition to being beautiful, Paris Christmas lights are environmentally "green."
A combination of LED bulbs and solar power generation means the energy usage and cost for the spectacular display is almost zero - so look for even more streets to display holiday lights in future years.
This article shares where to find the most dazzling Christmas Lights, brilliant illuminations, and cheery decorations in Paris to celebrate the exciting holiday season.
Top photo: Holiday lights along Champs Elysées in Paris, with Arc de Triomphe in background, (c) Paris Discovery Guide
Paris Discovery Guide is a reader-supported publication. When you buy through our links, we may earn a commission at no additional cost for you. Learn more
---
1. Christmas Lights along Champs Élysées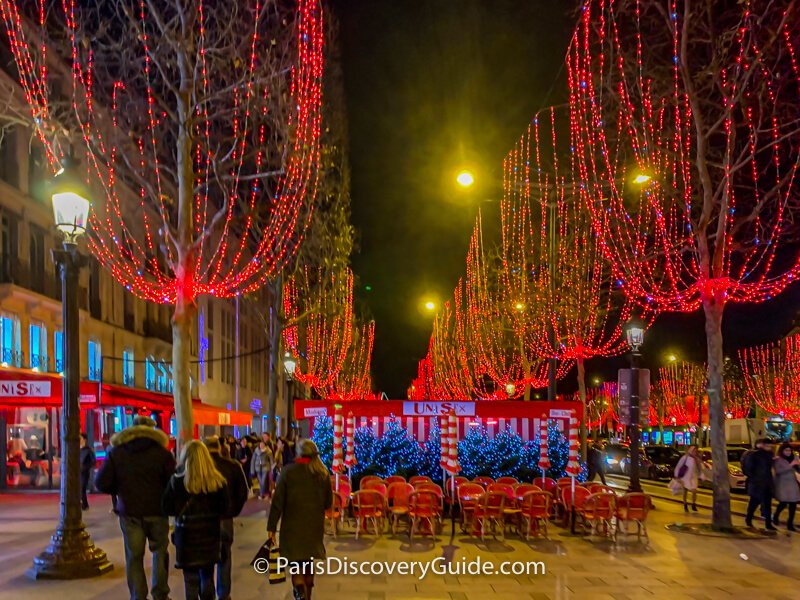 To see the most lavish display of Christmas lights and decorations in Paris, head straight to Champs Élysées, where a million (yes, literally!) sparkling crimson and blue lights cover street trees between Place de la Concorde and the Arc de Triomphe.
As you walk along the sidewalk, you'll also see festive decorations and even more lights in most of the stores lining this famous avenue.
Although the Christmas lights usually stay on from 5pm to 11:30pm, they will be on all night for Christmas Eve and New Year's Eve.
Location: Champs Élysées, 8th arrondissement
Metros: Charles de Gaulle/Étoile, Georges V, Franklin Roosevelt, Champs Élysées/Clemenceau
Stay nearby: Hotels near Arc de Triomphe
---
2. Avenue Montaigne Christmas Lights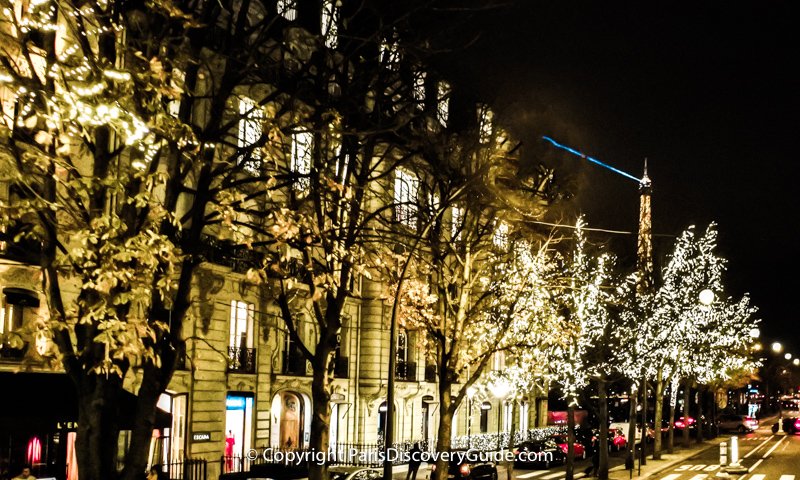 Delicate white lights float among the trees along stately Avenue Montaigne, where top Paris couturier showrooms and designer boutiques occupy the street's ornate mansions.
Want to experience real magic? Walk down Avenue Montaigne until you reach the Seine River, and watch the Eiffel Tower's nightly light show across the water.
Location: Avenue Montaigne, 8th arrondissement
Metro: Champs Élysées/Clemenceau

More to enjoy: Exquisite Christmas displays in the haute couture boutiques lining Avenue Montaigne
---
---
3. Lighted Christmas Trees in Place Vendôme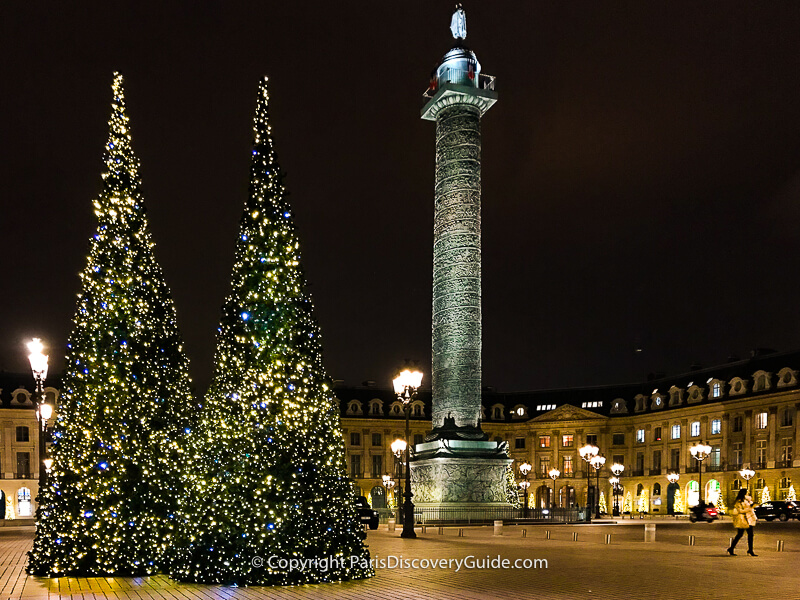 Dozens of Christmas trees shaped like perfect cones and sparkling with white and blue lights dot Place Vendôme's huge central plaza.
Surrounded by the façades of palatial 18th century mansions (the Ritz occupies Number 15), the brilliantly lighted trees make the whole space feel ethereal.
If your holiday gift list includes jewelry, Place Vendôme and Rue de la Paix is where you'll find the most famous names in French and international luxury gems and watches. Look for Boucheron, Chopard, Chaumet, Bulgari, Cartier, Gucci, Chanel, Van Cleef & Arpels, Dior, and and many more boutiques where you can see their dazzling creations.
Location: 1st arrondissement
Metros: Concorde, Madeleine, Pyramides, Tuileries
Stay nearby: The Ritz - check reviews and rates
More to enjoy nearby: Christmas lights and decorations along nearby Faubourg Saint-Honoré
---
---
4. Paris Illuminations from Seine River Cruises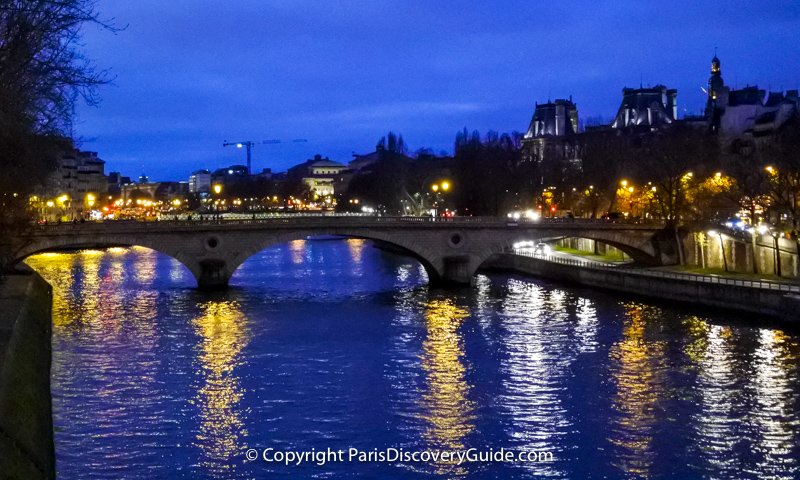 To see famous Paris lighted attractions, sparkling Christmas lights, and even the Eiffel Tower light show, take one of these popular Paris Illuminations cruises:
Paris Christmas Lights Tour - For a spectacular tour of Paris Christmas lights, bundle up and hop on this open-top double-decker bus as it takes you on a Christmas-themed tour to see the city's most brilliantly lighted streets and attractions - Find out more
Seine River Dinner Cruise and Moulin Rouge Show with Champagne - Enjoy dazzling views of Paris from the Eiffel Tower, and then cruise along the Seine past lighted attractions. Dine either at the tower or on a dinner cruise (you choose), and cap your spectacular evening by watching a performance at the famous Moulin Rouge while you sip Champagne - Find out more
Christmas Eve and Day Dinner Cruises - Enjoy a special 5-course dinner cooked on board, live music, and magical views of illuminated famous sights and landmarks along the Seine River as you cruise by in a comfy glass-covered boat. These holiday cruises always sell out - so book early to avoid disappointment! Book now
More Paris Christmas Tours & Cruises:
---
5. Rue du Faubourg Saint-Honoré Christmas Lights & Decorations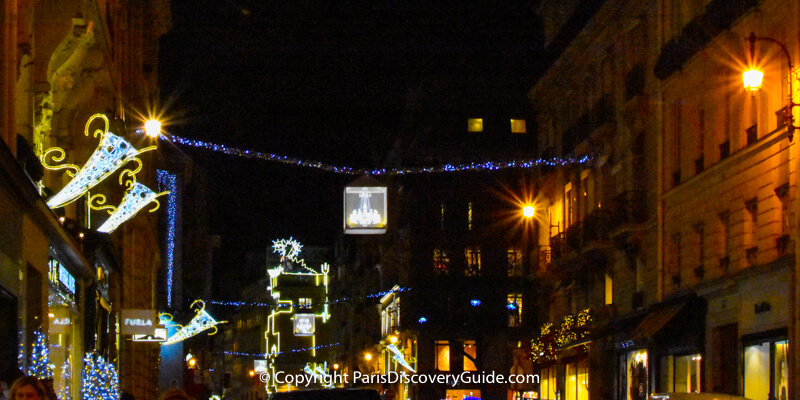 Blue and white Christmas lights along fashionable Rue du Faubourg Saint-Honoré are elegant and sophisticated, with occasional touches of whimsy.
Equally compelling are the elaborate holiday window displays along this famous shopping street filled with boutiques offering luxury goods and designer clothing.
Location: Rue du Faubourg Saint-Honoré between Rue Royale and Palais Royal, 1st Arrondissement
Nearest Métro: Tuileries or Concorde

---
6. Bercy Village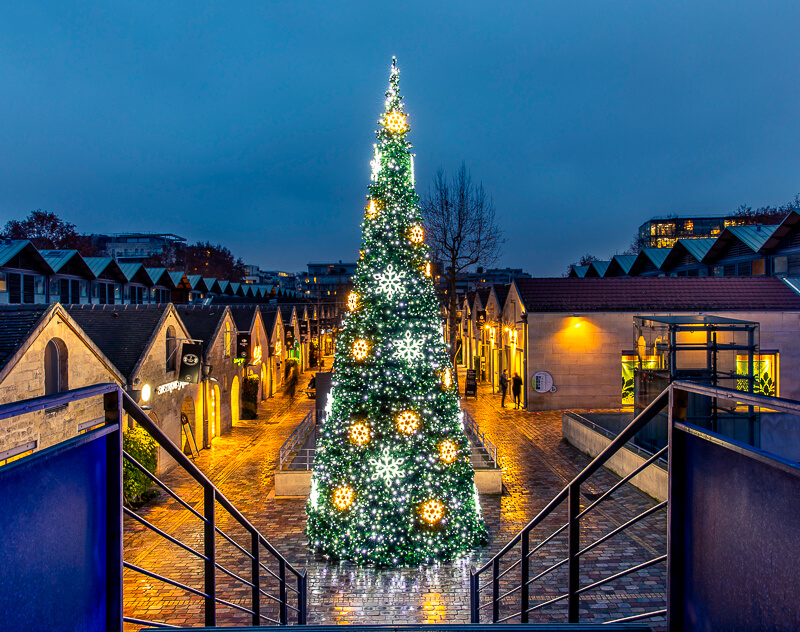 Bercy Village, a quaint cobblestone courtyard lined with 42 pale stone buildings next to the Seine River in Paris's 12th arrondissement, once formed the epicenter of the world's largest wine market.
Today, boutiques and cafes fill the former wine storehouses, and each Christmas, the Village puts up a dazzling display of holiday lights designed by a different artist each year.
A huge decorated Christmas tree adds to the festive ambiance, and specialty vendors transform the whole space into a fun Christmas Market.
While not quite in central Paris, Bercy Village is an easy 10-15 minute walk from the Latin Quarter or the Marais, or a quick (about 5-10 minutes if you're coming from central Paris) metro ride.
Most Bercy Village businesses are open daily from 10am to 8pm, although the lights stay lit at least a couple of hours longer.
Metro: Cour Saint-Emilion
Dates: Mid-November through mid-January
Find more of Paris's biggest & Best Christmas Markets
---
7. Grand Department Stores - Paris's Most Lavish Christmas Decorations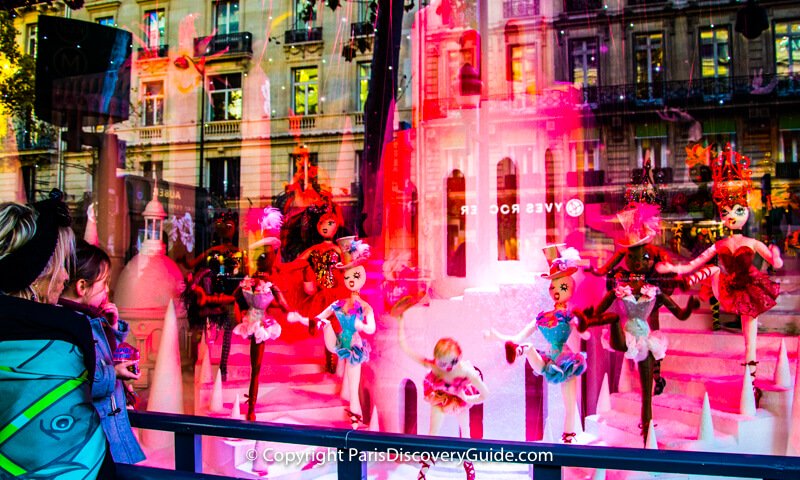 You can see some of the most elaborate Christmas lights and decorations in Paris in the windows of the city's five major department stores. If you're visiting with kids, they'll be entranced by the elaborate animations based on different themes each year.
Go inside the stores to see even more lights and decorations!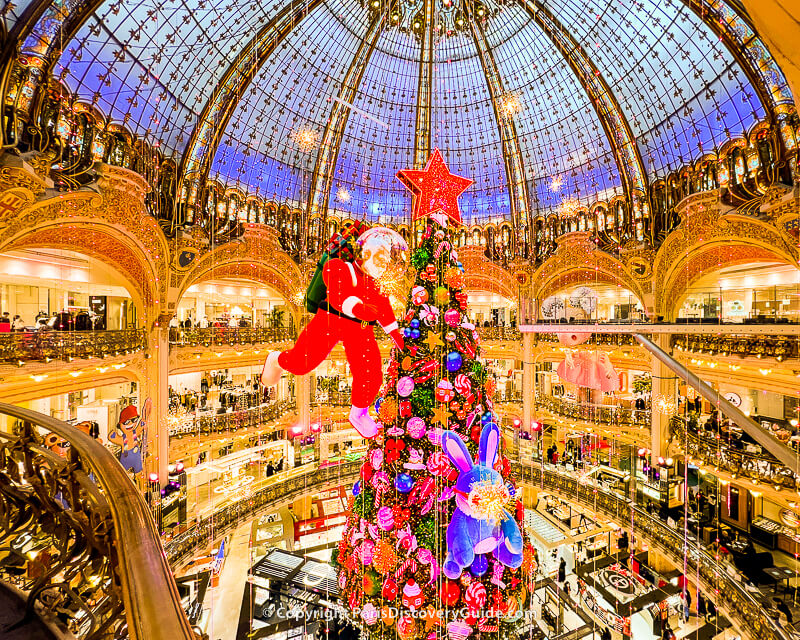 Paris Department Stores
Galeries Lafayette: 40 Boulevard Haussmann, 9th arr
Au Printemps: 64 Boulevard Haussmann, 9th arr
BHV: 14 Rue du Temple, 4th arr
Bon Marché: 24 Rue de Sèvres, 7th arr
La Samaritaine: 19 Rue de la Monnaie, 1st arr
Find out more about when & where to see Paris's Best Christmas Windows
---
8. Christmas Displays in Paris Churches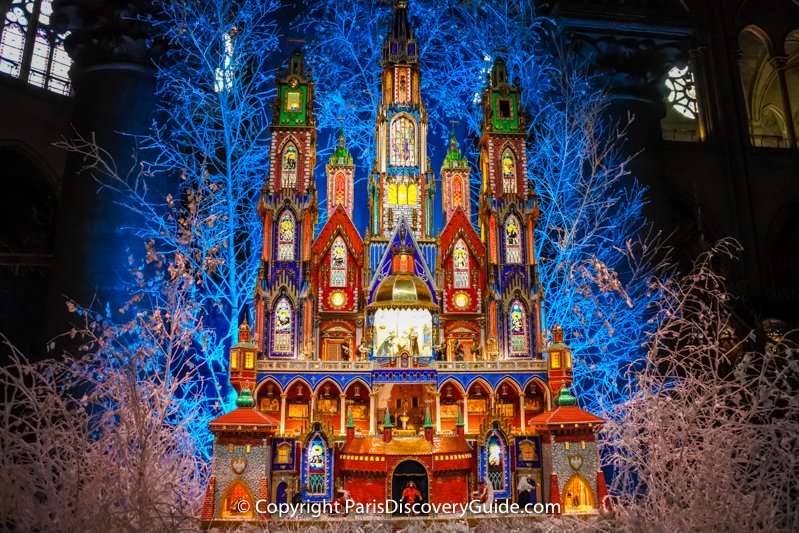 Paris churches also get into the spirit of the Christmas season. Look for special Advent calendars and displays, beautiful nativity scenes, garlands and flowers, and even the occasional Christmas tree.
For an especially memorable experience, attend a candlelight concert during December or Midnight Mass on Christmas Eve.
---
9. La Défense Christmas Lights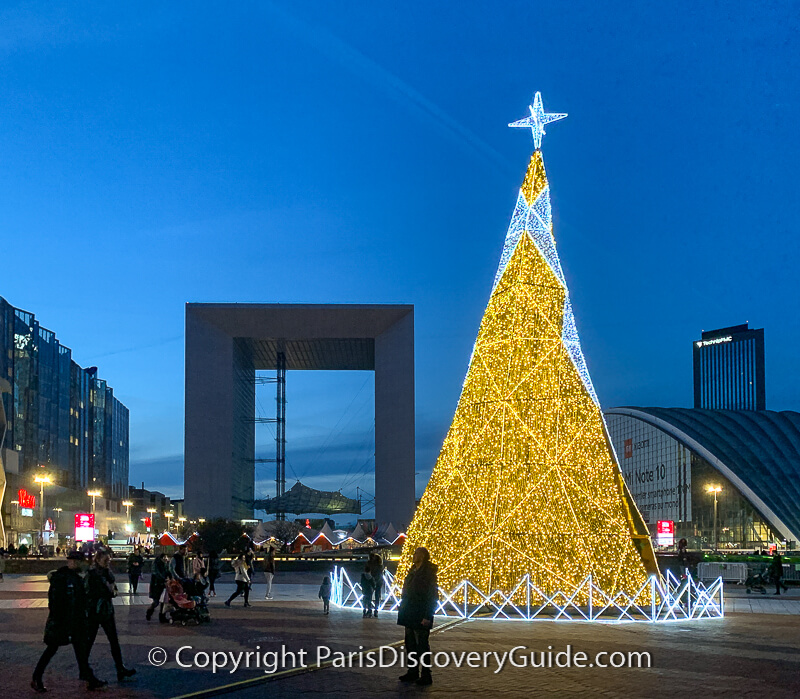 The expansive central esplanade at La Defense is where you'll find the city's biggest and most flamboyantly colorful Christmas trees, lights, and decorations.
As soon as you step off the escalator from the Metro station, you'll see the lighted decorations in front of you.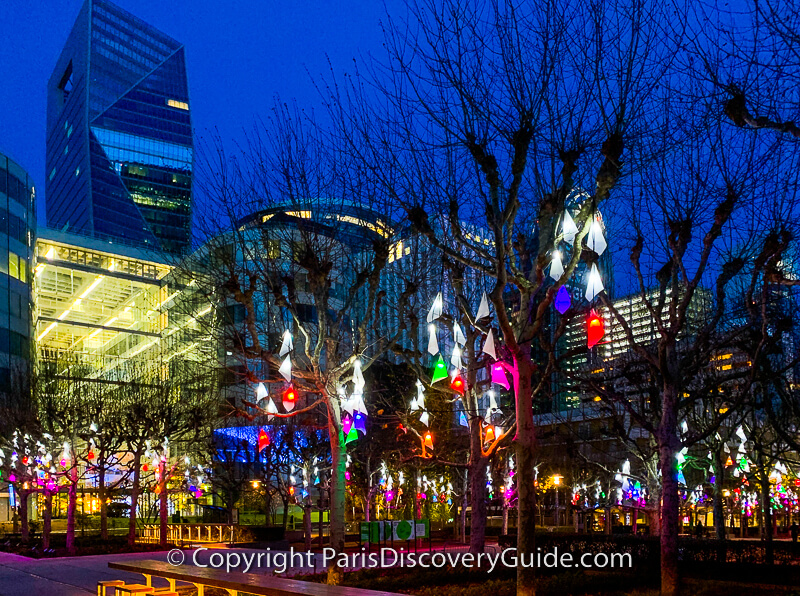 With shopping centers on both sides of the Esplanade and the brightly-lit La Defense Christmas market near the Grande Arche, you can easily spend an entire evening here.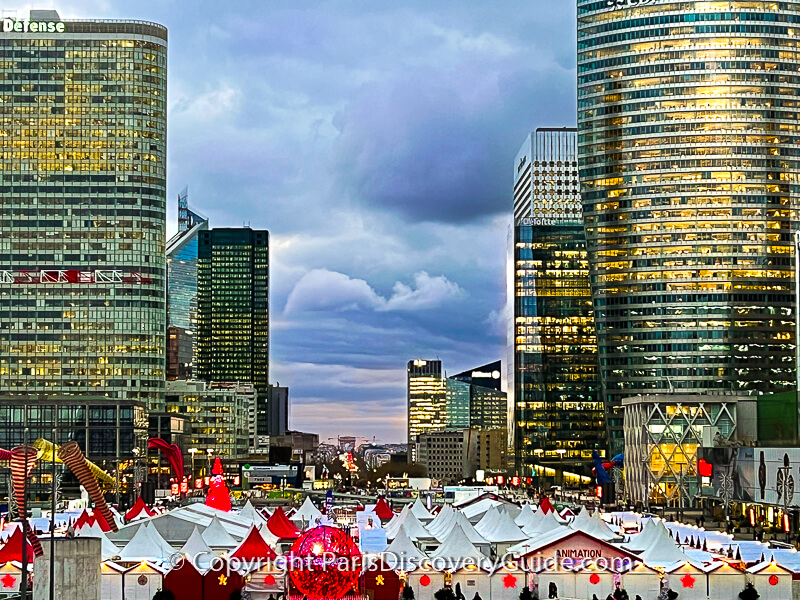 Location: West of Paris, just outside of the city
Nearest Métro/RER A: Grande Arche de la Défense
More about the La Defense and other Paris Christmas Markets
---
10. Disneyland Paris - A Christmas Light Extravaganza!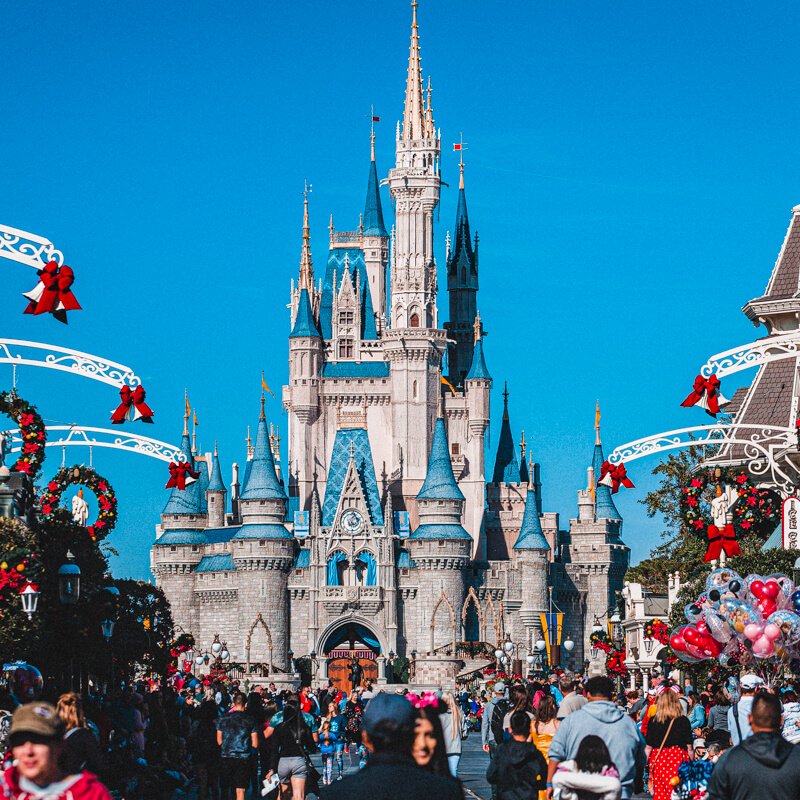 Christmas celebrations begin at Disneyland Paris in early November with plenty of entertainment and fun for everyone.
You'll find a spectacular giant tree, entertaining shows, festive Christmas parades, and dazzling holiday decorations everywhere. Don't miss two brand-new holiday shows at Walt Disney Studios® Park this year, a new immersive nighttime extravaganza, and singing carols with Santa, Mickey, and Minnie for a magical experience you won't forget!
When: Early November through early January

Disneyland Paris and Transportation
Take RER A to the Marne-la-Valee station, walk across a small plaza to Disneyland Paris, and buy your tickets at the gate - or check out these advance ticket options to make your trip faster and easier:
---
11. Christmas Displays & Lights at Jardin d'Acclimatation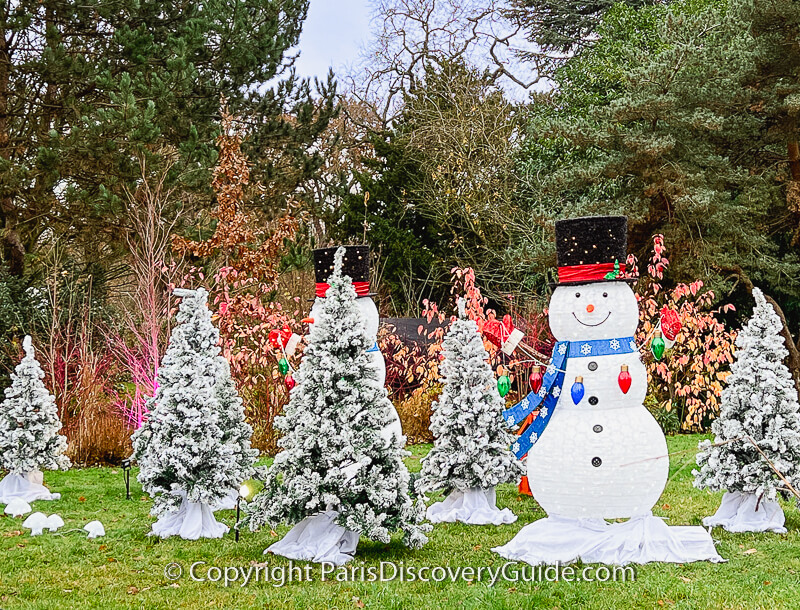 If you're interested in going to a Christmas-themed amusement park experience that's more relaxing and considerably more affordable than Disney, Jardin d'Acclimatation may be exactly what you're looking for.
Jardin d'Acclimatation, a family-oriented leisure park and artfully landscaped garden next to Fondation Louis Vuitton, was opened by Napoleon III and Empress Eugenie in 1860 as a zoo and botanical garden where animals and plants brought from France's colonies could acclimate to the local weather.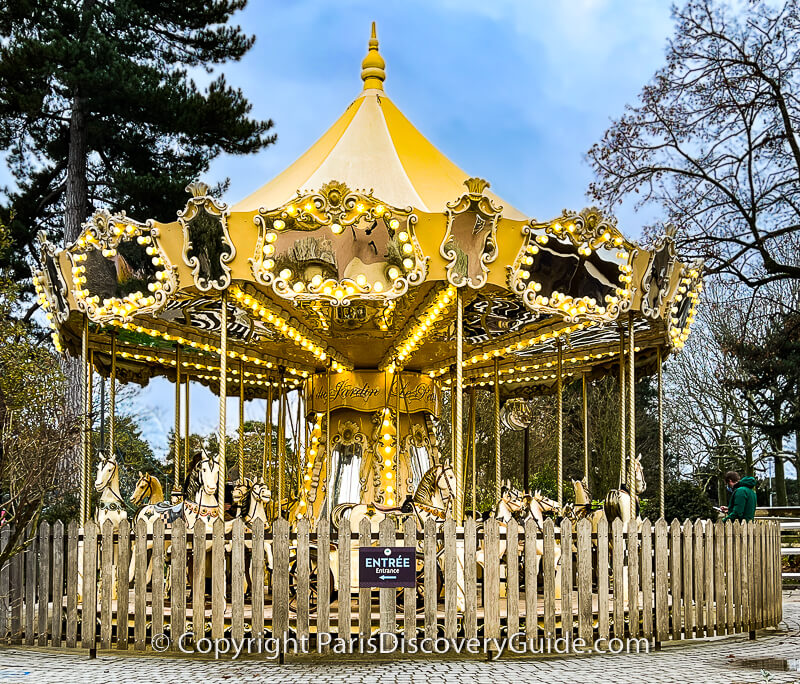 Today, Jardin d'Acclimatation continues to have a small menagerie and as well as several greenhouses, plus other attractions such as a puppet theater and several casual spots for food and drinks. Although its small amusement park with a retro vibe attracts large numbers of fans, especially during summer vacation months, school holidays, and weekends, its beautifully landscaped Korean Garden, roaming peacocks, and woodland paths keep a steady flow of visitors coming at all times.
During December, the park transforms into a winter wonderland as larger-than-life-sized holiday decorations appear and holiday lights create a festive mood. You can stroll around and admire the sparkling scenery, enjoy hot chocolate at one of the snack pavilions, or explore the more rustic areas.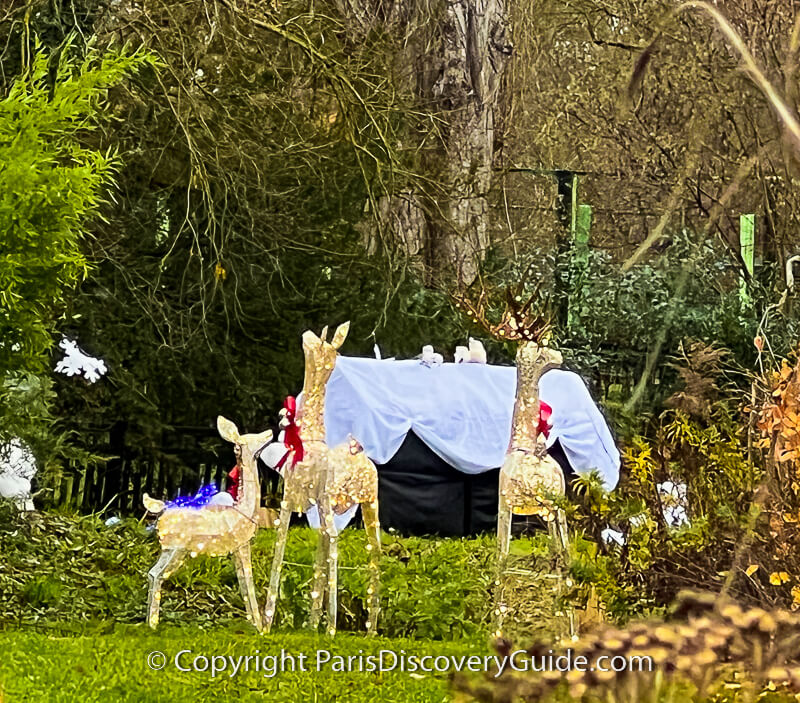 Location: Bois de Boulogne (next to Fondation Louis Vuitton), 16th arr
Admission: Small admission fee (or enter free when you visit Fondation Louis Vuitton and access the park through the gallery's back doors); tickets for rides are also available for purchase
Métro: Les Sablons (Line 1 - about 7 minutes from Arc de Triomphe)
Open: Daily; check their website for exact schedule and fees
More to Do Nearby: Explore the rest of the Jardin d'Acclimatation, where you can see animals, enjoy carnival rides, visit the Normandy "farm" where some of the animals reside, stroll along paths through the wooded areas, or get a hot drink or lunch at one of the food pavilions; see the latest exhibition at Fondation Louis Vuitton next door; hop back onto the Metro's Line 1 at Les Sablons and continue on to the La Defense Christmas Market about a 4-minute ride away
Find out more about the huge Christmas Market at nearby La Defense
---
12. More Paris Streets & Other Places to See Christmas Lights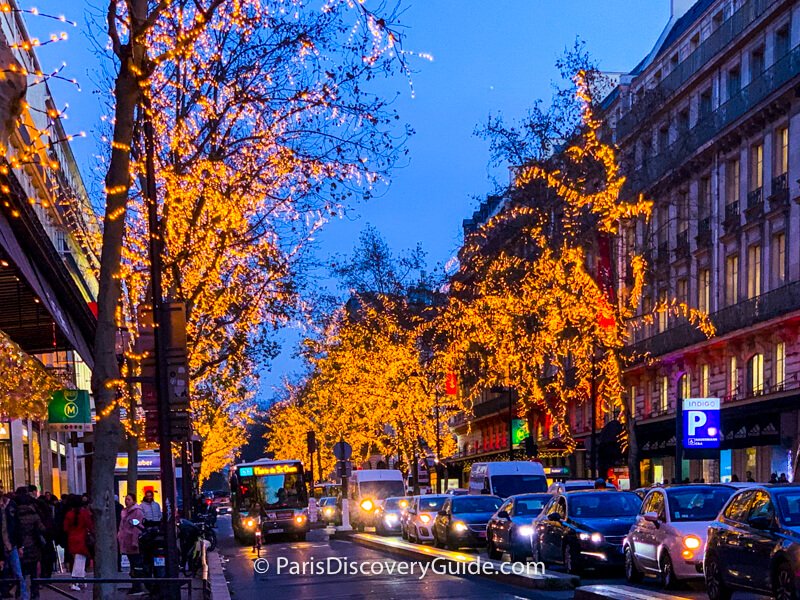 Aside from the most extravagantly decorated avenues such as Champs Élysées, where else can you find Christmas lights in Paris?
Well, quite a lot of places, as it turns out: each year, over 150 streets and squares in about 70 Paris neighborhoods put up lighted decorations, making it truly the "City of Light," thanks to energy-saving LED bulbs.
Here is a small sample of streets where you'll find them in central Parisian districts:
1st arrondissement: Place Vendôme, Rue de Rivoli between Rue Sainte-Opporturne and Rue Perrault, Rue Saint-Honoré, Rue Berger, Quai de la Mégisserie
2nd arrondissement: Grands Boulevards (by Galeries Lafayette and Au Printemps), Passage of the Panoramas
3rd arrondissement: Rue Saint-Martin, Passage des Ménétriers, Rue Brantôme, Rue Brantôme 
4th arrondissement: Rue Rambuteau, Rue des Archives, Rue Saint-Paul, Village Saint Paul; Rue Saint-Louis en l'Ile on Ile Saint-Louis usually sports lovely lights and decorations
5th arrondissement: Rue de la Huchette, Rue Galande, Rue Dante, Rue du Petit Pont, Rue Frédéric Sauton, Boulevard Saint Germain, Place Maubert
6th arrondissement: Rue de Bac, Rue de Rennes, Rue Saint Placid, Rue de Sèvres around Bon Marché, Rue d'Assas, Rue Notre Dame des Champs, Boulevard Saint Germain
7th arrondissement: Rue du Bac, Rue de Grenelle, Rue du Champ de Mars, Rue Saint-Dominique, Avenue de la Motte-Picquet, Avenue Bosquet, Rue Clerc, Rue Malar, Rue de l'Exposition, Rue Amélie
8th arrondissement: Rue du Faubourg Saint Honoré, Rue Mathurins, Avenue Montaigne, Carré de la Madeleine, Avenue Champs Elysees, Boulevard Saint Germain
9th arrondissement: Rue des Martyrs, Rue de Caumartin, Rue Mogador, Rue Cadet, Rue de la Chaussee d'Antin
You can see the Paris Christmas lights from mid-November (check the November Events Calendar for the exact date) through the first week or so in January (coming down just before January Sales begin) from 5pm until 2am.
---
Pin Now, Check Out Paris Christmas Lights Later
---
Want to Book a Paris Hotel or Apartment near Christmas Lights & Festivities?
Use this Paris hotel map to find a hotel with great rates in your preferred location:
Check out the newest Paris hotels
More Places to See Christmas Lights in Paris
---