Are you wondering what to expect in your Paris hotel?
If this will be your first visit to the City of Light, our 18 tips about Paris hotels will tell you everything you need to know about choosing a hotel, what to expect once you arrive, and how to get the most from your Paris hotel experience.
With around 1,500 officially recognized hotels in the city, plus other options such as what the French call "aparthotels" (a hybrid between apartments and hotels with kitchenettes and a seating area) and hostels, you'll have a lot of choice in accommodations. 
Our tips will help you understand:
How the French star rating system works
Why your guestroom may seem small
When you might want to consider an aparthotel
Which Paris districts have the best hotels for tourists
Everything you need to know about tipping in Paris hotels
How far in advance to make reservations
Where to find last-minute bargain rates
Where to find accessible accommodations
And lots more!
Top photo: Hotel in Paris's Saint-Germain-des-Prés neighborhood, (c) Paris Discovery Guide
Paris Discovery Guide is a reader-supported publication. When you buy through our links, we may earn a commission at no additional cost for you. Learn more
---
1. What the Stars Can - And Can't - Tell You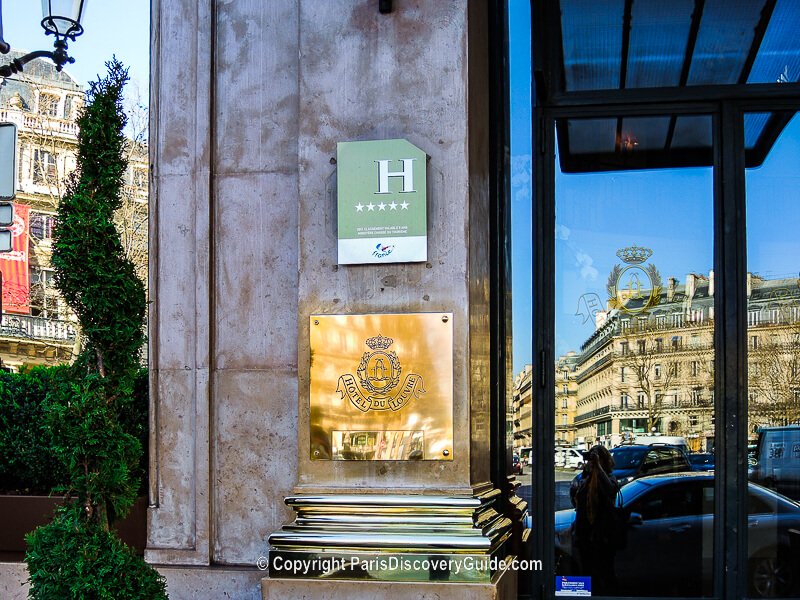 All officially registered Paris hotels throughout Paris are awarded 1 to 5 stars, based on factors such as guestroom size, whether or not a hotel has air conditioning and/or an elevator, and provided services. A few exceptional 5-star hotels get a special Palace designation.
Each star level has specific minimum requirements that hotels must meet. For example, all 4-star hotels must have elevators. But for 3-stars, elevators are not required unless the hotel has four or more floors, including the ground level. Most Paris hotels do have at least four floors - but you can't assume that the one you're about to book does, so make sure you see "air conditioning" under the property description when you book if a/c is important to you.
Many hotels far exceed the minimum requirements at each level - but you shouldn't assume that all do, because they don't. Does the charmingly-decorated boutique 3-star hotel in the Marais you're considering have an elevator or air conditioning? Its star rating won't tell you!
Nor does the number of stars tell you anything about the quality of service, the comfort of the beds, or the convenience of the neighborhood. So how do you find out about these things? Read reviews from other travelers when you're booking!
More about the French hotel star rating system
---
Paris Hotel Map
Want to see more Paris hotels? Use this hotel map from Booking.com to find available accommodations for your travel dates, and make your reservations:
Check out the newest Paris hotels
---
2. Most Paris Hotel Rooms Are Small
Yes, your Paris hotel room will probably be small - unless you are booking a 5-star or Palace hotel. Even many 4-star hotels offer compact rooms, although they usually have larger rooms (at a higher rate) as well.
Many - perhaps most - centrally-located Paris hotels occupy elegant townhouses and mansions dating back to the 17th or 18th century with footprints not designed to accommodate large rooms.
On the upside, the hotels have usually been beautifully renovated, often with luxurious private bathrooms almost as large as the guestrooms, even in many 3-star hotels.
Survival tip #1: Pack light, and bring only 1 small-to-medium size suitcase.
Survival tip #2: Take a cue from Parisians (who typically live in small apartments), and let Paris be your living space - start your day by lingering over a café crème and croissant at a cafe, spend the day exploring the city, and by 6pm, claim a sidewalk table and relax with an apéro (or two). Around 8pm, head to a bistro for dinner - a leisurely experience with 3 courses and wine - and by the time you return to your hotel at 10-11pm, you'll be ready for bed. Yes, your room may be small - but its size doesn't matter if you're in it just to sleep.
---
3. Paris Hotel Elevators Are Even Smaller
Unless you're staying in a 4- or 5-star hotel, expect the elevator in your Paris hotel to be tiny, just large enough to fit 1-2 people and a suitcase or two.
And remember, most 1-star, many 2-star, and even a few 3-star hotels don't have elevators, nor will they necessarily have someone to help you with your luggage - so if you want to avoid hoisting your bags up several flights of stairs, verify the presence of an elevator or lift when you book.
---
4. Air Conditioning - Don't Assume Your Hotel Will Have It!
Most, but not all, 3-star Paris hotels and even a few 2-stars have air conditioning, even though it is required only for 4-star and 5-star properties.
Paris summers can get hot - sometimes very hot - and steamy, so if you are traveling during this period, you will probably want to book a hotel with a/c.
Until relatively recently, most hotels in Paris did not offer air conditioning, which is actually a plus: most hotel a/c systems are fairly new, quiet, and comfortable, with individual controls in each guestroom.
If you're used to the relatively poor a/c systems in many American and Canadian hotels, even those at the upper end of the luxury spectrum, get ready to feel pleasantly surprised by the quality of the a/c in Paris hotels.
---
5. Why Should You Consider Paris Aparthotels?
A Paris aparthotel gives you the best of both worlds - the spaciousness and convenience of a furnished and fully-equipped apartment complete with kitchenette or a full-sized kitchen combined with (usually) some of the professional services of a hotel.
Services vary from just weekly cleaning to daily breakfast buffets and a concierge. Accommodations range from plain and simple - think college dorm room - to luxury.
Depending on the aparthotel's location, size, and level of service, daily rates will typically be similar or maybe somewhat less than you'd pay for a hotel room - but you usually get significantly more space and, of course, the kitchen.
Take a look at Paris aparthotels
---
6. Can You Smoke in Paris Hotels?
No. By law, all Paris hotels are non-smoking. Fines for violations are hefty - so don't risk it!
---
7. Which Areas Have the Best Hotels?
If you want to be close to major tourist attractions, make your Paris hotel reservations in these arrondissements:
1st - Louvre, Palais Royal, Jardin des Tuileries, Sainte-Chapelle, Musée de l'Orangerie
Find 1st Arrondissement hotels
2nd - No major attractions in this small district - but hotels near the 1st, 3rd, and 4th put you close to top attractions in those areas, so don't overlook hotels in those parts of the 2nd
Find 2nd Arrondissement hotels
3rd - Picasso Museum, Musée des Arts et Métiers, Jewish Art and History Museum, Musée Carnavalet
Find 3rd Arrondissement hotels
4th - Lower Marais (trendy shops and restaurants), Beaubourg Centre Pompidou, Notre Dame, Île de la Cité
5th - Latin Quarter, Panthéon, Cluny Museum, Botanical Garden and Paris Zoo
6th - Luxembourg Gardens, Saint-Germain-des-Prés neighborhood, many upscale art galleries, restaurants, boutiques
Find 6th Arrondissement hotels
7th - Eiffel Tower, Branly Museum, Invalides, Champ des Mars
8th - Arc de Triomphe, Champs Élysées, Golden Triangle designer boutiques
Find 8th Arrondissement hotels
9th - Opéra Garnier (Paris Opera), Galeries Lafayette, other large department stores
Find 9th Arrondissement hotels
12th - This former working-class neighborhood is becoming newly trendy, partly because of all the buzzy clubs and innovative cuisine, partly because there are some cool lesser-known things to see and do here, and partly because hotel rates tend to be lower and you can easily and quickly reach all the famous attractions in central Paris.
Find 12th Arrondissement hotels
16th - Hotels near the Palais de Tokyo, Musée Guimet, Natural History Museum at Trocadéro, and the Arc de Triomphe are good choices; other areas of this large arrondissement are residential and somewhat sleepy
17th - Hotels close to the Arc de Triomphe are your best bet and many are more affordable than those just a few blocks away in the 8th and 16th; otherwise, no major attractions in this pleasant residential district
18th - The Montmartre neighborhood is popular with visitors and has a number of mostly 2- and 3-star hotels; the rest of the 18th, not so much
More about each Paris district, plus an arrondissement map
---
8. Are Hotels Outside of Paris A Good Way to Save Money?
No, not usually. What you'll save in money you'll spend in time and transportation costs getting to central Paris where most attractions are located. Most of the big (cheaper) hotels outside of the city limits are located along the charmless Périphérique, the multilane highway circling the city, so you would also not have access to many dining options.
But . . . take a look at these exceptions:
La Défénse - Glittering new business district to the west of metropolitan Paris. This area offers lots of shopping and dining, its own Grande Arche lined up with Arc de Triomphe, and numerous mammoth sculptures along its Esplanade, where a huge Christmas market sets up every December. Hop on the Métro at the La Défénse station and you'll reach the Louvre in about 10 minutes.
Bonus: hotel room in this suburban areas tend to be larger than those in the city.
Tip: for the most convenience, choose a hotel within easy walking distance of the La Défénse or Esplanade de La Défénse metro stations. See hotels in La Défénse
Disneyland Paris - Sure, you can easily visit from Paris in a day - but why not thrill your kids (and make the experience more relaxing for you) by staying longer - especially since hotels tend to be cheaper than those in the city?
Tip: Unless you have a car, the most conveniently located hotels are those on the Disney property itself in Chessy, France (a Paris suburb). See hotels in Disneyland Paris
Versailles - Another place that's almost too wonderful to rush through in a day, especially when there are lovely hotels and appealing bistros and brasseries nearby.
Find out best places to stay near Versailles - including one inside the Palace
---
9. How Can You Tell if a Hotel is Really in Paris?
Look at the postal code in the address.
If the hotel is in Paris, the first 3 digits will be 750. The last 2 digits will be a number between 01 and 20, and correspond to the arrondissement number.
For example, 75003 is in the 3rd Arrondissement, which includes the Upper Marais neighborhood.
Another example: 94300 is NOT in Paris.
Why is this important to know? If you're looking for hotels online, you may see "Paris" hotels that are actually outside of the city.
So always make sure you verify the address!
---
10. What Is the Difference Between a Relais and a Hotel?
There is no difference.
Relais literally means stopover, and is sometimes used to mean a country inn or retreat.
Not many hotels in Paris use Relais in their name rather than Hôtel - but those that do tend to be upscale, with at least 4 stars and often 5. For example, check out the luxurious and highly rated 5-star Relais Christine (see reviews and best rates on Booking.com) in the 6th arrondissement on the Left Bank.
---
11. Do Paris Hotel Rates Include Breakfast?
Maybe, maybe not.
Although hotel rates do not normally include breakfast, some hotels may include it as a special offer - check when you make reservations.
By law, all French hotels with star ratings must serve breakfast onsite. The cost can be as low as 5-6 Euros in a simple 1-star hotel offering juice, hot beverages, and pastries, or as high as 35-38 (or more) Euros at 5-star hotels serving lavish spreads.
You can almost aways save money by heading to a nearby café or bakery for coffee and a croissant, especially if you carry it out. Hotels do not like to see you bring in food that might make crumbs in your room, so find a park bench where you can enjoy your breakfast.
Contrary to popular belief, you can get coffee-to-go in Paris, especially in popular tourist areas - look for branches of bakery/cafe chains such as Le Pain Quotidien, Prêt à Manger, Paul Bakery, and yes, even Starbucks. If you spot an espresso machine in an independent bakery, that means they probably offer coffee to go, especially if they don't have a seating area.
---
12. Are Internet-Only Non-Refundable Rates a Good Deal?
Maybe. The answer depends on 2 factors:
1) Are you absolutely sure you won't change your plans? Most non-refundable rates must be made when you book your room. If you cancel, you forfeit your payment.
2) How big a discount is the hotel offering you? Non-refundable rates typically are about 10% less than the refundable rate - but sometimes discounts go as high as 25%. So if you're sure of your plans, you can potentially save a LOT of money!
---
13. What Kinds of Amenities Do Paris Hotels Provide?
That depends entirely on the hotel.
Although the star rating system dictates the minimum number and type of amenities at each star level, most hotels provide more - sometimes a lot more - for competitive reasons.
Most 3-star hotels, for example, provide hair driers, upscale toiletries brands, private safes, and in-room coffee, tea makers, and mini-fridges. Many 4-star hotels provide robes and slippers, umbrellas, designer label toiletries, high-end electronics, and perhaps a bottle of wine and chocolates.
---
14. How Much Should I Tip in a Paris Hotel?
Opinions and practices vary. Tipping is generally not necessary or expected in Paris hotels - but it is appreciated.
However - if someone brings your bags to your room for you in a Paris hotel with less than 5 stars, a tip of 1Euro/bag will be appreciated; at 5-star hotels, valet services are built into the rather hefty room rates (and are one of the requirements for getting 5 stars) so you don't really need to tip although if you want to, doing so is fine.
If you stay in a hotel for more than 2-3 nights, you may want to leave a tip of 1-2 Euros/night for the housekeeping staff. The time-honored custom is to put the tip on the bed pillow along with a note saying "Merci!"
If the concierge goes out of his/her way to make hard-to-get reservations for you, a tip of 5-10 Euros or more, depending on the number of reservations, is appropriate. If the concierge just suggests a few restaurants, or even picks up the phone and makes a quick call to secure a table for you, a tip is not necessary.
Tipping for room service isn't usually necessary or expected if the hotel prepared the food being delivered to you. If the person delivering it to you ran down the street to your favorite restaurant to pick it up, then by all means give a tip of 5-10 Euros unless the hotel adds a service or delivery charge.
---
15. How Far in Advance Should I Make Hotel Reservations?
With around 30 million visitors to Paris each year, competition for reservations can be fierce during the busiest months (typically April through October), and the most popular hotels book up far in advance. Remember, many Parisian hotels are tiny - less than 30 guestrooms.
Book your hotel as soon as you know your dates. If you want to stay in a great hotel in a popular area, such as the 1st, 4th, 5th, 6th, 7th, or 8th Arrondissements, keep in mind that many Paris visitors book 4-6 months in advance or even earlier. You should too - if you want to get your first choice.
---
16. Last Minute Deals
If you've waited until the last possible minute to make reservations, why not get a great deal and last-minute booking discounts?
To find out what's available, find out how to get last-minute deals.
You'll be amazed by how much you can save!
---
17. What Time is Check-in/Check-out in Paris Hotels?
Typically, check-in at Paris hotels is at 2pm-3pm. Paris hotel check out time is at 11am-12 noon.
So what do with your bags if you arrive in Paris on an early flight or train? Most hotels, especially at the 3-star and greater level, will be happy to store your bags for you until your room is ready. Email or call your hotel prior to arrival to make sure.
Likewise, if you have a late flight or train, most hotels will let you leave your bags at the hotel until you are ready to depart.
Many, if not most, 4- and 5-star hotels will put your bags into a locked room for safe keeping. Three-star and lower hotels will be more likely to simply stash your luggage behind or near the reception desk.
If you arrive before check-in time and your room is ready for you, most hotels will let you check in early.
---
18. Are Paris Hotels Accessible?
French regulations require that hotels and all other places open to the public be accessible to people with physical, visual, hearing, and mental challenges and disabilities as of January 1, 2015. 
For hotels and "aparthotels," accessibility concerns mainly focus on eliminating physical barriers - not always a trivial undertaking, especially for smaller boutique hotels located in 17th- and 18th-century buildings.
Despite the law's 2015 compliance date, you can't automatically assume that every hotel meets the accessibility standards you might expect - but the good news is that they've made impressive progress. 
For example, most hotels now offer at least one guestroom with wider doors, accessible showers, lower light switches, etc., and many are creating ground-level rooms for even easier and safer (for example, in case of fire) wheelchair access.
Numerous Paris hotels now also have earned the French "Tourism & Handicap" certification.  However, it does not mean a hotel meets accessibility standards for all four types of disabilities, so check when making your reservations.  Even better, call the hotel directly to confirm they can meet your needs, especially if you need to use a wheelchair. Depending on your wheelchair's size, it may not fit if the hotel's elevator is tiny.
Here's a another big caveat you should know about: "accessible" doesn't always mean "no stairs" even if the hotel does have an elevator roomy enough for your wheelchair. In some older hotel lobbies, a short flight of stairs leads to a small landing with elevator - useless for anyone in a wheelchair. So again - aways call and ask before you book if accessibility is a concern.
---
Pin Now, Read Again Later
---
Fun Things to Do & See in Paris
---
More Articles about Paris Hotels