Want to find the best Paris hotel for your visit?
With almost 2,000 hotels inside the city plus extended-stay hotels and apartment rentals, you have a dizzying number of choices when deciding where to stay in the City of Lights.
Whether you're looking for a 5-star luxury "palace," a cheap budget hotel, a charming boutique hotel, or one of the newest hotels in Paris, our hand-picked hotel recommendations give you plenty of choices.
We also share tips and tricks for finding the biggest bargains, deals, and discounts on well-known hotel review and booking websites.
Quick Links to our Paris Hotel Guide categories:
Top photo: 2-star hotel in Paris's 10th arrondissement, (c) Paris Discovery Guide
Paris Discovery Guide is a reader-supported publication. When you buy through our links, we may earn a commission at no additional cost for you. Learn more
---
Most Popular Paris Hotel Info: Trending Now
---
Paris Hotels near Top Attractions, Famous Museums, & Monuments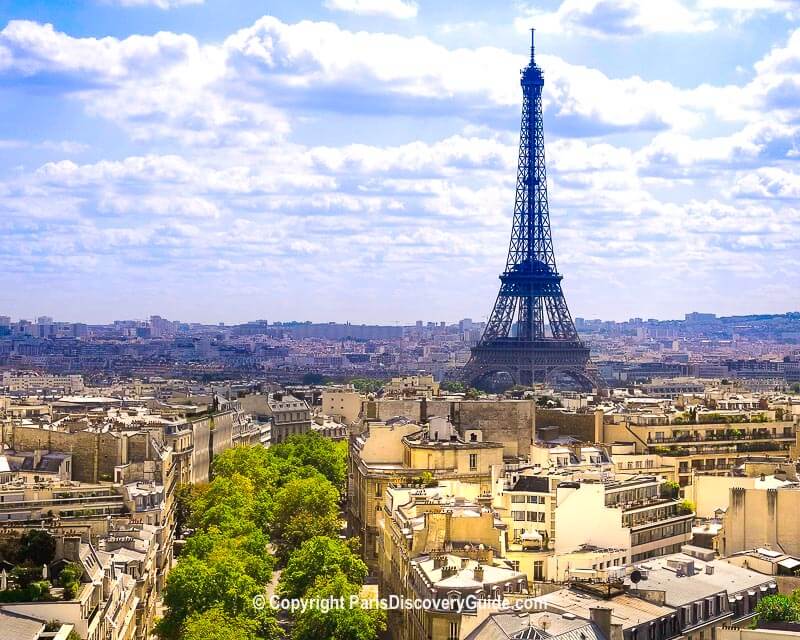 Staying near a popular attraction not only saves you time when you visit it, but also gives you an easy, convenient way to experience the surrounding neighborhood - the bistros and cafés, boutiques and bakeries, and other nearby things to see and do. Plus, you can't beat the views!
Find out where to stay near these top Paris attractions:
Want to Save on Your Paris Hotel?
Check our tips on how to find discounts, deals, and bargains for Paris hotels. Whether you're looking for cheap accommodations or want to pay less for luxury, we'll show you how to save on hotels in Paris.
Here are some shortcuts:
---
Hotels near Famous Parisian Gardens & Parks
Staying near one of Paris's fabulous gardens and parks lets you admire the lush flowers and greenery, relax near a tranquil pool or fountain, and enjoy a picnic whenever you please.
If you're visiting with children, they'll love being near the playgrounds, carousels, puppet shows, and pony rides.
---
Shopping Districts & Market Streets
Do your Paris vacation plans include a lot of shopping, or exploring famous Paris market streets?
Maximize your time by staying in a nearby hotel. All of these fascinating shopping districts are in the middle of wonderful Parisian neighborhoods and very close to other top attractions.
---
Hotels in Popular Paris Neighborhoods
Where to Stay on Your First Trip to Paris - Best neighborhoods for first-time visitors to Paris
---
Attractions beyond Paris (Disneyland Paris, Versailles, etc)
Some of the most famous Paris destinations are located just outside of the city. Sure, you can do them as a day trip - but why not stay overnight, and get the fullest enjoyment from your adventure?
Find the best hotels near these top attractions:
Planning a weekend trip to London? Here's where to stay near the Eurostar station (St Pancras).
---
Paris Hotels in Each District (Arrondissement)
Paris is divided into 20 arrondissements (districts), each with its own unique attractions and ambiance.
To be close to the most popular tourist attractions, choose hotels in these arrondissements:
To experience life in Paris like a Parisian, look for hotels in these quieter, mostly residential areas:
Paris Hotels by Price, Quality, Star Ratings
Paris Hotels for Special Events & Seasons
Paris Hotels with Special Features
---
More Articles about Where to Stay in Paris