Want to find the best Paris hotel for your visit?
With over 1,500 hotels inside the city (and that's not counting extended-stay hotels and apartment rentals), you have a dizzying number of choices.
That's why our Paris hotel guide gives you our hand-picked hotel recommendations by location, arrondissement, price, and amenities - the factors you probably care about the most when booking.
Whether you're looking for a 5-star luxury "palace," a cheap budget hotel, or a charming boutique hotel experience, you'll find plenty of choices in excellent neighborhoods near top attractions.
We also share easy and fast ways to find the biggest bargains, deals, and discounts when you use well-known hotel review and booking websites.
Paris Discovery Guide offers lots of hotel recommendations - so for your searching convenience, we've organized our recommended Paris hotels based on categories.
Read reviews from other visitors and compare rates. As soon as you choose your favorite, make your reservations online to make sure you get your first choice!
Paris Hotels near Top Attractions: Famous Museums & Monuments
Staying near a popular attraction not only saves you time when you visit it, but also gives you an easy, convenient way to experience the surrounding neighborhood - the bistros and cafés, boutiques and bakeries, and other nearby things to see and do.
Arc de Triomphe 3-Star Hotels
Arc de Triomphe 5-Star Hotels
Champs Élysées 3-Star Hotels
Champs Élysées 4-Star Hotels
Champs Élysées 5-Star Hotels
Place de la Concorde
Moulin Rouge
Palais de Tokyo
Rodin Museum
Paris Opera
Trocadéro
Grand Palais
Place Vendome
Stade de France
Sacré Coeur
Pantheon
Invalides
Orsay Museum
Grands Boulevards
Fondation Louis Vuitton
Place de la Madeleine
Palais due Congrès
Roland Garros
Want to Save on Your Paris Hotel?
Check our tips on how to find discounts, deals, and bargains for Paris hotels. Whether you're looking for cheap accommodations or want to pay less for luxury, we'll show you How to Save on Hotels in Paris.
See Trip Advisor's Best Value Deals to save BIG on your Paris hotel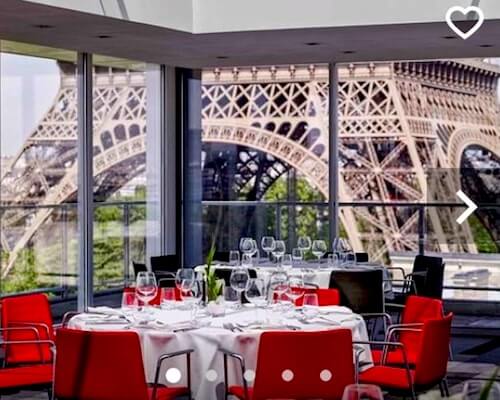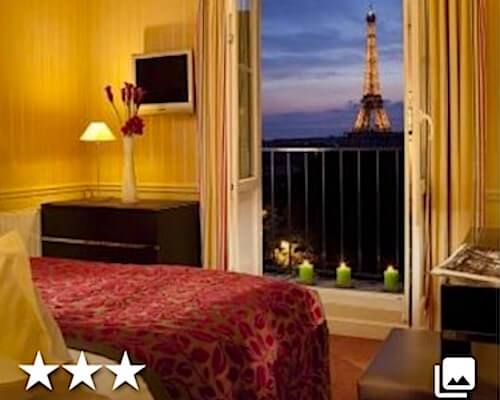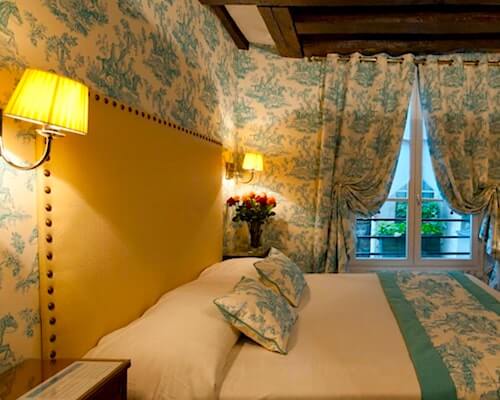 Hotels near Famous Parisian Gardens & Parks
Staying near one of Paris's fabulous gardens and parks lets you admire the lush flowers and greenery, relax near a tranquil pool or fountain, and enjoy a picnic whenever you please.
If you're visiting with children, they'll love being near the playgrounds, carousels, puppet shows, and pony rides.
Jardin des Tuileries
Place des Vosges
Parc Monceau
Jardin des Plantes and Paris Ménagerie
Luxembourg Garden
Palais Royal Courtyard and Gardens
Shopping Districts & Market Streets
Do your Paris vacation plans include a lot of shopping, or exploring famous Paris market streets?
Maximize your time by staying in a nearby hotel. All of these fascinating shopping districts are in the middle of wonderful Parisian neighborhoods and very close to other top attractions.
Golden Triangle
Rue Cler Market Street
Village Saint Paul
Grand Department Stores
La Défense
Rue Saint Honoré
Hotels in Popular Paris Neighborhoods
Latin Quarter
Marais
Saint Germain des Près
Canal Saint-Martin
Invalides
Passy
Opéra
Grands Boulevards
Saint Honoré/Madeleine
Montmartre
Montparnasse
Les Halles
Bastille
République
Champs Élysées
Trocadéro
Louvre/Palais Royal
Ile Saint-Louis
Ile de la Cité/Notre Dame
Village Saint Paul
SoPi
Batignolles
Attractions beyond Paris (Disneyland Paris, Versailles, etc)
Some of the most famous Paris destinations are located just outside of the city. Sure, you can do them as a day trip - but why not stay overnight, and get the fullest enjoyment from your adventure?
Find the best hotels near these top attractions:
Paris Hotels in Each District (Arrondissement)
Paris is divided into 20 arrondissements (districts), each with its own unique attractions and ambiance.
To be close to the most popular tourist attractions, choose hotels in these arrondissements:
1st Arrondissement Hotels - Louvre, Palais Royal, Jardin des Tuileries, Sainte-Chapelle, Concergerie
2nd Arrondissement Hotels - Near top attractions in the 1st, 3rd, and 4th arrondissements
3rd Arrondissement Hotels - Marais, Picasso Museum, Musée Carnavalet
4th Arrondissement Hotels - Marais, Notre Dame, Ile Saint-Louis, Pompidou, Place des Vosges
5th Arrondissement Hotels - Latin Quarter, Panthéon, Jardin des Plants, Arab Institute, Cluny Museum
6th Arrondissement Hotels - Saint-Germain-des-Près, Luxembourg Garden
7th Arrondissement Hotels - Eiffel Tower, Invalides, Rodin Museum, Orsay Museum, Branly Museum
8th Arrondissement Hotels - Arc de Triomphe, Champs Élysées, Grand Palais, Parc Monceau, Golden Triangle
9th Arrondissement Hotels - Paris Opéra, Grand Department stores, Grands Boulevards, covered passages
16th Arrondissement Hotels - Trocadéro, Musée de l'Homme, Palais de Tokyo, Musée Marmottan
To experience life in Paris like a Parisian, look for hotels in these quieter, mostly residential areas:
10th Arrondissement Hotels - République, Canal Saint-Martin, hip cafés and nightlife
11th Arrondissement Hotels - Bastille, nightlife and indie boutiques in Charonne and Oberkampf
12th Arrondissement Hotels- Opéra Bastille, Parc de Bercy, Promenade Plantée, Marché d'Aligre
13th Arrondissement Hotels - Edge of Latin Quarter, Gobelins Tapestry, street art
14th Arrondissement Hotels - Catacombs, Montparnasse Cemetery, Fondation Cartier, Parc Montsouris
15th Arrondissement Hotels - Montparnasse Tower, Musée Jean Moulin, Parc André Citroën
17th Arrondissement Hotels- Palais des Congrés, Batignolles neighborhood
18th Arrondissement Hotels- Montmartre, Sacré Coeur, near Saint-Oeun Flea Market
19th and 20th Arrondissement Hotels - Parc de la Villette, Père Lachaise Cemetery - few hotels
Paris Hotels by Price, Quality, Star Ratings
Paris Hotels for Special Events
Paris Hotels with Special Features
Best Design Hotels
Best Hip Hotels
Spa Hotels
Budget Hotels for Families
Luxury Hotels for Families
Paris Hotels with Swimming Pools - Hotels with swimming pools are rare in Paris - but here's where to find them