Staying at a 16th Arrondissement Paris hotel or apartment puts you in an ideal location to enjoy the best views of the Eiffel Tower, explore the world-class museums near Trocadéro, watch exciting tennis matches at nearby Roland Garros, and visit the latest exhibition at Fondation Louis Vuitton.
Broad avenues, stunning architecture, and private mansions hint at the wealth in this upscale, mostly residential district on Paris's Right Bank, a favorite of embassies and expats.
Along Rue de Passy, one of the district's main thoroughfares, you can shop for gourmet gifts at La Grande Epicerie de Paris, check out the designer fashion boutiques, and pop into the Passy Plaza shopping mall.
For a quick snack or lunch, head to nearby pedestrian-only market street, Rue de l'Annonciation. Later, dine at one of the arrondissement's many wonderful bistros and restaurants.
You won't find much in the way of lively nightlife in the 16th, nor will you spot many tourists outside of the Trocadéro area. But if you're looking for a hotel in a serene area with wonderful amenities, top attractions, and convenient metro connections to other parts of Paris, give the 16th a serious consideration!
Top photo: Architecture in Paris's 16th Arrondissement, (c) Copyright Paris Discovery Guide, all rights reserved
Paris Discovery Guide is a reader-supported publication. When you buy through our links, we may earn a commission at no additional cost for you. Learn more
---
Where to Stay in Paris 16th District
Brach Paris Hôtel
★★★★★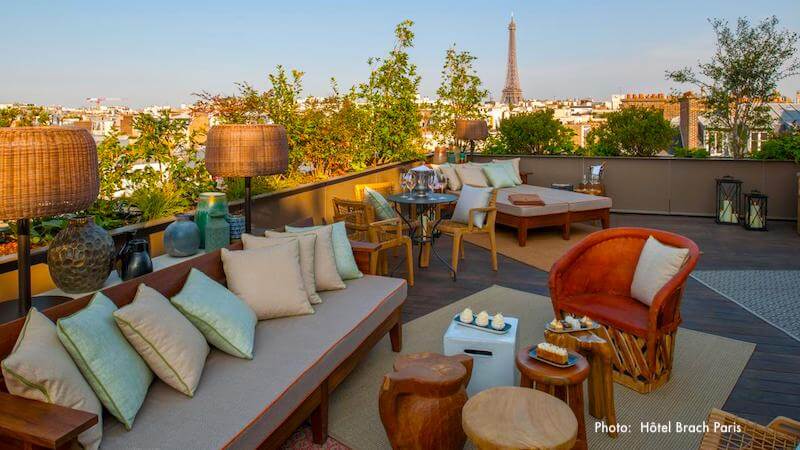 1-7 Rue Jean Richepin, 37-39 Rue de la Pompe, 16th arrondissement
Located in the upscale 16th arrondissement close to the Marmottan Monet Museum, Fondation Louis Vuitton in the Bois de Boulogne, and numerous other museums, the 5-star Hotel Brach Paris features 59 luxurious guestrooms and suites with 14 foot ceilings, eclectic but elegant 1930s furnishings and decor by famed designer Philippe Starck, a rooftop garden complete with the hotel's mascot hens and a Jacuzzi, and huge terraces (some with Eiffel Tower views) from some of the rooms and suites.
You'll find lots more to love here: a fabulous onsite pastry shop and restaurant, two pools, a great fitness center, private limousine service, and the superb service you would expect from a 5-star luxury hotel.
---
Canopy Paris Trocadéro
★★★
★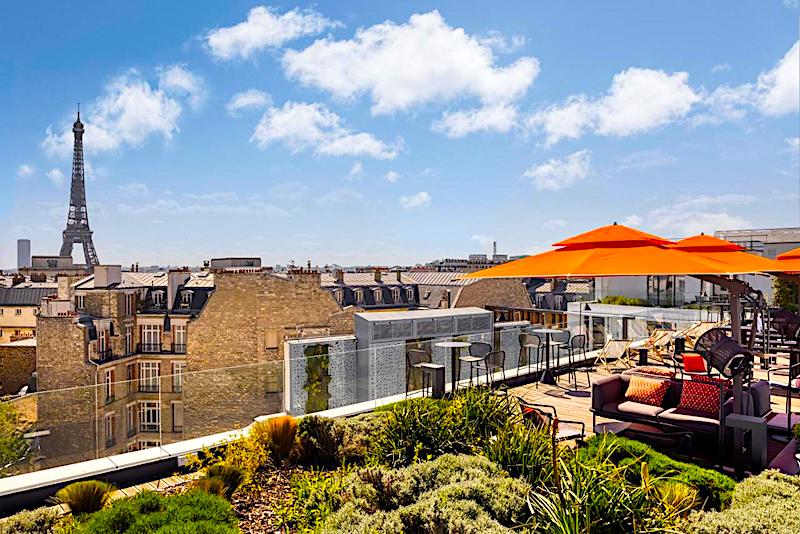 16 Avenue d'Eylau, 16th arrondissement
Thanks to its wonderful location close to Trocadéro and its viewing platform offering superb views of the Eiffel Tower, the 4-star Canopy Paris Trocadéro Hotel by Hilton offers a similar vista from many of its 123 elegant and spacious guest rooms and suites. However, for the best views of the iconic landmark, head up to the hotel's large rooftop terrace bar in the evening, where you can sip a glass of champagne or Parisian craft beer as a DJ plays music while city lights sparkle all around you.
You'll find a lot more to love at the Canopy Paris Trocadéro - the fun Art Deco vibe, expansive public spaces for dining, relaxing, and even working on your laptop, a well-equipped fitness room, and easy access to all of the city's other iconic attractions. Plus, you can use your Hilton points to book.
---
The Peninsula Paris
★★★★★

Palace Hotel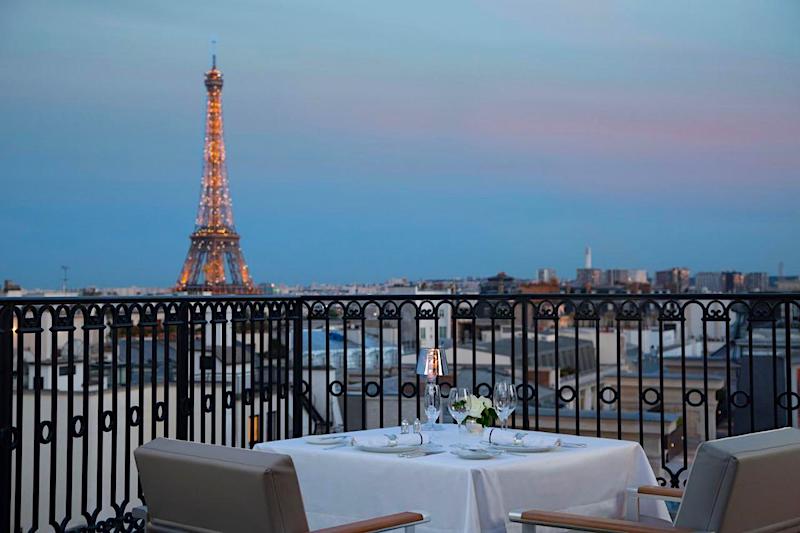 19 Avenue Kleber, 16th arrondissement
The Peninsula Paris lets you gaze upon Paris's most famous site from its rooftop restaurant as part of the 5-star experience of staying in this opulent 5-star "Palace" hotel in a swanky part of the swanky 16th Arrondissement.
The hotel's 200 guestrooms and suites reside in a 19th century Haussmannian building. Behind the classic facade lies a posh world of cream and gray, with plenty of marble, gold, and crystal thrown in.
Take advantage of all the amenities in this super-luxury hotel - the wonderful spa and a huge (for Paris) swimming pool, roof-top fitness classes, and special tours.
Want to get closer to the Eiffel Tower? Ride over in the hotel's chauffeur-driven BMW or even their 1934 Rolls-Royce Phantom II. You're also very close to the Arc de Triomphe and Fondation Louis Vuitton in the Bois de Boulogne.
---
Hôtel Palais de Chaillot
★★★
35 Avenue Raymond Poincaré, Paris 16
Located in the 16th district's lovely Chaillot neighborhood, the affordable 3-star Hotel Palais de Chaillot offers comfortable contemporary guest rooms, air conditioning, and an elevator in a superb location less than 2 blocks from Trocadéro
Stroll down to Trocadero's expansive viewing terrace for superb views of the Eiffel Tower, or cross over the Seine if you want to go up to the top of the tower.
You're also within an easy 10-minute walk of the kid-friendly Aquarium de Paris and some of the neighborhood's top museums: Cité de l'Architecture, Musée de la Marine, Musée de l'Homme (anthropology), Palais de Tokyo, Guimet Museum of Asian Art, Palais Galliera fashion museum, Paris Museum of Modern Art, and Yves Saint Laurent Museum.
---
Shangri-La Hôtel
★★★★★

Palace Hotel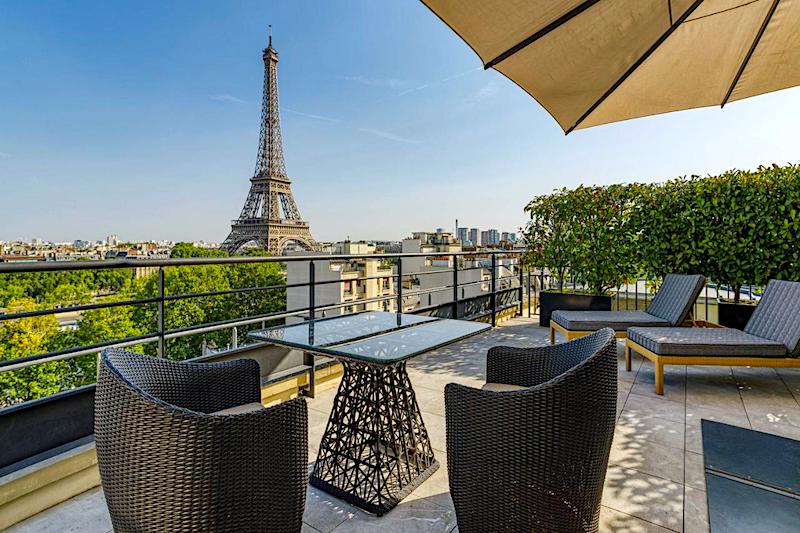 10 Avenue d'Iéna, Paris 16
Perched in a spectacular location in the 16th arrondissement overlooking the Seine River and Eiffel Tower, the 5-star "Palace Hotel" Shangri-La looks like a many-layered, rather ornate wedding cake.
In fact, the hotel began as a private mansion for Napoleon's great-nephew, and fairly drips with opulence and luxury.
Each of the spacious 101 guestrooms and suites has a unique layout and feel, decorated in an elegant style that's a cross between Empire and Modern.
You'll love the beautiful swimming pool and terrific spa.
For an unforgettable experience, splurge on a room or suite with your own private terrace and enjoy Champagne, strawberries, and the best views in Paris every evening.
---
Citadines Trocadéro
★★★
29 Rue Saint-Didier, Paris 16
Citadines Trocadéro combines the convenience (and extra space) of an affordable self-catering apartment with some of the most appreciated amenities of a hotel, such as breakfast, a business center, laundry facilities, and on-site parking.
You can choose from several types of air-conditioned accommodations: a classic 1-person guestroom, a studio for two, and a 1-bedroom apartment that sleeps up to four. All have small kitchens equipped with everything you need for making simple meals, plus there's a grocery market less than a block away.
Best of all, you're in a very convenient location close to Trocadéro, the Eiffel Tower, and numerous museums.
---
Hotel Molitor
★★★
★★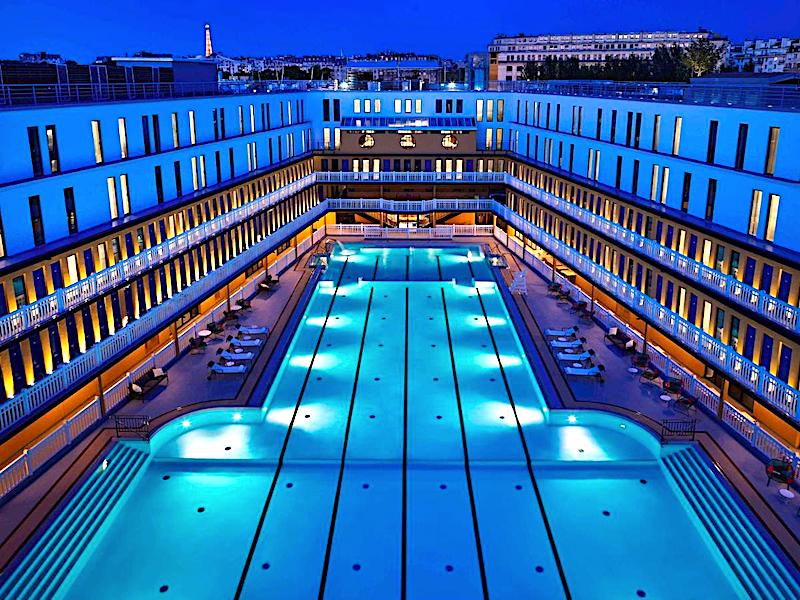 13 Rue Nungesser et Coli, Paris 16
If you're planning a trip to Paris to attend the French Open at Roland Garros, the 5-star Molitor Paris - MGallery should be at the top of your list of hotels to consider. Located almost next to the tennis complex and also close to the Parc des Princes Stadium and Longchamp Hippodrome, the hotel and swimming pools date back to 1929, when two Olympic swimmers designed to look like a vast oceanliner with an enormous outdoor pool at its center, with another large indoor pool as well.
After a recent $100 million renovation, the 124 guest room Molitor is better than ever, with a rooftop restaurant and garden terrace with Eiffel Tower views, an excellent spa, fitness room, and fun contemporary vibe.
The Molitor is an obvious choice if you plan to spend time at Roland Garros, but it's also the perfect spot to be when Paris's summer heatwaves hit. A nearby metro station gives you easy access to Central Paris.
And as a bonus, for a 5-star hotel offering lots of amenities, its rates are surprisingly affordable.
---
More Places to Stay in the 16th Arrondissement
Saint James Paris - The only chateau-hotel in Paris, this luxurious 5-star property resembles a home surrounded by a private garden; you'll love the Michelin-starred restaurant and Guerlain spa on site
Hôtel Raphael - Luxury 5-star hotel with antique furnishings, hand-carved wood paneling, and original wall murals with a fantastic rooftop terrace; family-owned and managed for 4 generations
Hôtel Keppler - Excellent 4-star hotel with modern furnishings in an elegant 19th century Haussmannian building, just a short walk from Avenue Montaigne and George V.

More hotels in Paris's 16th arrondissement
---
Find More 16th District Hotels & Apartments
Enter your check-in date to see hotels and rates available for your visit.
Tip: If you enter only your check-in date, the map will display rates for one night for the cheapest available room. If you plan to stay more than one night, enter your check-in and check-out dates to see the total cost for your visit.
---
Popular Ways to Explore Paris
Find more things to do in the 16th arrondissement
---
More Articles about Where to Stay in Paris