A huge and exciting assortment of temporary Paris museum exhibitions and show help cement the City of Light's well-earned reputation as the cultural capital of the world.
The Louvre, Musée d'Orsay, Picasso Museum, Centre Pompidou, Grand Palais, Fondation Louis Vuitton, Rodin Museum, Grande Halle de la Villette, Atelier des Lumières, Musée de l'Orangerie and others typically offer multiple exhibitions each year.
For Parisians and visitors alike, these shows provide an essential part of the city's dynamic cultural life as well as the source of entertainment and enjoyment. Although many of these shows take place at Paris art museums, you'll also find them at the city's history museums, science museums, military museums, and other venues including special exhibition halls.
What will you experience? Everything from an in-depth view at Yves Saint Laurent's impact on design to a Rosa Bonheur retrospective... a blockbuster exhibition of paintings, sculpture, photography, design, cinema, and literature during Germany's Weimar Republic... the evolution of sneakers to a digital art show featuring Cezanne.
Some museum exhibitions and shows require a special event ticket (usually about 10€-20€) while others are included with the general admission ticket. A few are free.
Please note: We show admission fees in Euros in this article, but if you book through a link on this page, you may see the fee in your own currency, in case you're wondering why the cost differs from what we list. A few venues such as the Louvre add a small booking fee (usually 1€) if you get tickets online), and at least one other (Atelier des Lumieres) adds a couple of euros if you do NOT book online and instead buy your ticket at the door. Also, just as a reminder: although we do our best to keep prices and other information updated, they may change without our knowledge.
To find out about all Paris museums, monuments (plus institutions focused on collections, research, and displays, such as botanical gardens, zoos, and aquariums), check out our Paris Museums and Monuments Complete Guide.
If you're visiting Paris and plan to visit other museums and attractions, you may save a lot with a Paris Museum Pass or Go City All Inclusive Paris Pass, which gives you skip the line free entry at selected museums by booking in advance.
Check out our following list of the best exhibitions happening right now and coming up soon!
Top photo: Cezanne show at Atelier des Lumières, (c) Paris Discovery Guide
Paris Discovery Guide is a reader-supported publication. When you buy through our links, we may earn a commission at no additional cost for you. Learn more
---
Louvre Museum Exhibitions - 2023
None at the moment - but plenty to see in the permanent exhibits.
Tickets: 17€ adults plus the Louvre's 3€ online booking fee; includes special exhibits and permanent collections; book in advance with a reserved time slot and skip-the-line access; can also book in advance for free admission with a Paris Museum Pass
Location: Rue de Rivoli, Paris 1; Metro: Palais Royal/Musée du Louvre
Interested in a Louvre Museum guided tour? Find out how to choose the best one to match your interests
---
Orsay Museum (Musée d'Orsay) Exhibitions 2023
Manet/Degas
An exploration of the differences and even conflicts in their depictions of modernity in their works created between the 1860s and 1880s.
Dates: March 28 - July 23, 2023
Musée d'Orsay Tickets: 16€ adults. Book a reserved-access ticket for skip-the-line access, or use your Paris Museum Pass for free entry
Location: 1 Rue de la Légion d'Honneur, Paris 7; Metro: Pont de l'Alma; Invalides
---
Atelier des Lumières Exhibitions 2023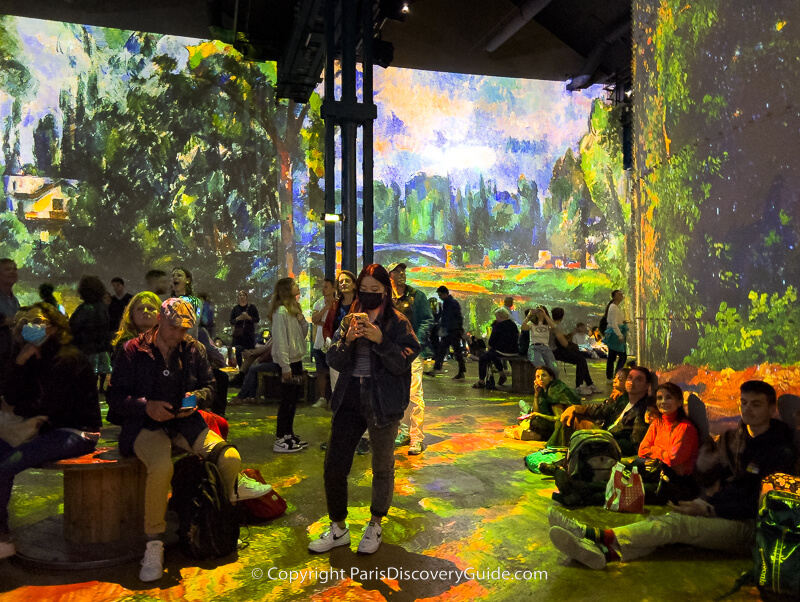 Chagall, Paris-New York, and Paul Klee, Painting Music
Immersive digital show accompanied by original music explores the works of Marc Chagall and Paul Klee. Both shows, as always, are fantastic - don't miss them!
Dates: Now through January 7, 2024; open daily
Tickets: 16€ adults for timed entry, with reduced rates for families, youth, seniors; purchase online on the L'Atelier website; you can also purchase at the door (for an additional 2€ per ticket) but there's no guarantee you'll get in as timeslots are often fully booked
Getting there: 38 Rue Saint Maur, 11th arrondissement; Metro: Saint-Maur
---
Centre Pompidou Exhibitions - 2023
Sayed Haider Raza
First solo exhibition of paintings by this Mumbai artist who lived in France between 1950-2010, with emphasis on the transcultural dynamics in his work.
Dates: Now through May 15, 2023; Gallery 4, Level 1
Tickets: 16€, which includes general admission + exhibit
Germaine Richier
Retrospective exhibition of almost 200 works of this important post-war sculptor, who was the first female sculpture exhibitied in the National Museum of Modern Art.
Dates: Now through June 12; Gallery 2, Level 6
Tickets: 17€, which includes general admission + exhibit
Moses Vorobeichic / Moï Mer / moï Wer / Moshe Raviv
Major exhibition of works by Lithuanian painter, graphic artist, and photographer Moï Ver, inclluding important examples of 1930s photographic modernism presented in their entirety.
Dates: April 12 - August 28, 2023; Gallery 0, Level 4
Lynne Cohen & Marina Gadonneix
Photographs by Canadian Lynne Cohen and Française Marina Gadonneix that focus on the spaces in the modern world.
Dates: April 12 - August 28, 2023; Level 4
Pompidou Tickets: 15€ adults; book online (includes some shows plus permanent collections) or use your Paris Museum Pass for free entry; shows in several galleries require an additional ticket at (usually) an extra cost of 1-2, so book the "permanent and temporary" ticket if you want to see one of these exhibits. Or enhance your visit with a private tour by an expert guide.
Getting there: Rue Saint-Martin between Rue Rambuteau and Rue Merri, 4th; Metro: Rambuteau, Hôtel de Ville, Châtelet; RER: Châtelet les Halles, lines A, B, D
---
Musée de l'Orangerie - 2023
Matisse: Cahiers d'Art - At the Turn of the 1930s
A rare exhibition of Matisse's work during the 1930s, influenced by this trip to Tahiti, as depicted in the avant-garde publication Cahiers d'Art next to works by contemporaries Georges Braque, Juan Miro, Vassily Candinsky, Mondrian, and others.
Dates: Now through May 29
Modigliani: A Painter & His Dealer
A look at the relationship between Modigliani and gallery owner-collector Paul Guillaume, who became his dealer, patron, mentor, and friend, as well as other prominent artists, models, and girlfriends, as depicted in a number of Modigliani's paintings.
Dates: September 20, 2023 through January 15, 2024
Tickets: 12.50€. Get your Musée de l'Orangerie at the door or online (includes permanent collections and special exhibitions), save with a combo ticket to Musée de l'Orangerie and the Orsay Museum, or use your Paris Museum Pass for free entry
Location: Tuileries Garden (southwest corner), 75001; Metro: Concorde, Assemblée Nationale
---
Chateau de Versailles Exhibitions & Shows - 2023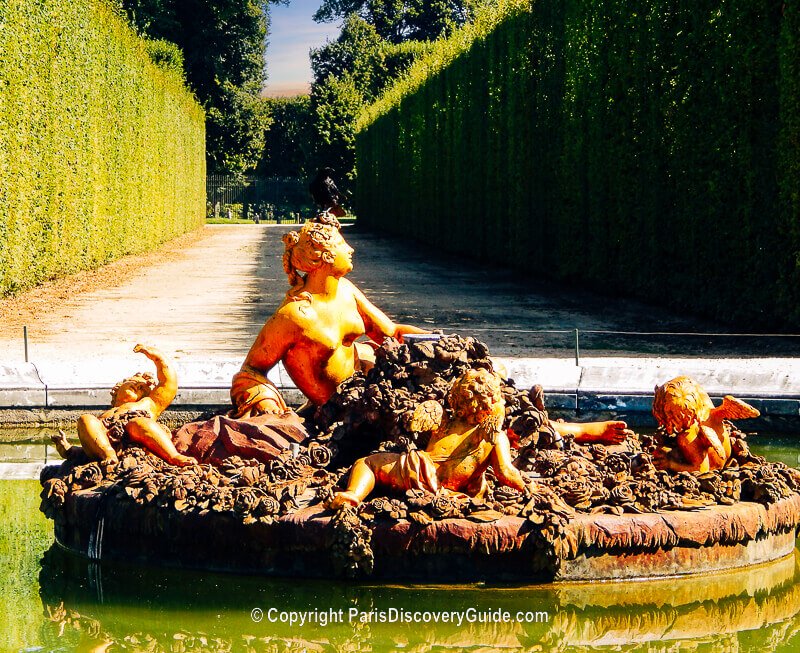 Musical Fountains & Musical Gardens Shows
You'll know spring has arrived in Paris when the Musical Gardens and Musical Fountains Shows start for the season in the Gardens at Palace of Versailles on April 1. These special presentations continue through October 31.
These two highly-rated guided tours of Versailles include transportation from Paris and entrance to Musical Gardens or Musical Fountains (on days when they take place):
Prefer to travel to Versailles and explore on your own? Get a Versailles Palace & Gardens "Passport" Ticket that includes the shows on days when they are available.
Masterpieces of the King's Chamber
Located in the apartment of Madame de Maintenon, this exhibition features the paintings from the King's Chamber, including Louis 14th private collection.
Dates: Through July 16, 2023
Find out about best ways to tour Versailles Palace from Paris
More Ways to See Versailles:
---
Musée du Quai Branly
Kimono
Exploration of the history of the Japanese kimono, including modern use by designers such as Galliano and McQueen, and innovative and subversive use by younger Japanese .
Dates: Through May 28, 2023
Senghor and the Arts
A tribute to the influence of intellectual and statesman Léopold Sédar Senghor, who served as president of Senegal from 1960 to 1980s, and who along with others pioneered "Négritude" to affirm the role of Africa in writing its own history and defining its own visual and performing arts in the aftermath of overturning colonialism.
Dates: Through November 19
Tickets: 12€ adults; includes permanent collections & temporary exhibitions in the Garden Gallery; some special shows may require a separate ticket. Book online, or get free entry (not including ticketed shows) with a Paris Museum Pass
Location: 37 Quai Branly (almost next door to the Eiffel Tower), 7th arrondissement; Metro/RER: Pont d'Alma
---
Musée de l'Homme (Anthropology Museum)
Arts and Prehistory
Discover masterpieces of prehistoric art from around the world and trace the power of human creativity since the dawn of time.
Dates: Through May 22, 2023
Tickets: 13€ adults; includes permanent collections & temporary exhibitions. Book online, or get free entry with a Paris Museum Pass
Location: 17 Place de Trocadero, 16th arrondissement; Metro/RER: Pont d'Alma
---
Army Museum (Musée de la Armée) at Les Invalides - 2023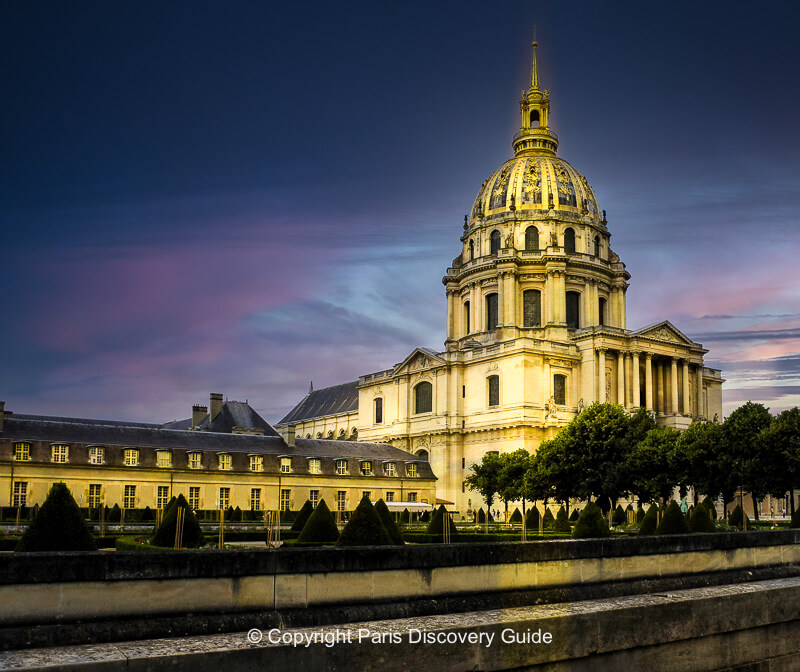 None at the moment - so enjoy the permanent exhibitions and Napoleon's tomb.
Tickets: 14€ adults, free for 17 and under; includes permanent collections plus most exhibitions; buy a priority entrance ticket online online or enter free with a Paris Museum Pass
Location: 129 Rue de Grenelle, Paris 7; Metro: Tour Maubourg, Varennes, Invalides
La Nuit aux Invalides: The Flight of the Eagle
This annual show takes place at Les Invalides from June through early September.
Immerse yourself in the world of Napoleon in this spectacular 360-degree immersive exhibition that explores his life, military achievements, and reign as Emperor. After the show, extend your evening with a special illuminated night walk into the Dome church where Napoleon's tomb is located. Dates: Summer, 2023 (exact dates to be announced later)
Nuit aux Invalides Tickets: Book online on the event website
Want to tour Les Invalides, Napoleon's Tomb, and the Army Museum during regular hours? Get your priority entry tickets online before you go.
Find our complete guide to Paris museums & monuments
---
More Shows at Specialty Museums, Galleries, and Exhibition Halls
The museums and other venues in this section appear more or less in alphebetical order.
---
Cité des Sciences et de l'Industrie
Cancers
A major exhibition examining the scientific, psychological, and social dimensions of cancer, including treatments, screening, causes, and impacts of this disease, with testimonials by patients, doctors, caregivers, and carers at the center; also focuses on research, prevention, screening, and hopes for the future.
Dates: Through August 8, 2023
Tickets: 12€
Recommended age: 14 and over
Location: 30 Avenue Corentin Cariou, 19th arrondissement; Metro: Porte de La Villette (closest) or Porte de Pantin (walk across the park); Tramway 3b: Porte de La Villette station
Decorative Arts Museum (Musée des Arts Decoratifs) Exhibitions
The 80s: Fashion, Design, and Graphics
Dive back into the the "look" of the 1980s in this show featuring 700+ pieces, including furniture, fashion, photographs, video clips, posters, album covers, and even fanzines.
Dates: Through April 16, 2023
Étienne Robial: Graphics, Audiovisuals, & Decor
Take a deep dive into 50 years of creations by graphic artist, publisher, artistic director, and collector Étienne Robial, with pieces from his professional projects and private collections.
Dates: Now through June 11, 2023
Des Cheveux & des Poils
An exploration of the fashion phenomenon of hairstyles and hair care through the centuries, and how styles such as the Flapper Look and the Mohawk communicate social and cultural codes.
Dates: April 15 - September 17, 2023
Tickets: 14€ adults - be sure to book a special exhibition ticket, which includes permanent collections plus exhibitions; buy online (highly recommended for weekend visits) or at the door - please note that the Paris Museum Pass includes permanent exhibits only
Location: 107 Rue de Rivoli, Paris 1; Metro: Tuileries or Palais Royal-Musee du Louvre
Closed: Mondays as well as December 25, January 1, May 1
---
Drouot Auction House (Hôtel Drouot)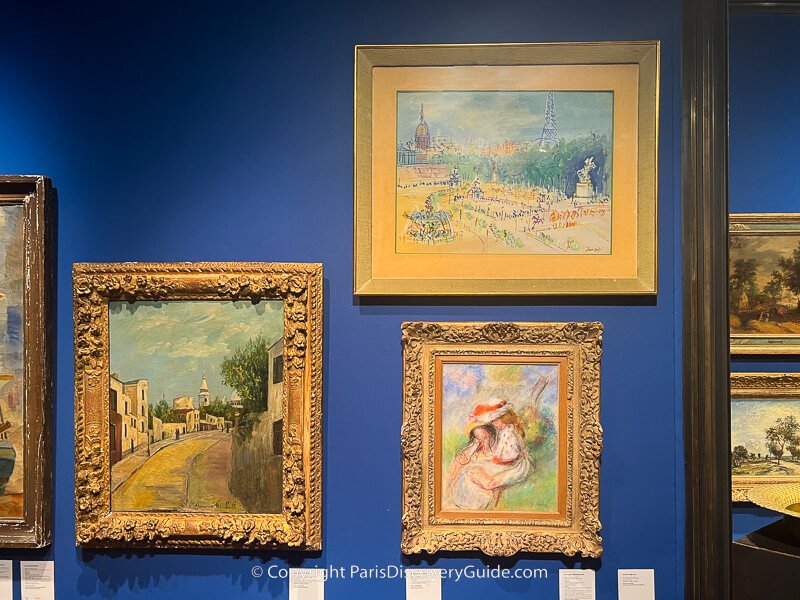 To be clear, Drouot is not a museum - it's Paris's premier auction house which hosts 70 auction firms that exhibit and sell art, furniture, decorative objects, and collectables in about 1,200 auctions each year.
Whether you want to see museum-quality art which (if you have a huge bank account) you can bring home with you, surprisingly affordable treasures, and everything in between, this is the place to come.
Both the regular exhibition spaces and auctions are open to the public - after a quick bag check, you just walk in, along with about 5,000 other daily visitors. Displays of items to be auctioned - usually the next day - change daily.
You never know what you're going to see here. But if you feel thrilled by the possibility of discovering, for example, a painting by Renoir or Dufy that's usually hidden from public view in private collections, this is where to come. But remember - unless you buy it, you can see it on display for one day only. If you don't want to miss anything, stay nearby and pop in every day.
Open: Monday through Friday, 11am - 6pm, plus Thursday evenings until 9pm. Occasionally open on Saturday and Sunday.
Admission: Free (except for occasional ticketed events/auctions)
Where: 9 Rue Drouot, Paris 9; Metro: Le Peletier, Line 7
Recommended nearby hotels: Hotel Millennium Paris Opera - Hotel Chopin - Holiday Inn Paris Opera
---
Espace Lafayette Drouot Exhibition
The World of Banksy: The Immersive Experience
Immerse yourself in reproductions of over 100 works by the famous but mysterious street artist Banksy. Optional: Visit a recreation in Paris of The Walled Off Hotel.
Dates: Now a permanent exhibition
Tickets: 14€ for adults (plus 6€ for The Walled Off Hotel) available here
Where: 44 Rue du Faubourg Montmartre, Paris 9; closed on Mondays; Metro: Le Peletier
---
Fondation Cartier for Contemporary Art
Fabrice Hyber: The Valley
Fifty large-scale works by French artist Fabrice Hyber, who for 40 years has planted about 300,000 tree seeds by his family's farm, transforming fields into forests which have become the focus of his art. Each canvas reflects his thoughts in motion as he works to transform the landscape around him.
Dates: Through April 30, 2023
Tickets: 11€ adults (12€ online)
Location: 261 Boulevard Raspail, Paris 14; Metro: Raspail
Closed: Mondays
---
Fondation Louis Vuitton (Louis Vuitton Foundation)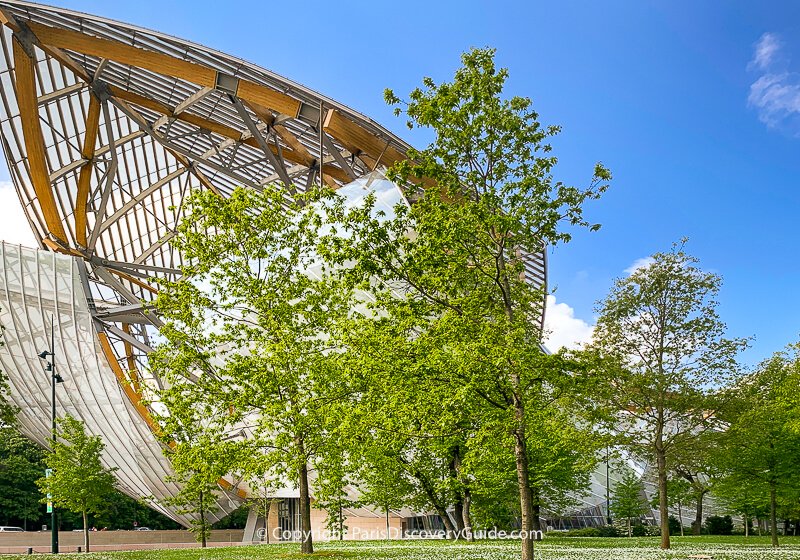 Basquiat x Warhol. Painting Four Hands
The most important exhibition to date dedicated to the collaboration between Jean-Michel Basquiat and Andy Warhol in 1984-85, which produced about 160 paintings done with "four hands." You'll see 80 canvases and over 200 other works and documents of their jointly created work, plus individual works by each of them and other major artists from the Downtown New York art scene of the '80s such as Jenny Holzer and Keith Haring.
Dates: April 5 - August 28, 2023
Tickets: Book in advance (includes priority access through a special entrance, permanent and temporary exhibitions, a downloadable audio guide, rountrip shuttle pick up/drop off across from Arc de Triomphe, and free entrance from the Foundation to its neighbor, Jardin d'Acclimatation)
Location: 8 Avenue du Mahatma Gandhi, Bois de Boulogne, Paris 16; Metro: Pont de Neuilly
More about what to see & do at Fondation Louis Vuitton
---
Gaite Lyrique
None at this time.
Admission: Free
Location: 3 bis Rue Papin, Paris 3; Metro: Réaumur-Sébastopol
Tickets: Website
---
Grand Palais Immersif
Grand Palais Immersif produces immersive and interactive exhibitions focused on making art accessible to the greatest number of people through digital technology and innovations. Part of the temporarily-closed Grand Palais, it is currently located at Opera Bastille
Eternal Mucha
An exploration of the work of Art Nouveau artist Alphonse Mucha, who was one of the most famous Belle Epoque artists of Europe around 1900.

Dates: March 22 - November 5, 2023
Admission: Varies; get tickets online
Location: Opera Bastille, 110 Rue de Lyon, 12th arrondissement; Metro: Bastille (exit 4); RER A or D: Gare de Lyon; Bus: 29, 69, 87, 91: Bastille
---
Grande Arche ("La Toit") at La Defense
La Toit de la Grande Arche is an expansive new exhibition space at the top (toit = roof) of the massive arch dedicated to modern and contemporary photography.
Jean-Gabriel Barthélemy: Photos of Our Heritage
Immersive exhibition of photos of Notre Dame Cathedral, the Palace of Versailles (including rare shots of secret passages and other seldom-seen areas), La Cité, and more by this French photographer extraordinaire.

Dates: Through June 30
Admission: 8-16€, which also includes access to the Grande Arche's rooftop terrace
Location: Grande Arche, La Defense Esplanade; Metro: La Defense
---
Grande Halle de La Villette
This expansive space in Parc de la Villette hosts periodic large-scale exhibitions.
Ramses the Great & The Gold of the Pharoahs
Blockbuster exhibition.
Dates: April 7 - September 6, 2023
Tickets: 20€-30€; get tickets online

Location: 211 Avenue Jean Jaurès, 19th arrondissement; Metro: Porte de Pantin (closest) or Porte de La Villette (bit of a walk across the park)
---
Guimet Museum (National Museum of Asian Art) Exhibitions
Afghan Season and On the String: Textile Creation by Afghan Women
Two exhibitions showcasing Afghan history and creativity.
Dates: Through February 6, 2023
Carte Blanche à Wang Keping
Exhibition of wood and bronze sculptures by contemporary Chinese artist Wang Keping, who has lived in France since 1984.
Dates: Through March 6, 2023
Tickets: 11.50€ adults; includes permanent collections plus most exhibitions; buy online or enter free with a Paris Museum Pass
Location: 6 Place d'Iéna, Paris 16; Metro: Iéna
Check out our complete guide to Paris museums & monuments
---
Hotel de la Marine
Al Thani Collection: Ca' d'Oro
Masterpieces of the Renaissance in Venice including works by Bellini, Bordon, Mantegna, and Riccio, from the Galleria Giorgio Franchetti alla Ca' d'Oro.
Tour Options at Hotel de la Marine
This newly reopened and exquisitely restored 18th century mansion overlooking Place de la Concorde offers two ticketed tour experiences: 1) a 45-minute tour of the breathtaking reception rooms, which some visitors consider even more beautiful than those at Versailles Palace, plus an audioguide; and 2) a 1.5 hour "grand" tour which includes additional rooms and an exhibition of art from the Al Thani collection, which includes art from numerous cultures and spans 6,000+ years.
Tickets: 45-minute tour: 13€, or 1.5 hour tour including Al Thani collection: 17€ - book your tickets
Location: 2 Place de la Concorde, Paris 8; Metro: Concorde
---
Institut du Monde Arabe (Arab World Institute) Exhibitions
On the Roads of Samarcande: Wonders of Silk & Gold
An exhibition of several hundred unique treasures from the famous "silk road," seen for the first time outside of the museums of Uzbekistan, a melting pot of ancient civilizations.
Dates: Through June 4, 2023
Tickets: 15€ adults; includes permanent collections plus exhibition (12€ for permanent collection only); get tickets on museum website; free access with a Paris Museum Pass to permanent collection only; free admission to the special exhibition, Algeria Mon Amour, on March 18 in celebration of Algeria's Independence Day on March 18, 1962, marking the end of a 7-year war with France.
Location: 1 Rue des Fossés Saint-Bernard, Paris 5; Metro: Cardinal Lemoine or Sulland-Morland (walk across bridge)
---
Jardin des Plantes
Four enormous greenhouses and extensive (and well-labeled) botanical gardens are packed with living collections of the plant world; periodic special exhibitions give additional reasons to visit.
A Thousand and One Orchids 2023
This popular annual event displays numerous orchids of all types in the Jardin des Plantes' spectacular greenhouses.
Dates: February 8 - March 6
Tickets: Included in regular greenhouse entrance fee, but due to the popularity of this show, you may want to get your tickets online in advance
Greenhouses
Available to visit throughout the year.
Festival of Lights
Giant illuminated statues of animals create a magical experience during the evening.
Dates: November - mid-January
Tickets: 15€-17€, with reduced prices for children and families
Tickets to Greenhouses: 7€ adults; buy online or at the greenhouse entrance
Admission to the Botanical Garden: Free
Location: Greenhouses, Jardin des Plantes, Paris 5; Metro: Jussieu, Place Monge, Austerlitz, or Quai de la Rapée (walk across the Pont d'Austerlitz bridge to the garden)
---
La Fab
La Galerie du Jour
Constantly changing exhibition of contemporary art including originals, multiples, and editions from the personal collection of French fashion designer agnès b (Agnès Troublé), plus pieces by contemporary creators, vintage furniture, and art from all periods. Some pieces are for sale, at prices to suit every budget.
Dates: Ongoing

Location: Place Jean-Michel Basquiat, Paris 13; Metro: Bibliothèque François Mitterrand
Tickets: 7€ adults; 4€ students 13-26, 65+; free for under 13 years old
More Information: La Fab website
---
Le Petit Palais
Walter Sickert
First major retrospective of this late 19th century/early 20th century English painter whose provocative, sometimes unsettling depictions influenced later artists such as Francis Bacon and Lucian Freud.
Dates: Through January 29, 2023
Tickets: 15€; free for under 18 year olds
Admission: Free for permanent collection (which is wonderful) but tickets (cost varies) usually required for special exhibits; buy online to reserve a time slot
Location: Avenue Winston Churchill, Paris 8; Metro: Champs-Elysées Clemenceau
---
Luxembourg Museum Exhibitions
Mirror of the World
An exhibition of 100 (or so) dazzling and rare artworks and objects (including books and instruments) acquired by various Princes of Saxony between the 16th and 18th centuries, when "cabinets of curiosities" collected by travellers opened up the world to others.
Dates: Through January 15, 2023
Tickets: 13€ for adults; 9€ for ages 16-25; free for under 16; get tickets here
Where: 19 Rue de Vaugirard (next to Luxembourg Garden), Paris 6; closed on Mondays; Metro: Saint-Sulpice or Odeon
---
Maison Européenne de la Photographie
Boris Mikhailov
Major retrospective devoted to Ukrainian artist Boris Mikhailov.
Dates: Through January 23, 2023
Tickets: 10€ adults - sometimes a short line, but usually moves fast; you can also book online for an extra euro; museum website
Location: 5 Rue de Fourcy, Paris 4; Metro: Saint Paul
---
Memorial de la Shoah (Holocaust Museum)
Spirou in the Turmoil of the Holocaust
An exploration of how Spirou, a comic book character created in the late 1930s by Jean Doisy, served as a cover for its creater, Jean Doisy, who was active in the Resistance and the rescue of Jewish people
Dates: Through August 30, 2023
Admission: Free
Location: 17 Rue Geoffroy-l'Asnier, Paris 4; Metro: Pont Marie
---
Musée d'Art Moderne de Paris Exhibitions
Oskar Kokoschka: Enfant Terrible in Vienna
First Paris retrospective of 150 works by Austrian artist Oskar Kokoschka, who believed in the subversive power of painting as a way to achieve emancipation and education.
Dates: September 23, 2022 - February 12, 2023
Pierre Dunoyer Installation
A retrospective of 14 paintings created between 1978 to 2022; see the evolution of Dunoyer's formalism into a freer approach with "painted objects" in a dynamic range of colors.
Dates: Now through February 12, 2023
Tickets: Free admission to the galleries showing pieces from the museum's permanent collection. Tickets required for most temporary exhibitions; book online
Location: 11 Avenue du President Wilson, Paris 16; Metro: Iéna

---
Musée Eugène Delacroix
Tickets: 7€ adults; includes permanent collection plus exhibitions; free entrance with a Paris Museum Pass
Location: 6 Rue de Furstemberg, Paris 6; Metro: Saint-Germain-des-Pres or Mabillon
---
Musée Jacquemart-André Exhibitions
Füssle, The Realm of Dreams & The Fantastic
Discover the work of late 18th century/early 19th century Swiss-born British painter Heinrich Füssli in this exhibition of 60 paintings exploring the intersection between reality and fantasy.
Dates: Through January 23, 2023
Tickets: 15€ adults; includes permanent collections plus exhibition; museum website
Location: 158 Boulevard Haussmann, Paris 8; Metro: Saint Philippe du Roule
---
Musée Picasso Exhibitions
Picture Picasso
See Picasso in front of cameras in art films, film and sound archives, reports, and documentaries in all kinds of settings: with his family, creating art in his studio, frolicking on the Mediterranean coast, and relaxing with films. Especially cool: all these images are juxtoposed with his art from the museum's collection.
Dates: Through February 12, 2023
Faith Ringgold: Black is Beautiful
First French retrospective of works by Black American artist Faith Ringgold.
Dates: January 31 - July 2, 2023
Picasso Celebration: The Collection in a New Light
Exhibition of curated masterpieces by Picasso deisgned to show his work through a contemporary lens; displayed in conjunction with works by contemporary international artists such as Guillermo Kuitca, Obi Okigbo, Mickalene Thomas and Chéri Samba.
Dates: March 7 - August 27, 2023
Tickets: 14€. Use a Paris Museum Pass for both museums, choose a Picasso Museum ticket only, or get a combined ticket for both museums; all ticket types also include permanent collections
Location: 5 Rue de Thorigny, Paris 3; Metro: Saint-Paul or Filles du Calvaire
---
Musée Rodin Exhibitions
No special exhibitions at the moment - but don't miss Rodin's fantastic masterpices on view, such as The Kiss and The Thinker, especially now as the garden bursts into bloom.
Dates: March 22 - January 7, 2024
Tickets: 14€; use a Paris Museum Pass for both museums, choose a Rodin Museum ticket only, or get a combined ticket for both the Rodin and Picasso museums; all ticket types also include permanent collections
Location: 77 Rue de Varenne, Paris 7; Metro: Varenne
---
Natural History Museum: Grand Gallery of Evolution (Grande Galerie de l'Évolution
Felines
Major exhibition of all 38 species of felines from around the world, from cats to tigers to manuls, and an exploration of their history, their evolution, their specific traits, and their natural predators and other threats.
Dates: March 22 - January 7, 2024
Tickets: 13€
Location: 36 Rue Geoffroy Saint-Hilaire, Paris 5; Metro: Jussieu, Saint-Marcel, or Quai de La Rapée
---
Palais de Tokyo
Scheherazade at Night
Group exhibition and solo exhibitions of works by Minia Biabiany, Miguel Gomes, Ho Tzu Nyen, Pedro Neves Marques, Lieko Shiga, and Ana Vaz exploring myths and fables in a variety of geopolitical contexts through a variety of artistic media ranging from video to photography to fiber, and more.
Dates: Through January 8, 2023
Tickets: 12€ adults; museum website
Location: 13 Avenue du President Wilson, Paris 16; Metro: Iena
---
Palais Galliera
Frida Kahlo
A retrospective of 200+ pieces from Casa Azul in Mexico, the artist's childhood home, including traditional clothing, and how they shaped her cultural, personal, and artistic identity. A "capsule" exhibition (only through December 31, 2022) also explores her visit to Paris, relationship with the Surrealists, and how she inspired designers such as Jean Paul Gaultier, Rei Kawakubo, and Karl Lagerfeld.
Dates: Through March 5, 2023
Collections Tour: Fashion & Sports
Discover the links between fashion and sports from the 18th century to the present day in this new special tour of the museum's extensive collections of everything from undergarments to accessories.
Dates: June 2023 to 2024
Tickets: 15€; usually a good idea to get online as lines can be long)
Location: 10 Avenue Pierre 1er de Serbie, Paris 16; Metro: Line 9, Iena or Alma-Marceau
---
Pinault Collection
Une Seconde d'Eternite (One Second of Eternity)
Works by 15 artists that demonstrate a moment in space and time.
Dates: Through January 2, 2023

Anri Sala
An immersive, cosmic, and nocturnal work by artist Anri Sala.
Dates: October 14, 2022 - January 3, 2023

Location: Bourse de Commerce, 2 Rue de Viarmes, Paris 1; Metro: Rue de Rivoli or Les Halles
Tickets: 14€; includes all exhibitions; buy at the ticket office across the plaza from the front entrance (it's easy to spot), or reserve online
Check out our complete guide to Paris museums & monuments
---
Science Experiences - NEW Immersive Museum
Designed to make learning about science fun and entertaining through immersive and innovative means such as virtual reality, holograms, multisensory experiences, and videos, this new venue lets you move through multiple rooms and spaces to explore the universe, nature, the ocean, the center of the earth, the human body, electricity, depths of an abyss, and even quantum physics as you explore lasers, hovering, and teleportation.
It's not clear yet if there will be new exhibits in the future - but right now, all of the exhibition rooms are a new sensation in Paris.
Location: 23 Rue de Pirogues, Cour Saint-Emilion at Bercy Village, Paris 12; Metro: Line 14 - Cour Saint-Emilion
Tickets: 11€ ages 3-15, 19€ ages 16+; although you can buy tickets on site, online is better if you want a specific date/time because of space limitations
---
Paris Museum and Attractions Passes
Want to save money on museum tickets? Get free admission and skip-the-line access to 60+ museums in and near Paris when you have a Paris Museum Pass for 2, 4, or 6 days. Find out more
---
More Articles about Paris Museums & Culture