Top Paris events for September include la rentrée - the return of Parisians to the city, feeling energized after a month or more of vacation relaxation and excited about all the activities, new shows at theaters, museums and concert halls, and festivals filling the September calendar.
If you're visiting Paris this month, celebrate the tail-end of summer at a free jazz festival at Parc Floral plus mostly-free music and film fests. More top events include the fabulous European Heritage Days, Paris Fashion Week, and free cultural events across the Marais neighborhood.
Will you see any fall foliage in the city's many famous parks during September? Look for a few hints of gold and crimson toward the end of the month - but otherwise, expect to find lots of flowering plants still in full bloom and beauty everywhere you look. Days should still be warm and mellow - but bring a warm sweater to wear at night.
---
European Heritage Days (Journées Européans du Patrimoine) 2022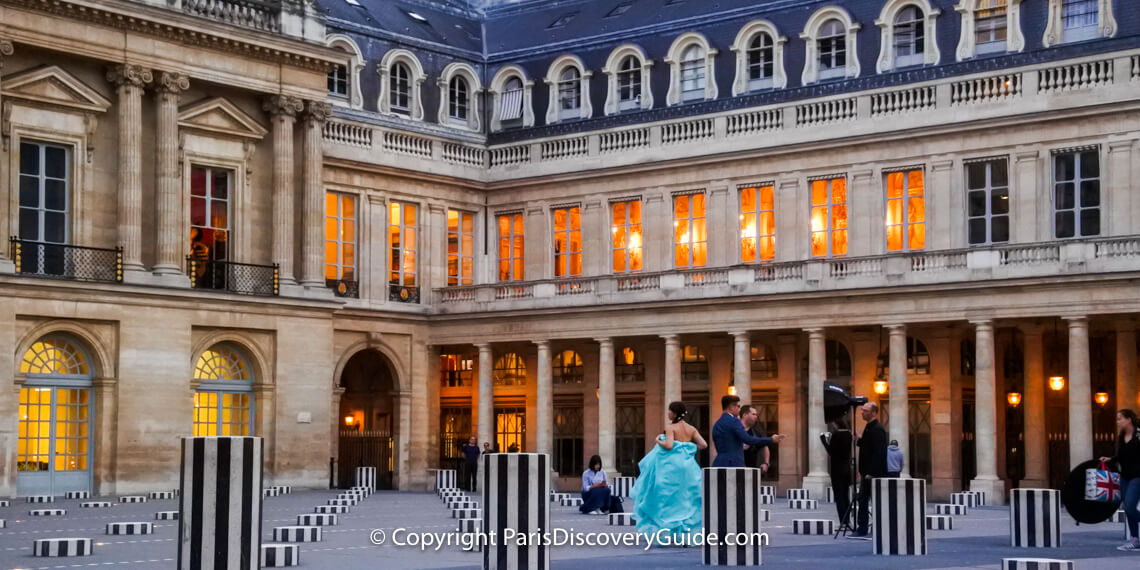 Over 300 Paris museums, historic monument, heritage sites, and public spaces give you free access during fascinating tours and presentations as part of France's European Heritage Days on September 17-18.
What's special? Many of the city's most beautiful, fascinating, and historical institutes give access to private areas normally off-limits to visitors.
Head to venues as Hotel de Ville, Élysées Palace, and Palais Royal where you can explore treasure-filled areas normally closed to the public, take behind-the-scenes tours at the Paris Metro (including current construction sites!), France Télévisions, and the command center at a Saint-Denis Canal lock, or simply get free admission to some of the city's most popular museums and cultural institutions such as Musée de l'Armée and Philharmonie de Paris. Some of the most unusual offers include a guided quarry tour and a behind the scenes tour of Drouot, the famous Parisian auction house.
Admission, tours, workshops, and other related events are free, but at some venues, you'll need to register in advance. The complete schedule and related registration information (if required) will be listed on European Heritage Days' website, usually about 3 weeks before the event.
---
September Concerts in Paris - 2022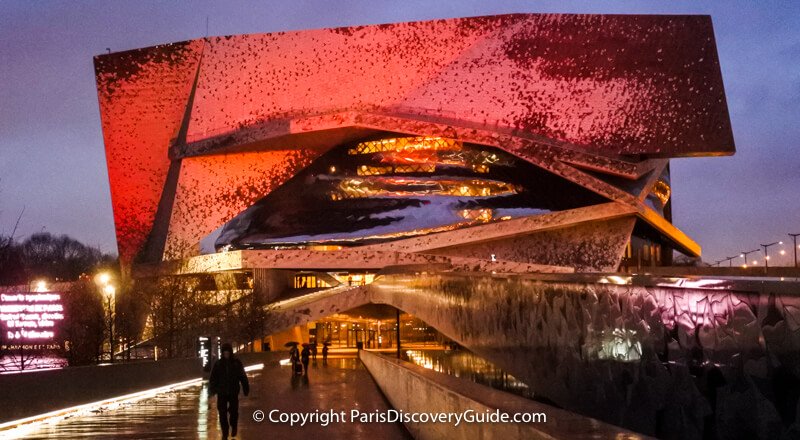 More Paris classical concerts during September
More Paris rock, electronic, pop, jazz, & other performances during September
More concerts throughout the year
---
Day Trips from Paris: September Picks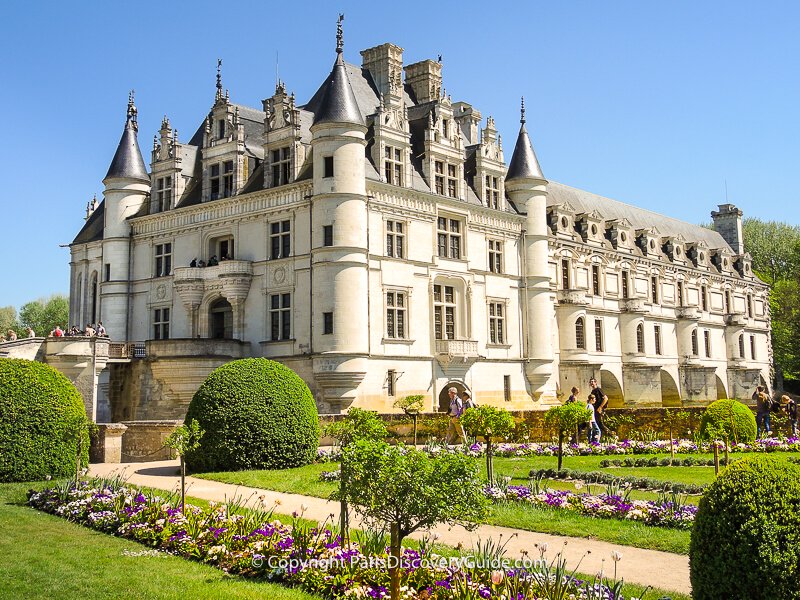 September is the perfect month to explore some of the exciting and famous attractions outside of Paris. Here are 4 of the most popular day trips with transportation from Paris included:
Find out about other exciting Day Trips from Paris
---
Les Extatiques Festival at La Défense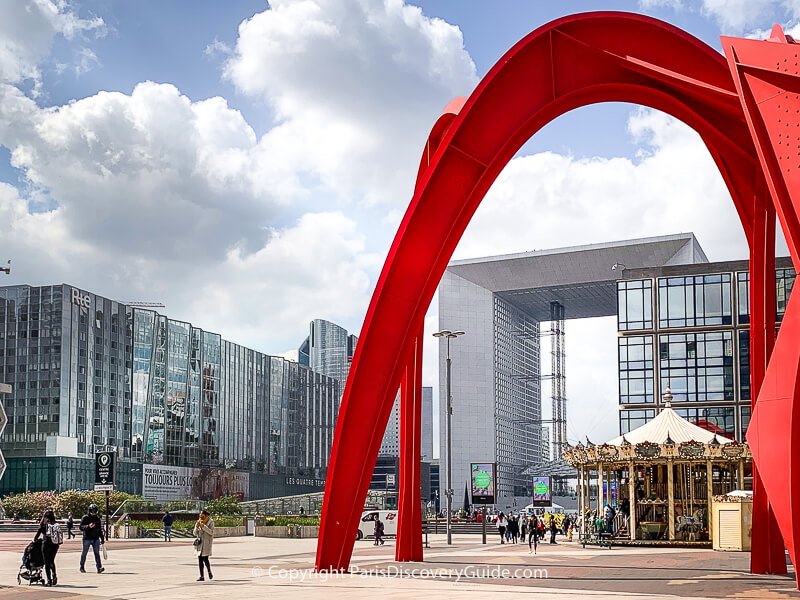 The annual Les Extatiques Festival at La Défense, located in Paris's skyscraper-filled business district just beyond the city limits, features nine mid-size to monumental sculptures by contemporary French and International artists.
Look for the sculptures along La Défense's Esplanade, a long park-like paved space that functions as an outdoor art gallery (and also hosts La Défense's enormous Christmas Market). You'll find them in the stretch between the Grande Arche and the multi-colored Bassin pool and fountains.
Dates: Through October 2, 2022 (to be confirmed)
Admission: Free
Metro: La Défense (about a 5-minute ride from the Charles de Gaulle/Etoile station on Line 1; if you walk down the whole 1 km (.6 m) length of the Esplanade, you'll end up at the Esplanade de La Défense station and can hop on the metro there to go back to Paris - or continue walking for another mile or so to the Arc de Triomphe.
While you're there: Go to the top of the Grande Arche to enjoy skyline views of Paris from the terrace
---
Jazz à la Villette 2022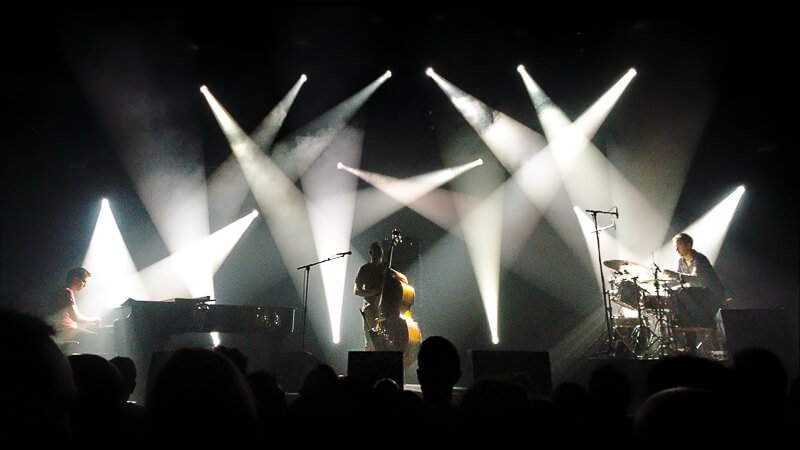 The Jazz à la Villette Festival stages two weekends of superb musical events in Parc de la Villette's major venues: Philharmonie de Paris, Grande Halle de La Villette, and Cité de la Musique. Don't miss this unforgettable experience of hearing some of the best French and international musicians at one of the world's leading jazz fests. There's also a spcial kids' program. The festival runs from August 31 - September 11.
Lineup and more information: Jazz à la Villette website
---
Les Traversées du Marais (Free Cultural Events in the Marais) - 2022

Les Traversées du Marais, featuring 47 free cultural events, will inspire you to "travel" across the Marais neighborhood (3rd and 4th arrondissements), where you'll encounter a rich diversity venues offering concerts, live performances, film screenings, kids' events including story time, open artists studios, a culinary workshop, exhibitions, and lots of fun on the first full weekend of the month, September 2-4.
Participating venues include Centre Pompidou, Museum of Arts and Crafts, Museum of Art and History of Judaism, Swiss Cultural Center, Victor Hugo House, Museum of Hunting & Nature, International City of Arts, National Archives, Wallonia-Brussels Center, Carnavalet Museum, Cultural Institute of Mexico, Forney Library, BHVP (BHV Paris) department store, Picasso Museum, Cognacq-Jay Museum, 3rd and 4th Arrondissement's City Halls, and more.
Admission: Free
More about the schedule and venue locations: http://lestraverseesdumarais.com/
---
Car Free Day - 2022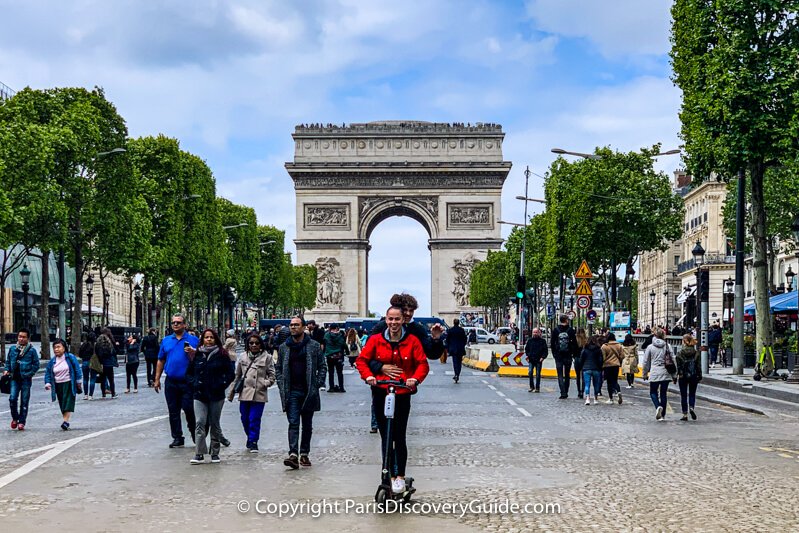 Paris's annual Car Free Day takes place this year on September 18 from 11am to 6pm, planned to coincide with European Heritage Days. And as a bonus, you can enjoy the regular "first Sunday" car-free day on September 4.
With most private vehicle traffic (ie, cars, motorcycles, trucks) banned from city streets, this is your chance to walk freely in the middle of the streets and enjoy the cleaner air resulting from a variety of green initiatives.
Emergency and city worker vehicles, taxis, city buses, and tour buses are allowed, so be prepared to share the space with them as well as with bicycles, segways, and scooters.
If you're visiting Paris, Car Free Day can be a wonderful opportunity to explore the heart of the city on a guided bicycle tour or electric bike tour.
Due to the popularity of this annual event, many neighborhoods now declare car-free days periodically throughout the year. Champs Élysées and many other streets are pedestrianized on the first Sunday of each month from 10am - 5pm, and some neighborhoods close certain streets on a weekly basis.
---
Paris Exhibits - Must-See Shows for September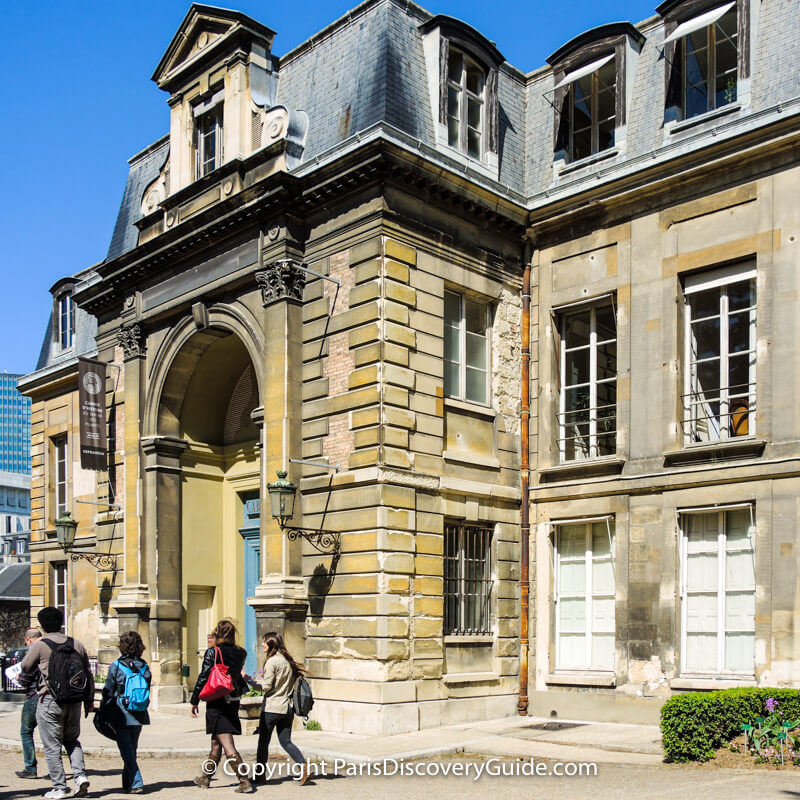 The Olmecs & Gulf of Mexico Civilizations
@ Musée du Quai Branly - Journey across 3,000 years to explore the Olmec civilization and other little-known pre-Columbian culturs around the Gulf of Mexico.
Dates: Now through October 3, 2021
Tickets: 12€ adults; includes permanent collections & temporary exhibitions in the Garden Gallery; some special shows may require a separate ticket. Book online, or get free entry with a Paris Museum Pass
Location: 37 Quai Branly (very close to the Eiffel Tower), 7th arrondissement; Metro/RER: Pont d'Alma
Find more Paris museum exhibitions for September & future months
---
Sunday Afternoon Concerts at American Cathedral
The American Cathedral of Paris (23 Avenue George V, 8th district) will present Sunday afternoon concerts by local musicians of mostly Classical and Baroque music at 3pm throughout the months of September and October. Here is the schedule for September (to be updated for 2022):
Sept 5: Selections for piano by Bach, Beethoven, Prokofeev/Schumann
Sept 12: Selections for guitar by Dowland, Scarlatti, Bach, Paganini, Albeniz, & more
Sept 19: Selections for violin and piano by Piazzola, Fauré, Beethoven
Sept 26: Selections for 2 violins and piano by Glazounov, Liszt, & more
Admission: Free but donations are appreciated.
More information: American Cathedral website
---
Silhouette Short Film Festival 2022
Wrap up the summer and welcome early fall in Paris at the free outdoor Silhouette Short Film Festival held from August 26-September 3 (to be confirmed) at Parc de la Butte du Chapeau Rouge in Paris's 19th arrondissement.
During the festival's 8 days, you'll have the chance to see numerous different French and international short films in a variety of categories: animation, drama, documentary, experimental, films for young audiences, and more. Each evening's program kicks off at 6:30pm with a workshop, followed by a concert at 7:30pm. Films begin at 9pm, and will also be broadcast at the Holiday Inn Express-Paris Canal de la Villette located a few blocks away.
Metro: Pré St-Gervais or Place des Fête
Admission: Free
More Information: http://www.association-silhouette.com
---
Paris Museum and Attractions Passes
Get free admission and skip-the-line access to 60+ museums in and near Paris when you have a Paris Museum Pass for 2, 4, or 6 days. (Access to special shows may require additional ticket.) More info
---
Paris Fashion Week: Womens Ready to Wear - 2022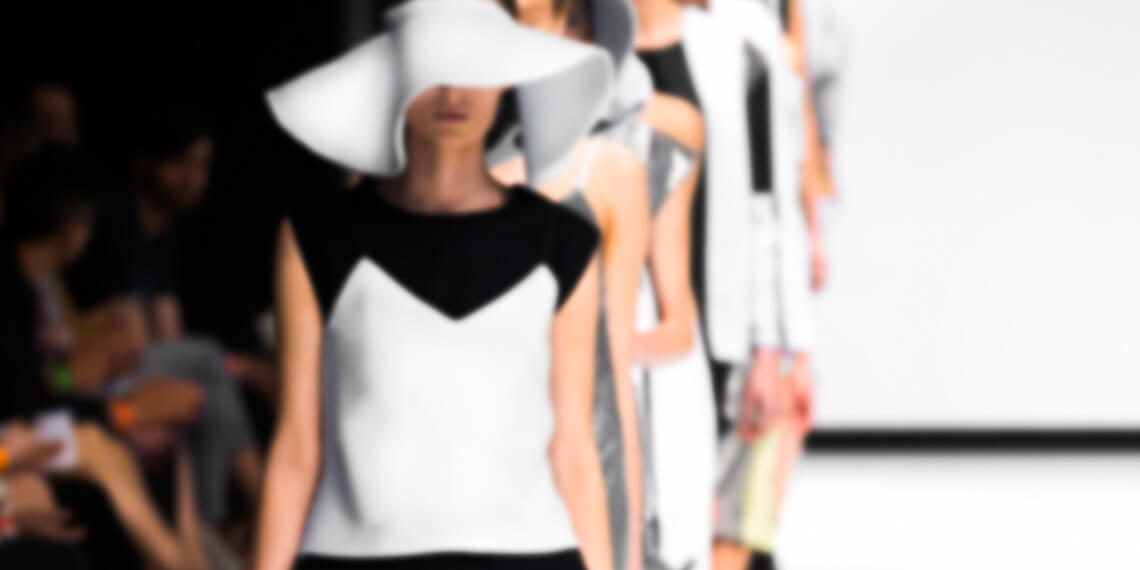 Paris Fashion Week takes place in multiple locations around the city and features numerous events showcasing French and International designers such as Chanel, Galliano, Dior, Givency, Vuitton, Miu Miu, Alexander McQueen, Balenciaga, Saint Laurent, Sandro, Comme des Garçons, Courrèges, Maje, Vanessa Bruno, and Isabel Marant as models strut down the runways wearing Women's Ready-To-Wear collections for next spring and summer.
The ticketed shows are generally by invitation only, so unless you're lucky enough to snag one, you can catch a glimpse of the models near the venue locations, typically in the 1st, 3rd, 4th, 7th, 8th, and 16th arrondissements. The Grand Palais, the Eiffel Tower and nearby Champs des Mars, Place des Vosges, Espace Ephémére des Tuileries near the Louvre, Palais Royal Garden, Hotel de Ville, Palais de Tokyo, and Pompidou are usually safe bets, as well as designer ateliers in the Marais neighborhood.
When: September 26 - October 4
Paris Tours for Fashionistas
---
Festivals du Parc Floral: Paris Jazz Festival, Classic in Green, Pestacles, Nocturnes - 2022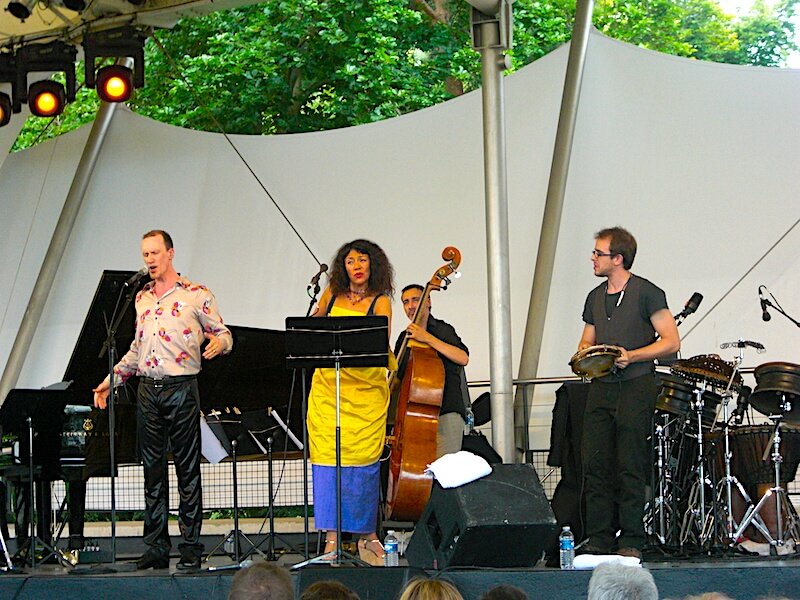 Four popular music festivals continue at Parc Floral (the Paris Botanical Garden) in Bois de Vincennes through September 7: Paris Jazz Festival, Classic in Green (classical music), Pestacles (a children's concert series for ages 4 and up), and Nocturnes (night concerts of contemperary, jazz, or classical music).
The outdoor concerts take place on Saturdays and Sundays on several stages. Almost all of the concerts are free (gratuit), although the park charges a small 3€) entrance fee during summer and early fall. Check the Festival's website to download a brochure with dates, lineups, and concert times.
Bring a blanket and a picnic or buy wine and a sandwich at the park's snack bar, and enjoy a relaxing afternoon and evening filled with sunshine, flowers, wandering peacocks, and virtuoso musicians.
---
Paris Beer Festival - 2022
Although wine usually overshadows beer as the beverage of choice in Paris, rising stars among local craft brewers may change your loyalties once you explore what's on offer. There's no better way to do that than stopping by the Paris Beer Festival and savoring the lineups on tap.
The first three days of the festival focus on events hosted by bars, gastro pubs, and breweries located mostly in the Marais, Canal Saint-Martin, and other eastern arrondissement neighborhoods. The last two days take place in Ground Control, a former rail depot repurposed as a popular theater, food, music venue, and community space with restaurants, food trucks, outdoor seating, and shops behind Gare de Lyon train station in the 12th arrondissement, where you'll have the chance to do a lot more sampling.
When: August 21 - September 4 (to be confirmed)
Where: Days 1-3, various locations; Days 4 & 5: Ground Control, 81 Rue de Charolais, Paris 12
Tickets (Sat & Sun only): 5-7€; e-payment only
More information: Event website

Want to visit Ground Control at other times? It's open Wednesday through Sunday (see their website for hours and events)
---
More Top Paris Things to Do & See in September
---
More Articles about What to See & Do in Paris in September
---
Need Reservations? This Paris Hotel Map Will Help
Planning to visit Paris in September? Use this Paris hotel map to find accommodations and make your reservations: