Top Paris events for September include la rentrée - the return of Parisians to the city, feeling energized after a month or more of vacation relaxation and excited about all the activities, new shows at theaters, museums and concert halls, and festivals filling the September calendar.
If you're visiting Paris this month, celebrate the tail-end of summer at a free jazz festival at Parc Floral plus mostly-free music and film fests. More top events include the fabulous European Heritage Days, Paris Fashion Week, and free cultural events across the Marais neighborhood.
Will you see any fall foliage in the city's many famous parks during September? Look for a few hints of gold and crimson toward the end of the month - but otherwise, expect to find lots of flowering plants still in full bloom and beauty everywhere you look. Days should still be warm and mellow (sometimes even hot!) - but bring a warm sweater to wear at night.
Top photo: Pool in Luxembourg Garden in early September, (c) Paris Discovery Guide
Paris Discovery Guide is a reader-supported publication. When you buy through our links, we may earn a commission at no additional cost for you. Learn more
---
European Heritage Days (Journées Européans du Patrimoine)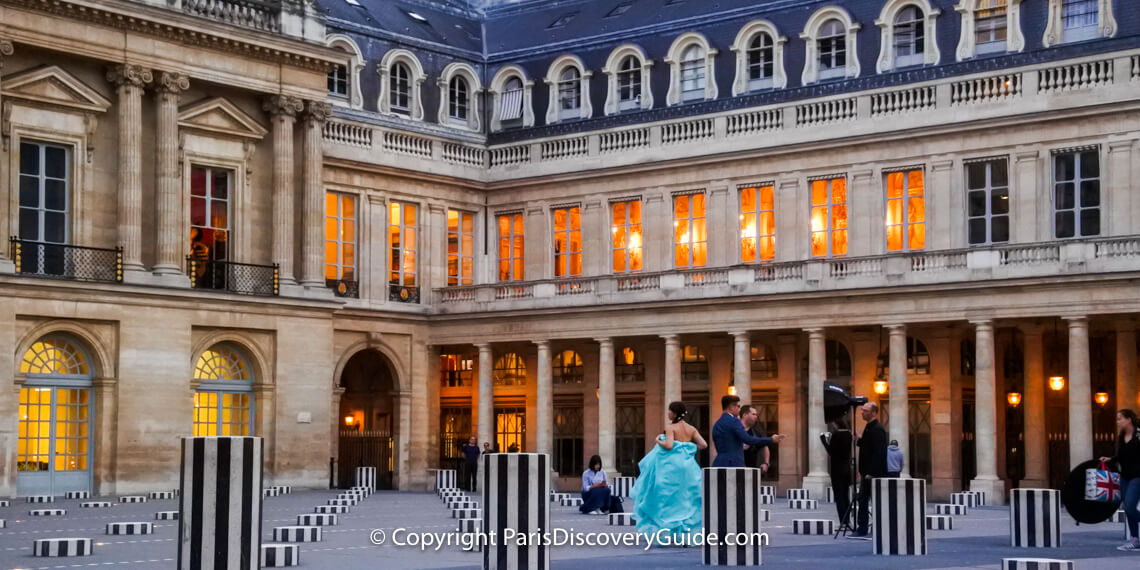 Over 300 Paris museums, historic monument, heritage sites, and public spaces give you free access during fascinating tours and presentations as part of France's European Heritage Days on September 16-17.
What's special? Many of the city's most beautiful, fascinating, and historical institutes give access to private areas normally off-limits to visitors.
Head to venues as Banque de France, Élysées Palace, and Palais Royal where you can explore treasure-filled areas normally closed to the public, take behind-the-scenes tours at the Supreme Court, Chatalet Theatre, and the construction site at Notre Dame Cathedral, or simply get free admission to some of the city's most popular museums and cultural institutions such as Monnae (the Paris Mint) and La Conciergerie.
Some of the most unusual offers include a guided walking tour around top collections a the Dior Gallery, Yves Saint Laurent Museum, and Palais Galliera (which have joined forces for this event), an insider's look at the 400+ year old "Lantern gazebo" at the head of the Belleville aquaduct, art workshops at the Louvre, and a special guided tours of three different circuits through Paris's Covered Passages.
Find out more about Paris's historical covered passages
Admission, tours, workshops, and other related events are free, but at some venues, you'll need to register in advance.
Keep in mind that tours and presentations will be in French, so if your understanding of the language is, let's say, "imperfect," consider choosing an event where you'll be happy with just the visual part of the experience.
The complete schedule and related registration information (if required) will be listed on European Heritage Days' website, usually about 3 weeks before the event.
---
September Concerts in Paris - 2023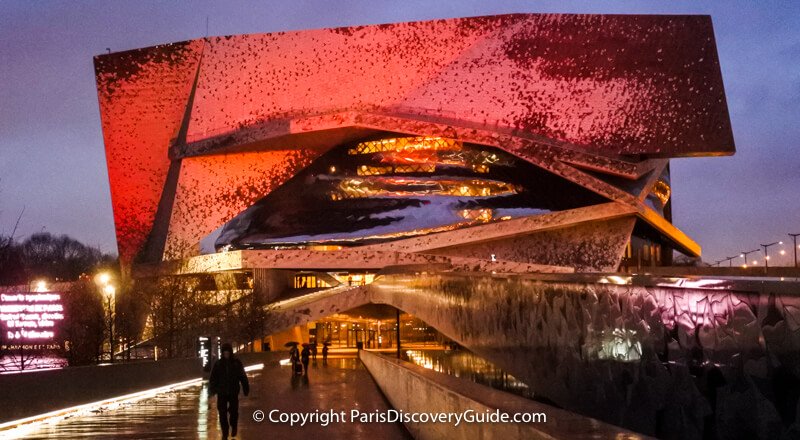 More Paris classical concerts during September
More Paris rock, electronic, pop, jazz, & other performances during September
More concerts throughout the year
---
Day Trips from Paris: September Picks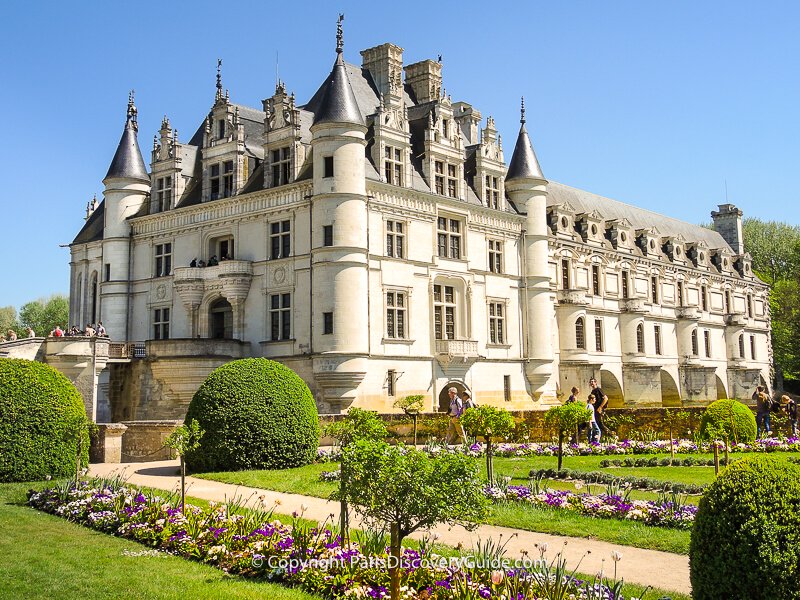 September is the perfect month to explore some of the exciting and famous attractions outside of Paris. Here are 4 of the most popular day trips with transportation from Paris included:
Find out about other exciting Day Trips from Paris
---
Floating Markets Festival across from Notre Dame 2023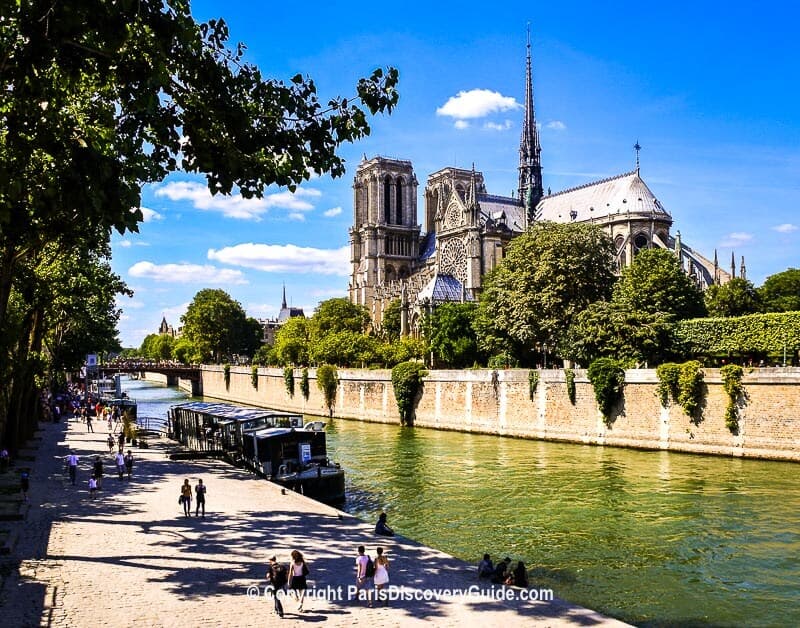 Every year on the same weekend as European Heritage Days (September 15-17 this year; 10am-10pm on Friday and Saturday; 10am-7pm on Sunday), Quai Montebello along the Seine River across from Notre Dame becomes transformed by a fun gourmet event complete with free tastings: the Floating Markets of the Southwest.
Around 40 producers of food specialties from Southwestern France let you taste (and if you'd like, buy) their local products: foie gras, wines, duck, jams, cheeses, and special plums, garlic, grapes, and other produce. Music and dancing by the river add to the fun. More information: event website
Bonus tip: Once you've sampled the best of the Southwest, keep walking along the Seine toward the Latin Quarter to the east, and you may get to see more dancing along the Seine on the Jardin Tino Rossi platforms overlooking the river.
Everyone is welcome, so join the dancing if you feel inclined.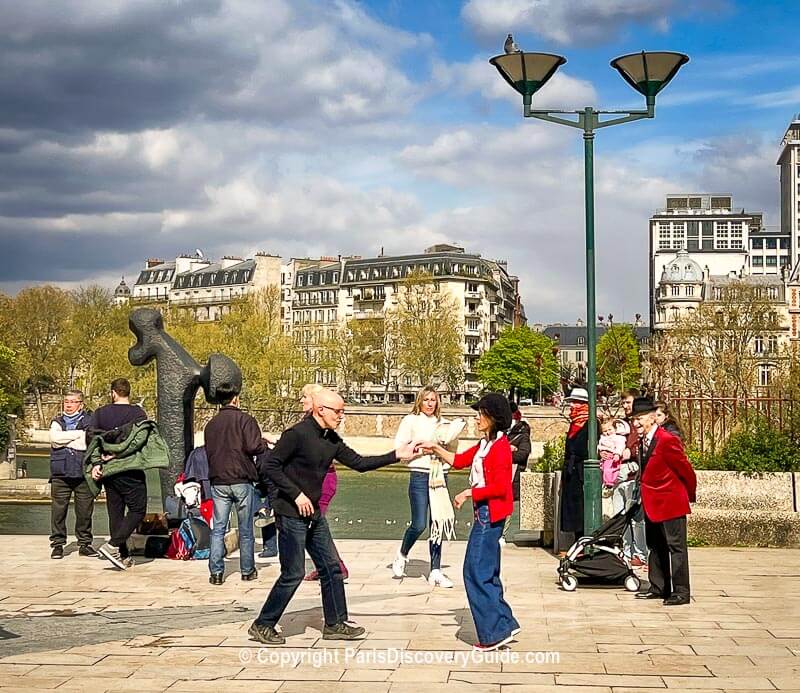 ---
Paris is Worth a Party Festival 2023
Looking for something fun and unusual to do in Paris? You can travel back in time to celebrate 1,500 years of Parisian life in the Paris is Worth a Party festival in Place Saint-Sulpice (in front of the Saint-Sulpice Church at 2 Rue Palatine, 6th arr).
In addition to exhibitions of Paris from the Middle Ages to the Liberation (World War II), you'll see costumed actors portraying craftsmen, marching in a parade from the Pantheon, and entertaining you with dance, music and poetry.
Although admission is free (with donations gratefully accepted) for everything except a medieval banquet, you must get tickets in advance.
Dates: September 9, 10
---
Les Extatiques Festival at La Défense 2023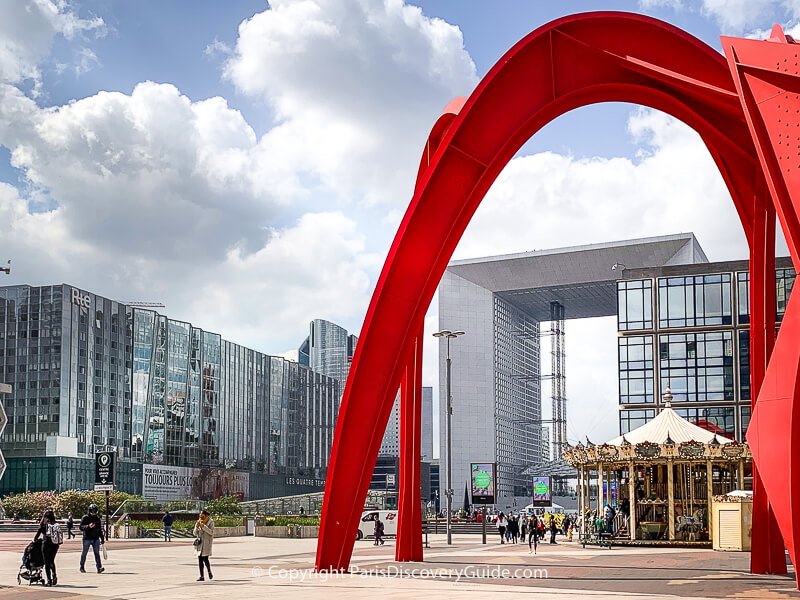 The annual Les Extatiques Festival at La Défense, located in Paris's skyscraper-filled business district just beyond the city limits, features new monumental sculptures by eight contemporary French and International artists.
Look for the sculptures along La Défense's Esplanade, a long park-like paved space that functions as an outdoor art gallery (and also hosts La Défense's enormous Christmas Market). You'll find them in the stretch between the Grande Arche and the multi-colored Bassin pool and fountains.
Dates: Through October 1, 2023
Admission: Free
Metro: La Défense (about a 5-minute ride from the Charles de Gaulle/Etoile station on Line 1; if you walk down the whole 1 km (.6 m) length of the Esplanade, you'll end up at the Esplanade de La Défense station and can hop on the metro there to go back to Paris - or continue walking for another mile or so to the Arc de Triomphe.
While you're there: Go to the top of the Grande Arche to enjoy skyline views of Paris from the terrace
---
Paris Exhibits - Must-See Shows for September 2023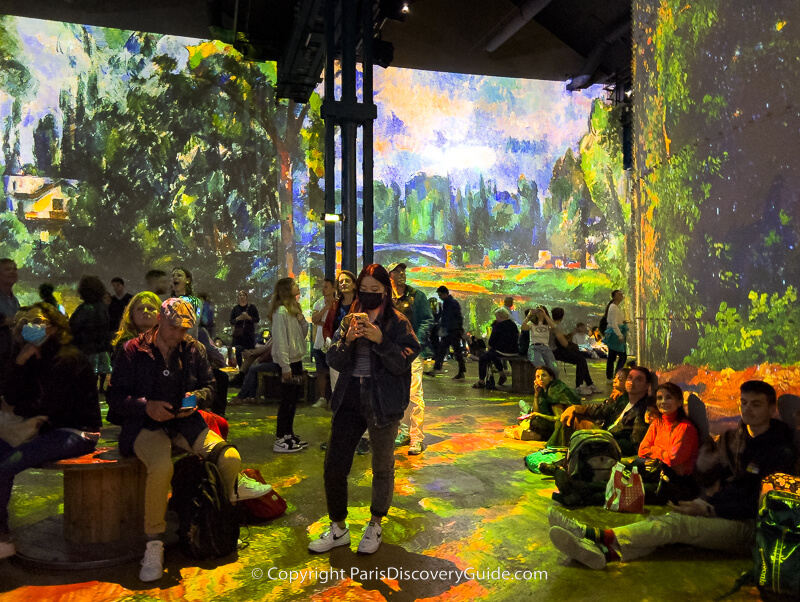 Marc Chagall and Paul Klee @ Atelier des Lumieres
- Immersive digital show accompanied by original music explores the works of Marc Chagall and Paul Klee. Both shows, as always, are fantastic - don't miss them!
Dates: Through January 7, 2024; open daily
Tickets: 16€ adults, plus reduced rates for families, youth, seniors; purchase online on the L'Atelier website; you can also purchase at the door (for 2€ more per ticket) but there's no guarantee you'll get in as timeslots are often fully booked
Getting there: 38 Rue Saint Maur, 11th arrondissement; Metro: Saint-Maur
Senghor and the Arts @ Musée du Quai Branly
A tribute to Senagalese intellectual and statesman Léopold Sédar Senghor, who along with others pioneered "Négritude" to affirm the role of Africa in writing its own history and defining its own visual and performing arts after overturning colonialism.
Dates: Through November 19
Tickets: 12€ adults; includes permanent collections & temporary exhibitions in the Garden Gallery; some special shows may require a separate ticket. Book online, or get free entry (not including ticketed shows) with a Paris Museum Pass
Location: 37 Quai Branly (almost next door to the Eiffel Tower), 7th arrondissement; Metro/RER: Pont d'Alma
Find more Paris museum exhibitions for September & future months
---
Paris Museum and Attractions Passes
Get free admission and skip-the-line access to 60+ museums in and near Paris when you have a Paris Museum Pass for 2, 4, or 6 days. (Access to special shows may require additional ticket.) More info
---
Jazz à la Villette
The Jazz à la Villette Festival stages two weekends of superb musical events in Parc de la Villette's major venues: Philharmonie de Paris, Grande Halle de La Villette, and Cité de la Musique. Don't miss this unforgettable experience of hearing some of the best French and international musicians at one of the world's leading jazz fests. There's also a special kids' program.
The festival runs through September 10.
Lineup and more information: Jazz à la Villette website
---
Paris Fashion Week: Womens Ready to Wear - 2023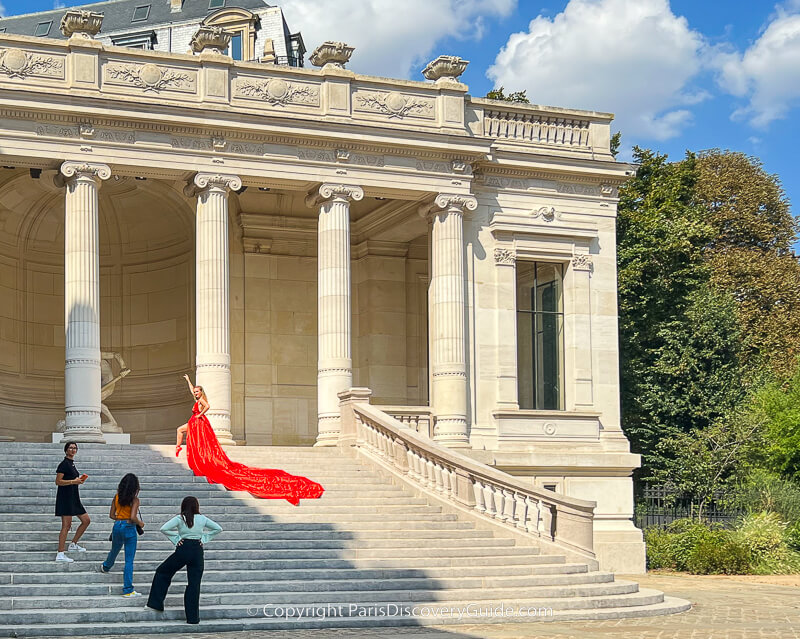 Paris Fashion Week takes place in multiple locations around the city and features numerous events showcasing French and International designers such as Chanel, Galliano, Dior, Givency, Vuitton, Miu Miu, Alexander McQueen, Balenciaga, Saint Laurent, Sandro, Comme des Garçons, Courrèges, Maje, Vanessa Bruno, and Isabel Marant as models strut down the runways wearing Women's Ready-To-Wear collections for next spring and summer.
The ticketed shows are generally by invitation only, so unless you're lucky enough to snag one, you can catch a glimpse of the models near the venue locations, typically in the 1st, 3rd, 4th, 7th, 8th, and 16th arrondissements. The Grand Palais, Palais Galliera, the Eiffel Tower and nearby Champs des Mars, Place des Vosges, Tuileries Garden near the Louvre, Palais Royal Garden, Hotel de Ville, Palais de Tokyo, and Pompidou are usually safe bets if you want to join the paparazzi, as well as designer ateliers in the Marais neighborhood.
When: September 25 - October 3
Paris Tours for Fashionistas
---
Paris Design Week
Paris Design Week showcases the latest, greatest, and best of new and classic trends in home decor in over 300 galleries, workshops, design schools, and creative studios around the city for 10 glorious days from September 7-16.
Similar to Paris Fashion Week, most exhibitions are for design professionals only. Check the event website for more information (click "FR" on the far right of the top nav bar to get English).
However, if you're in Paris during this period, you'll see Paris Design Show banners in many neighborhoods, particularly in Saint-Germain, the Marais, and near Palais Royal/the Louvre in the 1st arrondissement. Participating galleries and home decor boutiques will welcome your visit - so if this is of interest to you, be alert for browsing opportunities as you explore these neighborhoods.
---
Les Traversées du Marais (Free Cultural Events in the Marais) 2023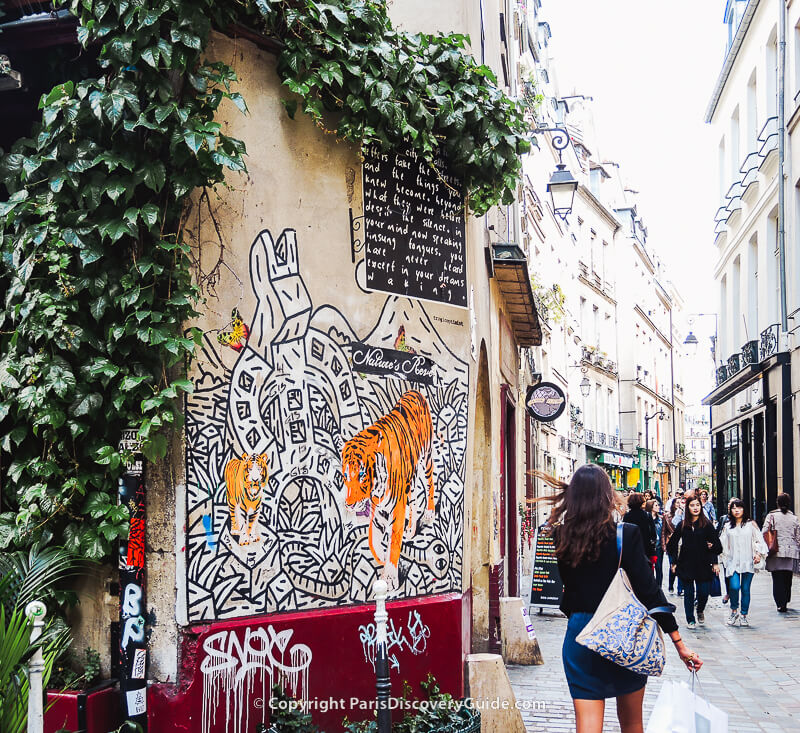 Les Traversées du Marais, featuring 32 free cultural events, will inspire you to "travel" across the Marais neighborhood (3rd and 4th arrondissements), where you'll encounter a rich diversity venues offering concerts, live performances, film screenings, kids' events including story time, open artists studios, a culinary workshop, exhibitions, and lots of fun on the first full weekend of the month, September 1-3.
Participating venues include Centre Pompidou, Swedish Institute, Museum of Arts and Crafts, Memorial de la Shoah, Victor Hugo House, Museum of Hunting & Nature, Musee des Arts et Metiers, Carnavalet Museum, Cultural Institute of Mexico, National Archives, Hotel de Sully, La Gaite Lyrique, Picasso Museum, Cognacq-Jay Museum, and more.
Admission:
Free
More about the schedule and venue locations: http://lestraverseesdumarais.com/
---
Open Studios: Pere Lachaise, Menilmontant, & Belleville Neighborhoods - 2023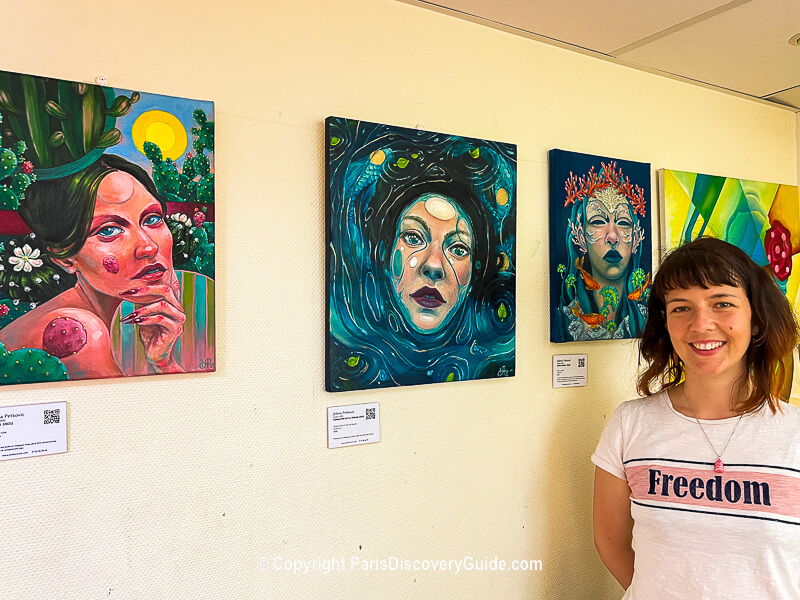 Numerous artists live and work in the leafy 20th arrondissement neighborhoods around Pere Lachaise Cemetery, Menilmontant, and Belleville.
In 2023, the emerging and established painters, sculptors, photographers, and print-makers in these areas are banding together to hold Open Studios on four weekends throughout the year (March 25, June 3 in conjunction with Nuit Blanche), September 30, and December 9).
Don't miss this wonderful opportunity to browse original art, chat with the artists, and perhaps purchase a favorite piece! Visiting the Open Studios also gives you also a great opportunity to explore these lesser-known authentic Parisian neighborhoods as well as nearby Pere Lachaise cemetery.
Admission: Free
More information: Artists of the APLA website (APLA = painting, sculpture, engraving, photography, and mixed media)
---
Car Free Day - 2023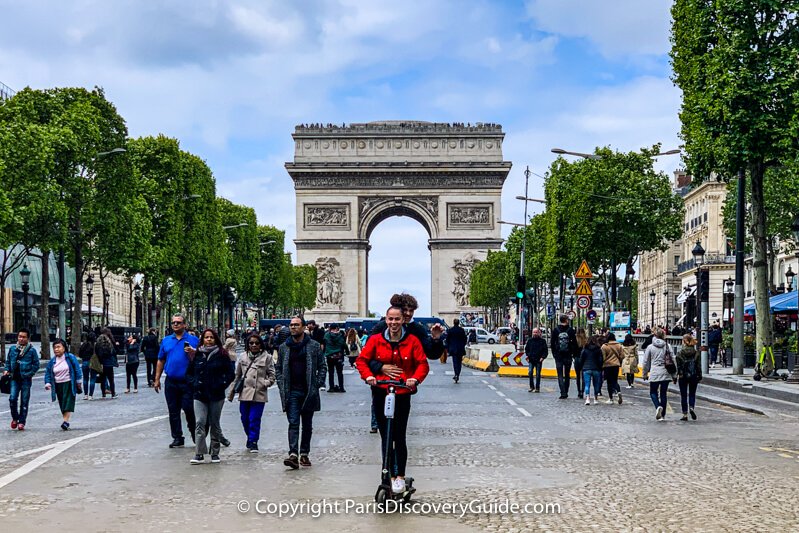 Paris's annual Car Free Day takes place this year on Sunday, September 17 from 10am to 6pm, planned to coincide with European Heritage Days. And as a bonus, you can enjoy the regular "first Sunday" car-free day on September 3, when Paris's first four arrondissements, Champs Elysees, and other neighborhoods throughout the city become pedestrian-only on the first Sunday of each month.
With most private vehicle traffic (ie, cars, motorcycles, trucks) banned from city streets, this is your chance to walk freely in the middle of the streets and enjoy the cleaner air resulting from a variety of green initiatives.
Emergency and city worker vehicles, taxis, city buses, and tour buses are allowed, so be prepared to share the space with them as well as with bicycles, segways, and scooters.
If you're visiting Paris, Car Free Day can be a wonderful opportunity to explore the heart of the city on a guided bicycle tour or electric bike tour.
---
Foire de Chatou (Antiques & Collectibles Fair at Chatou) - 2023
If you love searching for treasures at flea markets and antique shops, you won't want to miss France's biggest and oldest antiques fair held this month (and in March) a few miles outside of Paris (but easy to get to on the RER).
What will you find? Basically, everything that might fall under the label of "antiques," "vintage," and "collectibles" - fine art, furniture, decor, fashion accessories, jewelry, tableware, chandeliers and other light fixtures, toys, mirrors, books and maps, and so much more, from the 17th century through the 20th.
All of the 300 dealers at the fair are vetted professionals, and experts are on hand to certify authenticity, if needed. Shippers are also available, in case you can't resist, for example, an 18th century marble mantle for your fireplace back home.
Dates: September 22 - October 1
Admission: 10€
Location: Ile des Impressionnistes (Isle of the Impressionists), Chatou, France
Directions: Take the RER A toward Saint-Germain-en-Laye from Paris. Get off at the Rueil-Malmaison station and take the free shuttle to the fair (you can also walk - it's about half a mile), or go one stop farther and get off at the Chatou Croissy station (try to exit at the end of the train) and walk across the footbridge over the Seine River to the fair.
Find out more about Foire de Chatou and other Paris flea markets, antiques auctions, and "brocantes"
---
Festival d'Automne (Autumn Festival) Paris - 2023-2024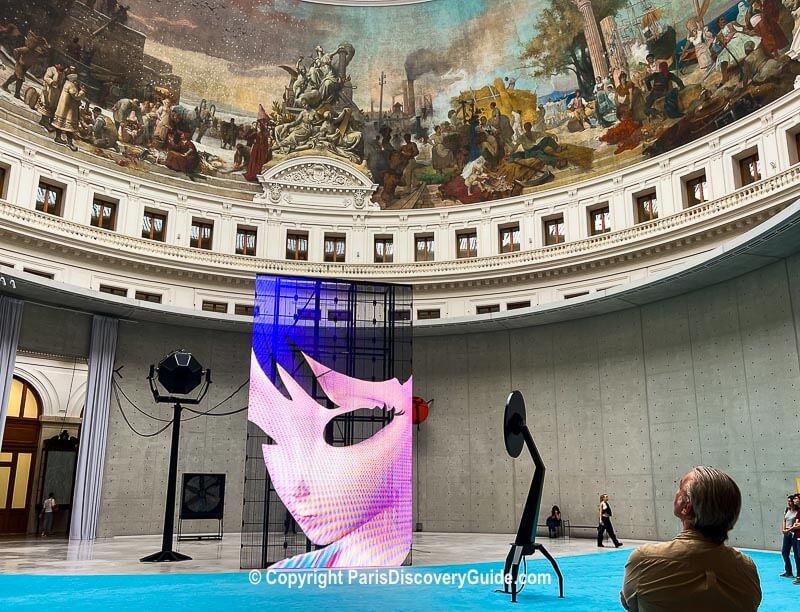 The Paris Autumn Festival (which extends into February) showcases the latest creations and artists (international as well as French) in contemporary dance, theater, music, cinema, and visual arts at a variety of venues around Paris, include the Grand Hall at Parc de la Villette in the 19th arrondissement, the Pinault Collection at Bourse de Commerce and Louvre in the 1st, and Pompidou Center in the 4th, just to name a few.
This is a hugely popular festival, with over 50 events (many of which extend over several or more days) at over 70 venues in and near Paris.
Most events are ticketed, and many sell out quickly, so don't wait to book, which you can do through the event's website.
---
Night at the Invalides (La Nuit aux Invalides): Napoleon...Flight of the Eagle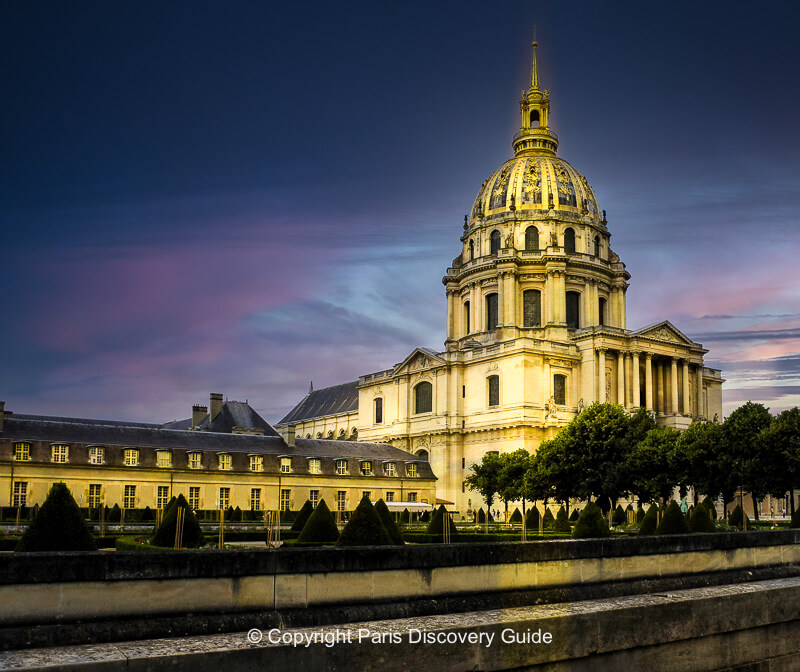 The spectactular Night at the Invalides outdoor sound and light show commemorates the 200th anniversary of Napoleon's death with a spectacular new immersive presentation, "The Flight of the Eagle."
For almost an hour, brilliant video projections against the facade of Les Invalides will take you through the Napoleon legend in this retelling of his brilliant career, first as a general and then as Emperor. After the show, you can join an optional candlelight tour into the Dôme Chapel to visit Napoleon's Tomb. You can get show, tour tickets, and if needed, a headset with English translation on the event website. Want to tour Les Invalides, Napoleon's Tomb, and the Army Museum during regular hours? Get your priority entry tickets online before you go.
Dates: Through September 6
Times: 10:30pm in July; 10pm in August/September
Location: Les Invalides at the Army Museum, 129, Rue de Grenelle, 7th arr; RER-C: Invalides
---
Silhouette Short Film Festival 2023
Wrap up the summer and welcome early fall in Paris at the free outdoor Silhouette Short Film Festival held from August 25-September 2 at Parc de la Butte du Chapeau Rouge in Paris's 19th arrondissement.
During the festival's 8 days, you'll have the chance to see numerous different French and international short films in a variety of categories: animation, drama, documentary, experimental, films for young audiences, and more. Each evening's program kicks off at 6:30pm with a workshop, followed by a concert at 7:30pm. Films begin at 9pm.
Metro: Pré St-Gervais or Place des Fête
Admission: Free
More Information: http://www.association-silhouette.com
---
Festivals du Parc Floral: Paris Jazz Festival, Classic in Green, Pestacles, Nocturnes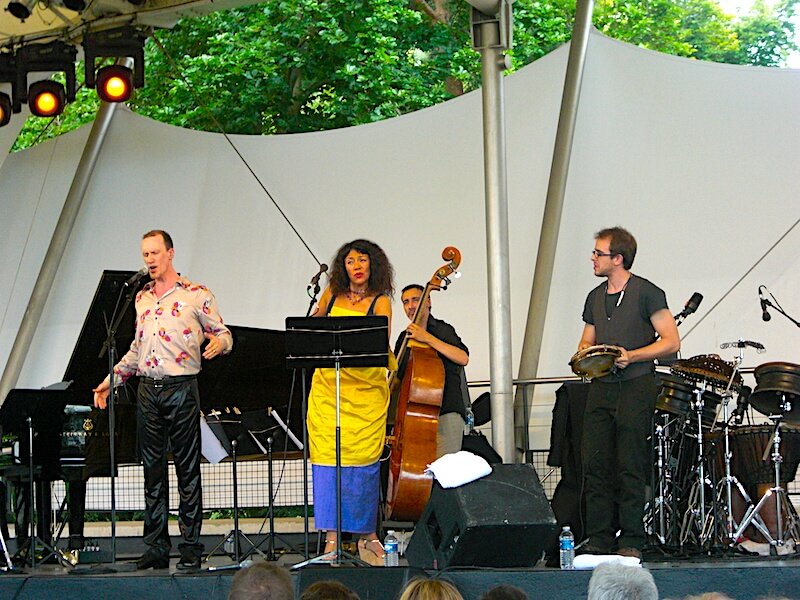 Parc Floral (the Paris Botanical Garden) in Bois de Vincennes hosts four concurrent musical festivals: Paris Jazz Festival, Classic in Green (classical music), Pestacles (a children's concert series for ages 4 and up), and Nocturnes (night concerts of contemperary, jazz, or classical music).
The outdoor concerts take place every Saturday and Sunday on several stages in the park from late June through early September. Almost all of the 32 concerts are free, although Parc Floral charges a small 3€) entrance fee during summer and early fall.
Check the Festival's website to download a brochure with dates, lineups, and concert times. Most take place in the afternoon and early evening, except for the Nocturnes concerts which tend to be late at night. The brochure is in French, but the information is easy to figure out even if you only know a few words. Important tip: if you see "gratuit," that means the concert is free.
Bring a blanket and a picnic or buy wine and a sandwich at the park's snack bar, and get ready for a relaxing afternoon and evening enjoying the sunshine, flowers, wandering peacocks, and virtuoso musicians.
Dates: Through September 6
---
More about Paris in September
---
More Top Paris Things to Do & See in September
---
More Articles about What to See & Do in Paris in September
---
Need Reservations? This Paris Hotel Map Will Help
Planning to visit Paris in September? Use this Paris hotel map to find accommodations and make your reservations: