As soon as you enter the Conciergerie (or La Conciergerie, as it's called in French), the first thing you'll notice is its immense size: soaring vaulted ceilings and Gothic arches, enormous support columns, and vast, almost endless spaces.
The Conciergerie began as a royal palace called Palais de la Cité ("Palace of the City"), originally built in the 6th century by Clovis, the first King of France. Its location on Île de la Cité, one of two small islands in the middle of the Seine River, places it at the heart of historic Paris.
During the next few centuries, expansions and enhancements transformed La Conciergerie, as it is called in French, into a rare and stunning example of 13th century Gothic secular (ie, not a church) architecture - widely considered perhaps the best example in Europe.
Today, most of us know the Conciergerie as the infamous French Revolution tribunal and prison where Marie-Antoinette spent her final days awaiting her fate at the guillotine.
The Conciergerie is located almost next door to its more famous neighbor, Sainte Chapelle, known for its soaring stained glass windows and classical concerts. You can get a ticket to just the Conciergerie or save money with a discounted combo ticket for both attractions.
Another excellent option is to join an Île de la Cité Walking Tour including Notre Dame - in addition to a guided tour around the island and the cathedral, you get timed-entry tickets to both the Conciergerie and Sainte Chapelle.
But because the Conciergerie and its history is so much less-known compared with its more famous neighbor, you may be wondering: "Is visiting Conciergerie worth my time?"
If fantastic Medieval architecture, learning about the French Revolution, its bloody "Reign of Terror" aftermath, and seeing where Marie-Antoinette spent her final days interests you, then the answer will be a resounding "Yes!"
Article contents: Should You Visit the Conciergerie? (next section) | What Will You See? | How to Get Tickets | Hours, Location, Map | Interesting Facts | Stay Nearby | Dine Nearby | More to See & Do
Top photo: Part of Conciergerie, photographed during a Seine River cruise
Paris Discovery Guide is a reader-supported publication. When you buy through our links, we may earn a commission at no additional cost for you. Learn more
---
Should You Visit the Conciergerie?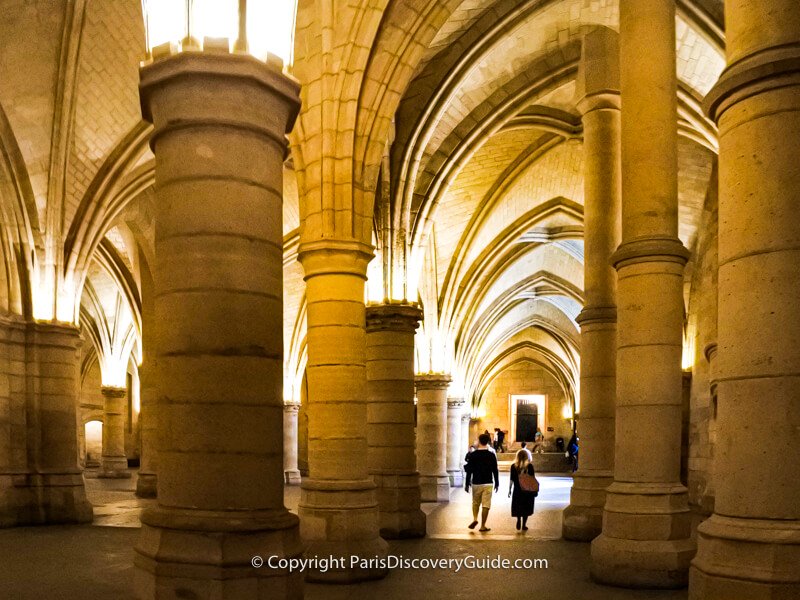 Plenty of world-famous attractions pack Paris. So in a city with so much to see and do, is the lesser-known Conciergerie worth visiting?
Absolutely yes!
The Conciergerie is an architectural Gothic gem, designated as a World Heritage site by UNESCO. But because Paris has so many other famous monuments and sites, the Conciergerie gets overlooked and under-rated.
When you visit, you'll get to explore its huge halls under beautiful soaring arches and vaulted ceilings, see curving medieval staircases and peaked windows, and explore some of the layers and layers of history about the lives of people who lived here centuries earlier.
You get a glimpse of what conditions would have been like for the prisoners who spent their final days here.
And although the Conciergerie is not the only place in Paris where you can see an actual guillotine blade, that's sight you'll probably remember.
---
What Will You See When You Visit the Conciergerie?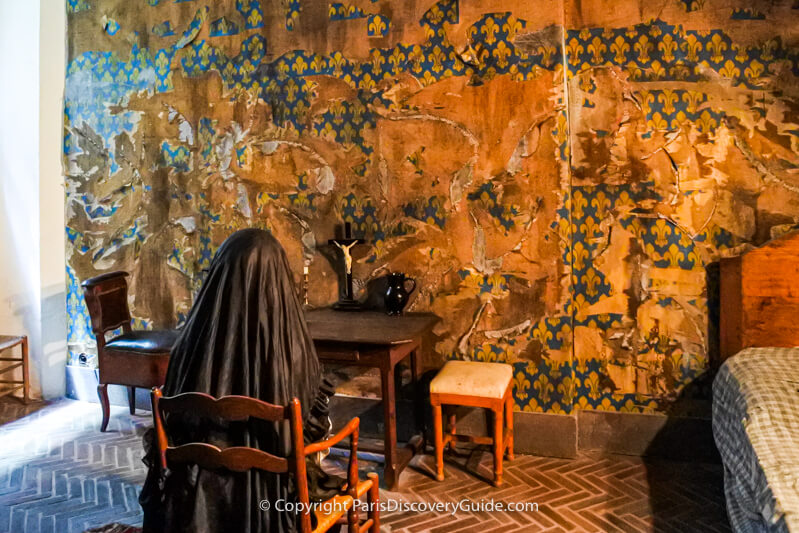 You get to explore the oldest, unmodernized part of the building - the lower levels containing the medieval halls that are architecturally almost exactly the same as they were during the Middle Ages when the French kings and around 2,000 family members, staff, Royal Guard, and servants occupied the space, which includes the areas used for the Reign of Terror Revolutionary Tribunal and prisons.
Here are a just a few of the areas you'll visit and things you'll see as you experience the Conciergerie:
Hall of Soldiers (Salle des Gens d'Armes) - As soon as you enter Conciergerie and show your ticket or Museum Pass at the reception desk, you'll be in a grand hall (pictured above) with four huge aisles defined by enormous pillars stretching up to the soaring almost 30-foot (64 m) high ceiling. On special occasions, the king hosted royal banquets in this 210 x 90 foot (64m x 27.5m) space. And on more typical days, this is where the royal family and their staff of 2,000 dined.
Guard Room (Salle des Gardes) - This smaller vaulted space with arched windows originally served as a quarters for the soldiers who protected the king during the Middle Ages. During the 1793-94 Reign of Terror, this is where around 2,900 prisoners came to appear before special prosecutor Quentin Fouquier-Tinville and the Revolutionary Tribunal, and 2,780 of them heard themselves condemned to death. Finally, Fouquier-Tinville himself was arrested and imprisoned in the Conciergerie for nine months before begin executed on May 9, 1795, two days after the Revolutionary Tribunal was abolished.
Marie Antoinette's Cell - Although her original cell (along with an adjacent infirmary) was turned into a commemorative Expiatory Chapel during the period from about 1815 to 1830 when the monarchy briefly regained power, the cell you'll see recreates the space Marie Antoinette occupied for 10 weeks before she was tried and publicly beheaded by guillotine on the same day at Place de la Concorde on October 16, 1793. The details of her original cell are close copies of the original, and the shrouded mannequin is a poignantly macabre (if slightly kitschy) touch.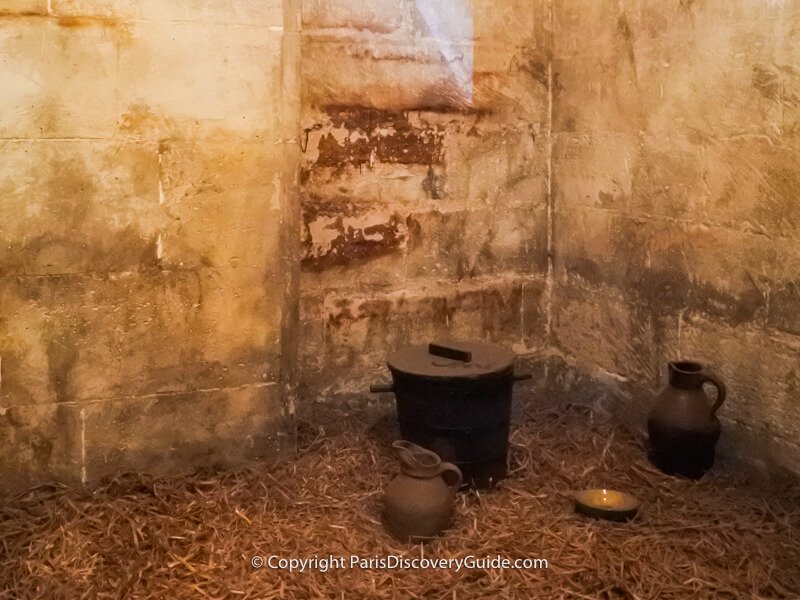 Poor Prisoners' Cell - In prison as in real life in the 1700s, being poor condemned one to discomfort. You'll see the grim communal cells once packed with the poorest prisoners who slept on floors covered with a thin layer of straw. Needless to say, there were no bathrooms, no indoor plumbing. You may not want to imagine how it probably smelled.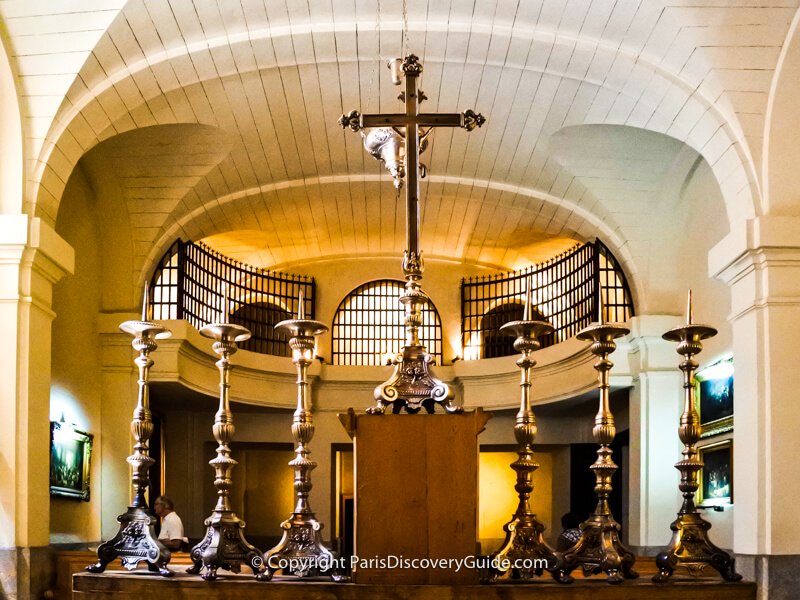 The Girodins' Chapel - This chapel was created after a fire in 1776 destroyed the palace's medieval oratory on this location, and it is mostly unchanged from that time, although it was converted to prison cells during the Reign of Terror period. It gets its name from a Revolutionary group called the Girodins who were given a "last supper" of sorts here before being executed the next day.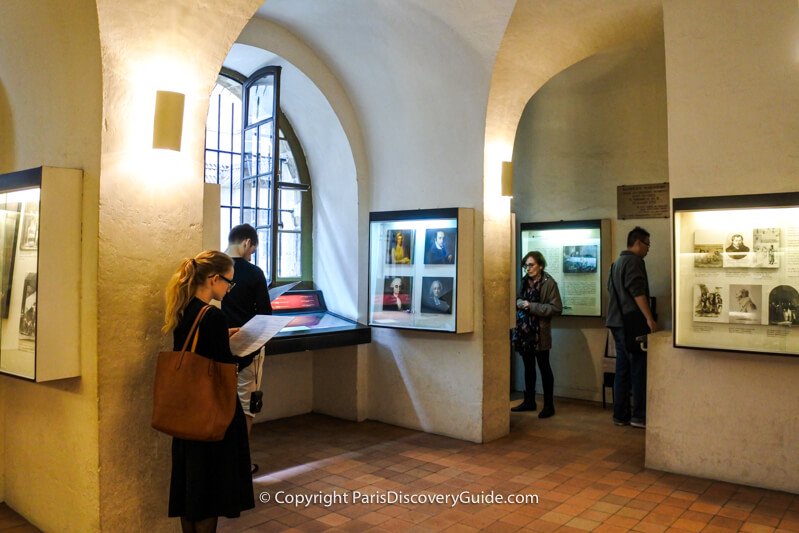 Displays & Exhibits about the Conciergerie, Marie Antoinette, and other prominent prisoners - Although the content changes periodically, these exhibits are always well-curated and give you interesting insights about what the prisoners experienced here.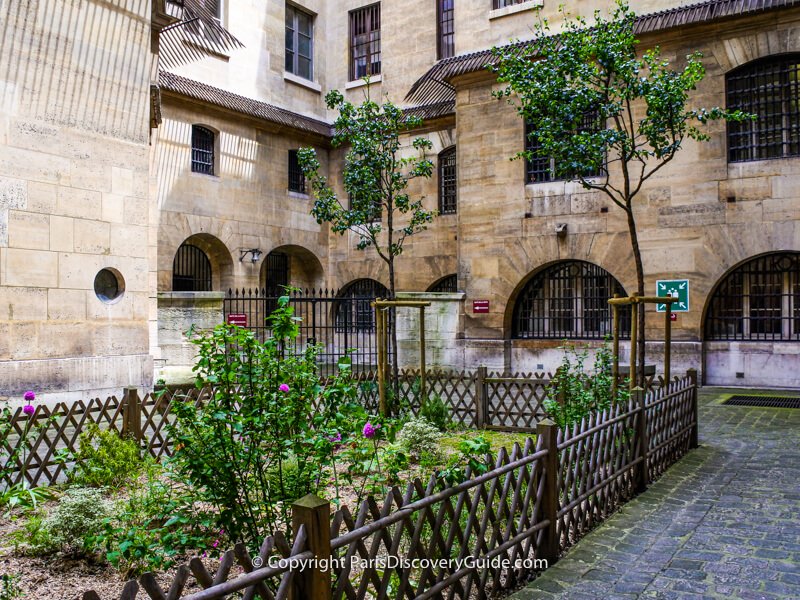 The Women's Courtyard (Cour des Femmes) - Female prisoners were allowed to wash their clothes in the fountain here, walk around, and eat outside, although the flowers in the garden are most likely a present-day embellishment.
---
Get Your Conciergerie Tickets
Skip the Line Tickets
Several ticket options are available for the Concergerie:
Although guided tours to Conciergerie are not available, detailed signs and the HistoPad give you all the information you need, even if you know next to nothing about Medieval life, the French Revolution, or Marie Antoinette.
Please note that free admission is available for all visitors under 18 (photo ID required) and EU/EEA visitors 18-25 (photo ID required).
Also please note that skip-the-line tickets let you bypass the ticket line, but not the security check, which can sometimes take a few minutes.
Get Free Entrance to the Conciergerie with a Paris Pass
Other options for skip-the-line entry: If you plan to visit other Paris museums and monuments, the Paris Museum Pass can save you a lot of money. Not only does provide it give you free entry to the Conciergerie, but you can also use it for skip-the-line admission to 60+ other Paris attractions such as the Louvre, Versailles, and Arc de Triomphe. Choose a 2, 4, or 6 day pass.
Paris Pass is a similar option - but in addition to free skip-the-line access to 60+ attractions including Sainte Chapelle, you also get a hop on/hop off Big Bus sightseeing tour, free travel on the Paris public transportation system while your pass is valid, and discounts at restaurants and shops.
---
Conciergerie Hours, Location, & Map
Open: Almost every day from January 2 through December 31
Closed: January 1, May 1, December 25
Schedule:
9:30 am - 6:00 pm
Last admission is 30 minutes before closing
Location: 2 Boulevard du Palais, 1st arrondissement. The Conciergerie is located on the Île de la Cité near Sainte-Chapelle. 
Metro: Line 4, Cité or Saint Michel station
RER: Line B or C, Saint-Michel station
Bus: Lines 21, 24, 27, 38, 81, 85, 96
Batobus: (Notre Dame or Hotel de Ville stop) - Get Batobus hop on hop off river cruise tickets
Map of Concergerie Location
Know Before You Go
For reduced mobility visitors: Conciergerie is not wheelchair accessible. There are 14 steps to enter the building, several sets of steps inside the building, and no adapted toilets.
---
10 Interesting Facts about the Conciergerie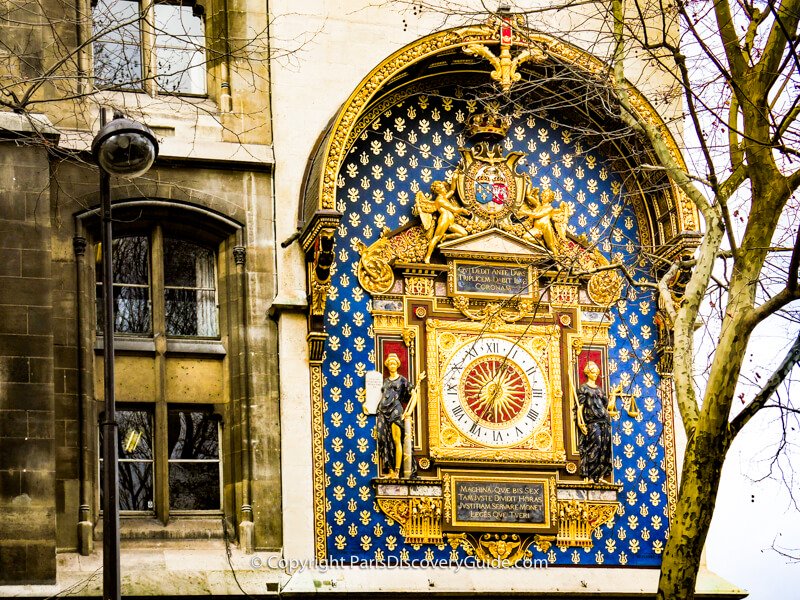 1. The first royal occupant of Palais de la Cité, part of which later became the Conciergerie, is believed to have been Clovis, the first King of France. The Palais de la Cité became the center of royal power in the 10th century when Hugh Capet, the first Capetian King of France, set up his government there.
2. The Conciergerie occupies the northern portion of a now-historic complex that includes another Medieval gem, Sainte Chapelle, renowned for its spectacular stained glass windows and the ornate Palais de Justice (Paris city courthouse).
3. However, most of the Conciergerie was built in the 1200s. It's the oldest remaining portion of the Palais de la Cité complex. Aside from the part of the Conciergerie open to the public to tour, law offices occupy most of the rest of the enormous building.
4. Do you notice how the Conciergerie's exterior looks like a medieval fortified castle? Of course, that's exactly what this former royal residence was long before it became a prison, but an early 19th century restoration spiffed up the sides of the building between the towers overlooking the Seine. However, the Conciergerie's three towers with cone-shaped roofs remain purely medieval: Caesar Tower and Silver Tower, where the kings' treasures were stored, date back to the early 1300s, and the oldest, Bonbec Tower, which was constructed between 1226 and 1270 and housed the Conciergerie's main torture chamber.
5. The late-medieval Clock Tower (Tour de l'Horloge) at the front of the building is the newest of the towers by a few years and dates back to around 1350 when it was built to be used as a lookout. In 1371, King Charles V installed France's first public clock in it. A makeover by King Henry III in 1585 gave the clock the beautiful façade you see today, with a gold leaf frame, sculpted allegorical figures representing Law and Justice, and golden fleur-de-lys against a royal blue background. The clock still chimes every hour on the hour, and you can hear its mellow tones whenever you're in the neighborhood. The Latin inscription at the bottom of the clock says (in translation): "This machine which divides time into twelve perfectly equal hours helps you to protect justice and defend the law."
6. Why is the Conciergerie called the Conciergerie? After an uprising of merchants against royal authority a few years earlier, King Charles V abandoned the palace in favor in 1364, converted it to judicial offices and prison cells, and appointed a concierge, a high-ranking official who served as caretaker to maintain order, oversee the police, and supervise the prison. Eventually people started calling it Le Conciergerie. (This quick summary glosses over lots of interesting intrigue and drama involving the Hundred Years' War, power grabs and class warfare, tax increases, murder and mayhem, and even a bubonic plague pandemic. Sounds interesting? You'll want to read Barbara W. Tuchman's highly-rated A Distant Mirror: The Calamitous 14th Century which brings this era to life.)
7. By as early as the end of the 14th century, the Palace (aka Conciergerie) began to be used to incarcerate important prisoners ranging from royalty to robbers to would-be assassins and murderers, especially in cases where the torture chambers were useful for extracting confessions. It continued to serve as a prison until 1934.
8. Typically about 600 but as many as 1,200 prisoners occupied the Conciergerie at one time while awaiting their fate at the guillotine during the French Revolution's 10-month Reign of Terror, which began in September, 1793 and lasted until July, 1794. All but about 100 of the 2,900 people judged by the Revolutionary Tribunal during that time were imprisoned there before being carted off to be executed, although over 40,000 French people died from execution and imprisonment during the Reign of Terror.
9. In addition to the French Queen Marie-Antoinette, other famous prisoners included Georges Danton, Madame du Barry, Robespierre, Charlotte Corday, and Madame Élisabeth. Later, during the 19th century, the future Napoleon III spent some time imprisoned there.
10. Although several courts (Court of Appeals, Criminal Court, Supreme Court) still occupy the historic Palais de Justice complex, most Paris judicial offices are now located in a new glass-clad Paris skyscraper designed by Renzo Piano next to Martin Luther King Park in the Batignolles neighborhood in the 17 arrondissement. The Conciergerie has been designated as a national historic monument since 1862, and open to the public for touring since 1914.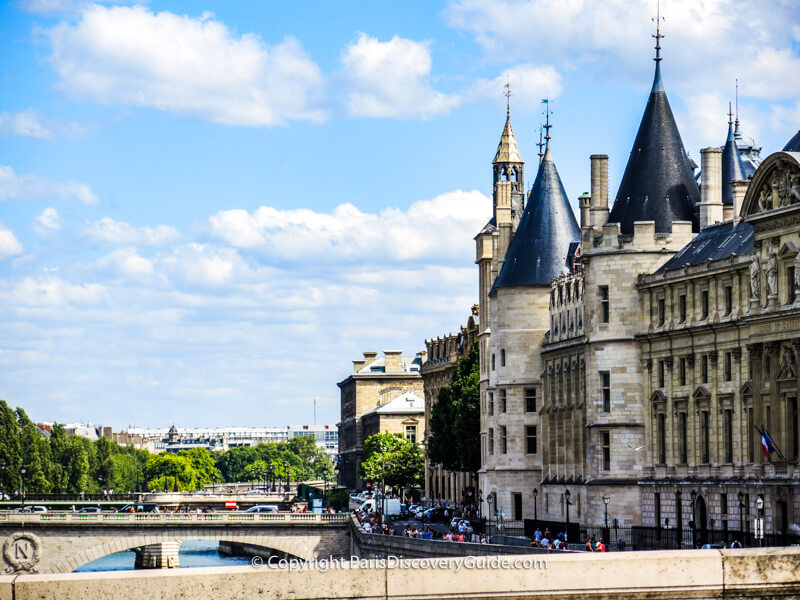 ---
Where to Stay near the Conciergerie
Staying near the Conciergerie means you'll be in a perfect location for exploring the many historic attractions, beautiful parks, and excellent bistros and restaurants in this central part of Paris. These choices are all within a 5-minute walk, and range from surprisingly affordable (actually, downright cheap during non-peak travel seasons) to pricey and luxurious:
Want more suggestions? Check out:
---
Map Showing More Paris Hotels near the Conciergerie
Use this Paris hotel map to find more hotels and cheapest rates near the Conciergerie
Check out the newest Paris hotels
---
Where to Eat near Conciergerie
Les Deux Palais, almost directly across the street (Boulevard du Palais), is a popular place for well-prepared traditional brasserie fare: salads, steak-frites, pastas, or just a drink. The outdoor seating gives you great views of this lively corner of the neighborhood.
If you have more time, walk around the corner closest to the Seine and follow the road along the river to Place Dauphine (1 block away - find it on the map above). You'll see 8-10 small restaurants and cafes lining the square. Stroll around and read the posted menus to find what you like - all the choices are good.
Another wonderful nearby choice is Bistro des Augustins (39 Quai des Grands Augustins; find it on the map above), overlooking the Seine River. It's best known for its addictively good gratins, but its cheese and charcuterie platters are also outstanding.
All of these places are open for lunch and dinner.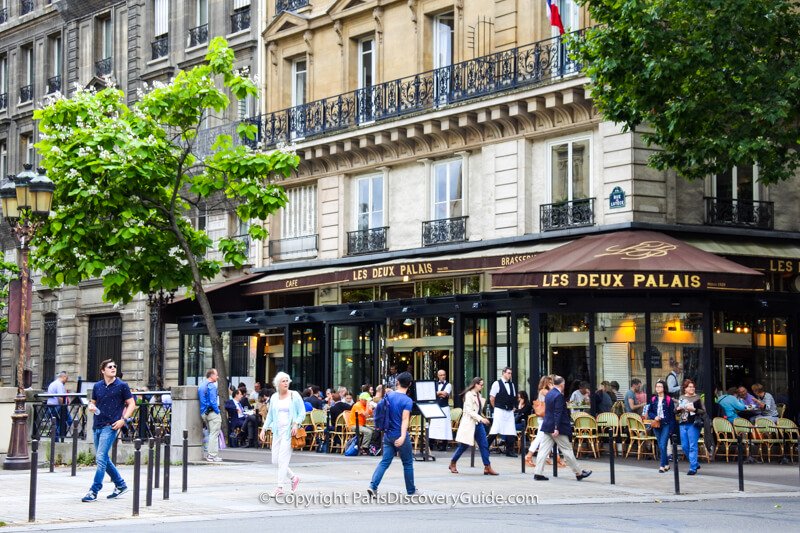 ---
More to See Nearby: 2 More Medieval Masterpieces near Concergerie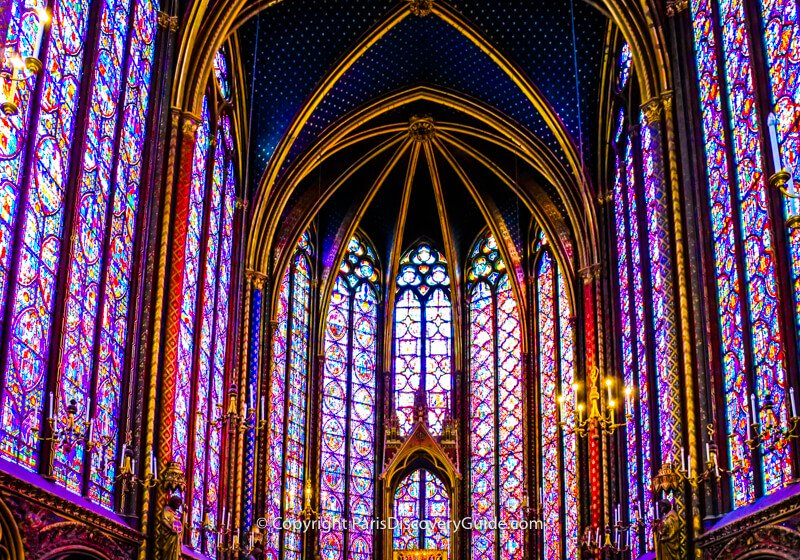 Île de la Cité, the heart of historic Paris, is home to two more Gothic gems from dating back to the Middle Ages: Sainte Chapelle, a small but stunningly beautiful chapel within the same complex as the Conciergerie, and the famous Notre Dame Cathedral.
Many people visit Conciergerie and Sainte Chapelle on the same morning or afternoon since they are practically next door to each other. You can get a skip the line ticket (although you always have to pass through a security line), a combo ticket for both sites which saves you a few Euros, or join a small-group tour with an expert guide.
As you probably already know, a horrific fire ripped through the cathedral on April 15, 2019. An ambitious undertaking to repair the extensive damage and restore the cathedral by 2024 is underway.
If you want to learn more about the cathedral, see the restoration work (which is, truthfully, quite fascinating and impressive to watch), and explore other historic sites on the island, join the Île de la Cité Small Group Walking Tour, which includes skip-the-line tickets for the Conciergerie and Saint-Chapelle.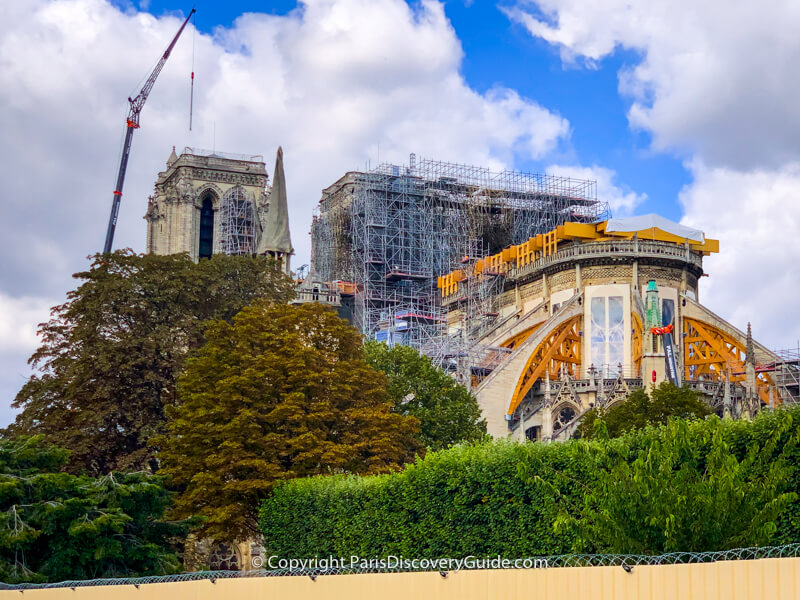 ---
More to See & Do near Conciergerie
---
Pin Now, Read Again Later
More Articles about Paris Attractions