Once you've chosen the dates for your trip to Paris and booked your flight reservations to France, the next decision you'll make is the one that many people struggle with the most: What is the best neighborhood to stay in Paris?
Especially if you're making your first visit to Paris, you may be wondering which district is closest to everything - all the top "bucket list" attractions such as the Eiffel Tower, the Arc de Triomphe, Notre Dame, the Louvre? Which are the best places to stay in Paris for a first-time visit? Where should you stay if you're traveling with kids? What areas look like the Paris you've seen in the movies? Which areas should you avoid?
Deciding where to book your hotel can feel overwhelming - but the good news is there is not just one or two best places to stay in Paris, but many wonderful neighborhoods.
So you really have to make just two choices: select the best neighborhood for what you want to see and do, and then pick the perfect hotel or apartment with the right mix of amenities and rates to fit your budget.
To make selecting the best place to stay in Paris easy for you, we've put together our recommendations for the best central Paris neighborhoods for first-time and returning visitors based on different interests with suggestions for hotels.
So how do you choose which neighborhood is perfect for your stay? We recommend 10 different areas for your first (or return) visit to Paris based on your interests, along with hotel recommendations at different budget levels. Keep in mind that Paris hotel rates vary a lot by season - so even "budget" hotels can seem pricey in the summer while winter rates at luxury hotels may offer you a bargain.
Want to check out a particular interest or neighborhood? Use these quick links:
Top photo: Cafe on Ile Saint-Louis, a quiet neighborhood in a central location near everything, (c) Paris Discovery Guide
Paris Discovery Guide is a reader-supported publication. When you buy through our links, we may earn a commission at no additional cost for you. Learn more
---
Where to Find the Best Neighborhoods to Stay in Paris: A Paris District (Arrondissement) Map
Since we're going to be talking neighborhoods in several different districts (called arrondissements in French), here's a map that shows you the city's layout at a glance: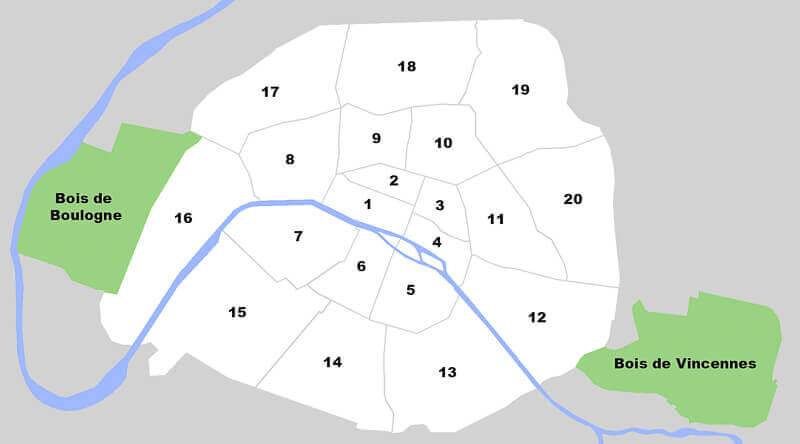 As you can see, Paris has 20 arrondissements numbered 1 through 20, and they spiral out clockwise from the city's center. The blue line is the Seine River. The area above it is the Right Bank, and those below are the Left Bank. See the two tiny islands in the middle of the Seine? The larger one is Île de la Cité where you'll find Notre Dame Cathedral, Sainte-Chapelle, and other historical sites, and the smaller one is Île Saint-Louis, a mostly residential area packed with elegant 17th and 18th century homes.
Most of the best places to stay in Paris when you want to be close to everything are the central "single digit" districts numbered 1 through 9. This is where you'll find most of the top "bucket list" Paris attractions, and staying in neighborhoods in these areas lets you make the best use of your time.
---
The 10 Best Neighborhoods in Paris for First-Time (& Return) Visitors
With only one exception, all of our recommended Paris neighborhoods are located in the city's central core - the single-digit arrondissements (1-9) within close walking distance of most famous attractions and iconic experiences such as a cruise down the Seine River.
Only Montmartre is further out, but the metro makes getting around fast and easy.
1. Best Paris Neighborhood for First Time Visitors Who Want to Be Close to Top Attractions: Louvre/Palais Royal/Tuileries, 1st Arrondissement
Are you planning your first trip to Paris and want to experience as many of the city's most famous attractions as possible?
Staying in the lively 1st arrondissement neighborhood around the Louvre Museum and Tuileries Garden - sometimes called "Royal Paris" because French kings and queens once called this area "home" - puts you close to many of Paris's most famous sightseeing destinations. And, if you're not sure about your ability to speak well (or at all) in French, you'll appreciate how much English and other world languages are spoken in this district.
This is where you'll find the Mona Lisa at the Louvre, spectacular stained glass at Sainte Chapelle, the almost-hidden Palais Royal Garden, designer boutiques along Rue Saint Honoré, sparkling jewelers around Place Vendôme, and one of the city's elegant 19th century arcades, Galerie Vero Dodat. Tuileries Garden (Jardin du Tuileries) offers gorgeous places to sit and relax, a fun carnival in the summer, and the city's liveliest Christmas Market in November and December. You can stroll along the Seine River or savor an evening dinner cruise, sip the rich hot chocolate at Angelina's, and explore jazz clubs along Rue des Lombards.
You'll see wonderful places to eat on just about every street and avenue in this neighborhood - everything from casual bakery/cafes to romantic bistros to Michelin-starred restaurants to the city's best Asian cuisine along Rue Sainte Anne.
An easy walk or a short metro ride takes you to other top attractions: the Eiffel Tower, Notre Dame Cathedral, the Orsay Museum famous for Impressionist and Post-Impressionist art, the Arc de Triomphe, Champs Élysées, Sacre Coeur and Montmartre.
At first glance, bustling shopping streets such Rue de Rivoli, Avenue de l'Opéra, and Rue Saint Honoré make the neighborhood seem rather commercial, so explore the small side streets to experience the district's quieter and more charming side.
Where to Stay in Louvre/Tuileries
5-Star Palace Hotels
Luxury
Mid-Range
Budget
Find more places to stay near the Louvre and Tuileries Garden
Find more 1st arrondissement Paris hotels
---
2. Best Neighborhood in Paris for Foodies: Les Halles, 1st & 2nd Districts
American writer Ernest Hemingway described Paris as "a moveable feast" and although he meant that as a metaphor, Paris might in fact be the best city in the world for foodies. If your vision of the perfect Paris holiday includes exploring famous market streets, savoring wonderful cuisine, and shopping for top-rated French cookware, the Les Halles neighborhood occupying the northeast corner of the 1st arrondissement and a slice of the 2nd may be the perfect spot for your stay.
Although the huge Les Halles marketplace where Parisians got their food supply since the 15th century has been gone for five decades, replaced by an immense shopping center/metro and train station, many of the nearby cookware stores, iconic restaurants, and a pedestrian-only market street overflowing with cheese shops, patisseries, fresh produce and appealing cafes remain.
Stay nearby, and you can stroll along Rue Montorgueil to Stohrer's for your morning pain au chocolat, enjoy Burgundy snails stuffed with garlic and parsley butter at L'Escargot for lunch, and dine on charcouterie at Au Pied de Cochon - or opt for a gourmet meal at Frenchie, steak-frites at Poulette, or the splurge-worthy tasting menu at 3-Michelin-stars Kei Restaurant.
In between meals, stock up on French kitchen and cooking supplies at Dehellerin, Mora, A. Simon, and G. Detou, catch an organ concert at nearby Église Saint Eustache (the only Paris church with a stained glass panel depicting pork butchery), or stroll over to the nearby Marais neighborhood where you'll find countless other fantastic bistros as well as wonderful boutiques and specialty shops.
Bonus #1: The Les Halles neighborhood offers almost the same convenient access to top attractions as the Louvre/Tuileries neighborhood but is somewhat quieter and a lot less touristy.
Bonus #2: You're next door to the Marais, with all its wonderful bistros, bars, and nightlife.
1st Arrondissement Complete Guide: Find more things to do & see
2nd Arrondissement Complete Guide: Find more things to do & see
Where to Stay near Les Halles
Luxury
Mid-Range
Budget
Find more 1st district Paris hotels
Find more 2nd district Paris hotels
---
3. Best Neighborhood in Paris for Fashionistas: Champs Élysées / Golden Triangle, 8th Arrondissement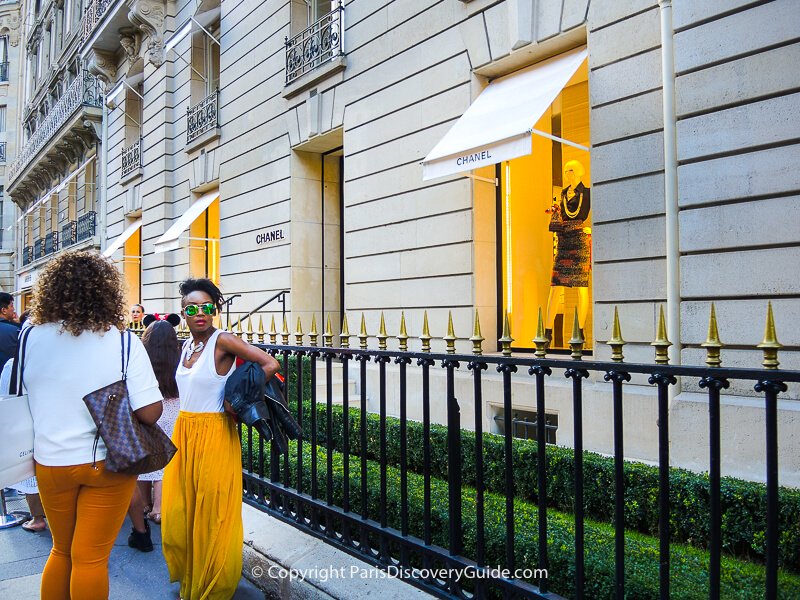 Fashionistas know there's a lot more to fashion than just shopping.
If you dream of immersing yourself in the world of design, checking out the latest trends in designer showrooms and flagship stores, and soaking up inspiration in Paris' top fashion and design museums, opt for a hotel or apartment in the glamorous Golden Triangle neighborhood bordered by Champs Élysées, Avenue George V, and Avenue Montaigne - the most glamorous part of the 8th arrondissement.
This is where the world's most famous designers and haute couture fashion houses such as Dior, Louis Vuitton, Chanel, Saint Laurent, Chloé, Kenzo, Valentino, Tiffany, and Balmain dazzle a deep-pocketed international crowd.
Just over the border with the 16th district are two Paris museums high on every fashionista's bucket list: Palais Galliera, featuring sensational temporary exhibits delving deep into fashion and fashion history, and Musée Yves Saint Laurent, devoted to showcasing the legendary couturier's iconic pieces as well as the famous designer's studio. Also close to the Golden Triangle in the 1st is the Museum of Decorative Arts where you can find inspiration in its superb exhibitions featuring design and decorative arts.
And of course if your budget doesn't stretch to the latest high fashion creations, you'll find plenty of affordable choices such as Sephora and H&M along Champs Élysées plus interesting French labels, especially
Where to Stay in Paris's Golden Triangle
As you might suspect, this part of the city caters to the uber-wealthy. If that's you, you'll enjoy being right in the middle of the action in our luxury hotel recommendations. If not, no worries - this 5-star neighborhood also includes some surprisingly affordable bargains, plus plenty of cute cafes and wonderful bistros for lunch and dinner.
5-Star Palace Hotels
Luxury
Mid-Range
Budget
More places to stay in the 8th arrondissement near Champs-Elysees & the Golden Triangle
---
4. Best Paris Neighborhood in Paris for Families: Saint Germain des Prés, 6th Arrondissement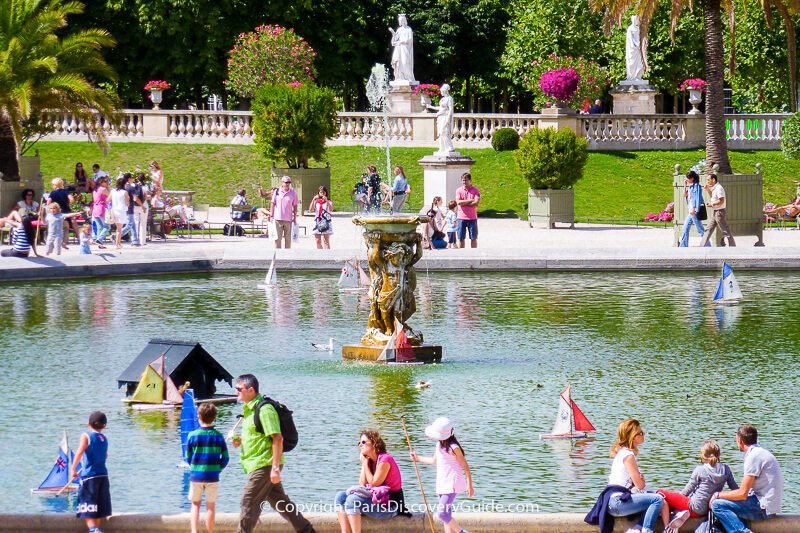 Are you wondering which is the best neighborhood to stay in Paris with your family?
Although posh designer clothing boutiques, drool-worthy antique shops and home decor showrooms, and legendary sidewalk cafes and restaurants such as Café de Flore, Le Precope, and Les Deux Magots pack the très-chic Saint Germain des Prés neighborhood in the 6th arrondissement, it is also an ideal place for family visits.
The neighborhood's largest park, Jardin du Luxembourg (Luxembourg Garden), may be best known by tourists for its tranquil Medici Fountain, flowering plants and trees, the many statues of queens and female saints installed by its 17th century creator, Marie de' Medici, and best of all, the hundreds of green-painted steel chairs for relaxing in the sun or shade.
But if you're visiting with young children, you'll discover Luxembourg Garden's many child-friendly activities: a carousel, pony rides, a pool where you can rent little boats for your kids to "sail" across the water with long poles, an enclosed playground, carriage rides, and even a children's puppet theater (look for the Théâtre des Marrionnettes sign). Snack bars and outdoor cafes make it easy to spend a whole day here.
For kids and teens (and the whole family), a favorite Saint Germain recreational spot is Parc Rives, the riverside park along the Seine where you'll find games and sports, a climbing wall, wide expanses ideal for skateboards, running paths, seasonal snack bars and cafes, plenty of places to sit and relax, and even a floating gallery called Fluctuart dedicated to showcasing street art.
Be sure to explore St Germain's other attractions as well. In addition to its superb shopping and iconic cafes, the neighborhood is home to two magnificent churches: Église de Saint Germain des Prés, where you can attend a concert and enjoy the seasonal Christmas market, and Église Saint Sulpice, filled with magnificent sculptures and murals painted by Delacroix (and also known by Da Vinci Code fans for the scene involving its "gnomen" astronomical instrument.
The Saint Germain des Prés neighborhood's convenient location also puts you within walking distance (10-15 minutes or less) to other top attractions nearby: the Louvre, Tuileries Garden, and Les Halles across the river in the 1st arrondissement, the Eiffel Tower, Army Museum, and Orsay Museum in the 7th, the Catacombs in the 14th, and the Latin Quarter in the 5th (and part of the 6th). And numerous metro stations make getting to other Paris attractions fast and easy.
Where to Stay in Saint Germain des Prés
5-Star Palace Hotel
Luxury
Mid-Range
Budget
Find more Saint-Germain hotels & apartments
5. Where to Stay to Experience a Paris "Village": Montmartre, 18th Arrondissement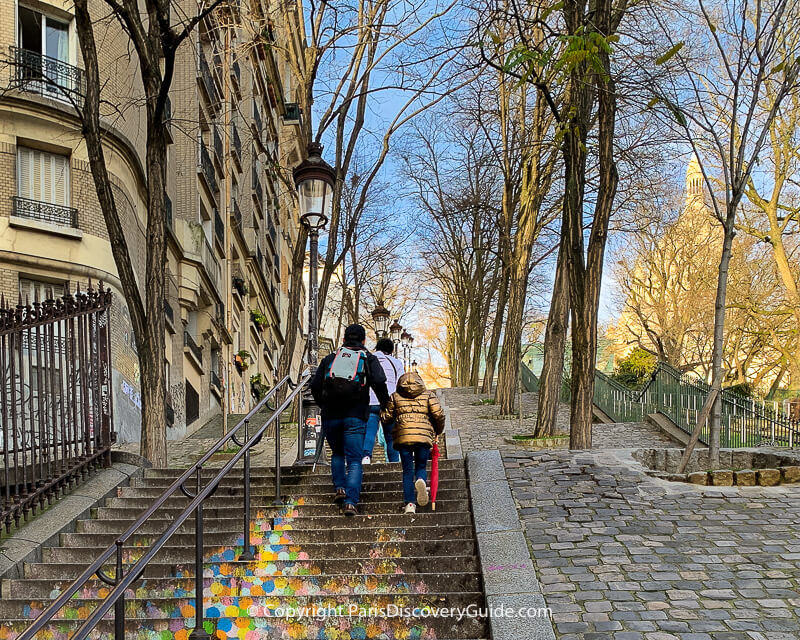 Do you dream of staying in the village-like Paris shown in movies like Amélie where you'll stroll along narrow cobblestone lanes, relax over a café crème or glass of wine, and buy warm-from-the-oven croissants, French cheeses, and perfectly ripe strawberries from friendly shopkeepers on your way back to your hotel room or flat with spectacular views of the city from your balcony?
Get Amelie from Amazon (ad) to watch during your flight to Paris (in French with English subtitles)
If so, Montmartre is the perfect Paris neighborhood to stay in during your visit. It's an authentic village, separate from Paris until the 19th century, and still has all the charm and authenticity that has attracted artists to it for the last couple of centuries. You'll find wonderful small museums and art galleries, lots of appealing boutiques along Rue des Abbesses, and appealing cafes and bistros on almost every corner.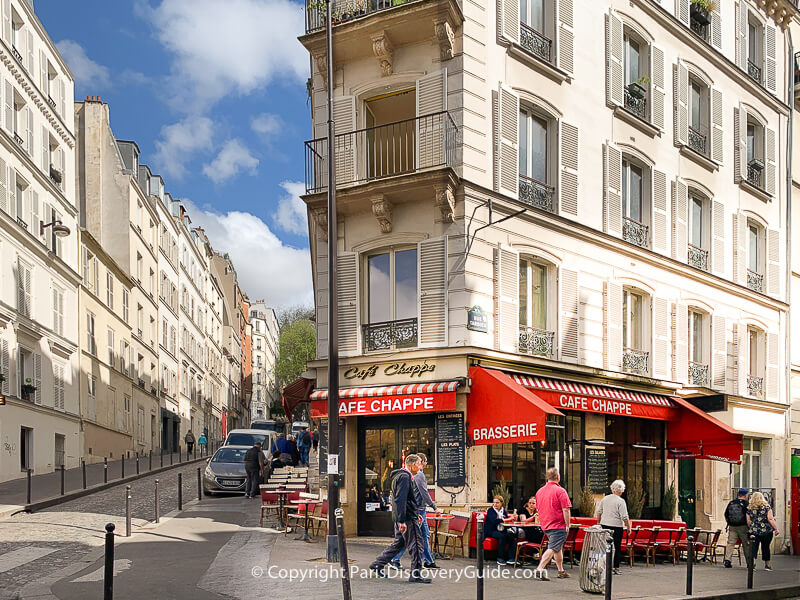 On Montmartre's highest hilltop, the gleaming white Sacre Coeur Basilica can be seen from all over Paris, but close up views are even better! Walk up the stairs or ride up on the funicular, and enjoy the panoramic views from the front plaza. Explore nearby Place du Tertre, where artists still set up their easels and sketch tourists. Treat yourself to champagne and a show at the legendary Moulin Rouge cabaret at the foot of Montmartre.
Montmartre's location in the 18th arrondissement does place it farther from the Eiffel Tower, Notre Dame, and other top attractions on many Paris visitors' bucket lists - but nearby metro stations make getting to them easy. And if the huge Les Puces flea market at Saint Ouen is on your must-visit list, the metro will whisk you there in just a few minutes.
Start your stay in Montmartre with a walking tour led by an expert guide
Where to Stay in Montmartre
As a bonus, Montmartre is one of the best areas in Paris to find affordable hotels for a budget-friendly vacation.
Our recommendations include hotels just in Montmartre, not other 18th arrondissement neighborhoods, and we avoid hotels on Boulevard de Clichy/Boulevard de Rochechouart, a noisy and rather charmless road.
Luxury
Mid-Range
Budget
---
6. Best Place to Stay in Paris for Fantastic Boutiques, Galleries, Bistros, Bars, & Nightlife: The Marais, 3rd & 4th Arrondissements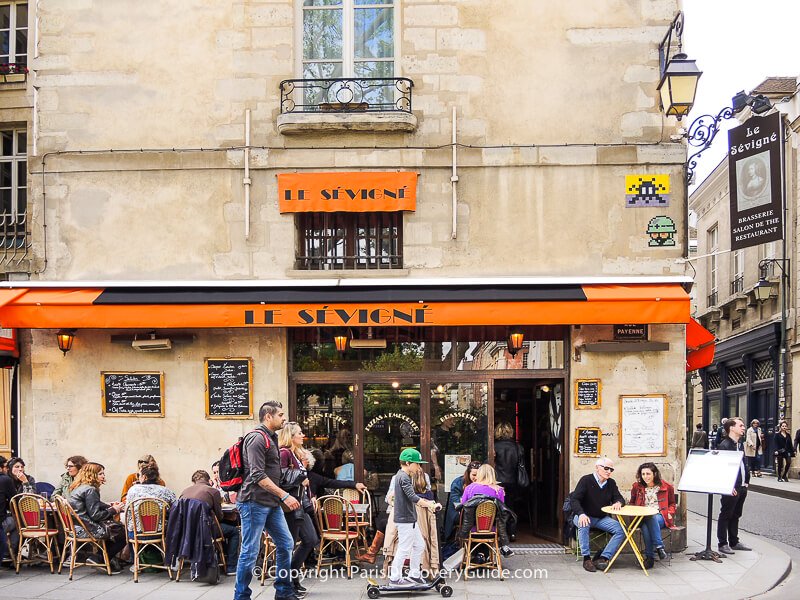 You can find lots of compelling reasons why the Marais neighborhood, which includes large swaths of the 3rd and 4th arrondissements, is a popular place to stay. Stunning architecture, layers of history and culture including a vibrant Jewish community with roots dating back to the middle ages and a more recent LGBTQ community, gorgeous parks such as Place des Vosges, important museums, and fascinating historic churches make the Marais a truly special area.
But if you had to pick just one - ok, maybe five - things that make the Marais an outstanding place to stay, it might be the heady combination of unique locally owned boutiques, countless galleries featuring the work of established and emerging artists, welcoming bistros and bars, and a sizzling nightlife that give you an exhilarating ambiance you won't find anywhere else in Paris - and choosing a hotel or apartment here puts you right in middle of it, day and night.
You could easily spend your entire vacation here - but the Marais' location puts you within easy reach of all the city's top attractions by foot or metro. As a bonus, you're also close to top attractions in eastern Paris: the immersive digitized animated art and music shows at Atelier des Lumières, street art near the scenic drawbridges along Canal Saint-Martin, and the evocative tombstones on the hilly slopes of Pere Lachaise Cemetery.
Once you've experienced a stay in the Marais, you'll most likely return again and again.
Where to Stay in Le Marais
Luxury
Mid-Range
Budget
More places to stay in the Marais
---
7. Best Central Paris Neighborhood for Your Budget: The Latin Quarter, 5th District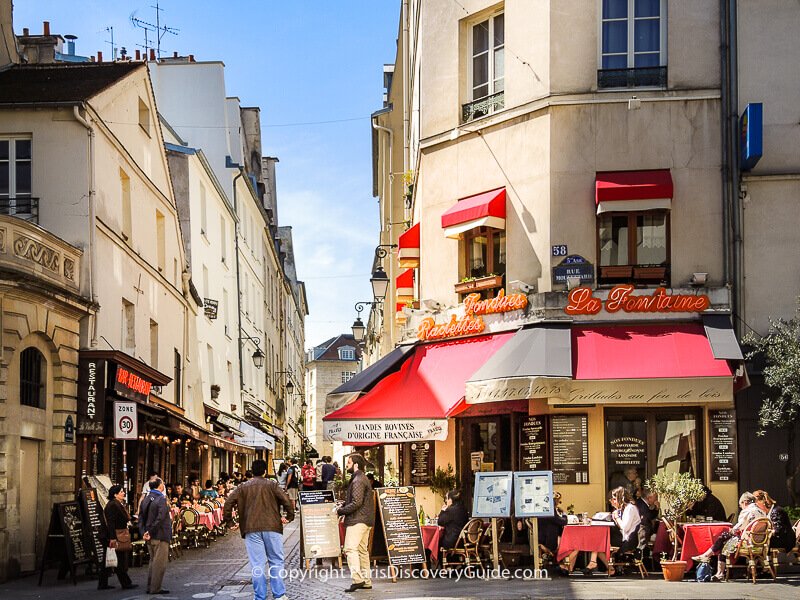 If you're looking for a budget-friendly neighborhood in the heart of the city, the Latin Quarter, which straddles parts of the 5th and 6th arrondissements, offers a wonderful assortment of historic and modern attractions, appealing restaurants, and charming narrow streets with a medieval vibe.
The Latin Quarter has been the center of intellectual life in Paris ever since the Middle Ages when students from all over Europe came here to study at the Sorbonne University with Latin as their common language. Students still fill the neighborhood, which means you'll find plenty of affordable places to eat and stay - although there are also some wonderful splurge-worthy options.
You'll find plenty of fascinating places to explore and enjoy here, including the Cluny Museum with its Roman baths and Medieval treasures such as the Lady and the Unicorn tapestry masterpieces, a hidden Roman arena, the Pantheon, jazz clubs, Luxembourg Garden, and the famous Shakespeare and Company English language bookstore. In the quiet Jardin des Plantes neighborhood next door are even more top attractions: the Paris Botanical Garden, a small zoo, the Natural History Museum, the Grande Mosquée of Paris with its tearoom and beautiful indoor garden, and the fascinating Institut du Monde Arabe museum and rooftop terrace.
The Latin Quarter's central location next to the Seine River means you're within walking distance to most Paris's top attractions, but there are also numerous metro stations for when you want to visit Montmartre or other most distant areas.
Where to Stay in the Latin Quarter
Luxury
Mid-Range
Budget
More hotels and apartments in the Latin Quarter
---
8. Where to Stay Near the Eiffel Tower: 7th Arrondissement
If seeing the Eiffel Tower as much as possible during your visit to Paris is your dream, then consider staying near its location near the Seine River on Champ des Mars in the 7th arrondissement. Of course the "Iron Lady" can be seen from a number of places throughout the city - but nothing quite beats the thrill of looking up and seeing the soaring lacy spire close up.
You'll find a lot more to enjoy in the bougie 7th district: superb shopping opportunities at the numerous small boutiques, wonderful bistros including Michelin-starred Christian Constant's places along Rue Sainte Dominique, the fabulous Grande Épicerie de Paris next to the equally fab Bon Marché department store. And don't miss the popular Rue Cler market street, one of the gems of this treasure-filled neighborhood.
If you need a dose of culture, visit the Rodin Museum and its sculpture garden, the Army Museum (Musée de l'Armée) and Napoleon's Tomb on the Esplanade des Invalides, the Branly Museum for non-western art, and the Musée d'Orsay filled with Impressionist and Post-Impressionist masterpieces overlooking the Seine River.
But above all, immerse yourself in Eiffel Tower experiences.
Where to Stay near the Eiffel Tower & Rue Cler
Luxury
Mid-Range
Want a budget-friendlier alternative to the 7th? The 15th arrondissement borders the eastern side of Champ de Mars, so check out hotels in the mostly-residential 15th district, especially those in the Grenelle neighborhood. In general, hotel rates in the 15th trend somewhat lower.
---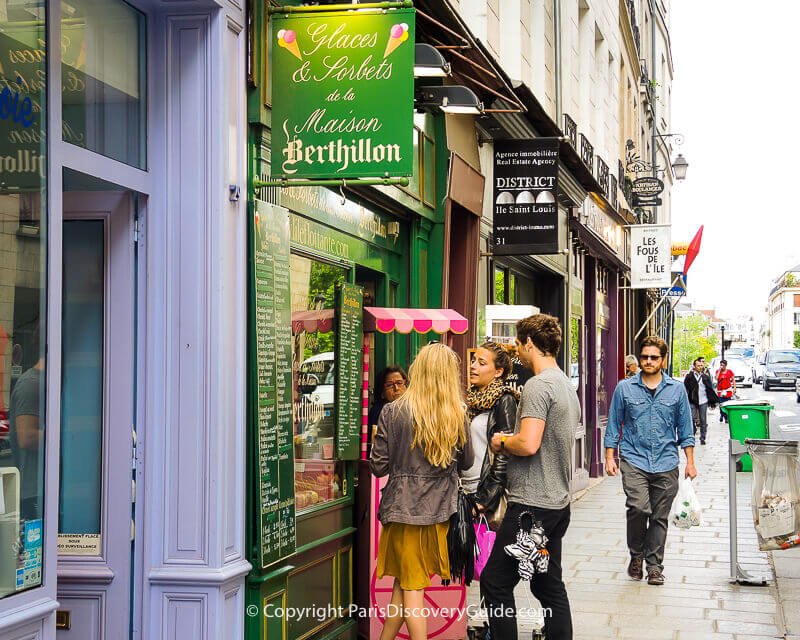 Remember the two small islands in the middle of the Seine on the map near the beginning of this article? The larger of the two, Île de la Cité, is packed with tourists drawn to its famous attractions: the magnificent Notre Dame Cathedral, Sainte-Chapelle and its superb stained glass, the medieval palace-turned-prison, La Conciergerie, where Marie Antoinette spent her final days.
In contrast, the smaller one, Île Saint Louis, offers little of interest to tourists other than the popular Berthillon ice cream shop and frankly, places to get superb glâce can be found all over Paris. The island is an enclave of elegant but somewhat austere 17th and 18th century buildings built for wealthy owners who liked privacy. An assortment of brasseries, bistros, cafes, boutiques, bakeries, produce stands, wine shops, and a fromagerie selling tantalizing cheeses occupy the ground floors along a main street, and a few have been converted to hotels. A rather magnificent church, Église Saint-Louis-en-l'Île, and a small but charming park anchor the eastern end.
But otherwise, Île Saint Louis is a quiet residential neighborhood, aside from periods during summer months when visitors spill over from Île de la Cité and stop for ice cream on their way to the nearby Marais.
Most Paris visitors overlook Île Saint Louis with choosing a place to stay - but you can't beat the convenience of its central location and with 6 bridges to the Left and Right Banks and Île de la Cité, you have fast and easy access to everywhere else you might want to go. If you want to experience life, even for just a short time, in an almost-hidden Parisian neighborhood in the historic heart of the city, Île Saint Louis is a superb choice.
The catch? The island's hotels are small boutique properties and relatively few short-term rental apartments are available - so if you want to stay during the busiest seasons, you should book up to months in advance, especially at the most popular properties where regulars reserve as much as a year ahead..
Where to Stay on Île Saint Louis
High-End
Mid-Range
Budget
---
10. Best Neighborhood for Shoppers: Opéra / Grands Magasins, 9th Arrondissement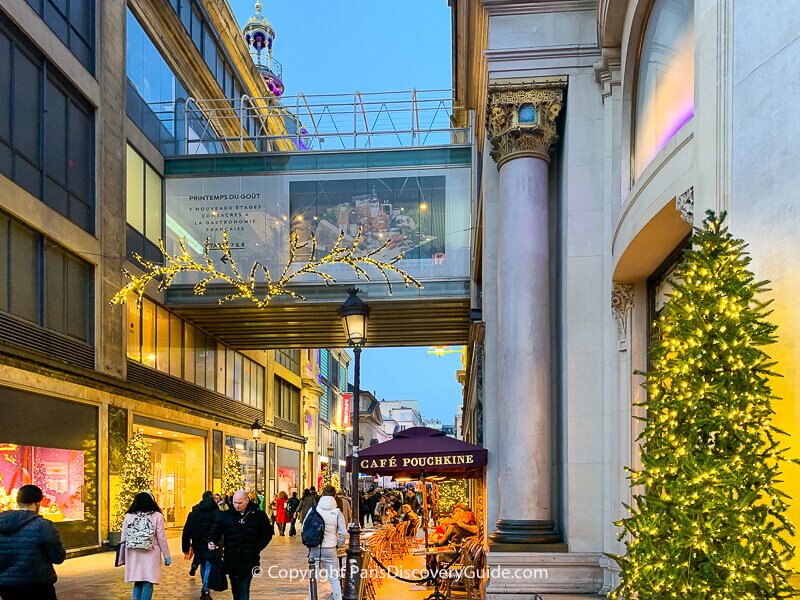 If your dream visit to Paris involves lots of shopping and plenty of buying, stay in the lively Opéra / Grands Magasins neighborhood where every designer and every brand will conveniently be right at your fingertips. And so will your hotel, when you need to stash your overflowing shopping bags in your room before rushing out to shop some more.
Find the best places to stay near the Paris Opera House & Grands Magasins
Galeries Lafayette and Au Printemps, two legendary and enormous Belle Epoch Paris grands magasins (big department stores), dominate this part of the 9th. Under their roofs, you'll find dedicated boutiques for virtually every famous luxury designer you can imagine - Gucci, Maje, Sandro, Armani, Hermès, Valentino, Tiffany, Balenciaga, Louis Vuitton, to name a few - plus a huge array of more affordable brands. This makes 1-stop-shopping incredibly convenient, but here's an even bigger plus if you live outside the EU: you can combine your purchases of most brands to meet the 175€ minimum to claim your VAT tax rebate on the spot.
If that's not enough, you can shop to your heart's content along the grand Boulevard Haussmann, Boulevard des Capucines, and smaller rues at international emporiums such as Zara, Uniqlo, and H&M, affordable French labels like Comptoir des Cotonniers, Camaïeu, and Carroll, and luxury luggage and leather shops. Gaze (or perhaps drool) at dazzling jewels and watches along Boulevard des Capucines and Rue de la Paix. Load up on fancy teas and chocolates as you stroll down Avenue de l'Opéra.
For a culture break, attend a performance at nearby Palais Garnier (the Paris Opera House), or visit this legendary Baroque masterpiece. The Louvre Museum and Tuileries Gardens are about a 10 minute walk away, and multiple metro stations put the whole city within easy reach.
What is it like to stay in this busy commercial district? Tucked between the bustling boulevards are plenty of small, quiet side streets with small (but excellent) neighborhoods bistros, cafes, and bakeries. You get the ideal mix of Parisian charm - and easy access to world-class shopping.
Find out about things to do in the Opéra neighborhood and the rest of the 9th arrondissement
Where to Stay in Opéra/Grands Magasins
Luxury
Mid-Range
Budget
Find more hotels in Paris's 9th arrondissement near Opera and the famous department stores
---
Where NOT to Stay in Paris
Are there places in Paris where you should avoid staying, especially if you're a first-time visitor?
Yes, absolutely - depending on your circumstances.
Here are our suggestions for where NOT to stay in Paris:
Don't Stay Too Far from a Metro Station (Unless You Don't Mind Extra Walking)
The metro gives you fast, easy access to every part of the city - so staying near a station saves you time and inconvenience.
Walking time of 5 minutes or less is ideal. For most people, that's about a distance of a quarter of a mile - roughly 1,300 feet/400 meters. (For reference, once you're on the metro, transit time between stations in the city's center typically takes about 45 seconds - or 60 seconds if you're crossing the Seine River.)
Before you book your Paris accommodations, find your hotel on a map and check out the distance to the closest metro station. As long as you're booking in a single-digit district or in the Montmartre neighborhood in the 18th, you should be fine.
But if you have a special situation - for example, you'll be pushing a baby carriage, or coddling a sore knee - find a hotel that's just a block or two from a station. In a city with thousands of hotels and apartments and hundreds of metro stations, you have plenty of choices.
Avoid Paris's Double-Digit Districts (If You're a First-Time Visitor)
If you're a first time Paris visitor and want to see the city's most famous attractions, stay in the single-digit arrondissements (or Montmartre in the 18th district), especially if you're not comfortable speaking at least a bit of French. You'll love the ambiance of walking along the Seine, and being close to all the top sights, countless fantastic cafes and restaurants, and iconic neighborhoods such as the Latin Quarter and Champs Elysees.
The double-digit districts are also packed with delightful neighborhoods, interesting places to explore, and tantalizing bistros, fun nightlife, and great shopping, and yes, the outer districts are safe - but save them for a future visit because they are farther away from tourist attractions and you can't assume that everyone will speak English.
Don't Choose a Hotel Beyond the Périphérique (Except for a Few Special Exceptions)
If you're looking online for hotels, you may notice lots of bargain rates at big tourist hotels just beyond the city's periphery ring road - especially from big French hotel brands such Ibis and AccorHotels. Yes, the prices are downright cheap compared to central Paris - but if time is as important as money to you, why waste it traveling back and forth?
In addition, many of the tourist hotels beyond the periphery offer cookie-cutter generic rooms and not many amenities. And finally, many of them are located in industrial zones where you're basically stuck in the hotel, saving money but losing the experience of being in Paris.
However, there are a few exceptions when you may want to spend a night or two outside of the city.
---
When Should You Stay Outside of Paris? Here Are the Exceptions...
Let's say you're planning to visit Paris for a week or more, and want to spend 2-3 days at a destination outside of the city - perhaps Versailles, Paris Disneyland, or even London.
In that case, it makes sense to spend a night or two at the location you're visiting as it will be much more convenient than going back and forth, and might even save you a few euros compared with what you'd spend on a Paris hotel.
If you decide to do that, here are a couple of hotels for each destination to consider:
Versailles Palace - Where to Stay
Both of these hotels are located on the way to the chateau - so about a 5-6 minute walk from the train station:
Find more fabulous places to stay near Versailles Palace
Disneyland Paris - Best Places to Stay
Get more time at Disneyland and save some money (compared with what you'd spend in Paris) by staying at hotels near Disneyland. The ones we review include free shuttle bus service to the Disneyland parks.
The Disney-branded hotels within the Disneyland resort complex give you an immersive experience with Disney themes and characters; they also the most expensive.
Here are two of the most popular:
You can save significant money without giving up quality at these family-friendly hotels less than 2 miles away with free shuttle bus service to both Disney parks. Here's a sample of 3 awesome properties:
Find more Disneyland Paris hotels with free shuttle buses
London - Where to Stay near the Eurostar Station
Both of these Bloomsbury hotels are close to the Eurostar station at St Pancras/Kings Cross:
---
More Fun Things to Do & See in Paris
---
Pin Now, Read Again Later
---
More Articles about Where to Stay in Paris