Are you considering booking a hotel in Montmartre for your Paris visit?
Although well over a century has passed since bohemian artists such as Henri de Toulouse-Lautrec, Pablo Picasso, Suzanne Valadon, Edgar Degas, and Amadeo Modigliani lived and worked here during the Belle Epoque period, the neighborhood retains its quirky charm and village-like ambiance.
If you're like many visitors, you'll love Montmartre's winding cobblestone lanes, numerous small cafes and boutiques, leafy parks, small museums, and unexpected art, such as the "Wall of Love" mural in Place des Abbesses and the bronze bust of Dalida, the famous French-Italian-Egyptian singer whose remains reside in the Montmartre Cemetery.
At the foot of the butte (hill where Montmartre borders Pigalle along Boulevard de Clichy/Boulevard Marguerite de Rochechouart (same street, with a name change at the Rue des Martyrs intersection), you'll find the famous Moulin Rouge cabaret, La Cigale and La Trianon concert halls, and other sizzling nightlife.
Because Montmartre lies outside of central Paris, you'll also enjoy lower hotel rates here than you'd find for equivalent accommodations in Arrondissements 1 through 9. Thanks to the super-efficient metro as well as Paris's compact footprint, reaching other parts of the city is quicker and easier than you might imagine.
In this article, we recommend some of the best Montmartre hotels and apartments at all budget points for you to consider during your stay.
Article Contents:
Top photo: Charming Montmartre street with La Maison Rose cafe, (c) Paris Discovery Guide
Paris Discovery Guide is a reader-supported publication. When you buy through our links, we may earn a commission at no additional cost for you. Learn more
---
Montmartre Hotels near Moulin Rouge, La Cigale, & Other Nightlife
1. Manolita Paris Hotel
★★★
★★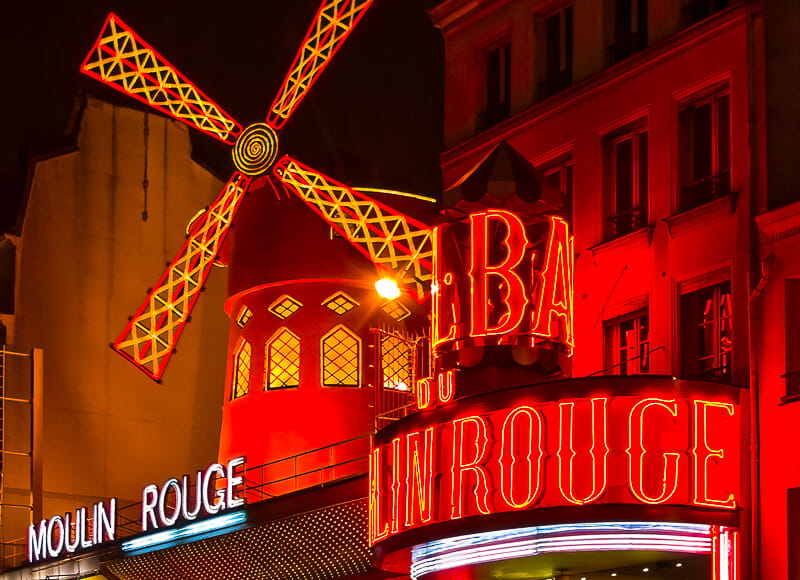 1 Rue Lepic, 18th arrondissement; nearest metro: Blanche
Located almost next to the famous Moulin Rouge cabaret and close to La Cigale music hall and Sacre Coeur Basilica, 5-star Manolita Paris gives you the perfect spot for exploring all of Montmartre's charming nooks and crannies. It's also just a few steps away from the Blanche metro station, which gives you easy access to the rest of the city.
With only 10 guestrooms and suites, the hotel offers personalized service and a glamorous ambiance with a Belle Epoque/Art Deco vibe.
Even the smallest guestrooms are large by Paris standards, and the hotel's gorgeous gold and black bar gives you a comfortable spot to savor a drink (or two) after a day of sightseeing or an evening enjoying the neighborhood's many entertainment venues.
Pro tip: Book a suite with a balcony.
---
2. Maison Souquet
★★★
★★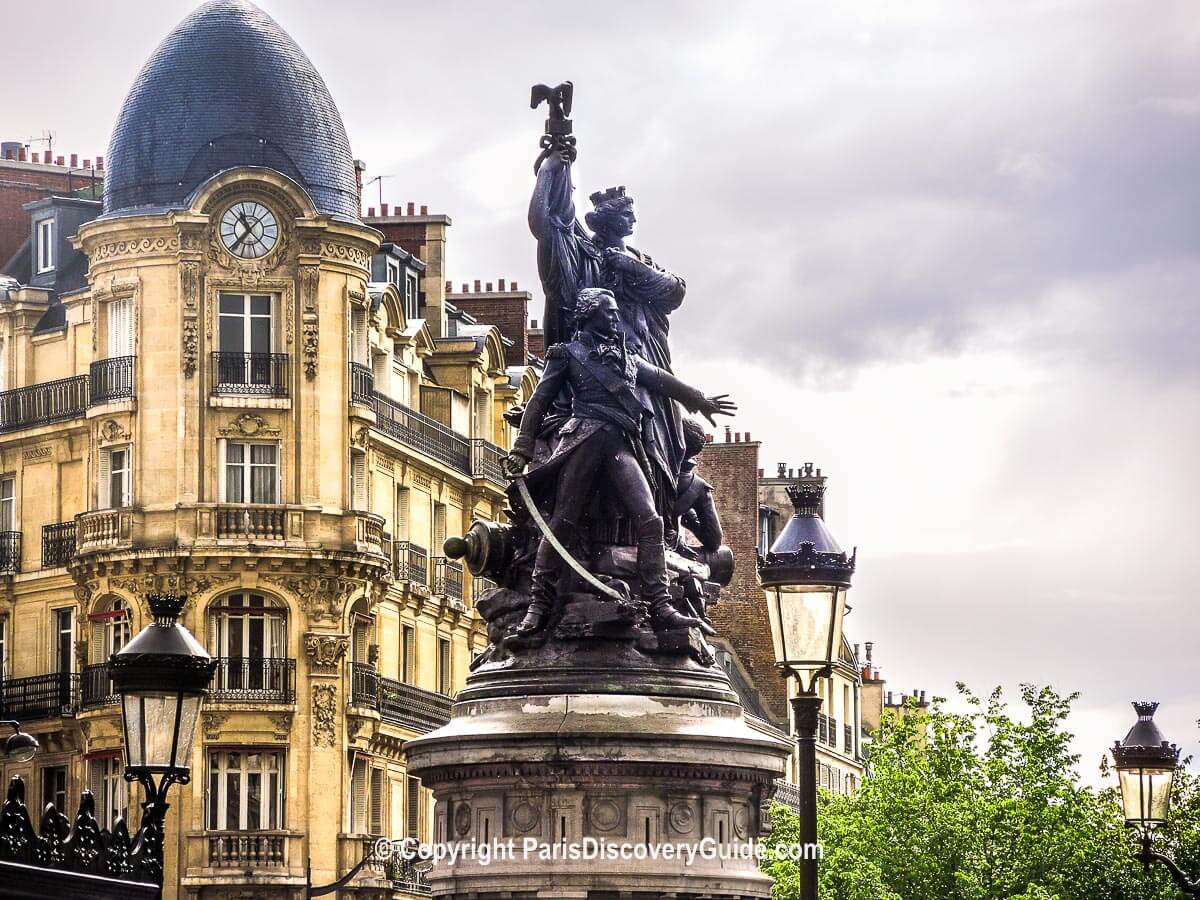 10 Rue de Bruxelles, 9th arrondissement; nearest metro: Blanche
To quickly spot Maison Souquet, located about a 1-2 minute walk from Moulin Rouge, look for two red lights - a not-so-subtle nod to the building's Belle Époque stint as a maison close, an upscale brothel catering to wealthy pleasure seekers.
The "pleasure house" theme continues inside the hotel, where lush silk and velvet fabrics, dark colors, and slightly risqué artwork featuring scantily clad women create a romantic Art Nouveau ambiance without any sacrifices of 21st century comfort.
Each of the 20 guestrooms and suites bear the name of a famous courtesan unique decor grouped around five themes: Japanese, 18th century, Second Empire French (ie, Napoleon III), Chinese, and Indian. A hammam and pool will add to your pleasure. Tea is served each afternoon, and a bartender is on hand during the evenings to mix your favorite drink.
Maison Souquet is part of the Maisons Particulières Collection founded by Sylviane Sanz and Yoni Aïdan. Check out their other luxurious boutique hotels in Paris:
Maison Proust Hotel & Spa La Mer (26 Rue de Picardie, 3rd arr) - An evocative 5-star re-creation of a Parisian Belle Époque salon inspired by Marcel Proust located in the Upper Marais neighborhood near the Enfants Rouge covered market
Maison Athénée (Rue de Caumartin, 9th arr) - An ode to Belle Époque salons located just a few minutes' walk from the Palais Garnier Opera House, Place de la Madeleine, and Place Vendome
---
3. Hotel La Chat Noir
★★★★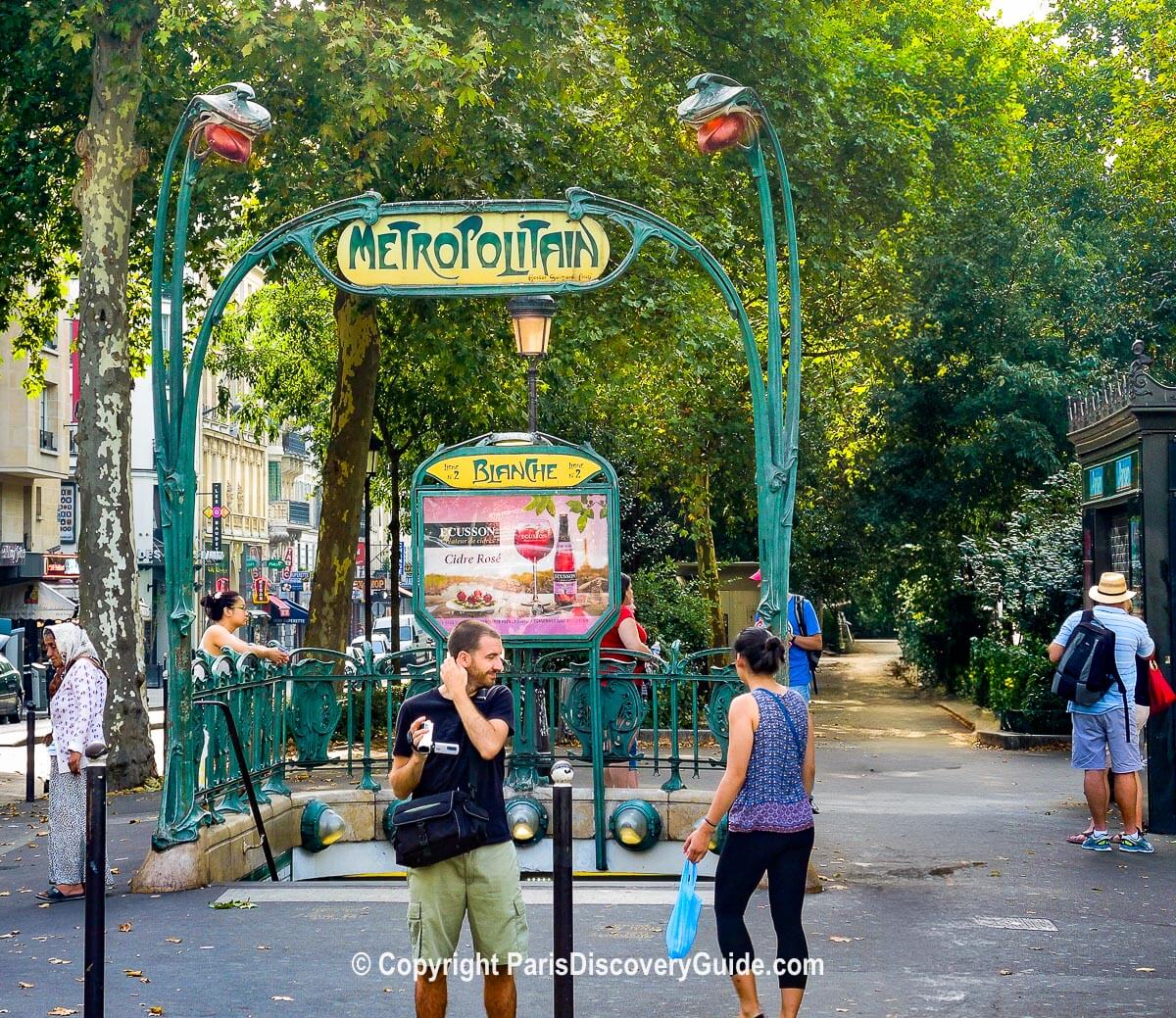 68 Boulevard de Clichy, 18th arrondissement; nearest metro: Blanche
Located about a 3-minute walk from Moulin Rouge on a site once occupied by the famous Belle Epoque cabaret with the same name, the 4-star Hotel Le Chat Noir rocks a chic red, black, and white color theme, comfortable contemporary furnishings, and lots of Art Nouveau-style black cats images in homage to the hotel's name.
The 41 guest rooms at this boutique "design" hotel come in all sizes, from a small 1-person room with an unexpected plus - a balcony - to the large 2-story apartment (complete with kitchen) for four with balconies on both levels where you can enjoy panoramic views of the Eiffel Tower and Sacre Coeur.
The hotel also includes an onsite restaurant/club, Le Chat Noir, open from 7am - 5am, where you can indulge in French classics - onion soup, mussels, bouillabaisse and enjoy some of the legendary Pigalle nightlife.
Entertainment with DJ sets and/or live music (mostly French and International pop) starts after Moulin Rouge's last show ends at around midnight.
4. Hotel Rochechouart
★★★
★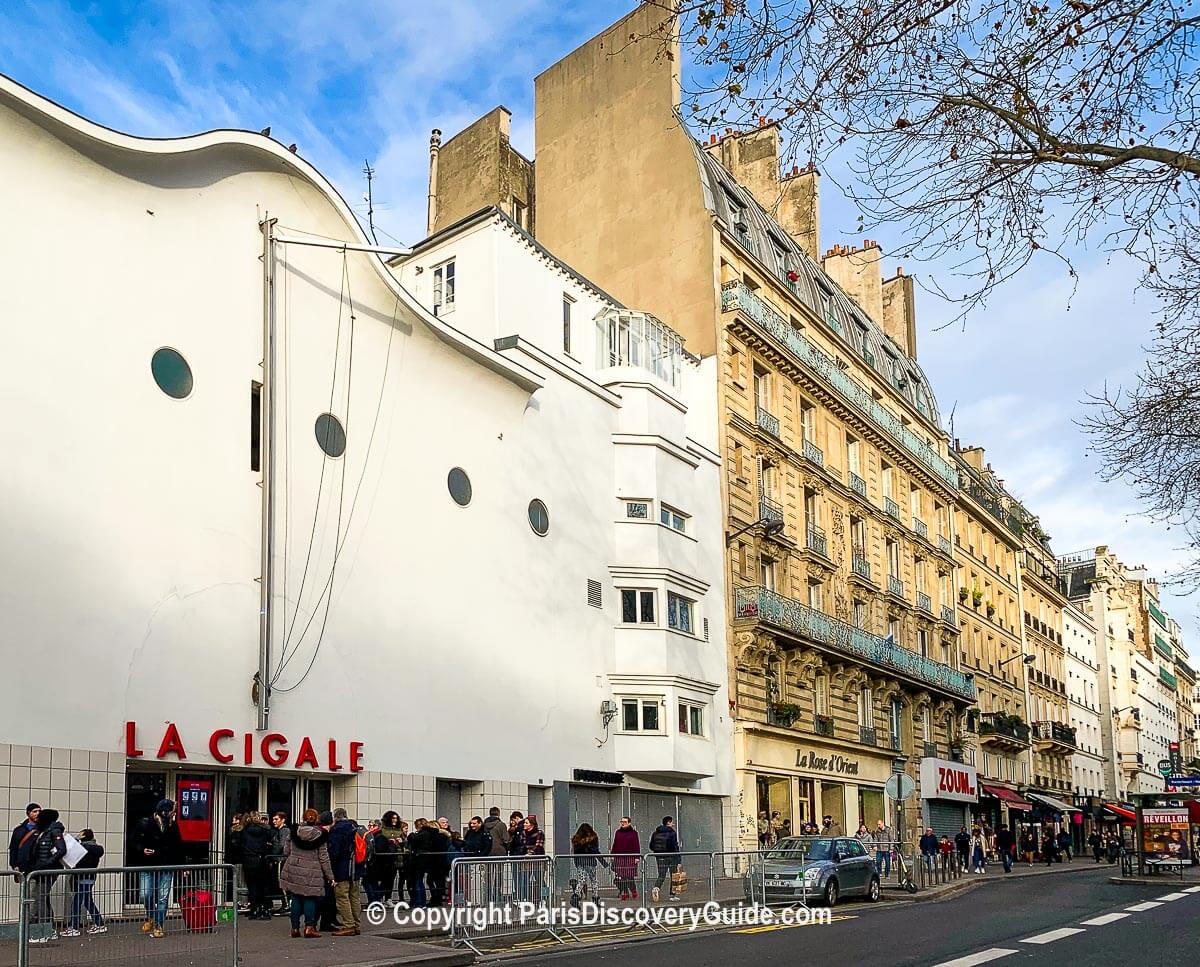 55 Boulevard Marguerite de Rochechouart, 9th arrondissement; nearest metro: Blanche
The 4-star Hotel Rochechouart's location puts it near the border of Montmartre and the Pigalle neighborhood, once known for its sex shows (only a few remain) and now home to an increasing number of trendy bars and bistros.
Famed Montmartre music halls La Cigale and La Trianon are almost directly across the street, and a leisurely 5-minute walk will bring you to the Moulin Rouge cabaret, while you can reach Sacre Coeur in less than 10 minutes - if you take the funicular up the hill!
After closing down a few years ago for a complete top-to-bottom renovation, the 4-star Hotel Rochechouart has emerged with a poshly elegant Art Deco vibe in its public spaces and 106 guestrooms and suites. The real show-stopper, though, is the fabulous rooftop terrace/bar offering sweeping views of Paris.
Pro tip: Book a room on an upper floor with an Eiffel Tower view.
More places to stay in the 9th district
5. HOY Hôtel
★★★★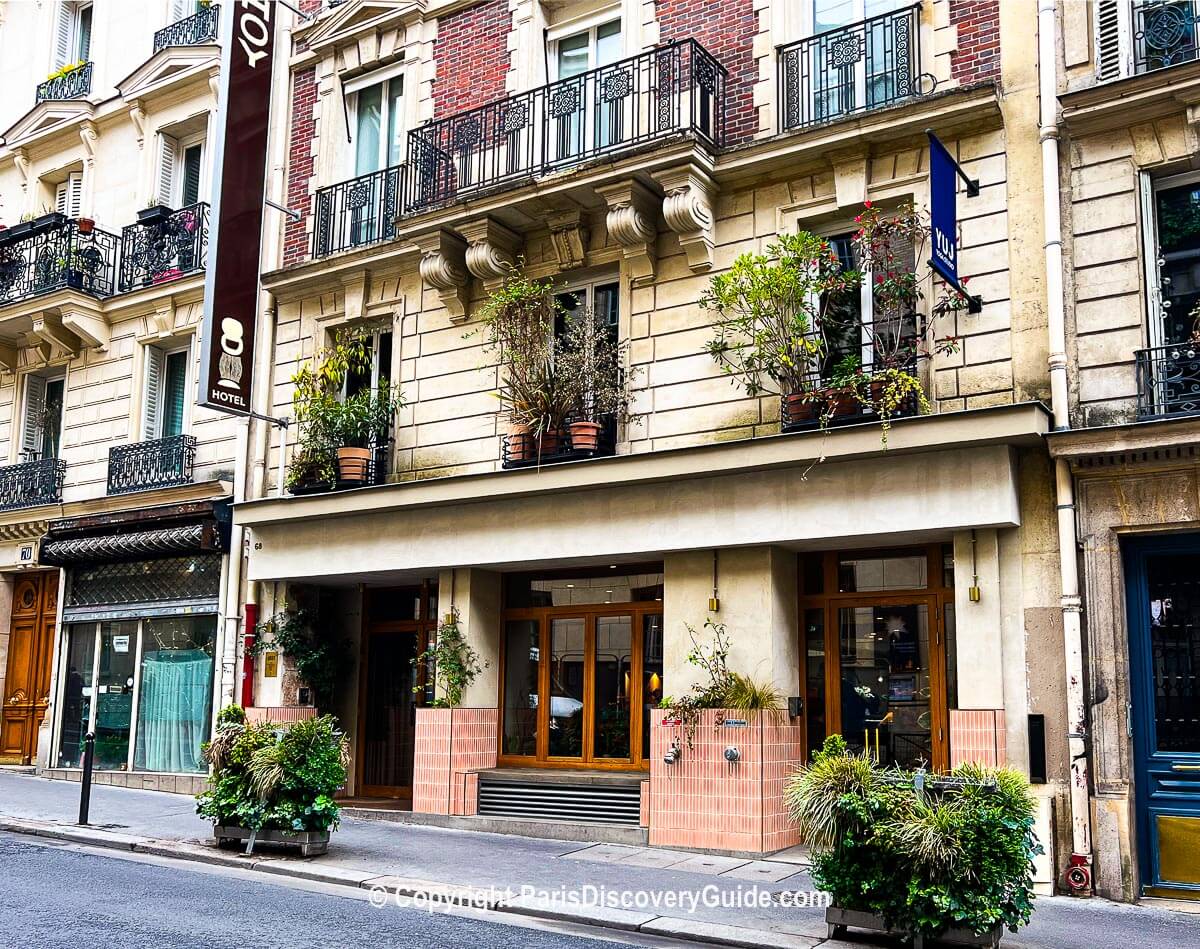 68 Rue des Martyrs, 9th Arrondissement; nearest metro: Blanche
HOY Hotel's location on the famous Rue des Martyrs near Boulevard de Clichy puts you just a quick walk from Montmartre's celebrated nightlife: the Moulin Rouge cabaret, Le Trianon and La Cigale concert halls, and nearby clubs. As a bonus, the Paris Opera House is only about 10 minutes away on foot, and Montmartre's cafes, small museums, boutiques, and Sacre Coeur Basilica are equally close.
If you're arriving at Gare du Nord on the Eurostar, you'll appreciate the easy walk from the station to the hotel - about 10-12 minutes, assuming you don't stop for a cup of coffee or snack at one of the tempting spots along the way.
The hotel's 22 feng-shui inspired rooms feature calming blue and cream tones, super-comfortable beds, and natural hardwood floors give you the perfect spot to relax after a busy day. What sets this boutique property apart, though, is its focus on wellness and a healthy lifestyle: a yoga studio, onsite vegan restaurant, and an onsite florist. You'll even find a yoga stretching bar in your room instead of a television.
Another bonus: exploring Rue de Martyr's bookstores, bakeries, cheese shops, florists, hardware stores, wine sellers, produce markets, and delis with mouthwatering carryout.
More places to stay in the 9th arrondissement
---
Montmartre Paris Hotels near Sacre Coeur & Rue des Abbesses
6. Hotel des Arts Montmartre
★★★
★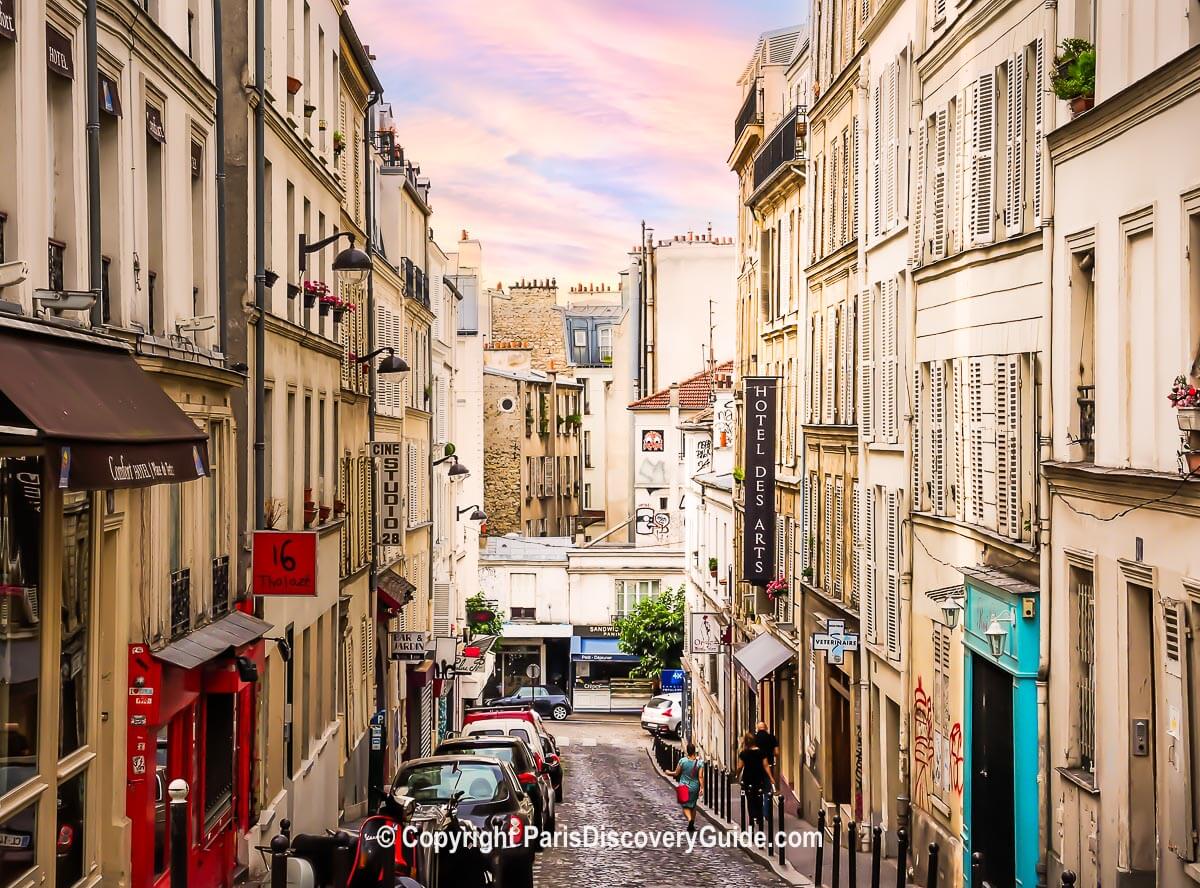 5 Rue Tholozé, 18th arrondissement; nearest metros: Abbesses and Blanche
Located on a quiet cobblestone lane about half a block from the boutiques and bistros along Rue des Abbesses, the highly-rated 4-star Hotel des Arts puts you in the perfect spot to visit Moulin Rouge, Sacre Coeur Basilica, and all the other Montmartre attractions, while two nearby metro stations give you easy access to the rest of Paris
A favorite of artists and Moulin Rouge dancers during its early years, the family-owned boutique hotel with 50 guestrooms has passed through three generations, each making numerous improvements along the way.
Thanks to the 3rd (and current) generation, Flavie and Philippe Lameyre, sound-proofed rooms feature super-comfortable beds and modern furnishings. You can also enjoy an onsite hammam and fitness room, as well as excellent service from the attentive staff.
Pro Tip: As in many (ok, most) Paris hotels, guestrooms here run small but are perfectly comfortable. However, if you're used to more space, book the largest room category that will fit your budget.
7. Terrass' Hotel
★★★
★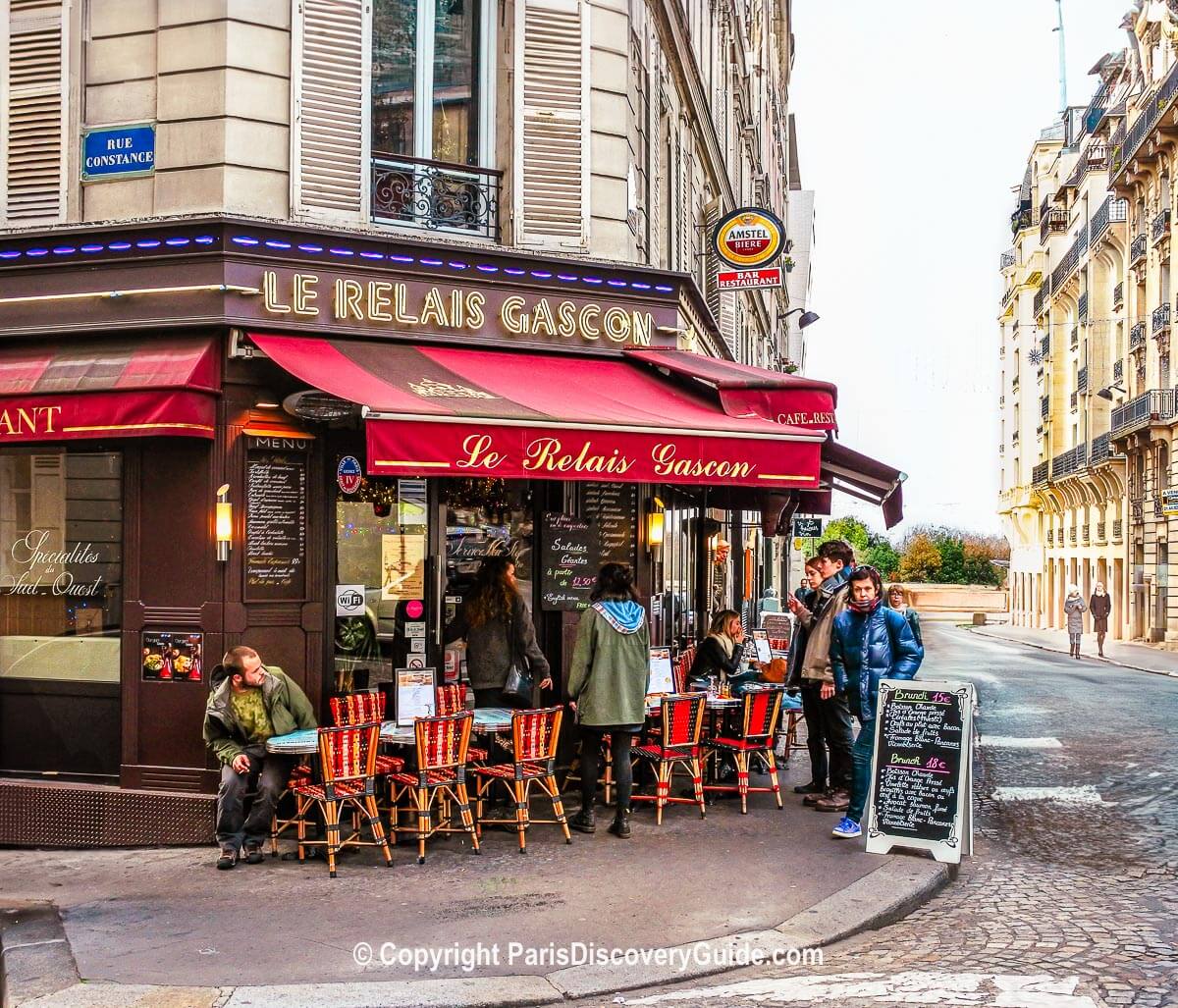 12-14 Rue Joseph de Maistre, 18th arrondissement; nearest metro: Blanche
Want to enjoy amazing views of the Eiffel Tower and Paris rooftops from your hotel in Montmartre? Book a stay at the 4-star Terrass' Hotel, where you can gaze at the tower from the 7th floor bar, terrace, and restaurant as well as some of the 92 guestrooms.
You'll find a lot more to love than just the views at this unique property, which opened in 1911 and has been owned, managed, and periodically renovated by the same family since the beginning.
With the 5th generation now at the helm, the chic contemporary guestrooms feature jewel-like primary colors paired with black and white - evocative of a Mondrian painting and artists' dressing rooms, in homage to the hotel's early days when artists, writers such as Colette, and musicians gathered there.
In a city known for its small hotel rooms, Terrass' is an exception. Even the smallest guestrooms here are relatively spacious, and the largest suites are enormous. Similar to other Montmartre hotels, you'll find some excellent values here. And remember, whether you book the smallest, cheapest room or splurge on the priciest, you'll have access to the grand views from the top floor bar and restaurant - so let your budget be your guide!
Terrass' is located about a 10-minute walk from Montmartre's top two attractions, Moulin Rouge and Sacre Coeur.
If you take the most direct route along Rue des Abbesses to Sacre Coeur, you can either walk up the stairs (which are not as steep as they look from ground level) to the church or hop on the funicular, the little electric train that takes you up the hill in less than a minute.
Alternately, walk along the gently-sloping "back" route along Rue Lepic/Rue Norvins, which takes you past all the artists and gift shops in Place du Tertre.
---
8. Hotel Litteraire Marcel Ayme Best Western Premier
★★★
★
16 Rue Tholozé, 18th arrondissement; closest metro: Abbesses
Named after a Montmartre writer who participated in the local literary and artistic scene for 40 years, Hotel Litteraire Marcel Aymé's location on a hill in an especially scenic part of the neighborhood provides a reminder of why so many creatives flocked to this village-like neighborhood.
In addition to the scenic windmill which you can see at the end of the next block, other nearby attractions include a serene park called Square Suzanne Buisson, known best for its statue of the martyred Saint Denis. Walk one more block, and you'll see a quirky sculpture (Le Passe-Muraille) inspired by a story by Marcel Aymé about a man who walks through walls.
Aside from its wonderful location, you'll find much to love inside this hotel, which offers a mix of 39 comfortable guestrooms and apartments (complete with kitchenettes) featuring light, bright, and modern furnishings and decor.
In addition, the hotel includes a lovely well-stocked library and co-working space - perfect for pursuing your own literary endeavors, or just cocooning.
Pro Tip #1: Book a guest room with a balcony with an Eiffel Tower view over the Paris rooftops and enjoy the sparkling light show each evening
Pro Tip #2: Enjoy classic French cuisine and wine at Le Moulin de la Galette; during the busiest months (May - September), reservations are a good idea
---
9. "The Dancers" Apartment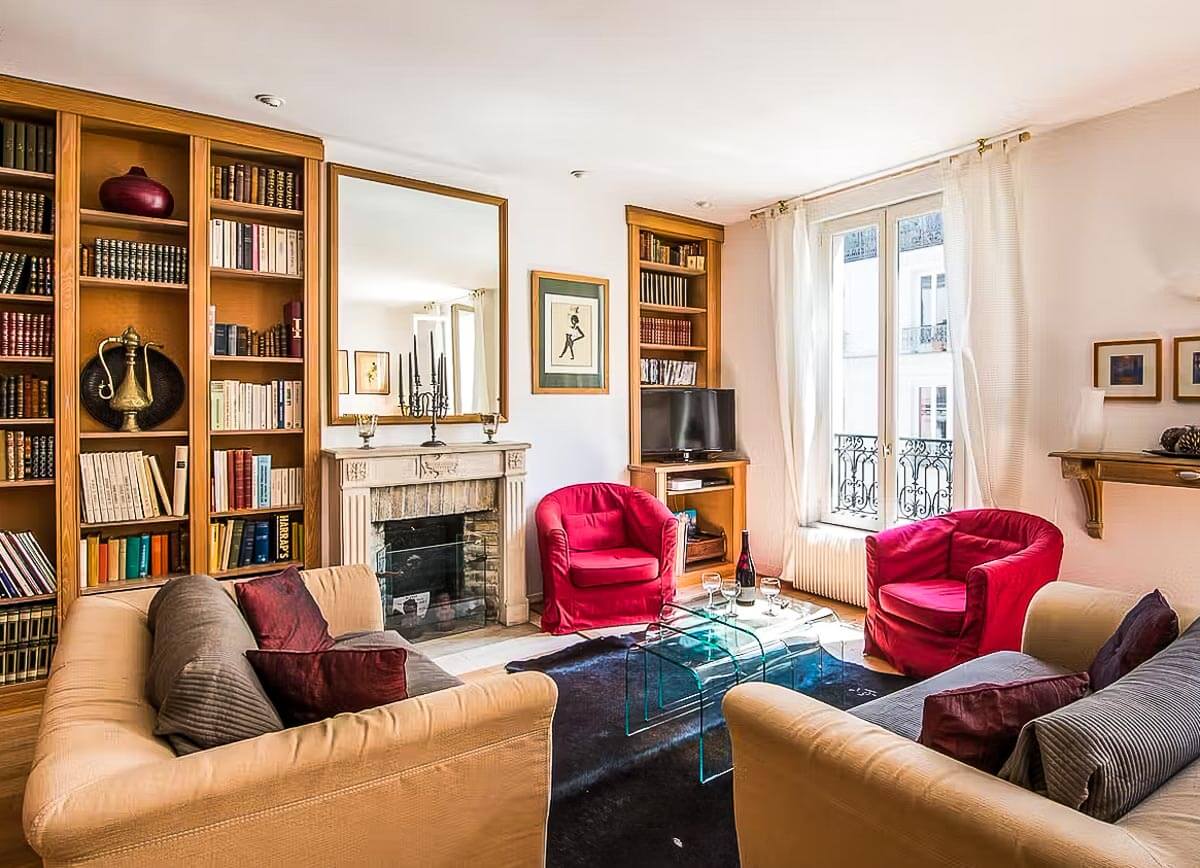 Montmartre neighborhood, 18th arrondissement; closest metro: Lamarck-Caulaincourt
Located in the scenic upscale area behind Sacre Coeur, the spacious 2-bedroom/2 bathroom The Dancers apartment places you in a quiet part of the neighborhood where you can sample freshly-baked croissants from the local bakeries, sip your favorite vintage at a wine bar, and choose from a smorgasbord of local bistros.
You can stroll over to Sacre Coeur in about 5 minutes, explore the lovely garden behind Museum of Montmartre, and immerse yourself in surrealism at the Dali Paris museum. Enjoy a lunch or dinner of traditional French classics such as onion soup, escargot, and duck comfit nearby Le Poulbot, and check out the artists at work in Place du Tertre.
---
10. Hotel Particulier Montmartre
★★★
★
23 Avenue Junot, Pavillon D, 18th arrondissement; nearest metro: Lamarck-Caulaincourt
Once the home of members of both the Hermès and Rothschild families, the boutique Hotel Particulier Montmartre offers you a unique and luxurious experience in an almost-hidden 19th century private mansion in the heart of Montmartre near Sacre Coeur - perfect for a romantic weekend, or to relax and recharge.
To reach the hotel, you walk down a cobbled lane and enter the grounds through a black gate labeled only with the number 23 - so no hotel signs to distract (or guide) you as you pass through the lush garden to the entrance.
The hotel offers only five spacious suites, each decorated by a different local artist with custom wall coverings, elegant fabrics, and high-quality furnishings. The vibe in the suites: secluded and tranquil.
The hotel also features an onsite gastronomic restaurant and a romantic lower-level club with a glass roof where you can enjoy bespoke cocktails, small plates, and on some nights, a DJ. Unlike the private guest spaces in the suites, these public spaces attract a lively crowd so you can get a taste of Montmartre's famous sizzling nightlife without leaving the hotel grounds.
Find more places to stay in the 1st arrondissement
---
11. Odalys City Paris Montmartre "Aparthotel"
★★★
★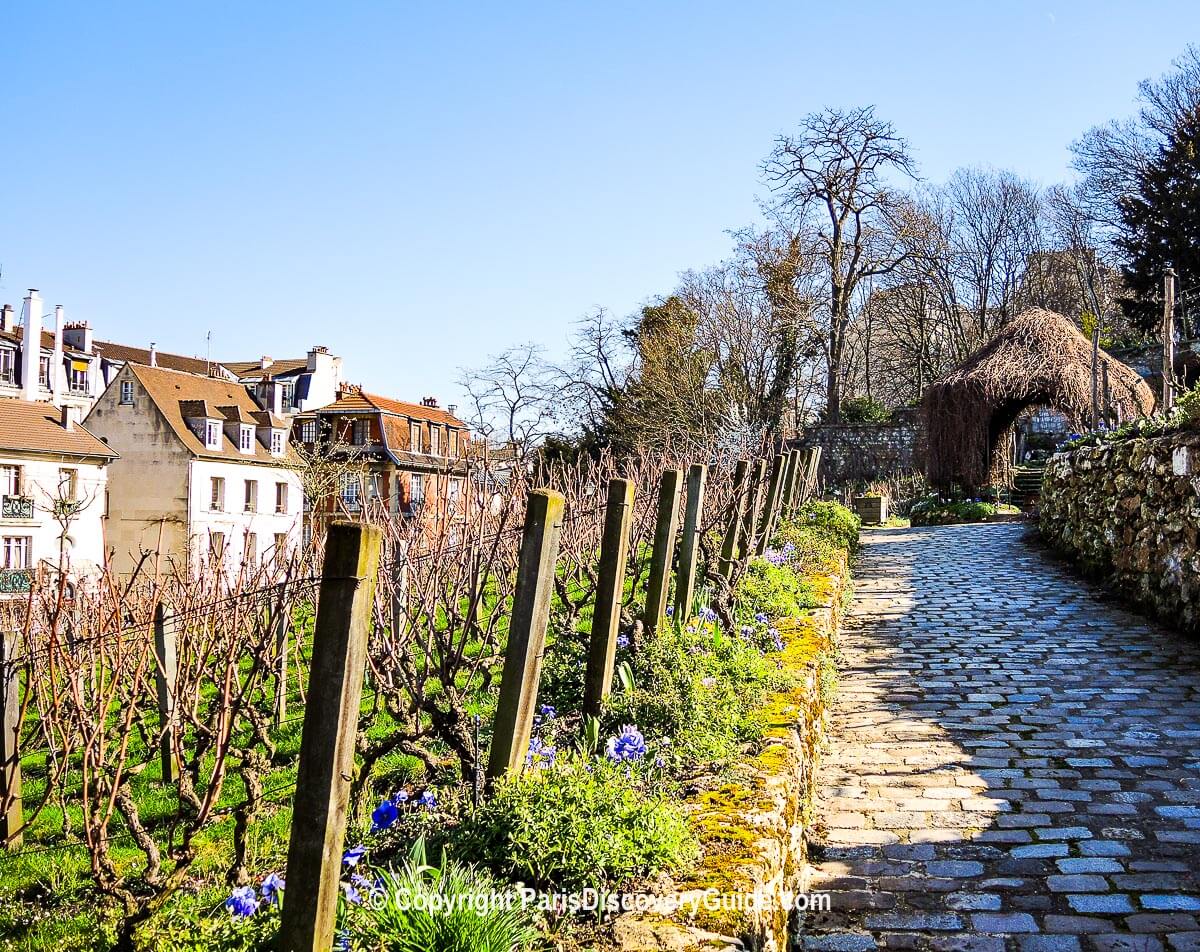 7-9 Rue Saint-Vincent, 18th arrondissement; nearest metro: Lamarck-Caulaincourt
If you're looking for an apartment for your stay in Paris, consider the highly-rated Odalys City Paris Montmartre, an "aparthotel" with 72 affordable serviced apartments ranging in size from studio apartments to large one-bedroom with sofa-bed units that can sleep up to four people.
All units have air conditioning, fully-equipped kitchenettes, and free wifi, and the building has an elevator and a spa with sauna. Breakfast is served on site, and the front desk is staffed to help you with any questions.
Although the aparthotel is located on a quiet street, it is only about a 2-3 minute walk from Sacre Coeur and Place du Tertre where you can pose for an artist who will do your portrait - an unforgettable souvenir of your Paris visit.
You'll find plenty of cute cafes nearby, including the iconic La Maison Rose (at the top of this article).
The Odalys Group owns and manages about 400 holiday rental establishments throughout France, as well as in Spain, Portugal, and Italy.
More to Do Nearby: Visit the Montmartre Museum (about 2 short blocks from the aparthotel), and relax in the gorgeous garden at the back. Also, check out the grapevines on the nearby slope!
---
12. Mom' Art Hotel Paris
★★★
★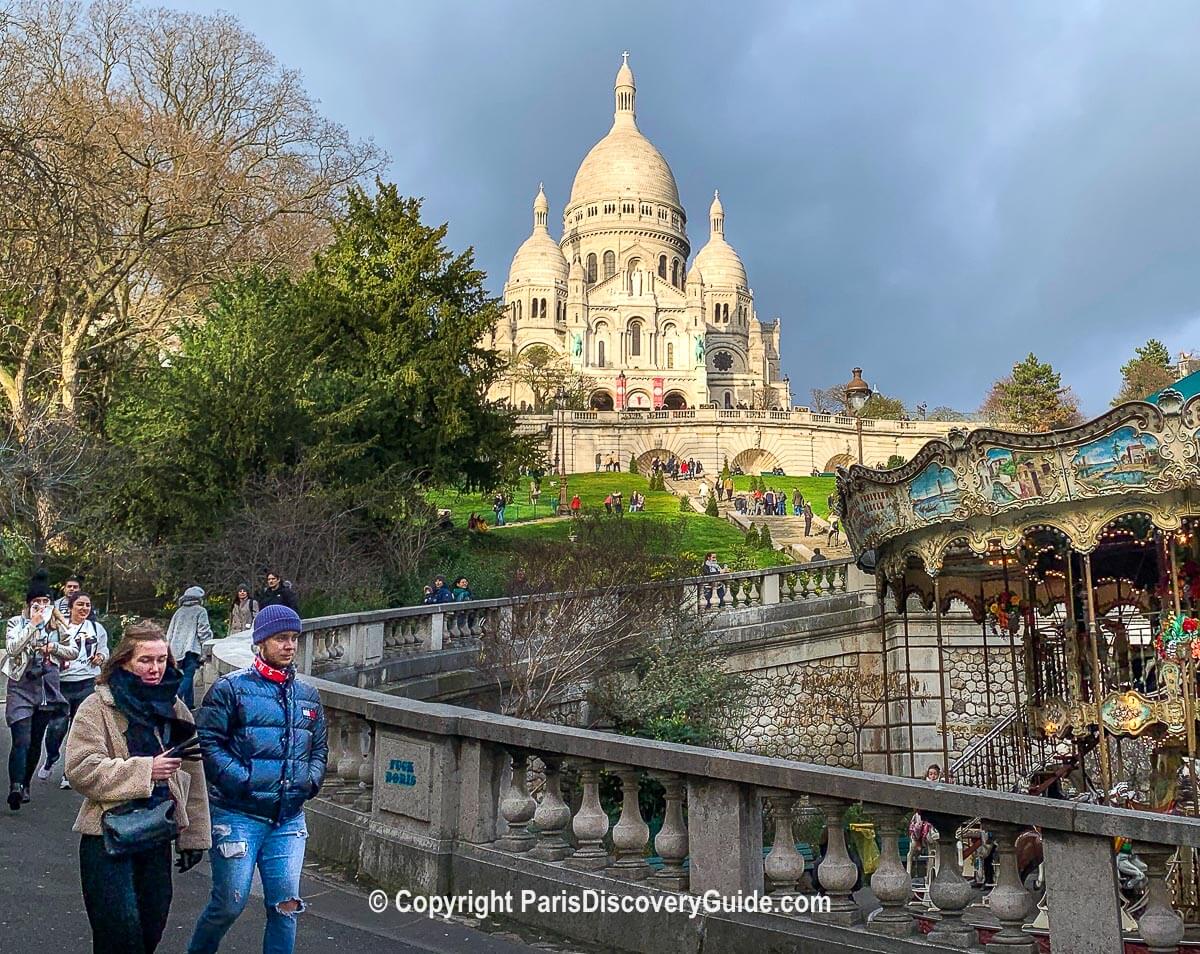 42 Rue d'Orsel, 18th arrondissement; nearest metro: Anvers
The 4-star Mom' Art Hotel Paris's location on Rue Orsel places it halfway between the funicular up to Sacre Coeur and Boulevard Marguerite de Rochechouart/Boulevard de Clichy where you'll find the popular Le Trianon and La Cigale music halls and the Moulin Rouge cabaret
If you're planning to divide your time between Montmartre's nightlife along its border with Pigalle and seeing cultural attractions up on the butte (hill), this is an ideal location.
The family-owned boutique hotel offers 25 guestrooms and suites featuring contemporary decor with an Art Deco vibe and artistic accents. You can also enjoy the onsite bar and small fitness room. A sauna is available for an extra charge.
---
13. Timhotel Montmartre
★★★
11 Rue Ravignan, Place Émile Goudeau, 18th arrondissement; closest metro: Abbesses
If you want to stay in the heart of Montmartre's artsy center close to Sacre Coeur and the boutiques, bistros, and specialty food sellers along Rue des Abbesses consider Timhotel Montmartre.
Timhotel is a small Parisian hotel brand with about a dozen other locations sprinkled throughout the city, and they're known for delivering great value for your money. The 3-star Timhotel in Montmartre, very close to Picasso's former home, does exactly that along with offering balconies and fantastic views of the Eiffel Tower (room 511), Sacre Coeur, and other iconic landmarks from some of its 59 guestrooms.
To be clear, most of the rooms are on the small size, which is typical of most 3-star hotels, but with comfortable beds, air conditioning, and in-room coffee maker/tea kettles, you'll have an affordable spot in a top Montmartre locations.
---
14. Le Relais Montmartre
★★★
★
6 Rue Constance, 18th arrondissement; nearest metro: Blanche
Tucked away on a quiet street between Moulin Rouge and Rue des Abbesses with its many food stores and sidewalk cafes, Le Relais Montmartre also gives you easy access (keep walking down Rue des Abbesses and then take the funicular up the hill) to Sacre Coeur and all the other attractions in this neighborhood. The Blanche metro station is about 3 minutes away on foot.
The 26 guestrooms feature a comfortable mix of vintage and contemporary furnishings, with plaid and solid bed linens balanced with floral fabrics or other touches. Exposed beams add to the appeal. The result is charming without being fussy.
The vibe? You may feel like it's you're home away from home - the place you'll want to return to whenever you're in Paris.
---
Find More Hotels & Apartments in Montmartre, Paris
More Montmartre Hotels & Apartments from Booking.com
Want to see more Montmartre and other Paris hotels and apartments? Use this hotel map from Booking.com to find available accommodations and lowest rates for your travel dates, and make your reservations.
Tip: If you enter just your check-in date, the map will display rates for one night for the cheapest available rooms in each hotel and apartment. If you plan to stay more than one night, enter your check-in and check-out dates to see the total cost for your visit.
More Paris Apartments from Plum Guide
Check out more Paris apartments vetted by Plum Guide
---
Popular Ways to Explore Montmartre
---
More Articles about Paris Hotels
---
Fun Ways to See Paris