What should you plan to do on your first day in Paris?
Let's say your visit officially starts around 8am when you walk through the jet bridge from your plane into Charles de Gaulle Airport after an all-night transatlantic flight and little sleep. Despite feeling tired and jet lagged, you're excited to be arriving early in the City of Light and you want to make the most of your day.
Retrieving your checked baggage, showing your travel documents at French Border Control, passing through Customs, and getting from the airport to your Paris hotel to drop off your bags will take a couple of hours, and you'll probably need to head back to your hotel around 2pm to check in - but aside from that, the rest of day is yours to enjoy.
We recommend keeping your first day in Paris flexible but active in order to get on a normal schedule as quickly as possible. Perhaps take a hot shower when you check into your hotel, but resist the temptation to take a nap - or, if you feel as though you'll collapse without one, set your alarm to sleep no more than one hour.
To make your first day memorable, plan a few easy and interesting activities to orient yourself to the city, especially if this is your first trip to Paris, while also seeing a few iconic sights.
Of course, not everyone arrives early in the morning, so we've organized our Day 1 Plan with suggested activities for each time period after your arrival: late morning, lunch, afternoon, dinner, and evening. You can easily customize this plan based your own arrival time, interests, and energy level.
We also give you a few tips about what NOT to do on your first day in Paris.
Drop off Your Luggage | Explore | Lunch | Hotel Check In | Sightseeing Fun | Dinner & Entertainment | Bedtime | What NOT To Do
Have a wonderful First Day in Paris!
Top photo: Tuileries Garden, with the Louvre Museum in the background
---
Plan Your Perfect First Day in Paris - Day 1 Itinerary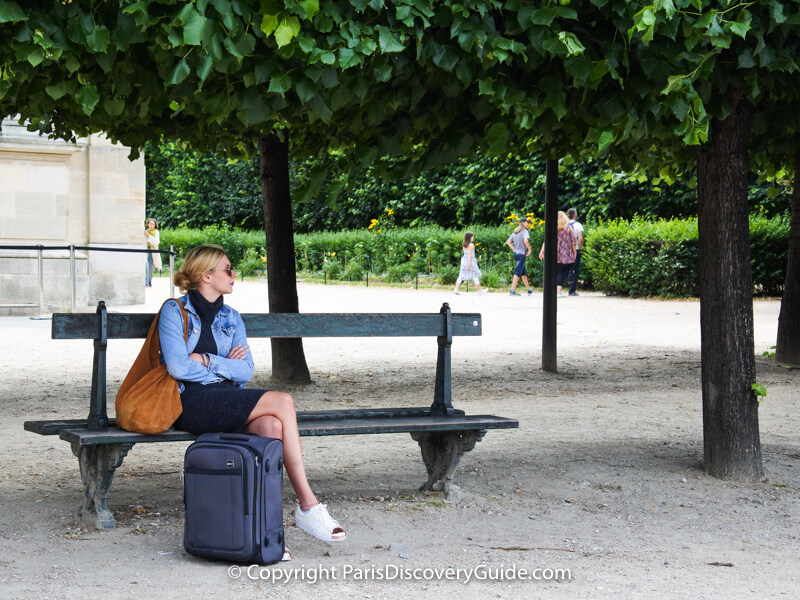 Arrival in Paris - Drop Off Your Luggage
For planning purposes, let's say your first day in Paris starts as early as 10am, right after you've arrived in the city and dropped off your luggage at your hotel. You're tired and somewhat jet lagged after your journey, but excited to start exploring the City of Light.
Use our Day 1 in Paris Itinerary to structure your day and get familiar with your surroundings, see a few iconic Paris landmarks, and recover from jet lay.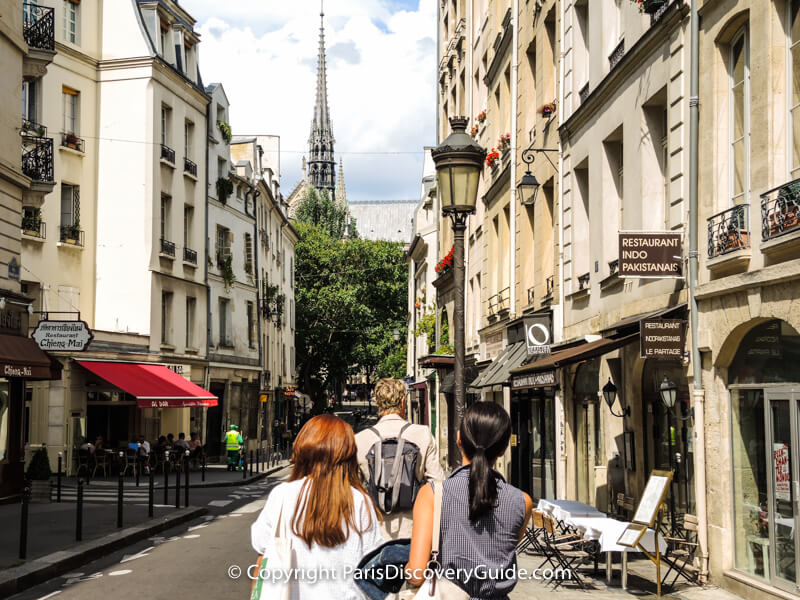 ---
Late Morning - 10am-12:30pm: Get Oriented
Get familiar with your surroundings and soak up some sunlight to fight jet lag by walking around the streets near your hotel.
Check out the menus posted outside bistros, brasseries, and cafes, and choose one to visit later for lunch.
Find neighborhood parks with benches and chairs for relaxing in the sun, pharmacies (marked by a green sign) where you might want to return later to stock up on fancy French soaps and lotions, bank ATM machines to visit when you need more Euros, and small markets or larger stores such as Monoprix, Franprix, and Carrefour where you can buy picnic supplies. Locate the nearest Métro station.
And of course, if you're staying near a famous sight such as the Louvre, Notre Dame Cathedral, or Eiffel Tower, soak up the iconic views and take a few photos.
---
Mid Day - 12:30pm-2pm: Time for Lunch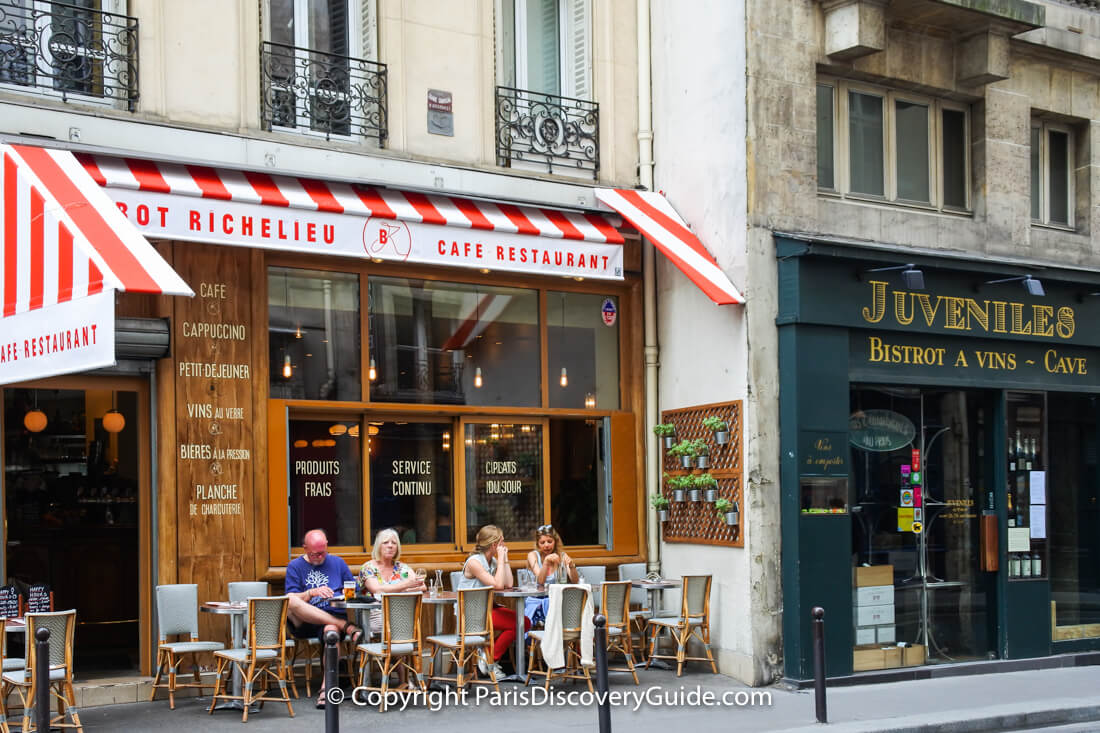 Head over to a cafe, brasserie, or bistro you spotted during your walk. If you're not sure where to go, stop by your hotel and ask for a recommendation in the neighborhood.
Order something light, and avoid alcohol and carb-heavy food such as pasta that might make you sleepy. End with more coffee or tea.
---
Early Afternoon - 2pm-3pm: Check into Your Hotel
Unpack.
Take a quick shower.
If you desperately need a nap, take one - but limit it to an hour. Twenty minutes is better. Your goal is to return to your normal routine as soon as possible. Falling into a long, deep sleep right now will kill your schedule tomorrow, as well as your ability to go to sleep at a reasonable hour tonight.
---
Late Afternoon - 3pm-7pm: Be Active!
Boost your energy by being active, preferably outdoors, and exploring more of the city. Here are three suggestions:
Explore Paris on a Hop On Hop Off Bus Tour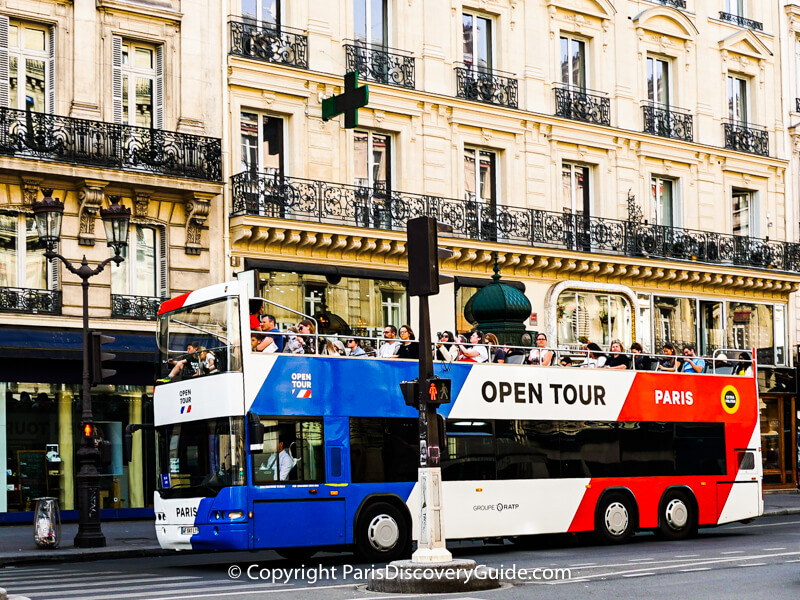 Hop On/Hop Off double-decker buses give you an easy way to see top Paris attractions and get familiar with the city. Your ticket gives you access to 3 different tour routes past all the famous landmarks, sights, and shopping areas. Hop off as often as you wish to explore more on foot, and then hop back on to see more attractions as you enjoy the panoramic views from the top deck. For a few additional Euros, you can get a 2 or 3 day ticket - a fun and economical way to get around the city as you sightsee during the coming days.
Take a Guided Walking Tour of a Famous Paris Neighborhood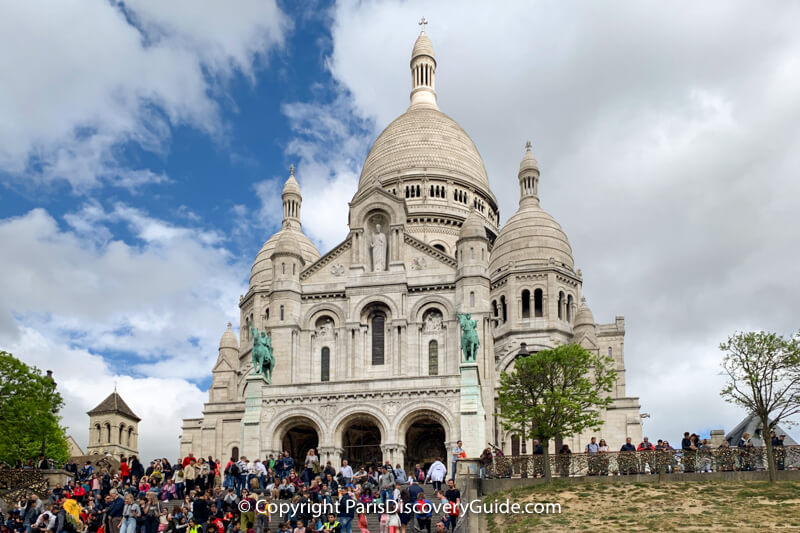 These afternoon walking tours of famous Paris neighborhoods will keep you entertained (and awake) as your guide shows you wonderful architecture, historic sites and monuments, famous attractions, lovely parks and squares, old churches, fabulous views, and small winding streets - a perfect introduction to the City of Light:
Explore on Your Own: Seine River Self-Guided Walking Tour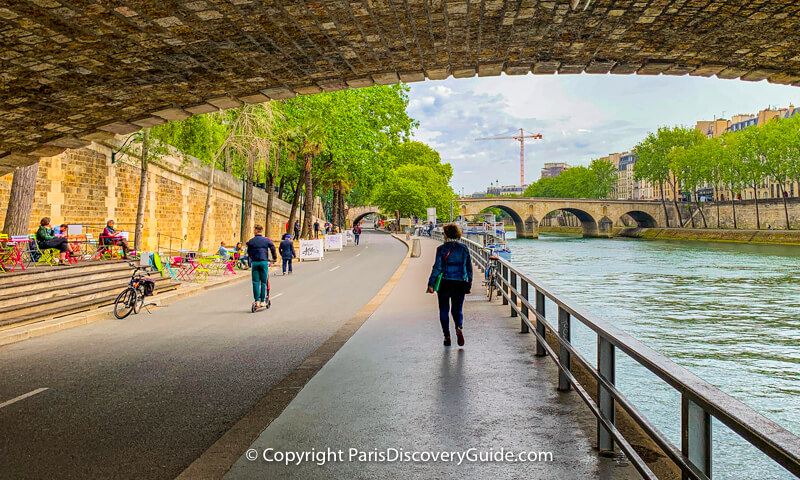 Walk down to the Seine River and stroll along the park (Parc de Rives) lining both sides of the river. You'll find lounge chairs, small cafes overlooking the water offering drinks and small snacks, pétanque courts, and kids' play areas, plus plenty of people enjoying the car-free pavement on scooters and bicycles.
During July and August, the park hosts a pop-up "beach" (Paris Plages) with palm trees, brightly colored beach umbrellas, and more reclining chairs.
---
Evening - 7pm-11pm: Dinner & (If You Choose) Entertainment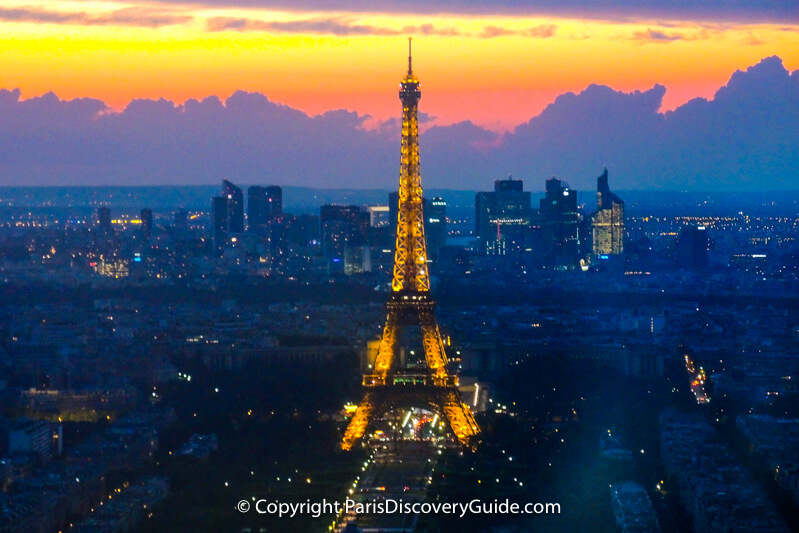 Now you can wind down and relax over a good dinner and a glass or two of wine. For an easy and relaxing evening, ask your hotel to recommend a nearby restaurant.
But for a memorable "I'm-really-in-Paris!!!" kind of experience, combine a memorable meal with iconic Parisian sights and places: Dine on a Seine River cruise, in the Eiffel Tower, at the Moulin Rouge or Le Lido de Paris, or at a jazz club.
Seine River Dinner Cruises
Here are several highly rated Seine River dinner cruises. Note the different lengths, and choose your preference:
Dine at the Eiffel Tower Followed by a Cruise Down the Seine River
Treat Yourself to Dinner & a Show at the Moulin Rouge or the Lido - Plus Hotel Pickup/Dropoff
Does dinner and a show at a classic French cabaret such as the Moulin Rouge or the Lido mean "Paris!" to you? If so, celebrate your first night in the City of Light by indulging yourself with this wonderful experience. Here are two thrilling choices, both made easy with pickup and dropoff at your hotel:
Moulin Rouge - Spend a magical evening at the famous Moulin Rouge in Montmartre as you enjoy a 3-course dinner, Champagne, and the cabaret's legendary "Feerie" show complete with cancan, fabulous costumes, and exciting music - Details & Reservations
Lido de Paris - Soak up the atmosphere at the fabled Lido de Paris as you savor a 3-course dinner paired with Champagne or wine, followed by the famous Bluebell Girls, acrobats, and other talented performers in a memorable show on the cabaret's stage with spectacular music and light displays - Details & Reservations
More Moulin Rouge and Lido package deals:
Visit Paris Jazz Clubs with a Guide - Plus Dinner & a Jazz Concert on Rue des Lombards
If you love jazz, you'll revel in this jazz-themed evening, starting with a 1-hour walking tour and visiting famous Left Bank clubs as your expert guide immerses you in Paris jazz history and culture. With your guide, you'll head to the Right Bank for dinner and wine (or beer) at the famous club Le Duc des Lombards, where you'll also hear a live jazz concert. Along the way, you'll pick up tips about other jazz clubs and how to visit them later on your own. - Book it now
---
Bedtime!
At the end of the evening, return to your hotel, go to bed at a reasonable hour, and sleep well after your memorable first day in Paris.
Get up early the next morning, refreshed and ready to experience Paris at full speed because there's plenty more to do, explore, and enjoy!
---
---
---
Pin Now, Read Again Later
---
Want to Save on Your Paris Hotel?
Check our tips on how to find discounts, deals, and bargains for Paris hotels. Whether you're looking for cheap accommodations or want to pay less for luxury, we'll show you how to save on hotels in Paris.