Hotels and apartments in Paris's 3rd arrondissement span three fascinating neighborhoods where you'll find so much to see and do: the Upper Marais (as the quieter, more residential north part of the Marais in the 3rd district is called), République, and Arts et Métiers (named after a fascinating museum with the same name).
In this district, you'll find quiet streets lined with a mix of art galleries, wonderful small bistros and cafes, boutiques including the concept store Merci, and the covered Marché des Enfants Rouges, bursting with fresh produces, cheeses, and prepared dishes to take home or eat on site. Take time to visit Musée Picasso, Musée du Arts et Métiers, Musée Carnavalet, and other small museums and to enjoy the flowers in the arrondissement's many almost-hidden gardens.
Why You'll Like Staying in Paris 3: Even though the 3rd arrondissement is part of Paris's center and easily accessible to major attractions, it attracts fewer tourist than, for example, the 1st, 4th, and 6th districts and therefore gives you a more "authentic" Paris experience.
Find best things to do & see in Paris 3
Our recommendations for where to stay in Paris's 3rd arrondissement range from a wallet-friendly 2-star hotel to luxurious 4- and 5-star properties - something for every budget and taste.
Top photo: Hidden garden in the 3rd arrondissement, (c) Paris Discovery Guide
Paris Discovery Guide is a reader-supported publication. When you buy through our links, we may earn a commission at no additional cost for you. Learn more
---
Where to Stay in Paris's 3rd District
Le Pavillon de la Reine & Spa
★★★★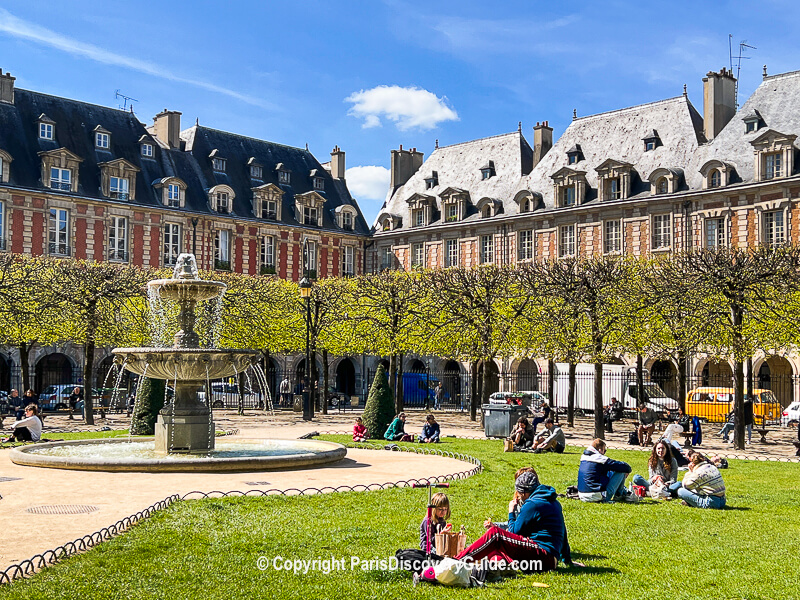 28 Place des Vosges, 3rd arrondissement
Sumptuous furnishings, attentive service, and an ideal location across from Place des Vosges, considered by many to be the most beautiful square in Paris, make the luxurious 5-star Le Pavillon de la Reine a top choice in the Marais for many travelers. The family-owned hotel occupies an ivy-covered 17th century building, and each of its 56 guestrooms and suites (including a 2-bedroom apartment) features unique decor ranging in style from classical to contemporary. You'll also enjoy the fitness room, hammam, and spa.
What many guests love the most, though, is the large private terrace in front of the hotel. The secluded grassy expanse will make you feel as though you're staying in a country manor in the heart of Paris.
---
Hôtel National des Arts et Métiers
★★★★
243 Rue Saint Martin, 3rd Arrondissement
Hôtel National Arts et Métiers boasts one of the coolest hotel rooftop bars in the city - but that's far from being the only cool thing in this meticulously designed new 66-guestroom hotel with a classic Haussmannian façade across from Musée des Arts et Métiers, a fascinating museum devoted to science, technology, and invention housed in a former church.
Gorgeous black marble, oxidized copper, herringbone wooden floors, custom furnishings, and original art grace the 66 guestrooms, which come in all sizes and configurations.
Request one with a balcony on a high floor to enjoy the amazing views. You'll also love the Arts et Métiers neighborhood, a quiet corner of the Upper Marais filled with boutiques, small bistros, and friendly bars.
---
Pardon My French Apartment in the 3rd Arrondissement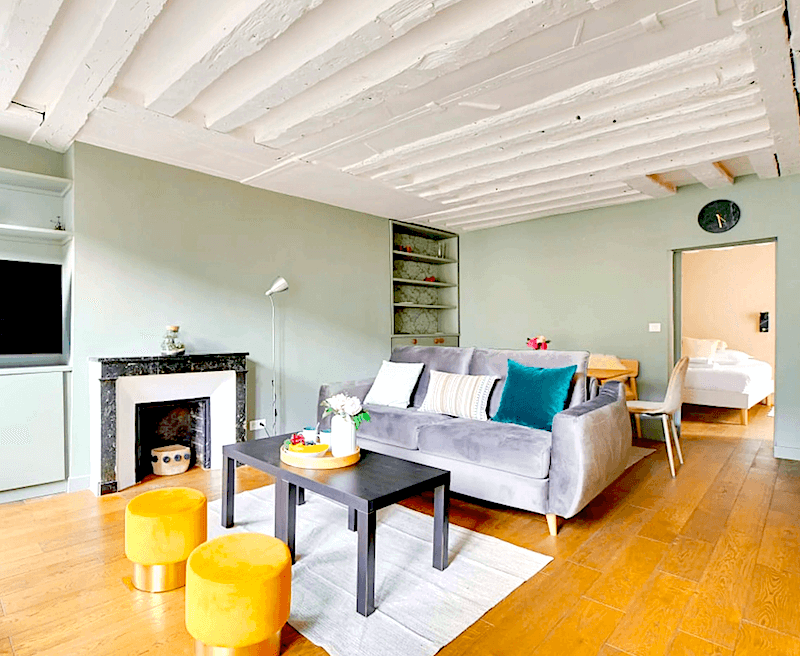 Arts et Metiers neighborhood, 3rd Arrondissement
A stay in the appealing Pardon My French apartment lets you experience life in the quiet Parisian neighborhood tucked away in a corner of the 3rd arrondissement by the fascinating Arts et Metiers Museum.
You can easily explore all the small bistros and boutiques nearby, yet you're also close to the Marais and the trendy Canal Saint-Martin area, plus Notre Dame Cathedral, Pompidou Centre, and the Louvre are just a short walk away. And don't miss the fantastic Marché des Enfants Rouges covered market, where you'll find some of the city's best take-away food.
The spacious 1-bedroom, 1-bath apartment sleeps 4, and with a sleekly modern kitchen, you'll feel right at home. Plenty of natural light and the exposed white-painted wooden ceiling beams add to the apartment's charm.
---
Hotel de Roubaix
★★
6 Rue Greneta
If you're looking for a budget-friendly 2-star hotel with air conditioning, an elevator, and private bathrooms in each guest room - not necessarily common in other 2-star hotels - then the 54-room family-run Hotel de Roubaix may become your favorite place to stay in Paris. Brightly-colored decor and comfortable beds, comic book art in many of the rooms (others are somewhat more subdued, although in a joie-de-vivre sort of way), and a quirky, fun-filled vibe make for a unique experience.
The hotel's location on a quiet side street is just a block or two (depending on how you count) away from the Musée des Arts et Metiers and the lesser-known Gaité Lyrique, where you can almost always see fascinating digital art shows and performances. The immediate neighborhood, a favorite of local foodies, is packed with small cafes, bars, and coffee or tea shops.
Book Now
---
Hotel Sookie
★★★★
2 bis Rue Commines, 3rd arrondissement
Stone walls, wooden beams, interesting eco-friendly fabrics, and vintage finds give the 4-star Hotel Sookie's 31 rooms and suites a "home away from home" vibe while still feeling chic and fresh. The hotel's all-day coffee shop, also open to the public, extends the warm feeling and gives you a perfect people-watching spot. Come in for a croissant and café crème, and relax to jazz, funk, and soul tunes from the cafe's vintage vinyl collection and turntable including American jazz guitarist Grant Green's 1970 hit, "Sookie, Sookie," inspiration for the hotel's name.
The hotel's location on a quiet street in the Upper Marais puts you within easy reach of some of the neighborhoods best galleries and acclaimed bistros, plus you're just a short walk from the city's oldest covered market, Marché des Enfants Rouge, the Picasso Museum, acclaimed boutiques such as concept store Merci, and the nightlife in the trendy Oberkampf district.
---
More Places to Stay in the 3rd Arrondissement
Find best things to do & see in Paris 3
---
Find More Hotels & Apartments in the 3rd Arrondissement
More Paris Hotels from Booking.com
Enter your check-in date below to see hotels and rates available for your visit.
Tip: If you enter just your check-in date, the map will display rates for one night for the cheapest available room. If you plan to stay more than one night, enter your check-in and check-out dates to see the total cost for your visit.
More Paris Apartments from Plum Guide
Check out more Paris apartments vetted by Plum Guide
---
Popular Ways to Explore Paris
---
More Articles about Where to Stay in Paris