Are you wondering if you should take a guided tour of the Louvre Museum when you visit Paris?
For a lot of visitors, the best and easiest way to explore the Louvre, view its iconic treasures such as the Mona Lisa, and bypass the notoriously long security lines where wait time can be up four hours is to join a guided tour. It can also be a lot more fun and informative than going on your own.
As publisher of Paris Discovery Guide, I've visited the Musée du Louvre (as it is called in French) more times than I can count - but never saw it through the eyes of an expert guide until just recently.
With the number of Louvre visitors now averaging over 31,000 daily and over 40,000 on the busiest days, group tours led by expert guides provide plenty of benefits.
You get fast-track priority entrance into the museum, the expertise of someone who knows where the most famous masterpieces are located and how to whisk you quickly through the masses of other visitors to get to them, and insights and interesting stories about the art that make the whole experience fun and entertaining. As a bonus, most tours let you continue exploring on your own after the tour ends.
In case you're also considering joining a Louvre tour, I'll describe how I chose which tour to take, how the skip-the-line process worked, highlights of what we saw (and didn't see), why having an enthusiastic and knowledgeable guide enhanced the experience, and what I saw in the museum after the official tour ended.
Top photo: Pyramid and reflecting pool in front of the Louvre
Which Louvre Museum Guided Tour Should You Choose?
Tour agencies such as Get Your Guide and Viator offer a huge variety of Louvre Museum tours - in fact, the choices can be overwhelming, so it can be helpful to think about the kind of experience you want.
I knew I wanted to choose a small tour group in order to be able to hear the guide and perhaps ask questions, so I ruled out any option that mentioned "audioguides" or "headsets" as these typically are used for large groups of 25 or more people. In fact, the Louvre normally limits tour groups to just 6 people plus the guide in order to minimize disruption to other visitors, but tour companies can bring in much larger groups by paying an additional fee. I looked for tours that specifically stated "small group" in its description.
I also needed a tour offering free cancellation up to 24 hours before the tour began, as I knew my plans might change. Some tours offer 24 hour cancellation, some offer 3 days advance notice, and others offer no refund at all if you can't make the tour. So check the cancellation terms carefully if you think you need schedule flexibility.
After reading a dozen or so reviews, I choose Louvre Museum: 3-Hour Comprehensive Skip-the-Line Tour - a highly-rated small group experience offering free cancellation with 24-hour or longer notice.
In addition to tours available through tour agencies, the Louvre normally offers guided tours of the museum's most famous masterpieces. Please note: These tours appear to currently be suspended due to the coronavirus pandemic. These tours are offered in French and English, and cost 26€, which includes a skip-the-line museum admission ticket for a specific date/timeslot - but because they fill up quickly so during peak periods, you need to book weeks in advance. In addition, refunds/rescheduling don't seem to be available, which did not work for me as my schedule is never 100% predictable.
More Guided Tours of the Louvre
How Well Did Skip-the-Line Access Work on this Guided Tour?
Our Louvre Museum Tour Begins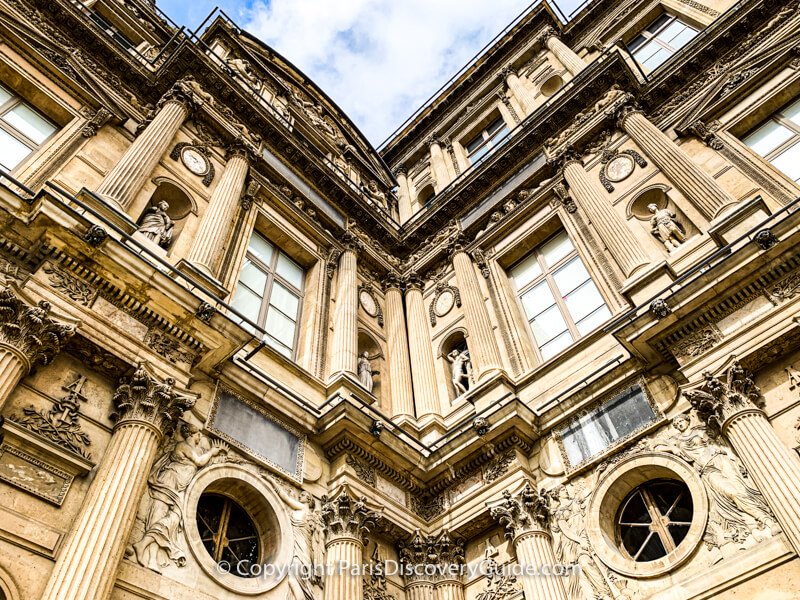 Although our group was small - only 5 of us plus our enthusiastic tour guide, Aurélie - we came from four different continents. We quickly formed a cohesive and friendly group as we walked to where our tour would begin: the eastern and oldest side of the museum.
Up close, the Louvre is so enormous that it's almost overwhelming - yet Aurélie quickly decoded the architectural styles, ornamentation, and even the symbolism of a few of the statues and carvings as she filled us in on the building's origin as a fortress and then a fortified castle begun in 1190 by Phillip-Auguste, its evolution and reconstruction as a royal palace in the 14th century, and its conversion during the French Revolution to become the French national gallery and museum.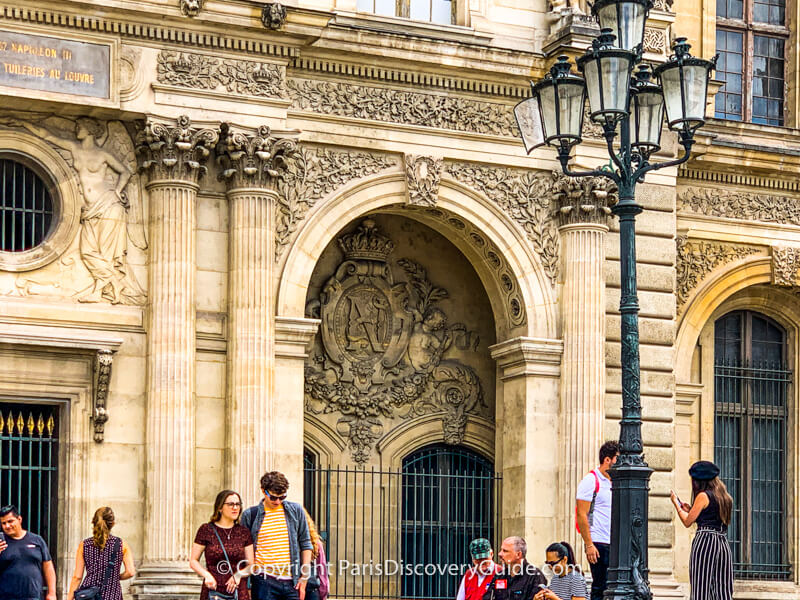 Armed with our newly acquired knowledge, we moved to the building's western and slightly newer facade, where to our surprise, we actually were able to recognize a few architectural differences, thanks to Aurélie's coaching.
She promised us that we'd be getting more close-up views of the Louvre's origins again - which in fact turned out to be one of the unexpected highlights of the tour. But more about that later.
First, we needed to pass through security and enter the museum.
---
Skipping the Long Security Lines by Getting Priority Access through a Group Tour Entrance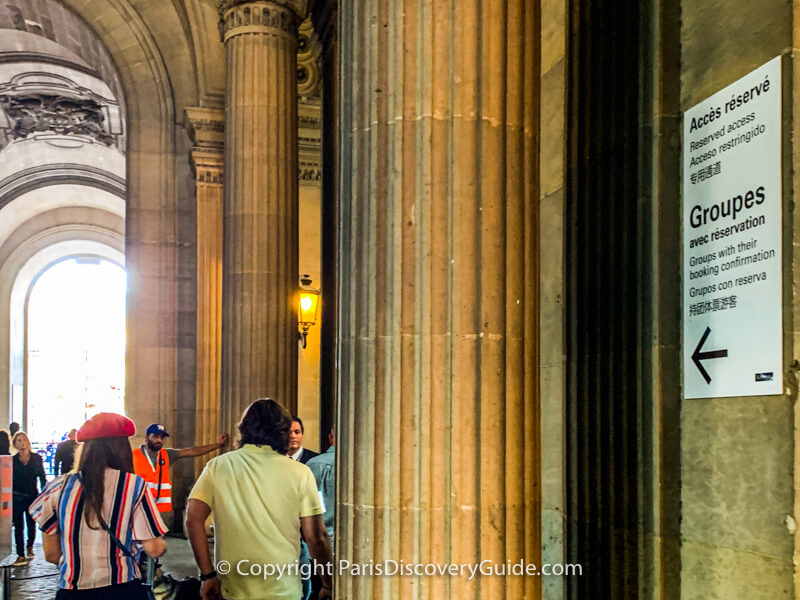 Led by Aurélie, we headed down the Richelieu Passage - a broad hall with ornate vaulted ceilings and lined with arcades and expanses of glass giving us glimpses into the museum.
After making a quick turn through a specially marked group entrance and walking down a short flight of stairs, we passed through the security checkpoint where we had to open our bags for a quick inspection. That was it - no line at all.
Almost immediately we entered a large, almost-empty group reception room and from there, we went through another door and walked out onto the museum's vast entry hall on the "Level 0" floor under the pyramid.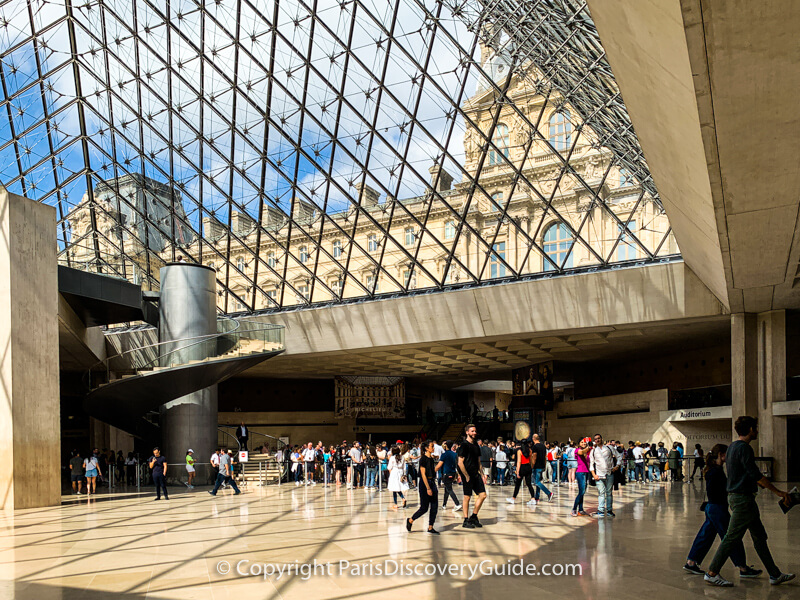 What Will You (Usually) See during a Guided Group Tour of the Louvre?
With so many different tour options for seeing the Louvre with a guide, it is impossible to predict exactly what you will experience - but in general, most group tours take you to see several of the most famous masterpieces such as Leonardo da Vinci's Mona Lisa painting, Greek sculptures such as the Venus de Milo and Winged Victory of Samothrace, and the Denon Wing rooms containing massive French paintings such as Delacroix's Liberty Leading the People.
You may also visit the Pavillon de l'Horloge where you can see the museum's medieval foundations, and bits of one or two other collections, such as the Egyptian Galleries in the Sully Wing. And along the way, you can see some of the most breathtaking treasures simply by looking up.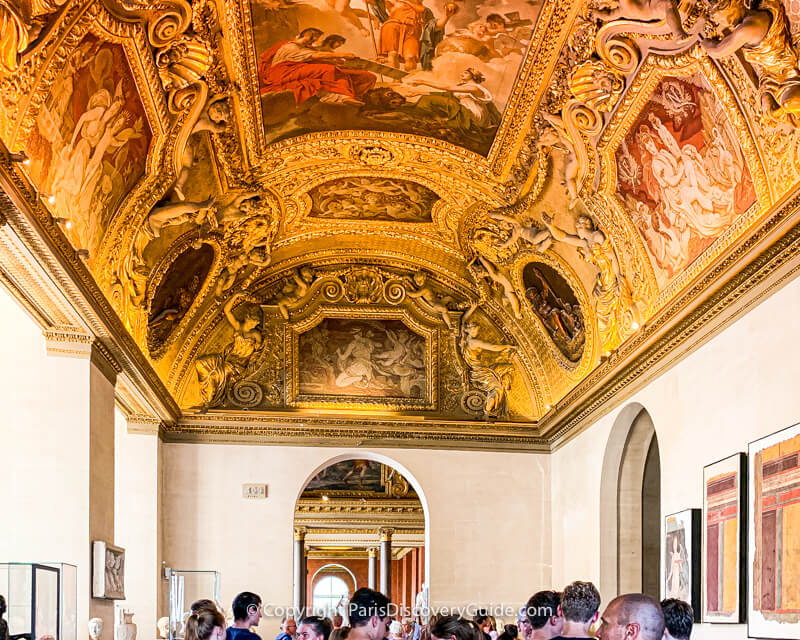 What Did We See on the Ultimate Louvre: Skip the Line Guided Tour?
In small group tours such as the Ultimate Louvre: Skip-the-Line Guided Tour that I chose, guides have the flexibility of somewhat customizing the itinerary to suit the group's interests and also avoiding the most crowded areas in order to give a better experience.
Although the museum was fairly packed on the day of our tour, Aurélie helped us dodge the masses so we never felt jostled. When we reached areas where we wanted to linger, she managed to position us so that we had excellent views of the art.
But back to what we saw ...
After we passed through security and under the Pyramid, we headed to the Sully Wing, where we had to scan our tickets in order to enter. Although there was a short line, the whole process took less than a minute - about 30 seconds, if I had to guess. (Each wing has an entrance point radiating from the entry hall where you need to show your ticket each time you pass through, although you can also go from wing to wing by winding your way through the galleries.)
From there, we proceeded to the fascinating Pavillon de l'Horloge on Level 0.
Pavillon de l'Horloge ("The Clock Pavilion)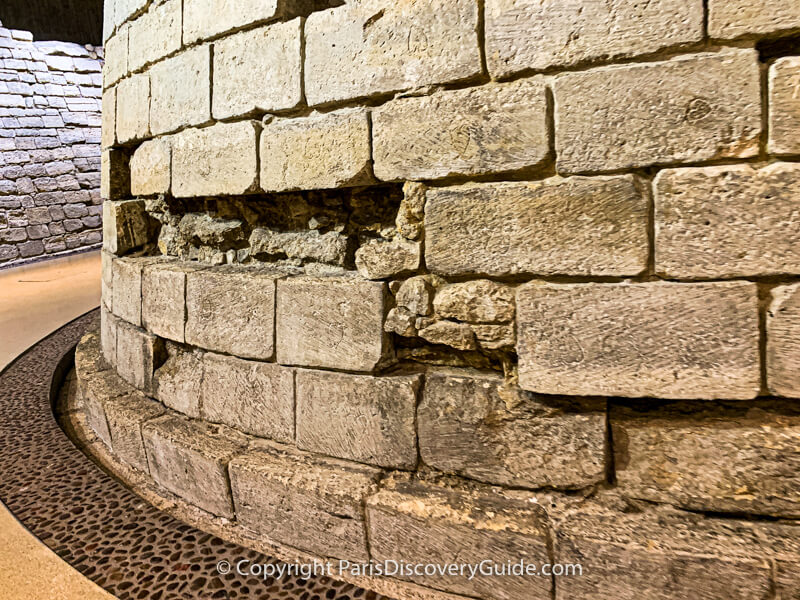 The Pavillon de horology contains the remains of the moat that once surrounded the medieval fortress built by Philippe-Auguste from 1190-1202.
After being filled in to make way for renovations in 1528, the moat was forgotten until the mid-1980s when a major archaeological excavation undertaken in preparation for constructing the glass pyramids uncovered it, along with hundreds of thousands of objects tossed into the moat through the centuries.
Recent renovations have opened up this area to visitors and in addition to walking around the foundations and moat walls of the original fortress, you can view a number of fascinating displays showing the evolution of the Louvre from fortress to the world's largest art museum. Speaking from personal experience, you can easily spend a couple of hours in this gallery.
Our tour group only spent about 10 minutes here because we had so much else to see. However, during those few minutes, Aurélie showed us something I'd never noticed before: on many of the stones, you can see carvings of small symbols such as hearts, squares, triangles, and other marks. These are the individual "signatures" carved into the stones by the original stonemasons who constructed the moat - very cool to see over 800 years later, and an unexpected highlight of the tour!
The Great Sphinx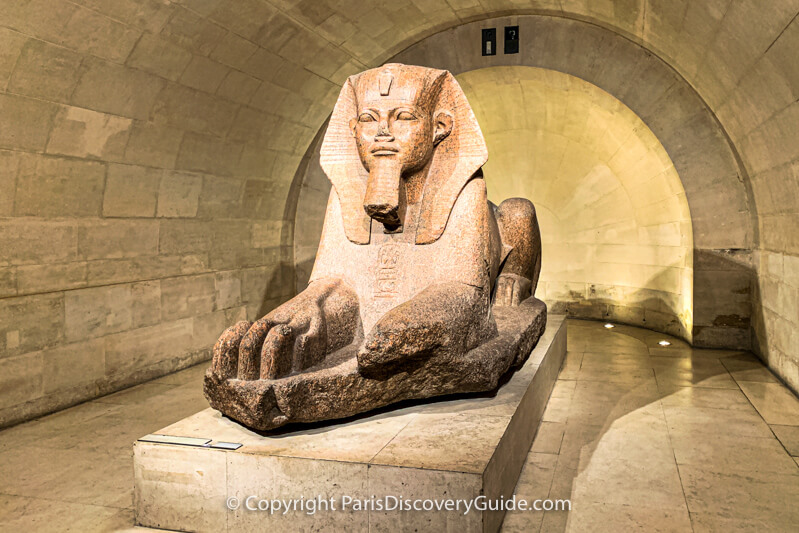 The Louvre's Egyptian Antiquities Gallery is huge - another area where hours can pass like a heartbeat as you admire the extensive collection of mummies and other artifacts.
We paused only long enough to examine the magnificent Great Sphinx of Tanis, sculpted from granite possibly as long ago as the Old Kingdom period in 2600 BC. With the head of a king and the body of a lion, it is over 5 feet long and carefully crafted with precise details.
Greek Antiquities
Next we strolled through the immense and always-popular Greek Antiquities Galleries.
At the three most famous sculptures - Psyche Revived by Cupid's Kiss, Venus de Milo, and the Winged Victory of Samothrace - Aurélie told us about the myths and legends embodied by the art.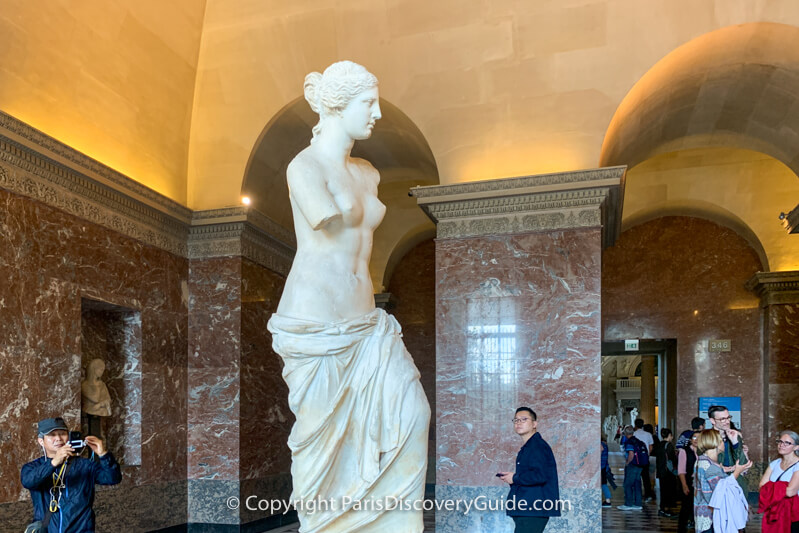 Of course, there's a lot more in these galleries beyond just the famous statues. The tour's leisurely pace through this part of the museum allowed us to linger at a few favorites.
At the sculpture of Venus de Milo, Aurélie shared information about why the statue is missing its arms.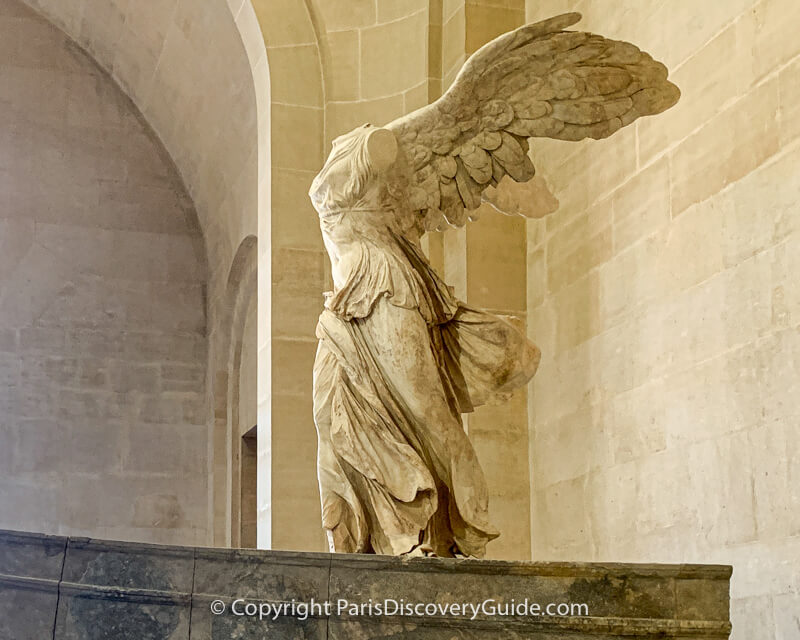 Although the Winged Victory of Samothrace statue of Nike, Goddess of Victory, was surrounded by large tour groups, Aurélie positioned us so that we could see the statue from all sides.
She challenged us to look closely at the sculpture's details and guess the viewing angle that its creator might have had in mind.
Medieval Art in the Italian Galleries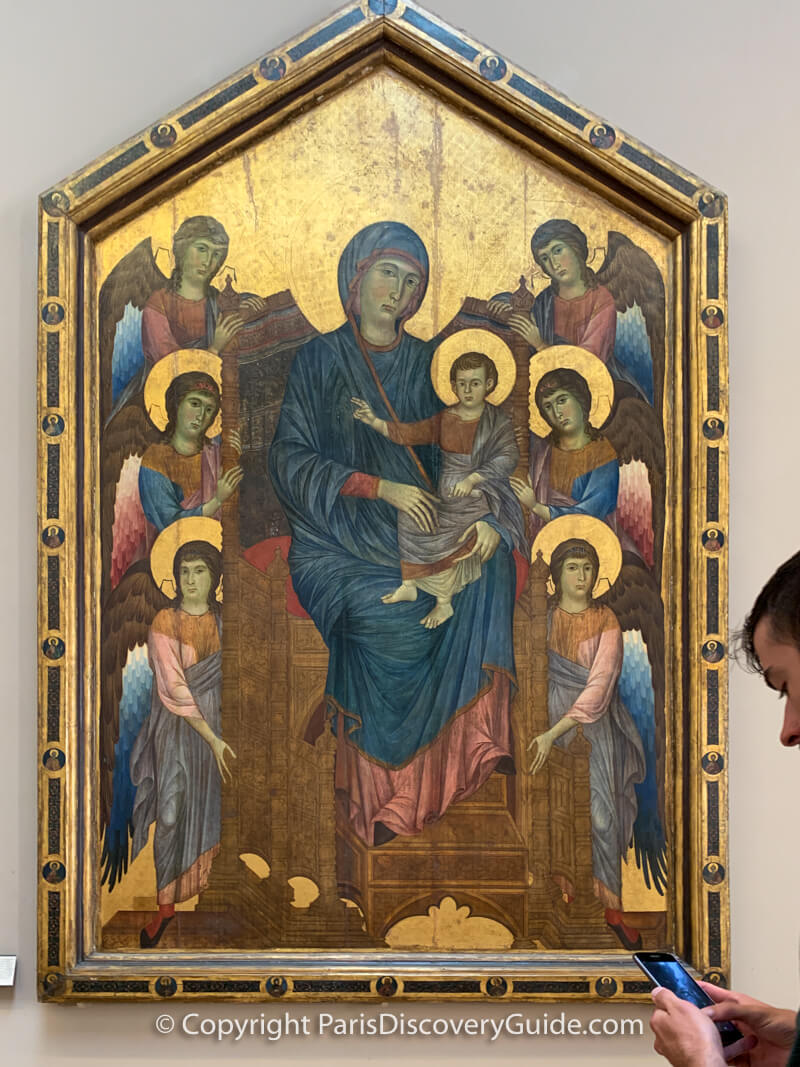 On our way to the Denon Wing's Italian Renaissance Galleries, we paused briefly in a room with medieval Italian paintings where Aurélie gave us a quick lesson about how art (and painters' skills) changed between the Medieval and Renaissance periods.
As a group, we gazed at the beautiful Madonna and Child painting by Florentine artist Cimabue (above) as Aurélie asked us to point out aspects that we found striking or unusual from our 21st century perspectives. What do you see?
Italian Renaissance Masterpieces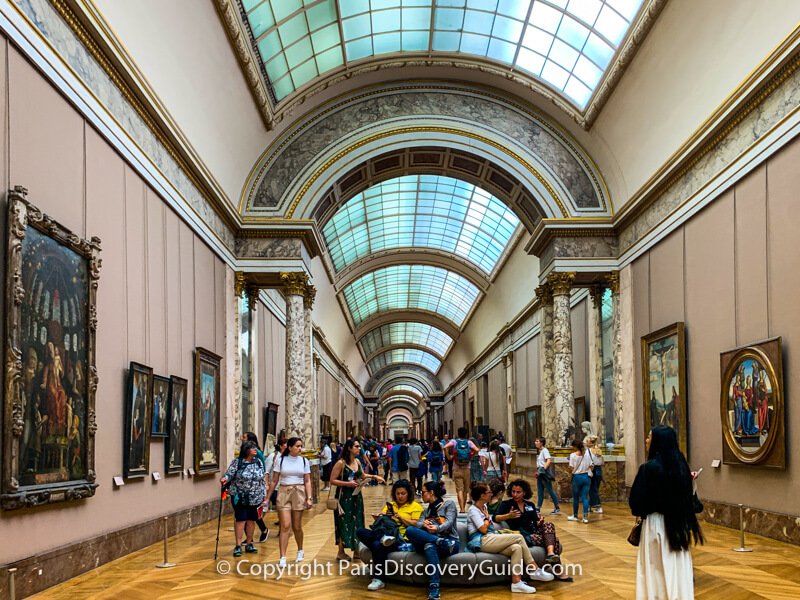 Next, we strolled through the Grande Galerie filled with stunning Italian Renaissance masterpieces by Titian, Raphael, Leonardo da Vinci, and others, pausing many times to linger in front of those that caught our attention.
Normally da Vinci's Mona Lisa hangs in a room near the center of this space - but due to a renovation of that area, the Louvre had moved La Joconde to a different location.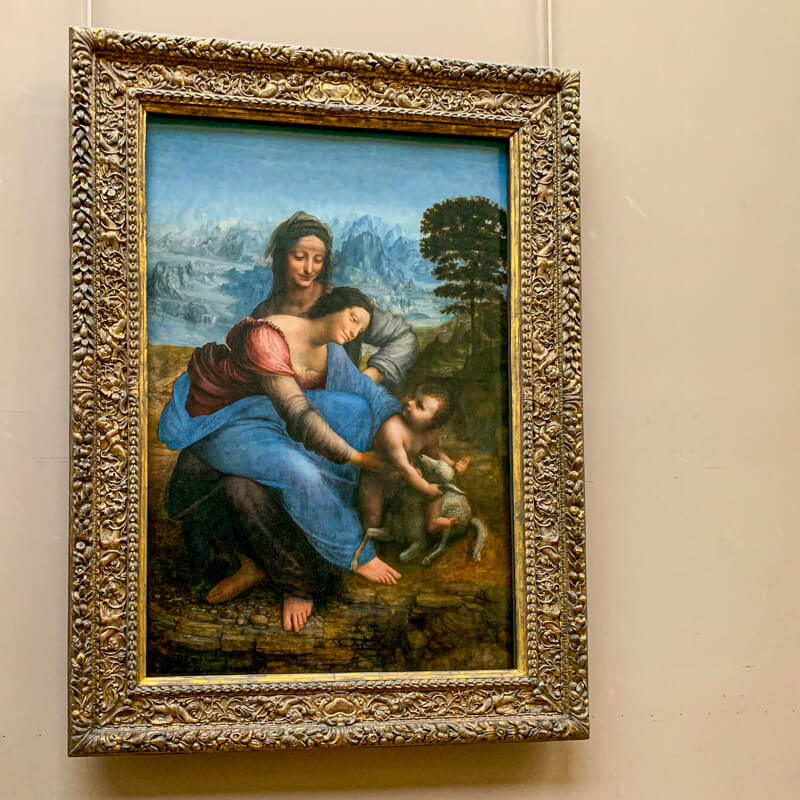 The Louvre has the largest collection of da Vinci paintings in the world, so Aurélie stopped us in front of several of them and asked us to compare them with a picture of Mona Lisa on a nearby wall.
As we talked about the similarities we saw, especially among the facial features in the paintings, several people standing nearby joined in - one of the most fascinating conversations about art in a museum that I've ever experienced because of everyone's different insights and perspectives, and now one of my special memories of this tour.
Famous French Paintings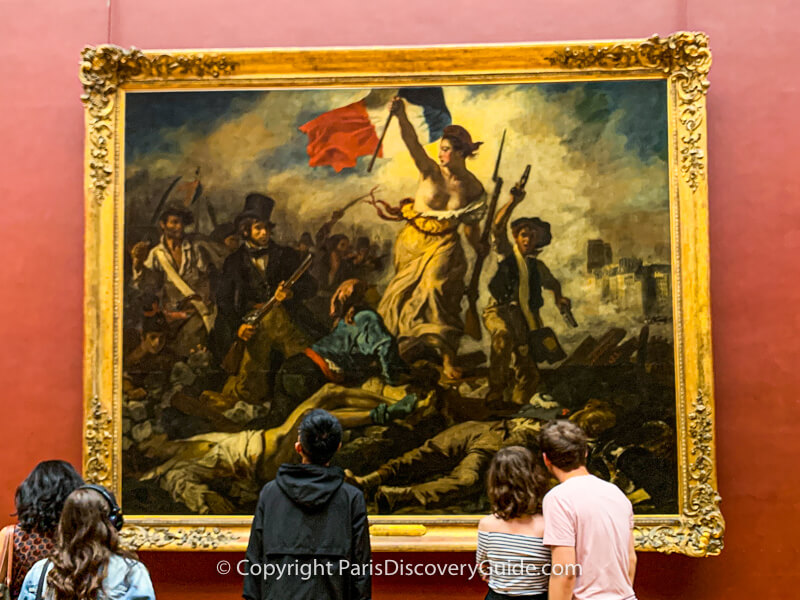 Finally, we toured the French Paintings Gallery, which features huge canvases by famous 18th and 19th century French painters depicting important moments in French history. Unless you happen to know a LOT about the details of French history, these paintings can be hard to fully appreciate.
Fortunately for our group, Aurélie's expertise made perhaps the most famous of these paintings, Delacroix's Liberty Leading the People, come alive for us. She explained not only the historical, revolutionary, and philosophical details depicted in the painting but also pointed out the symbolism, allegorical references, and other nuances.
Perhaps best of all, she made her comments lively and entertaining - a useful skill when you're trying to explain a painting about the July Revolution of 1830 (no, that is not the French Revolution triggered by the storming of the Bastille in 1789 - it was a second but also important revolution against the monarchy) to a group of non-French people.
What Did We Not See on this Tour?
You may have already guessed: the Louvre's most famous painting of all, da Vinci's Mona Lisa, his portrait of Lisa Gherardini, wife of a Florentine merchant.
At the time of our visit, the famous painting had been moved to a temporary location due to renovations of its usual room, causing massively long lines of people waiting to get in. On the day we visited, wait time to get into La Jaconde's temporary quarters was 90 minutes - not something any of us wanted to do as part of our tour.
Aurélie offered to direct any of us who wanted to see masterpiece to the temporary location after our tour.
As soon as the Mona Lisa returns to her usual spot, wait times should diminish and seeing the famous painting will again become a standard part of this tour.
In case you're wondering, this is what we missed: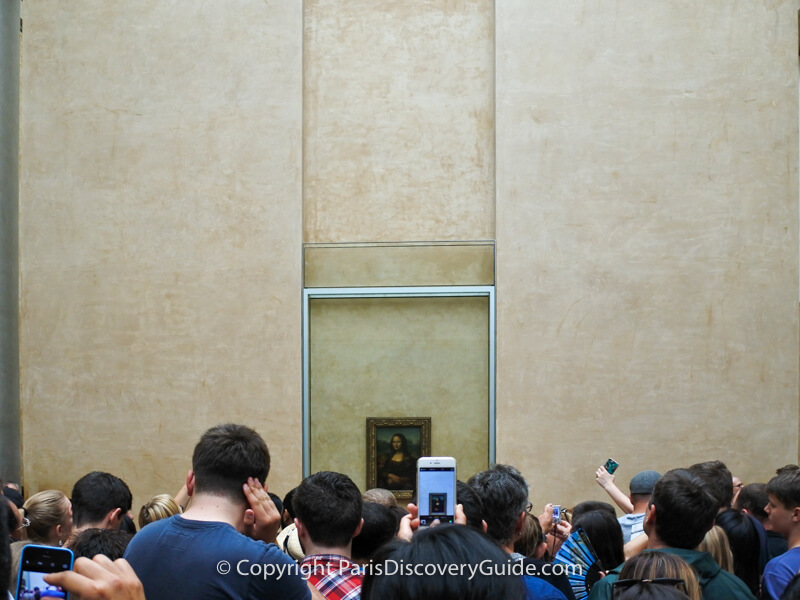 Yes, it is possible to get closer; you just have to be patient as you inch yourself forward. Most people in the room only want 10 seconds in front of the painting to take a selfie, so the crowd flow can be faster than you might expect. And when you visit as part of a small group tour, the guides can usually help expedite your movement to the front.
What Can You Do on Your Own in the Louvre after your Tour Ends?
Your admission ticket from the Louvre Museum: 3-Hour Comprehensive Skip-the-Line Tour is good for the rest of the day, so you're welcome to explore on your own.
Here's a quick summary of what I did, in case it gives you some ideas:
Time for a Break: Tea on a Terrace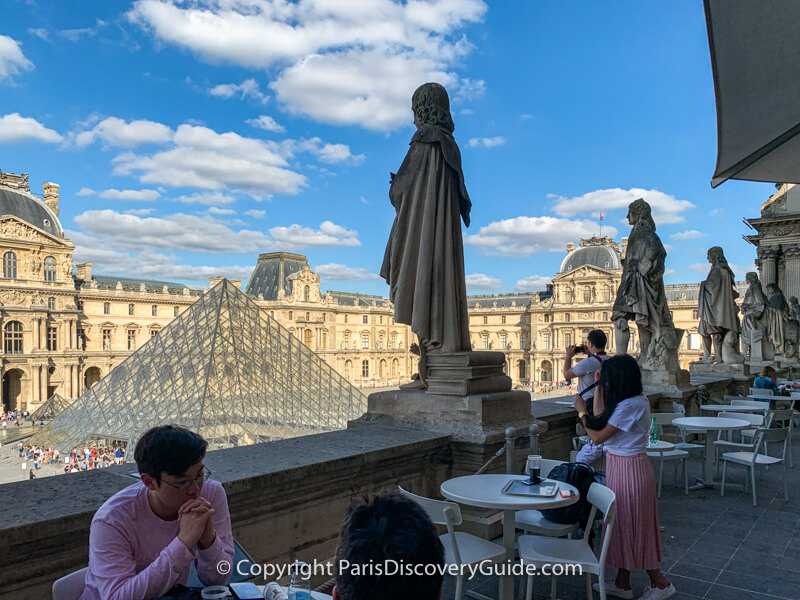 Although the Louvre has a number of cafes and places to eat scattered throughout the three wings, my favorite is Café Molien because of its statue-lined outdoor terrace overlooking the Pyramid.
Café Molien is located at the top of a large elaborate staircase at the end of the French Paintings Gallery - so since our tour ended near there, getting back to the cafe took only a couple of minutes.
The cafe offers light snacks similar to what you'd find in a bakery - pastries, slices of quiche, and salads - along with hot beverages, water, soft drinks, beer, and wine. Had I not planned to spend a few more hours in the Louvre, I might have opted for wine and just relaxed while enjoying the view for awhile before leaving. But with more galleries to explore, I chose tea and a delicious lemon tart while I studied a map of the Louvre and planned my route.
Galerie d'Apollon (Apollo Gallery)
Feeling refreshed, I headed to the Galerie d'Apollon, without a doubt one of the museum's most exquisite exhibits. Gold-covered walls, a fantastically embellished vaulted ceiling, and more ornamentation than you can imagine provides the perfect setting for display the French Crown Jewels collection.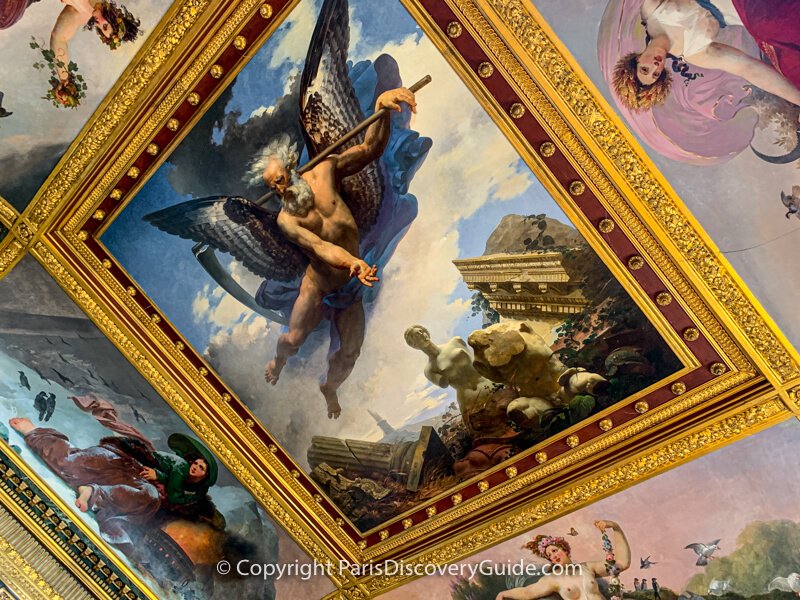 Unfortunately, the Apollo Gallery was closed for renovations.
But the magnificent painted ceilings that I saw as I made may way through corridors of the Sully Wing to rest of the Decorative Arts Galleries in the Richelieu Wing almost made up for the disappointment.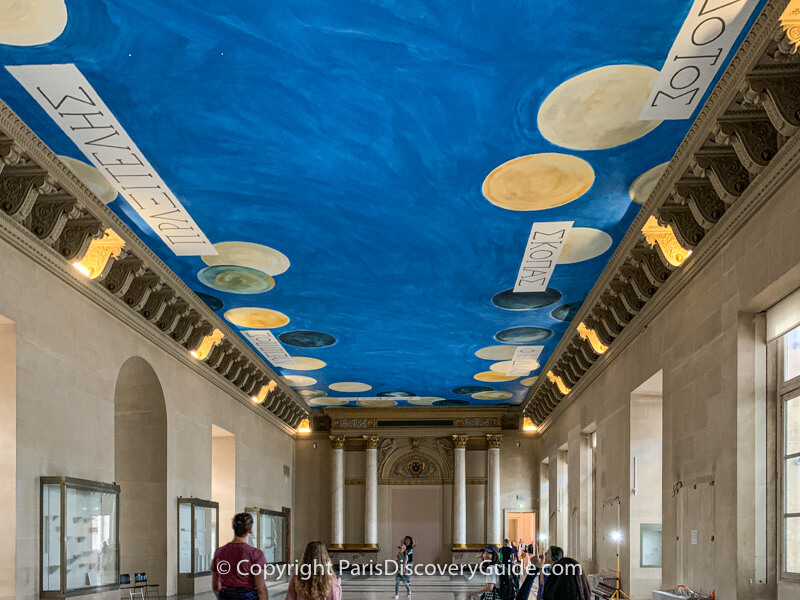 Although the 1,000 or so bronze objects normally on display in the Salle des Bronzes were being relocated in preparation for renovations to this part of the Louvre, the room was still open for visitors to walk through.
The striking blue ceiling reflects an initiative by the Louvre to incorporate contemporary art and was created in 2010 by Cy Twombly, the first American artist to ever be asked to create a permanent installation in the museum. The white strips along the edges contain the names (in Greek) of seven renowned Greek sculptors from the Classic period.
---
---
Decorative Arts Galleries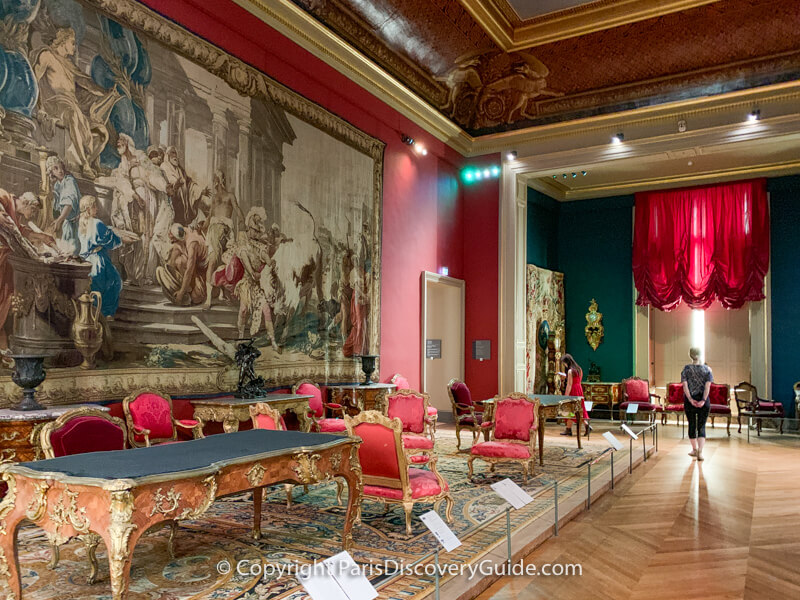 Finally I reached the Decorative Arts Gallery.
If you're interested in visiting the Louvre's Department of Decorative Arts, here's what you should know: it is immense. It occupies the entire second floor of the Richelieu Wing and part of the Sully Wing including the Apollo Gallery, and has seven sections devoted to specific periods of French history from the Middle Ages through the 19th century.
The Napoleon III Apartments in the Napoleon I to Napoleon III Galleries are the most popular due to their over-the-edge extravagance involving vast quantities of crimson velvet, crystal chandeliers, and gold.
The Medieval to Renaissance Galleries are a close second in popularity, and a "must" if you love tapestries.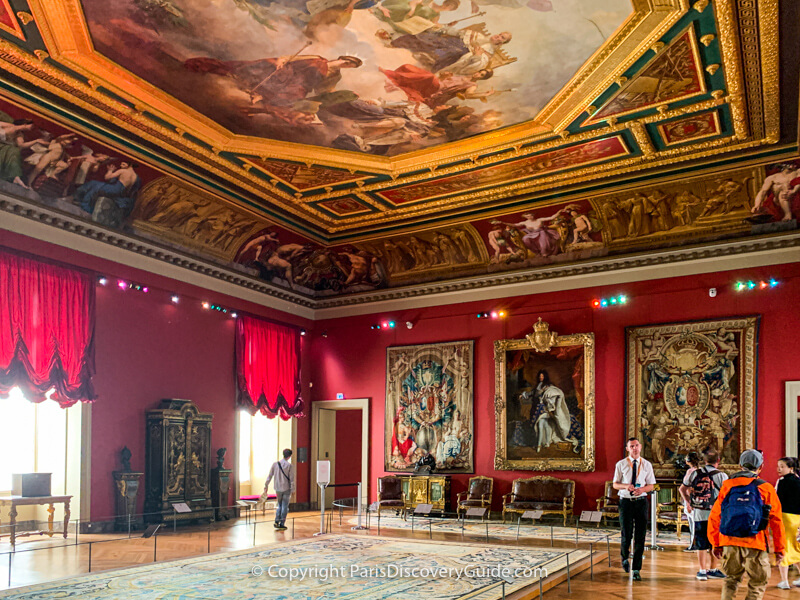 I chose the Louis XIV to the Revolution Galleries, and wandered through about a dozen of the sumptuously elegant rooms that recreate French aristocratic life in the 17th and 18th centuries before heading back to the Denon Wing for my final Louvre experience of the day: the Islamic Art Galleries.
Islamic Art Galleries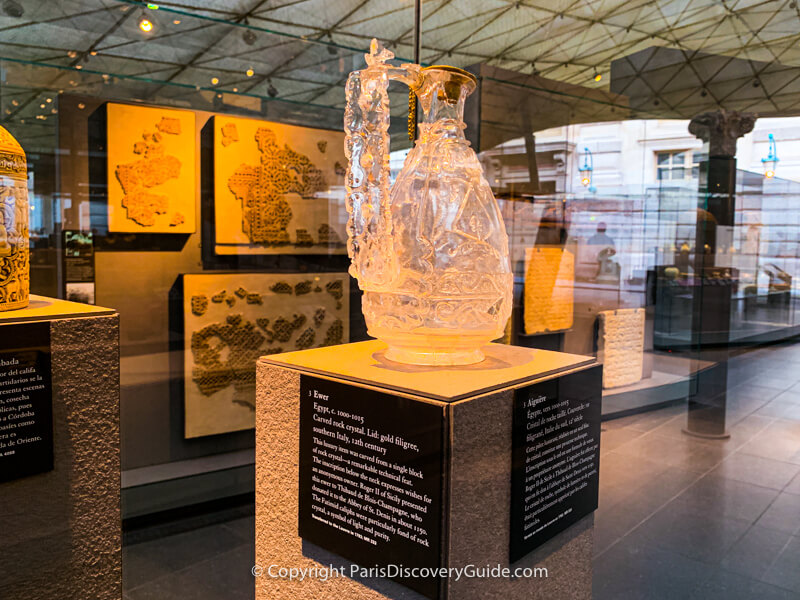 The Islamic Art Galleries opened only in 2012, and are the Louvre's new installation. The galleries occupy two lower floors in the Denon Wing, under an undulating golden roof of glass triangles that moves with the wind and filters in outdoor light. You can see the neoclassical design of the museum's Cour Visconti Courtyard through the mostly-glass walls.
The 2,500 or so objects on display here span a dozen centuries (7th through 19th) and cover a wide swath of regions from Spain to India. The collection is organized according to period and location.
Trying to see everything all at once would be overwhelming - so after wandering around for a bit, I focused on displays devoted to art from Egypt and North Africa created about a thousand years ago.
Although this was my last visit of the day inside the museum, I was not done yet. After exiting the museum, I walked to another part of the Louvre complex: Tuileries Garden, located to the west of the museum toward Place de la Concorde.
The Perfect Ending to My Tour of the Louvre: Tuileries Garden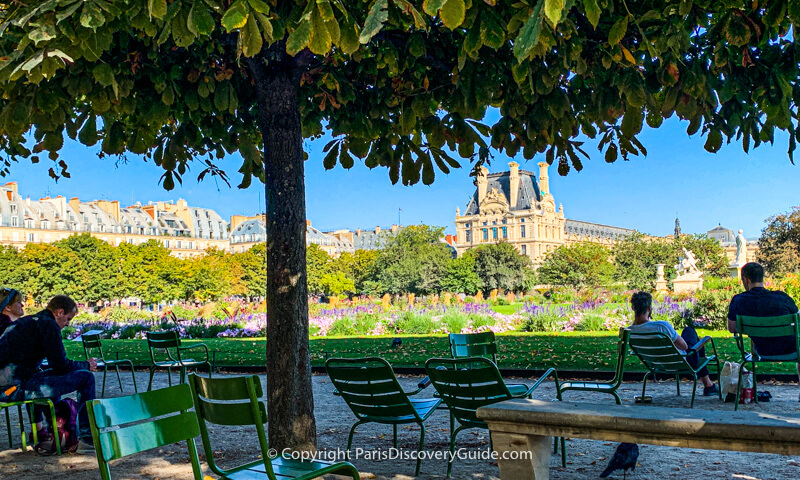 Jardin des Tuileries (Tuileries Garden) dates back to 1564 when Catherine de Medici created it on the site of an old tile factory (tuileries is the French word for tiles) after her husband, King Henry II, died after being injured during a jousting match.
Today, Tuileries Garden is open to the public free of charge and is one of Paris's loveliest parks with pools, fountains, numerous statues, plenty of comfortable seating, and lush flower gardens. It's the perfect spot to rest your feet after hours of walking around the Louvre - or anytime!
My Review of Get Your Guide's Louvre Tour
How would I rate Get Your Guide's Louvre Museum: 3-Hour Comprehensive Skip-the-Line Tour? Definitely a 5-star experience!
The skip-the-line process into the museum was fast and easy, and we saw a lot more than I'd actually expected.
Aurélie's expertise and insights brought the art to life, and her enthusiasm and sense of humor kept us interested and entertained. Even though I was generally familiar with what we saw due to my previous visits, I appreciated seeing the art and architecture in a new way and was happily surprised by how much I learned.
The small group format meant we could always easily hear Aurélie and ask questions, and we were never slowed down as larger groups sometimes are when someone wanders off.
And last but not least, the other people in the group were terrific - fun companions for spending a couple of hours looking at some of the best art in the world!
---
How to Choose the Best (for You) Louvre Museum Group Tour
Decide what you want - Small (6 or less) group or large group? Public tour (agenda will be set by the tour guide) or private tour (tour guide will typically customize the itinerary based on your interests)? Do you want to be able to cancel (with full refund) or reschedule if necessary?
Choose a less crowded day if possible, especially during peak seasons. The Louvre is closed on Tuesdays; Mondays and Wednesdays are usually the most crowded weekdays, and Saturdays and Sundays are even busier. So schedule your tour for a Thursday or Friday if possible. But if you can't, don't worry - tour guides are experts at dodging crowds.
Want to explore the Louvre on your own after your tour ends? The Louvre closes at at 9:45pm on Wednesdays and Fridays and 6pm on other days - so make sure your tour ends early enough to allow you the amount of time you want. If not, look for another tour.
Book through a booking agency such as Get Your Guide or Viator that has customer support staff who speak your language - This makes canceling or rescheduling a booking, asking a question, or getting other help or information much easier!
Do you have any questions about the tour? Call the customer service number and ask!
Read online reviews carefully - No tour is ever going to get 100% 5-star ratings - but I always give preference to tours that get 4 stars or better.
Are you bringing your kids on the tour? If so, look a family-oriented tour designed to keep kids entertained and engaged, which you can find for many venues including the Louvre. Your kids will absorb more information with this approach and even more important, be much happier - and so will you.
More Ways to See the Louvre Museum
Where to Stay near the Louvre
Near the Louvre Museum in the historic heart of Paris, you'll find so many other wonderful things to explore and experience - more famous museums and monuments, the Paris Opera House (Palais Garnier), world-class shopping in Parisian boutiques along Rue Saint-Honoré, fabulous cafes and restaurants - it's a fantastic part of the city to stay in, so if you're looking for a hotel or short-stay apartment, check out our recommendations.
Map Showing More Paris Hotels & Short-Stay Apartments
Want to see more Paris hotels and short-stay apartment rentals? Use this hotel map from Booking.com to find accommodations in all prices ranges based on your travel dates, and make your reservations: