At first glance, Fondation Louis Vuitton's spectacular modern museum looks like a multi-faceted jewel rising up from the edge of Bois de Boulogne, Paris's largest park.
Architect Frank Gehry designed the soaring glass building, which appears from some angles to be an immense boat propelled by a dozen billowing sails. Walk around it, and you'll see cascading water at the "prow" become reflecting pools piercing the museum's lower level.
Despite the dazzling exterior, the real magic at the Louis Vuitton Foundation begins from the moment you walk inside the enormous reception space. Light streams through thousands of glass panels as you experience the architecture as a work of art. But the real show-stopper? The art itself.
FLV, as its fans call it, functions both as an art museum, exhibition space, and performance venue.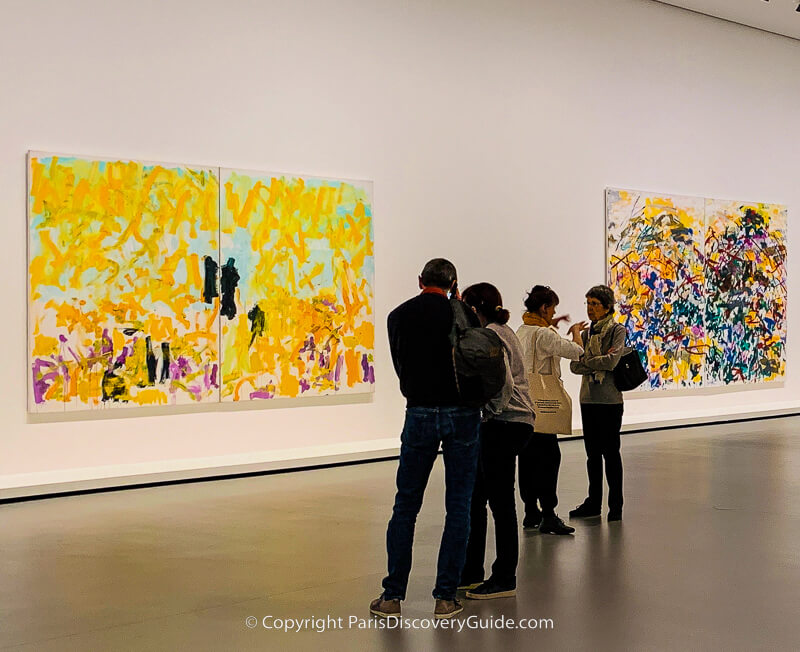 FLV's focus is on modern and contemporary art and culture displayed in its 11 galleries of varying sizes.
Other cultural events, such as concerts, film screenings, dance performances, and children's activities take place periodically. An "Open Space" program highlights pieces created by emerging French and International artists in response to Gehry's building.
But, you may be wondering, in a city such as Paris which overflows with fantastic museums, is trekking out to Bois de Boulogne to visit Fondation Louis Vuitton worth the time and effort?
The answer, in one word, is yes. You will see superb art presented in a unique setting. Think of the architecture as a bonus.
(And in fairness, thanks to the Paris metro system and FLV's shuttle, getting here is easy and doesn't actually take that long.)
Top photo: Fondation Louis Vuitton, (c) Paris Discovery Guide
Paris Discovery Guide is a reader-supported publication. When you buy through our links, we may earn a commission at no additional cost for you. Learn more
---
6 Best Ways to Explore Fondation Louis Vuitton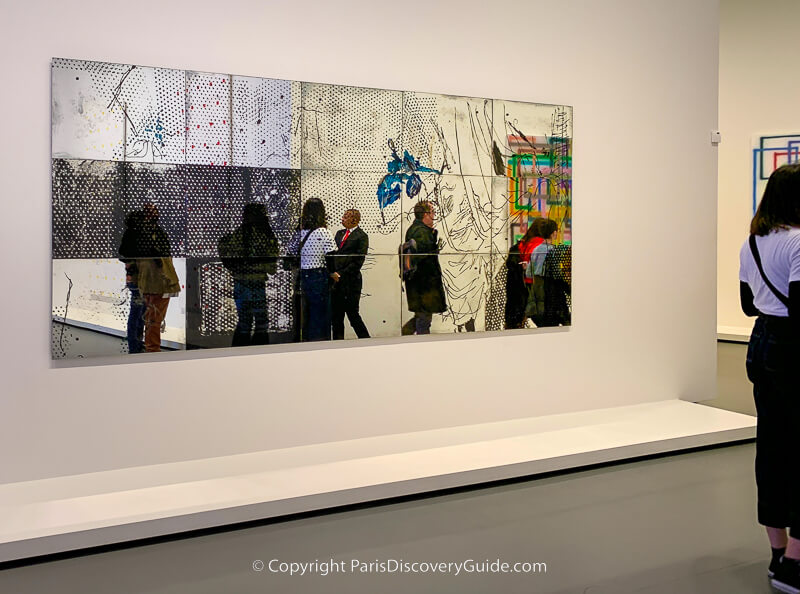 1. Immerse Yourself in the World-Class Art Exhibitions
Even though Fondation Louis Vuitton opened to the public less than 10 years ago, it has quickly staked out its place as a world-class art venue with its spare-no-expense exhibitions of modern and contemporary art by famous as well as important but lesser-known artists.
With only 11 galleries - some fairly large, others quite small - spread across four floors, the Foundation does not have vast quantities of display space. Instead of dedicating any of this space on an on-going basis to its own permanent collection, aside from a couple of commissioned installations by Icelandic-Danish sculptor Olafur Eliasson and American abstract artist Ellsworth Kelly, FLV instead mounts two major exhibitions each year.
Check the exhibition schedule for Fondation Louis Vuitton and other Paris museums
Sometimes these exhibitions feature just one large-scale show while others consist of several smaller shows, usually connected by a unifying theme or even contrasting trends, collectors, artist, periods, or media.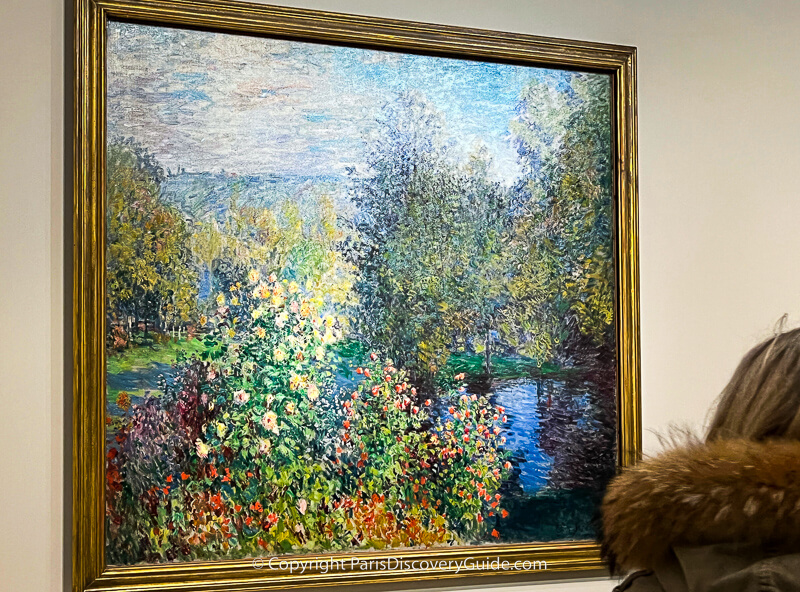 Pieces from FLV's collection may feature prominently in some shows, such as previous shows focused their newest acquisitions (2016), China (2016), and Africa (2017); during others, you won't see any at all.
To give you a sense of the range and variety of what you'll see at FLV, here are a few examples of shows since 2014:
Morozov Collection, Icons of Modern Art - A large-scale exhibition of 200 stunning masterpieces from the collection of Russian brothers Mikhail and Ivan Morozov, seldom seen outside of the Hermitage, Pushkin Museum, and other Russian galleries. The exhibition paired Impressionist and Post-Impressionist paintings by French and Russian artists such as Monet, Renoir, Van Gogh, Matisse, Repin, Korovin, Mashkkov, Konchalovsky, and Saryan to show emerging trends in modern art.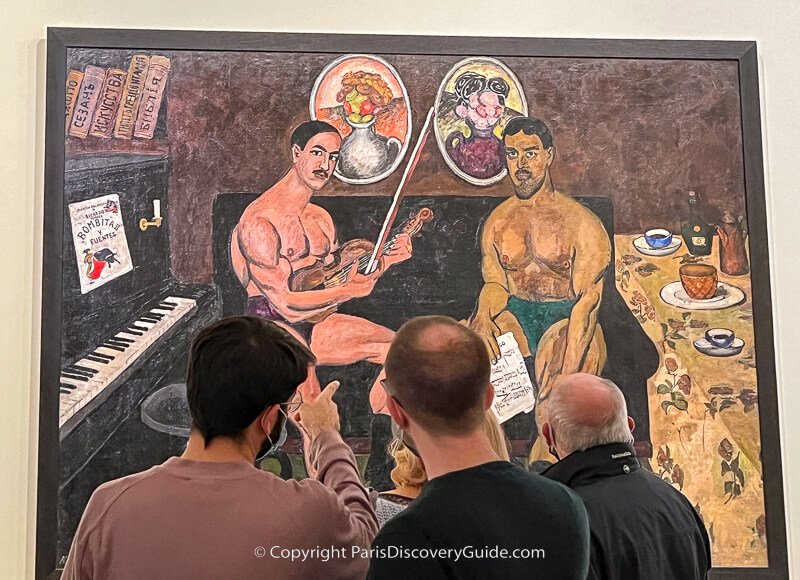 Charlotte Periand: Inventing a New World - A large-scale exhibition of the work of this architect and designer, and the art that she chose to express her visions of modernity.
In Tune with the World - A selection of new modern and contemporary works in several different mediums such as paintings, sculptures, videos, and installations from FLV's permanent Collection, selected for this show because of their unifying theme of connecting people with the world around them. Artists included Mark Bradford, Dan Flavin, Henri Matisse, Alberto Giacometti, Yves Klein, Takashi Murakami, Kiki Smith, Gerhard Richter, Anicka Yi, and 21 others.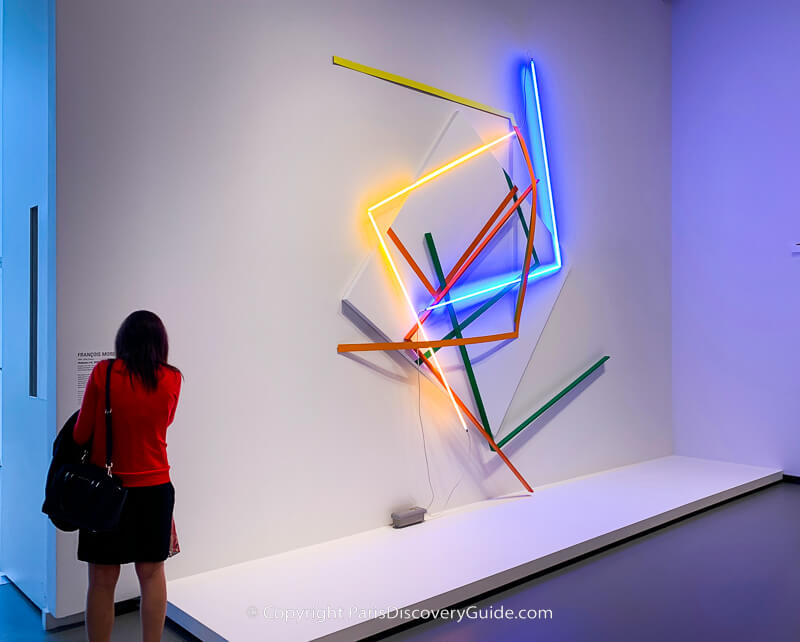 Jean-Michel Basquiat - A large-scale exhibition of the work of this major 20th painter, including several collaborations with Andy Warhol; much of the show included works previously unseen in Europe.
Being Modern: MoMA in Paris - 200 selections tracing the Museum of Modern Art's history of collecting, with works by Alexander Calder, Walker Evans, Constantin Brancusi, Marcel Duchamp, Jasper Johns, Gustav Klimt, Frank Stella, Pablo Picasso, Roy Lichtenstein, Jackson Pollack, and other modern masters.
Art/Afrique, Le Nouvel Atelier - A large-scale exhibition of art by modern and contemporary African artists from Sub-Saharan countries, South Africa, and other parts of the continent, including works from FLV's own permanent collection.
Olafur Eliasson: Contact - Commissioned works by this major Icelandic-Danish sculptor/installation artist involving optical devices, passage ways, and interactive installations designed to lead visitors through sequences of darkness, light, geometry, and illusions.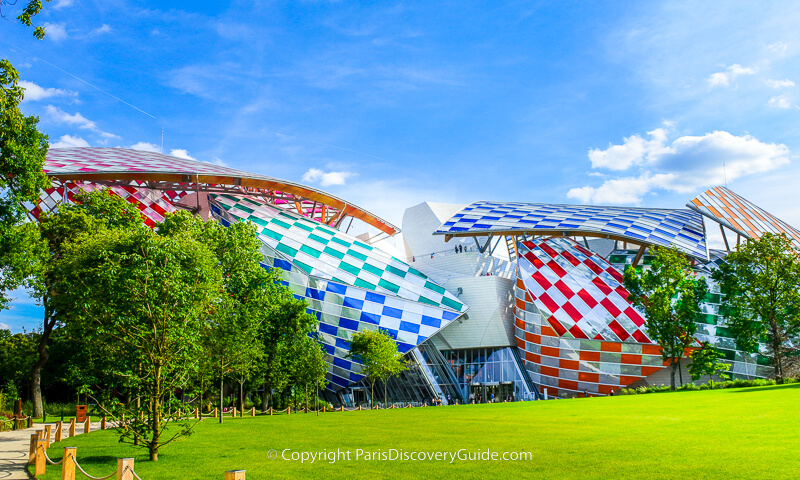 Daniel Buren, "Observatory of Light," Work in Situ - The FLV building became the art in this year-long installation by French conceptual artist Daniel Buren, known for his use of stripes and colors to change how we view things, especially historic landmarks. Buren applied filters in 13 different colors and patterns to a portion of the building's glass panes to create a magical transformation from the inside and outside. (You can see other installations by Buren at various sites around Paris ranging from the Colonnes de Buren in the Palais Royal courtyard to an underground passageway at La Defense.)
One thing to keep in mind if you're planning a visit: contemporary art, in particular, can be tricky. Will you like everything you see here?
Probably not - although you still may find the pieces interesting or even thought-provoking.
However, you will see creations here that you're unlikely to encounter anywhere else, and if you get lucky, you'll experience the thrill of seeing something you absolutely love.
2. Check Out the Cultural Events at Fondation Louis Vuitton
With so many venues within central Paris where you can attend concerts and see dance performances almost every night of the week, you probably wouldn't come to FLV just to hear music or attend a show in their auditorium on the building's lower level.
But if you're planning to visit anyway, it's always smart to check their schedule of cultural events in case you see something compelling.
3. Explore the Foundation's Iconic Frank Gehry Building
"We wanted to present Paris with an extraordinary space for art and culture, and demonstrate daring and emotion by entrusting Frank Gehry with the construction of an iconic building for the 21st century." 

     Bernard Arnault, Chairman and CEO, LVMH Moët Hennessy Louis Vuitton SA
Frank Gehry's design for FLV provides lots of visual surprises. If architecture is your passion, you'll be enthralled and mesmerized, but even if you're not, here are three design features for you to enjoy:
1) Cascading Water & Reflecting Pools
"Historically, architecture was always considered one of the arts." 

  Frank Gehry, architect and designer of the Fondation Louis Vuitton building
Go down to the bottom floor (the one beneath the ground floor where you enter the museum), to see one of FLV's almost-hidden gems: a cascading human-made water fall outside the building seemingly terminating in reflecting pools between viewing platforms and pillars.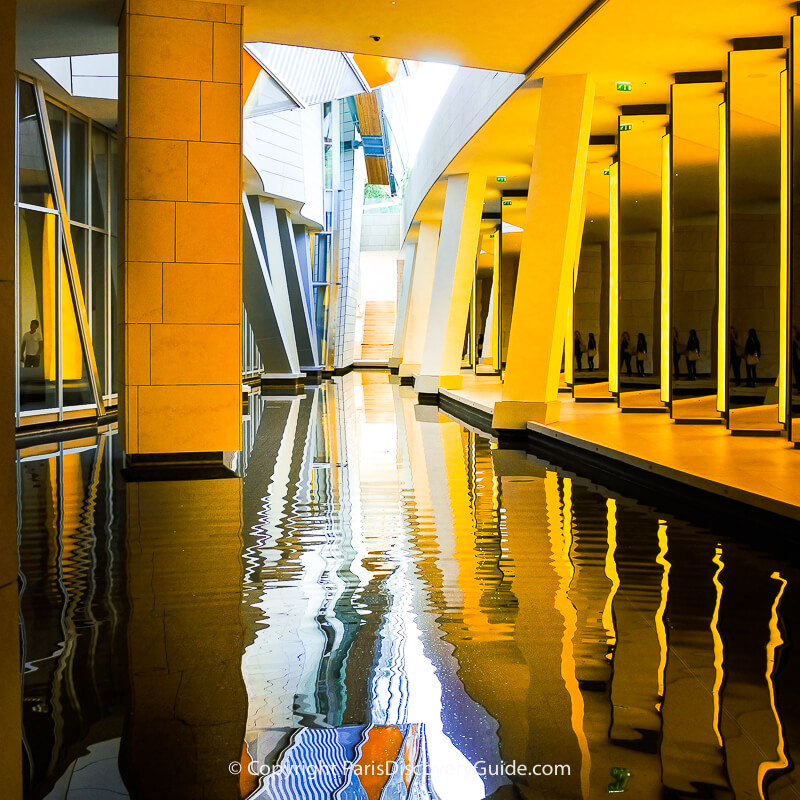 Walk along the platforms to see how the upper floors and sky reflect in the water from different angles. Meanwhile, the Eliasson mirrored posts provide alternate reflections of the architecture which seems somewhat distorted due to the posts' angled positions.
2) More Weird Angles & Unexpected Views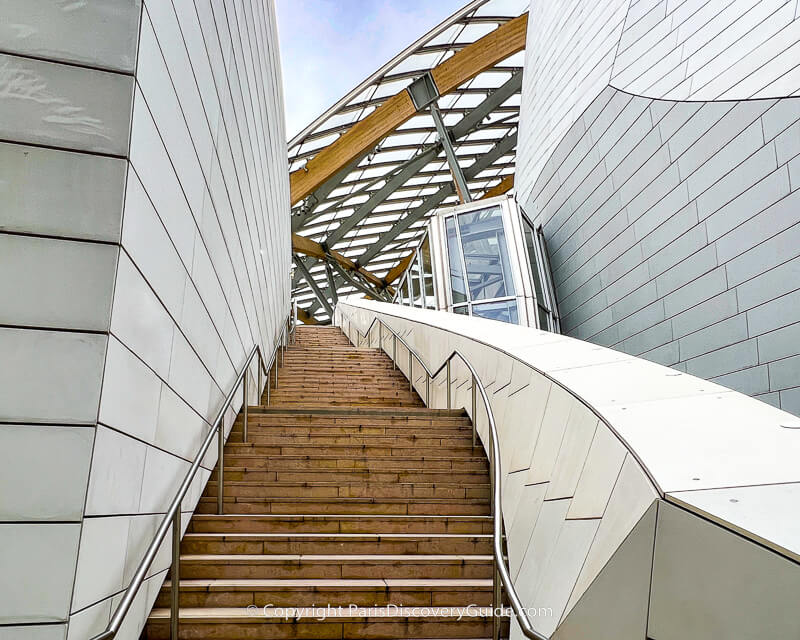 Although you can take an escalator or elevator to the upper floors, you'll get the best views from the stairs.
3) Rooftop Terraces & Open-Air Galleries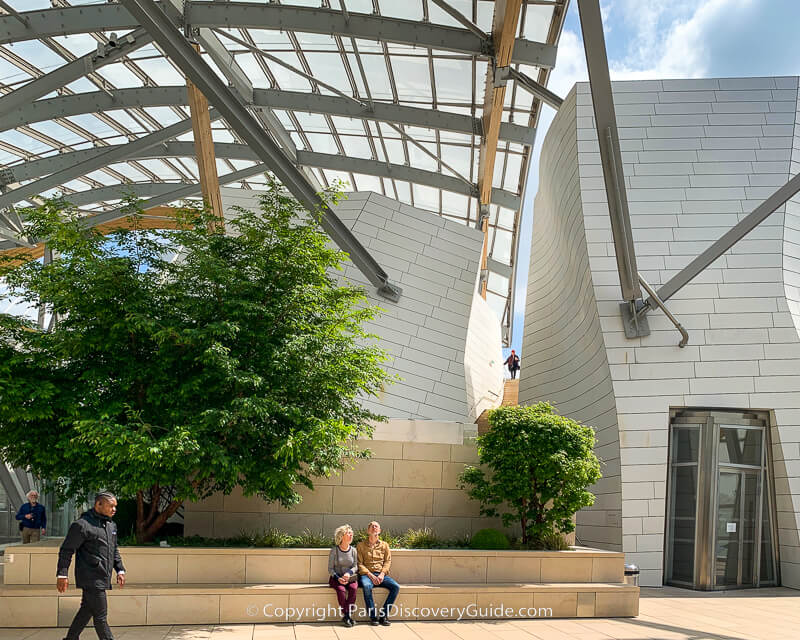 As reach the building's upper levels, you'll discover small as well as larger enclosed and open-air terraces and viewing platforms, some of which double as galleries.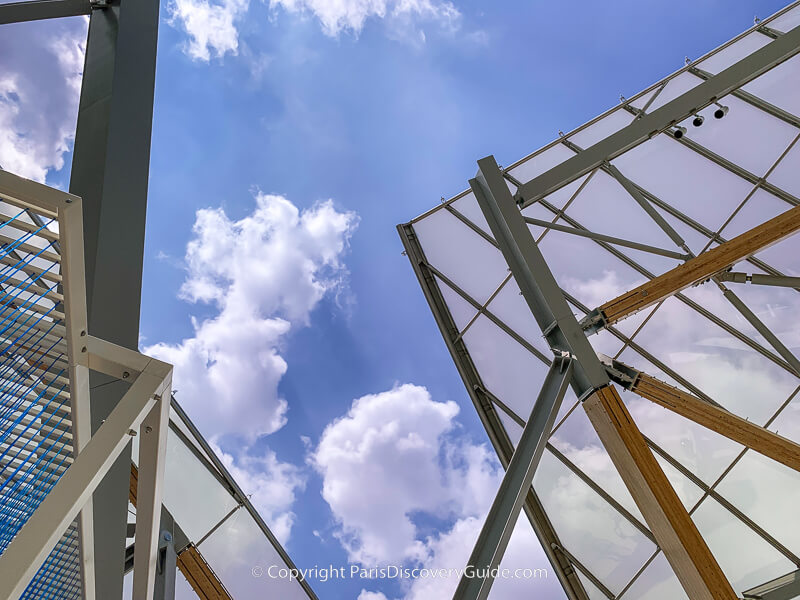 Other spaces let you experience unexpected views, with the Gehry's architecture framing the scenes.
4) Exterior Views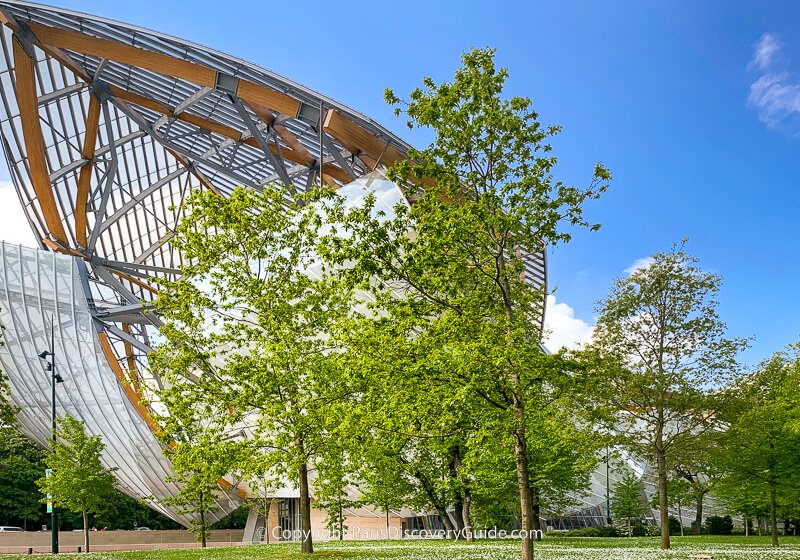 You'll get the best exterior views of the museum from the side next to Jardin d'Acclimatation, rather than the side on Avenue Mahatma Gandhi where you entered.
Once you've explored the interior of the building, go out the back doors (keep your ticket in order to reenter later), and walk around the back side of the building to view the architecture from all angles.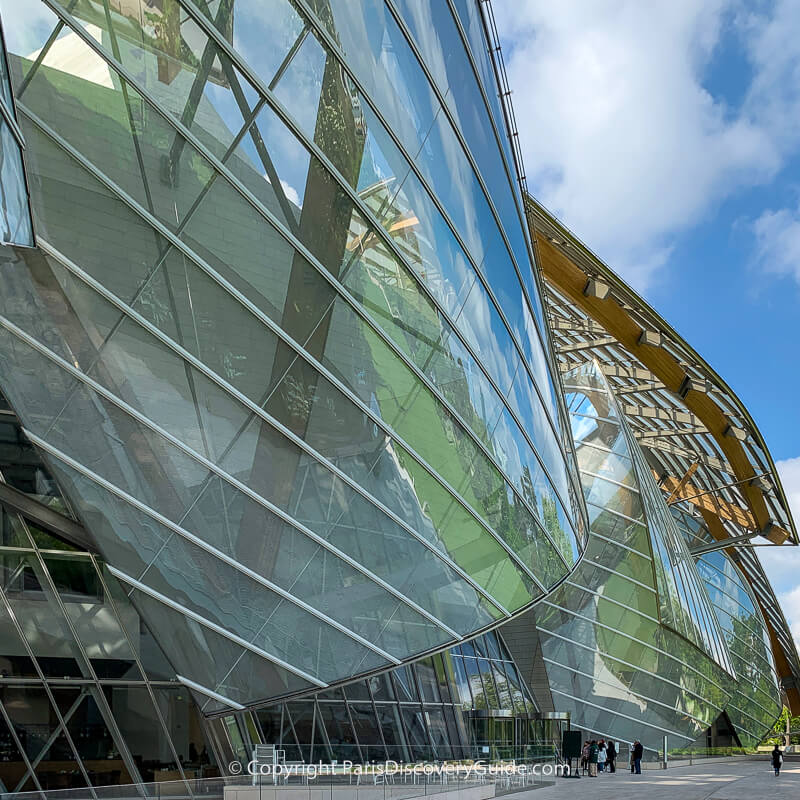 How Was the Fondation Louis Vuitton Building Constructed?
Frank Gehry's design for FLV required for about 3,600 curved glass panels to form the building's 12 "sails" and 19,000 panels of white fiber-reinforced concrete for what Gehry called "the iceberg," the building blocks containing the 11 galleries, auditorium, and other essential elements.
The building's unique geometry required each panel and block to have a unique shape, and to be fabricated within a tiny fraction of a millimeter of precision; for budget purposes, this needed to be achieved without excessive waste.
To meet this challenge, Gehry and his team turned to French aerospace company Dassault Systèmes, which used a software system called CATIA to meet similar requirements when building its fighter planes. This team used CATIA as the basis for their own design tool called Digital Project to produce a digital model for the building's components.
4. Enjoy Epic Views from FLV's Rooftop Terraces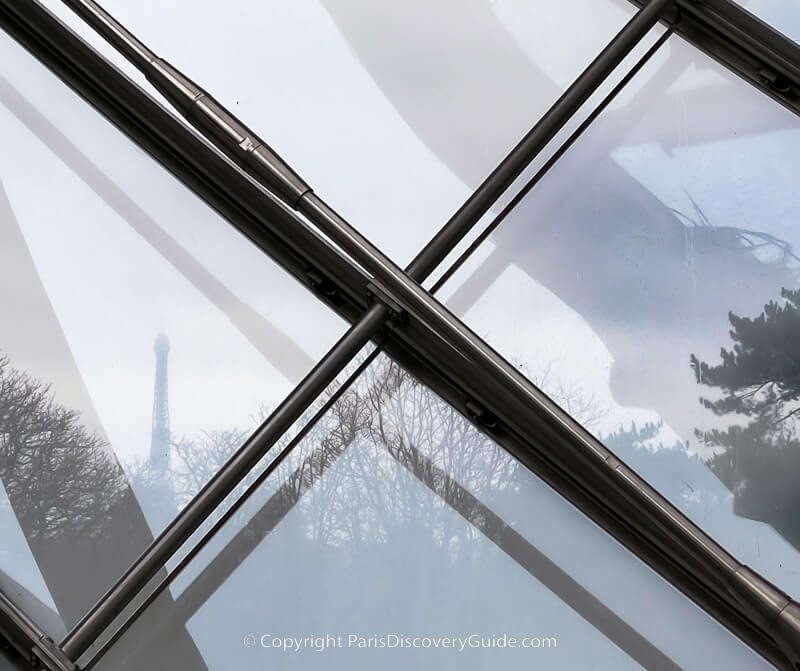 The exterior terraces at the top of FLV give you beautiful skyline views of the Eiffel Tower, the La Defense business district, the adjacent Jardin d'Acclimatation, and beyond that, the Bois de Boulogne.
Find more top places for spectacular Paris skyline views
Move around to different terraces to find the best views.
5. Run Through the Water Jets on the Splash Pad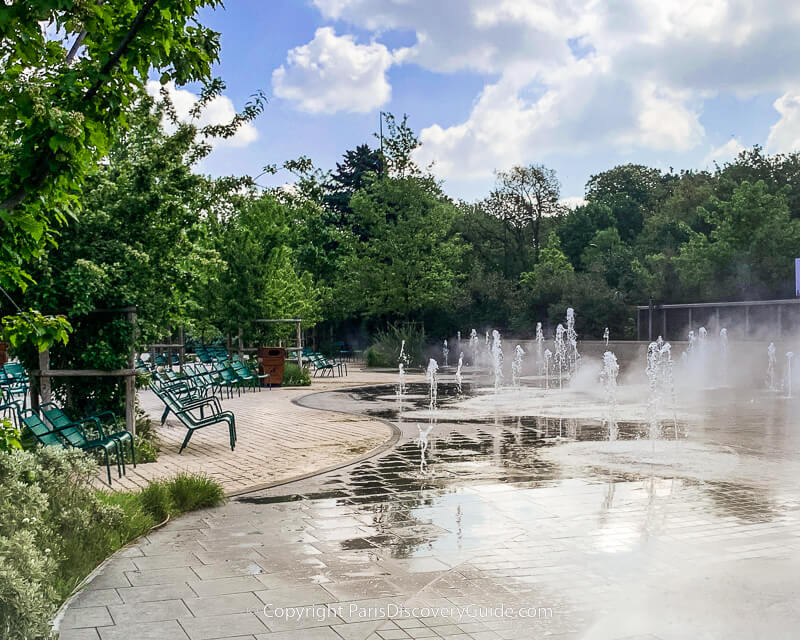 To view or cool off in FLV's splash pool, go out the building's back entrance (near the restaurant), and walk along the path on the right.
During all but the coldest months, jets of water coat the surface of a slightly paved area shaped to look like a pool. This spot is a favorite of kids (and some adults) during hot weather.
6. Stroll through Historic Jardin d'Acclimatation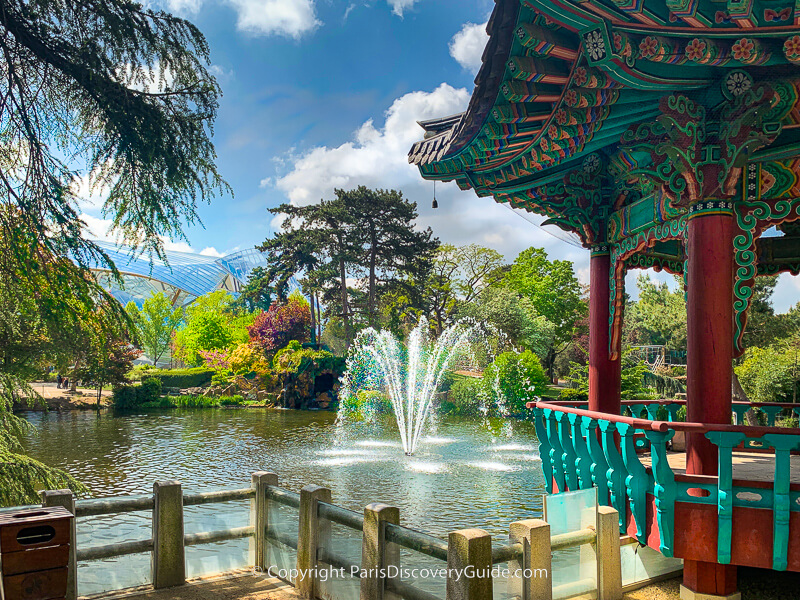 Your admission to Fondation Louis Vuitton includes free entry (through FLV) to Jardin d'Acclimatation, a beautiful park complete with landscaped gardens, a small menagerie, and an amusement park established by Emperor Napoleon III and Empress Eugenie in 1860. Peacocks freely roam the grounds.
Stroll around and admire the Korean Garden, visit a replica of a Normandy farm, and take ride on the narrow-gauge train. If you're visiting with your family, check out the roller coaster and other rides, puppet theater, miniature golf range, and house of mirrors.
A small Christmas market takes place here in December.
---
Visitor Tips: Fondation Louis Vuitton
1. Exhibition schedule: Keep in mind that although FLV usually mounts two major temporary exhibitions each year, it displays almost no works from its permanent collection on an ongoing basis.
Gaps typically occur between the end of one exhibition and the beginning of the next, as time is required to mount the art in place. If you happen to visit during these "gap" periods, you can walk around and admire the architecture, but you won't see art.
If you want to see an exhibition, always check on the FLV website or PDG's museum exhibition schedule to see what's happening before reserving tickets.
2. Numbers of visitors: Especially during popular blockbuster exhibitions, Fondation Louis Vuitton can get very crowded - in fact, way more crowded than you might expect since the tickets sold online in advance are for specific date/time slots.
Crowds intensify on weekends, when families come to take advantage of the free admission to Jardin d'Acclimatation, which includes a popular amusement park.
Under these conditions, seeing the art can be challenging. If at all possible, come on weekdays.
Although the FLV website includes a crowd-predictor widget to let you choose to book during less-popular times, in our experience, it often is not accurate.
3. The shuttle: The shuttle from Avenue de Friedland is convenient, but at times, it's standing-room-only and as packed as the proverbial can of sardines.
If this concerns you, come by metro instead. The closest station, Les Sablons, is about a 10-minute walk (.5 mile) along a well-marked and somewhat scenic path to FLV's entrance.
The shuttle runs on a 20-minute schedule (meaning if you miss it, you may have to wait quite awhile before the next one arrives) and the ride itself can take as much as 15 minutes, depending on Paris traffic.
Coming by metro Les Sablons and then walking the rest of the way may be a few minutes faster, and the walk is pleasant.
4. Accessibility: The building is fully accessible, although when crowded, elevators are not always easy to spot.
---
Interesting Facts about the Louis Vuitton Foundation
How much did Fondation Louis Vuitton's building cost, and how long did it take to build?
Prior to construction, which began in March, 2008, the building costs were estimated to total about $127 million.
However, updated estimates made after it opened to the public in October, 2014, place the total cost at almost $900 million, roughly eight times the original deficit.
Is the building worth the rather large cost?
Do the results delivered by the building's architecture justify the extra cost? Most visitors would probably agree "yes"!
The exterior design and interior spaces offer spectacular vistas, especially when the sun is shining. As you explore the upper levels, you'll find a few wonderful spaces where you can sit for a few minutes (or longer), soak up the views, and contemplate whatever is on your mind at the moment.
Reportedly, the exhibition areas (some widely expansive, others narrow and constricted) pose challenges for curators when mounting new shows. However, from a visitor's perspective, both the vast open spaces and more intimate smaller alcoves provide an exciting experience for viewing the art.
Who paid for Fondation Louis Vuitton's building and exhibitions?
Fondation Louis Vuitton is a not-for-profit entity and was privately funded by the LVMH group and its subsidiaries, part of a trend away from public funding for museums and cultural institutions in France during recent years.
Other recent examples include the Pinault Collection in the old Bourse de Commerce building, the Al Thani Collection at the historic Hotel de la Marine, the Yves Saint Laurent Museum in Paris (as well as the costlier one in Marrakech), and the Dior Galerie housed in the legendary brand's flagship store on Avenue Montaigne.
However, since private funders can receive tax deductions of up to 60% or more, they are in effect receiving subsidies from the government (ie, taxpayers). A 2018 lawsuit (later dismissed) brought by a French anti-corruption group claimed that the Louis Vuitton Foundation received almost over $675 million from the government to help with the construction costs.
---
More to See & Do near the Fondation Louis Vuitton
In addition to the adjacent Jardin d'Acclimatation, here are four major nearby attractions:
The rest of Bois de Boulogne - In particular, Parc Bagatelle (including a famous chateau, built in less than three months in response to a dare by Marie Antoinette, and rose garden), the Longchamp Racetrack, Lac Inferieur (rent a row boat!), Jardin des Serres d'Auteuil, greenhouses, and Roland Garros Tennis Stadium, site of the French Open
Grande Arche de la Defense (less that 5 minutes by metro from the Les Sablons station near FLV) - Go up to the top for spectacular views of Paris, including the Arc de Triomphe 2.5 miles (4 km) away; while there, catch the latest show at the L'Arche du Photojournalisme exposition space
La Défense Open Air Museum - 69 mostly modern and contemporary, mostly massive sculptures located on and near the Esplanade de Defense - the perfect counterpart to the exibitions at the Louis Vuitton Foundation
La Défense Christmas Market - If you visit during December, don't miss this! It's the biggest Christmas Market in the Paris area, with a wonderful selection of seasonal and regional French food specialties and gift items, and loads of fun! Stay until dark so that you can also enjoy the etherial holiday lights along the La Defense Esplanade.
---
Fondation Louis Vuitton Visitor Information: Tickets, Hours, Location, & Map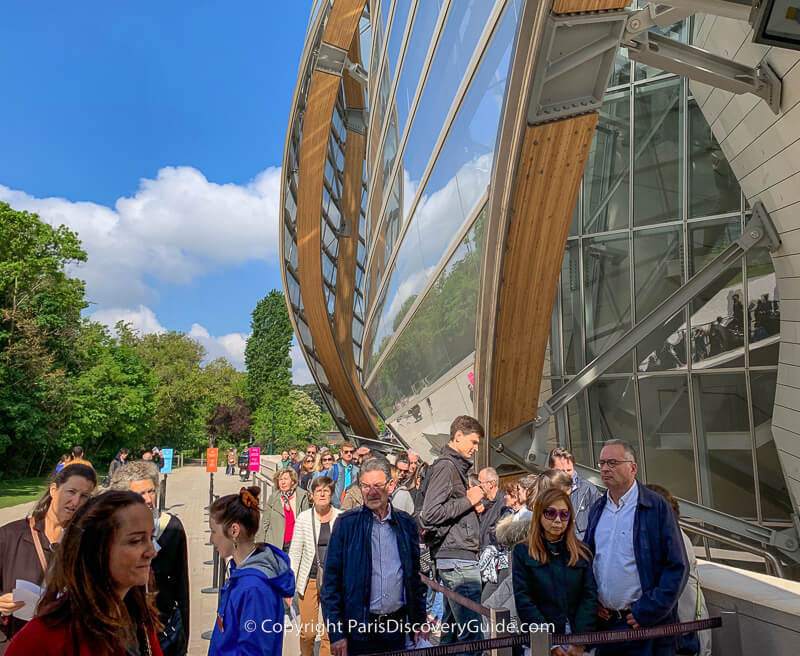 Ticket Information
Tickets cost 16€, with family rates available, and reduced price tickets (with proof) for visitors under 26, students, French teachers, and a few other categories. If you want to take the electric shuttle from Avenue du Friedland (near the Arc de Triomphe), you can book a round-trip ticket for 2€ when you book your admission ticket (tickets cannot be purchased on the shuttle).
Tickets give you access to all exhibitions, even though you may have to select a specific exhibition as you book online. They also include free admission through the Fondation to the adjacent Jardin d'Acclimatation, where tickets normally cost 7€.
You can book your priority entrance ticket online or buy it at the door. When booking online, you currently must select a specific date and time slot. Tickets are non-refundable and non-exchangeable.
Alternately, you can book a ticket package through Get Your Guide which includes priority entrance, a downloadable audio guide, access to Jardin d'Acclimatation, and roundtrip shuttle tickets for pick up/drop off across from Arc de Triomphe. (Take exit 2 from the Charles de Gaulle/Etoile metro station - you'll find the shuttle stop in front of 44 Avenue de Friedland
Both options include free entrance from the Foundation to its neighbor, Jardin d'Acclimatation.
When you arrive, you'll see three separate lines for 1) those with tickets, 2) those who need to buy tickets, and 3) those with a Foundation membership who get VIP priority access. Only the VIP line is assured of moving quickly. The other two tend to move slowly and can be quite long, with waits up to 30 minutes during the most popular exhibitions.
Schedule

Days and hours: Wednesday - Monday, 11am - 8pm (open until 9pm on Thursdays)
Closed: Tuesdays and holidays
Location & Public Transportation
Address: 8 Avenue Mahatma Gandhi, 16th arrondissement 
Metro: Les Sablons

Where to Board the Shuttle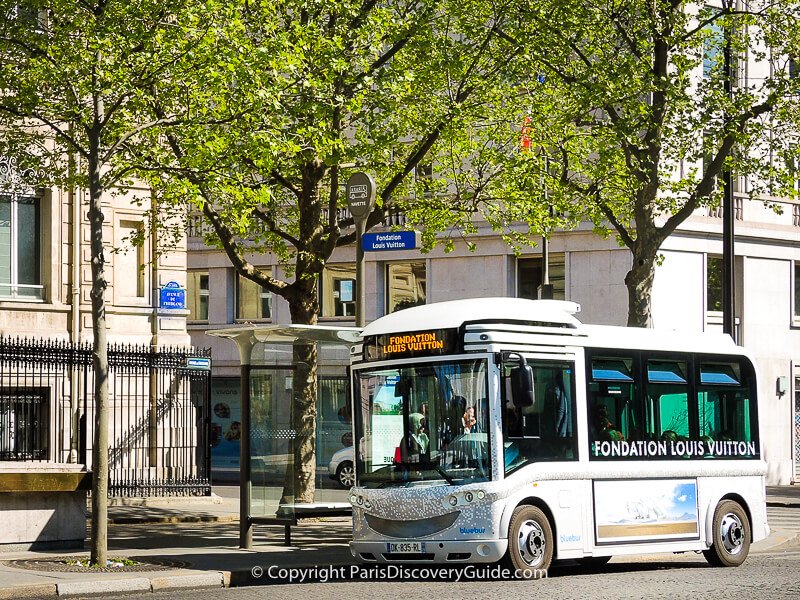 The shuttle departs at more or less 20-minute intervals (Paris traffic makes the timing variable) during FLV's opening days/hours from a dedicated bus stop in front of 44 Avenue de Friedland (on the north side of the street) near the Arc de Triomphe.
Metro: Charles de Gaulle/Etoile - take exit 2
More About Fondation Louis Vuitton's Design
As mentioned earlier, Bernard Arnault's goal, as head of the LVMH Moët Hennessy Louis Vuitton luxury empire, was to give Paris "an extraordinary space for art and culture, and demonstrate daring and emotion by entrusting Frank Gehry with the construction of an iconic building for the 21st century."
With these goals in mind, you might reasonably imagine that when Canadian-born American architect Frank Gehry received the commission to design the future Fondation Louis Vuitton building in 2001, he was given carte-blanche to fulfill Arnault's vision and thus created the masterpiece you see today.
The reality was far different!
Arnault had bought a plot of land on the edge of Bois de Boulogne, once a royal hunting ground and now a huge public park in the far west side of Paris's 16th arrondissement, and that's where he wanted the new museum to be built.
The problem?
Gehry faced a serious zoning constraint: the new building couldn't be higher than a 2-story bowling alley that had previously occupied the land.
To conform to the height limitations but also design a spectacular setting for FLV's art and cultural activities, Gehry explains, "I envisioned a building with a double skin ... we made a glass shell with the museum inside of it."
This turned out to be a clever strategy.
With this design vision in hand, Gehry convinced the permitting boards that the main structure stood no higher than the bowling alley while the soaring glass panels (the second "skin") paid tribute to other important glass structures around Paris, such as the Grand Palais.
---
Map Showing Fondation Louis Vuitton Location
Map showing Fondation Louis Vuitton, Jardin d'Acclimatation, and Les Sablons metro station
---
Where to Stay near Fondation Louis Vuitton
The closest place to stay near FLV is Le 5 Particular, a small but lovely hotel just 10 minutes away on foot. It's also about a 6-minute walk to the Les Sablons station on the metro's Line one, which will whisk you into central Paris in about 10 minutes.
Otherwise, hotels near the Arc de Triomphe position you in a convenient spot to either take the shuttle or hop on the metro at the Charles de Gaulle/Etoile station. For a posh experience, choose a 4-star hotel; for a budget-conscious choice, pick a 2-star.
Le 5 Particulier - Small 4-star boutique hotel located in a beautifully-restored 19th century private mansion with very comfortable beds and contemporary decor. Request a room overlooking the private garden. This is the closest hotel to FLV - about a 10 minute walk - and is located in Neuilly-sur-Seine, an upscale suburb adjacent to Paris and Bois de Boulogne - Book Now
---
Where to Eat At Fondation Louis Vuitton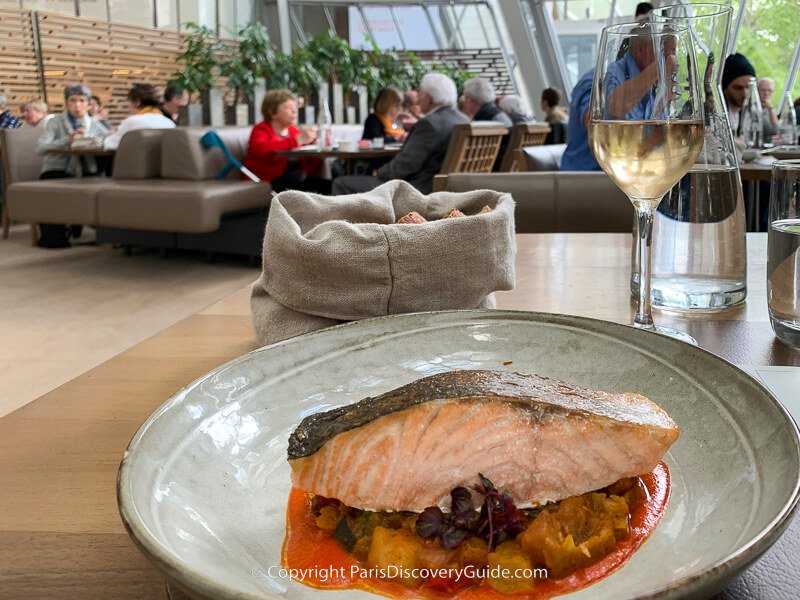 Le Frank, FLV's on-site restaurant with a Michelin-starred chef, serves French cuisine with a Mediterranean flair for lunch and an afternoon snack/drinks menu on most days, and offers a more formal dinner service (reservations required) several evenings each week.
For more casual food, walk over to Jardin d'Acclimatation, where you'll find casual outdoor restaurants and even food trucks.
---
More Articles about Paris Museums
---
Information Sources Used in this Article