Paris events in June kick off the beginning of summer as lushly blooming flowers, long warm days, and plenty of cafe tables along the sidewalks lure everyone outside.
Relax at the open-air Paris Music Festival, La Défense Jazz Festival, and Chopin Festival, enjoy concerts at Sainte Chapelle, Olympia Hall, and other top venues, and soar above the city when the giant ferris wheel returns to Tuileries Garden. Visit special exhibits at many of the city's most famous and lesser-known museums.
If you're a fashionista, join the excitement and thrill of the hunt as the famous Summer Sales on designer fashion starts in late June.
If you're into contemporary art, especially by emerging artists, stop by the Open Studios hosted by artists in the Belleville and Pere Lachaise (Charonne) neighborhoods, chat with the artists, and perhaps purchase an original piece for your home - a perfect "souvenir" from Paris.
Unusually, Mother's Day - normally a May event - falls on the first Sunday of June this year, so be sure to do something special with your mom this month.
Days continue to grow longer until Summer Solstice on June 21st, when the sun doesn't set until 10pm and the sky still shows some light until almost midnight - truly a magical time in the City of Light.
Stroll around the city's iconic neighborhoods and admire the lastest street art. Buy a baguette, cheese, and a bottle of wine and picnic along the banks of the Seine River, and then watch the Eiffel Tower's sparkling light once the sky finally grows dark - the perfect June evening in Paris!
Top Photo: Free outdoor June concert on the Left Bank of the Seine River, (c) Paris Discovery Guide
Paris Discovery Guide is a reader-supported publication. When you buy through our links, we may earn a commission at no additional cost for you. Learn more
---
Paris in June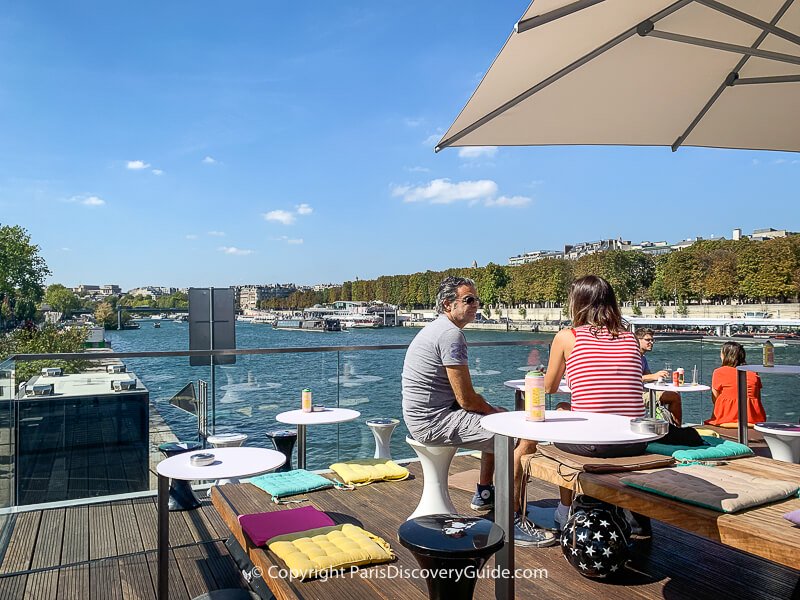 June is the perfect month to dine on outdoor terraces at restaurants or along the river, picnic in parks and other outdoor spaces such as the Seine River banks, and go on Seine River cruises. Get your cultural fix at Atelier des Lumiéres, art galleries around the city, unique venues such as Fluctuart, the floating contemporary art venue on the Seine River at Pont des Invalides, and all the special exhibitions at Paris museums.
---
June Concerts in Paris - 2023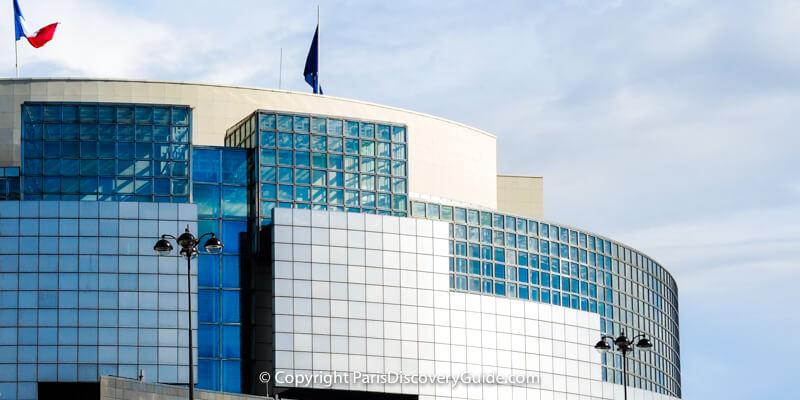 The Paris concert calendar for June is packed with wonderful music performance you won't want to miss:
More Paris classical concerts in historical churches during June
More Paris classical concerts in historic churches during June
Find Paris concerts for other months
---
Versailles Tours in June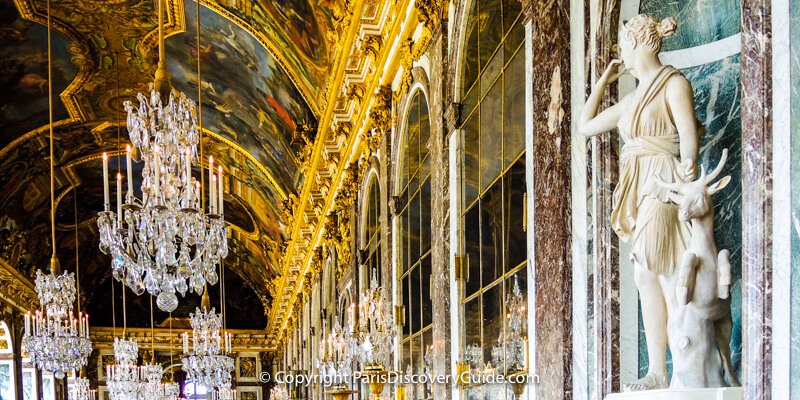 Located just a quick 30-minute train ride from Paris, Versailles sparkles during June as light streams through the palace's many windows and reflects on ornate chandeliers and gold-framed mirrors. It's the perfect time for enjoying the relections of light on crystal chandeliers and sparkling mirrors in the Hall of Mirrors and relaxiing the Musical Gardens, when you can explore normally-blocked off gardens and groves as Baroque music plays softly.
Find out 13 top things to see and do at the Palace of Versailles
Best Versailles Tours & Prepaid Ticket Options
Buy a timed entry "Full Access" ticket which includes admission to Musical Fountains or Musical Gardens show or a Palace admission ticket and audioguide.
For the best speed and convenience, choose a guided tour (pro tip: a guide can whisk you through a special guide-only entrance):
More guided tours to the Palace of Versailles from Paris
How to get to the Palace of Versailles from Paris
---
Mother's Day in Paris 2023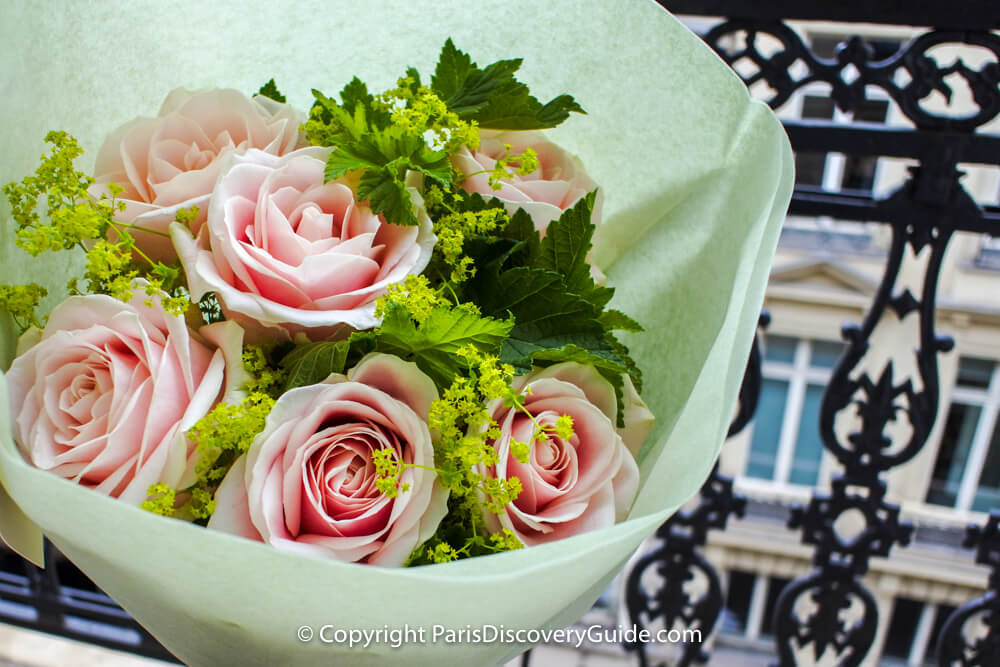 Normally, Mother's Day (La Fête de Mère) in France takes place on the last Sunday in May - but there are exceptions, and 2023 is one of them. This year, this celebrations of mothers takes place on Sunday, June 4.
Traditional French celebrations for Mother's Day involve flowers, food, and perhaps an outing - anything from a picnic in a park to a river cruise to a special day trip.
Flowers are easy. Florists in every Paris neighborhood offer lovely choices ranging from simple pots of blooming bulbs to lavish bouquets.
Mother's Day brunch, lunch, or dinner in a restaurant takes more planning, as they'll be packed. Make reservations in advance, or if you're visiting and not sure where to go, ask your hotel concierge for help.
Future dates for Mother's Day in France: May 26, 2024; May 25, 2025; May 31, 2026
More about how to celebrate Mother's Day in Paris
---
Summer Sales on Designer Fashions 2023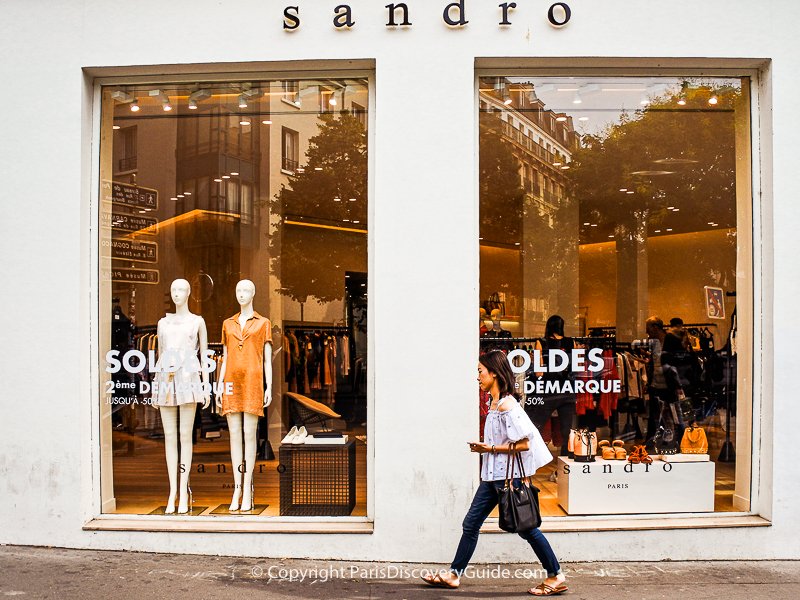 The famous Paris summer sales run from June 28 through July 25 in 2023 - a full four weeks for snapping up bargains on chic French fashion.
Look for Soldes signs in store windows all over the city, usually showing the amount of reduction - often 30-40% at the beginning, and soaring as high as 70-80% at toward the end.
Best places to find bargains? Everywhere! Luxury labels such as Chanel, Valentino, and Armani draw huge crowds - ditto for Galeries Lafayette, BHV, Bon Marché, and Au Printemps - but don't ignore smaller boutiques and even global mid-market chains.
Coveted Hermès bags, shoes, clothing, and other goodies go on sale for the general public for only 2 days this time offsite at Palais de Congrès near Porte Maillot. A VIP invitation-only sale usually takes place on the day before the sale begins, but is rumored to be for the highest-spending French customers only.
Find out more about Paris Summer Sales 2023
Paris Tours for Fashionistas
---
Paris Museum Shows - Top Events during June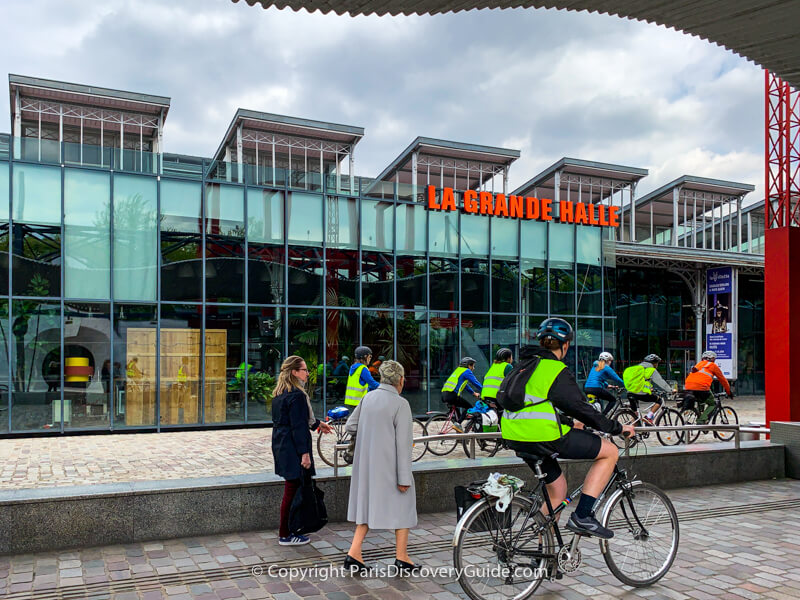 Naples in Paris: Masterpieces from Italy's Museo di Capodimonte @ Louvre Museum
The Louvre will exhibit about 60 major masterpieces from the Museo de Capodimonte, one of the largest and most important museums in Italy, to give a unique insight into Italian painting from the 15th to the 17th century. The Italian paintings will include works by artists with little or no representation at the Louvre, and will reresonate with the Louvre's works by Titian and Caravaggio. Look for these works in several areas in the Denon and Sully Wings.
Dates: June 7, 2023 - January 8, 2024
Tickets: 17€ adults plus the Louvre's 3€ online booking fee; includes special exhibits and permanent collections; book in advance with a reserved time slot and skip-the-line access; can also book in advance for free admission with a Paris Museum Pass
Location: Rue de Rivoli, Paris 1; Metro: Palais Royal/Musée du Louvre
Stay nearby: Hotels near the Louvre

Interested in a Louvre Museum guided tour? Find out how to choose one
Manet/Degas @ Orsay Museum
An exploration of the differences and even conflicts in their depictions of modernity in their works created between the 1860s and 1880s.
Dates: March 28 - July 23, 2023
Musée d'Orsay Tickets: 16€ adults. Book a reserved-access ticket for skip-the-line access, save with a combo ticket to Musée de l'Orangerie and the Orsay Museum, or use your Paris Museum Pass for free entry
Location: 1 Rue de la Légion d'Honneur, Paris 7;
Metro: Pont de l'Alma; Invalides
Find many more Paris museum exhibitions for June & future months
---
Paris Museum and Attractions Passes
Get free admission and skip-the-line access to 60+ museums in and near Paris when you have a Paris Museum Pass for 2, 4, or 6 days. More info
---
Belleville Artists' Open Studios - 2023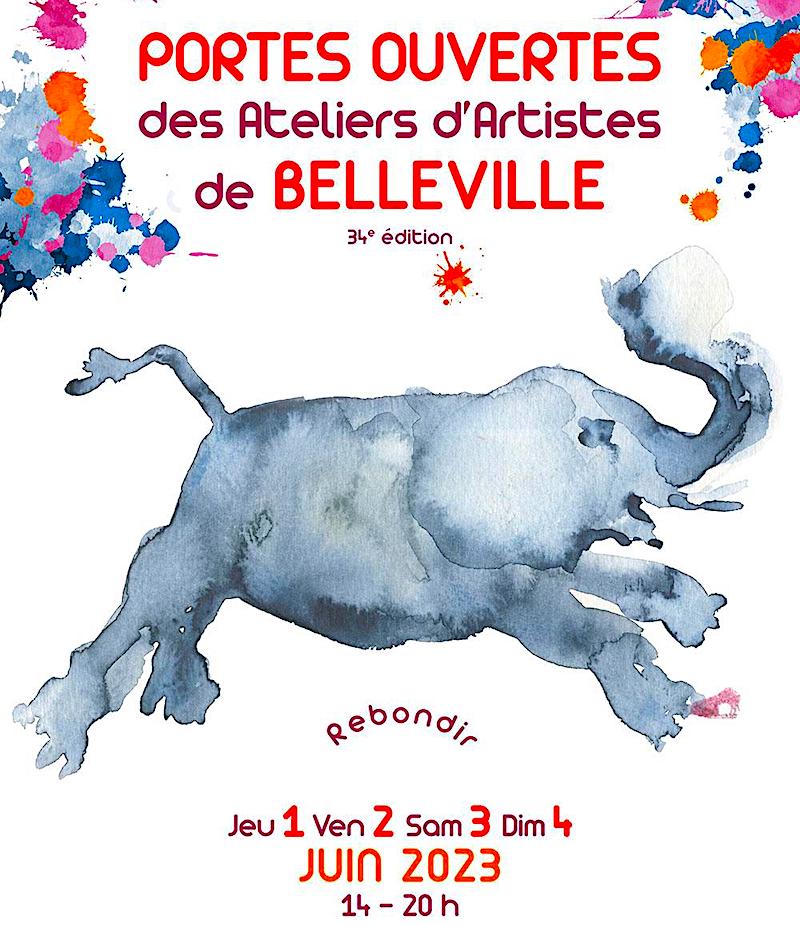 Around 160 artists in Paris's vibrant Belleville neighborhood invite the public to visit their Open Studios from https://ateliers-artistes-belleville.fr/ on June 1-4 and explore a wide panorama of contemporary art in all media - painting, sculpture, photography, installations, ceramics, textiles, and more - on display (and available for purchase) in almost 100 studios and exhibition spaces.
On the night of Nuit Blanche on June 3, a special artistic experience, "Belle de nuit, Ville en vie" takes place in over 50 workshops, courtyards and streets of Belleville from 8pm to midnight, with performances, concerts, and screenings.
As usual with open studios, if you see something you love, you can buy it directly from its creator. Music and dance performances will also take place throughout the four days.
Although Belleville covers a large area encompassing parts of the 10th, 11th, 19th, and 20th arrondissements, you'll find many of the artists' studios between the gorgeous Parc des Buttes Chaumont and Parc de Belleville - the perfect excuse to combine studio visits with an excursion to one or both parks and perhaps a meal in one of Belleville's excellent restaurants.
Admission: Free
Reception point: AAB Gallery, 1 rue Picabia, Paris 20; Metro: Couronnes/Line 2
More information, including a detailed map: Belleville Artists' Open Studios website
Where to Stay (Cheaply!) near Belleville's Open Studios
Check out these fun and very affordable places to stay within easy walking distance of Belleville's Open Studios:
---
Open Studios: Pere Lachaise, Menilmontant, & Belleville Neighborhoods - 2023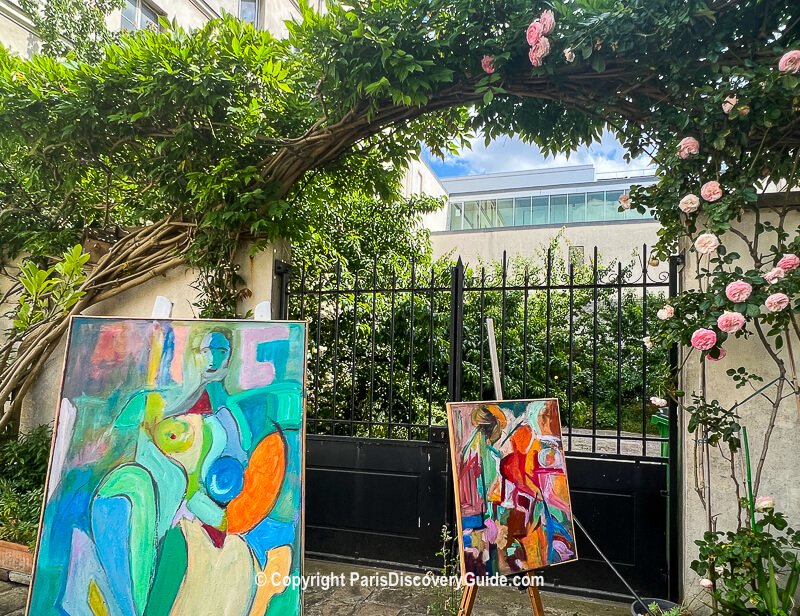 Numerous artists live and work in the leafy 20th arrondissement neighborhoods around Pere Lachaise Cemetery, Menilmontant, and Belleville.
In 2023, the emerging and established painters, sculptors, photographers, and print-makers in these areas are banding together to hold Open Studios on four weekends throughout the year (March 25, June 3 in conjunction with Nuit Blanche), September 30, and December 9). As noted in the previous announcement, the Belleville Open Studios will continue for four days.
Don't miss this wonderful opportunity to browse original art, chat with the artists, and perhaps purchase a favorite piece!
Visiting the Open Studios also gives you also a great opportunity to explore these lesser-known authentic Parisian neighborhoods as well as nearby Pere Lachaise cemetery.
Date: June 3
Admission: Free
More information: Artists of the APLA website (APLA = painting, sculpture, engraving, photography, and mixed media)
---
The Fête de la Musique Welcomes Summer in Paris 2023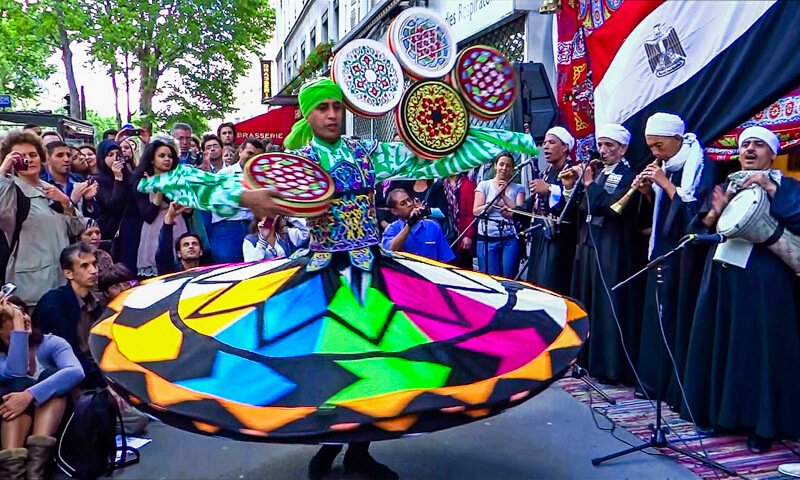 On June 21, the longest day of the year and official beginning of summer, pop-up stages appear all over Paris for the annual Fête de la Musique, turning the city into a huge street party to celebrate the summer solstice.
Free indoor and outdoor concerts take place all over Paris throughout the day and late into the night (remember, the sun doesn't set until almost 10pm) to celebrate the summer solstice and showcase the city's rich diversity of musical talent and genres.
You can find a list of performances on the event's website, usually by early June - but it's almost more fun to just happen upon them. They take place everywhere - so look for them in the city's major squares, near metro stations, on street corners, in cafes, in front of municipal buildings, inside museums, in the city's parks, in courtyards - or just follow the sound of music.
---
Street Art Trail: Open Air Museum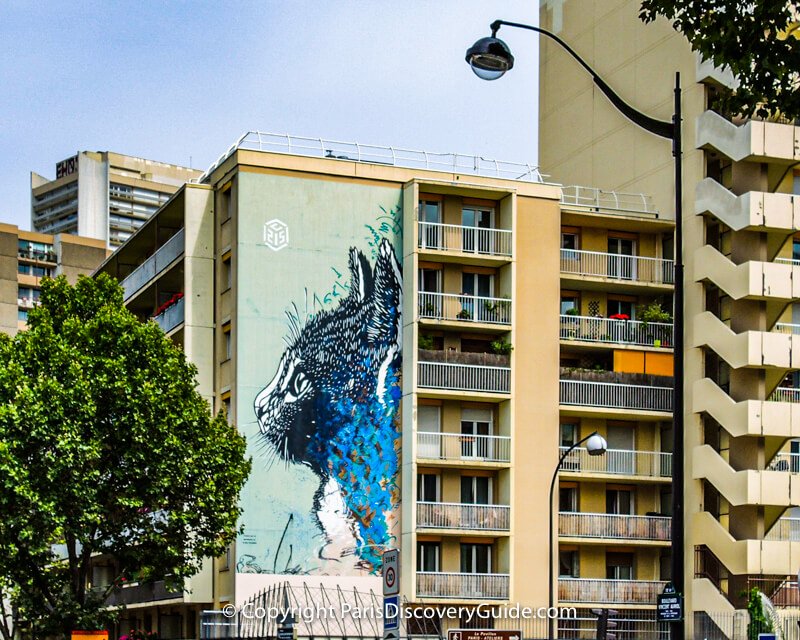 Not all the art in Paris is found in museums. To see a terrific exhibition of giant murals by internationally acclaimed street artists such as Shepard Fairey (Obey), ST4, DALeast, D*Face, C215, and Hush, head over to the 13th arrondissement to see the Boulevard Paris 13 project, an open-air art museum.
To do a self-guided tour, take the metro to Place d'Italie in the 13th arrondissement and walk down Boulevard Vincent Auriol to Rue Louise Weiss, exploring side streets along the way. You'll spot huge murals by C215, Shepard Fairey, INTI, Conor Harrington, Invader, and other famous and emerging artists.
More about Where to See More Street Art in Paris's 13th District: Check the map (look for "course") on the Boulevard Paris 13 website
Want to discover more about street art in Paris? Join a professionally guided street art tour through the 13th District and learn about the public art movement as you see some of the best creations by international artists. Find out more
---
Les Extatiques Festival at La Défense 2023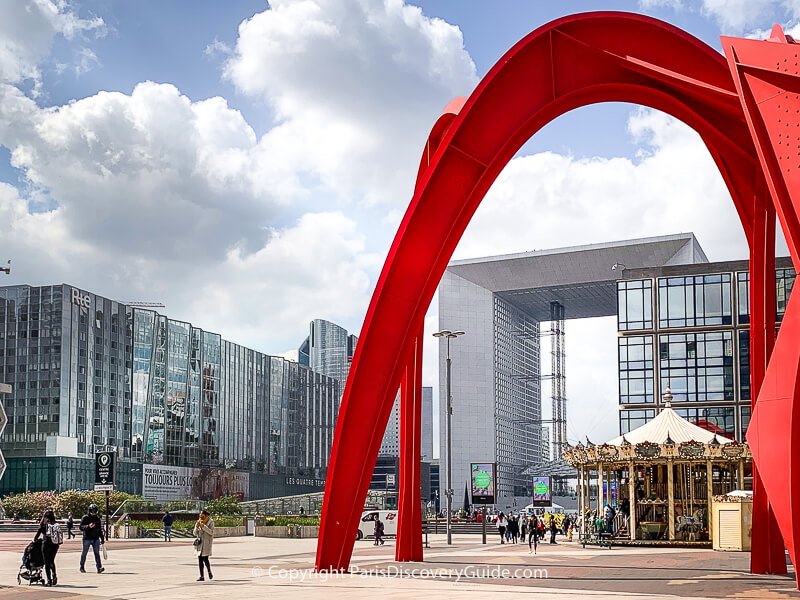 The annual Les Extatiques ("The Ecstatics") Festival at La Défense, located in Paris's skyscraper-filled business district just beyond the city limits, features a temporary exhibition of mid-size to monumental sculptures by contemporary French and International artists.
Look for the sculptures along La Défense's Esplanade, a long park-like walkway that functions as an outdoor art gallery (and also hosts La Défense's enormous Christmas Market). This year, enjoy works by Amélie Bertrand , Jérémy Gobé , Philip Haas, Cornelia Konrads, Bob Verschueren and Erwin Wurm, and many more.
You'll find them in the stretch between the Grande Arche and the multi-colored Bassin pool and fountains, and continuing on to the Seine Musicale concert venue. They join (for a few months) the 69 permanent sculptures by Calder, Miró, Richard Serra, and other mostly modern and contemporary artists along the Esplanade, the Paris area's biggest sculpture garden.
Dates: June 22 - October 1
Admission: Free
Metro: La Défense (about a 5-minute ride from the Charles de Gaulle/Etoile station on Line 1; if you walk down the whole 1 km (.6 m) length of the Esplanade, you'll end up at the Esplanade de La Défense station and can hop on the metro there to go back to Paris - or continue walking for another mile or so to the Arc de Triomphe.
While you're there: Go to the top of the Grande Arche to enjoy skyline views of Paris from the rooftop terrace and visit the photojournalism exhibition space
---
Paris Pride Parade (Marche des Fiertés)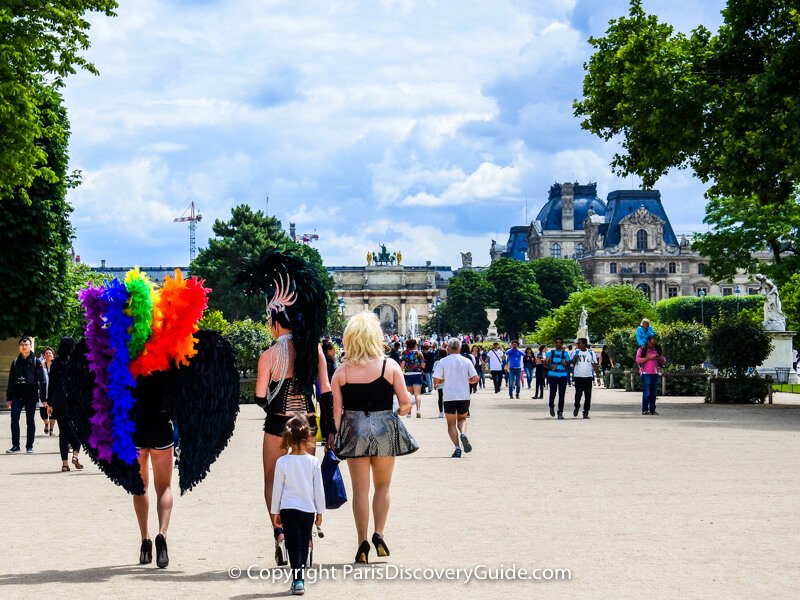 The massive Paris LGBTQI+ Pride Parade attracts almost 1 million participants and spectators for a celebration to defend equal rights and reject discrimination. The procession of marchers and colorful floats takes place this year on June 25 at 2pm (time to be confirmed) and lasts about 4 hours depending on the exact route, and finishes at Place de République. A Pride celebration with free concerts, dancing, and speeches normally happens in Place de la République from 5pm-10pm. (to be confirmed for 2023)
The parade started last year in the Paris suburb of Pantin, proceeded down Avenue Jean Jaurès, Rue Lafayette, and Boulevard Magenta, ending at Place de la République. The route for this year has not yet been released, so stay tuned.
The Paris LGBTQI+ Marche comes at the end of a week of Pride parties and events centered in the trendy Marais district's many gay bars and clubs. You can find more info here.
---
Where to Stay: Recommended Hotels for Paris Pride Parade & Pride Week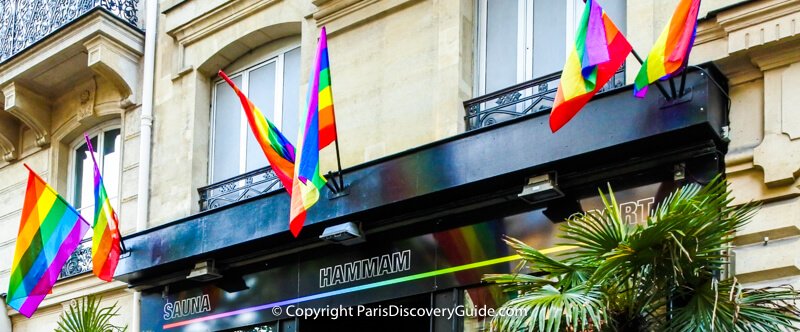 These wonderful Marais hotels give you the perfect location close to Paris Pride Parade celebrations and Pride Week parties - but you need to book early due to the number of visitors this event attracts:
More hotels in Paris's 3rd arrondissement
---
La Défense Jazz Festival 2023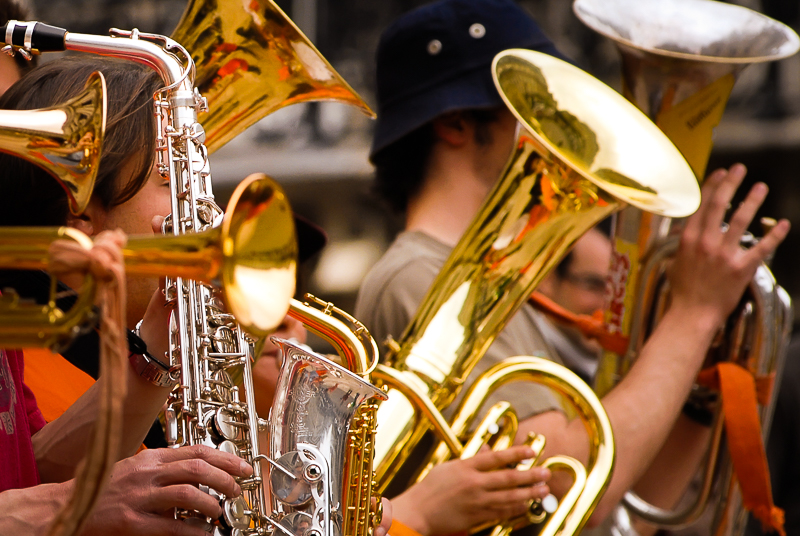 Stop by the La Défense Esplanade, the Paris business district just to the west of the city, to hear emerging jazz artists playing in all genres at the annual La Défense Jazz Festival. Confirmed for this year include Marcus Miller, Joey Bada$$, Tigran Hamasyan, Anne Paceo, Chocho Cannelle, and more.
Most concerts take place at lunch time and after work from 5pm-7pm on the plaza in front of the Grande Arche. Enjoy the music, and treat yourself to an apéritif at the cafes and bars along the Esplanade.
While you're there, enjoy the 69 massive sculptures in the open-air museum along or near the Esplanade.
Dates: June 26 - July 2
Admission: Free
Metro: La Défense (about a 5-minute ride from the Charles de Gaulle/Etoile station on Line 1)
While you're there: Go to the top of the Grande Arche for skyline views of Paris
---
Chopin Festival in Paris - Bois de Boulogne 2023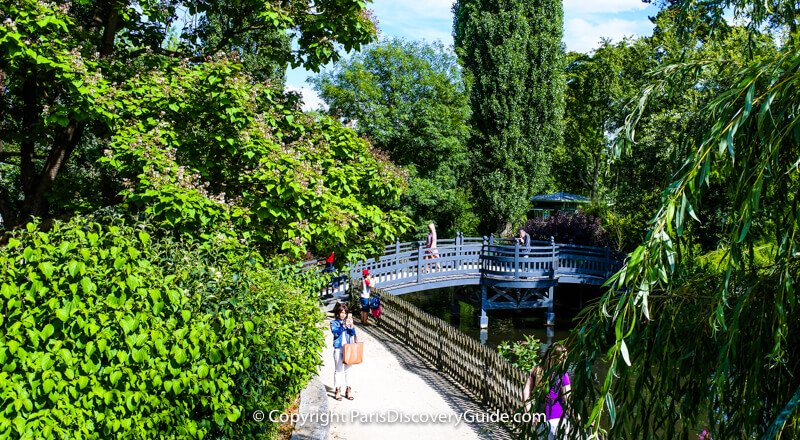 The prestigious Chopin Festival showcases international pianists as they interpret the maestro's magnificent music June 17 - July 14. You'll also hear original works inspired by Chopin.
The festival takes place in the Orangerie at Parc de Bagatelle, the gorgeous botanical garden in the heart of Bois de Boulogne in the 16th arrondissement.
In addition to enjoying the music, be sure to stroll through Parc Bagatelle's magnificent rose garden containing 10,000 bushes, see the waterfalls, lakes and 18th century chateau, and explore the 19th century Chinese pagoda.
Two more nearby must-visit places: Louis Vuitton Foundation for the spectacular architecture and current exhibits, and Jardin d'Acclimatation for fun in the amusement park.
Tickets: 17€-34€ (includes admission to park) - see the festival's website for details
Getting there: Metro to Pont de Neuilly (Line 1); then take bus 43 to Bagatelle; walk about 5 minutes to reach Parc Bagatelle
---
Festivals du Parc Floral: Paris Jazz Festival, Classic in Green, Pestacles, Nocturnes - 2023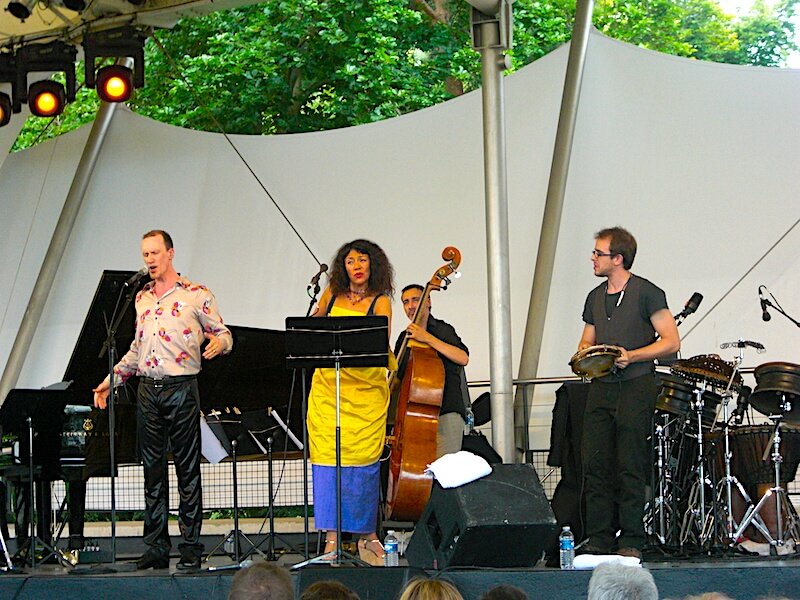 Parc Floral (the Paris Botanical Garden) in Bois de Vincennes hosts four concurrent musical festivals: Paris Jazz Festival, Classic in Green (classical music), Pestacles (a children's concert series for ages 4 and up), and Nocturnes (night concerts of contemperary, jazz, or classical music).
The outdoor concerts take place every Saturday and Sunday on several stages in the park from late June through early September. Almost all of the 32 concerts are free, although Parc Floral charges a small 3€) entrance fee during summer and early fall.
Check the Festival's website to download a brochure with dates, lineups, and concert times. Most take place in the afternoon and early evening, except for the Nocturnes concerts which tend to be late at night. The brochure is in French, but the information is easy to figure out even if you only know a few words. Important tip: if you see "gratuit," that means the concert is free.
Bring a blanket and a picnic or buy wine and a sandwich at the park's snack bar, and get ready for a relaxing afternoon and evening enjoying the sunshine, flowers, wandering peacocks, and virtuoso musicians.
Dates: June 28 - September 6
Getting there: Bois de Vincennes, located in 12th Arrondissement on the eastern edge of Paris, is easy to reach - just hop on RER A train or Metro Line 1 to the Chateau de Vincennes Metro Station - the park is about a 3-minute walk from the station.
Bonus activities: Arrive early and stroll through Parc Floral's famous gardens, or explore Bois de Vincennes' other attractions such as its spectacular zoo, Lac Daumesnil (rent a row boat!), the aquarium, and 14th century Château de Vincennes.
---
Fnac Live Music Festival at Hotel de Ville - Free Concerts 2023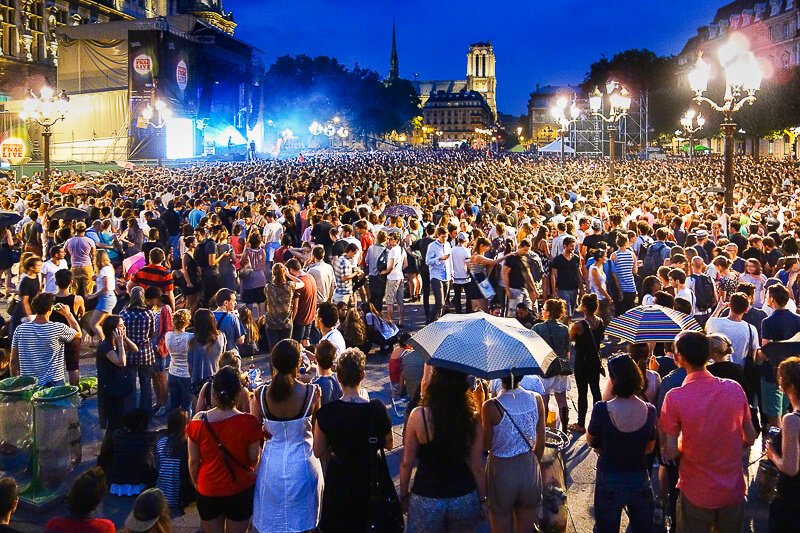 Don't miss three days of free live concerts by 30 artists in front of Hôtel de Ville (Paris's City Hall) from 7:40pm-midnight on June 29 and 6pm-midnight on June 30 and July 1 as part of the big Paris Plages (beaches) summer event. French electronic retail chain Fnac sponsors the concerts, which usually attract around 100,000 fans.
Location: Place de Hôtel de Ville, in front of the Paris Town Hall and also inside in some of the salons, 4th arrondissement.
Admission: Free, but you must have a ticket. Usually you can pick them up (maximum 2 per person) starting at noon on the first day of the concert at any Fnac ticket office in Paris and the Ile-de-France - (to be confirmed)
Nearest Metros: Châtelet, Cité, Saint-Paul
---
---
Paris Air Show - 2023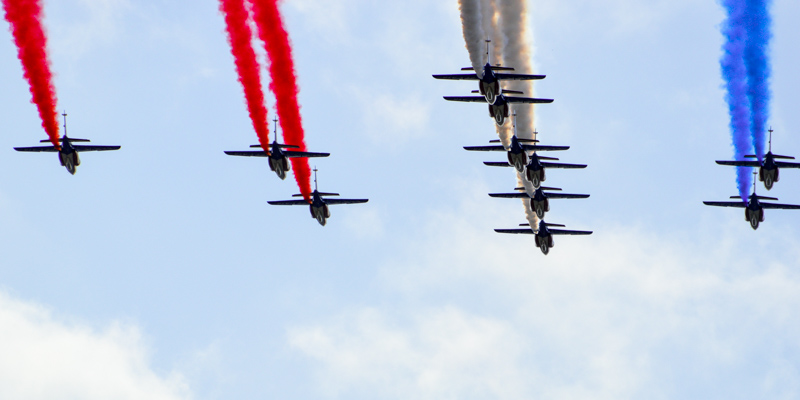 The massive International Paris Air Show, held during odd-numbered years (2023, 2025, 2027, etc) at Le Bourget Airport just north of Paris, lets you see the latest innovations in civilian and military aircraft - plus futuristic models still in the concept stage. Spectacular air shows overhead plus numerous other activities and events add to the excitement.
The show this year runs from June 19-25. Although the first four days are industry-only, the show opens to everyone on Friday, Saturday, and Sunday.
The show usually attracts around 150,000 professional visitors and 200,000 members of the public, making this one of the biggest Paris events of the year and filling up many of the city's hotel rooms.
With 2023 an "on" year, now. The public portion of the show will take place on June 23-25, after the initial four industry-only days.
Paris Air Show Tickets: €12-17 for floor access, and €29 for a grandstand seat for the air show; children under 7 are free
How to Get to the Paris Air Show: Plenty of free shuttles from metro and RER stations as well as Charles de Gaulle Airport during the show period whisk you to the airport. Find them at RER B/Le Bourget and Villepinte stations; RER C and Metro (Line 1)/Porte Maillot station; Metro station at Fort d'Aubervilliers (Line 7). Availability varies, so check the International Paris Air Show's website to get the latest updates. Le Bourget is only about 3 miles north of Paris, so going by taxi is also affordable.
Many attendees take the Metro or RER out to the show, so book a hotel in Paris in order to enjoy all the restaurants, nightlife, and other attractions. If this is your plan, use this Paris hotel map from Booking.com to find accommodations. Just enter your dates to see availability and lowest rates:
Check out the newest Paris hotels
Paris Insider Tip: Can't make it to the Air Show? Visit Le Bourget's Paris Air and Space Museum to see 100+ vintage-through-modern aircraft on display, plus art, models, and cultural items. Open Tuesday-Sunday.
Want to Save on Your Paris Hotel?
Check our tips on how to find discounts, deals, and bargains for Paris hotels. Whether you're looking for cheap accommodations or want to pay less for luxury, we'll show you how to save on hotels in Paris.
Here are some shortcuts:
---
More Fun Things to Do & See in Paris in June
---
More Articles about Things to See & Do in Paris