Halloween has never really felt like a big event in Paris. Even though it originated as a Celtic festival around 2,000 years ago when Celts lived in France as well as Ireland and Britain, it never caught on in France. Instead, the French celebrate La Toussaint (All Saints Day) a solemn occasion on November 1 focused on honoring the dead. Halloween, on October 31, gets dismissed as too commercialized, too American. Don't expect to see glittery orange and black decorations in every shop window, or grinning carved pumpkins peering over the edges of apartment balconies.
But in reality, quite a lot of special Halloween events take place in Paris - if you know where to find them.
That's what this article is about: where to discover the most festive and spookiest places for a fun Parisian Halloween, including over-the-top decorations Disney-style, a very French haunted manor, graveyards galore, spooky (but fun!) Halloween activities for kids, and costume parties for adults.
Plus, we share a few suggestions about where to find Halloween costumes in Paris, and even a few myths about Halloween in Paris.
Top photo: A chimera (gargoyle) on Notre Dame's tower gazes out on Paris rooftops as bats circle in the sky - Photo credit: iStock/scalier
Paris Discovery Guide is a reader-supported publication. When you buy through our links, we may earn a commission at no additional cost for you. Learn more
---
Disneyland Paris Halloween Festival - 2022
Even though Halloween may not play a large role in Paris culture, decor, or celebrations, you can indulge your Halloween fantasies at Disneyland Paris throughout October and into the first week of November as a Halloween Festival takes over the Park with lavish decorations, scary characters, and special presentations.
You'll find your favorite Disney villains, witches, and wicked stepmothers such as Captain Hook, Cruella, and Maleficent out and about, as well as plenty of spooky attractions such as the Twilight Zone Tower of Terror and Phantom Manor. This year, you may even spot a scary fire-breathing dragon on the prowl. The youngest visitors will love Mickey's Happy Halloween Surprise.
For the biggest thrills of the season, visit on October 31st when Disney's Halloween Party will bewitch the park from 8 pm to 2 am. Places are limited so you need to book early.
When: October 1 - November 7

---
Jardin d'Aclimatation - "Spécial Toussaint" with Spooky Attractions & Amusement Park Rides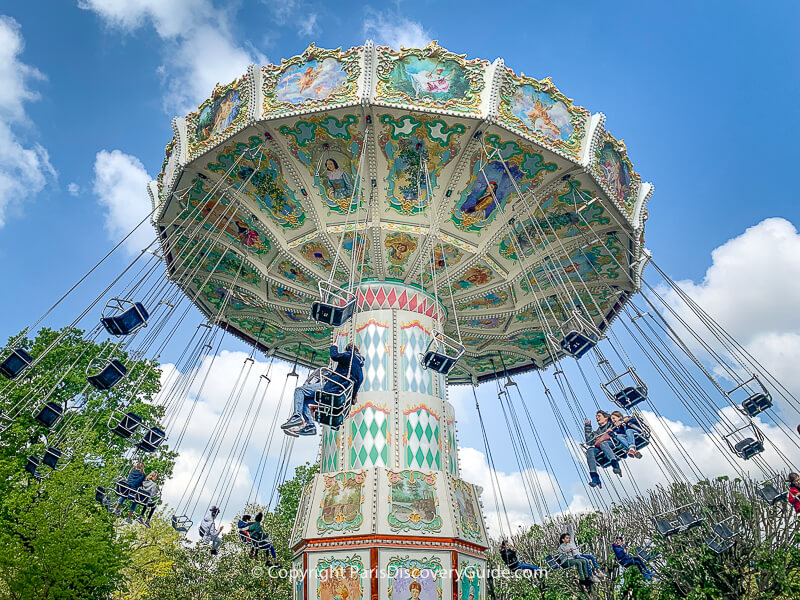 For more kid-friendly spooky festivities, head to Jardin d'Acclimatation, the popular amusement park within a beautifully landscaped garden in the 16th arrondissement next to Fondation Louis Vuitton, for two special Toussaint-themed attractions: "The Bewitched River" and "The Haunted Museum."
Expect skulls and ghosts, but nothing too scary. For the youngest visitors, don't miss the "Dio de los Muertos" puppet show. For everyone else, the park's 44 amusement rides provide plenty of fun and entertainment.
Dates: October 23 - November 7, to coincide with the Toussaint school vacation weeks
Location: Bois de Boulogne, 16th arrondissement; Metro: Les Sablons (3-block walk to the garden)
Cost: 6.50€ entrance fee, plus 3.50€ per ride, with reduced prices for 10 and 20 tickets
---
What is Toussaint?
Toussaint (short for La Toussaint, which in turn is short for Tout les Saints, or All Saint's Day) takes place on November 1 and is a much more significant day in France than Halloween. It's both a public holiday and a religious (Roman Catholic) holy day. Families visit cemeteries and place candles and pots of flowers such as chrysanthemums on the graves of their relatives and friends, and if they are religious, they might attend a Toussaint church service.
The 2-week fall vacation observed by all schools across France is known as the Toussaint school holidays (and shortened to just Toussaint) because it always includes All Saints Day.
---
Explore the Dark Side of Paris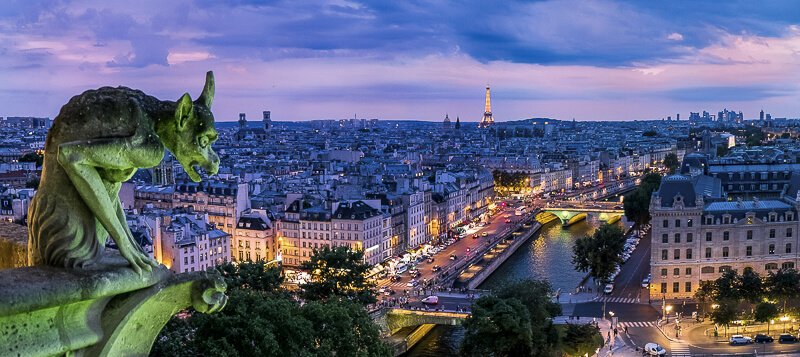 ---
Le Manoir de Paris Halloween Festival - Screams, Chills, & Thrills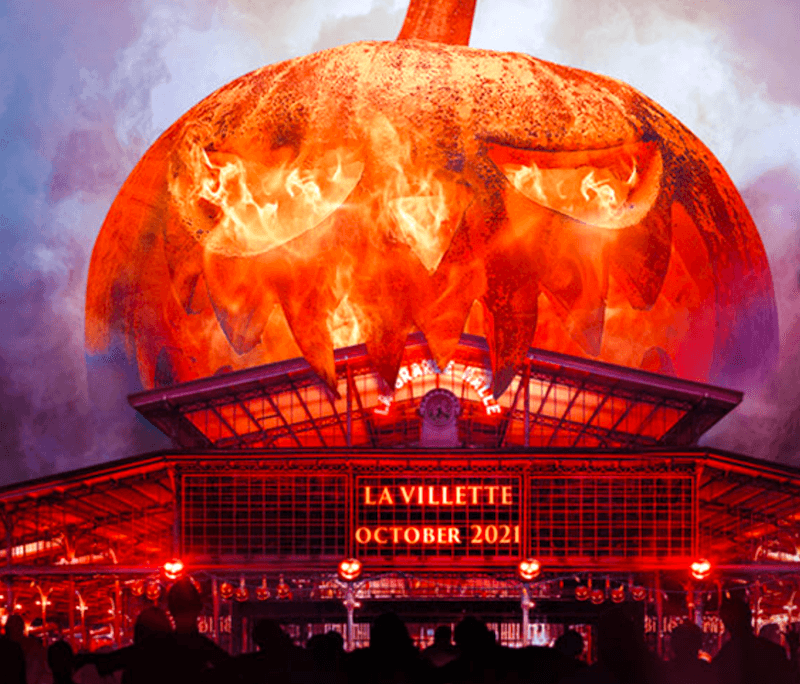 In case you're not familiar with Le Manoir de Paris, it's Paris's biggest "haunted house" venue - actually, a former ceramics factory in the 10th arrondissement transformed into an immersive, interactive, and almost totally dark haunted mansion where costumed actors portray (in French and English) 17 of the city's goriest, most macabre stories such as the Phantom of the Opera, the Hunchback of Notre-Dame, and the Assassins' Cabaret. In the mansion's 23 or so rooms, you'll also encounter renditions of the Catacombs, the Paris sewers, the Opera House, and Pere Lachaise Cemetery at their scariest. It's not for the faint-hearted or anyone who recoils at the sight of fake blood and gruesome masks. Needless to say, the scare quotient ratchets up during the month of October leading up to Halloween.
This year, Le Manoir's Halloween Festival takes place at an even larger venue, the Halle de la Villette at Parc de la Villette in the 17th arrondissement. Look for four haunted mansions, five "scream zones" filled with costumed actors dedicated to scaring you, animations, and food trucks.
Dates: October 22-31
Location: Grande Halle de la Villette, Parc de la Villette, 211 Avenue Jean-Juarés, Paris 19;
Metro: Porte de Pantin, Porte de la Villette
Tickets: 65€
---
Where to Get Halloween Costumes in Paris
Here are several of the best-known costume boutiques in Paris and brief (although by no means comprehensive!) descriptions of what you'll find in each one:
A la Poupée Merveileuse (9 Rue du Temple, 4th arr) - Great assortment of traditional and contemporary Halloween costumes, masks (including full-head), and disguises, complete with false teeth, fake blood, and an extensive assortment of beards and mustaches; also wide range of party supplies
Au Bal Masqué (1 Avenue Alphand, 16th arr) - High-quality costumes, many of them custom-made, for rent, and a wide range of accessories, disguises, and Halloween costumes for kids, adults, and dogs for sale
Au Clown de la République (11 Boulevard Saint-Martin, 3rd arr) - Costumes and accessories for sale and rent; outstanding assortment of Halloween effects such as fake wounds, fake blood, and zombie scars, as well as various types of makeup
Au Fou Rire (22 bis, Rue de Faubourg Montmartre, 9th arr) - Costumes, wigs, and accessories for sale as well as decorative items and party supplies (including firecrackers and smoke bombs), with lots of scary and grotesque Halloween-worthy attire including creepy-effect contact lenses and make-up; prices range from cheap to quite reasonable
---
Myths & Misconceptions about Halloween in Paris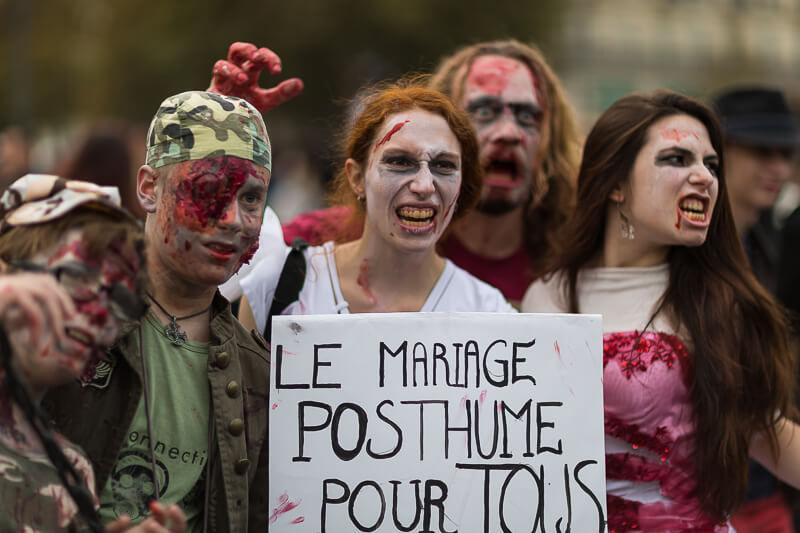 Myth: Parisian children don't go "trick or treating" on Halloween.
Reality: Most Parisian children are quite familiar with "Des bonbons ou un sort" ("some candy or a spell," - but unlike in North America where bands of costumed kids roam the streets and ring neighborhood doorbells while yelling "trick or treat" on Halloween night, their French counterparts celebrate the occasion at neighborhood, family, or school parties, and even occasionally within their apartment building. Although there's usually more emphasis on games and having fun than on treats, plenty of candy gets consumed.
Myth: You can't find any pumpkins in Paris.
Reality: Chunks of tasty pumpkin are a popular addition to North African couscous, so pumpkins are relatively ubiquitous in Paris outdoor markets during the fall harvest season as well as larger supermarchés such as Carrefour. It is true that Parisians normally use pumpkins as an ingredient, not as something to carve into jack-o-lanterns and then throw away.
Myth: There's no Halloween candy in Paris.
Reality: Sure there is. You can spot Halloween candy in the window displays at confiseries (candy shops) and other stores, but the difference is that they tend to be beautifully crafted chocolates or other confections and there's no attempt to sell gigantic bags of them.
Myth: There are no Halloween decorations in Paris.
Reality: True, you most likely will not see giant 20-foot tall inflatable ghosts or skeletons perched on rooftop terraces (although if you're on Ile de la Cité, walk over to #25 Place Dauphine, look up, and you'll spot life-sized skeletons climbing up the side of the early 17th century building and even perched in a window). But if you look closely, many shop windows will feature a few small Halloween decorations during October. Since Halloween is not generally used as an occasion to sell or promote things (remember the aversion to North American-style commercialization of the holiday?), you won't see garish displays.
Myth: Parisians don't celebrate Halloween
Reality: Hopefully, the first part of this article has already dispelled that myth! In addition to Halloween activities for kids, haunted houses such as Le Manoir, and occasional seasonal exhibitions and even parties in museums, an increasing number of bars and clubs, especially in the hipper neighborhoods such as in the 11th and 12th arrondissements, are embracing Halloween-themed events and parties.
What is the "trick" to discovering Halloween in Paris? Look just beneath the surface, and you'll find a lot going on!
---
More Articles about Things to Do in Paris in the Fall