Halloween has never really felt like a big event in Paris.
Even though today's event originated as a Celtic festival around 2,000 years ago when Celts dominated much of France and the British Isles, it never caught on in France to the degree that it did in Ireland and Scotland.
Instead, the French celebrate La Toussaint (All Saints Day), a solemn occasion on November 1 focused on honoring the dead. In France, it is a much more important event than Halloween.
Traditionally, Halloween on October 31 has been dismissed by Parisians as too commercialized, too American. Don't expect to see glittery orange and black decorations in every shop window, or grinning carved pumpkins peering over the edges of apartment balconies.
But in reality, quite a lot of special and fun Halloween events take place slightly under the radar in Paris - if you know where to find them.
That's what this article is about: where to discover the most festive and spookiest places for a fun Parisian Halloween, including over-the-top decorations Disney-style, a very French haunted manor, graveyards galore, spooky (but fun!) Halloween activities for kids, and costume parties for adults.
Plus, we share a few suggestions about where to find Halloween costumes in Paris, and even a few dark myths about Halloween in the City of Light.
Top photo: A chimera (gargoyle) on Notre Dame's tower gazes over Paris rooftops as bats (which may be photoshopped in, although Paris does have plenty of bats) circle in the sky - Photo credit: iStock/scalier
Paris Discovery Guide is a reader-supported publication. When you buy through our links, we may earn a commission at no additional cost for you. Learn more
---
Disneyland Paris Halloween Festival - 2023
Even though Halloween may not play a large role in Paris culture, decor, or celebrations, you can indulge your Halloween fantasies at Disneyland Paris throughout October and into the first week of November as a Halloween Festival takes over the Park with lavish decorations, scary characters, and special presentations.
Buy your Disneyland Paris tickets now
You'll find your favorite Disney villains, witches, and wicked stepmothers such as Captain Hook, Cruella, and Maleficent out and about, as well as plenty of spooky attractions such as the Twilight Zone Tower of Terror and Phantom Manor.
This year, you may even spot a scary fire-breathing dragon on the prowl. The youngest visitors will love Mickey's Happy Halloween Surprise.
For the biggest thrills of the season, visit on October 31st when Disney's Halloween Party will bewitch the park from 8 pm to 2 am. Places are limited so you need to book early.
When: October 1 - November 5
Book a Disneyland Paris hotel with free shuttle bus to the park
---
Jardin d'Aclimatation - "Dia de los Muertos" with Skeletons, Mariachis, & Amusement Park Rides
For more kid-friendly spooky festivities, head to Jardin d'Acclimatation, the popular amusement park within a beautifully landscaped garden in the 16th arrondissement next to Fondation Louis Vuitton, for a special Toussaint-themed Mexican-style festival: "Dia de los Muertos" - the Day of the Dead.
Get your admission ticket plus free rides
Expect hoards of skeletons, some sleeping spiders, and, of course, ghosts - but nothing too scary. Parades, dancers, mariachis, and fire-eating artists round out the fun.
For the youngest visitors, don't miss the park's popular puppet shows. For everyone else, the park's 42 amusement rides, 450 animals and birds, and paths through the woods provide plenty of fun and entertainment.
Dates: October 7 - November 12, to coincide with the Toussaint school vacation weeks
Location: Bois de Boulogne, 16th arrondissement; Metro: Les Sablons (3-block walk to the garden)
Cost: 7€ entrance fee, plus 4.50€ per ride - or save money and avoid wasting time in ticket lines when you choose admission plus a free rides pass
Did you know ... Jardin d'Acclimatation dates back to 1860, when Napoleon III opened it as a combination park, animal refuge where scientists could conduct research, and botanical garden.
---
Enter (If You Dare) Paris's "Empire of Death"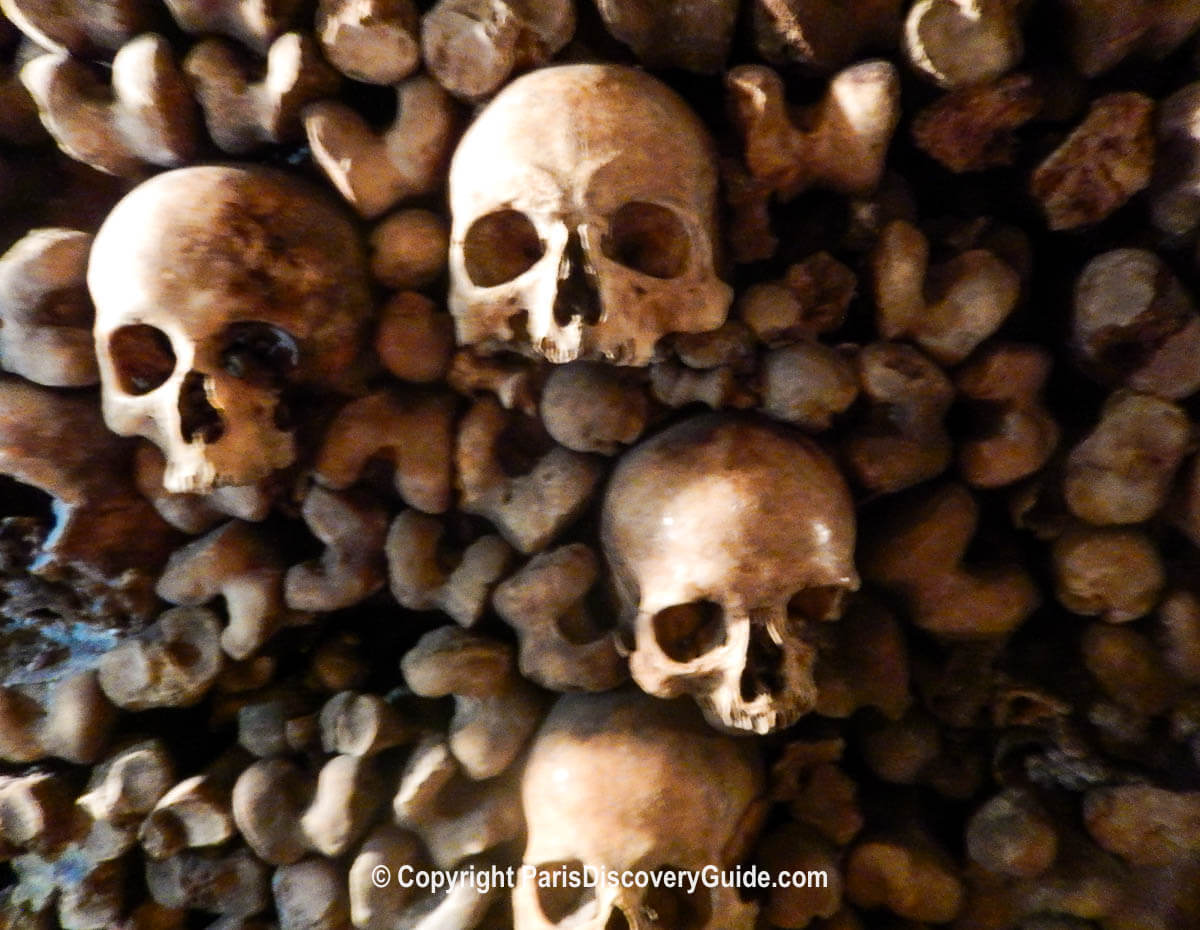 Descend only 131 steps from street level at the Paris Catacombs, and you'll be greeted with this ominous warning: "Arrête: C'est ici l'Empire de la Mort" at the entrance to the city's biggest burial ground
This "Empire of Death" contains the mortal remains - now, just skulls and bones - of 6-7 million Parisians, most of whom died well before 1860, the final date when bodies could be brought here. During the bloody aftermath (the "Reign of Terror," in the early 1790s) of the French Revolution, many of the bodies of people who died by guillotine were dumped here.
Visiting the Les Catacombes de Paris is never for the faint-hearted, but around Halloween, you can almost feel the ghosts of the departed as you walk through the tunnels! So if you love macabre experiences, plan a visit for late October or early November.
Buy your Paris Catacombs tickets now
You always need to get your Catacombs tickets in advance, but you should book even farther ahead than normal around Halloween due to the Toussaints school holidays.
For an even more unforgettable experience, consider the Catacombs VIP Restricted Access Tour, which gives you special access to areas closed to the general public.
---
Visit Paris's "City of the Dead"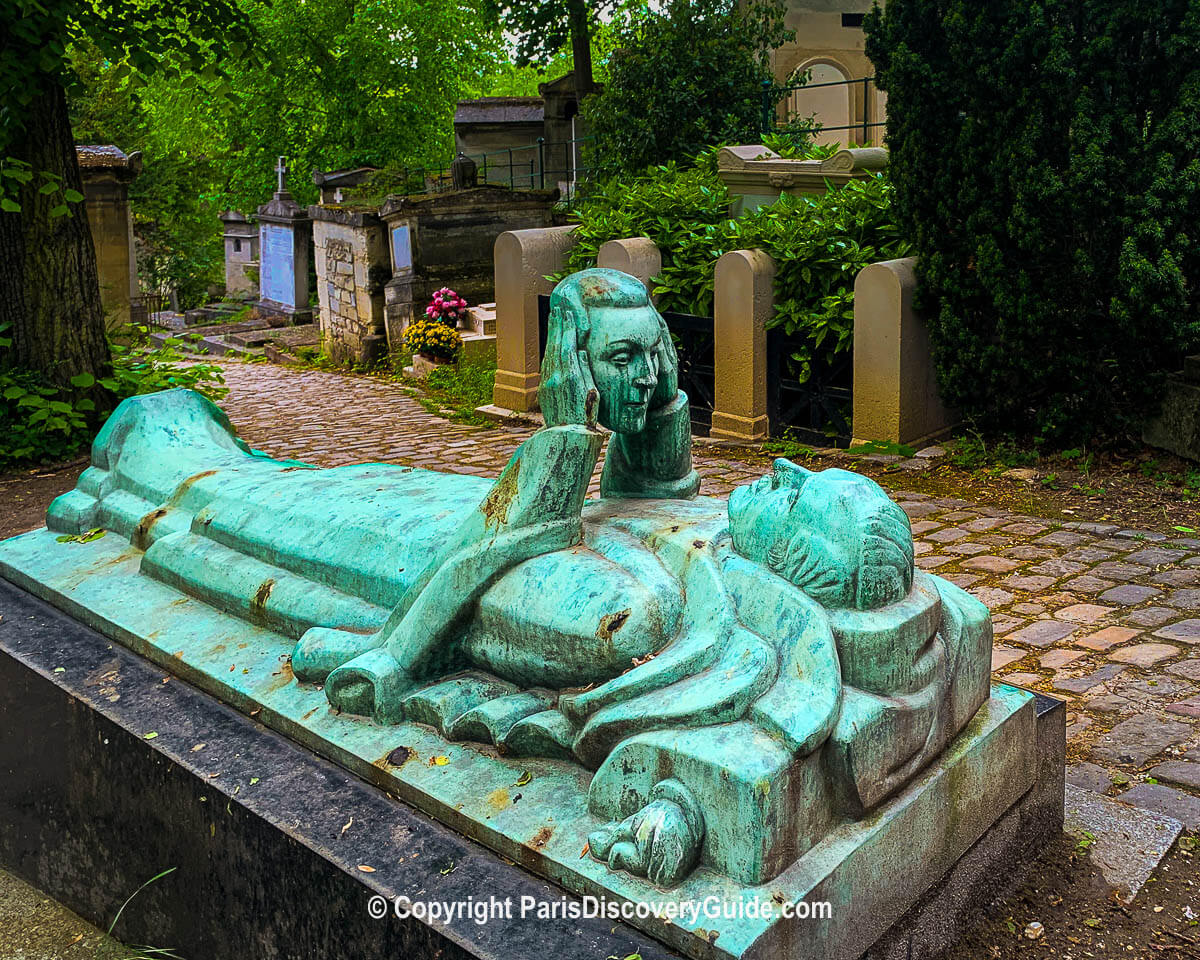 For a different but fascinating experience on or around Halloween, visit Paris's famous "City of the Dead" - Père Lachaise Cemetery, the world's most-visited necropolis.
It's where you'll find some of the creepiest, most bizarre, and downright ghoulish tombstones tucked away among the much-visited graves of celebrities such as Molière, Oscar Wilde, and American rocker Jim Morrison of The Doors. There's even a resident black cat.
The best way to visit at this time of the year? Consider these two walking tours:
Where to find 101 famous graves at Pere Lachaise Cemetery
---
Explore the Dark Side of Paris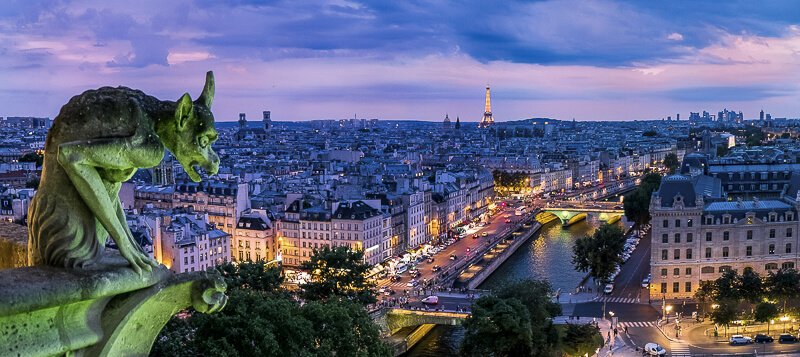 ---
Get Your Halloween Chills & Thrills at Le Grand Rex in Paris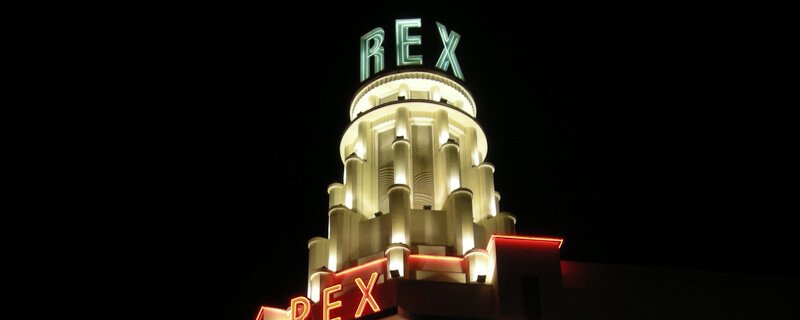 Celebrate Halloween in Paris at the Grand Rex movie theatre when they host their annual Halloween Movies Night programming on October 31.
Indulge in Halloween horror cult classics plus a few newer shows such as The Thing, Five Nights at Freddy's, Christine, Psychosis, and The Exorcist.
The Rex website posts the schedule details about 1 week before the big event.
Peer Behind the Scenes at the Grand Rex
Experience the world of cinema during an interactive "behind the scenes" tour of Rex Studios as you see the backstage area, archived images, film sets, special effects, and the building's original 1932 Art Deco decor. Includes headphones with audio guide in English, French, Spanish, German, Italian, and Russian.
Location: 1 Boulevard Poissonnière, 2nd arrondissement
Nearest Metro: Bonne Nouvelle
---
More Halloween Shows in Paris 2023
Welcome to Hell at the Rodin Museum
Your evening appropriately starts at sculptor August Rodin's famous masterpiece, the Gates of Hell, where actors, dancers, and original music lead you through a terrifying sensory experience with movement, loud moans, haunting music, and stories about the damned from gothic literature by Dante, Lovecraft, Shelley, and Poe, with a special focus on the darkness in Rodin's vision.
October 31, with reserved timeslots. Costumes encouraged but no masks. Recommended for ages 13+. Tickets.
Halloween Symphonic Concert
Hear your favorite selections from cult horror films, as over 60 musicians perform pieces from Psycho, The Shining, The Exorcist, Gremlins, Aliens, and more in this tribute to seasonal chills and thrills on October 31st at Folies Bergere, 32 Rue Richer, 9th arr - More information
Halloween Escape Games in Paris
If you're into escape games (or visiting with teens who are fans), don't miss the terrifying scares that await you at these Parisian escape game favorites:
L'Abbatoir de Paris - Visit Voltaire's slaughterhouse, where an immersive experience with a serial killer awaits you in a horror escape game theme. The vibe: realistic and designed to scare - not recommended for the claustrophobic or sensitive! 2-5 players, in French and English - 23 Rue Servan, 11th arr; website
Batman Escape - Immerse yourself in Batman's universe by playing one of the escape games with the Joker, the Riddler, or the Batcave, or just stop by to see the decor, have a drink, and visit the gift store. The vibe: a carnival with fun, mini-games, and thrills - Parc de la Villette, 30 Avenue Corentin, 19th arr; website
Halloween Party at Mama Shelter Paris East - Wear your favorite costume to enjoy a theme party and DJ set from 9:30pm - 1:30am at this popular hotel in East Paris. Vibe: fun music and dancing - Mama Shelter Paris East, 109 Rue de Bagnolet, 20th arr; website
---
Le Manoir de Paris Halloween Festival - Screams, Chills, & Thrills
Please note: Le Manoir is still temporarily closed for renovations, and appears to not be doing any Halloween events this year. The best place to look for any updates is their Facebook page, as their website also appears to be down.
In case you're not familiar with Le Manoir de Paris, it's Paris's biggest "haunted house" venue - actually, a former ceramics factory in the 10th arrondissement transformed into an immersive, interactive, and almost totally dark haunted mansion where costumed actors portray (in French and English) 17 of the city's goriest, most macabre stories such as the Phantom of the Opera, the Hunchback of Notre-Dame, and the Assassins' Cabaret.
In the mansion's 23 or so rooms, you'll also encounter renditions of the Catacombs, the Paris sewers, the Opera House, and Pere Lachaise Cemetery at their scariest. It's not for the faint-hearted or anyone who recoils at the sight of fake blood and gruesome masks. Needless to say, the scare quotient ratchets up during the month of October leading up to Halloween.
Last year, Le Manoir's Haunted House took place at an even larger venue, the Halle de la Villette at Parc de la Villette in the 17th arrondissement. Attractions included four haunted mansions, five "scream zones" filled with costumed actors dedicated to scaring visitors, animations, and food trucks.
Dates: October TBD
Location: Grande Halle de la Villette, Parc de la Villette, 211 Avenue Jean-Juarés, Paris 19; Metro: Porte de Pantin, Porte de la Villette
---
Where to Find Halloween Costumes in Paris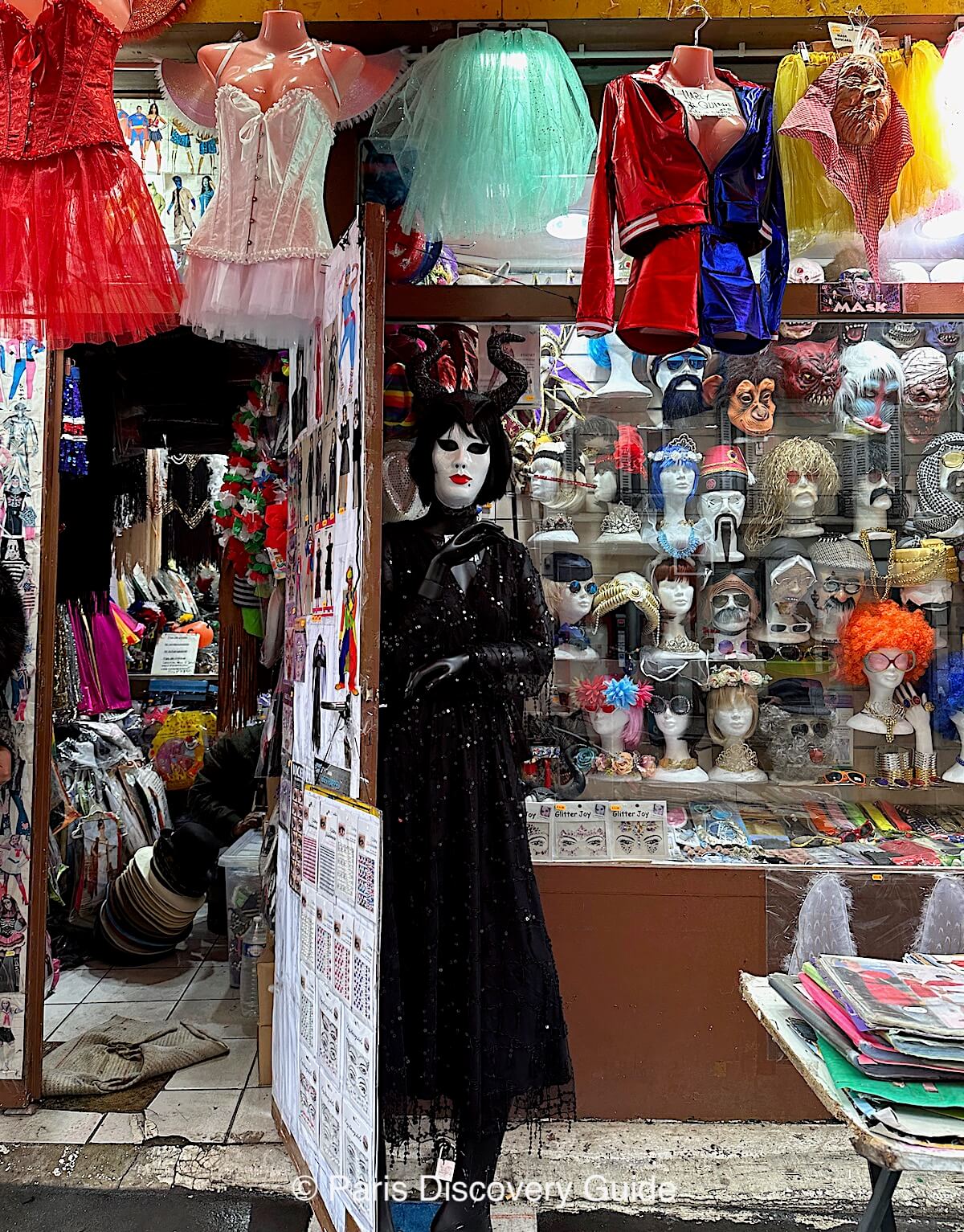 Here are several of the best-known costume boutiques in Paris and brief (although by no means comprehensive!) descriptions of what you'll find in each one:
Funny Clown de Paris (31 rue du Faubourg Montmartre, 9th arr) - From costumes to fancy dress accessories, plus wigs, disguises, and makeup - you'll find it all in this tightly packed boutique in the heart of the 9th arrondissement's theatre district; buy or rent
A la Poupée Merveileuse (9 Rue du Temple, 4th arr) - Great assortment of traditional and contemporary Halloween costumes, masks (including full-head), and disguises, complete with false teeth, fake blood, and an extensive assortment of beards and mustaches; also wide range of party supplies
Au Bal Masqué (1 Avenue Alphand, 16th arr) - High-quality costumes, many of them custom-made, for rent, and a wide range of accessories, disguises, and Halloween costumes for kids, adults, and dogs for sale
Au Clown de la République (11 Boulevard Saint-Martin, 3rd arr) - Costumes and accessories for sale and rent; outstanding assortment of Halloween effects such as fake wounds, fake blood, and zombie scars, as well as various types of makeup
Au Fou Rire (22 bis, Rue de Faubourg Montmartre, 9th arr) - Costumes, wigs, and accessories for sale as well as decorative items and party supplies (including firecrackers and smoke bombs), with lots of scary and grotesque Halloween-worthy attire including creepy-effect contact lenses and make-up; prices range from cheap to quite reasonable
---
Myths & Misconceptions about Halloween in Paris
Myth: Parisian children don't go "trick or treating" on Halloween
Reality: Most Parisian children are quite familiar with "Des bonbons ou un sort" ("some candy or a spell," - but unlike in North America where bands of costumed kids roam the streets and ring neighborhood doorbells while yelling "trick or treat" on Halloween night, their French counterparts celebrate the occasion at neighborhood, family, or school parties, and even occasionally within their apartment building.
Although they usually focus more on games and having fun than on treats, plenty of candy and sweet things do get consumed.
Myth: You can't find any pumpkins in Paris
Reality: Chunks of tasty pumpkin are a popular addition to North African couscous, so pumpkins are relatively ubiquitous in Paris outdoor markets during the fall harvest season as well as larger supermarchés such as Carrefour.
However, it is true that Parisians normally use pumpkins as a dinner ingredient rather than something to carve into jack-o-lanterns and then throw away.
But, that doesn't mean you won't find them used in artful displays around the city.
Myth: There's no Halloween candy in Paris
Reality: Sure there is. You can spot Halloween candy in the window displays at confiseries (candy shops) and other stores, but the difference is that they tend to be beautifully crafted chocolates, ghost-shaped meringues, or other confections and they're not sold in gigantic bags containing 300 pieces.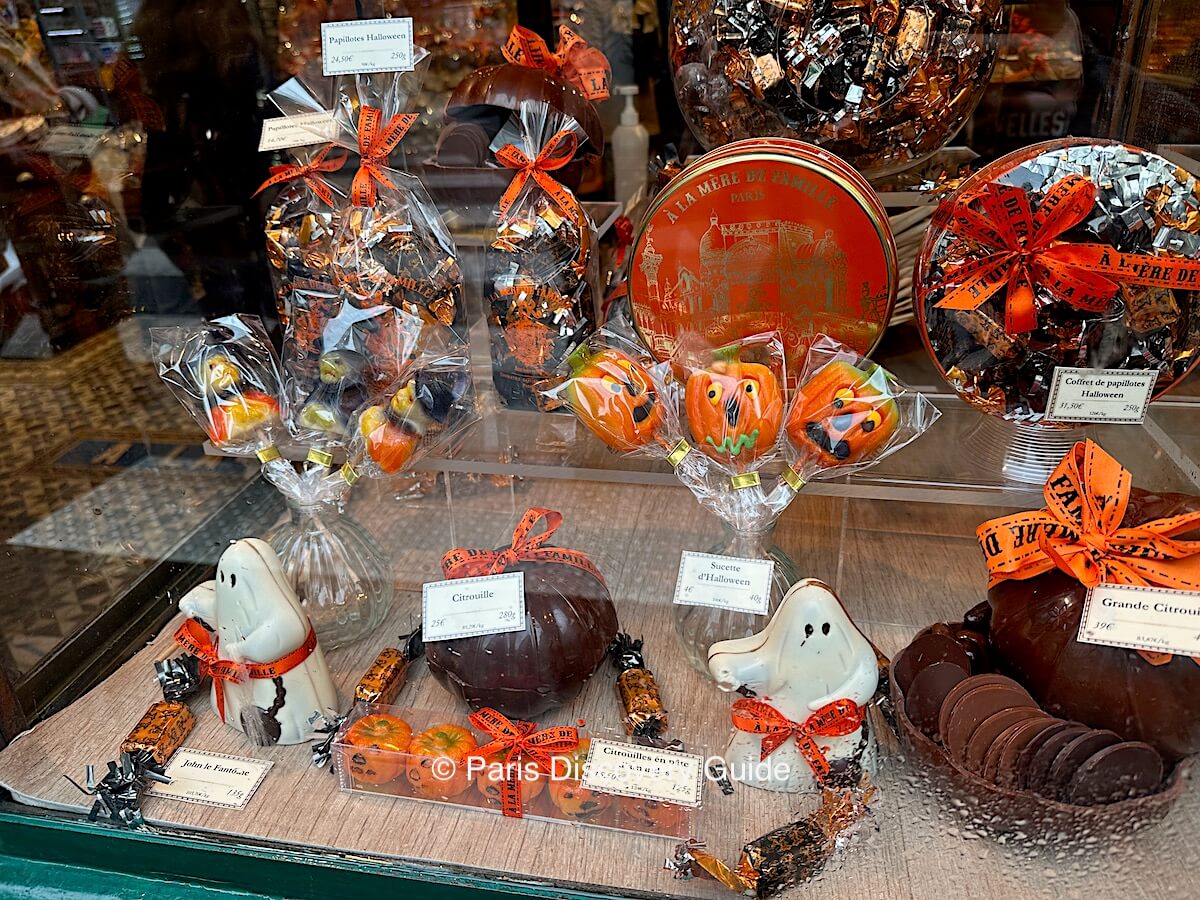 Myth: There are no Halloween decorations in Paris
Reality: True, you most likely will not see giant 20-foot tall inflatable ghosts or skeletons perched on rooftop terraces (although if you're on Ile de la Cité, walk over to #25 Place Dauphine, look up, and you may spot life-sized skeletons climbing up the side of the early 17th century building and even perched in a window).
But if you look closely, many shop windows will feature a few Halloween decorations during October.
Since Halloween is not generally used as an occasion to sell or promote things (remember the aversion to North American-style commercialization of the holiday?), you won't see huge garish displays with flashing lights and disturbing sound effects.
But if the stylish orange displays do happen to attract a few extra customers, well, c'est la vie!
Myth: Parisians don't celebrate Halloween
Reality: Hopefully, the first part of this article has already dispelled that myth.
In addition to Halloween activities for kids, haunted houses such as Le Manoir, and occasional seasonal exhibitions and even parties in museums, an increasing number of bars and clubs, especially in the hipper neighborhoods such as in the 11th and 12th arrondissements, are embracing Halloween-themed events and parties.
What is the "trick" to discovering Halloween in Paris? Look just beneath the surface, and you'll find a lot going on!
And don't be surprised if you see small groups of costumed Parisian teens walking along the streets on Halloween (and sometimes a few days in advance).
---
What is Toussaint?
Toussaint (short for La Toussaint, which in turn is short for Tout les Saints, or All Saint's Day) takes place on November 1 and is a much more significant day in France than Halloween. 
Toussaint (short for La Toussaint, which in turn is short for Tout les Saints, or All Saint's Day) has its roots in old traditions dating back over 2,000 years ago when people honored the Dead with dancing, feasting, and bonfires.
With the advent of Christianity swept through present-day France, these earlier celebrations shifted into two religious events: All Saints Day on November 1, and All Souls Day on November 2.
Toussaint is both a public holiday and a religious (Roman Catholic) holy day. Families visit cemeteries and place candles and pots of flowers such as chrysanthemums on the graves of their relatives and friends, and if they are religious, they might attend a Toussaint church service.
The 2-week fall vacation observed by all schools across France is known as the Toussaint school holidays (and shortened to just Toussaint) because it always includes All Saints Day.
---
More Articles about Things to Do in Paris in the Fall