Do Paris hotel deals, discounts, and bargains really exist?
Yes - and Paris Discovery Guide will show you how to find them.
So check out our 3 top recommendations for easy ways to save BIG on your accommodations.
Why pay more than necessary when finding hotel deals and bargains is so easy?
1. TripAdvisor - How to Find the Deals & Bargains for Paris
You may have read hotel reviews and checked rates on TripAdvisor - but did you know you can also use this popular website to find the best hotel deals?
You can find these deals in 2 ways:
1. The fastest way to do this is to go straight to their Paris, France Deals page.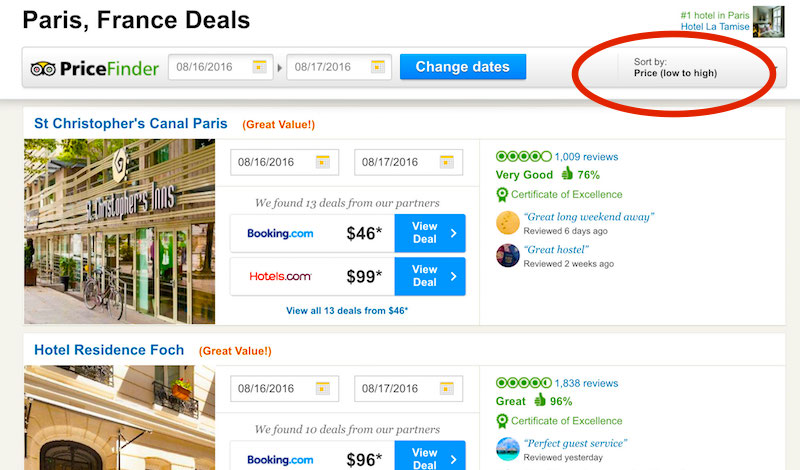 You'll find all the Paris hotel deals and discounts offered by leading hotels on one convenient page.
To find the cheapest hotel deals, click on Sort by and choose Price (low to high).
2. The second way to find deals on TripAdvisor is to go to their Paris Special Offers Page: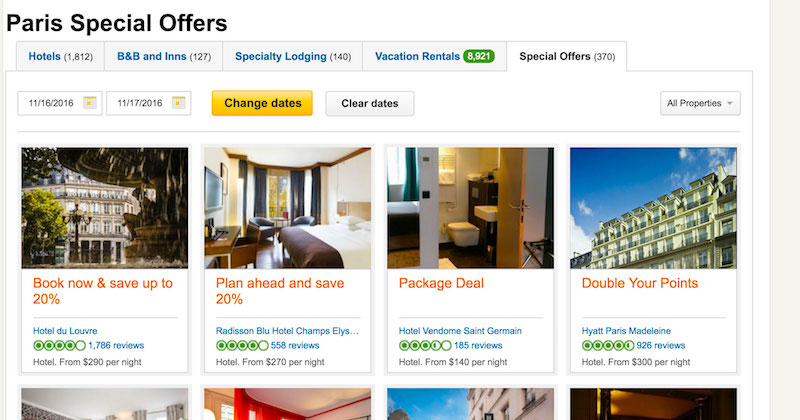 You'll find plenty of special offers on Paris hotels - but here's the catch: most of these offers are good only during a specific date range - and many may not be good during your date range.
So - search for special deals on this page if your travel dates are flexible. If your dates are firm, use the Paris Deals page - it's a lot less frustrating!
2. Booking.com - Find the Best Value Deals in Paris
Booking.com offers 2 types of discount deals on Paris hotels: Great Value Today and Price Reduction deals.
Price Reduction deals usually give you 10%-15% off, or even as much as 25% off - a nice savings.
Great Value Today deals save you the most, but must be booked immediately - look for discounts of 15%-50%, or more.
You can only get these deals for certain days, so here's the secret to finding them: You must put in your travel dates in the Search box.
Putting in your dates makes the Great Value Today filter appear in left column (please note - it turns green only after you click the check box). Click the Value Deal check box, and select any other filters you want to apply: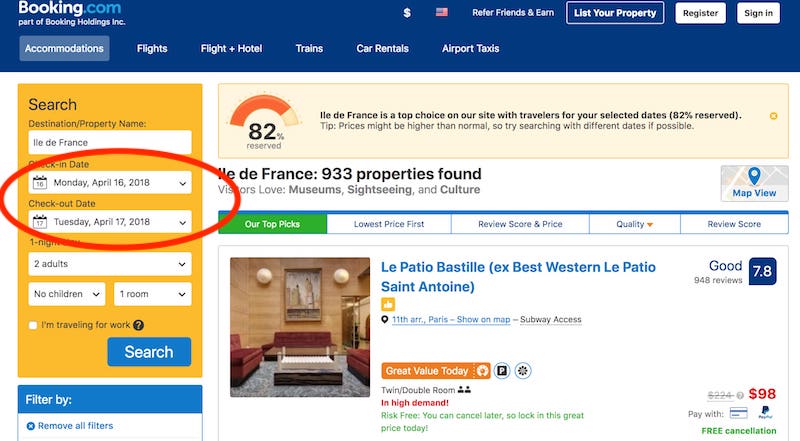 You'll now see all the excellent Great Value Today deals.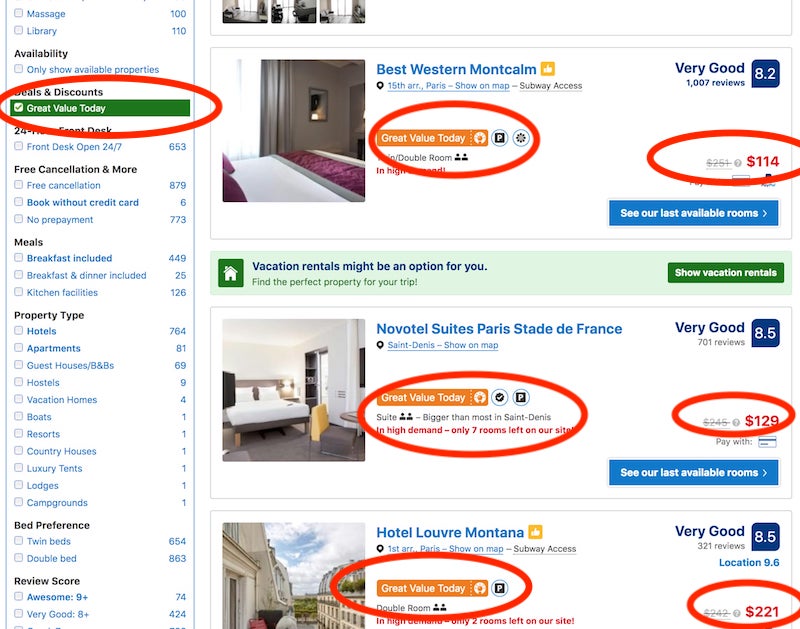 Want to see ALL deals including Price Reductions? Uncheck the "Value Deal" box.
Paris Discovery Guide Tip: 
To find the best selection of deals on Booking.com, book 3-4 weeks before your travel date.
To find the biggest Today deal discounts, book at the last minute.
3. Groupon Flash Deals, Vacation Packages, & Discounts for Paris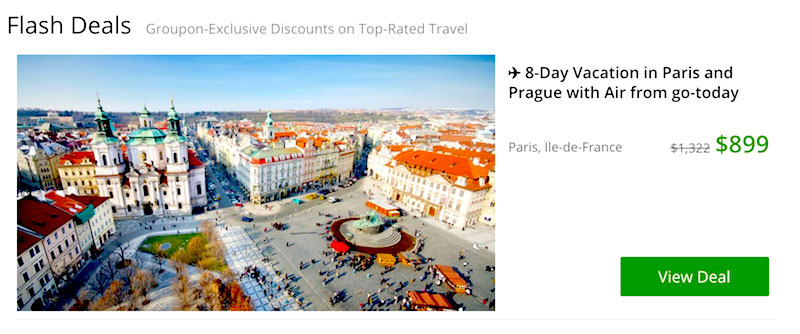 Groupon is known for its special deals on goods and services.
But here's a Paris Discovery Guide insider's tip: You can also use it to save big on hotels in 2 ways:
Find Flash Deals
1. Click on this link to bring up Flash Deals on Paris hotels.
2. You'll be shown Paris hotel "flash" deals. Sometimes the deals will be just for hotels, but sometimes they'll be for vacation packages for hotel and airfare (these tend to be especially great bargains).
Like many of Groupon best discounted deals, only a limited quantity of rooms is available for each hotel (ditto for the vacation packages) and the deal is good only for a short time. Click on the deal you like, and confirm the location, amenities, and of course price. Choose your hotel and book it - couldn't be easier!
Find Hotel Market Picks & Get 5% Credit
Need to stay in a specific hotel or neighborhood? Even if a Flash Deal isn't available, you may still be able to get a 5% "Groupon Bucks" credit toward your next Groupon deal.
1. Click on this link again and scroll past the Flash Deals down to the "Market Picks" - popular hotels selected based on having top ratings and comparatively low prices.
2. Check out each selection, and book your choice.
---