Top Paris events in October 2023 include two huge city-wide celebrations of art and culture, White Night (Nuit Blanche) and ParisArtistes.
You can also have fun at the annual grape harvest festival at a historic vineyard in Montmartre, enjoy 15 days of music during Jazz sur Seine, and visit Disneyland Paris to see lots of Halloween decorations and special activities.
But that's just the beginning. Look for exciting shows at all the major Paris museums, beautiful golden foliage throughout the city, and boutiques bursting with the fall collections. In even-numbered years - so next year, not this year - the world-famous Paris Motor Show brings over a million visitors to the city to see the latest automotive innovations.
Paris weather during October continues to be mild, with balmy nights, making October a wonderful month to explore the city while enjoying fall foliage colors.
Enjoy sidewalk dining outside your favorite bistro while the warm weather lingers, soak up fall colors in Parisian parks (we'll suggest the best!), and check out some of the best and scariest Halloween events in Paris.
You'll love visiting Paris in October!
Please note: Daylight Savings Time ends in France on the night of October 29 as clocks get turned back one hour. Also, the Toussaints school holiday weeks take place across France from October 22 through November 7 this year, which means you may find some attractions to be more crowded than usual.
Top photo: Le Marché des Enfants Rouges - 400 year old market (the oldest in Paris) in the 3rd arrondissement, (c) Paris Discovery Guide
Paris Discovery Guide is a reader-supported publication. When you buy through our links, we may earn a commission at no additional cost for you. Learn more
---
October Concerts in Paris 2023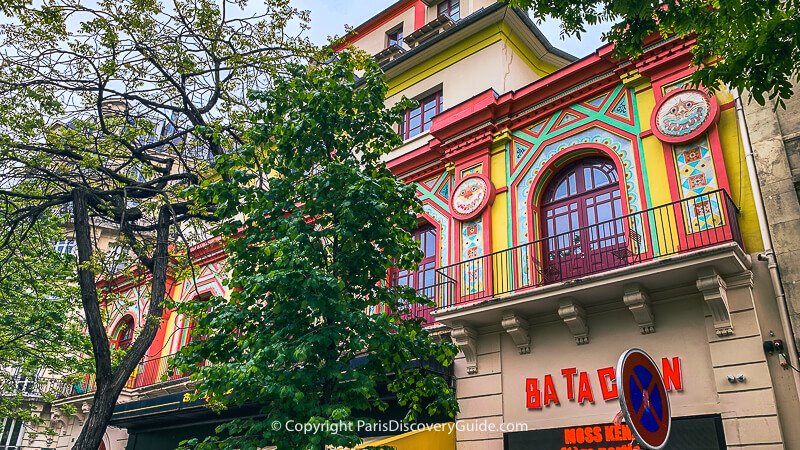 From jazz to rock, from opera to ballet, and blues to rap, you'll find your music at top concerts in Paris in October 2023.
Shorter days and crisp fall evenings make October an especially good month for classical concerts held in centuries-old churches. Look for candlelight concerts for a special experience and don't miss the reopening of Paris's bigger venues such as AccorHotels Arena and the Olympia.
Check the lineup to find top concerts, opera, ballet, and other music shows happening today, this weekend, and throughout October, and get your tickets now:
More Paris classical concerts in historic churches during October
More Paris rock, electronic, pop, jazz, & other performances during October
Find Paris concerts for November & beyond
---
Paris Visitor's Tip: Daylight Savings Time Ends
Just a reminder: Paris, France, and most other European countries end Daylight Savings Time (DST) on the last Sunday of the month - October 29 this year, so at 3am, clocks move back by one hour. On Sunday, you'll notice sunrise and sunset happen an hour earlier than on the day before. Maybe most important: you get an extra hour of sleep - or an extra hour to explore Paris!
---
Nuit Blanche (White Night) in Paris - 2023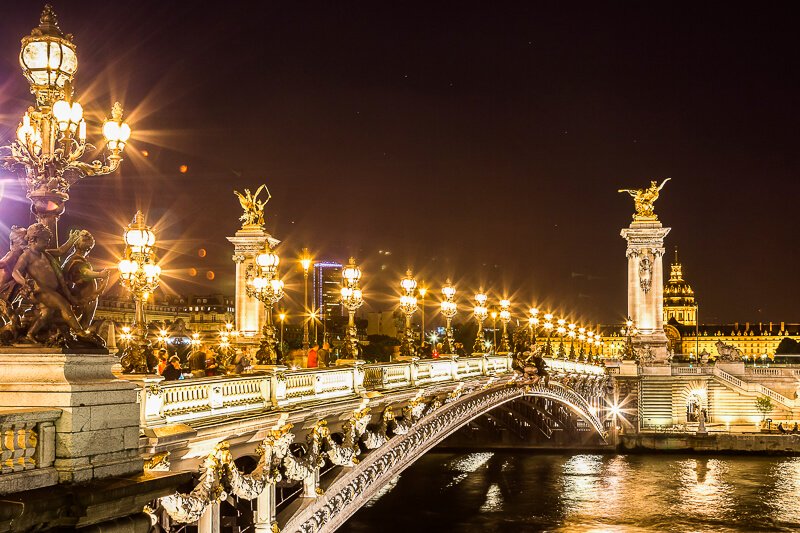 On the night of October 7 through the early morning hours of October 8 (to be confirmed), Nuit Blanche (translation: "Sleepless Night") turns Paris into an all-night festival of lights celebrating the work of emerging and established artists. Held annually starting at sundown on the first Saturday of October and continuing until sunrise on the following Sunday morning, this free event is one of Paris' largest and most popular cultural events as everyone stays up all night visiting the special art installations, concerts, dance and theatrical performances, elaborate light shows, and other artistic expressions by Parisian and international artists.
Although shows take place in museums, galleries, municipal buildings, and studios across the city, you'll find the highest concentrations this year in central Paris (3rd and 4th arrondissements), northeast Paris (19th and 20th arrondissements), and western Paris (the 16th arrondissement).
Many Paris bars restaurants are also offering special Nuit Blanche menus.
A 24-hour broadcast (midnight to midnight) of Global Citizen Live featuring performances from 6 continents will take place on Champs-de-Mars in front of the Eiffel Tower.
What's the easiest way to find out what's going on? You'll find a map here showing locations, addresses, and event information.
Bonus: The Paris Métro runs all night during Nuit Blanche to enable you to get around easily.
---
Wine Harvest Festival in Montmartre 2023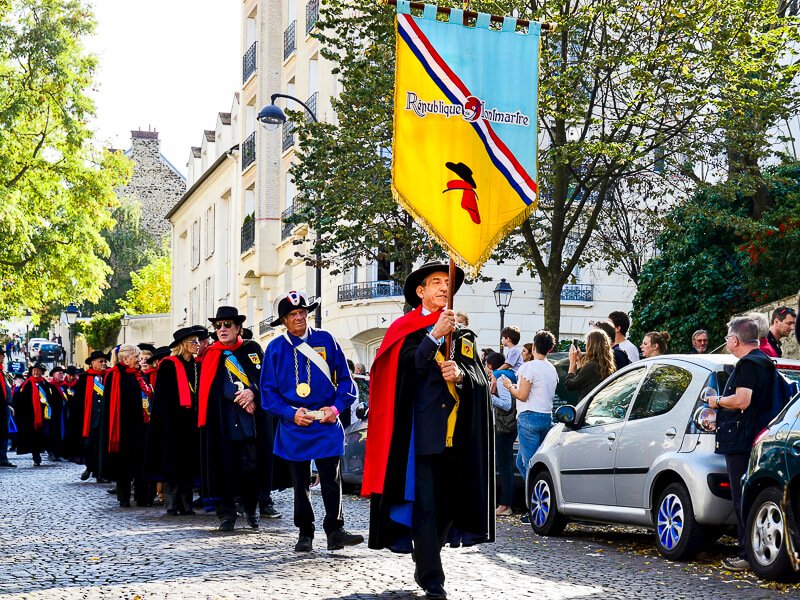 Montmartre's annual Grape Harvest Festival (Fête des Vendanges de Montmartre) takes place for five days through the second weekend of the month - October 11-15 this year, to be confirmed). Over half a million visitors attend, making this the city's biggest event after Nuit Blanche and Paris Plage.
The festival involves traditional wine-making activities such as stomping on the grapes, but there's a lot more to do and see: a Grand Parade with lots of music and folk dancing on Saturday morning (starts at the vineyard at 11:45 and finishes at about 1:30pm at the 18th arrondissement's town hall), vineyard tours, many performances and exhibitions, over 20 free concerts (Thursday-Saturday), a dance ("Back to the Future" is this year's theme) with disco and other on Sunday at nearby Square Louis Michel at the foot of Sacré-Coeur (5-7:30pm, free admission), appearances by many celebrities, and food and wine tastings plus kids' events throughout the festival.
There will also be a big picnic with music and dance performances at the new and beautiful Chapelle-Charbon park at the north edge of the 18th - bring your own picnic lunch and, of course, wine.
In addition, numerous nearby small museums, galleries, and organizations host events during the festival.
Most events are free but some such as the vineyard tours require advance reservations. You can find a schedule and list of events at the Festival's website, or stop by Montmartre Tourist Office (21 place du Tertre) for information from the multi-lingual staff.
In case you're wondering, the harvest of Gamay, Pinot Noir, and 26 other types of grapes comes from a vineyard believed to date from Roman times covering the hillside behind Musée de Montmartre (although current grapevines date from 1933). The 1,500 or so bottles of "Clos Montmartre" wine produced each year are auctioned to benefit local charities, but there are several other ways you can taste it: sample it at the Wine Festival or during one of the private "VIP" Montmartre tours that include the vineyard, or buy a small souvenir bottle for around 50 Euros at the Montmartre Tourist Office.
Location: Rue des Saules, 18th arrondissement
Nearest Metro: Abbesses; take the funicular up the hill
---
Montmartre Tours
Montmartre 2-Hour Walking Tour - This fascinating walking tour shows you all the top sites of the Montmartre neighborhood, including the famous Sacre Coeur, artists studios, Moulin Rouge, and even the vineyard. More about the tour
Moulin Rouge Show - Experience the spectacular ambience and the "Féerie" show at the famous Moulin Rouge caberet in Montmartre as you sip Champagne. Sells out fast - so you need to book well in advance. More about the show
3-Hour Montmartre Cheese, Wine, & Pastry Tour - On this small-group walking tour of Montmartre, you'll sample cheeses, charcuterie, wine, pastries, and chocolate from the neighborhood's best artisan shops while your local expert guide shows you the hidden gems, private mansions, and breathtaking views in this unique part of Paris. More about this tour
More Ways to Tour Montmartre:
---
Halloween Festival at Disneyland Paris during October 2023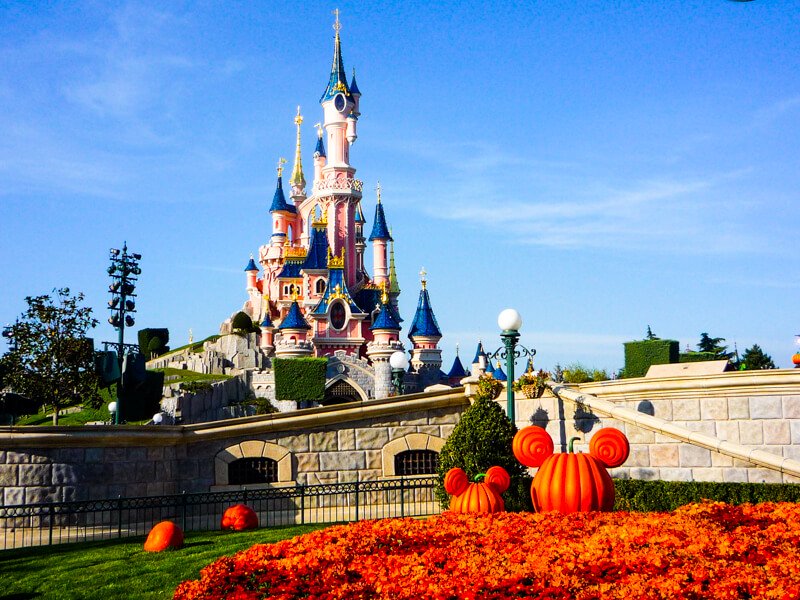 Indulge your passion for Halloween at Disneyland Paris as the Halloween Festival takes over the Park as Disney villains, witches, and wicked stepmothers roam the streets. Looking for "meets and greets" with your favorite Disney villains.
Disneyland fans consider the Halloween Fest to be one of the top things to do in Paris in October. Look for fun adventures and hair-raising attractions plus lots of Halloween decorations everywhere. And don't forget to explore the new Avengers Land attractions.
For the biggest thrills of the season, visit on October 31st when Disney's Halloween Party will bewitch the park from 8 pm to 2 am. Places are limited so you need to book early.
When: Sept 30 - November 6 (to be confirmed)

Disneyland Paris and Transportation
Take RER A to the Marne-la-Valee station across a small plaza from Disneyland Paris, and buy your tickets at the gate - or check out these options to make your trip faster and easier:
---
Day Trips from Paris: October Picks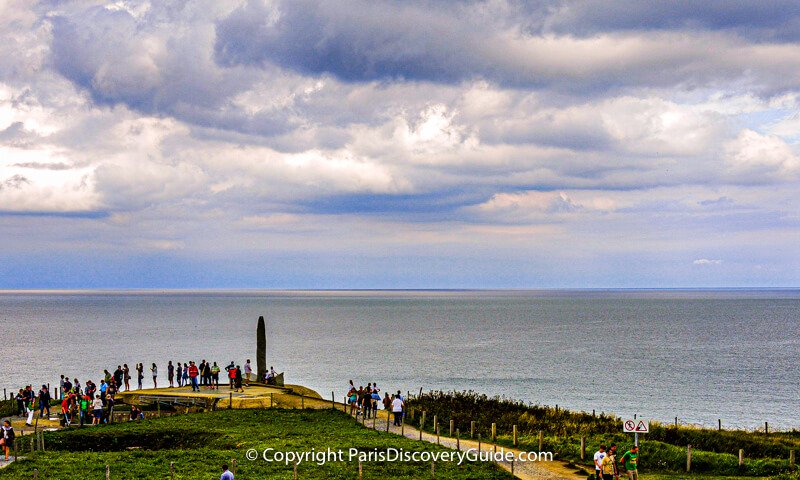 October is a wonderful time to explore some of the exciting and famous attractions outside of Paris. Here are 3 of the most popular small group day trip choices:
Find out about other exciting Day Trips from Paris
---
Salon d'Automne (Fall Art Show) 2023
The prestigious Salon d'Automne art show features well-known to emerging contemporary French and International artists. Since its first exhibition in 1903 when artists such as Guimard, Cezanne, Bonnard, Roualt, and Matisse rebelled against the "academic" artists and decided to put on their own show, Salon d'Automne has been known as the place where new artistic trends, styles of expression, and artists who will become famous in the future can be discovered.
This year, the show presents the work of 890 artists, including 161 new participants, from 43 countries.
When: October 27-30 (to be confirmed)
Where: Champs Elysees, between the Arc de Triomphe and Place de la Concorde - entrance at Place Georges Clemenceau by Petit Palais
Admission: 8€
---
Paris Exhibits - Must-See Shows for October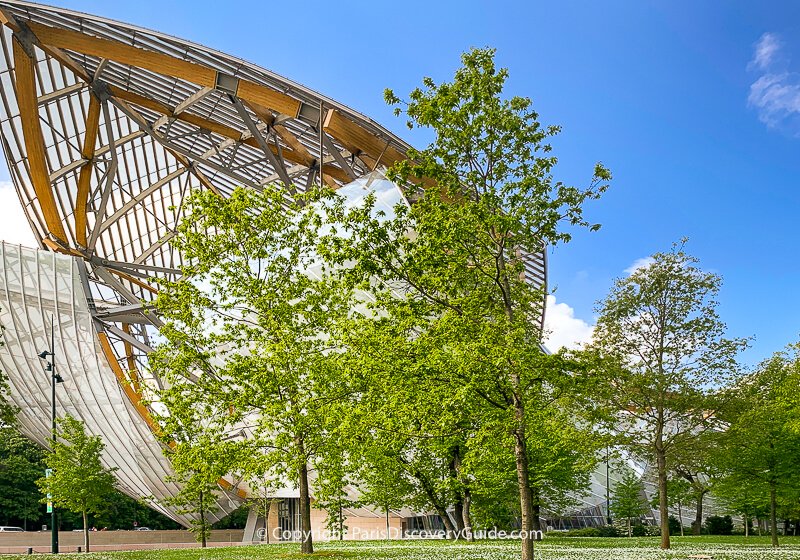 Claude Monet - Joan Mitchell
@ Fondation Louis Vuitton - A side-by-side "dialogue" between about 60 emblematic paintings by 19th century Impressionist Claude Monet and 20th century Abstract Expressionist Joan Mitchell highlighting their similar artistic goals and visions.
Dates: October 5, 2022 - February 27, 2023
Tickets: 14€ adults; book in advance (includes access through a special entrance, permanent and temporary exhibitions, optional shuttle pick up/drop off across from Arc de Triomphe for an extra 2€ (or you can take the metro to Les Sablons station, and walk about half a mile along a well-marked path to the Fondation), and free entrance from the Foundation to its neighbor, Jardin d'Acclimatation
Location: 8 Avenue du Mahatma Gandhi, Bois de Boulogne, Paris 16; Metro: Pont de Neuilly
More about what to see & do at Fondation Louis Vuitton
Find many more Paris museum exhibitions for October & future months
---
Paris Museum and Attractions Passes
Get free admission and skip-the-line access to 60+ museums in and near Paris when you have a Paris Museum Pass for 2, 4, or 6 days. (Access to special shows may require additional ticket.) More info
---
Jazz sur Seine - 2023
Music - specifically, jazz - fills the air during the Paris Jazz Club Association's massive event featuring 150+ concerts at 20 different clubs between October 6 - 21(to be confirmed).
This is a wonderful opportunity to hear well-known artists such as Baptiste Herbin, Claude Tchamitchian, and more, as well as many who may be new to you, and also to become explore Paris's lively jazz club scene, considered second only to New York. You'll hear everything from traditional jazz to electro, from blues to Latinx.
Ticket prices vary according to venue and artist. At small clubs, just the cost of a drink or a 10€ cover will get you in. Other shows require tickets, mostly in an affordable 12€-35€ range, and you can also save with a 3-concerts pass for 40€.
More information and event schedule: https://www.parisjazzclub.net
---
Soak Up Fall Foliage Colors in these Parisian Parks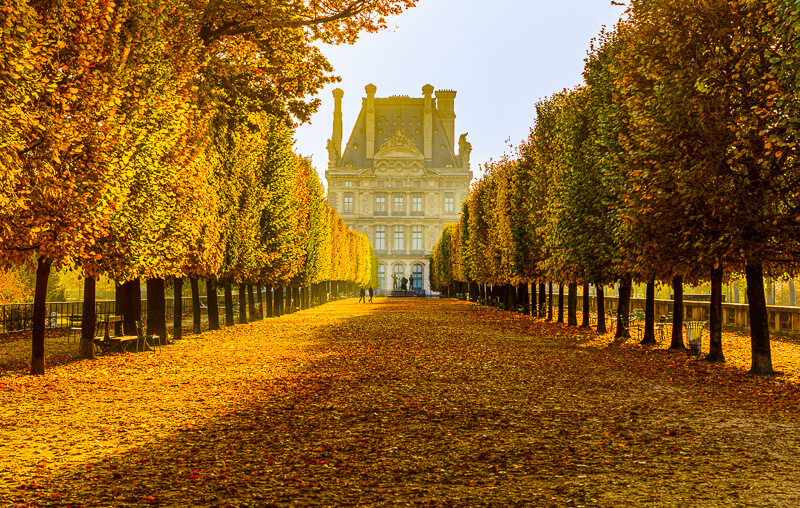 Where's the best place to view fall foliage in Paris? Thanks to the city's many parks, you'll see plenty of fall colors everywhere during October, but here are four favorite locations:
Jardin des Tuileries across from the Louvre - There's nothing more beautiful than the golden foliage of the plane trees during autumn in Paris. Stroll through the long allées, or relax by the reflecting pools. Nearest Metro Station: Tuileries; 1st arrondissement
Parc Monceau - Filled with specimen trees that turn spectacular colors in the fall, this leafy park also contains a colonnade, a miniature Egyptian pyramid, a temple, a windmill, a grotto, an Italian vineyard, and a pond. It sounds crazy like a crazy mix but somehow feels enchanting when you walk through it, and is particularly lovely in autumn. Nearest Metro Station: Monceau; Blvd de Courcelles, 8th arrondissement
Parc des Buttes Chaumont - This park boasts dramatic cliffs, a lake, a waterfall, a grotto, and even a mountain, plus local and exotic trees imported from around the world. It's always spectacular - but even more so during the fall with the foliage turns golden - plus you'll find some sweeping views of the whole city. Nearest Metro Stations: Buttes Chaumont and Botzaris; 19th arrondissement
Canal Saint-Martin - Golden foliage along both banks of the canal cast lovely reflections in the water. For the best views, go to the top of one of the arched iron bridges crossing the canal at intervals. Once you've had your fill of fall colors, stop by one of the neighborhood's acclaimed bakeries or bistros for a snack or meal - perhap an orange blossom brioche at the Du Pain & Des Idées boulangerie (34 Rue Yves Toudic; closed on weekends), brunch at Chez Prune (36 Rue Beaurepaire), or currywurst-frites at Wunderbär (16 Rue Beaurepaire).  Nearest Metro Station: Republique; 10th arrondissement
And don't forget the two huge wooded parklands on the east and west sides of Paris: Bois de Vincennes in the 12th arrondissement, and Bois de Bologne in the 16th arrondissement.
---
Find a Few Parisian Ghosts & Spirits in these Cemeteries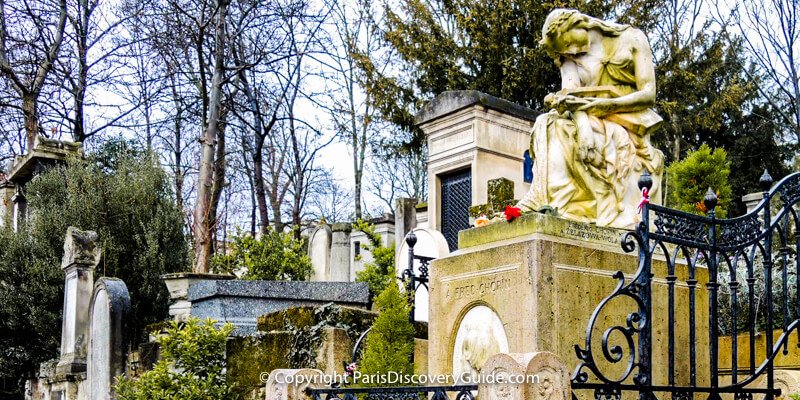 To get into the spirit of Halloween on October 31 and All Saint's Day on November 1, stroll through these 4 fascinating Parisian cemeteries to soak up the ambiance of departed spirits and perhaps even imagine a few ghosts:
Père Lachaise Cemetery
Parisians call Père Lachaise Cemetery in the Menilmontant neighborhood in far northeast Paris la Cite des Morts - the City of the Dead - and its rolling hills, elaborate monuments, and haunting beauty make it easy to channel the spirits of those buried here, including Molière, Baron Haussmann, Isadora Duncan, Yves Montand, Simone Signoret, Frédéric Chopin, Oscar Wilde, Delacroix, Victor Hugo, and Jim Morrison of The Doors.
Getting there: Metro station: Père Lachaise (Lines 2, 3), Blvd de Menilmontant and Avenue Gambetta, 20th arrondissement
Père Lachaise Cemetery Walking Tour: This 2-hour walking tour leads you through the maze of haunting and romantic tombs, and shows you the graves of famous and infamous occupants such as Jim Morrison, Oscar Wilde, and Chopin. You'll learn about the interesting and tragic histories of many of those buried there. More
Where to find the most famous 101 graves at Père-Lachaise on a Self-Guided Tour
Montparnasse Cemetery
Montparnasse Cemetery, a tranquil expanse in a part of the 14th arrondissement once popular with early 20th century artists, intellectuals, and writers is where you'll find the graves of Simone de Beauvoir, Jean-Paul Sartre, Charles Baudelaire, Serge Gainsbourg, Susan Sontag, and Eugène Ionesco. Filled with dappled light on sunny days but never really gloomy even in the rain, it's where you'll often see neighborhood residents out for an evening walk.
Getting there: Avenue Rachel, 18th arr; Metro station: Blanche (Line 2)
Montmartre Cemetery
Montmartre Cemetery, smaller and with quirkier monuments than the other two cemeteries, stretches across hills and shadowy hollows in the southeast corner of the arty Abbesses Butte Montmartre quarter. Reputedly home to a band of feral cats, it usually attracts only a trickle of visitors compared with other major cemeteries. It's the final resting place for a number of the creative elite including François Truffaut, Gustave Moreau, Heinrich Heine, Stendhal, Alexandre Dumas, Dalida, and Edgar Degas.
Getting there: 3 Blvd Edgar Quinet, 14th arr; Metro station: Edgar Quinet (Line 6)
Passy Cemetery
Passy Cemetery, another small cemetery with a fascinating assortment of elaborate tombs (such as the re-creation of an artist's studio) that reflect the wealth of its permanent residents. ar Degas, although artists Berthe Morisot and Edouard Manet and composer Claude Debussy are buried here. Views of the Eiffel Tower across the Seine add to the charming ambiance.
Getting there: 2 Rue du Commandant Schloesing, 16th arr; Metro station: Trocadero
While you're in the neighborhood, stop at one of the wonderful bakeries or bistros near the gallery for a snack or meal - perhap an orange blossom brioche at the Du Pain & Des Idées boulangerie (34 Rue Yves Toudic; closed on weekends), brunch at Chez Prune (36 Rue Beaurepaire), or currywurst-frites at Wunderbär (16 Rue Beaurepaire). Then take a few minutes to stroll along the Canal and enjoy the reflections of fall foliage on the water.
---
FIAC - International Contemporary Art Fair - 2023
See the latest developments in art as over 1,500 artists show their current work at FIAC, the huge international contemporary art fair from October 19-22 (to be confirmed).
You'll see sculptural works and installations in the Grand Palais, Petit Palais, and outdoor spaces including Tuileries Garden, Place Vendome, Delacrois Museum, and Place de la Concorde. Other events include films, parades, music, video, paintings, photography, digital arts, and performances at a variety of locations.
Tickets: Required only for Grand Palais (38€ adults, 25€ reduced price for teens and young adults under 26, free for kids under 12 years); other venues are free
More info: See FIAC's website for daily schedules, locations and addresses, and a lot more
---
Paris Fashion Week - October 2023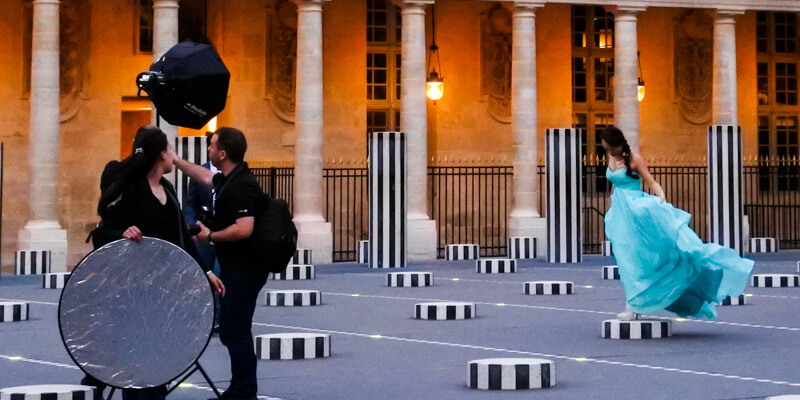 Paris Fashion Week takes place in multiple locations around the city and normally features numerous events showcasing French and International designers such as Chanel, Galliano, Dior, Givency, Vuitton, Miu Miu, Alexander McQueen, Balenciaga, Saint Laurent, Sandro, Comme des Garçons, Courrèges, Maje, Vanessa Bruno, and Isabel Marant as models strut down the runways wearing Women's Ready-To-Wear collections for next spring and summer.
The ticketed shows are generally by invitation only, so unless you're lucky enough to snag one, you can catch a glimpse of the models near the venue locations, typically in the 1st, 3rd, 4th, 7th, 8th, and 16th arrondissements. The Grand Palais, the Eiffel Tower and nearby Champs des Mars, Place des Vosges, Tuileries Garden near the Louvre, Palais Royal Garden, Hotel de Ville, Palais de Tokyo, and Pompidou are usually safe bets, as well as designer ateliers in the Marais neighborhood.
When: September 24 - October 3 (to be confirmed)
Paris Tours for Fashionistas
---
Christmas Windows - Reveal at Bon Marché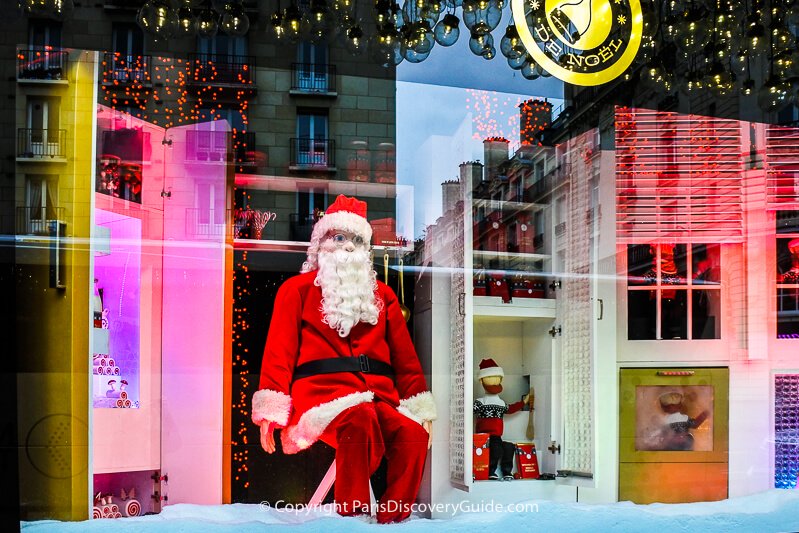 Usually the much-anticipated "reveal" of the elaborately decorated and animated Christmas windows at Paris's big department stores takes place in early-to-mid November - but this year, Bon Marché Rive Gauche (24 rue de Sèvres, 7th arr) gets a head start on the others by launching its annual display on October 28. Don't miss it!
See the schedule for the rest of the Christmas windows in November
Find out more about the elaborate Christmas windows at Paris's 5 "grands magasins"
---
Halloween Evening at Le Grand Rex in Paris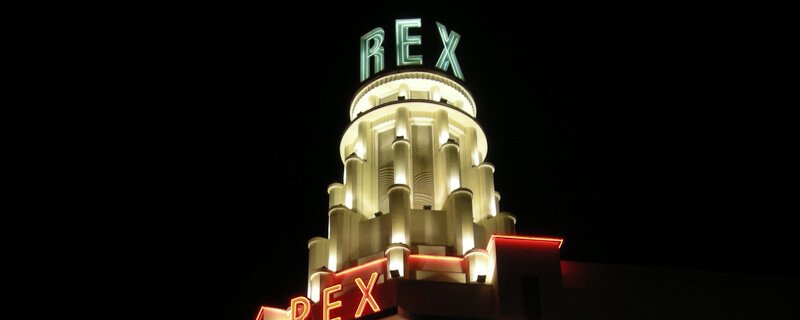 Celebrate Halloween in Paris at the Grand Rex movie theatre as they continue their annual tradition of showing Halloween horror cult classics on October 31. The Shining, The Exorcist, The Rex website posts schedule details about 1 week before each event.
Location: 1 Boulevard Poissonnière, 2nd arrondissement
Nearest Metro: Bonne Nouvelle
Paris Insider's Tip: How to Find Movies in English in Paris
Want to see your favorite American movie in Paris theaters but wonder if it will be shown in English?
Look for movie listings that include VostFr - that means the movie will be screened in its original language with French subtitles.
---
Serge Gainsbourg Museum to Open - Opening Soon?
The home of French music icon Serge Gainsbourg, located at 5 bis Rue de Verneuil in the 6th arrondissement, was scheduled to open in October as a museum celebrating the singer-songwriter's life thanks to years of effort by his daughter, Charlotte Gainsbourg.
Although the interior of the singer-songwriter's house is said to have remained untouched for most of the period since his death 30 years ago, the black-painted exterior wall has long been used by fans as a place to express their devotion with messages and drawings.
The museum opening has been postponed to sometime in 2023 - but for now, you can walk by his house and see the graffiti embellishing its front facade.
Meanwhile, you can visit a couple of other recently-opened (or re-opened) spectacular new museums:
La Bourse de Commerce: See the beautifully restored old stock exchange building, known for its circular shape, domed skylight, and huge original murals surrounding the dome, that now display businessman/art collector/billionaire François Pinault's private art collection of contemporary art plus visiting exhibitions. Website
Hotel de la Marine: This iconic landmark, once an 18th century palace, has been under restoration for years and is now stunningly gorgeous - and open to the public to tour. See the website for photos and details. 2 Place de la Concorde, 8th district
---
Salon du Chocolat
Part trade show, part entertainment, the Salon du Chocolat lets you immerse yourself in all things chocolate as over 500 chocolate producers, pastry chefs, candy makers, and artisans from around the world present five days packed with activities and events. You can attend cooking demos by top chefs at the Pastry Show, discover the wonders of chocolate at the Cacao Show, indulge in tastings at the Chocosphere, and enjoy a fashion show with models dressed in chocolate. Kids at this family-friendly event love the fun workshops set up just for them - and of course, the chocolate.
When: Oct 28 - 30, 2023 (to be confirmed), open 10am-7pm each day
Location: Porte de Versailles, Pavilion 5
Getting there: Metro station and Tramway: Porte des Versailles, 15th arrondissement
Tickets: 14.20€ adults, 6,20€ children from 3-12, free for children under 3 - available at the door
Ticketmaster, and also at the door
More information: Salon du Chocolat website
---
Paris Motor Show - NOT in 2023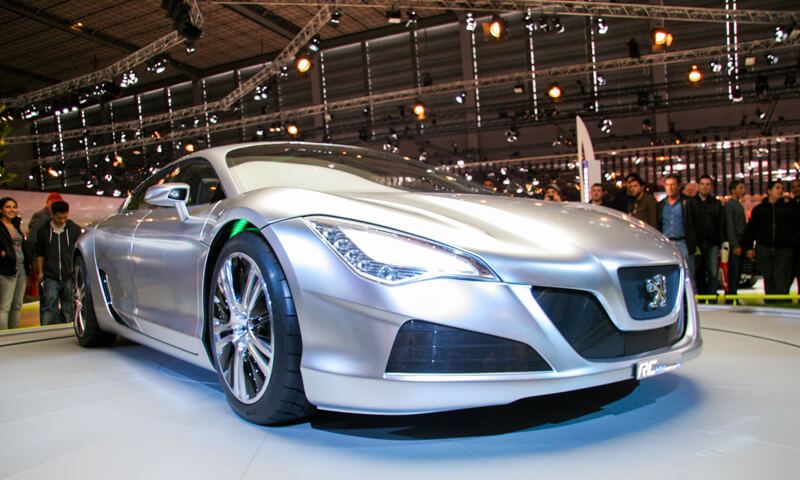 The huge Paris Motor Show, held every other year in even-numbered years, normally attracts well over 1 million visitors from 100+ countries around the world who come to see the latest automotive innovations and the cars of the future. This year, 2023, is an OFF year.
The next show will take place from October 17 - 23, 2024.
What can you expect to see and do? Almost 250 car brands will be showing their glitziest models and technologies, including autonomous vehicles. Check out (and even sit in) your favorites, attend presentations, watch videos, and revel in the latest and greatest cars of your dreams.
If you're visiting Paris while this show is underway, be aware that the city's hotels will be filling to capacity as over half the Paris Motor Show visitors coming from outside of Paris - so make your reservations early!
When: October 17-23, 2024, 10am-8pm; open until 10pm on weekends Where: Porte de Versailles Convention Center, 15th arrondissement
Tickets: Coming soon
Getting there: Porte de Versailles Metro station; Tramway Porte de Versailles Parc des Expositions station
Planning to come to this show? Check out best nearby hotels in Paris 15
---
ParisArtistes - ON in 2023
ParisArtistes takes place every other year in odd-numbered years - so 2023 is an ON year.
Paris turns into a city-wide art show when ParisArtistes features the work of top painters, photographers, sculptors, and other artists displayed in public spaces across the city.
With free admission to all venues, it's your chance to see the best of contemporary art being created right now in Paris.
If you're visiting Paris, these shows let you see lots of exciting art while giving you a great excuse to explore the surrounding neighborhoods at the same time.
You can find details on the ParisArtistes website or the ParisArtistes Facebook page.
---
More about Paris in October
Paris Weather during October
---
More Top Paris Things to Do & See in October
---
More Articles about What to See & Do in Paris