Planning your first trip to the Palace of Versailles? If so, you may be wondering: "What's the best way to get there from Paris?"
If you're like many visitors, the opulent Palace and its vast Estate and Gardens may be near the top of famous attractions you want to see during your time in the City of Light.
And for good reasons.  The spectacular architecture, lavish interiors, and magnificent gardens of the Château de Versailles and its surrounding Estate dazzle and enchant visitors today just as they did when the French monarchy called it "home."  From Louis "The Sun King" XIV who created the Palace to the doomed Louis XVI and Marie-Antoinette who fled in disgrace to escape an angry mob on the eve of the French Revolution, each generation of kings and queens contributed to the over-the-top luxury you see today.
Fortunately, the Chateau's location just 12 miles (20 km) outside Paris makes it ideal for a day trip.
You can choose from six ways to get from Paris to Versailles Palace, although some may work better for you than others. In this article, we point out the advantages and disadvantages of each option to help you decide which way to travel will be the best fit for you.
Here's what you'll find in this article:
Top photo: The Palace of Versailles and Apollo Fountain - Photo credit: Tiffany Cade/Unsplash
Paris Discovery Guide is a reader-supported publication. When you buy through our links, we may earn a commission at no additional cost for you. Learn more
---
1. How to Get from Paris to Versailles with a Tour Group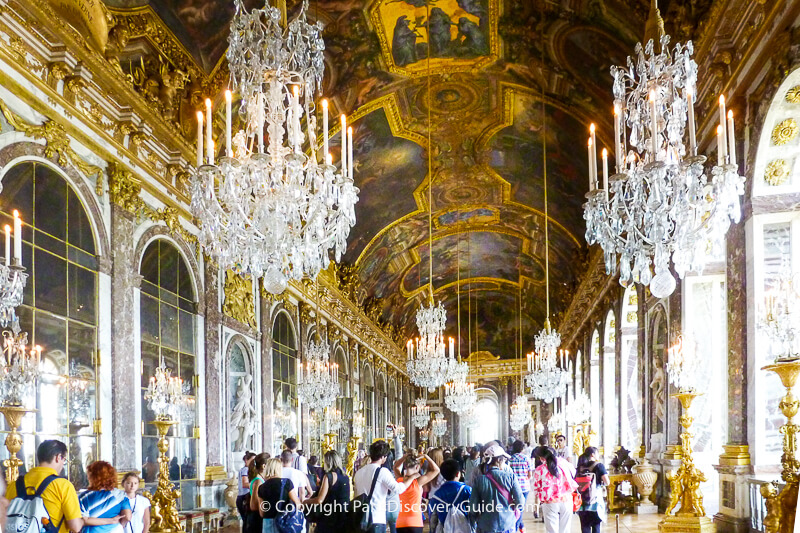 The easiest and most stress-free way to get to Versailles Palace is to join a group tour that includes transportation from Paris on a luxury coach or train.  Then, all you have to do is show up at a designated meeting spot in central Paris. 
Your tour organizer handles everything else, including transportation, your ticket to the Palace, and fast-track priority entry through a special gate available only to guided tour groups.  And of course, you also get the benefit of an expert guide who will make sure you see all the most spectacular rooms such as the dazzling Hall of Mirrors and Royal Apartments, the magnificent Gardens, and perhaps other parts of the estate.
If you want to make the most of your visit to Versailles while not spending (and perhaps wasting) time figuring out all the details, these transportation-included tours are the way to go.
What's the Difference between Coach & Train Tours to Versailles?
So which is better: tours offering transportation to Versailles by coach (ie, luxury bus or sometimes even a minivan) - or by train?
Both ways of travel are quite comfortable, but there is a key difference. When you choose a coach tour, you'll re-board the bus at a designated time and ride back to Paris with your group.
However, when you choose a guided tour with train transportation included, you'll receive a ticket for your return trip by train back to Paris. This gives you a lot of flexibility.
When your tour ends, you usually have the choice of returning to the city by train with your guide and perhaps others from your tour group - or head back whenever you please, which allows you to spend time exploring Versailles on your own or perhaps even have dinner at one of the local restaurants.
You will need to walk back to the train station on your own, but that's super-easy to do. The station is only a 5-10 minute walk from the Palace gates and you'll see plenty of signs and directions along the way.
Of course, if you come to Versailles from Paris by coach or minivan with a group tour and want to stay longer, you can always return to Paris on your own on the train. Tickets cost only a few euros. Just be sure to get a 1-way ticket - and let your tour guide know you'll be returning on your own.
Popular Versailles Tours with Coach or Train Transportation from Paris
Here are three of the most popular choices:
Full-Day Guided Tour of Versailles by air-conditioned coach from Paris - On this comprehensive tour, you will visit the most spectacular Palace attractions such as the Hall of Mirrors, the beautiful Palace Gardens, and other important sights such as the Grand Trianon, Petit Trianon, and Marie Antoinette's Estate including her charming Hamlet before re-boarding your coach for your relaxing return to Paris.
Skip-the-Line Versailles Palace Tour by Train - If you choose this guided tour of Versailles, you'll travel with your guide by train from Paris to the Château, where you'll enjoy a 3-hour tour of the Royal Apartments, Hall of Mirrors, and other rooms, as well as the gorgeous Gardens.  Depending on which day you visit, you may also see the enchanting Musical Gardens or Musical Fountains show.  Use your return train ticket to head back to Paris whenever you choose.
Half-Day Versailles Guided Tour from Paris - This small-group guided tour from Paris by minivan includes pickup and drop-off at selected hotels, giving you the ultimate convenience when you have limited time. Your guide will enrich your experience with stories about Versailles' famous history while taking you to see the most important rooms in the Palace as well as a quick visit to the Gardens. Choose a morning or afternoon excursion.
Another excellent choice, especially if you have limited time but want to see both the Palace of Versailles and Monet's home in Giverny with its colorful garden and water lily pond is to join a day trip from Paris that includes coach transportation, lunch and guided or audio tours of both attractions, depending on which option you select.
Find more Versailles tours from Paris with transportation, including group bike tours
---
2. How to Go from Paris to the Palace of Versailles by Train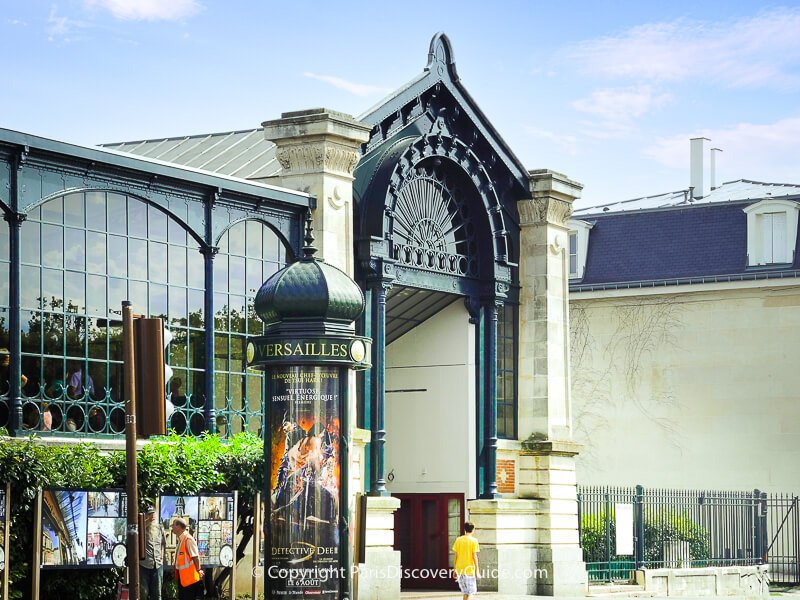 Although three different trains to Versailles - RER C and SNCF Lines L and N - offer service from Paris, only one of them (RER C) stops at the Château Versailles Rive Gauche, the closest station to the front entrance gates at the Palace of Versailles. Not surprisingly, this is the train most people choose because of the convenience, although depending on your location, you may want to opt for one of the others.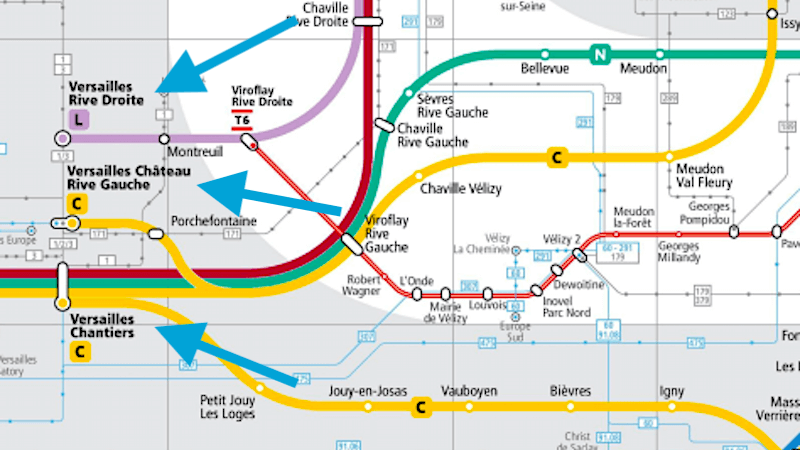 Thanks to infrastructure and technology improvements made during the past decade, the trip to Versailles from Paris is now faster than ever. It takes around 25-30 minutes on RER C and SNCF Line N, and between 35-40 minutes on SNCF Line L.
Here are the details for each option:
Getting to Versailles on the RER C Train
Going to Versailles on the RER C train is the easiest option and also the most popular because it puts you closest to the Versailles Palace entry gates. In addition, trains on the RER C line typically run about every 5-10 minutes, vs about every 15 minutes for Line N and about every 20 minutes for Line L, so on average, you'll have less of a wait.
Best of all, the RER C train runs along the Left Bank of the Seine River, and has nine stations within the city, so you can choose to depart from whichever station is closest to you.
For most visitors to Versailles, RER C is the best choice.
Important to Know: RER C has two branches in the direction of Versailles. One of them terminates at the Versailles Château Rive-Gauche station (yes, that's the one you want), and the other terminates at Saint-Quentin en Yvelines but makes a stop at Versailles Chantiers (NOT the station you want).
Once you're in the RER station and have your ticket, you'll see the announcements board for incoming trains. Be sure to board one that's going to Versailles Chateau Rive-Gauche. (But if the worst happens and you accidentally board the other train, get off once you reach Versailles Chantiers; the walk to the Palace will take you 10-15 minutes instead of 5-10, so it's not a big set back.)
Bonus: If you take the RER-C, you may be in one of the new "Museum" train cars with interior decor featuring murals of Versailles or other famous Paris museums.
Getting to Versailles on the SNCF N Train
The SNCF N Train has only one Paris departure point: the Montparnasse Station (Gare) located close to where the 6th, 14th, and 15th arrondissements intersect. In Versailles, it arrives at the Versailles Chantiers station, slightly over half a mile (1 km) from the Palace entrance and about a 10-15 minute walk from the Palace.
Although the trip to Versailles takes about the same length of time (30 minutes) as the RER C train, departures happen slightly less frequently - about every 15 minutes, on average. Unless you have a strong reason to take the Line N train (for example, you're staying close to Gare Montparnasse), RER C is likely to be a better choice because of the more-frequent departures.
Good to Know: Although the N train has several branches, they happen after the Versailles Chantiers station - so no need to worry about them as long as you take one of the trains heading toward the Palace.
Getting to Versailles from Paris on SNCF Line L
The SNCF L train also has only one Paris station: Gare Saint-Lazare in the 8th arrondissement. The trip to Versailles takes about 35-40 minutes, train frequency is about every 20 minutes, and it arrives at the Versailles Rive Droite station, about three-quarters of a mile (1.3 km) or an almost-20 minute walk from the Palace entrance.
Similar to the N train, the SNCF L train may not be your best choice unless you're staying close to Gare Saint-Lazare, Galeries Lafayette, Opéra Garnier (the Paris Opera House), or possibly Montmartre. Even if you are, you may still prefer to take the Metro to the nearest RER C station.
Find details about getting your Vernon train tickets at Gare Saint-Lazare
Important to Know: SNCF Line L also has several branches - so make sure you take the one to Versailles Rive-Droite, which is the last station on the line.
How to Get Your RER or Train Tickets to Versailles
When you arrive at your departure station in Paris, you will need to buy tickets for your trip.
The only exception is that if you have a weekly or monthly "all zones" Navigo pass or an "all zone" Paris Visite travel pass that's valid for the day you want to travel (make sure sign and date your card), you can use it for the trip. That's because Versailles is in "Zone 4" of the Ile de France regional transportation network. In other words, if you have the all-zone Navigo or Visite pass, you do not need an additional ticket so your trip to Versailles and back will cost you nothing extra.
Otherwise, you must buy a round-trip ticket (which means you'll actually get two 1-way tickets, one in each direction) at one of the ticket machines, whether you are going by RER or train. Or, if that option isn't available, buy a 1-way ticket to the Versailles station and then when you return to the station later in the day, buy another 1-way ticket to Paris. Select the language option for "English" (or another language), follow the instructions on the screen, and pay for your ticket with your credit card. The process is quick and easy, but if you make a mistake, just hit "cancel" and start over.
Remember, if you're using a round-trip or 1-way train or metro ticket, keep your ticket once you get on the train because you'll need to show it to the conductor and then insert it in a turnstile in order to exit the station. If you don't have it, you'll most likely be fined.
Please note: You cannot use a regular Metro ticket to travel between Paris and Versailles because regular Metro tickets include travel on the RER ( a suburban train line that is technically not part of the Metro system) only for Zone 1, which is central Paris. Versailles is in Zone 4, which is why you need an RER ticket. If you do try to use a Metro ticket for this trip, you risk a hefty fine.
---
3. How to Get to Versailles from Paris on a Bus
To take a local bus to the Chateau Versailles Rive Gauche station, first take the metro to the Pont de Sèvres station on the western edge of the city. Outside the station, find the bus stop for the southwest-bound #171 bus outside the station, and take the bus to Versailles.
Here's the tricky part: Not all #171 buses going in the direction of Versailles go all the way to Versailles; some terminate much sooner.
You should see "Versailles" listed as the destination on the bus, but if in doubt, confirm with the driver when you get on. Even if you don't speak any French, the polite way to do this is to say, "Bonjour, Monsieur (or Madame). Versailles?"
They'll understand what you're asking, and even if you don't understand their response, watch their gestures to figure out if you should find a seat on the bus or get off and wait for the next one. In either case, nod and reply, "Merci, Monsieur (or Madame)."
The ride from the Pont de Sèvres station to the chateau takes about 30 minutes (occasionally longer if you hit traffic or road construction), and the cost is normally just one metro/bus ticket each way (unless somehow the length of your trip exceeds 90 minutes, in which case you'll need a second ticket). If you have a valid weekly or monthly "all zones" Navigo pass or an "all zone" Paris Visite travel card, the cost is zero.
In case you're wondering, you cannot reuse your metro ticket to Pont de Sèvres for the bus, because metro/bus transfers using the same ticket are not permitted.
You can find the #171 bus schedule on ratp.fr.
Should you consider taking the bus to Versailles? It is slightly more difficult than taking the train, especially if you don't speak much French (but still relatively easy), and the possibility of boarding the wrong bus, however slight, also makes it somewhat more stressful.
For most people, taking the RER C will be more convenient. However, the bus is the cheapest option and if your travel budget means that every Euro counts (for example, if you're a student), then it's a fine choice. It's also a wonderful way to see more of the Paris suburbs and Ile de France countryside.
Pro Tip: If you do decide to take the bus, do yourself a big favor and download the RATP app on your phone, which provides clear directions and a useful map for finding the station location.
More about Visiting the Palace of Versailles
---
4. When to Consider Going to Versailles by Car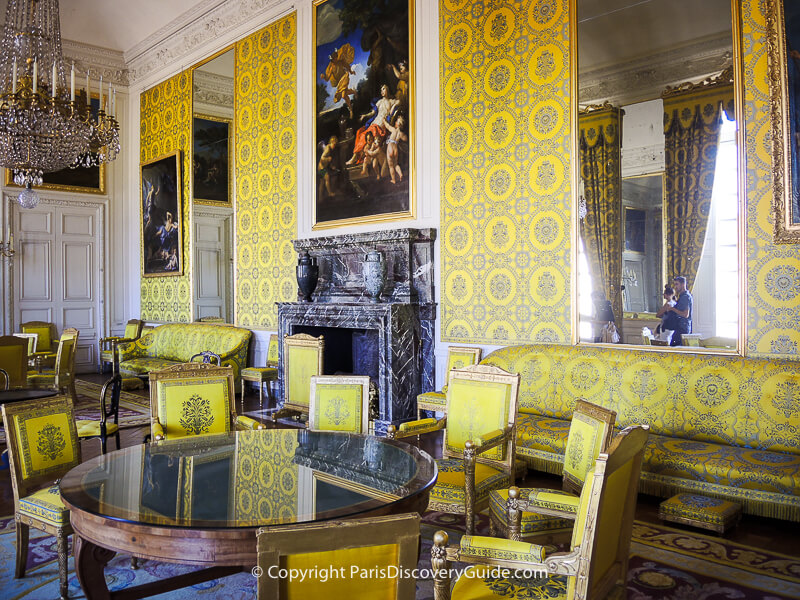 Normally, as a Paris visitor, you don't want to be burdened with a car in Paris because a) driving in Paris can be a nightmare if you're not used to it, and b) parking can cost more than dinner. Getting around Paris on the metro is much faster, cheaper, and easier.
But if you are planning to make a trip outside the city to multiple destinations including Versailles, then renting a car and stopping at the Palace for a day or more along the way can make a lot of sense.
If you are considering doing this, here are a couple of tips:
First, instead of renting a car in Paris and having to battle city traffic on congested roads, consider picking up your rental in the nearby business district of La Défense, easily reached on Line 1 of the metro. You'll find European, British, and even American car rental agencies such as Avis and Budget. From La Défense, you'll have an easy drive to Versailles.
Second, consider departing Paris (or La Defense) in the evening before in order to miss rush hour traffic, and spending the night at one of the wonderful hotels or apartments in Versailles (make sure you choose one with onsite parking) where both hotel rates and parking fees are significantly cheaper than in Paris. This also allows you to arrive at the entrance gate early in the morning and gives you more time to explore the Palace and its magnificent gardens.
---
5. Should You Use Uber or a Taxi to Go from Paris to Versailles?
Should you consider using a ride-share service such as Uber or a taxi for getting to Versailles from Paris?
A one-way trip between Paris and Versailles by Uber or taxi will typically cost you a minimum of around 40€ - 50€, assuming no major traffic jams and depending on your specific Paris location. Transit time (again, depending on where you are in the city) might be 30-45 minutes, but it can easily be longer if you get stuck in city traffic or on the Péripherique, the ring road around Paris. Add in road congestion (an almost-constant condition on the Périph', and your fare and travel time can soar.
Because Paris has such an extensive, fast, and affordable public transportation network, going to Versailles by Uber or taxi doesn't usually make sense for most people - but, of course, your circumstances may vary.
---
6. Can You Bike to Versailles from Paris?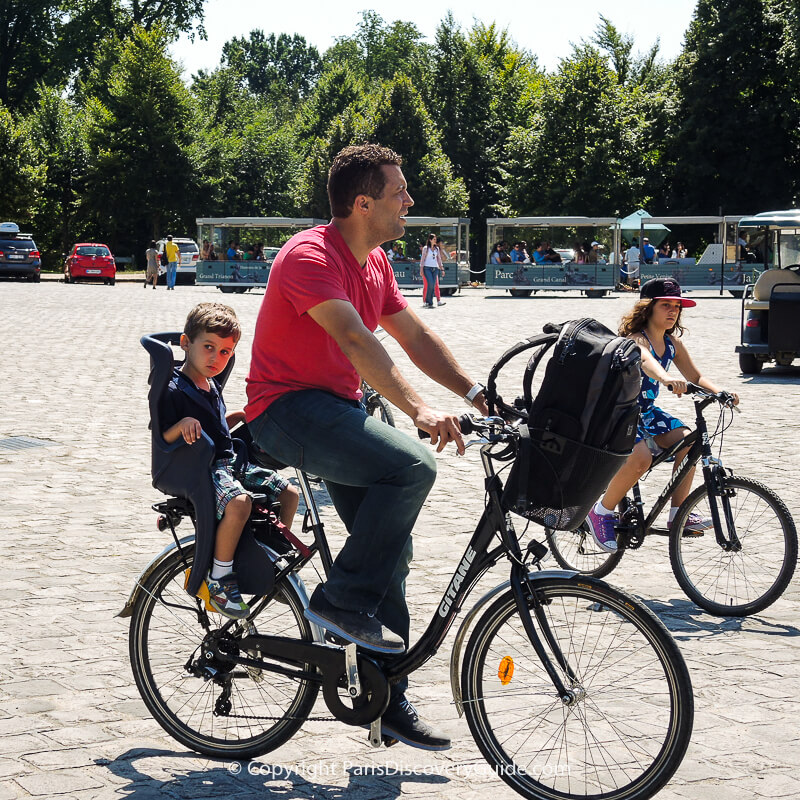 Yes! And if you love biking, this may become one of your favorite memories of your trip.
The 15-mile (24 km) route to Versailles is easy and scenic, starting with a lovely stretch through the Bois de Boulogne in Paris's 16th arrondissement. Once you reach the Palace of Versailles, you can enter the estate for free through one of the bike-friendly gates, and ride along picturesque paths through the woods and meadows.
Unless you have your own bike, you can easily rent one for a day at a reasonable cost. Although you may be tempted to use one of the Vélib bikes available throughout Paris, don't; you need a sturdier road bike or maybe even an electric bike for this trip. Three good sources are Paris Bike Tour, Paris à Vélo, and Paris Bike Company.
You'll also need a route map, such as this one from bikemap.net which starts at Bois de Bologna:
You can find detailed directions here.
The only areas of the Estate where bikes are not allowed are in the gardens and the Palace (and other buildings such as the Grand and Petit Trianons). If you want to visit those places, you should bring a sturdy bike lock, which you can probably get wherever you rent your bike; if not, go to the nearest Decathlon, the huge French sporting goods store which has multiple locations in Paris.
You'll also need a "Passport" entry ticket for the Palace, Gardens, and other ticketed areas.
Bon voyage, and have fun!
---
More Articles about Visiting the Palace of Versailles