You'll know Easter in Paris is happening soon when chocolatiers display festive chocolate bunnies and candy eggs, pâtisseries fill their shelves with elaborately decorated cakes, and florists perfume nearby streets with the sweet scent of Easter lilies.
In 2023, Easter takes place on Sunday, April 9. The Monday following Easter is a public holiday, so you should expect many smaller shops and restaurants to be closed. The metro and city buses will run but on a limited holiday schedule.
If you're visiting Paris on Easter weekend, you'll find plenty of things to do. Favorite Paris Easter activities include religious services in the city's magnificent churches, special Easter concerts in spectacular settings such as Sainte Chapelle's stained glass chapel, and of course Easter egg hunts in the most beautiful Paris parks, chic neighborhoods, and breathtaking venues.
And don't forget all those chocolate rabbits and other confections - it's the perfect time to conduct your own tasting tour of Parisian chocolate makers and pick your favorite!
The 3-day Easter weekend gives you the perfect excuse to enjoy the beginning of spring weather in Paris - go for a picnic in a park, a cruise down the Seine, or even a museum.
Here are our best tips on how to celebrate Easter in Paris.
Contents: Easter Egg Hunts - Easter Concerts - Chocolates - Where to Eat - Religious Services - More to Do
Top photo: Easter Eggs at Foucher, top Paris chocolatier, (c) Paris Discovery Guide
Paris Discovery Guide is a reader-supported publication. When you buy through our links, we may earn a commission at no additional cost for you. Learn more
---
Where to Indulge in Easter Chocolates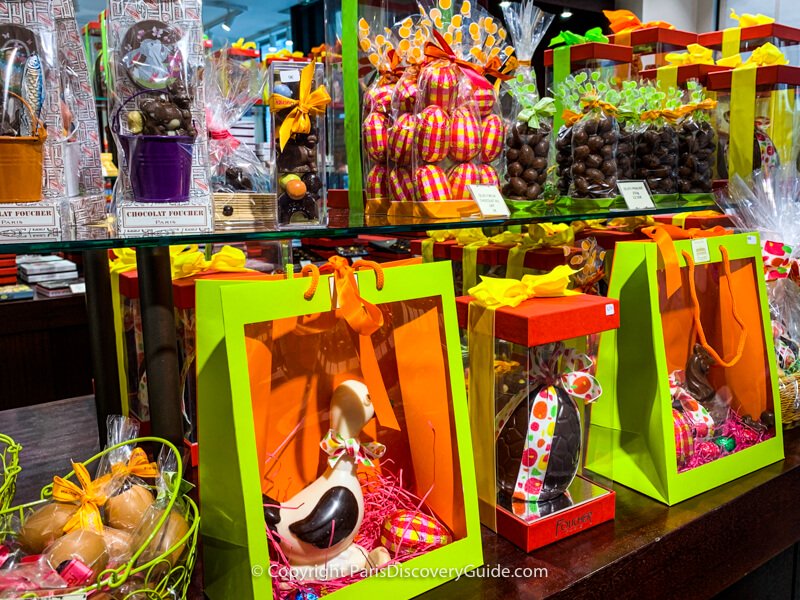 Easter inspires Paris chocolatiers to fill their windows with beautiful Easter eggs, rabbits, and other creatures almost too beautiful to eat - but of course you must! Here are locations for nine of the most famous chocolate shops:
Jean-Paul Hévin - Superb traditional chocolates and macaroons; don't miss the tearoom upstairs! - 231 Rue Saint Honoré, 1st arrondissement; Metro: Tuileries; plus other locations
Foucher - Family-run chocolatier offering hand-crafted chocolates, bonbons, and macaroons in two locations; the Rue du Bac shop has a wonderful tearoom - 134 Rue du Bac, 7th arr, Metro: Sèvres-Babylone; also 30 Avenue de l'Opéra, 2nd, Metro: Pyramides
Joséphine Vannier - Artisan chocolate maker in the Marais, known for her elaborate chocolate Easter eggs; you should also try the gourmet ice cream - 4 Rue du Pas de la Mule, 3rd arr, Metro: Bastille
Pierre Marcolini - Flavors change with the seasons, but are always wonderful - 89 Rue de Seine, 6th arr; Metro: Mabillon
Fauchon - Their intricate Easter eggs could double as works of art; treat yourself in the tearoom while you're there - 11 Place de la Madeleine, 8th arr, Metro: Madeleine
Pierre Hermé - Better known for fabulous macaroons, but the chocolates are also mouth-watering - 72 Rue Bonaparte, 6th arr, Metro: Saint Sulpice; many other locations
Chocolats Richart - Intricately decorated ganache with amazing flavors - 27 Rue Bonaparte, 6th arr.; Metro: Solférino
La Maison du Chocolat - A global brand that began in Paris, and justly famous - 225 Rue de Faubourg Saint-Honoré, 8th arr, Metro: Ternes; several other Paris locations
Jeff de Bruges - Founded in Belgium by a Frenchman who combines the secrets of famous Belgian chocolates - 144 Rue du Faubourg Saint-Antoine, 12th arr; Metro: Faidherbe-Chaligny
Un Dimanche à Paris (Currently closed) - A chocolate empire owned by Pierre Cluizel, scion of a famous French chocolatier, and a master in his own right - Cour du Commerce Saint-André, 6th arr, Metro: Odéon
---
Go on a Paris Chocolate Tour
Love sampling chocolate? The Pure Chocolate Walking Tour, where you'll visit 5 master chocolatiers in the exclusive Right Bank neighborhood around Tuileries Garden and Madeleine Church is calling your name... Find out more
---
Where to Eat When Restaurant Are Closed on Easter Weekend (Or Any Day)
Many Paris restaurants will close on Easter Sunday and even on the following Monday - so why not combine sightseeing with a gourmet meal on these fun dinner cruises and tours:
---
Easter Concerts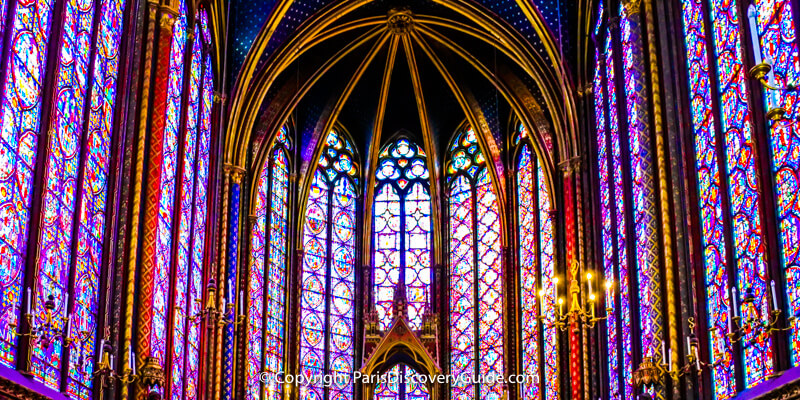 Special Easter concerts take place in several beautiful Paris churches and chapels - a memorable experience. To ensure your place, get your tickets early as they usually sell out in advance.
Concerts on Palm Sunday and Easter Weekends
Find more Paris concerts in April
---
Easter Religious Services in Paris Churches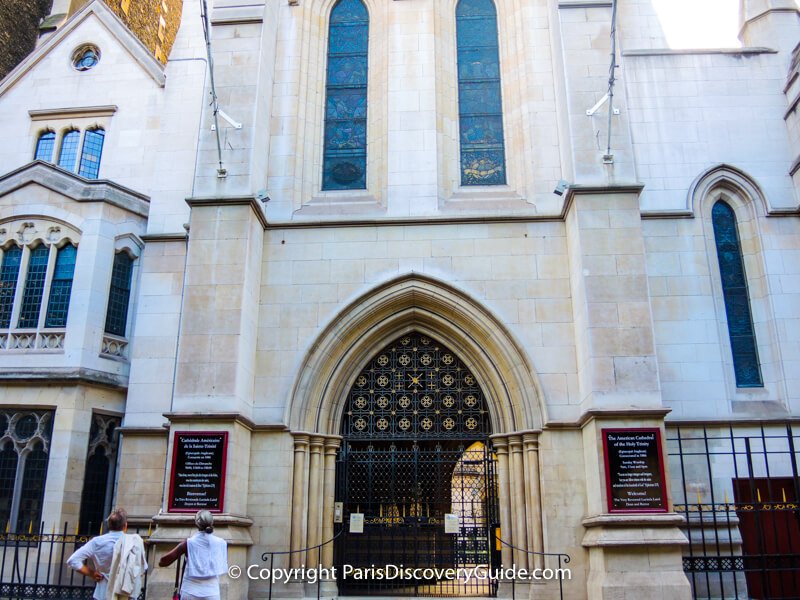 Want to attend Easter church services in Paris? You'll find lots of wonderful options throughout the city, including six churches offering Easter services in English.
Please check church websites for Easter service schedules, in case of any last-minute changes.
Easter Services in English
American Cathedral (23 Avenue George V, 8th arr, Metro: Alma Marceau) - Episcopal church with numerous Holy Week and Easter services. The 11am Easter service is a Festival Eucharist with a choir and brass, followed by an Easter egg hunt. Website
St Michael's Church (5 rue d'Aguesseau, 8th arr; Metro: Madeleine) - Anglican church serving a diverse community. Holy Week and Easter services in English and in Tamil. Website
St Joseph's Catholic Church (50 Avenue Hoche, 8th arr, Metro: Étoile) - The only English-speaking Catholic church in Paris. Multiple Holy Week and Easter services. Their website is under construction but you can find up-to-date information about services on their Facebook page.
American Church (65 quai d'Orsay, 7th arr, Metro: Invalides) - Inter-denominational Protestant church. Easter services include a Good Friday service, Easter Sunday sunrise service on the quai overlooking the Seine River, two traditional services, and a contemporary service. Don't miss the two Tiffany stained glass windows toward the back of the church - the only Tiffany windows in a French church. Docent tours of the church are offered each Sunday (except for the first Sunday of each month) and at other times during the week. Website
Temple de Pentemont (United Protestant Church of Pentemont-Luxembourg) (106 Rue de Grenelle, 7th arr, Metro: Solférino) - Protestant church carved out of a 17th century convent in the mid-1800s by famed architect Victor Baltard, who also installed a huge Cavaillé-Coll pipe organ. Check their website for Easter service information: https://www.epupl.org/
Trinity International Church of Paris (58 Rue Madame, 6th arr, Metro: Rennes) - Christian church offering sermons in English with French subtitles. Website: http://trinityparis.com/
The Scots Kirk (17 Rue Bayard, 8th arr, Metro: Franklin D. Roosevelt) - The only Church of Scotland in France, as well as the only English-speaking Presbyterian church in France. All nationalities are welcome! Palm Sunday and Easter services. The Scots Kirk also hosts 2-3 concerts each month. Website
Easter Services in French
If you want to attend Easter services in Paris in French (you don't have to understand every word to have a meaningful experience), these famous churches offer Catholic services on Good Friday, Easter, and Easter Monday:
---
More Things to Do on Easter in Paris
Even though many Paris shops and restaurants will be closed on both Easter Sunday and Easter Monday, a number of famous Paris museums and monuments will be open. Here is a small sample:
Centre Pompidou (National Museum of Modern Art) - Place Georges Pompidou, 4th arr; Metro: Hôtel de Ville
Choco-Story Paris - Gourmet chocolate museum - 28 Boulevard de Bonne Nouvelle, 10th arr; Metro Bonne Nouvelle - Get Tickets
Guimet Museum of Asian Arts - 6 Place de Jena, 16th arr; Metro: Jena
Grevin Paris Wax Museum - 10 Boulevard Montmartre, 9th arr; Metro Bourse
Louvre Museum - 1st arr; Metro: Palais Royal
Paris parks including Bois de Boulogne (16th arr) and Bois de Vincennes/Paris Zoo (12th arr) are open. Pick a park, bring a picnic lunch and bottle of wine (many neighborhood bakeries and small produce stores will be open, although perhaps in the morning only), and spend the day relaxing and enjoying spring weather.
---
Easter Egg Hunts in Paris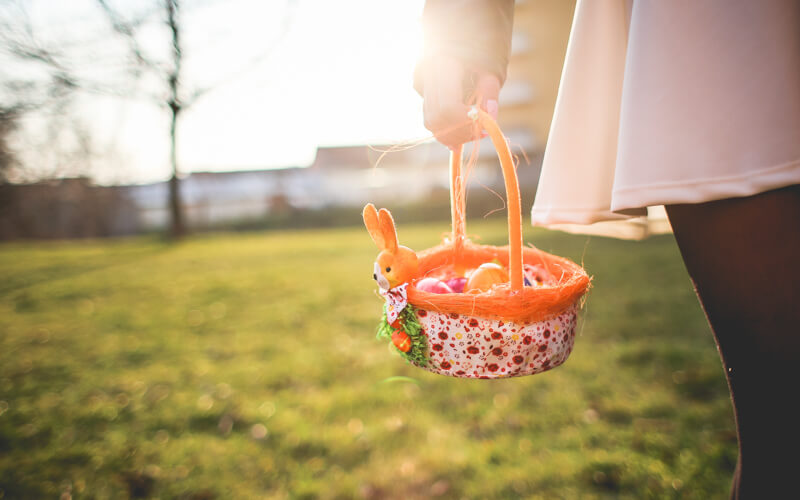 Easter egg hunts and other Easter activities for children take place all over Paris in parks and other special venues. Look for chocolate eggs from famous Paris chocolate makers, confections from top pastry chefs, games, and other activities to celebrate the beginning of spring in some of the city's most beautiful places.
Here's the schedule of Paris Easter Egg Hunts in interesting (and a couple of unusual) locations. (Please note: All dates to be updated for 2023.)
Paris Zoo (Parc Zoologique de Paris)
Celebrate Easter with an egg hunt, crafts, and other activities including a visit to an egg "museum." Children 3 to 7 can hunt for eggs (two sessions: 10am-1pm, and 2pm-4:30pm) and perhaps win prizes.
Dates: to be confirmed
Location: Avenue Daumesnil, Bois de Vincennes, 12th arr, Metro: Porte Dorée
Cost: None, aside from the zoo's admission fee (individual and family ticket options)
More information: Parc Zoologique de Paris website
Parc André Citroën
"Solidarity" Egg Hunt for 40,000 hidden chocolate eggs plus lots of games, dancing, craft workshops, and other activities. For 3-8+ year olds, with hunt times based age.
Dates: Easter Sunday, April 9
Cost: 5€ for the basic hunt, up to 14€ for the hunt plus access to a variety of other activities. This Easter egg hunt is organized by a local charitable organization, the Secours Populaire de Paris (People's Relief of Paris), and fees this year will be used to support the victims of the war in Ukraine
Location: 2 rue Cauchy, 15th arr, Metro: Javel or Balard
More information & registration: Secours Populaire de Paris website
Rodin Museum
The Rodin Museum and famous Parisian chocolatiere À la Mère de Famille, which has been creating delectible confections since 1761, are teaming up this year to stage a traditional Easter egg hunt as well as games, workshops, and other children's activities in the museum's gorgeous sculpture garden.
Dates:
Cost: 9€ for adults, and free for children
Location: 77 rue de Varenne, 7th arrondissement; Metro: Varenne or Invalides
More information & registration: Musée Rodin website
Parc des Buttes Chaumont (1 rue Botzaris, Buttes-Chaumont, Belleville, 19th arr, Metro: Buttes-Chaumont or Botzaris) - Join the hunt for delicious eggs by famous chocolatier A la Mère de la Famille, and enjoy games and other activities held at the Pavillon Puebla.
Dates:
Cost: None

Jardin des Champs Élysées (Avenue des Champs-Élysées, 8th arr, Metro: Champs-Élysées-Clemenceau) - Join the hunt for special eggs by top Paris patisserie chefs, and join in games and other activities. Space is limited, so to participate, email paques@comitedufaubourgsainthonore.com.
Dates: Not scheduled yet
Cost: None

Montparnasse Tower's Easter Garden (Avenue des Champs-Élysées, 8th arr, Metro: Champs-Élysées-Clemenceau) - New this year: Hunt for Easter Eggs high above Paris (4-11 year olds; April x, 2pm-6pm; April x, 10am-5pm, and April x, 2pm-6pm), and visit a special animation of a mini-farm with animals, duck fishing, gardening, and a make up workshop (4-11 year olds; April x, 2pm-6pm. Space is limited. Register and buy your tickets online (click on Special events).
Dates: Not scheduled yet

Renoir Gardens at Musée de Montmartre (12 rue Cortot, 18th arr, Metro: Lamarck-Caulaincourt) - No Easter egg hunt this year. Instead, there will be an Easter egg workshop and party where children draw inspiration from the garden to decorate eggs with paints and fabric.
Dates: Not scheduled yet
Cost: 8.50€ for children 5-12; adults 12€

Grande Arche Rooftop (1 parvis de la Défense, take Metro Line 1 or RER A to La Défense Grande Arche) - The Arche's rooftop will be transformed into a farm for Easter weekend where you and your little ones can pet and feed donkeys, rabbits, chickens, and baby goats. Kids can take part in a daily Easter Egg Hunt, enjoy a maze ,and learn about farms.
Dates: Not scheduled yet
Cost: Adults 15€ and Child (2-12) 7€, under 2 years free, plus 5€ egg hunting fee
More information: https://www.lagrandearche.fr/actualites/toit-de-grande-arche-se-transforme-ferme
Jardin du Palais Royal (8 rue Montpensier, 1st arr, Metro: Palais Royal/Palais du Louvre) - Search for yummy eggs created by a famous Paris chocolate shop hidden in the beautiful garden near the the black and white columns designed by artist Daniel Buren in this special place dating back to 1633. Ages 3-12. Organized by Boutiuque Senoble, 11 Rue des Petits-Champs, 1st arr. Registration required: email contact@senoble.com and give the names and ages of your children.
Dates: Not scheduled yet
Cost: None
---
More Fun Things to Do in Paris
---
Need a Paris Hotel or Apartment for Your Easter Visit?
Planning a trip to Paris during Easter? Use this hotel map to find hotels and apartments during your travel dates:
Check out the newest Paris hotels
---
More Articles about Visiting Paris in April