Hi Andreas -
Père Lachaise Cemetery's rolling hills, winding cobblestone lanes, and hauntingly beautiful graves and memorials are memorable during every season, so you really can't go wrong whenever you decide to visit.
Although Père Lachaise doesn't compare with the Eiffel Tower or Notre Dame in terms of popularity, this famous final resting spot for famous artists, writers, performers, scientists, generals, politicians, culinary stars, inventors, and other celebrities is in fact the most visited cemetery in the world.
March is an excellent time to visit Pere Lachaise for a couple of reasons. First, relatively few other tourists are likely be there, which you can avoid the crowds that gather in the summer around the tombs of the most famous permanent residents such as Jim Morrison, frontman for The Doors, and Irish literary giant Oscar Wilde.
And second, Paris's moderate winters mean that by March, you'll see plenty of pale green leaves emerging on the cemetery's 4,100+ trees, and some of the early cherries will likely be in full bloom.
In the article below, I've outlined what to expect at Père Lachaise during each season and month throughout the year in case your plans change, a few key dates you may want to be aware of when planning your visit, and suggestions for other things to do nearby.
Have a wonderful visit!
Susan
Publisher, Paris Discovery Guide
Find out more about what to expect at Pere Lachaise Cemetery plus visitor information
Where to find 101 famous graves at Pere Lachaise
Top photo: Père Lachaise Cemetery in early May
---
Best Time of the Year to Visit Père Lachaise Cemetery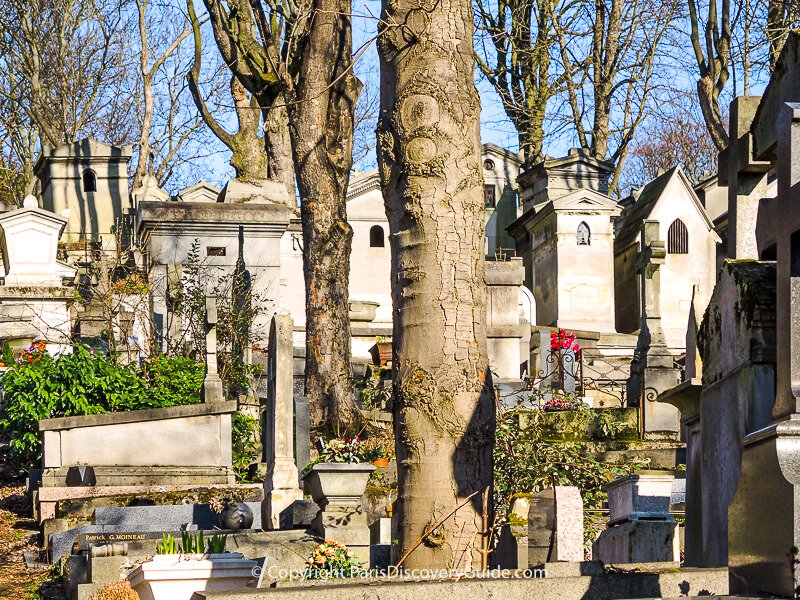 When is the best time of the year to visit Cimetière du Pere Lachaise?
Anytime throughout the year is fine, although you'll get a somewhat different experience depending on the season.
Let's start what to expect at the cemetery in the spring - renowned for being perhaps the most beautiful season in Paris - since that's when you're considering visiting this famous garden necropolis.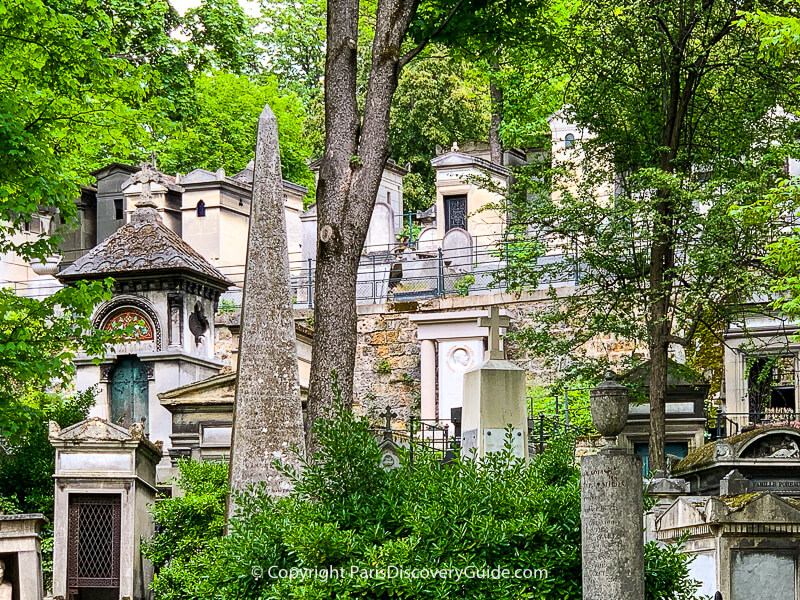 From mid-March through early May, the beauty of spring in Paris when all sorts of flowers burst into bloom attract growing numbers of visitors to the cemetery, including growing numbers of tourists - although Pere Lachaise is so large that it never feels crowded. Even on rainy days (which happen throughout the year), the cemetery is still beautiful - although you should avoid it during pouring rain as the paths can get quite slippery.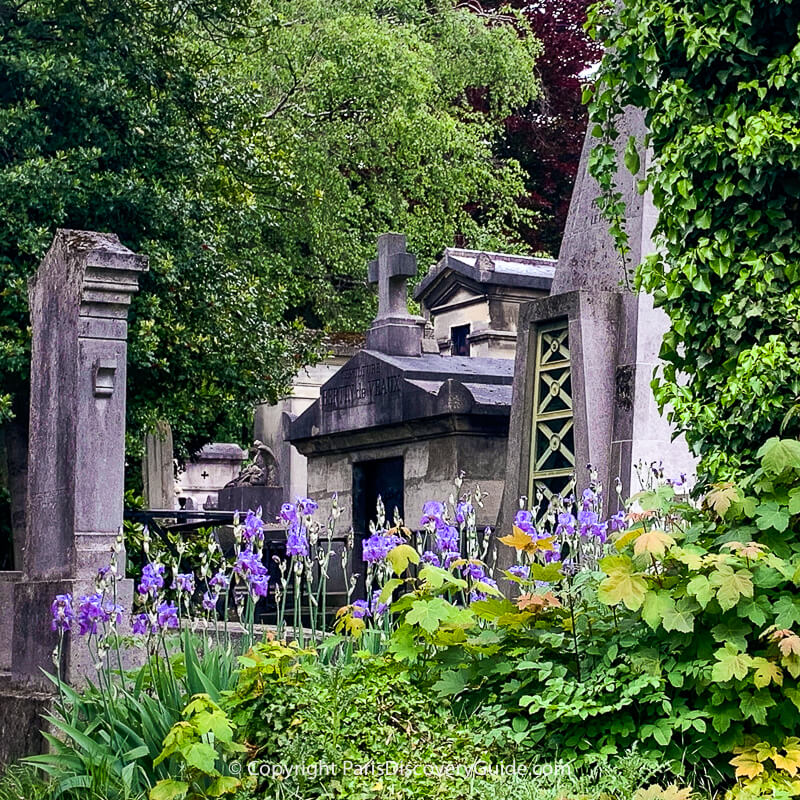 By mid-May, most of Pere Lachaise's over 4,100+ trees will be fully leafed out, covering the whole cemetery with a canopy of tranquil green throughout the summer and into the fall.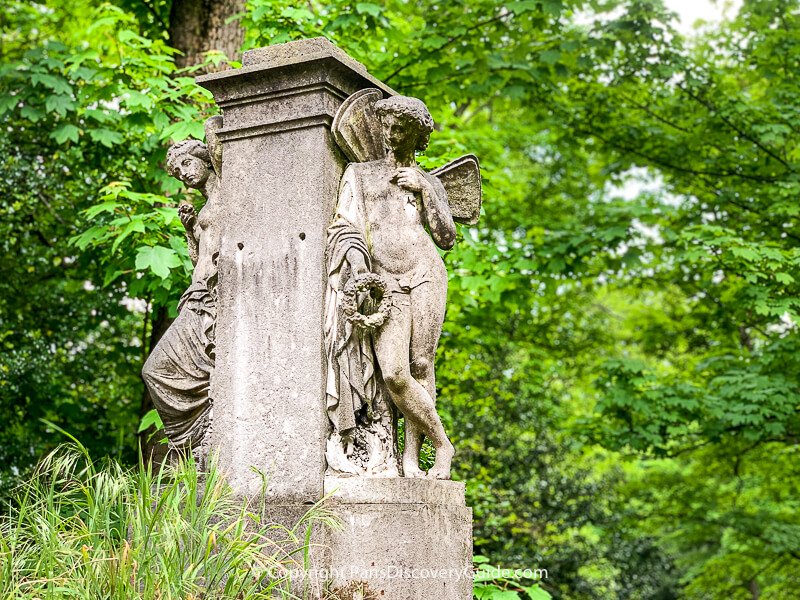 Then by mid-October, the cemetery puts on a spectacular autumn show of changing colors as all the leaves on its 4,100+ trees turn gold, amber, crimson, and finally deep russet over the next couple of months, and then blanket the graves and hillsides as they fall to earth. If you have a poetic bent, you might think about decay, death, and eventual renewal in the spring - but if not, just enjoy the colors and perhaps take a few photos.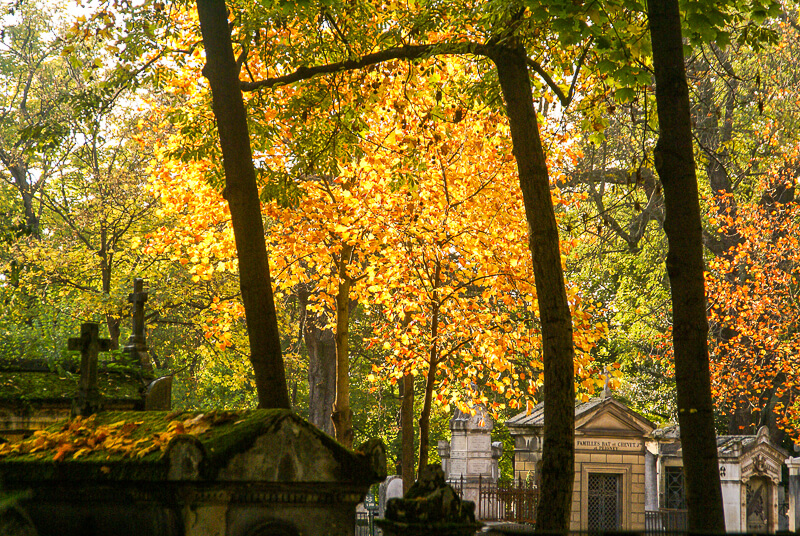 Although November is usually the best time to see brilliant fall foliage at Pere Lachaise, you can still see mellow color through early December and even later, although by that point almost all the leaves will be on the ground.
Is Pere Lachaise worth visiting during late December, January, and February? Absolutely yes. At this time of the year, few tree leaves block your view which means you can enjoy mostly unobstructed wide vistas of the graveyard's funerary art and architecture. On sunny afternoons, you may even be surprised by how much vivid color is always present from nature as well as graveside flowers. On overcast or cloudy days, Pere Lachaise turns a bit melancholy and you'll feel very aware that you're walking though a "city of the dead."
Special Days & Commemorations at Père Lachaise Cemetery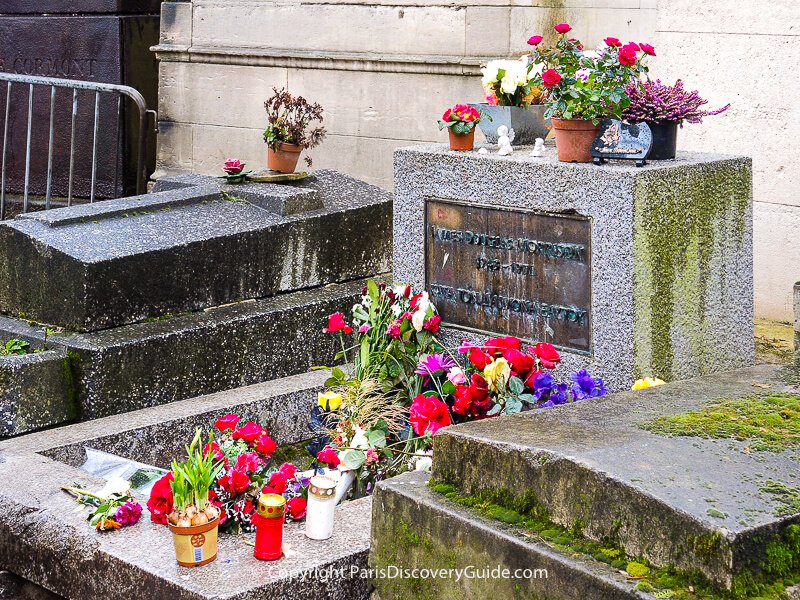 Special observances on a few days each year may impact your experience at Pere Lachaise Cemetery by dramatically increasing the number of visitors.
Find out which days Père Lachaise is closed, plus hours when it's open
The most important of these is La Toussaint, All Saints' Day on November 1. Although Toussaint (literally a contraction of "Tous les Saints) began as a Roman Catholic observance to honor the dead, it is a national public holiday throughout France observed by many people as a day of remembrance. Schools, banks, and a number of stores and restaurants will be closed.
Should you visit Père Lachaise on Toussaint? Because of the crowds bringing pots of chrysanthemums along with candles and perhaps food to put on their family burial plots, it's not the best time to explore the cemetery, see specific tombs up close, or experience the beauty of the graves silhouetted along the hillsides. Better to visit a couple of days later, when the flowers will still be there without thousands of other visitors blocking the views.
Toussaint actually begins at sundown on the prior day, All Hallow's Eve - Halloween - but since Pere Lachaise closes soon after sundown on October 31, it's not really impacted. If you do visit the cemetery on Halloween, you're unlikely to see actual ghosts, but you may encounter a few costumed ghouls, skeletons, and even witches posing for selfies.
Find out more about what to do and expect on Halloween in Paris
In some parts of the world, All Souls Day (a.k.a. the Day of the Dead) on November 2 features even more commemorations - but not so much in Paris, since it's not a holiday. Still, the cemetery typically has more visitors than usual on All Souls' Day, so you may also want to avoid the 2nd in you want unobstructed views.
Also, it's worth noting that in France, both Toussaint and All Souls Day are solemn occasions. Although in some parts of South America these days are festive celebrations of the dead, that is not the case at Pere Lachaise.
Crowds of Pere Lachaise visitors may also swell on July 3, the birthday of Jim Morrison, the singer/songwriter of the The Doors, an American rock group popular in the 1960s/early '70s. Ever since Morrison died in Paris under ambiguous circumstances in 1971, mostly female fans have gathered around his grave on his birthday - although since the charismatic frontman would be well into his geriatric years were he still alive and many of his fans have aged accordingly, their numbers have somewhat dwindled during the last couple of recent decades.
---
More Paris Attractions near Père Lachaise Cemetery: Walking Itinerary & Map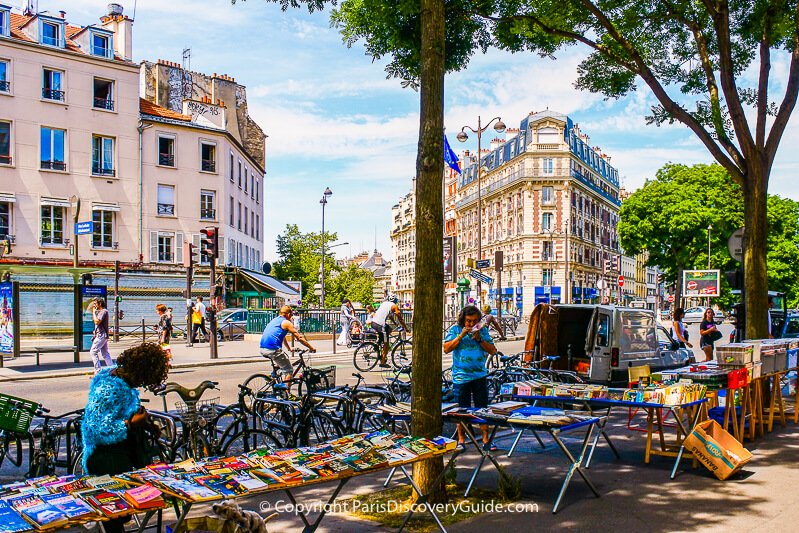 Père Lachaise is located in eastern Paris in the 20th arrondissement, a diverse and currently gentrifying mostly-residential part of the city. Explore the streets near the neighborhood surrounding the cemetery, and you'll find an interesting mix of small shops, good places to eat, and on some days, even a small street market (always worth a look - occasionally you can spot a treasure at a cheap price) along Boulevard de Ménilmontant near the Amandiers entrance.
If you're headed into central Paris after you leave the cemetery, here are three lesser-known but memorable places to see along the way, whether you walk or take the metro, followed by a map showing the walking route:
1. Atelier des Lumières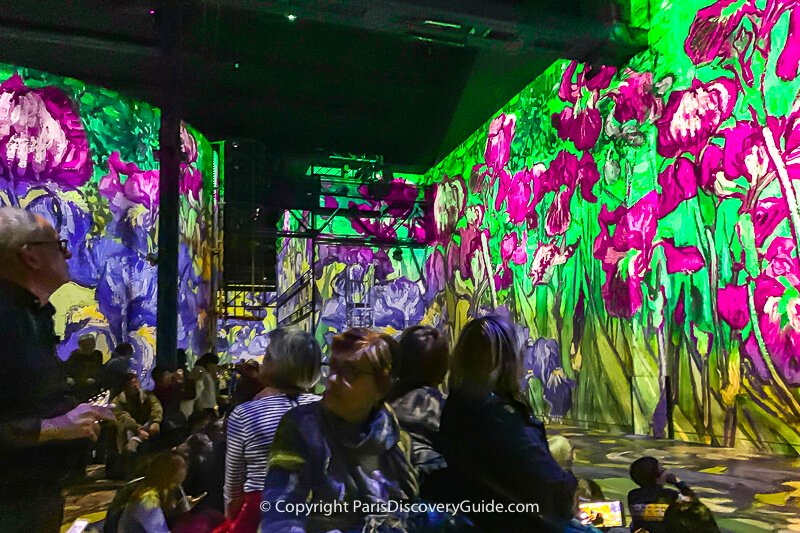 Although Atelier des Lumières' immersive multimedia digital art and music shows have attracted a growing number of fans in the past couple of years, it's still a much less well-known attraction than, for example, the Louvre Museum or Eiffel Tower.
Located in a former iron foundry just a few blocks from the cemetery, Atelier des Lumières surrounds you with an unforgettable mix of color, sound, and movement. Each show lasts about an hour and focuses for most of that time on a major artist such as Dalí, Chagall, or Van Gogh, plus 2-3 "shorts" featuring diverse subjects - all to the soundtrack of music ranging from classical to hip-hop to EDM. If museums tend to put you to sleep, don't worry: you won't be bored here for even a second.
Find out more about Atelier des Lumières
38 Rue Saint-Maur, 11th arr; Metro: Rue Saint-Maur | Open 7 days/week with continuous shows | Tickets must be purchased online | Distance from Pere Lachaise: less than a quarter of a mile
---
2. Place des Vosges
Less than a mile from Atelier des Lumières is Place de Vosges, Paris's oldest planned square and possibly the most beautiful, lined with almost identical house fronts with vaulted arcades at ground level and almost unchanged from when it was built by Henry IV between 1605-1612.
Today, Place de Vosges is a popular place to relax and soak up some sun in a tranquil setting in the middle of the lively Marais neighborhood. If you're there on a rainy day, explore the shops under the arcades and enjoy a drink or meal at one of the bistros.
Check out four lovely smaller gardens and parks along nearby Rue Payenne
Located in the Marais, 4th arrondissement | Getting there: Walking distance from Place de Vosges: about three quarters of a mile
---
3. Fontaine des Innocents / Les Halles
Very close to the trendy Les Halles shopping center in Paris's 1st arrondissement stands a rather massive Renaissance monument dating back to the mid-1500s, the Fontaine des Innocents.
This fountain positioned on a high pedestal is all that remains today from the graveyard scandal and rather grisly mess that led to the creation of Père Lachaise Cemetery back in 1804. (You can find out more about that situation, replete with partially decomposed bodies and stench that blanketed the city, here if you feel so inclined.)
Although the fountain is interesting to see because of its history, you probably won't spend more than a few moments looking at it, unless you happen to be a fan of Renaissance sculpture.
But nearby are several interesting attractions well worth seeing including the Forum des Halles shopping center/train station topped with an undulating golden canopy, the magnificent 16th century Saint Eustache Church filled with spectacular art treasures, market street Rue Montorgueil, some of the best cookware shops in Paris, and the former Paris Bourse (stock exchange), now repurposed as the Pinault Collection to showcase the contemporary art collection of one of France's wealthiest tycoons.
Find out more about these top 1st arrondissement attractions
Getting there: Walking distance from Place de Vosges: about three quarters of a mile
---
Map Showing Walking Route from Père Lachaise Cemetery to Nearby Attractions
---
Find more questions about Paris travel, and our answers
---
Pin Now, Read Again Later
---
---
Need a Paris Hotel or Apartment for Your Visit?
Use this hotel map to find hotels and apartments during your travel dates: