Summer is the most popular season to visit Paris, and for good reasons. Long periods of daylight, delightful weather, and lots of outdoor activities and events make this season the ideal time to enjoy the city's beauty and rightly-famous attractions.
But summer is also when temperatures can soar into the upper 90s to 100°F (38°C) and above in Paris and stay there for days at a time. Unfortunately, the strong possibility of a heat wave - or la canicule, as this extreme heat is called in French - occurring at one or more points during the summer is predictable. The only thing you won't know, at least not very far in advance, is when they will happen.
If you're planning a trip to Paris, or if you're already here when the temperature starts to rise, knowing how to stay cool in Paris during summer heat waves will help you continue to enjoy your visit despite the extreme conditions.
Take a look at our 7 best tips for keeping comfortable when Paris gets hot. They're also useful even when the weather is perfect.
Top photo: Cooling off in the reflecting pool by the Louvre's Pyramid on a hot June day, (c) Paris Discovery Guide
Paris Discovery Guide is a reader-supported publication. When you buy through our links, we may earn a commission at no additional cost for you. Learn more
---
7 Tips for Staying Cool During a Paris Heat Wave
Tip 1: Hydrate by Drinking Lots of Water
Drinking plenty of water helps lower your body temperature, replaces the fluid you lose through sweating, and reduces your chance of getting dehydrated. 
Fortunately, there's no need to buy bottled water.  Paris's tap water is excellent, so carry a small water bottle to refill from one of the approximately 1,200 public drinking fountains available throughout the city.
Although the 100 or so 19th-century green cast-iron Wallace water fountains are the easiest to spot because of their distinctive appearance, you'll also have no trouble finding the modern versions. Look for fountains in Paris parks, squares, plazas, and even along the streets.
If you forget your reusable bottle, you can easily buy a bottle of water in small groceries, most bakeries, and from vending machines in metro stations (usually located near the tracks).  But once you've drained it, don't throw it away. Keep it and refill it whenever you need another drink.
Or you can go into a brasserie, walk up to the bar, and ask for a cup of water to go (which you'll be given for free) - or sit down at a table, order a Perrier with lemon or lime (and ice!), and cool off as you sip it slowly.
What should you avoid? Any drink containing alcohol such as wine, beer, cocktails, and Champagne, due to alcohol's dehydrating effect.
For a special treat, refill your water bottle with free sparkling water at one of the city's special public fountains (fontaines petillante) equipped to carbonate and chill the water to a refreshing 44°F (7°C), the temperature that produces the best bubbles.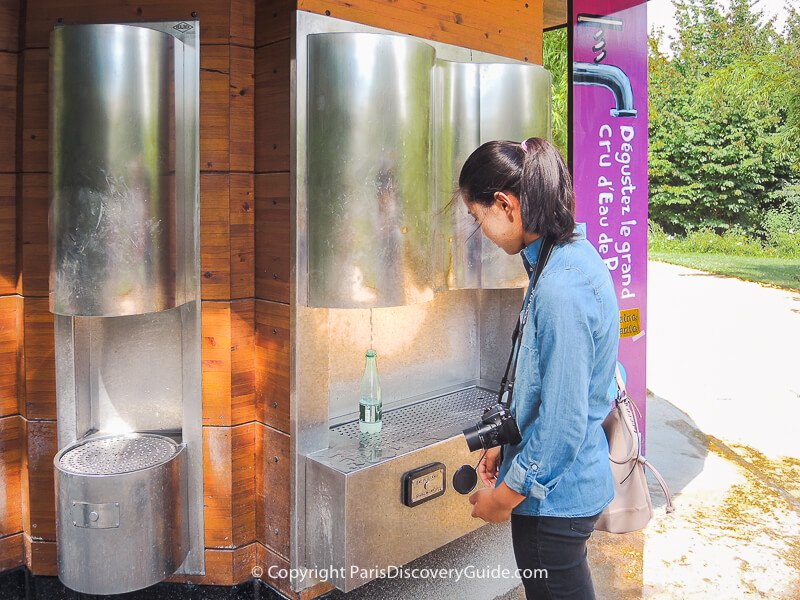 You can find the sparkling water fountains in these locations:
1st arrondissement, Rue Berger - In Jardin Nelson Mandela, near the splash pool next to Les Halles
2nd arr, 2525 Rue Leopold Bellan - Near Centre Sportif Jean Dame
4th arr, 4 Place Edmond Michelet - South side of Place Edmund Michelet, near Centre Pompidou and the Stravinsky Fountain
7th arr, 33F Quai Anatole France - Outside the west end of Musée d'Orsay, not far from the Metro/RER station
9th arr, Rue Marguerite de Rochechouart - By the Valeyre Sports Complex between Rue Mayran and and Rue de Bellefond
10th arr - 157F Quai de Valmy - West side of Canal Saint-Martin, slightly north of Rue Eugene Varlin
11th arr, Boulevard Voltaire - Near intersection with Rue Popincourt, southeast of Square Saint Ambroise
12th arr, 153 Avenue Daumesnil - Near entrance to the Promenade Plantée (Coulée Verte) elevated park at the Rue Charenton intersection
13th arr, 19 Rue Neuve Tolbiac - Across from the François Mitterrand Library
14th arr, 47 Rue Gazan - Northeast corner of Parc Montsouris, by the Ave Reille intersection
15th arr, 129S Quai Andre Citroen- Along the Seine River, near Parc Andre Citroen
16th arr, Chausee de la Muette - About 100 feet past the east entrance to Jardin du Ranelagh - look for it on your left
17th arr, Parc Martin Luther King - Along the Rue Gilbert Cesbron path that's about 300 feet north of this wonderful park's splash pool
19th arr, Rue Manin - Edge of Parc Buttes Chaumont, near Rue de Rhin intersection
19th arr, 28F Rue d'Aubervilliers - East side of Jardins d'Éole, between Rue Bellot and Rue du Departement
20th arr, Rue Dulaure - Northeast corner of Square Séverine, near Place de la Porte de Bagnolet
Fun & Reassuring Fact: The City of Paris continually tests the city's water and performs about 350,000 analyses per year to ensure compliance with France's rigorous quality and safety standards.
---
Tip 2: Dress to Stay Cool
When the weather in Paris turns hot, stay cool by wearing lightweight, breathable natural fabrics such as 100% cotton or linen.
Loose, flowing styles such as sundresses and skirts will be cooler than close-fitting pants, especially since they'll create a light breeze as you walk. Loose pants also feel cool, but make sure the legs aren't so wide that they get caught in things and rip, or so long that they drag along the sidewalks, which are never reliably free from dog poop. Avoid thick or heavy fabrics, like denim jeans.
You should anticipate the possibility of heat waves during the summer and pack accordingly. Keep in mind that la canicule can also happen in late spring and early fall.
If Paris gets hit with high temperatures and you discover you packed the wrong things, you'll find plenty of places to buy what you need before the summer sales start in mid-June. For example, Comptoir des Cotonniers, which has several locations around the city, usually offers lots of reasonably-priced and high-quality cute options in cotton and linen.
Once the summer sales begin, choices begin to narrow quickly, but everything you find will be at bargain prices. Bu after the sales end in July, many boutiques swap in their early fall collections. At this point, your best bet is to check "stock" stores, which often carry previous-season items.
Tip 3: Relax in the Shade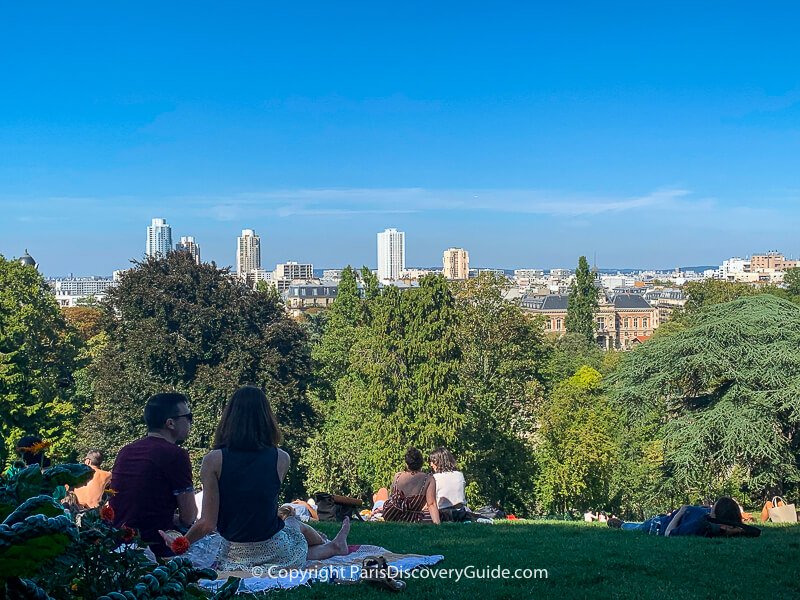 When a heat wave hits, follow the examples of Parisians and spend the hottest part of the day in the shadiest park you can find.
Crowds will be the biggest (and shady spots the scarcest) in parks in the central arrondissements, such as Tuileries Garden, Jardin du Palais Royal, the Jardin des Plantes, Luxembourg Garden, and Place des Vosges.
And don't even think about the grassy lawns of Champ de Mars or Esplanade des Invalides - way too much sun, not nearly enough trees.
To maximize your chances of finding a shady spot and perhaps a cool breeze, head farther out to the slopes of these beautiful parks:
Eastern Paris - Parc des Buttes Chaumont, Parc de Belleville, Jardin de Reuilly, Parc de Bercy, Parc de la Villette
Northern Paris - Parc Martin Luther King, Parc Monceau, Square des Batignolles
Western Paris - Jardin du Ranelagh, Trocadéro Garden
Southern Paris - Parc Andre Citroen, Parc Montsouris, Square Georges Brassens
Even better options are the so-called "lungs" of Paris, its two huge wooded parks: Bois de Vincennes and Bois de Boulogne. In addition to plenty of trees, you'll also find lakes with rowboats, beautiful gardens, free summer concerts, and other recreation. Vincennes, to the east, also has a castle and zoo, and Boulogne, to the west, includes the (air-conditioned) Fondation Louis Vuitton and Jardin des Acclimatation, which has a small menagerie and amusement park nestled between theme gardens.
Don't forget to bring a blanket to sit (or nap) on, a picnic lunch and/or dinner, and your water bottle, which you can refill at the parks' many fountains. And, of course, a bottle of wine.
---
Tip 4: Take It Easy During Mid-Day
Look around any Paris neighborhood from mid-day through the afternoon, and you'll realize where Parisians go when they want to escape their small, un-airconditioned apartments without going too far from home.
Aside from parks, relaxing under the shade of an awning over a cafe's sidewalk terrace while enjoying your beverage of choice (as well as having a toilet nearby) is the best way to evade the day's hottest temperatures.
Unless, of course, you can find a shaded terrace next the Seine where you might catch a breeze from the water.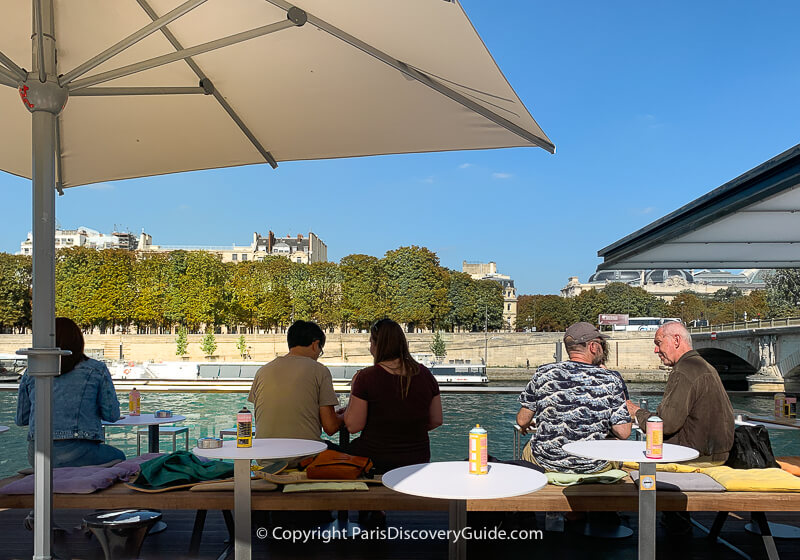 During summer months, pop-up cafes, bars, and lounge chairs line the river and canals, especially during the 8-10 weeks in July and August when Paris Plages (Paris "beaches") bring games and recreation to several areas along the waterfront.
When la canicule hits, scoring a spot under an umbrella or other shade can resemble a competitive sport, so arrive early to find one of the coveted seats.
And don't forget to put on sunscreen, because even under an awning, you'll get lots of sun reflected off the water.
Finally, if you're staying in an air conditioned hotel or apartment, don't underestimate the value of a mid-day nap. The sun rises early and sets very late during Paris summers, so you'll still have plenty of daylight hours to explore the city.
---
Tip 5: Chill in Cool Places (Yes, You CAN Find A/C in Paris!)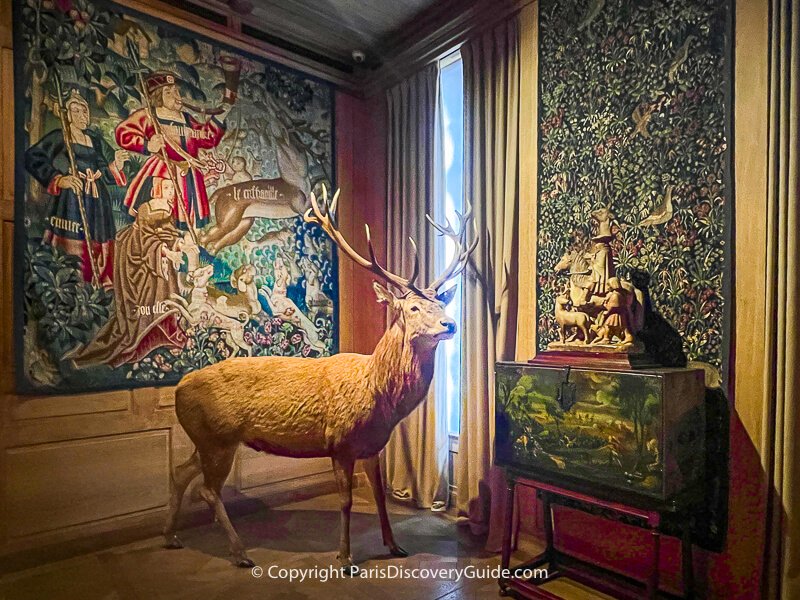 If you loathe being outdoors during heat waves, your best strategy is to seek air conditioned spaces and other cooler-than-average places.
Contrary to popular belief, Paris does have a/c - if you know where to look. Here are 7 places where you can find and enjoy cooler places:
1. Museums
Museums need low temperatures to preserve their collections so almost all of them have air conditioning. With roughly 140 Paris museums to choose from, you'll find at least a few to fit your interests.
Avoid the Louvre, Orsay, and other super-popular museums where crowds of visitors will generate enough body heat to cancel the cool air. Instead, head to smaller and lesser-known museums where you'll have the cool air mostly to yourself.
Several to consider: Musee Guimet (6 Place d'Iéna in the 16th arrondissement); one of the world's best Asian art museums), Musée du Quai Branly (art and artifacts from non-Western cultures plus fascinating special exhibitions), Musée Nissim de Camondo (historic house museum with fabulous furnishings and art), Museum of Hunting and Nature (superbly curated displays of animal and nature), and Maison Européenne de la Photographie (5 Rue de Fourcy in the 4th; exhibitions of photographs by contemporary artists).
Paris Discovery Tip: If you do decide to visit a popular museum such as the Louvre, go as early as possible before the crowds arrive and heat up the air. Once the museum gets crowded and warm, either leave or seek out less-packed, cooler areas. In the Louvre, Napoleon III's Apartments (1st floor of the Richelieu Wing, starting in Room 544) are usually fairly empty; the Islamic Art Collection offers cool temperatures due its below ground level location and lack of crowds (enter it in the Denon Wing near the Greek, Eutruscan, and Roman art; then go to the -1 level).
2. Large Shopping Venues
Paris's large department stores (Galeries Lafayette, La Samaritaine, Printemps, BHV Marais, Bon Marché), other large stores such as Fnac, and modern Paris shopping malls have air conditioning.
Malls can be a good place to spend a few hours on a hot day because in addition to shopping, you can browse the housewares and decor stores for design ideas, treat yourself to a pedicure, and enjoy coffee, a glass of wine, or a meal without leaving the premises.
For example, the Beaugrenelle complex next to the Seine River in Paris 15 (about a 10-minute walk from the Eiffel Tower), offers 120 stores (including a Galeries Lafayette, about 15 home decor and interior design boutiques, beauty and nail salons, and a big Fnac electronics emporium), plenty of food and drink options, and a 10-cinema theater. Non-EU shoppers can benefit from Beaugrenelle's centralized tax rebate policy: if your combined purchases exceed 175€, you'll qualify for the rebate.
3. Naturally Cool Locations
Another strategy for keeping cool in Paris on hot days while exploring the city is to choose places that are always cooler thanks to their natural air cooling features. For example:
Paris Catacombs - Due to their location in underground tunnels, the Catacombs temperature always is about 57°F (14°C), even in summer. Book in advance to avoid an hours-long wait in the sun. Get a ticket and audioguide to explore on your own, or go with a guide for a longer, more detailed tour.
Wine Cellar Tastings - Wine cellars must maintain a low temperature to protect the wine, and like the Paris Catacombs, their underground location means they're always slightly chilly - so they're a perfect place to spend a few hours away from the heat. Several cellars located in central Paris host special wine-tasting events and classes. Enjoy a special wine-tasting lunch where you'll sample 5 different French wines paired with cheese, a wine-tasting class conducted by a professional sommelier, or a guided tour of Paris's Wine Museum (including tastings).
Evening Seine River Cruises - Enjoy cooler evening temperatures combined with breezes when you take a 1-hour evening Illuminations Seine River cruise.
4. Movie Theaters
Most Paris movie theaters have air conditioning, and spending a few hours at a movie is a time-honored way to escape the heat. If you can't speak French, look for American, British, and other English-language movies with the "VO" designation, which stands for "Version Originale."
What if you can't find a nearby theatre showing a movie in English? Go anyway: a dark, air-conditioned theater is the perfect place catch a refreshing nap in the nice cool air as you pretend to watch a movie you can't understand.
5. Air-Conditioned Hotels
All hotels in the 4-star and 5-star categories are required to have air conditioning, and many in the 3-star category do as well. So of course if your budget permits and if you like to sleep in an air-conditioned space, book a hotel with a/c during summer months.
Hotels can also provide a comfortable oasis from the heat during the day, even if you're not a guest. Many of the larger 4- and 5-star hotels, especially those belonging to American brands such as Marriott and the AccorHotels Sofitel hotel group, welcome non-guests to their bars and restaurants, so no need to feel like you're sneaking into their air-conditioned space. Order yourself something cold (remember, no alcohol), and sip it very, very slowly while you cool off. Bonus: You can also use the toilet while you're there.
6. Churches
The thick stone walls of Paris's centuries-old churches provide excellent insulation from the heat. Walk inside, and you'll suddenly feel 20 degrees cooler.
During the day, soak up the beauty of the stained glass, art (sometimes by famous artists such as Delacroix), and architectural details. Here's a sample of large historical churches in central Paris for you to explore as you cool off:
Église de la Madeleine (Madeleine Church) - Neoclassical Greek design; check out the fantastic neo-Byzantine mosaics, art, and sculptures; originally built as a temple to honor Napoleon's army (don't miss the fresco over the altar featuring Napolean at its center) - Place de la Madeleine, 8th arrondissement
Église Saint-Eustache (Saint Eustache Church) - 2 Rue du Jour, 1st arrondissement (close to Les Halles)
Église Saint-Sulpice - Late-Baroque style filled with magnificent art treasures and a famous Cavaillé-Coll organ; second-largest church in Paris, and almost as large as Notre Dame Cathedral; features prominently in The Da Vinci Code - Place Saint-Sulpice, 6th arrondissement
Church of Saint Paul-Saint Louis - Italianate style, built in the early 1700s, and one of the most beautiful church interiors in Paris, including many art treasures - 99 Rue Saint Antoine, Marais neighborhood in the 4th arrondissement
Church of Saint Germain l'Auxerrois - An exuberant mix of Romanesque, Gothic, and Renaissance styles; visit in late-afternoon when light streams through the west-facing rose window - 2 Place du Louvre, across the street from the Louvre Museum in the 1st arrondissement
Église Saint-Germain-des-Prés - Oldest church in Paris, built in Romanesque-Gothic style with 19th century ornamentations; check out the thousand-year-old stained glass windows and 11th-12th century frescoes - 3 Place Saint-Germain-des-Prés, 6th arrondissement
Saint Roch Church - Classical architecture; one of the best art collections among Paris churches - 296 Rue Saint-Honoré, 1st arrondissement
Saint Severin - Built in the 11th century; one of the most beautiful Gothic churches in Paris - 1 Rue des Prêtres-Saint-Séverin, 5th arrondissement
In the evening, cool off at the stunningly beautiful Sainte-Chapelle, known for its massive stained glass windows and soaring French Gothic architecture, by attending one of the popular classical concerts held here almost every night.
---
Tip 6: Cool Off in Splash Fountains, Water Misters, & Swimming Pools
Just like keeping hydrated by drinking lots of water cools your body from the inside, a multitude of splash fountains, water misters, and swimming pools throughout Paris let you cool off on the outsde during hot days.
Where to Find Splash Fountains & Water Misters in Paris
When a heat wave hits Paris, cool off in parks and plazas with splash fountains and water misters.
What's the difference between a splash fountain and water mister? In general, you'll get a little wetter in a splash fountain, which shoots up jets of water, than you will in a water mister, which produces a finer stream of moisture. But when the weather turns hot, who cares about the difference as long as you can get wet enough to cool off.
Here's where you'll find Paris's summertime misters and splashers:
Parc Martin Luther King,17th arrondissement, Batignolles neighborhood - Big splash pad with about 50 water jets. Metro: Cardinet, Brochant, Porte de Clichy
Place de la Republique,10th arrondissement. Look for the splash fountain near the Marianne statue in the center of the plaza. Metro: Republique
Parc André Citroen, 15th arrondissement. Huge area with 72 water spray jets - maybe the biggest splash pool in Paris. Metro: Javel or Balard
"L'Ile aux Brumes" on the Right Bank near Pont Neuf, 1st arrondissement - "Water Mister Island" featuring parabrumes (parasol-like water misters) appears during the 6 weeks of Paris Plages (Paris beaches) during July and August. Metro: Pont Neuf



Water misters installed for Paris Plages on the Left Bank of the Seine - Photo credit: istock/jptinoco

Nelson Mandela Park next to the Forum des Halles, in the 1st. Splash pools are on the west side of the shopping center. Metro: Les Halles
Jardin d'Acclimatation, in the 16th next to the Louis Vuitton Foundation at the edge of Bois de Boulogne. In addition to the splash pool, you'll find shady paths for walking, a small menagerie, theme gardens, and small amusement park. Closest metro: Sablons; follow the signs to the park. You'll walk about half a mile, but there's plenty of shade along the way. Admission is about 5€/person. You can also visit the Louis Vuitton Foundation (get your ticket online as their ticket lines on site can be long and slow) and then visit the park for free; exit through LVF's back door, and the pool is on your right. To get there, either take the metro to Sablons, or get tickets for LVF's shuttle service from the Charles de Gaulle/Etoile metro station when you book your admission ticket.
Parc de Choisy (13th) - Water misters. Metro: Tolbiac
Trocadéro Garden Fountain, in the 16th, across from the Eiffel Tower. Normally, wading or splashing in Paris's numerous reflecting pools and fountains is officially off-limits, and other than perhaps discrete toe-dipping on warm days (which is also technically illegal), you won't see anyone doing it. But when heat waves send the thermometer soaring near or above 100°F (38°C), standing under the spray from the 20 big water cannons proves irresistible, while sitting along the pool's edges or banks lets you cool off from the spray without getting soaked. During prolonged heatwaves, city authorities sometimes officially sanction it.
More Misters Coming Soon!
As the average temperatures rise each year, so do the number of misters. Look for more soon in these areas:
Jardin Atlantique (15th) - Rooftop garden next to Gare Montparnassse. Gare Montparnasse: Chardon-Lagache
Parc Georges Brassens (15th) - Tram stations: Georges Brassens, Cite des Perichaux
Parc Sainte-Périne (16th) - Directly across the Seine River Parc Georges Brassens - Metro: Chardon-Lagache
Square Boucicaut (7th) - Across from the Bon Marché department store. Metro: Sevres-Babylone
La Pelouse de Reuilly (Reuilly's Lawn, 12th) - A grassy area in Bois de Vincennes; if you walk into the park on the main path from the Porte Dorée metro station, Reuilly's Lawn is on your right as you walk past Lac Daumesnil on your left. Metro: Porte Dorée
Parc de Belleville (20th) - Metro: Pyrenees
Square de la Place de la Réunion (20th) - Small plaza next to the popular open-air Marché de la Réunion, a few blocks south of Pere Lachaise Cemetery. Metro: Alexandre Dumas
Square Elisa Borey (20th) - Small plaza a few blocks north of Pere Lachaise Cemetery. Metro: Menilmontant, Pere Lachaise
Jardin Serpollet (20th) - Small park with a children's playground on Rue Serpollet across from the Bagnolet Sports Stadium. Tram stations: Porte de Bagnolet, Marie de Miribel
Saint Fargeau (20th) - It's not yet clear exactly where this water mister will be located - maybe by the Saint-Fargeau metro station? Metro: Saint-Fargeau
Where to Find Outdoor Swimming Pools in Paris
For an even greater cooling effect plus fun and exercise, try one of Paris's swimming pools:
Paris Plages Swimming Pools - During July and August, go for a cooling swim in one of the free floating swimming pools in the Basin de la Villette, or cool off without getting totally wet in one of the pedal boats in the canal. Portable water misters along the Seine in central Paris give you another way to cool off.
Piscine ("Swimming Pool") Josephine Baker, set into a floating barge next to the Bibliothèque François Mitterrand in the 13th arrondissement, is open year-round but in hot weather, the retracting glass roof opens up to let in breezes. In addition to the main pool, there's also a wading pool for children. Reservations and fee information
Aquaboulevard - With 2 wave pools, 11 big slides, "rivers," jacuzzis, waterfalls, geysers, water cannons, and even real sand to create a beach, this water park is the ideal place to spend a day. Get your tickets (click on the down arrow in the ticket box for lower-cost child tickets) in advance for priority entrance - a necessity on hot days when the park fills to capacity.
Tip 7: Flee the City (on an Air-Conditioned Bus) to a Cooler Spot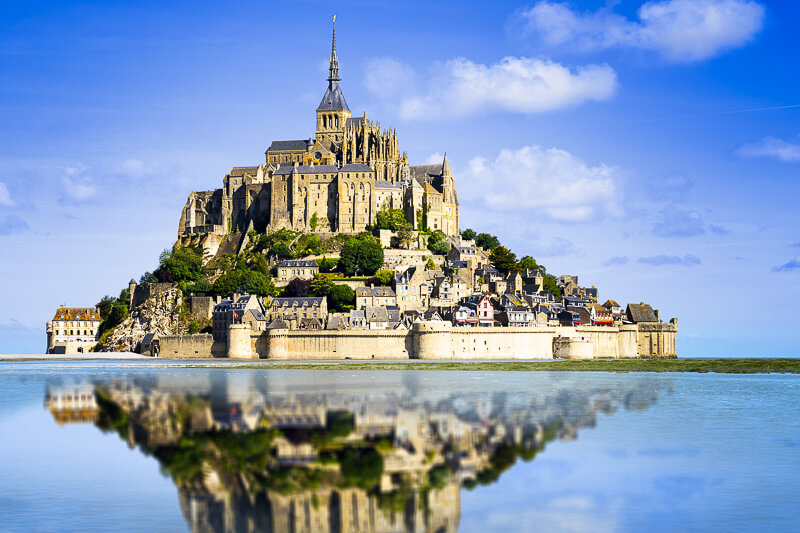 Last but not least, if you're planning to make a day trip to see one of the fascinating attractions near Paris, doing this can be a good strategy for keeping cool during a heatwave. The tour buses and minivans used for these excursions typically have excellent air conditioning (you may even want to bring a light wrap), plus many locations outside of the city may be at least a few degrees cooler.
Here are some good choices:
Day Trip to Champagne with 8 Tastings & Lunch - Enjoy the cool air in Champagne caves as well as sipping 8 glasses of the cool bubbly beverage. This small-group tour includes pickup at your hotel, lunch, and more. Take a nap on the way back to Paris in the air-conditioned minivan.
Normandy D-Day Landing Beaches Day Trip - Enjoy coastal breezes at the American Cemetery, Omaha Beach, and several other important D-Day sites along the Normandy coast of the English Channel. The a/c in the bus will also keep you cool!
Mont Saint Michel - Located on the hilltop of a tiny granite island off the Normandy coast, this hilltop abbey should be cool thanks to its thick stone walls. You'll also have time to explore the picturesque hillside village. Note: Your shoulders and knees must be covered, whether you're male or female, to enter the abbey, so dress accordingly. Thanks to the air-conditioned bus, you will be comfortable.
---
More Articles about Summer in Paris
---
More Fun Things to Do in Paris