Planning to visit Paris in the spring?
Be prepared to feel dazzled as the city bursts into bloom, days grow warmer, and Parisian life shifts outdoors to cafes, gardens, and leisurely strolls along the Seine.
Don't feel surprised if the city's spring beauty makes you feel almost giddy!
As a bonus, Daylight Savings Time kicks in at the end of March. From that point forward, the sun stays up until 8:30 pm in April, and until after 9:30 pm during May, giving you long hours of daylight for exploring and enjoying Paris.
We've rounded up 8 spectacular ways to enjoy spring in Paris. For first-time visitors, we include "insider tips" for getting spring "bonuses" at top attractions such as the Eiffel Tower and Versailles during this glorious season. If you're coming for a return visit, check out some of the lesser-known "hidden gem" places where you'll experience Paris at its springtime best!
Top photo: Foxgloves, iris, and phlox blooming in Tuileries Garden next to the Palais du Louvre in May, (c) Paris Discovery Guide
Paris Discovery Guide is a reader-supported publication. When you buy through our links, we may earn a commission at no additional cost for you. Learn more
---
1. Photograph the Eiffel Tower Surrounded by Cherry Blossoms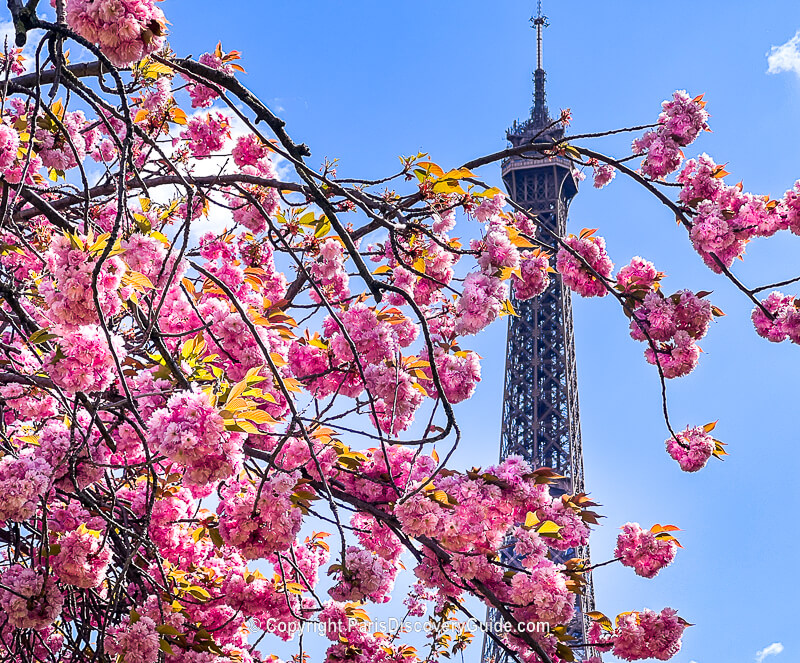 Whether you're visiting the City of Light for the first time or are a frequent return visitor, it's hard to resist photographing Paris's most iconic attraction, the Eiffel Tower, especially on a beautiful spring day from about mid-March through mid-April when the intoxicating beauty of pink cherry blossoms fill the air. (Please note: bloom times vary a bit each year.)
But here's an "insider's secret" tip: to get the best views of the "Iron Lady" surrounded by pink, avoid the crowds of tourists vying for the "perfect" spot for selfies under the rather sparse grove of cherry trees with pale pink flowers located in the small garden areas on Champs de Mars near the Tower.
Instead, walk across the Seine River on the Pont d'Iéna Bridge to the gently sloping Jardins du Trocadéro - maybe a 3-5 minute walk from the Tower. Once you're there, you'll see flamboyant deep-pink cherry blossoms covering dozens of large Kwanzan cherry trees along both sides of the park's long reflecting pools.
Walk around to find the views you like best. Bonus tip: you may find better angles toward top of the slope rather than closer to the river.
Prefer to use a professional photographer? Book a short session, or (especially if you want romantic poses), a longer 45-minute session.
Planning to visit the Eiffel Tower?
Read our tips for the best ways to get Eiffel Tower tickets & skip the longest lines
More Ways to See the Eiffel Tower
Find more Paris locations with gorgeous spring cherry blossoms
---
2. Watch Spring Unfold at Monet's Garden in Giverny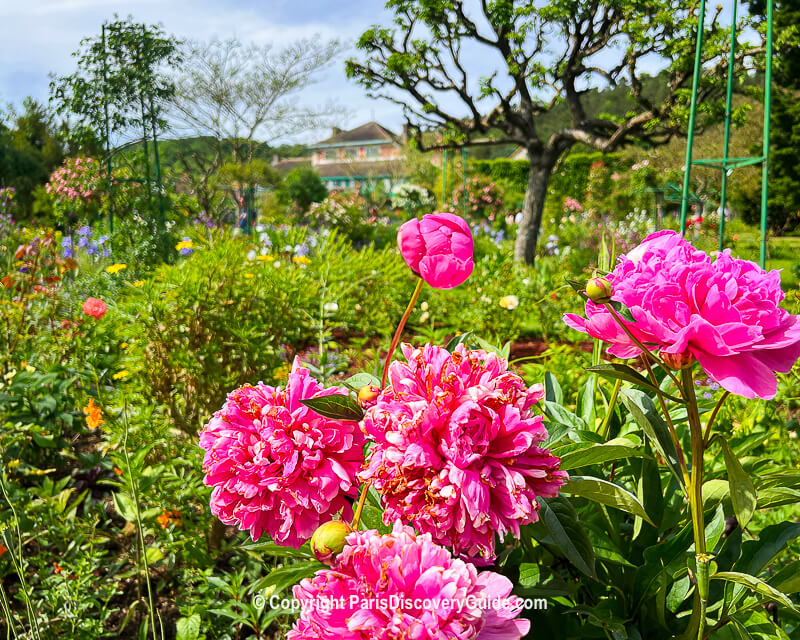 French Impressionist painter Claude Monet's home at Giverny reopens to the public around the first of April each year, just in time for the first spectacular flush of flowers in his famous gardens and surrounding the lily ponds that inspired so much of his later work.
Although you'll see continuous blooms in the densely planted gardens and ponds throughout the year, spring is especially gorgeous. What can you see? In addition to Japanese cherry trees, apple trees, rhododendrons, and azaleas, look for peonies, irises, tulips, lupins, roses, clematis, daffodils, allium, pansies, poppies, forget-me-nots, and hardy geraniums.
If you're very lucky, you may even see a few water lilies in bloom toward the end of May - although their peak blooming season comes during the summer and early fall.
Find out about the best Giverny tours, including transportation from Paris
More Ways to Visit Giverny
---
3. Watch the Musical Fountains Show at the Palace of Versailles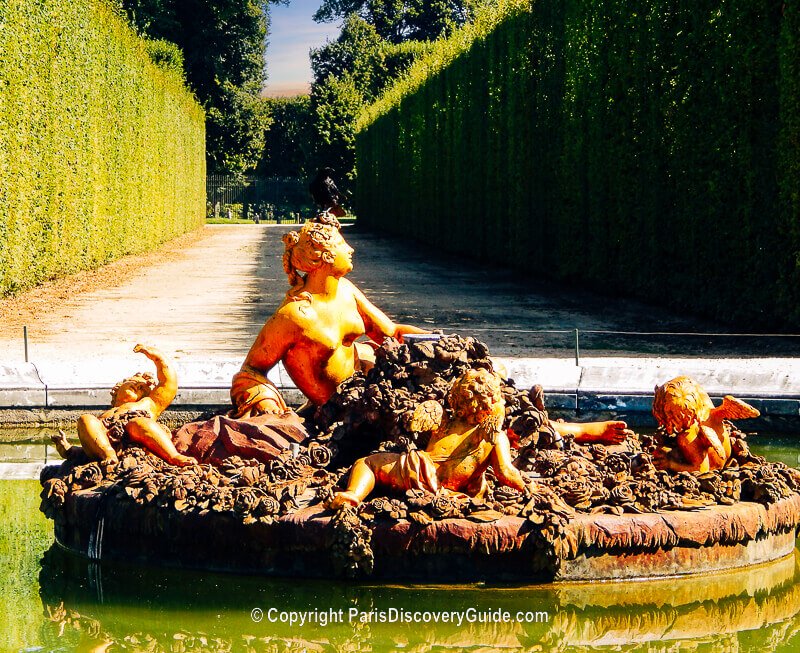 Starting around the first of April, the Palace of Versailles begins seasonal Musical Fountains and Musical Gardens Shows in the chateau's magnificent gardens - a magical experience that you should not miss!
During the Musical Fountains, the fountains in the Estate's gardens spout water to the beat of Baroque music as you stroll along suggested paths.  Not all fountains will be on at all times during the day due to environmental considerations. To see all 32 functional fountains in play, your best strategy is to be in the garden during late afternoon hours (3:30pm-5:30pm).
The Musical Gardens show gives you access to groves and gardens not usually open to the public.  As you walk around admiring the beautiful flowers, sculptures, topiaries, and other hidden treasures, you'll hear Baroque music wafting through the air. 
Musical Gardens take place on Tuesdays through Fridays, and Musical Fountain shows take place on Saturdays and Sundays.
More to Enjoy: Beautiful gardens filled with statues, fountains, flowers, tree allées, and walking paths - and of course, the incredible Palace itself!
Paris Discovery Tip: Versailles attracts large numbers of visitors, even during the spring months. So here's our "insiders" recommendation: choose a guided tour if you want to save time. Why? Guided tours get to enter through a separate, much faster security line.
Here are two highly-rated guided tours of Versailles with fast entry and round-trip transportation from Paris, plus Musical Fountains or Musical Gardens access (on days when available):
- Half-day tour of Versailles plus Musical Gardens/Fountains and round trip transportation from Paris
- Full-day tour of Versailles plus lunch, Musical Gardens/Fountains, and round trip transportation from Paris
Which one should you choose? If your schedule permits, take the full-day tour. Even with a full day, you still won't have time to see and do everything!
Find out about more tours to Versailles from Paris
---
4. Enjoy a Drink at a Sunny Parisian Cafe Terrace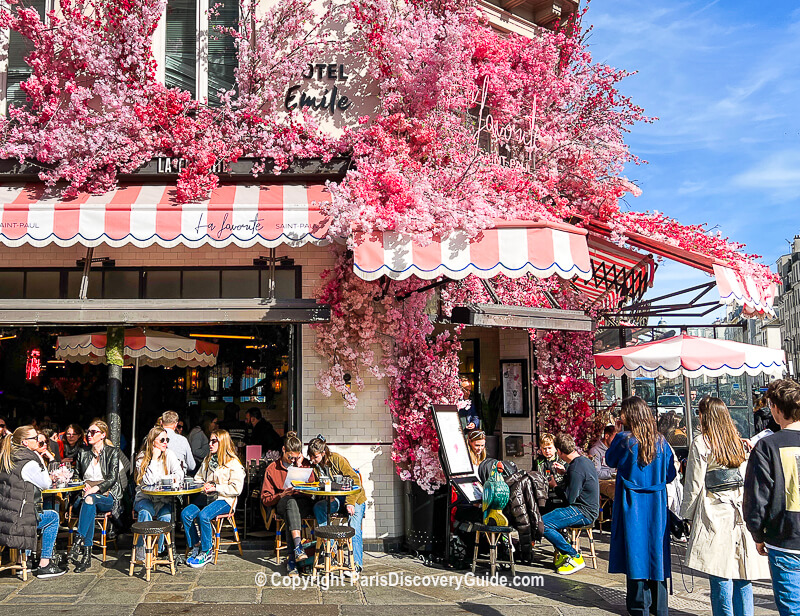 Especially during March and April, spring temperatures in Paris can still be chilly.
But even if you still need to wear a coat or jacket to feel comfortable while walking around, the sun creates appealing "heat traps" outside of local cafes and bistros, which set up tables and chairs in front of their establishments
So do what Parisians do as soon as the sun appears on even the earliest spring days: find a seat on a sunny terrace, order a coffee, a drink, or even a meal, and soak up some Vitamin D while you relax and watch tout le monde walk by.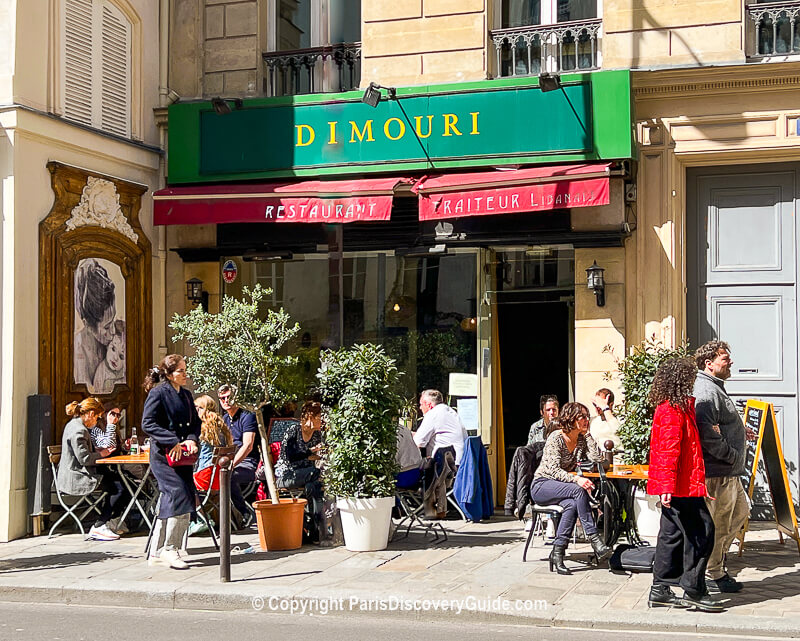 Where are the best terrace cafes in Paris?
Honestly - the "best" sidewalk tables are wherever you happen to be. You'll find dozens and dozens of choices in every Paris neighborhood - so try a different one every day!
Bonus: Free free to linger as long as you'd like.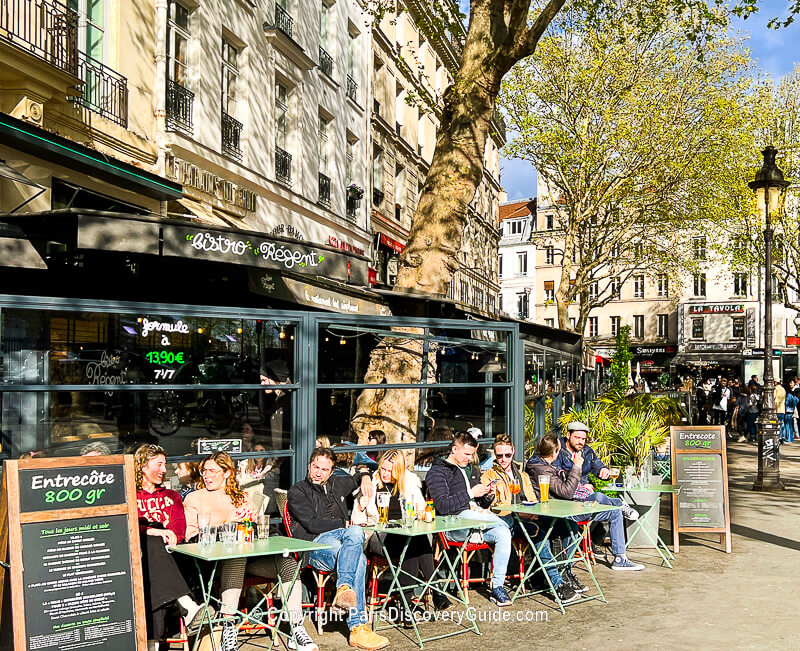 Check out our guide to all 20 Paris districts
---
5. Discover the Newest Treasures at Les Puces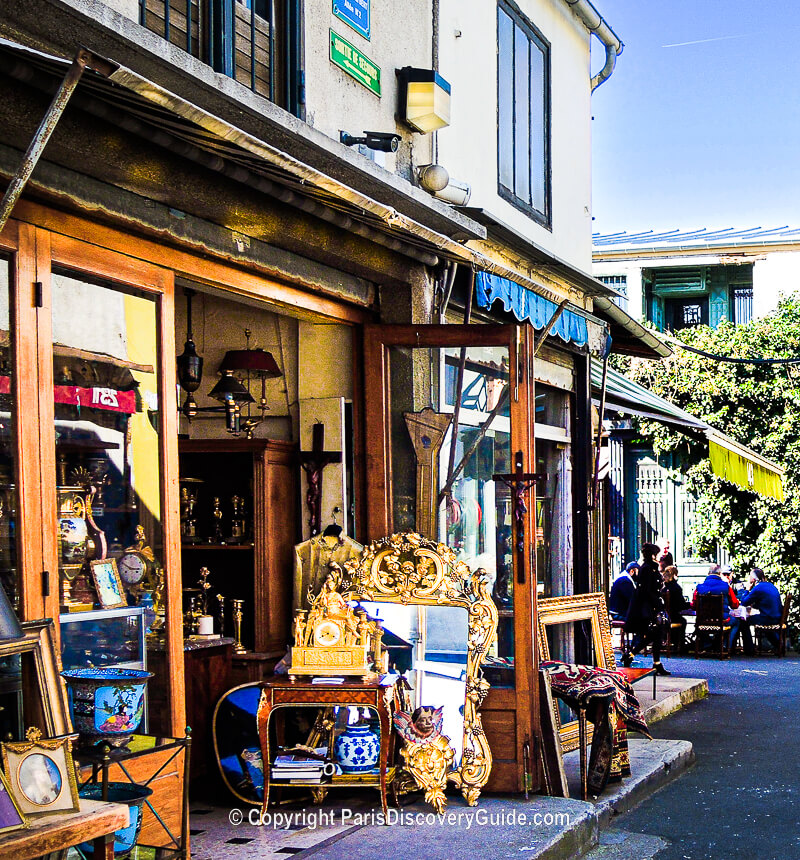 If you want to get a head start on other treasure-hunters at Les Puces, Paris's gigantic (and best) flea market, spring is the time to visit - the earlier, the better.
Why? Many dealers take advantage of the slower winter months following Christmas to replenish their inventory when fewer shoppers visit. So when you visit during the spring, you're getting to see the full array of the newest and best offerings - before hoards of summer shoppers arrive!
More to Know: Want to buy something larger than your largest suitcase? Let's say, an exquisite Venetian glass chandelier or gilded 18th century mirror you're unable to resist? No worries! You can easily arrange to ship your treasure home - just stop by one of the on-site shipping offices, and they'll take care of everything.
Paris Discovery Tip: Choices at Les Puces can be overwhelming. If you're looking for something specific, it's hard to know where to start, and you run a very real risk of missing the best vendors. Consider booking a customizable private shopping tour in order to make the most of your time (and find the best gems). At the very least, get familiar with the various market areas on a Paris flea market insider's tour
Discover more about shopping at Les Puces
---
6. Smell the Spring Roses at Musée Rodin
One of the pleasures of visiting Paris in spring is immersing yourself in the city's stunningly beautiful rose gardens - but unless you know where to find them, they're easy to miss because most are hidden from the street.
Perhaps the most beautiful rose garden in Paris is the gorgeous seven-acre sculpture garden surrounding the Rodin Museum, located in a historic private mansion called Hôtel Biron. Although Surrounding August Rodin's famous monumental works such as The Thinker and The Gate of Hell are formal gardens containing over 2,000 rose bushes, including about 100 different varieties.
At the peak of their blooming season during May and early June, they are show-stoppers. But don't worry if you're not there at that moment - they are beautiful throughout the spring, plus many continue to bloom through the summer and fall. Extra special: the garden's Christmas roses, which usually start in November and continue through January.
Although pre-Covid, you could access just the garden for only a few euros, full admission now seems to be required. Get a ticket online in advance, on site (but lines tend to be long and slow), or enter free with a Paris Museum Pass. For a special in-depth look at Rodin's art, join a small group tour led by an expert guide.
More places in central Paris where you can see beautiful rose gardens in full bloom during late spring:
Palais Royal Garden, 1st arr - In addition to the roses which peak in May and June, look for magnolia blooms and cherry blossoms starting in April or even late March
Jardin des Plantes, 5th arr - With almost 400 types of roses ranging from wild species to contemporary hybrids, the Rose and Rock Garden (tucked away next to the Galerie de Minéralogie), overflows with gorgeous colors and scents in formal beds and arches against a backdrop of interesting rocks from all regions of France
Square Saint-Gilles Grand-Veneur, 3rd arr - Located at the end of a narrow lane off Rue Villehardouin in the Marais, this secluded walled garden features beautiful varieties of roses. Peak blooms come in May and June, but you'll see some blossoms throughout the year
Bercy Park, 12th arr - Located a bit further out but definitely worth an extra 10 minutes on the metro, this park contains a number of magnificent gardens, including one devoted solely to roses. Also spectacular in spring: the rhododendrons and peonies.
---
7. See the Eiffel Tower from Île des Cygnes (Before the Leaves Block Your View)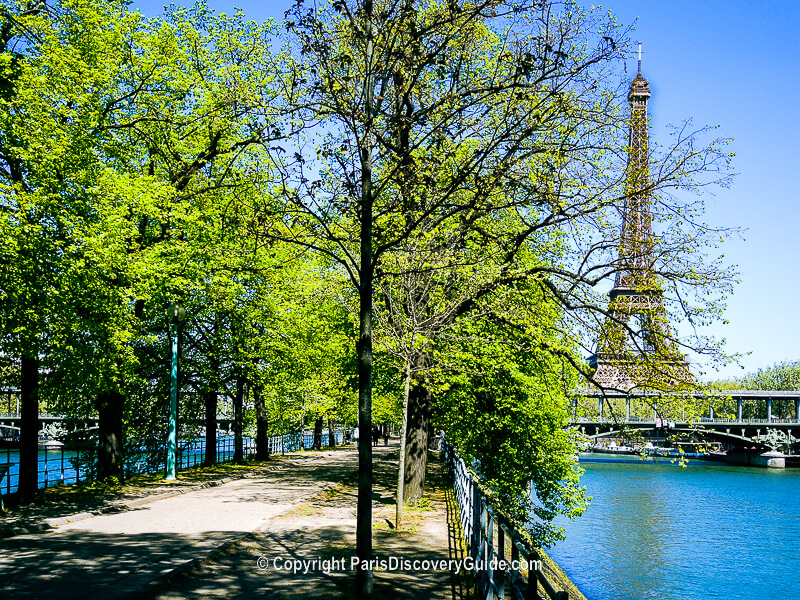 Here's something you may not notice about Paris if you visit between late spring and early winter: from about the end of April through late-November, all the leafy trees lining streets, the banks of the Seine River, and the city's 500+ parks and square block many of the most charming views of top attractions, famous monuments, and curvy Art Nouveau architecture.
So take advantage of early spring, when leaves are emerging just enough to give the landscape a green veil, and stroll around the city as you enjoy vistas that will be hidden for the next six months once the foliage fully develops.
Where to Go & What to See:
Île des Cygnes - See iconic views of the Eiffel Tower from this small human-made "Island of the Swans" located in the Seine River between the 15th and 16th arrondissements. To reach it, walk across the Pont de Grenelle or Pont de Bir-Hakeim bridge
Art Nouveau Architecture in the 16th District - In addition to the cherished Art Nouveau Metro entrances by French architect Hector Guimard, Paris contains a treasure trove of other examples of this magnificent Belle Epoque style - especially in the wealthy 16th arrondissement.
---
8. Plan a Few Rainy Day Activities... Just in Case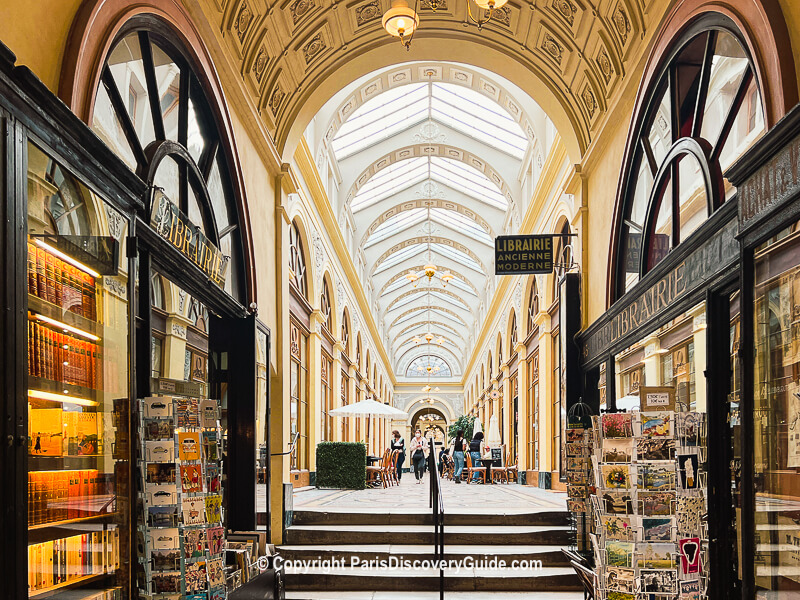 Spring in Paris experiences its share of showers. Although they usually end as quickly as they begin and therefore will not cause you much inconvenience, you should always have a few indoor backup plans... just in case.
Here are a few wonderful indoor places to explore:
---
More Fun Things to Do during Spring in Paris
---
Related Articles about Paris in the Spring