Are you planning to go by train from Paris to Monet's Garden at Giverny or the World War II beaches in Normandy? 
If so, you'll most likely depart from the Gare Saint-Lazare train station in the city's 8th arrondissement. You can also catch a train here to visit the Palace of Versailles, although the RER C and trains leaving Gare Montparnasse are usually a bit faster.
Gare Saint-Lazare is the second-busiest of Paris's seven big rail hubs for long-distance trains to other parts of France, as well as being the country's oldest train station.  Today, it primarily serves suburban commuters, who account for most of the almost half-million people passing through the station each day.
When you look at Gare Saint-Lazare from Rue Saint-Lazare, the Hilton Paris Opera hotel blocks much of your view of the station's lovely mid-19th century classical architecture, preventing you from getting a good sense of its size. However, Gare Saint-Lazare is enormous.
In addition to being a busy transportation hub, Gare Saint-Lazare also packs in a full-size shopping mall filled with around 80 stores, boutiques, cafes, and restaurants - truly one of Paris's hidden secrets because when you look at the station from the outside, you'd never guess that it's there.
If you're not already familiar with Gare Saint-Lazare, finding your way around its three levels to get your ticket to Versailles, Vernon (the closest town to Giverny with train service), or other Normandy destinations can feel somewhat confusing and complicated.
But don't worry. Our guide to Gare Saint Lazare train station tells you everything you need to know about how to get your tickets, where to find the tracks to board your train, and, in case you have extra time before your departure, what to explore and where to eat in the shopping mall.
Want to stay overnight near the station before or after your trip? This guide also includes hotel recommendations.
Top photo: Gare Saint Lazare in Paris's 8th arrondissement, (c) Paris Discovery Guide
Paris Discovery Guide is a reader-supported publication. When you buy through our links, we may earn a commission at no additional cost for you. Learn more
---
Travel Destinations from Gare Saint-Lazare
Getting your tickets and finding the correct tracks for your trip becomes easier if you know that two types of trains, both part of France's national SNFC rail system, depart from Gare Saint-Lazare:
Local commuter Transilien trains serve Paris's nearby western suburbs located within Île de France, the area where Paris is located; of the eight suburban rail lines, only the "J" and "L" lines depart from Gare Saint-Lazare
Intercity TER Normandie regional trains go to most areas in Normandy, including lines to Vernon-Rouen-Le Havre, Caen-Cherbourg, and Trouville-Deauville; in the station, these regional intercity trains are called the "Grandes Lignes."
If you're going to the Palace of Versailles, you'll be taking one of the Île de France local commuter trains on the "L" line that goes to Versailles Rive Droite.
They depart about every 15 minutes, and once you arrive at the station in Versailles, your walk to the Chateau will take about 20 minutes.
Find out more about how to get to the Palace of Versailles from Paris
If you're going to a destination in Normandy, such as Vernon, the station closest to Monet's garden in Giverny, Bayeux or Caen near the D-Day beaches, or other locations such as Rouen, Honfleur, or Deauville, you'll take one of the regional "Grandes Lignes" trains.
Trains to Vernon, the most popular Normandy destination for most Paris visitors, depart every 1-2 hours. Once you arrive in Vernon, you can take a local shuttle, taxi, bike, or even walk to Monet's home and garden in Giverny.
Find out more about how to get to Monet's home from Paris
Why is all this information about travel destinations important to know? Once you're on the station's Concourse level, you'll see two types of ticket machines marked "Île de France" and "Grandes Lignes." More about that in a moment.
Pro Tip: In case you're wondering where you'll get tickets France's famous high-speed "TGV" trains at Gare Saint Lazare, the answer is "nowhere," because no TGV trains depart from the station at this time.
---
Quick Guide to Gare Saint-Lazare's Layout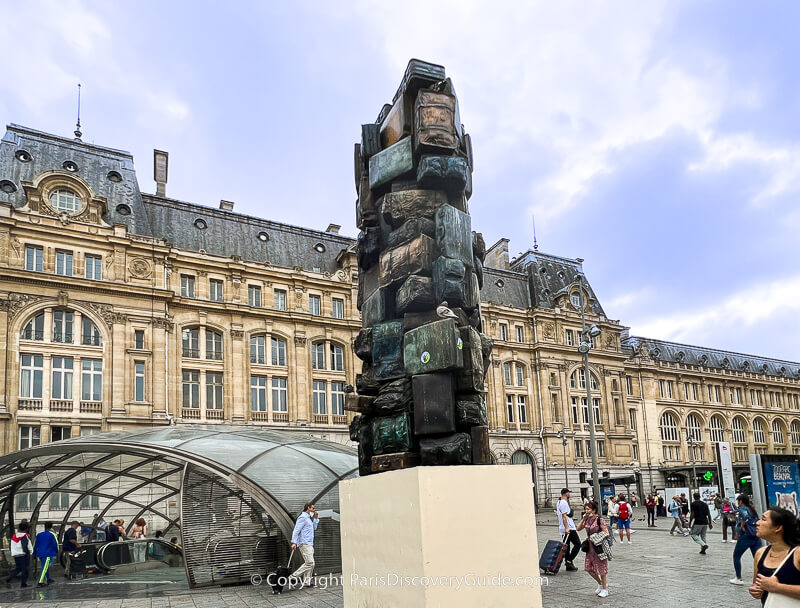 The Gare Saint-Lazare terminal fills an entire block between Rue de Rome and Rue d'Amsterdam, and in the back, its 27 tracks stretch up to Place de l'Europe.
Outside, Gare Saint-Lazare has two "cours," or front courtyards, thanks to how the Hilton Paris Opera hotel bisects the space in front of the station. The larger one, Cour de Rome, is on the west side of the hotel, and Cour de Havre is on the east side. A pedestrian walkway and narrow road used by buses and taxis passes between the station and hotel.
The glass "bubble" you'll notice in front of the station's west end provides easy access to the Saint-Lazare metro station where Lines 3, 12, 13, and 14 intersect with each other and the train station. If you're at the station to catch a train, there's no reason you'd go into the metro station unless you're desperate to escape pouring rain.
Behind the station's front 19th century façade are three levels, which run across the entire width of the building. These contain the modern shopping center, a couple of SNCF service offices, and the Concourse where you get tickets for your train. This part of the station has an atrium-like design to let in light from a glass roof on the top (3rd) level), which makes this massive structure feel surprisingly open and airy.
This is what you'll find on each level:
Level 1 - "Metro Level" - First floor of the shopping center - many stores, boutiques, cafes, and restaurants - plus a passageway to connect to the Saint-Lazare metro station
Level 2 - "Street Level" - This is the level you'll be on when you enter the station - 2nd floor of the shopping center, plus the larger of the two SNCF offices
Level 3 - "Train Level" - On the top floor is the Concourse, a small SNCF office, a few places including a Starbucks to grab drinks and snacks, and a Monop' convenience store if you need even more snacks for your trip.
---
Getting Around Paris's Gare Saint-Lazare Train Station
Arriving at Gare Saint-Lazare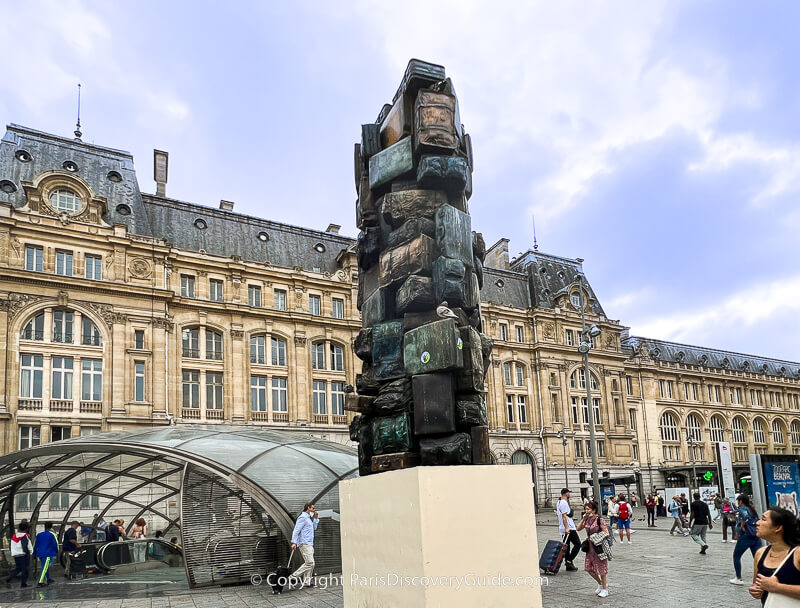 If you arrive at the station by metro, a city bus, or a taxi, you'll most likely be at Cour de Rome. If you walk to the station from the vicinity of Printemps or Galeries Lafayette, just a couple of blocks away, you'll probably be at Cour de Havre.
To confirm where you are before you enter the station, look around.
If you see the glass bubble covering the escalators to enter/exit the metro station and a slightly weird 20-foot high bronze sculpture (closer up, you can see that it depicts a pile of suitcases and is actually rather cool), you're at Cour de Rome. During some years, a small but fun Christmas market pops up here, so if you're at the station December, don't be surprised if you see that too.
On the other hand, if you see just a small nondescript plaza with a Burger King and the Passage du Havre shopping center across the street, you're at Cour de Havre.
Why does knowing your location matter? Two reasons: 1) The station has multiple entrances, and you may want to choose the one closest to where where you'll get your tickets and catch your train, and 2) Once you get inside the station, you'll fully realize just how enormous it really is, and knowing where you were when you entered will help you orient yourself once you're inside.
What's the Best Entrance to Use at Gare Saint Lazare?
Gare Saint Lazare has four entrances spaced more or less evenly across its front, as well as several more along its sides on Rue de Rome and Rue d'Amsterdam. Ignore the side entrances unless you're already familiar with the station's layout, as they can be a bit confusing.
Because the station is so large, you may be able to save a few steps by entering through the front door closest to the ticket machines and tracks for your travel destination.
If you are going to Versailles or any of the other Ile de France locations served by this station, the best Gare Saint Lazare entrance to use is the front entrance on the west. If you're facing the front of the station, that's the one on the far left - easy to spot from Cour de Rome.
If you're going to Giverny or another Normandy location, choose one of the two entrances on the east end (on your right, if you facing the station).
Once you go through any of the entrances, you'll be on the station's Street (2nd) Level. Go up the nearest stairs, escalator, or elevator to the 3rd (Train) level to the Concourse level, which is where where you get your tickets and check schedules. Immediately behind the Concourse are the station's 27 tracks.
Gare Saint Lazare Map of the Train Level & Ticket Concourse
This map shows the layout of the concourse and tracks on the Train (3rd) Level:
Tracks 1-20, on the station's west end, are used by trains going to suburban locations in Île de France, including the "L" line train with service to Versailles Rive Droite departing about every 15 minutes.
You'll find plenty of Île de France ticket machines in this area. This is where you get tickets if you want to visit Chateau de Versailles.
Tracks 21-27, on the station's east end, are used by the "Grandes Lignes" - also called "Lignes Normandes" - intercity regional trains providing service to Normandy.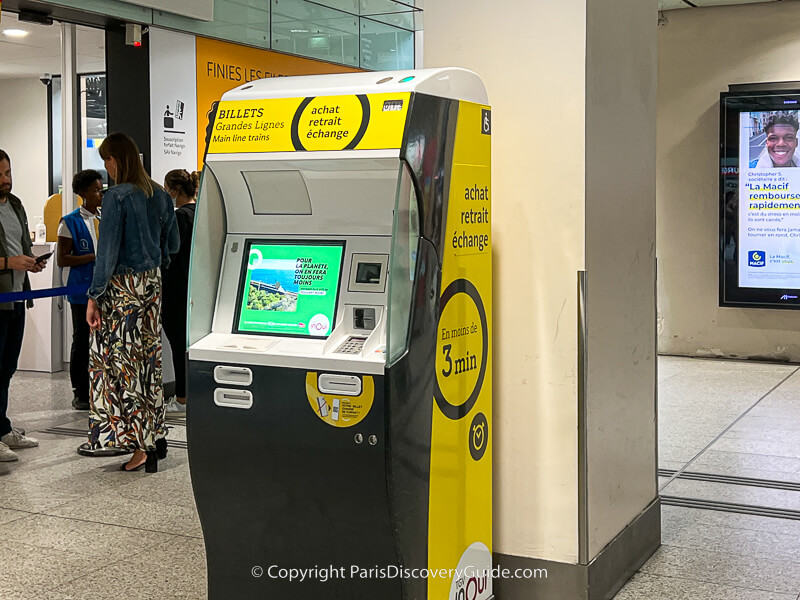 Look for "Grandes Lignes" ticket machines to get your tickets for Vernon (Giverny), which depart every one or two hours, and other destinations in Normandy.
How to Buy Tickets at Gare Saint Lazare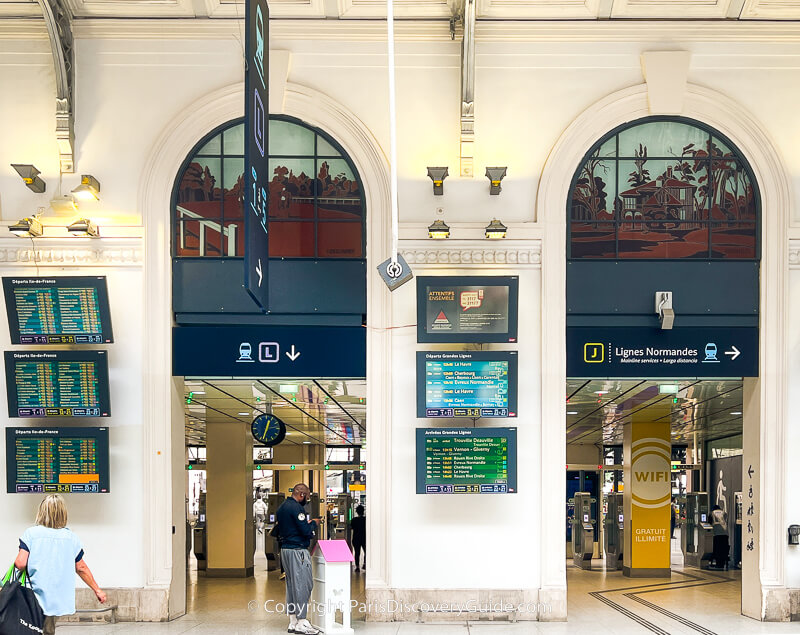 Although SNCF does have two service offices at the station, including a large one on the Street Level and a smaller one near the Grandes Lignes area on the Train Level, most people buy their tickets at a ticket machine, which is very easy.
The most important thing you need to do is to make sure you're at the right type of machine for your destination.
Get in line, and buy a round-trip ticket (which means you'll get two 1-way tickets) once you get up to the machine. Select the language option for "English" (or another language), follow the instructions on the screen, and pay for your ticket with your credit or debit card.
Please note that the Grandes Lignes ticket machines usually offer a couple of options: Standard vs First Class, and Cheapest vs Semi-Flexible. "Semi-Flexible" means that the ticket can be exchanged or refunded until a certain point prior to departure for a small fee. "Cheap" tickets are usually non-refundable.
The ticket purchase process is quick and easy, but if you make a mistake, simply hit "cancel" and start over.
Pro Tip: Although buying your tickets at the station is easy once you find the right ticket machines, there is catch: you won't know how long the ticket line will be until you get there, which means you should allow plenty of extra time for standing in line, just in case. If you're lucky and there's no line, you can use the extra time to shop or enjoy a snack.
You may want to consider stopping by the station and purchasing your ticket a day or two before your trip, especially if you want to depart during the weekday commuter morning rush hours.
Alternately, you can also buy your tickets online.
How to Buy Your Train Tickets Online
Buying your train tickets online saves you time because you don't have to wait in the ticket purchase line once you get there, plus it's also somewhat less stressful than using the ticket machines during the most crowded times.
If you buy your tickets a few days in advance, you can usually get a lower price - so online purchase may also save you money.
You can buy your tickets online from SNCF, the company that operates the rail system or from Trainline, which sells train tickets for towns and cities throughout much of Europe.
You may find Trainline's website to be easier and faster to use, although you will pay a small booking fee (currently, less than 1€) per transaction. The SNCF site can sometimes be glitchy and doesn't always work with non-European credit or debit cards.
Another booking option is RailEurope, but they charge higher booking fees - $7.95 at the current time. So, caveat emptor (buyer beware)!
Finding & Boarding Your Train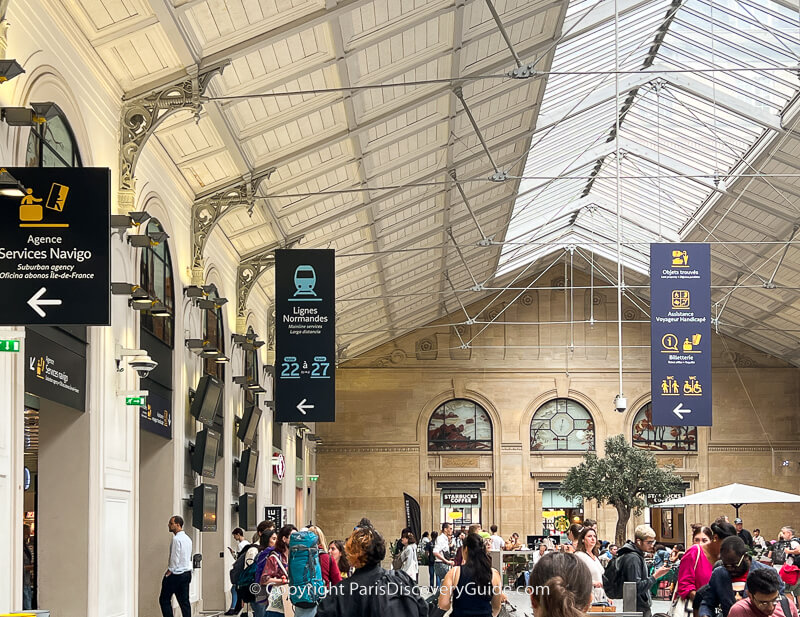 Once you have your tickets, finding your train is easy. Just check the overhead monitors, which will show you the departure time and track number.
Find your track, and then board your train when it pulls up. If you're taking a Grandes Ligne train, make sure you go to the right cabin class to find your seat.
Getting Your Train Tickets Validated
In Gare Saint-Lazare, in order to pass through the plexiglass gates between the Concourse and the tracks where you'll board your train, you have to put your ticket into the adjacent validation ("composter") machine (and remember to take it back after it is stamped).
But when you're returning to Paris from a station in the suburbs, town, or smaller city, the validation process may be different. There may not be a barrier, such as gates, to prevent you from boarding the train without validating your ticket.
That means you have to look for a validation machine and put your ticket in it to validate it before you board the train.
Don't worry - the machines are easy to spot, plus you can usually just observe what other passengers are doing. Just don't forget to do it (and hold onto your validated ticket)!
Why? When conductors pass through the train to check tickets, if they discover you haven't validated yours, they can fine you. Currently, the fine is 60€ if you pay on the spot, and more if you pay online later.
Exceptions to the Validation Rule
There are only two situations when validation is not necessary: 1) you got your ticket online, printed it, and have the printed copy with you, or 2) you downloaded your ticket to your phone. In both of these cases, you just show the conductor your paper copy or your digital ticket on your phone.
Why to Keep Your Train Tickets Until After You Arrive
Important Tip: Keep your ticket once you board the train because you'll need to insert it into a turnstile in order to exit the Vernon station.
If you don't have your ticket when you exit, you'll most likely be fined.
5 Interesting Facts about Gare Saint-Lazare
The original Gare Saint-Lazare train station was built in 1837 and inaugurated by Queen Marie-Amélie (wife of Louis-Phiilippe I), just two years after the first railway line came into service. It is the oldest railway station in France.
The station's first shopping arcade opened in 1935 to provide passengers with a convenient selection of about 50 shops, dining, and services. Today's shopping mall continues the tradition.
Although the station's beautiful classical façade, glass-roofed gallery, and enormous size resulted from a renovation/expansion completed between 1842 and 1853, the interior redesign with the 3 floors, central atriums, and the shopping/dining mall running the length of the building that you see today dates back only to 2012. Before that time, the area was called Galerie des Pas Perdu - the Hall of Lost Steps.
Gare Saint Lazare serves about 120 million travelers per year, with over 450,000 people (not all travelers) passing through each day.
The 4-star Hilton Paris Opera that you see in front of the station today is not new, nor was it always a Hilton. It dates back to 1889 when the Grand Hotel Terminus opened to provide 500 luxury guestrooms equipped with electric lights and telephones for transatlantic passengers who sailed from New York to Havre or Cherbourg in Normandy and then came by train to Paris to attend the World's Fair in Paris. The Hilton Group bought the hotel in 2014, and after renovations, updates, and a name change, the Hilton still provides luxurious accommodations in a superb location. Its meticulously restored grand foyer is officially classified as French historical monument.
3 Cool Things to Do at Gare Saint-Lazare
1. Listen to the Music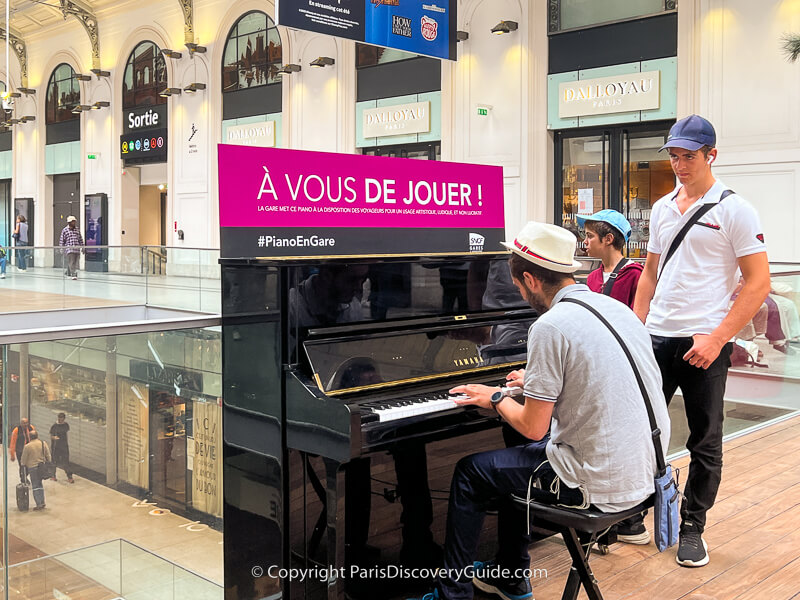 Do you hear melodies from Beethoven's "Fur Elise" or Chopin's "Moonlight Sonata" floating above the din of travelers rushing to catch their train? It may be someone taking a turn at the piano on the third level.
2. Dine in the Passerelle Eugenie Covered Footbridge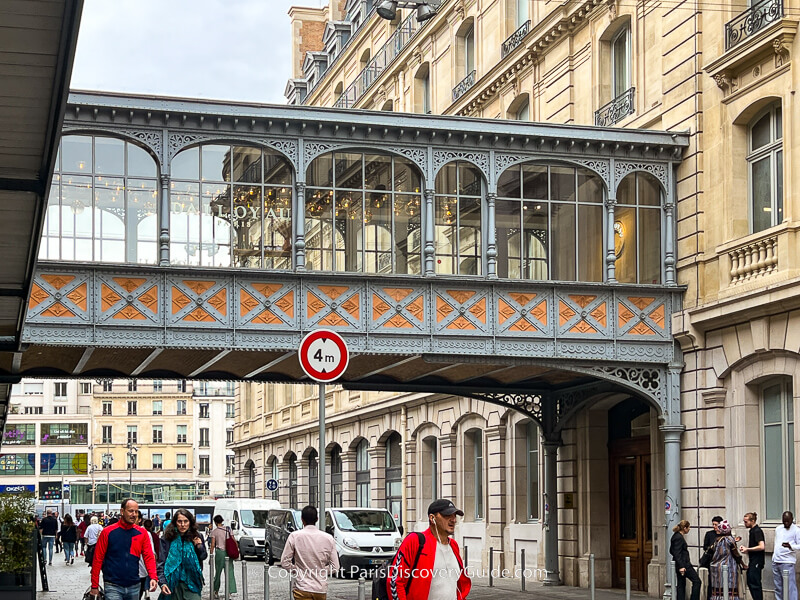 If you're outside the station's east side, look up and one level above the ground, you'll see a charmingly ornate glass-enclosed footbridge connecting the station's Train Level with the Hilton Paris Opera.
This is the Passerelle Eugenie (short for Passerelle de l'Empress Eugenie), named after Empress Eugenie, the wife of Napoleon III, who used it to go between the station and hotel when she secretly traveled incognito.
Later, this secret passerelle allowed other well-heeled guests to go directly from the hotel to their train compartment for a time, but then fell into disuse. Until recently, the public could visit this architectural gem only during European Heritage Days each September.
But that changed a few years ago when the legendary Dalloyau, a French Maison de Gastronomie dating back to 1682, renovated the space as part of its posh new restaurant/tea room at the station.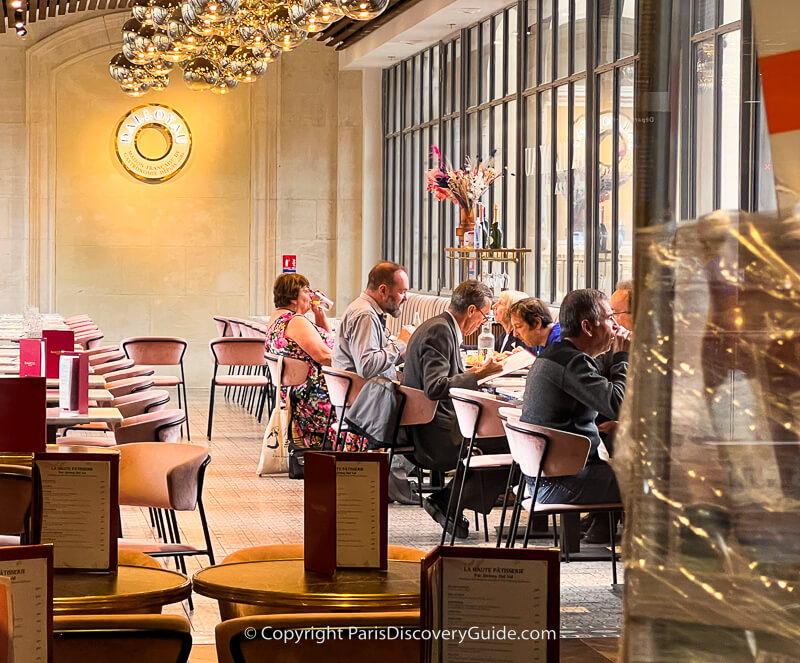 3. Indulge Your Love of Art (Coming Soon)
What's next at Gare Saint Lazare? Art Ludique, a museum/exhibition space devoted to digital art, animations, and videos by contemporary artists in anime, comics, mangas, and cinema is relocating to the station from the 13th arrondissement. No opening date yet - so stay tuned!
---
Gare Saint Lazare in Art & Cinema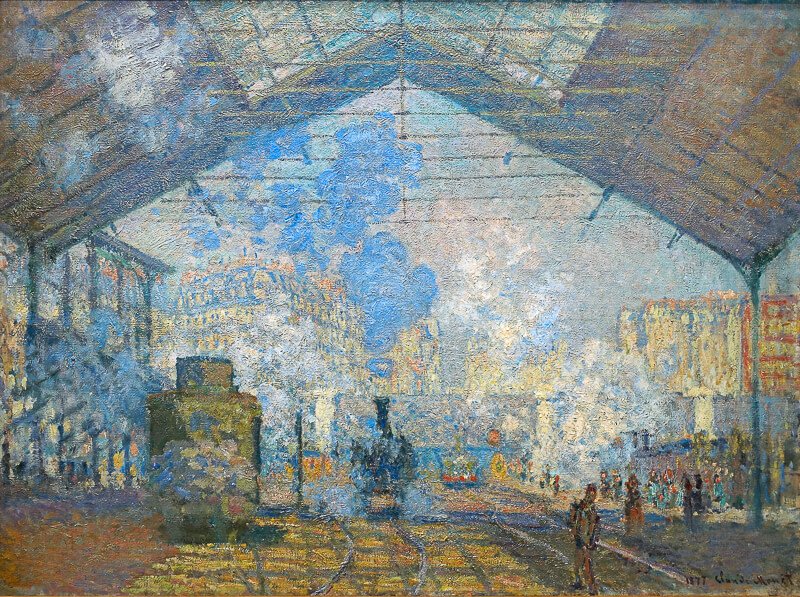 If you think something about Gare Saint Lazare looks familiar, that's because you've probably seen it before in art and the movies.
French Impressionist artist Claude Monet created a series of 12 paintings of Gare Saint Lazare in 1877 during a short stay in Paris. Painters Edouard Manet and Gustave Caillebotte and photographer Henri Cartier-Bresson also depicted the station in their work.
And if you've seen Meg Ryan and Kevin Kline's 1995 romantic comedy, "French Kiss," remember the final scene at a train station? That was filmed at Gare Saint Lazare.
---
Where to Eat at Gare Saint Lazare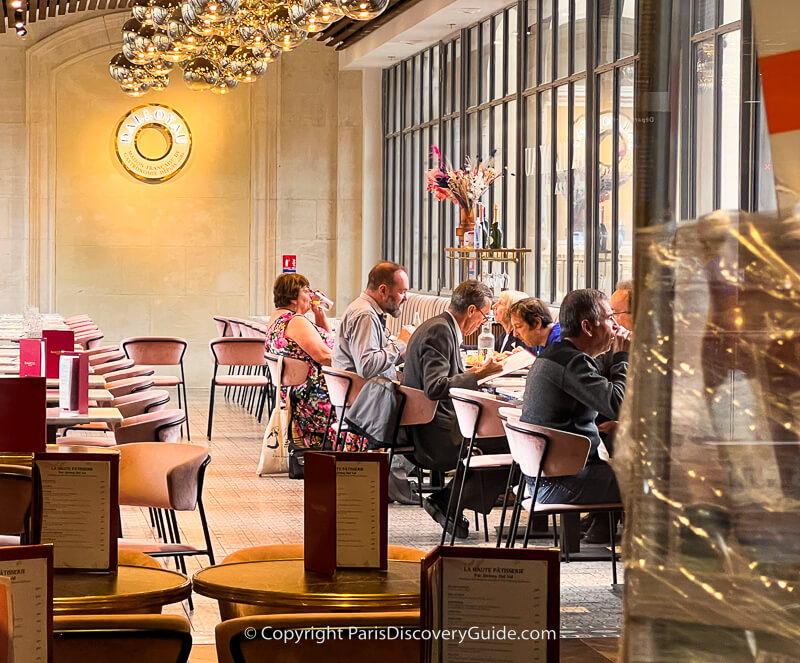 Gare Saint-Lazare's shopping mall includes about 15 restaurants, cafes, bars, and even a couple of American fast-food options. Two are outstanding for their traditional French cuisine made with locally-sourced products, especially if you want an excellent meal in an elegant setting:
Brasserie Lazare - Created by Master Chef Eric Frechon, who also presides over Le Bristol hotel's 3-starred gastronomic restaurant. Traditional regional French cuisine, made to order in the adjacent kitchen from locally grown and produced ingredients. Enjoy the elegant dining room or outdoor terrace.
Dalloyau- Enjoy either the tea room or restaurant opened by the famous 400+ year-old Dalloyau Maison de Gastronomie, where you can savor "100% eat-local" cuisine featuring the products of France's best small growers and producers. For a special experience, book a table in the historical Passerelle Eugenie.
---
Where to Stay near Gare Saint Lazare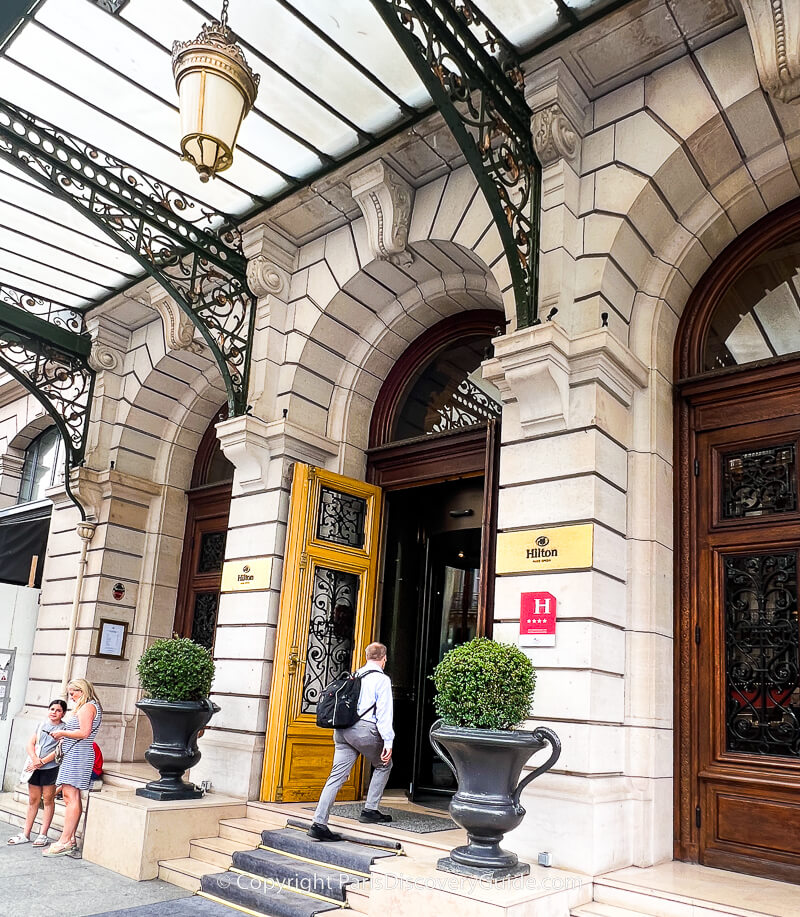 You'll have your choice of numerous hotels located very close (less than a 3-4-minute walk) to the station. Here are five of the best:
---
More Articles about Destinations to Reach by Train from Gare Saint-Lazare