If you're a Harry Potter fan, part of the excitement of visiting London is seeing all the places featured in J. K. Rowling's books and Warner Brothers' movies about the adventures of Harry and his Hogwart friends.
A professionally-guided walking tour of the Harry Potter filming locations can be one of the best ways to discover Harry Potter's London, especially if you're not already familiar with the city.
In fact, without a knowledgeable guide to show you how the magic of Rowley's imagination and film studio wizards transformed fairly ordinary places into something extraordinary, you may have trouble even recognizing some locations and keeping track of others, such as the entrance to Diagon Alley's Leaky Cauldron which shifts from Leadenhall Market in Harry Potter and the Philosopher's Stone to Borough Market in the Harry Potter and the Prisoner of Azkhaban.
As publisher of Paris Discovery Guide and a Harry Potter fan, I joined Get Your Guide's highly-rated Magical London: Harry Potter Guided Walking Tour during a recent weekend visit in order to experience these "legendary" sights first hand.
We met our guide Tom at the Palace Theatre on Charing Cross Road in Soho (shown in photo above), and our group of 26 headed out for 2 1/2 hours of sight-seeking adventure.
Because each Harry Potter movie contains at least a few scenes filmed in London locations, there are plenty of places to visit. With about 2 miles of walking, a couple of short rides on the Underground, and a reasonably fast pace, we saw quite a few of them across a large swath of London on both sides of the Thames River.
You can see some of the highlights below - along with the fantastic views of London we enjoyed as part of the experience.
Top photo: Palace Theatre on Charing Cross Road, where Harry Potter and the Cursed Child opened in 2016. Will it enjoy as long a run as Jesus Christ Superstar (18 years) or Andrew Lloyd Webber's Les Miserables (19 years)?
Paris Discovery Guide is a reader-supported publication. When you buy through our links, we may earn a commission at no additional cost for you. Learn more
---
Where to Find Diagon Alley ... Just off Charing Cross Road
We began our tour where the young wizard's adventures began: the fictional Diagon Alley, which Harry enters by magically passing through a brick wall in the Leaky Cauldron pub, described by J. K. Rowling as being just off Charing Cross Road.
The stretch of Charing Cross Road between Leicester Square and Trafalgar Square is filled with theaters, attractive pubs, and second-hand bookstores - including plenty specializing in magic and the occult.
Although much of the architecture along Charing Cross Road looks fairly modern, the moment you duck into any of the narrow side lanes or alleys, much smaller mellow brick buildings suddenly transport you back to the 19th century or earlier.
So where is the "real" Diagon Alley? At least two atmospheric pedestrian-only passages contend for that title, and it is possible that Rowling used both as her inspiration. We explored both, plus a third passage so narrow at one end that we had to squeeze through single-file.
Cecil Court - Where the Magic Began?
Cecil Court, a pedestrian-only lane lined with ornate Victorian shops has been known as "Bookseller's Row" since the 1930s although it also includes art galleries, antique shops, and other interesting boutiques.
Many Harry Potter fans believe Cecil Court perfectly fits Rowling's descriptions of Diagon Alley in the books.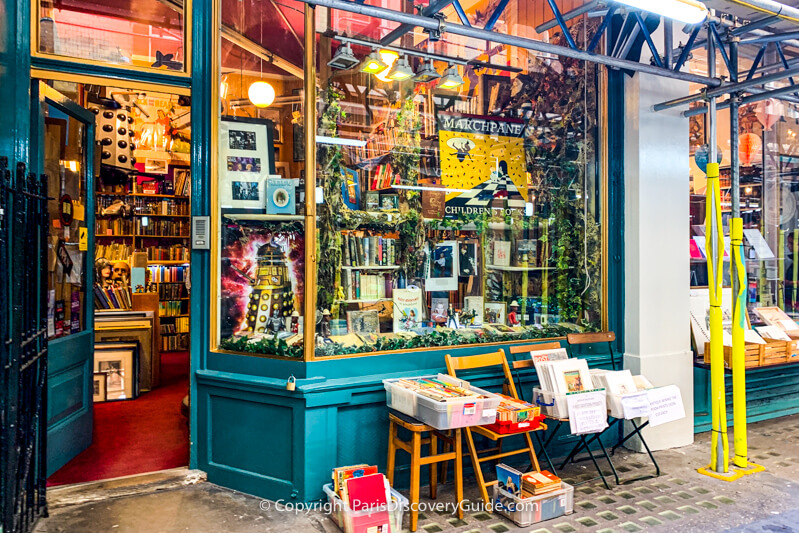 As you may recall, Harry and his Hogwarts friends buy their first wands in Ollivander's, a wand shop in Diagon Alley that Rowling described as being known as the best wandmaker in Britain and owned by a family who arrived in Britain with the Romans and manufactured wands to sell to early generations of British wizards.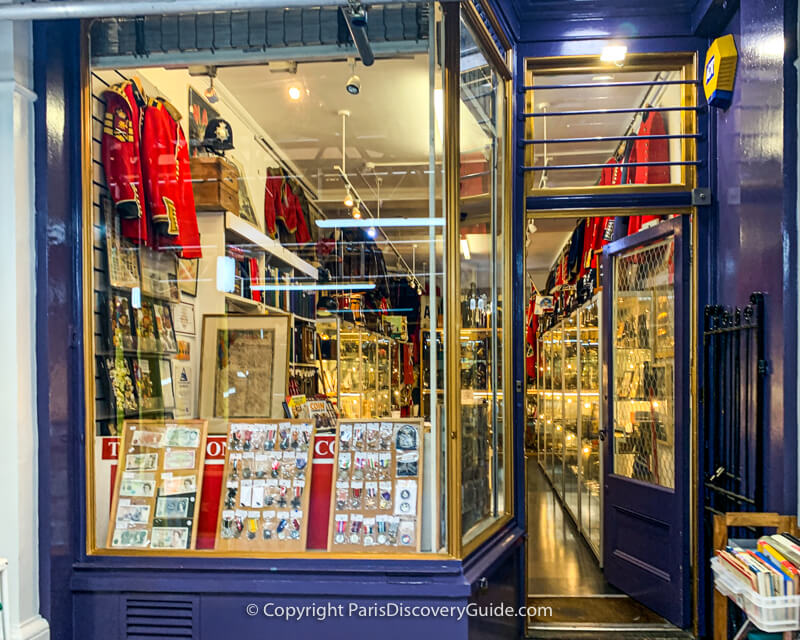 So which shop in Cecil Court might have been Rowling's inspiration? Of course no one (except Rowling) really knows ... and part of the fun of being on this tour is deciding for yourself.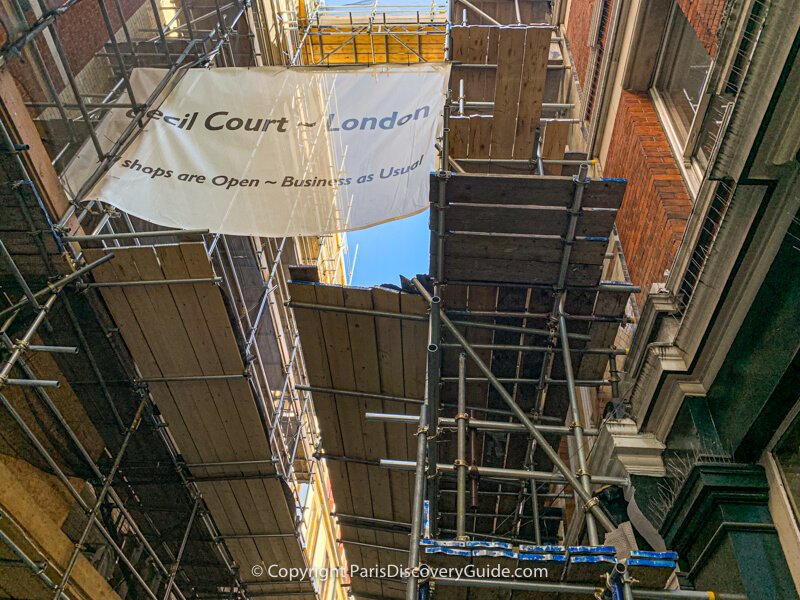 Extensive renovations underway at Cecil Court obstructed the views a bit as we toured (and that's why you some scaffolding in the above photo) - but didn't detract from the charm of this special place.
---
Godwin's Court - Inspiration for Diagon Alley?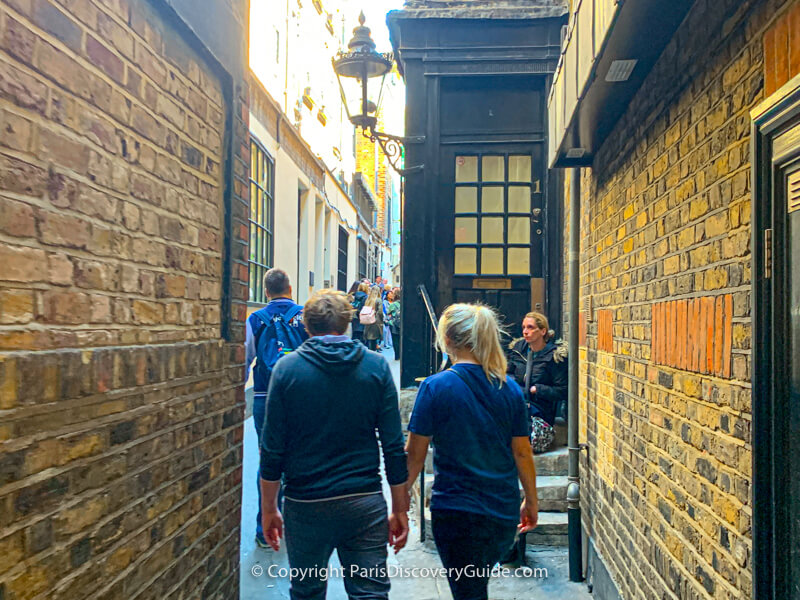 Nearby Godwin's Court is another contender as the "real" Diagon Alley.
Far narrower than Cecil's Court and not nearly as posh, Goodwin's Court feels much older and more likely to be the sort of place where a wand shop might be found.
It's easy to imagine that Rowling might have merged the two pedestrian ways in her imagination as she created Diagon Alley.
But what about the film? Where is the Diagon Alley with the cobblestone paving, storefronts with curved Victorian windows, and hanging signs including the one for Ollivander's shown on the big screen?
As it turned out, no actual London street proved to be quite right - so set makers created the one you've seen in the films in the Warner Brothers Studio. You can see it along with a lot of the other magic involved in making the movies if you take the Harry Potter Warner Brothers Studio Tour, which includes transportation to the location north of London.
---
Brydges Place - Perhaps Another Diagon Alley Inspiration?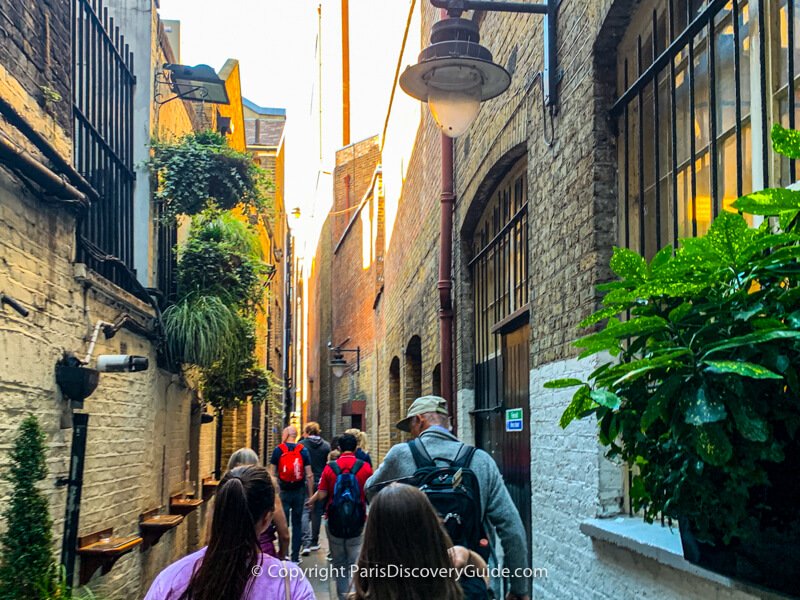 Not far from Cecil's Court and Godwin's Court is Brydges Place, known for being the narrowest alley in London. At its thinnest point, right from where it spills out onto St Martin's Lane, it measures only 15 inches across.
Although there's no direct evidence linking Brydges Place to Rowling's inspiration for Diagon Alley, she most likely might have wandered down it during her own explorations of London's West End. And with its ancient ambiance - at least one building backing up to it dates back to the 17th century - the tiny passage seems like a place through which wizards might travel.
---
Where is Diagon Alley's Leaky Cauldron?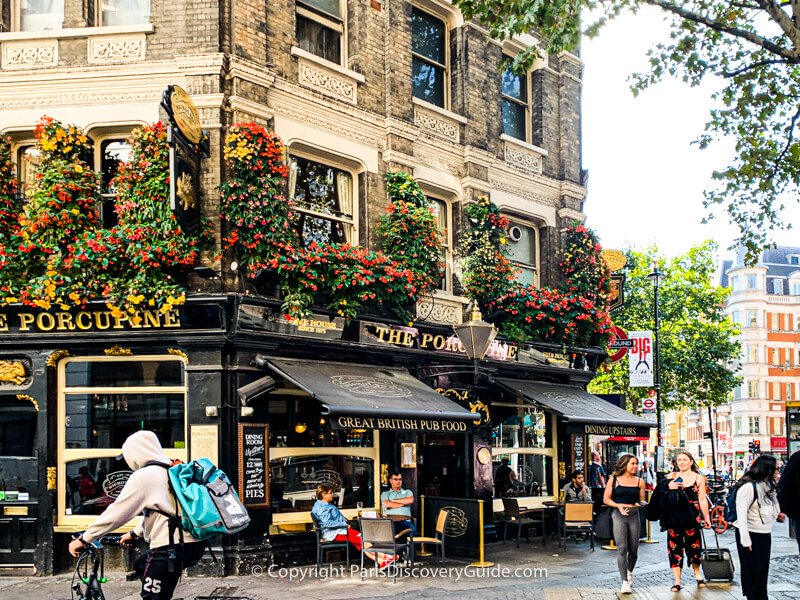 Which London pub inspired Rowling's imaginative descriptions of the Leaky Cauldron in the Harry Potter books? Take your pick.
London sports an appealing pub on almost every corner, so Rowling would have had no shortage of inspiration!
---
Millennium Bridge & The Death Eaters Attack on London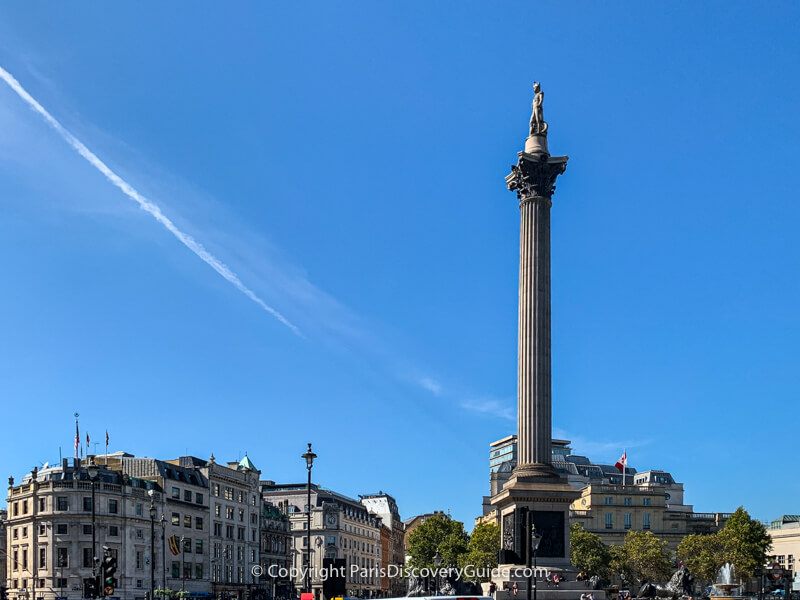 After we squeezed through the narrowest point of Brydges Place, Tom led us around a couple of corners, and suddenly Trafalgar Square spread out before us.
As you may recall from the beginning of Harry Potter and the Half Blood Prince, one of the most gripping challenges for Harry Potter and his fellow wizards begins when the Death Eaters throw a dark storm over London as they fly over Trafalgar Square and storm through Diagon Alley to kidnap Ollivander, the wand shop proprietor, for the evil Voldemort.
To catch him by surprise, they sneak through a back alley at 12 Great Newport Street leading to the back of his shop.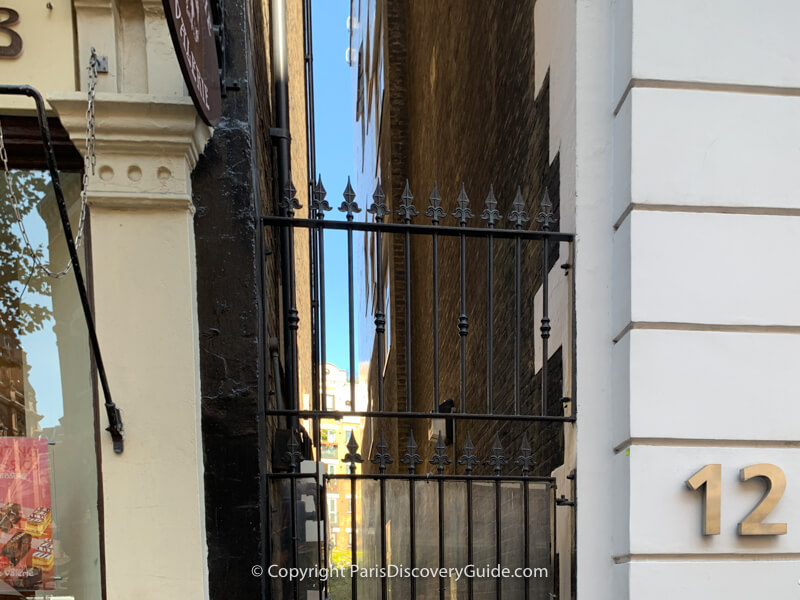 Tom showed us the alley, but the iron gate to it was locked - no doubt a smart move to keep muggle tourists from invading this private residential space.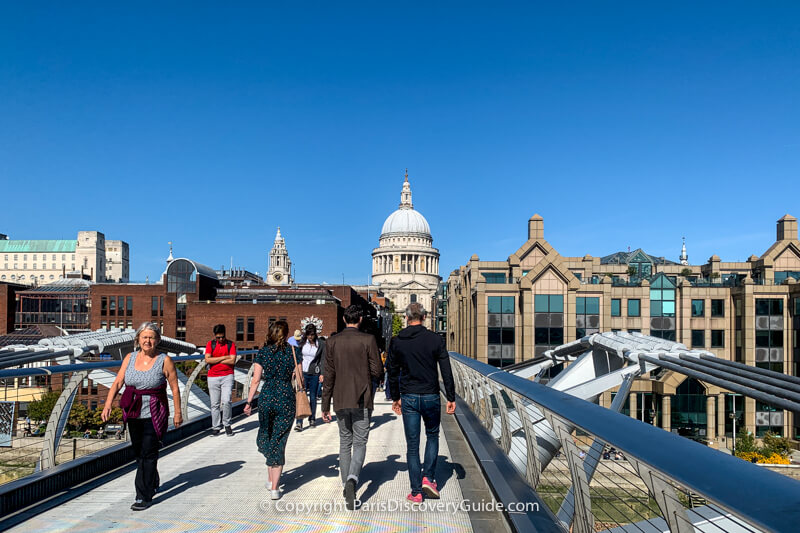 After capturing Ollivander, the Death Eaters zoom down the Thames and destroy the Millennium Bridge, a steel foot bridge across the river, on their way back to Malfoy Manor.
Since many Londoners hated the Millennium Bridge when it first opened in 2000, they may have considered the destruction a good deed - but now, a couple of decades later, the bridge has gained lots of fans.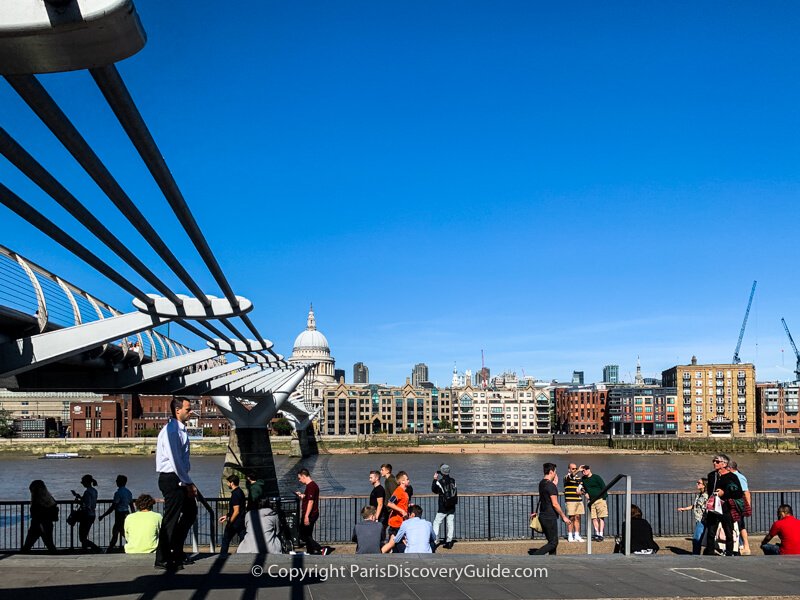 We walked across the bridge and continued along the South Bank to our next destination: Borough Market at the foot of London Bridge.
---
The Door to Diagon Alley in the Movies - Borough Market or Leadenhall Market?
As Tom, our tour guide, reminded us, the Harry Potter films feature outdoor shots of two entrances to the Leaky Cauldron: a shop in London's Leadenhall Market for Harry Potter and the Philosopher's Stone, and in a flower market called Chez Michelle across from Borough Market for Prisoner of Azkaban.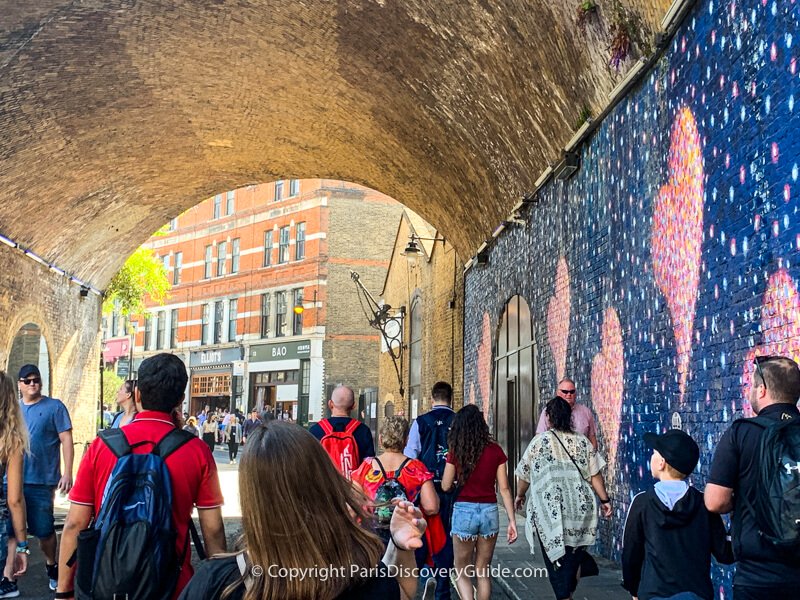 We did not visit Leadenhall Market but instead hopped on the Underground and headed to Borough Market located in the city's Southwark section on the south side of the Thames River adjacent to the London Bridge.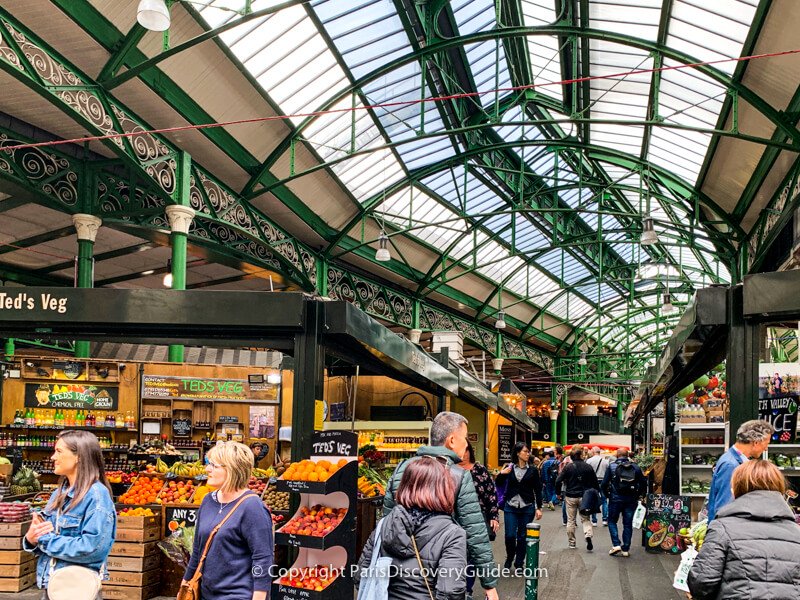 Borough Market dates back to at least the 12th century, but is probably even older. Today, it is one of London's largest food markets, with plenty of specialty products and gourmet offerings.
You can easily spend at least half a day here, especially in you sample the delicious prepared foods.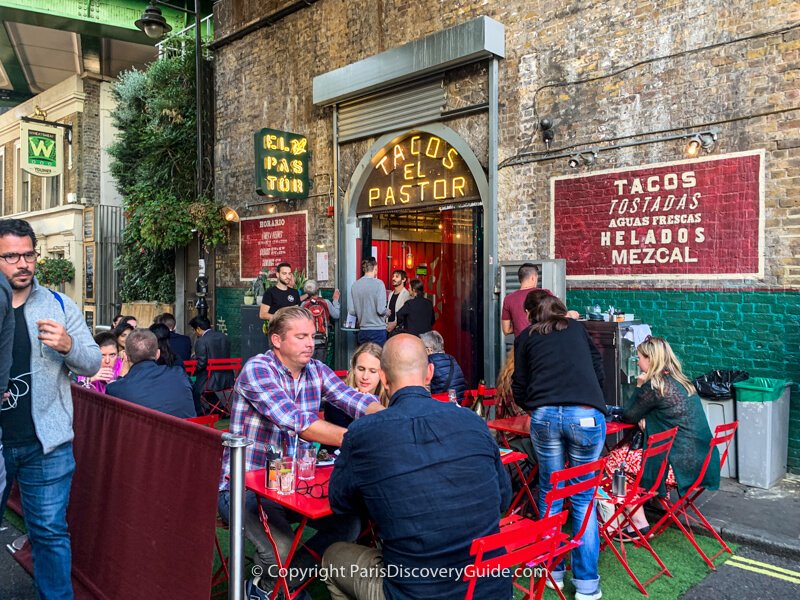 Chez Michelle, the location for the Leaky Cauldron entrance in Prisoner of Azkaban, is where the Knight bus dropped off Harry after whisking him from Little Whinging to London.
You may remember the bridge overhead (part of London Bridge) and the market from the movie, but Chez Michelle closed a few years ago and its spot is now occupied by a popular Mexican restaurant, Tacos El Pastor.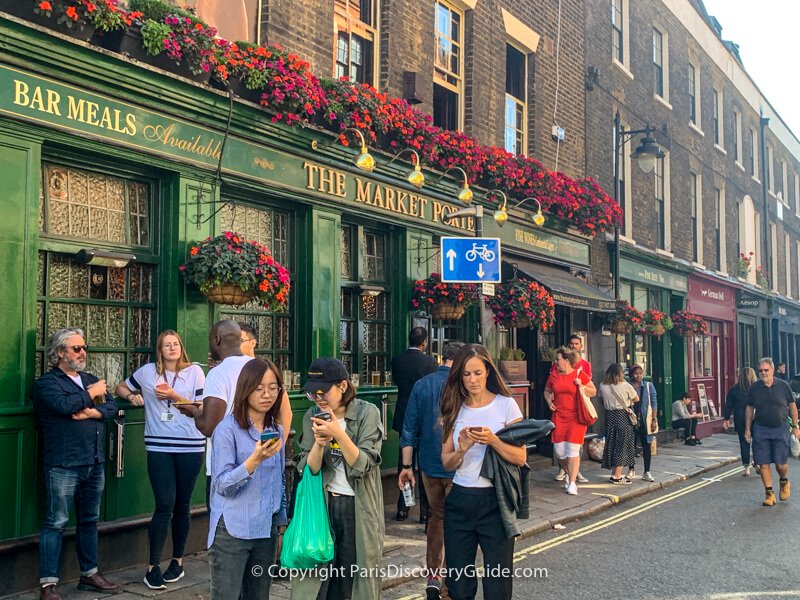 Interior shots of the Leaky Cauldron were filmed a short distance away in a pub called The Market Porter.
---
Platform 9 3/4 at King's Cross/St Pancras Station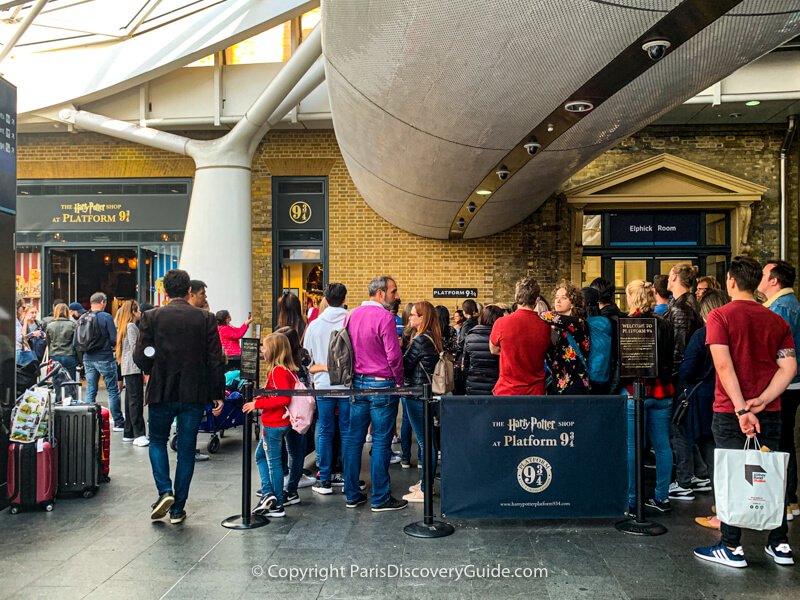 After seeing several other Harry Potter sites such as the inspiration for the Ministry of Magic (much more exciting in Order of the Phoenix than in real life), we hopped on the Tube again to reach our final destination: Platform 9 3/4 in King's Cross Station, departure point for the Hogwarts Express.
Tom explained to us that the film makers actually used an arched wall between Platforms 4 and 5 for Platform 9 3/4 - not too exciting - but for Harry Potter fans, a Platform 9 3/4 has been set up near Platforms 9, 10, and 11 on the west side of the station where you can have your photo taken next to a trolley disappearing, like magic, through the wall.
The tour ended here so that anyone who wanted to get a photo taken under the sign could join the line - and everyone else could catch the Underground back to their next destination.
---
More Ways to Find Harry Potter in London
---
More Articles about Day & Weekend Trips from Paris