By the time you've spent a couple of hours or more exploring the Louvre and all its fantastic art, you'll be ready for a snack, meal, or at least a refreshing drink. So where can you find the best restaurants, bistros, snack bars, and other places to eat in or near the museum?
If you just want to replenish your energy and perhaps relax a bit before seeing more art, the Louvre Museum offers multiple options for everything from a quick bite to a 3-course lunch. Two hold special appeal, even if you plan to leave as soon as you've eaten.
Once you leave the Louvre, you'll find lots more choices, including a few practically on the museum's doorstep as well as many others just a short 5-10 minute walk away.
This part of the 1st arrondissement near the Louvre can seem very touristy at times, especially during the summer months, and in fact there are some schlocky places with high prices and low quality near the museum that you'll want to avoid. But don't worry, they are outnumbered by great-to-excellent places to dine, relax over a café crème or drink, or nibble on something casual - places where locals go too.
We've put together a guide below with recommendations for 15 wonderful places for a meal, snacks, or drinks in and near the Louvre at all price points - but no tourist rip-offs included!
Top photo: Chanel showroom on Avenue Montaigne in Paris's Golden Triangle
The 2 Best Places to Eat inside the Louvre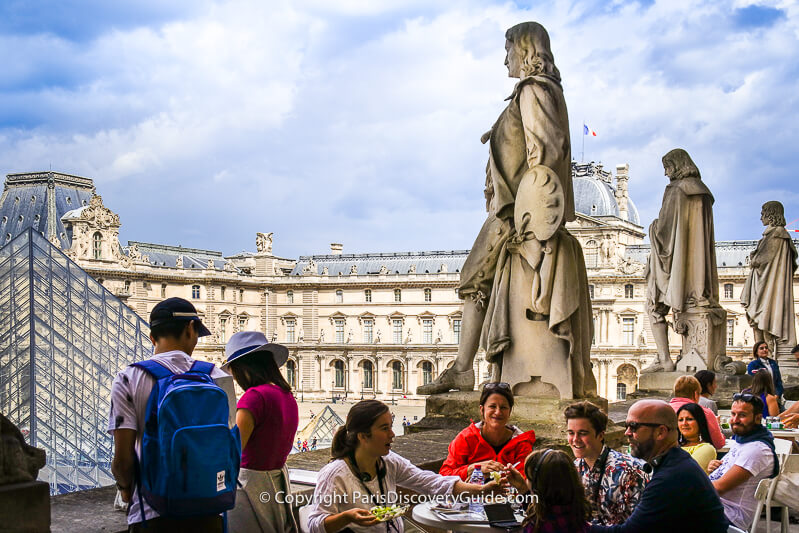 Although the Louvre contains 8-9 cafes, bakeries, refreshment counters, and bistros inside the museum, most provide convenience and a refuge against starvation rather than culinary delight. (Pre-made pasta from a box, anyone?)
Two, however, are well worth seeking out:
Café Mollien
If you're in the Louvre's courtyard near the Pyramid and look up, you'll see numerous larger-than-life-size statues peering down from the sides of the former palace.
What you may not realize is that behind a row of them on the former palace's south wing, the Denon, is Café Mollien's hidden terrace where you can gaze out at the rest of the museum, Tuileries Garden, and the rooftops of the elegant 1st arrondissement while enjoying light refreshments.
Fortunately, the cafe is a little challenging to find and lots of visitors don't know about the terrace seating, which means you'll usually have no trouble finding an empty table. The cafe offers light snacks similar to what you'd find in a bakery: pastries, slices of quiche, and salads, along with hot beverages, water, soft drinks, beer, and wine.
Café Mollien location: At the top of a grand staircase at the end of the French Paintings Gallery in the Denon wing.
a glass of wine, a coffee and almond croissant, or perhaps a salad and slice of freshly-baked quiche lorraine.
Angelina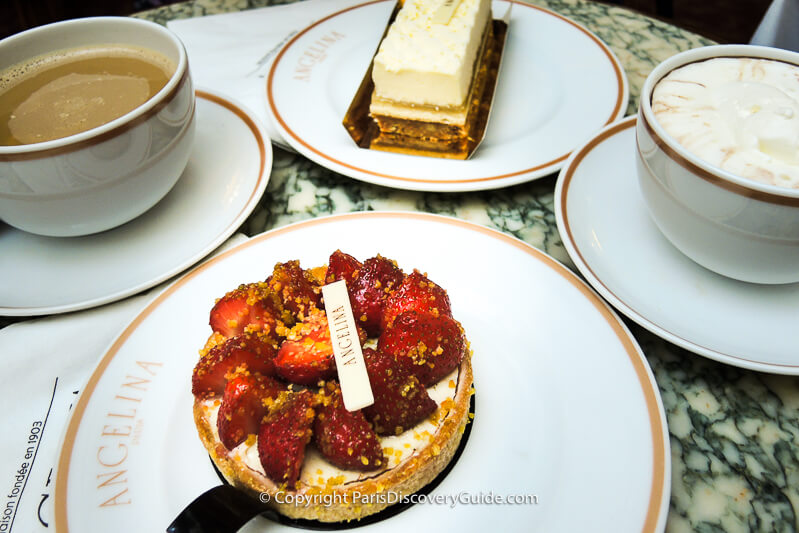 If you're on the north side of the avenue, you can spot several entrances to passages to surprisingly large Paris shopping malls carved out of interior courtyards - Arcades des Champs Elysees (at #78) is particularly splendid with an Art Nouveau-style glass roof and 40 boutiques. Craving a frappuccino? This is where you'll find Starbucks.
Where to Eat By, Under, or Next to the Louvre & Tuileries Garden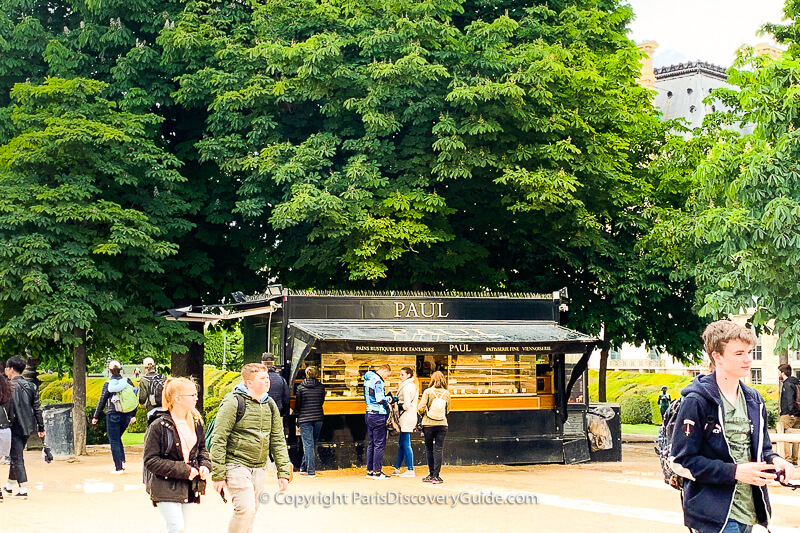 ated between the Arc de Triomphe and the Franklin D. Roosevelt Metro Station, the commercial portion of Champs Élysées stretches for almost a mile through the swanky 8th arrondissement and is the most famous shopping avenue in Paris - a must-see destination for visitors from around the world.
Café Mollien
With its broad sidewalks punctuated by outdoor cafes and rows of tall horse chestnut trees, Champs Elysees easily accommodates the masses of shoppers who flock here for the excellent selection of global brands: Tiffany, Abercrombie & Fitch, the always-packed Disney Store, Cartier, Gap, Sephora, the Adidas Paris flagship store, French electronics store Fnac, Zara, Petit Bateau baby clothing boutique, and at the corner of Avenue George V, the spectacular Louis Vuitton flagship store where you can line up with other shoppers until it's your turn to be admitted.
3. La Vallée Village - Where to Find Designer Fashion Discount Outlets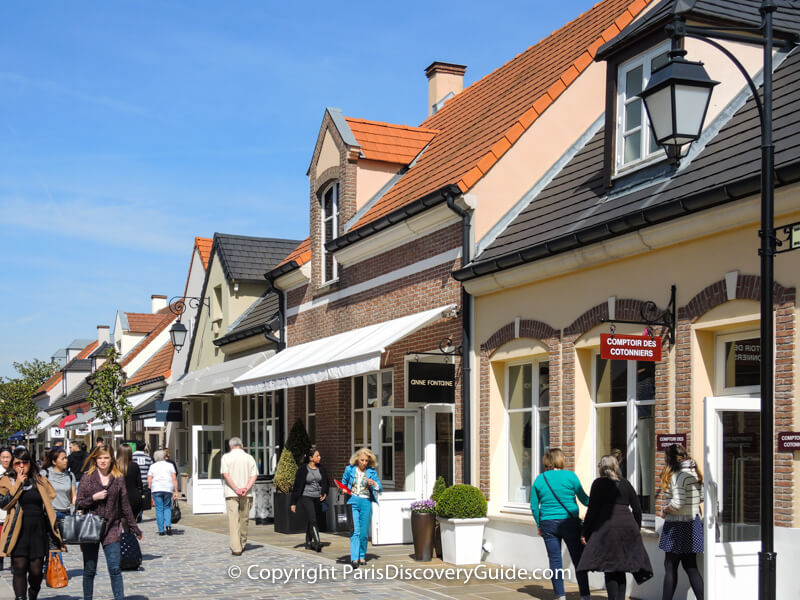 Where do Paris fashionistas shop for their Karl Lagerfeld little black dresses, their Gucci loafers, and their Zadig & Voltaire biker jackets?
Not always in the expensive retail enclaves you might imagine.
Instead, they bypass the pricey designer boutiques along Rue Saint Honoré or in the Golden Triangle and head straight to La Vallée Village, a sprawling discount designer fashion outlet mall just beyond the city outskirts - and you can too.
You won't find the most exclusive brands such as Hèrmes or Chanel here, but with 110+ shops filled with other sought-after French, European, and American designers - Givenchy, Isabel Marant, Carolina Herrera, Michael Kors, The Kooples, Burberry, Valentine, Ferragamo, Armani - you will find plenty to love.
How much can you save? It varies, and some items may only be available in a few sizes - but savings typically range from 20-30% up to well over 50% (we've spotted 70% reductions on a few items). You can usually find a few items with discounts on top of the regular marked down prices. And don't forget about the annual summer and winter sales, when almost every boutique offers additional discounts for the sweetest deals of all.
La Vallée Village shops are open 7 days/week from 10am to 7pm (8pm in summer), and you can get there easily from Paris.
How to Get to La Vallée Village by Train
Hop on the RER A train in Paris heading toward Marne-la-Vallée-Chessy-Parcs-Disney, and get off at the Val d'Europe station. When you walk out of the station, turn right and walk through the large Val d'Europe shopping (you'll see a large map in case you're in doubt). Walk all the way through it to reach the Vallée Village discount area.
Even Easier Ways to Get to La Vallée Village
4. Galeries Lafayette, Au Printemps, & Shopping along Rue de l'Opéra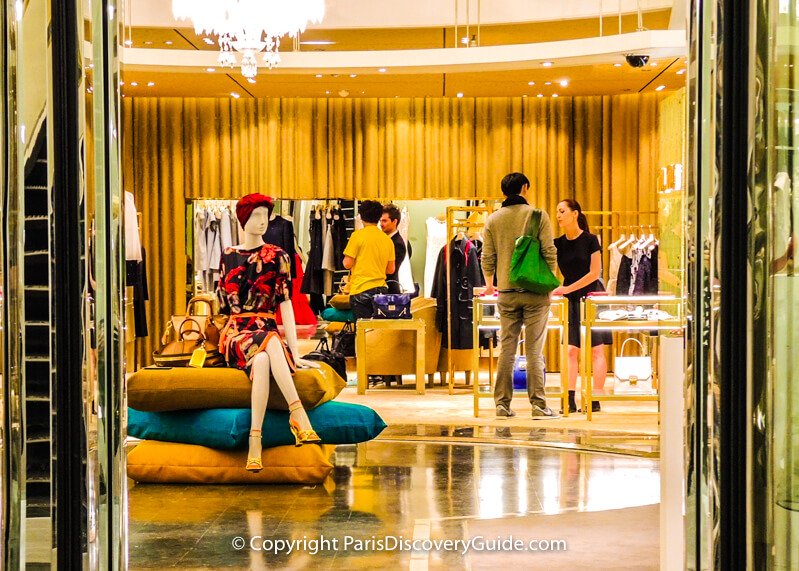 Galeries Lafayette and Au Printemps Haussmann, two legendary 19th century Belle Epoch Paris department stores or grands magasins, sit next to each other on Boulevard Haussmann and cover several city blocks just north of the Paris Opera House, Palais Garnier.
Both stores are packed with in-store boutiques featuring most of the same luxury designers you'll see in the Golden Triangle and along FSH/Rue Saint-Honoré, plus more affordable mid-range designers. You'll also find many more affordable mid-range designers.
But beyond shopping, there's much to admire in the ornate architecture and design of these shrines to retail: their colored glass domes, grand staircases, and artistic details. Galeries Lafayette sports a huge central atrium and renowned Art Nouveau staircase. For an unforgettable experience plus fantastic panoramic views, take the elevator up to the 3rd floor and stroll across the glass walk spanning the atrium.
If you're in Paris in November, December, or early January, join the crowds admiring the elaborate holiday displays and animations in the stores' huge display windows and the huge Christmas tree suspended from the top of Galeries Lafayette's glass-dome.
More stores and boutiques line the broad avenues and smaller streets surrounding the department stores. Avenue de l'Opéra offers an especially rich selection of shoes, bags, books, clothing, fashion accessories, chocolates, tea, bakeries, and gourmet foods on offer. Although price ranges vary, many of the stores are surprisingly affordable.
Camaïeu, for example, offers cute and trendy nicely-made clothing at relatively cheap prices - most of the separates cost less than 30 Euros. If you're a fan of super-comfy Mephisto shoes, look for their shop at #12, on the corner of Rue Saint Anne, where you can sometimes happen upon a sale. Shop in the large Monoprix (roughly similar to Target in the U.S.) near the end of the street for shampoo, small household items, and snacks - you'll find an excellent selection of French yogurts, chocolate bars, and fruit juices.
As a bonus, most stores in this area are open for shopping on Sundays.
Where to Eat: Galeries Lafayette and Printemps
Galeries Lafayette - In the summer, the rooftop terrace can't be beat for its views across Paris - have drinks, or a light meal. During other months, follow the crowds into Lafayette Maison and Gourmet across the street from the main store, and indulge in the take-away or eat-in specialties from around the world.
Printemps - You'll find wonderful choices of food halls, gourmet items, and dining areas on the 7th and 8th floors of the Men's Store. In the summer, dine on the Men's Store's 9th floor rooftop terrace and enjoy the sweeping views. Or admire the incredible glass dome over Brasserie Printemps on the 6th floor of the Women's Store.
Le Royal Opéra (#19 Avenue de l'Opéra) - A typical casual brasserie - good food for modest prices. Go for a burger and fries or steak-frites with a glass of red wine.
Paul (#25 Avenue de l'Opéra) - Buy a croissant and coffee to go in the front, or walk past the tantalizing display of confections to the small seating area in the back, or go upstairs. Order a salad, sandwich, or quiche, a glass of wine, and a small fruit tart with espresso.
Fun Things to Do at Galeries Lafayette
Galeries Lafayette and Printemps Flagship Locations
Galeries Lafayette - 40 Blvd Haussmann; Metro: Chaussée d'Antin La Fayette
Au Printemps - 64 Blvd Haussmann; Havre-Caumartin
More to know: Galeries Lafayette will usually give non-EU residents a 10% discount, provided you have your passport with you, and they will also process a VAT refund if you meet the 175.01€ minimum purchase in a single store in a single day requirement - easy to do if you're buying luxury items. But be aware: the refund is not available on some designer brands such as Tiffany.
5. Palais Royal Arcades: Discover the Specialty Boutiques & Galleries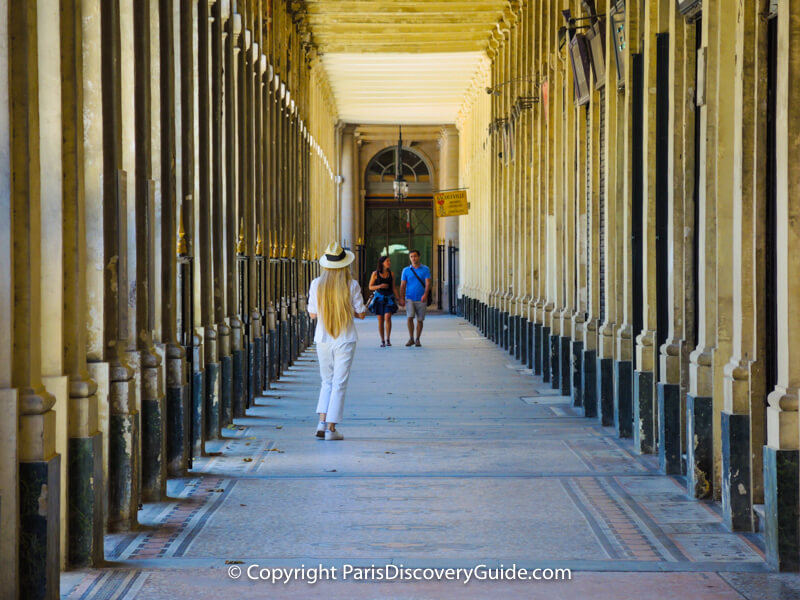 Across Rue de Rivoli from the Louvre but hidden from sight behind a 17th century palace, now office space for the Ministry of Culture, is an almost secret oasis missed by most Paris visitors: an inner courtyard filled with a whimsical sculpture display by Daniel Buren, a central passage with a large fountain filled with huge shiny chrome balls, rows of carefully shaped trees, and the serenely elegant Palais Royal Garden (Jardin Palais Royal) surrounded by covered arcades.
Tucked away behind the arcades are boutiques, restaurants (including 3-Michelin star Le Grand Véfour), and theaters frequented by stylish Parisians since the early 18th century.
Aside from a couple of designers such as Stella McCartney and Marc Jacobs, most of the 40 or so boutiques focus on specialty items: antique silk kimonos, vintage Chanel and other clothing at Didier Ludot, antique coins and medals, perfume, hand-carved canes, exquisite jewelry, beautifully crafted handmade leather bags.
Needless to say, prices reflect the quality and rarity of most items on display here, but if the cost doesn't make you flinch, this is a wonderful place to buy unique and precious gifts for others or for yourself. Otherwise, enjoy window shopping and perhaps a meal in one of more casual restaurants, or just claim a spot on a bench and relax in the sun.
How to Visit Palais Royal Garden & Boutiques: Hours & Location
Palais Royal Garden opens at 7am from April 1 through September 30, and 7:30 from October 1 through March 31. Closing time ranges from 8:30pm in the winter to as late as 11pm during the summer.
Entrance is free.
Look for almost-hidden entrances to the garden along Rue de Montpensier, Rue de Valois, and Rue de Beaujolais. There is also one on Place Colette near Le Nemours cafe on Rue Saint Honoré.
Find more places to shop & things to do & see in the 1st srrondissement near the Louvre
6. Shopping for French Kitchenware around Les Halles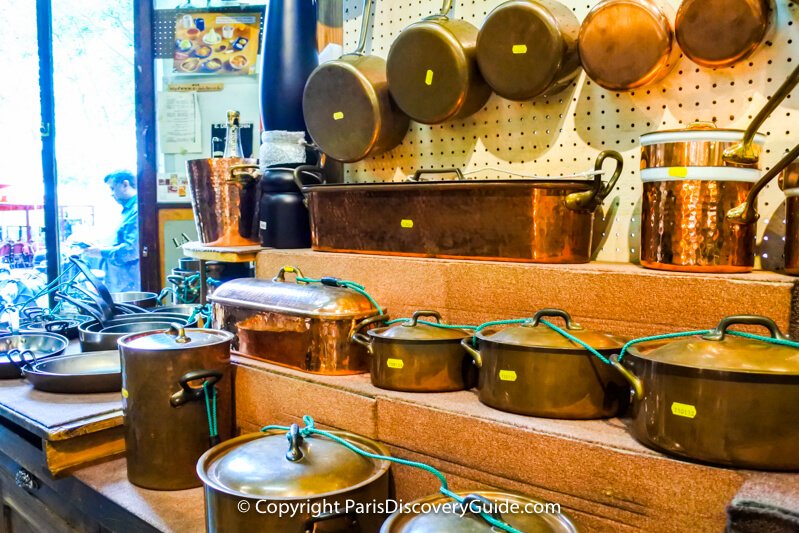 Although the large centuries-old wholesale food market at Les Halles in the eastern end of the 1st arrondissement was demolished in 1971 to make way for an underground shopping mall, remnants of the area's food culture remain.
If you love kitchenware in its many forms - copper pots, fancy cake baking tins, wooden spoons, Opinel knives, French wine openers, authentic macaroon baking pans, Le Creuset and Staub enameled cookware - head straight to Dehillerin (18 Rue Coquillière, 1st). Be prepared for 2-3 hours to pass in a heartbeat as you explore all the narrow aisles in the store's two packed floors.
You'll also find wonderful places to eat along Rue Coquillière plus more shops selling tableware items. Other major food streets in the area include Rue Montmartre (1st) and market street Rue Montorgueil (1st).
More Food & Wine Experiences near Les Halles
Paris Wine & Cheese Lunch - Whether you're new to French wine or a connoisseur, you'll learn something new at this lunch with wine, cheese, and charcuterie (smoked ham and sausages). You'll taste wines from 5 different regions of France, learn how to read a French wine label, and how to pair wine with food from a sommelier at a popular wine bar near Les Halles and the Louvre. Find out more
French Wine Experience & Tasting - Taste 3 different wine, tour the wine cellars of former French kings next to the Louvre, and learn about French grapes and wine regions from a sommelier. Find out more
More French Wine & Champagne Tasting Adventures
7. Shopping in the Marais - Fashion, Food, Design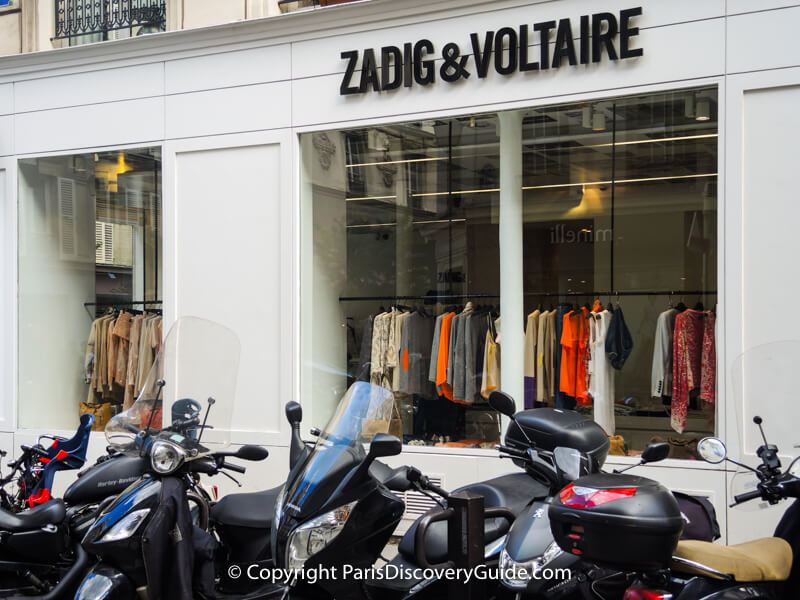 Filled with the boutiques of famous French and other European trend-setters such as Isabel Marant, Maje, Sandro, Zadig & Voltaire, Antoine & Lili, Claudie Pierlot, Lemaire, the small shops of up-and-coming designers, master chocolatiers and gourmet food purveyors, concept stores, and "stock" (discount) outlets, the Marais' small cobbled streets and lanes are a magnet for fashionistas, home decor connoisseurs, and gourmands from around the world.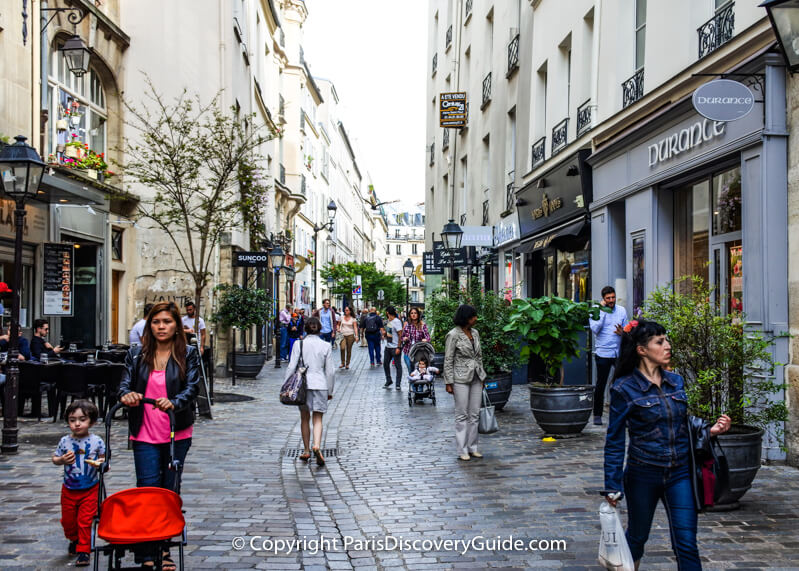 As you probably already know, the Marais encompasses parts of two arrondissements (districts): the 3rd, known as the Upper Marais, and the 4th, the Lower Marais. As a generalization, better known brands and fashion houses cluster in the 4th, while younger French designers, smaller design studios and art galleries dot the 3rd, although you'll find plenty of exceptions such as Jean-Paul Gaultier's fashion atelier (325 Rue Saint-Martin) near the top of the Upper Marais.
Pick almost any area in this picturesque neighborhood to begin your shopping excursion, and you really can't go wrong. But here are a few suggestions about where to start: Rue des Francs Bourgeois, Rue du Temple, Rue Ferdinand Duval, Rue des Rosiers, Rue du Parc Royal and Rue Elzevir near the Picasso Museum, Rue Vieille du Temple.
Don't miss the antique, design, and luxury fashion shops under the arcades surrounding Place des Vosges, or the highly esteemed concept store Merci (111 Boulevard Beaumarchais) where you'll find a beautifully curated selection from home goods to fashion to books displayed on multiple floors.
Recommended Marais Shopping & Food Tours
8. Canal Saint-Martin: Trendy Boutiques, Concept Stores, & Pop-Ups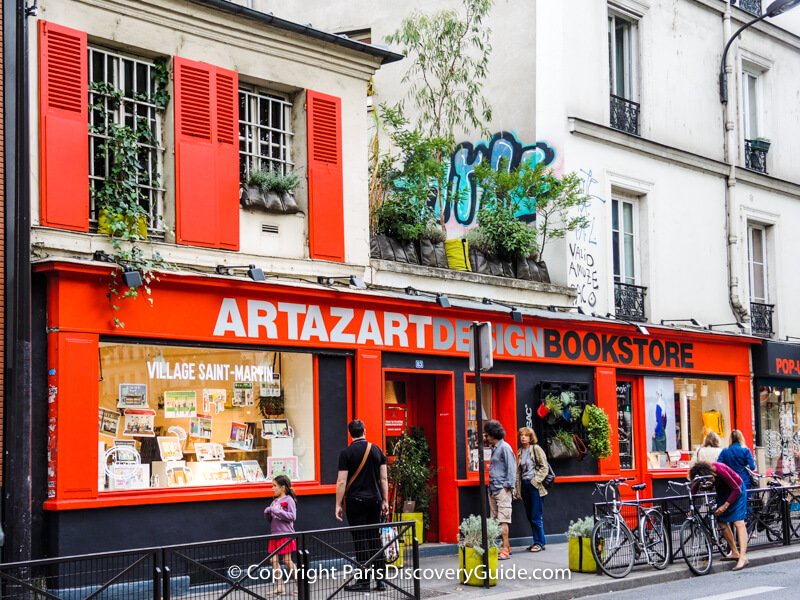 One of the best places right now in Paris to shop for emerging trends and new designers is along Canal Saint Martin in a swath between Place de la République and Gare de l'Ést and bordered by Boulevard de Magenta.
This rapidly gentrifying, rapidly changing area in the 11th arrondissement offers relatively cheap rents (which doesn't mean they're actually cheap, just more affordable than the 1st, 8th, or even the 18th), lots of youthful energy, and a creative spirit you'll see reflected in the street art, small cafes and bars, and tiny boutiques, galleries, pop-ups, and concept stores showcasing emerging designers and artists.
Good streets to explore include Rue des Vinaigriers, Rue de Lancy, Rue Beaurepaire - although with The Kooples, Maje, agnès b., Les Petites boutiques popping up along Rue de Marseille, the neighborhood is no longer off the radar of established designers.
9. Les Puces - The Biggest Flea Market Village in the World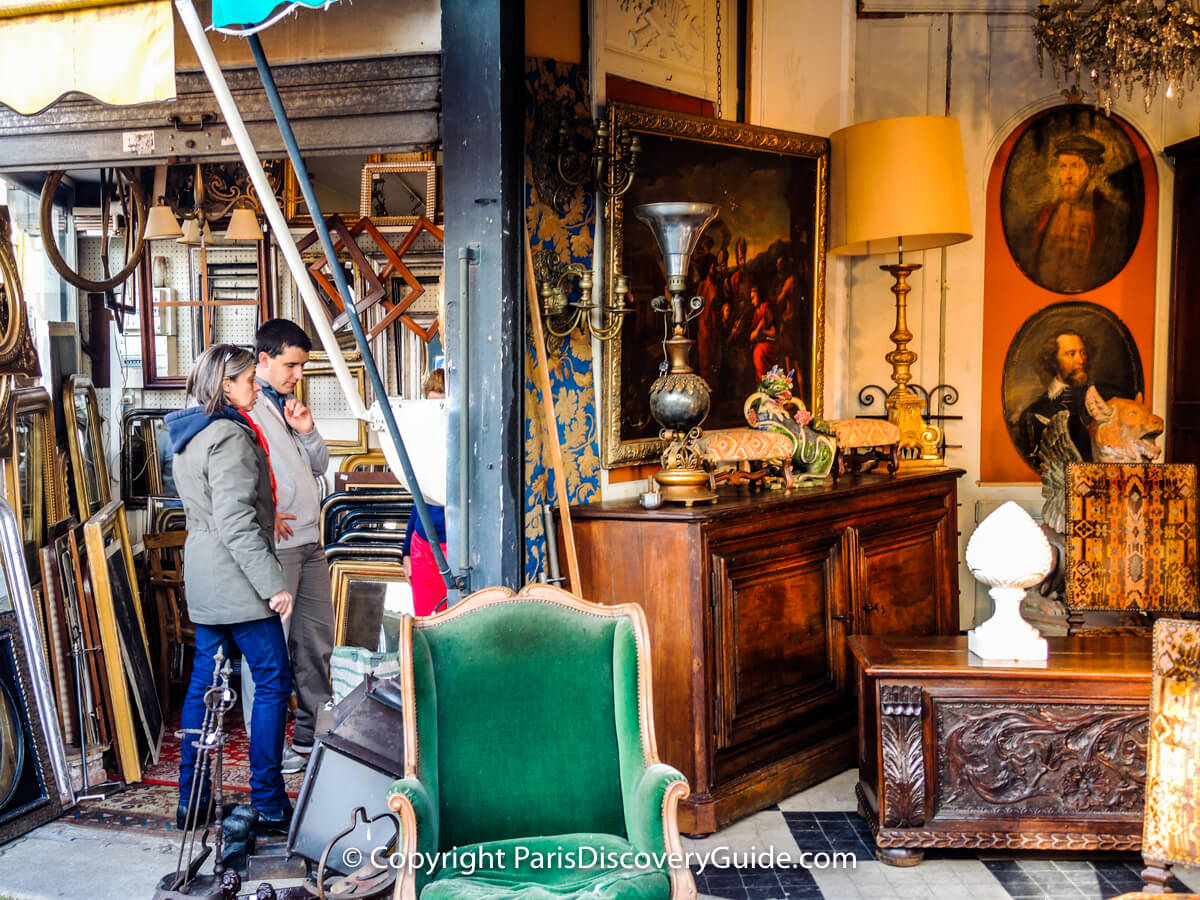 Don't think of the famous Les Puces Paris Flea Market at Saint-Ouen/Clignancourt as just one market - it's more like a large sprawling village where over 3,000 boutiques, shops, and stalls offer literally everything you can imagine plus a lot more. It's the biggest flea market in the world. Spend an entire day or even a weekend there, and you'll still barely scratch the surface of what's on offer.
So what will you find? An immense selection of mostly French and European furniture from the 18th, 19th, and 20th centuries, antique crystal chandeliers and brass candelabras, vintage clothing and jewelry, sculpture and architectural pieces such as fireplace mantles and entire staircases, larger-than-life-size statuary, vintage plumbing fixtures including brass and porcelain faucets, paintings and posters, knives, frames, silver and kitchenware, books, musical instruments, prints, maps, Asian art objects, porcelain, antique and vintage toys, antique linens and rugs - plus a lot more.
What's good to know: From a practical perspective, of course any purchases you might make should ideally fit into your suitcase for the trip home. But if you somehow fall in love with something huge - let's say an oversized 18th century gold-framed mirror, or perhaps a 12 foot tall marble giraffe statue - the flea market's onsite shipping services will crate it up and ship it home to you.
Les Puces is on the Paris outskirts, easy to reach by metro - but there's also a cool onsite hotel.
Find out more about shopping at the Paris Flea Market, plus where to stay nearby
Where to find smaller flea markets Paris
10. Montmartre Shopping Destinations: Rue des Abbesses & Marché Saint-Pierre District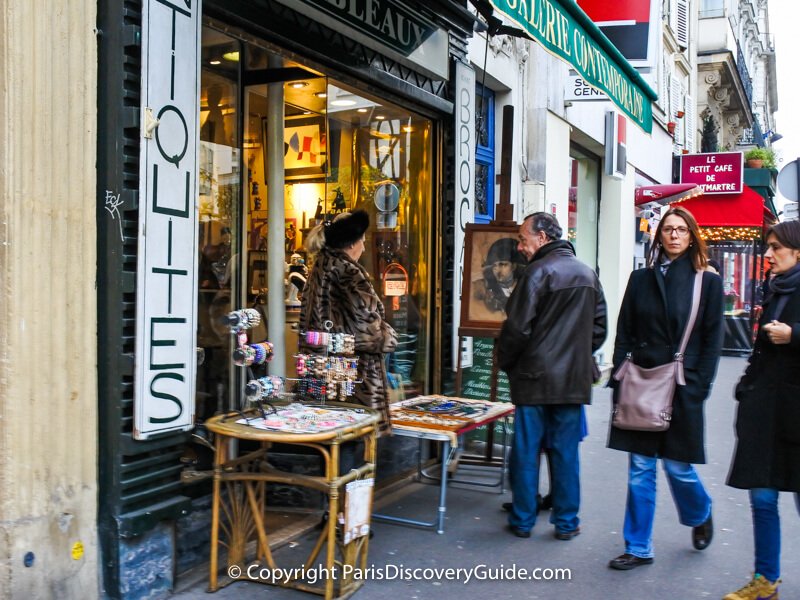 What you'll find: West of Sacre Coeur: merging designers, small boutiques with featuring mostly French clothing and accessories, antique shops, art galleries, vintage stores. East of Sacre Coeur: Marché Saint-Pierre District for dozens of shops offering discount fabrics, linens, boots, clothing
Walk the length of Rue des Abbesses, starting near Cimetière des Montmartre, and you'll pass any number of interesting small shops selling everything from clothing to jewelry to leather, along with probably an even larger number of small cafes, bistros, and food markets. Along with established Paris designers such as Sandro and Claudie Pierlot, you'll see even more names you don't recognize.
That's because this is the area to explore if you're interested in trendy fashion by new designers. To find the latest newcomers to the Paris fashion scene, continue down Rue des Abbesses (which turns into Rue d'Orsel) and be sure to detour along the way - Rue Houdon, Rue des Trois Frères, Rue des Martyrs (which extends all the way down to the SoPi, or South of Pigalle, neighborhood in the 9th and is one of the most popular market streets in this part of Paris).
Once you reach Rue Briquet and Rue Seveste, you're in the Saint-Pierre Market district and will begin to see fabric stores. To reach the biggest and what many feel is the best of the individual stores, turn left at Rue Seveste, then right at Place Saint-Pierre. In one short block, you will see Dreyfus - Marché Saint-Pierre, a huge 5-floor fabric emporium with prices ranging from discounted to affordable to cheap.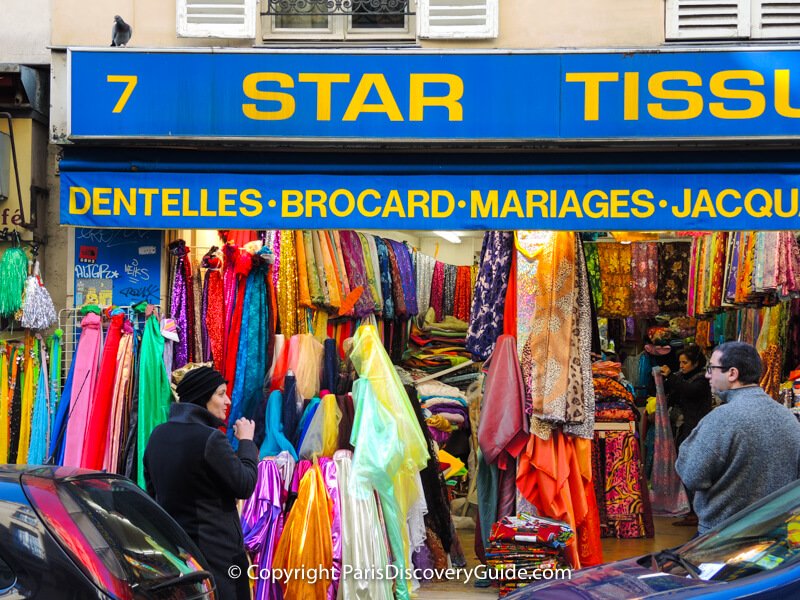 Dreyfus is where professional stylists and designers shop. Look for Hawaiian fabrics and specialty velvets on the ground floor, linen towels, table runners, and napkins on the 1st floor, delicate laces and drapery fabrics on the 2nd, Jouy toiles on the 3rd, and designer fabrics by Pierre Frey, Lacrois, Canovas, and more on the 4th.
Several other stores rival Dreyfus in scale and may offer even lower prices, but none quite match its quality and scope. Dozens of smaller shops offer more fabrics, trim, drapery and other hardware, clothing, boots, and bags.
11. Bastille: Shopping in the Passages & Inner Courtyards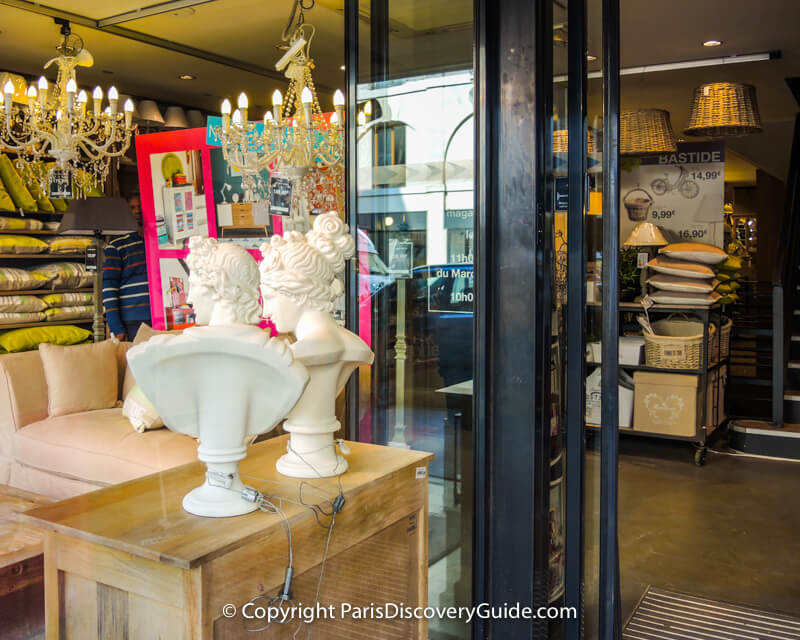 Behind Place de la Bastille in the 11th arrondissement lies a section of Paris favored by furniture makers and woodworkers since the 12th century. Relatively cheap rents (for Paris) have continued to make this area attractive to artisans and craftspeople, independent fashion designers and quirky shops, although rising rents are changing the retail mix.
Rue de Faubourg Saint-Antoine provides the main access to this increasingly trendy area from Place de la Bastille. In recent years, French and even global chain brands have popped along the first several blocks of this traditionally working class street. Why, you may wonder, would anyone who doesn't live in the neighborhood come all the way out to East Paris just to visit another Sephora or Undiz lingerie store?
What makes this area interesting, especially if you're the type of shopper who enjoys surprise discoveries, is the maze of ancient passages, back alleys, and interior courtyards. They may no longer house as many traditional workshops and ateliers - you're now more likely to find digital design studios - but they maintain their status as centers of creativity and commerce. If you thrive on discovering new and emerging fashion trends, designers, and concepts, and perhaps even seeing artisans at work, these are the places you'll want to explore.
Start by walking east on Rue de Faubourg Saint-Antoine. In between all the jeans stores, you may spot a few interesting places, including furniture stores and design studios. At Rue de Charonne, turn right if you want. Look for unexpected gateways and small signs for places starting with "Passage" and "Cour" - for example, Cour Saint-Joseph off of Rue de Charonne, Passage du Cheval Blanc, Passage Jossett, Passage Saint-Antoine, Passage de la Main d'Or - and when you see them, explore. Wander down side streets such as Rue de Charonne, Rue de Montreuil, Rue Saint-Bernard, Rue de Dahomey.
This part of Paris is evolving all the time so it's hard to predict what you'll find. Enjoy the adventure!
More Interesting Places to Shop in East Paris
Rue d'Aligre Flea Market - One of the best smaller Paris flea markets, and only one block from Rue de Faubourg Saint-Antoine. Walk down Rue de Cotte to Place d'Aligre, and you'll see it.
Viaduct des Arts - Created from a decommissioned railway viaduct, beautiful arched spaces with workshops, showrooms, gallery space, and boutiques for 50+ craftspeople involved with fashion, design, decor, jewelry, and art. More info: Viaduc des Arts website
12. Village Saint-Paul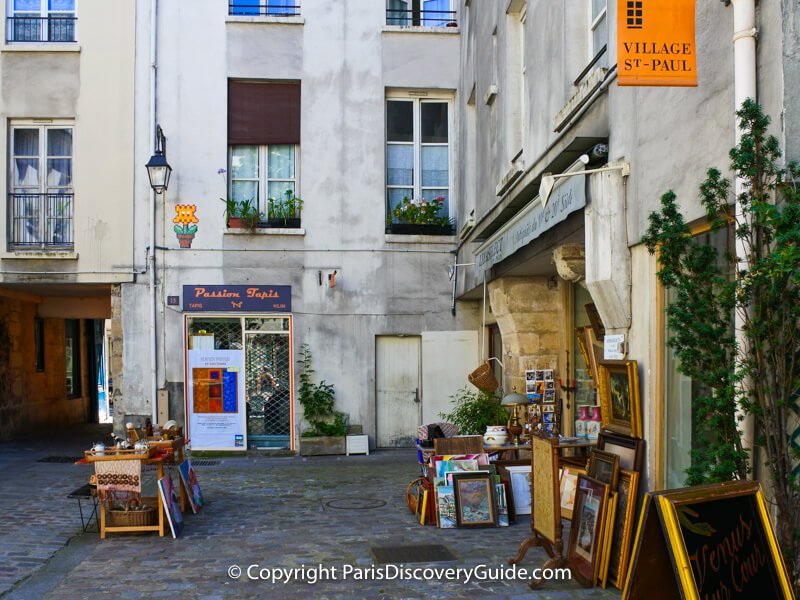 Over 80 artisans, galleries, boutiques, antique shops, and bistros make Village Saint-Paul one of the most charming places to shop for specialty items in Paris. Similar to the Palais Royal arcades, you can easily miss it even if you walk down one of the surrounding streets.
This thriving enclave of independent artisans and boutique owners (no global brands or chain stores here!) is tucked away in a quiet corner of the 4th arrondissement's Saint Paul Quartier, originally the site of a women's monastery founded in 630. Like the rest of the Marais, the Village has protected heritage status which helps preserve its medieval atmosphere.
Village Saint Paul is actually a maze of interconnected courtyards and passages, so quiet once you're inside that you will forget you're in Paris. Each boutique, workshop, and gallery is unique and while prices for the most precious objects and art reflect the quality, other items are surprisingly affordable. Selections change frequently, so you never know what you will find.
How to Find Village Saint-Paul
Village Saint-Paul occupies the inner courtyards of a block surrounded by Rue Saint-Paul, Rue Charlemagne, Rue des Jardins Saint-Paul, and Rue de l'Ave Maria. Entrances on Rue Saint-Paul and Rue Charlemagne are the easiest to spot - look for small signs saying "Passage Village Saint-Paul."
More to See near Village Saint-Paul
King Philippe-August's wall and rampart - Built between 1180 and 1210 by King Philippe-August to protect the French capital when he left the country to fight in the Third Crusade, little remains of the wall today - but you can see the longest portion still standing, including part of a tower along Rue Des Jardins Saint Paul at the back of a ball field
What Else to Do in Village Saint-Paul
Visit the Museum of Magic (Musée de la Magie), located in what the arched cellars of a 16th century inn (according to rumors, a residence of the Marquis de Sade) and filled with the props of magic and illusionist shows including posters, costumes, automations such as a coin-operated fortune teller, distorting mirrors, crystal balls, skeletons, and even an Egyptian-style sarcophagus. Guided tours end with a magic show.
Location: 11 Rue Saint Paul, 4th
Open: Usually Wednesday, Saturday, Sunday from 2pm-7pm, plus a few additional days and hours - so check the Museum of Magic's website before you go
13. Saint-Germain Galleries, Boutiques, & Antiques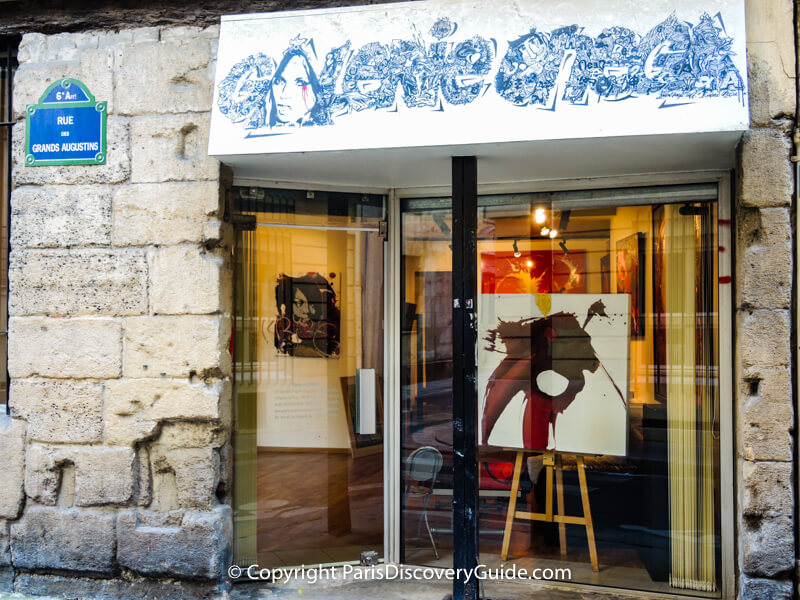 Almost the entire Saint-Germain-des-Prés neighborhood in Paris's 6th arrondissement presents tantalizing shopping opportunities, especially if you buy at the high end of the price spectrum. You can easily spend a day or more visiting all the chic fashion boutiques around Saint-Sulpice Church, along Rue Bonaparte/Rue des Rennes, and Rue de Saint-Père where Vanessa Bruno, Barbara Bui, Saint Laurent, and numerous gourmet chocolate boutiques compete for shoppers' attention.
But if you want to zero in on something unique and special to this neighborhood, head to the area hugging the Seine River between École des Beaux Arts (School of Fine Arts) and Rue des Grands Augustins where dozens, possibly hundreds of antique stores, art galleries, rare book dealers, and design studios cluster along narrow streets lined with 16th and 17th century buildings. Prices in most places range from high to astronomical, but if your budget can accommodate the splurge, this is where to find something rare and wonderful.
Frugal Shopper's Tip: If you'd like to bring home a piece of art from Paris but can't afford an original Chagall sketch or signed Picasso lithograph, look through the bins of unframed prints by unknown artists in Saint Germain art galleries, particularly those near Beaux Arts and along the quai next to the Seine. You may find something you love for less than you'd expect.
More Areas for Shopping in Paris
Rue Saint-Dominique between Avenue Bosquet and Blvd de la Tour-Maubourg, 7th arr, metro: La Tour-Maubourg - Nice selection of boutiques featuring mostly French designer labels, ranging from affordable to very expensive
Place des Victoires, between 1st and 2nd arr - Elegant luxury and high-end designer boutiques, with interesting small shops on the side streets, especially those north of the square
Île Saint Louis - Interesting and eclectic mix of art galleries, gift shops, chocolate and gourmet food shops, clothing boutiques, and antique dealers along this tiny island's main street, Rue Saint-Louis en Île
Rue de Rivoli, between the Place de la Concorde and Louvre-Rivoli metro stations - Everything from souvenirs to global chains to high-end fashion and art
Bercy Village - Former wine market, with 42 storehouses re-purposed as boutiques, restaurants, and cinemas. Next to the Seine River in the 12th arr, nearest metros: Cour Saint Émilion, Bercy
More Fun Things to Do & See in Paris