To discover the best things to do Paris in April, all you need to do is step outdoors and enjoy the city's legendary beauty as magnolias, cherry trees, and daffodils burst into bloom. Sidewalk seating at cafes and brasseries fill up with locals on balmy days, and you'll want to claim your own table in a sunny spot and linger over a café crème or glass of wine. Or buy perfectly ripe strawberries, bread, and cheese at an outdoor market and head to a nearby park for an impromptu picnic.
If you're a Paris visitor, of course you'll want to pack in plenty of sightseeing. April is an ideal time to explore Paris by bike, take a leisurely cruise down the Seine River, and gaze at the city's skyline from a rooftop terrace or observation deck. Caught in an April shower? Head to a historic covered passage lined with boutiques and bistros, join a wine tasting group, or explore one of the city's smaller museums.
Visiting Paris in April lets you benefit from still-low "shoulder season" hotel rates and apartment rentals and visit famous attractions such as the Eiffel Tower, Louvre Museum, and xxx without vying for space with the masses of tourists who start to arrive as the busy summer season approaches.
Events - link
Top photo: Cherry trees in bloom near Parc Georges Brassens in the 15th arrondissement of Paris
7 Top Things to Do in Paris
1.
6. Top Paris Events in April
Top April events include The Paris Marathon, major art and craft expositions, a huge "fun fair" dating back to early medieval times, the Easter holiday at the beginning of the month, and the arrival of spring in Paris as every tree in the city bursts into bloom, sidewalk tables fill up in front of brasseries and cafes, and sunshine makes everyone slightly giddy.
Find out more about April events in Paris
Prepare for Your April Visit: Weather & Packing Tips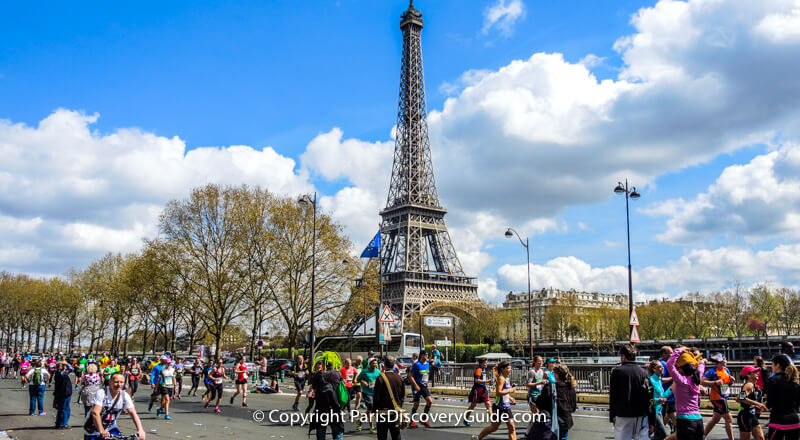 Weather in Paris, France in April: What to Expect
Whether you're running or watching, the Marathon's mostly-flat 26.2 mile (42.2 km) route gives you spectacular close-up views of iconic landmarks such as the Eiffel Tower, Notre Dame, the Louvre, plus interesting tours of Paris's two huge wooded parklands. Thanks to the relatively flat route, the winner typically crosses the finish line in just over two hours, although you can still see plenty of runners along the route until at least mid-afternoon.
Packing Tips for Visiting Paris in April: What to Bring
---
Where to Stay in Paris in April
Featured Paris Apartment for April
---
Need a Paris Hotel or Apartment for Your Visit?
Planning a trip to Paris? Use this hotel booking map to find hotels and apartments during your travel dates:
Check out the newest Paris hotels
---
More Fun Things to Do & See in Paris in April
---
Pin Now, Read Again Later