1st Arrondissement Paris hotels put you right at the center of historic Paris, with a huge number of famous attractions, wonderful dining, and excellent shopping within easy reach.
Staying in the 1st Arrondissement gives you easy access to explore the enormous Louvre Museum, relax in Tuileries Garden, gaze at the magnificent stained glass in Sainte-Chapelle, and stroll along the Seine River.
But you'll also find lots of other treasures: luxury boutiques near Place Vendôme and Rue Saint-Honoré, the hidden garden behind Palace Royal, and treasure-filled culinary shops around Les Halles and (mostly) pedestrian-only Rue Montorgueil market street.
Our hotel recommendations range from affordable 3-star boutique hotels to 5-star luxury "palaces." You're sure to find a place you'll love.
---
xxx Hotel
★★★★★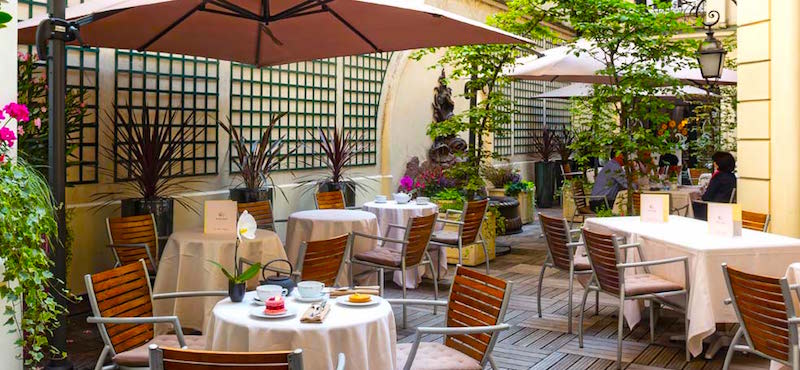 Located at an ideal 1st district address directly across from the Louvre and Tuileries Garden, 5-star Hôtel Regina gives you sweeping views all the way to the Eiffel Tower and beyond, as you can see in the early-spring photo at the top of this page.
The hotel's 99 rooms and suites, tastefully decorated in charming classic French style, offer you plenty of choices, including interconnecting family rooms.
With the Louvre, Jardin des Tuileries, Musée de l'Orangerie, and Palais Royal at your doorstep, you'll find plenty to do. A short stroll across the Pont Royal bridge over the Seine brings you to Musée d'Orsay, packed in Impressionist masterpieces. Explore the nearby art galleries and antique stores in the Saint Germain des Prés neighborhood, and then walk along to the river to Paris's famed Latin Quarter.
CHECK RATES
---
Grand Pigalle Hotel
★★★★
The exquisitely decorated 4-star boutique Hôtel Konfidentiel is tucked away on a quiet, charming street between the Louvre and Les Halles.
With only 6 rooms and suites, one per floor, you'll feel like a guest in an elegant although hip mansion. Spectacular murals in several rooms pay homage to previous neighborhood residents and events - King Louis XIV, Marie Antoinette, Molière, the French Revolution - and crystal chandeliers, wood-beamed ceilings, and touches of gold give a chic flair. The 2-floor Eiffel Tower Suite is especially cool. Luxurious amenities and attentive service will add to your comfort here.
You can easily walk over to the Louvre, Palais Royal, Notre Dame, and Beaubourg (Center Pompidou) from the hotel, but also take time to explore some of the lesser-known neighborhood gems - the magnificent Renaissance-Gothic Saint Eustache Church, all the cafés and food shops along Rue Montorgueil, and the recently restored Les Halles shopping complex.
CHECK RATES
---
Le Burgundy
★★★★★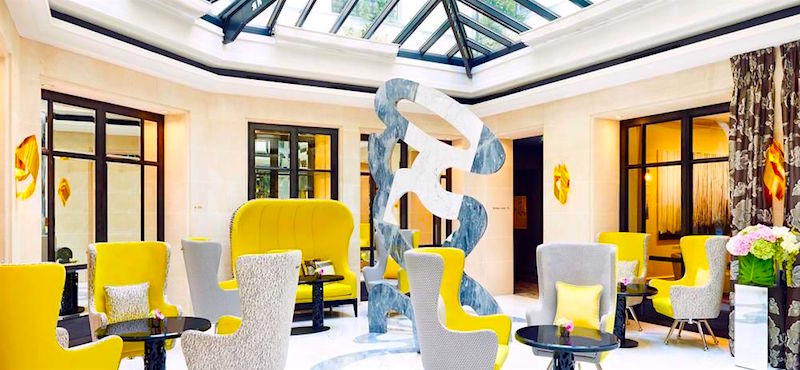 The sophisticated 5-star Le Burgundy's location on a quiet street between the designer boutiques along Rue Saint Honoré, Place de la Madeleine, and Place Vendôme put you right in the middle of the 1st Arrondissement's legendary haute couture shopping district.
An elegant blend of lush fabrics, color, and art make the 59 rooms and suites especially appealing. You'll easily fall in love with this luxury hotel's wonderful spa and pool, onsite Michelin-starred restaurant, customized service, and special range of amenities for families.
When you're not shopping, stroll over to Jardin des Tuileries, just 3-4 minutes away, and admire Monet's lush waterlily paintings in Musée de l'Orangerie. Explore the nearby Louvre and Palais Royal. Need to do more shopping? Head over to the famous Champs Elysees and the Golden Triangle, also near your hotel.
CHECK RATES
---
Le Relais des Halles
★★★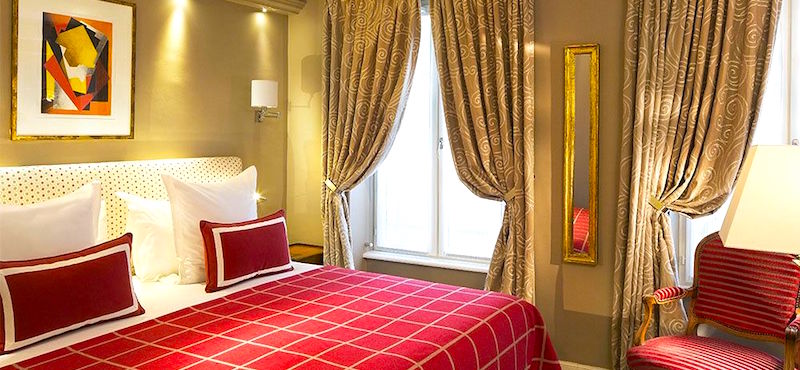 The charming 3-star Le Relais des Halles hotel occupies a beautifully restored 17th century Parisian building overlooking one of the small pedestrian streets near Les Halles.
Each of the boutique hotel's 19 rooms and suites is individually decorated with jewel-like colors and many luxury touches.
You'll enjoy exploring nearby market street Rue Montorgueil, lined with many small cafés and bakeries, artisan boutiques, and culinary shops. You can easily walk to Beaubourg (Centre Pompidou) and the Marais neighborhood in just a few minutes, and an 8-10 minute walk will bring you to the Louvre, Palais Royal, designer shopping around Place des Victoires, and Sainte Chapelle on Ile de la Cite.
CHECK RATES
---
Hôtel Crayon
★★★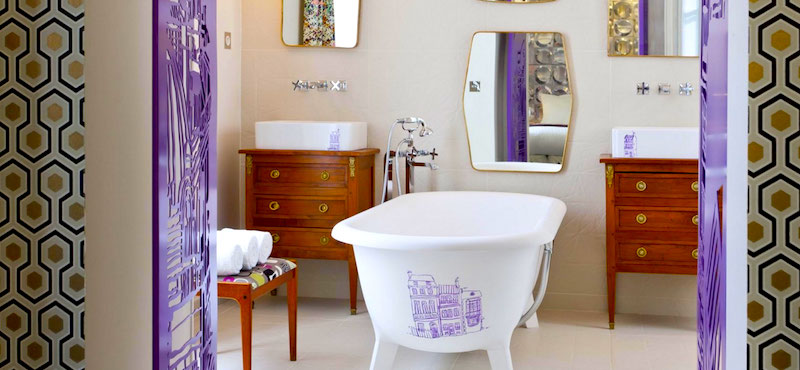 The colorful 3-star Hôtel Crayon exudes bohemian chic from its 1st arrondissement location on a quiet side street between Palais Royal and Les Halles.
The Crayon's artist-owner scoured Paris antique shops and flea markets to furnish the 26 rooms, and created eye-popping original art and designs with a nod to 1960s-era "color block" pop artists to weave it all together. The decor may not be for everyone - but if you love its charming colors and eclectic style, this hotel will make you smile.
You'll be within easy reach of top nearby attractions such as the Louvre, Palais Royal, and Sainte Chapelle - but take some time to explore the immediate neighborhood as well. This quiet corner of the 1st arrondissement is home to several excellent small wine bars, bistros, and boutiques. Galerie Véro Dodat, one of Paris's famous 19th century covered shopping arcades, is only a block away.
CHECK RATES
---
Hôtel Thérèse
★★★★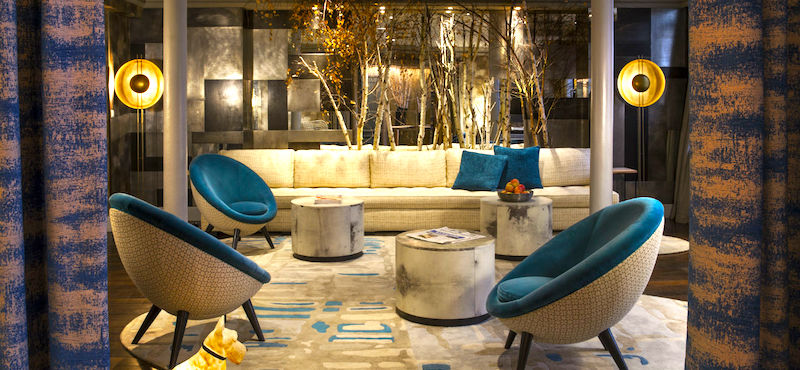 Elegant 4-star Hôtel Thérèse overlooks a quiet 1st Arrondissement lane lined with 17th and 18th century townhouses between Palais Royal's hidden jewel-like garden and Rue Saint-Anne, renowned for its many excellent Japanese restaurants.
Luxurious fabrics and a mid-20th century aesthetic define hotel's 40 comfortable rooms. A wide range of room sizes and rates give you lots of choices.
If you stay here, you'll be surrounded all the 1st Arrondissement's top attractions. A short walk or Metro ride will bring you to the Paris Opéra and Paris's famous department stores, Galeries Lafayette and Au Printemps. Check out the high-end offerings along avenue de l'Opéra as well - some are surprisingly affordable.
CHECK RATES
---
La Clef Louvre - Apartment Hotel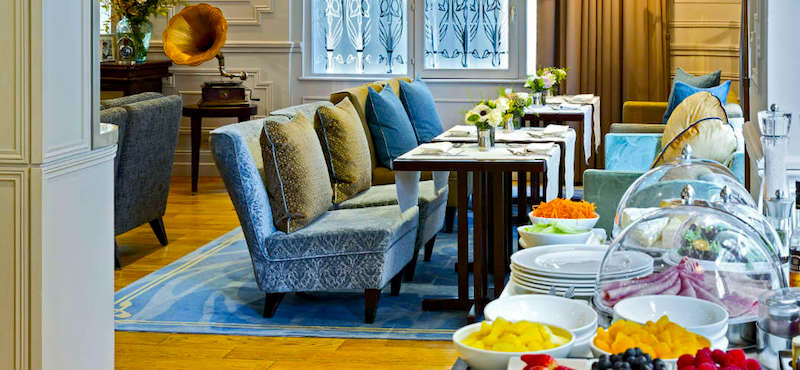 A cross between a luxury hotel and apartments, the serviced suites at La Clef Louvre occupy a gorgeous 1908 Art Nouveau building next to Comédie Française and just two short blocks from the Louvre and Musée des Arts Décoratifs.
Like an apartment, La Clef Louvre's suite includes fully equipped kitchenettes and tableware; most have washers and driers. But like a high-end hotel, La Clef provides breakfast, 24x7 concierge services, a fitness center, and other services. You get the best of both worlds.
Staying here puts you at the heart of classic Paris, surrounded by all the 1st District's famous attractions. Enjoy exploring the city to the fullest - but no matter how busy you are, take advantage of La Clef Louvre's location and stroll over to the Louvre at twilight to see the Pyramid in Cour Napoleon glowing with lights - it is magical!
CHECK RATES
---
Popular Ways to See the Louvre
Want to Save on Your Paris Hotel?
Check our tips on how to find discounts, deals, and bargains for Paris hotels. Whether you're looking for cheap accommodations or want to pay less for luxury, we'll show you how to save on hotels in Paris.
---