To discover the best things to do Paris in April, all you need to do is step outdoors and enjoy the city's legendary beauty as magnolias, cherry trees, and daffodils burst into bloom. Sidewalk seating at cafes and brasseries fill up with locals on balmy days, and you'll want to claim your own table in a sunny spot and linger over a café crème or glass of wine. Or buy perfectly ripe strawberries, bread, and cheese at an outdoor market and head to a nearby park or the Seine River banks for an impromptu picnic.
If you're a Paris visitor, of course you'll want to pack in plenty of sightseeing. April is an ideal time to explore Paris by bike, take a leisurely cruise down the Seine River, and gaze at the city's skyline from a rooftop terrace or observation deck. Caught in an April shower? Head to a historic covered passage lined with boutiques and bistros, join a wine tasting group, or explore one of the city's smaller museums.
Visiting Paris in April lets you benefit from still-low "shoulder season" hotel rates and apartment rentals and visit famous attractions such as the Eiffel Tower, Louvre Museum, and Monet's home and garden at Giverny without vying for space with the masses of tourists who start to arrive as the busy summer season approaches.
Should You Visit Paris in April?
Is April a good month to visit Paris?
Top photo: Cherry trees in bloom near Parc Georges Brassens in the 15th arrondissement of Paris
12 Fun Things to Do in Paris in April
1. Explore Paris on Wheels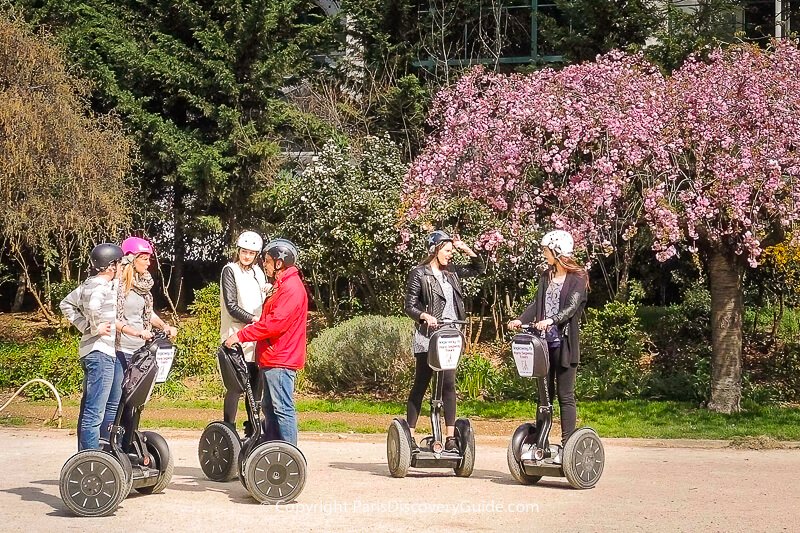 If you're visiting Paris in April, a perfect way to see the city's top attractions and lesser-known treasures while enjoying the spring weather is on a 1-hour Segway tour. You'll glide past famous monuments including the Eiffel Tower, down the Champs Elysees, and past the Seine River as your guide entertains you with insider tips about Paris.
To stay dry while seeing Paris during April showers, choose a guided excursion in a classic vintage Mercedes. In addition to the famous sights like Notre Dame and the Grand Palais, you'll see picturesque neighborhoods like Saint Germain des Prés as well as lesser known places such as the magnificent Saint Sulpice church. Finish your tour in style with wine tasting in the Latin Quarter.
2. Relax as You Admire Spring Flowers in a Paris Park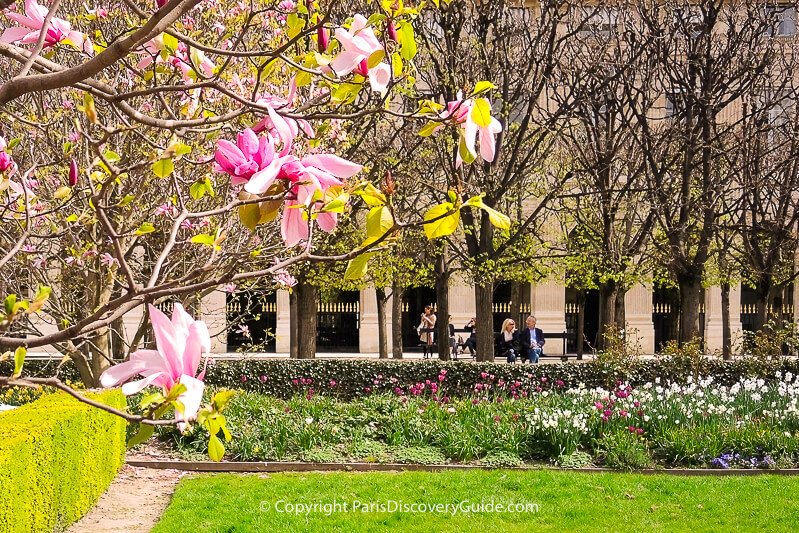 With almost 500 professionally tended public parks and gardens scattered across the city, you'll have no difficulty finding beautiful spring flowers to admire.
In central Paris, some of the best spots to find the biggest displays of magnolias, cherry trees, daffodils, and tulips blooming in April include Palais Royal Garden (shown in photo) and Tuileries Garden near the Louvre, Parc Monceau in the 8th arrondissement, Luxembourg Garden in the 6th, and the Jardin des Plantes (Botanical Garden) in the 5th.
No matter how packed your schedule is, do what Parisians do: pick a favorite park, find a bench, and spend just a few minutes each day enjoying the beauty of the season.
For an unforgettable experience, visit Monet's spectacular garden at Giverny which opens for the season in April with an exuberent display of flower bulbs, cherry and crab apple tree, forget-me-nots, and other spring flowers.
3. Visit Famous Attractions (Before the Summer Crowds Arrive)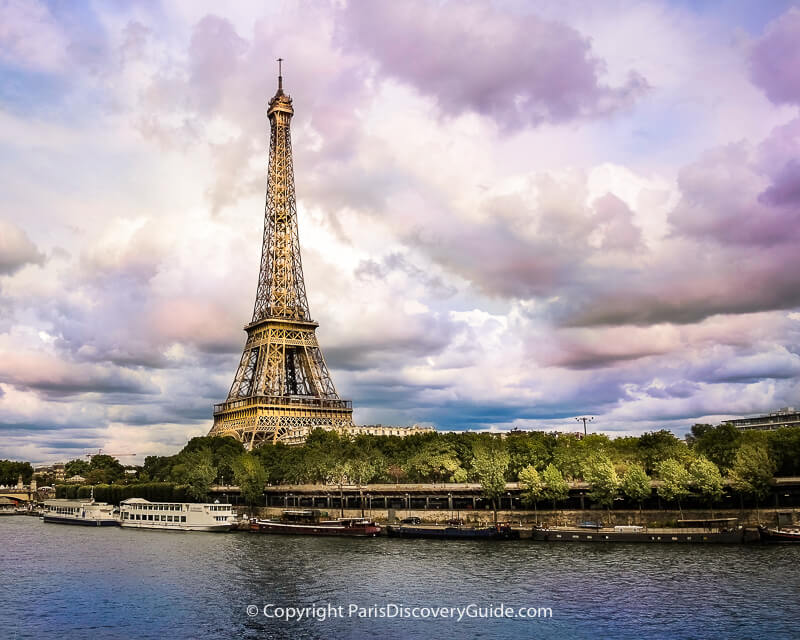 With relatively few tourists in Paris during April, this is the perfect month to visit the city's most famous sights. Choose a skip-the-line guided tour by elevator up to the second floor and summit of the Eiffel Tower, where you'll see the city from a different perspective.
Tour the Louvre Museum with an expert guide who will show you famous masterpieces, including the Mona Lisa, and then explore on your own for as long as you'd like.
Or perhaps explore the flamboyant gold and mirrored Opera Garnier (Paris Opera House) with a guide who will show you all the wonders of the largest opera hall in Europe.
4. Enjoy a Picnic in a Paris Park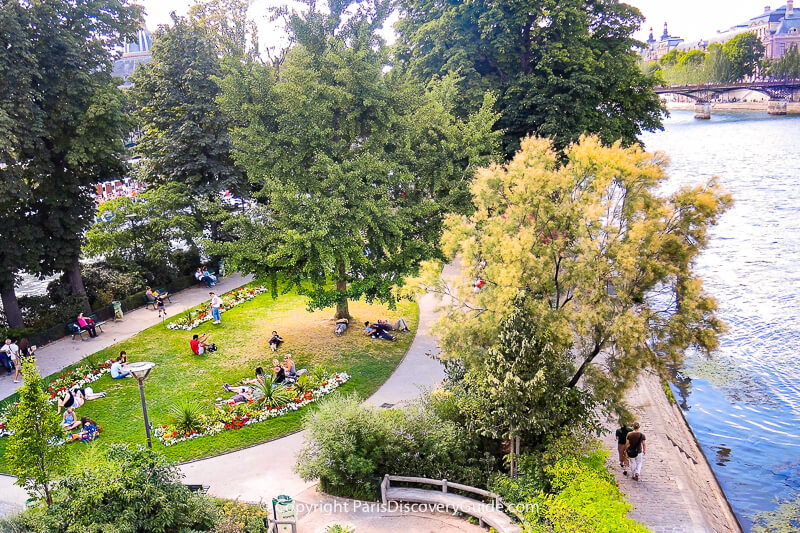 What's the perfect Paris activity when the sun is shining overhead and the air is balmy? A picnic in the park, where you'll be surrounded by plenty of Parisians doing the same thing.
First, gather your supplies: buy a baguette at a neighborhood bakery, cheese from a fromagerie (cheese shop), fruit at a produce market (fresh strawberries are fantastically good in April), and a bottle of your favorite Chablis or Beaujolais from a wine shop.
Not sure which wine to choose? Just point to your bread and cheese, and ask for suggestions; also get the wine uncorked unless you have a corkscrew. Don't forget to bring a knife to cut the cheese and a small plastic glass for your wine (although if you're under 30 or so, you can drink straight from the bottle without being conspicuous).
Now, head to a park to savor your feast. Square du Vert-Gallant at the western tip of Île de la Cité is a local favorite, as are the parks along each side of the Seine River and Canal Saint-Martin. But you can find excellent spots at almost any other city park - just avoid Champ de Mars, as public consumption of alcohol is sometimes forbidden there.
5. Cruise the Seine River
A Seine River cruise lets you see Paris from a different perspective. You'll glide under the famous centuries-old bridges and see their ornate carvings up close, you'll pass famous attractions, get fantastic views of the Eiffel Tower and Notre Dame, and feel the joie de vivre of relaxing as you watch the ever-changing shoreline drift by.
So many different "flavors" of river cruises are on offer that you can choose the experience you want: a midday cruise to soak up sun on the open-air top deck, a fancy gourmet dinner cruise in a climate-controlled glass cabin, an "illuminations" night cruise. Book your favorite Seine River cruise
6. Enjoy Live Classical Music in Historical Paris Churches
Paris's historic churches dating back hundreds of years make the perfect setting for some of the city's finest classical music performances. From lovely intimate chapels such as Eglise Saint Ephrem to the soaring vaulted heights of Saint Germain des Prés to the breath-taking stained glass of Saint Chapelle, each of these special places frame the music in an unforgettable way.
What will you hear? Everything from classical compositions to baroque, choral music to Gregorian chants, and occasionally even jazz and American spirituals. Tickets are affordably priced. Find out what's on for April
7. Relax in the Sun at a Sidewalk Cafe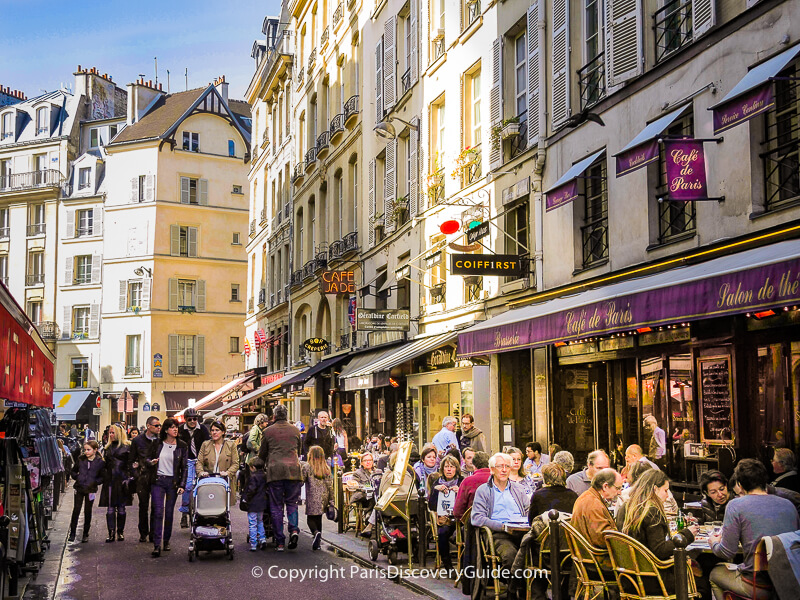 Whether you're savoring a café crème and croissant for breakfast, enjoying steak-frites for lunch, or lingering over a glass of pastis or kir apéritif and slices of tasty saucisson, smoked almonds, and olives during apéro hour in the early evening, the most important thing is to relax and enjoy the good life.
You'll find outdoor dining in every neighborhood, practically every street - but to find lots of choices clustered together, head to any of Paris's (mostly) pedestrian-only market streets: Rue Cler near the Eiffel Tower in the 7th arrondissement, Rue Montorgueil near Les Halles in the 1st and 2nd, Rue de Buci in the 6th near Place Saint Michel, and Place du Marché Saint-Honoré in the 1st near Place Vendome and Rue Saint-Honoré.
8. Visit Castles near Paris for Wine Tasting & Lunch
9. Plan a Few Rainy Day Activities for April
Covered Passage
Picasso
Wine tasting
10. Watch (or Run) the Paris Marathon
Top April events include The Paris Marathon, major art and craft expositions, a huge "fun fair" dating back to early medieval times, the Easter holiday at the beginning of the month, and the arrival of spring in Paris as every tree in the city bursts into bloom, sidewalk tables fill up in front of brasseries and cafes, and sunshine makes everyone slightly giddy.
Find out more about April events in Paris
Prepare for Your April Visit: Weather & Packing Tips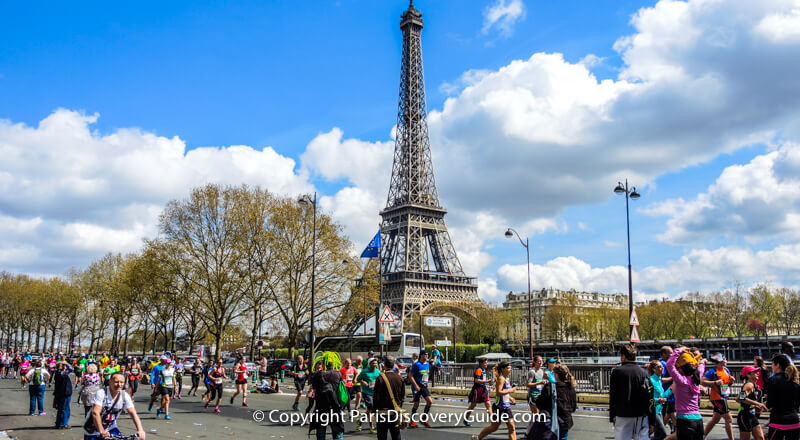 Weather in Paris, France in April: What to Expect
Whether you're running or watching, the Marathon's mostly-flat 26.2 mile (42.2 km) route gives you spectacular close-up views of iconic landmarks such as the Eiffel Tower, Notre Dame, the Louvre, plus interesting tours of Paris's two huge wooded parklands. Thanks to the relatively flat route, the winner typically crosses the finish line in just over two hours, although you can still see plenty of runners along the route until at least mid-afternoon.
Packing Tips for Visiting Paris in April: What to Bring
---
Where to Stay in Paris in April
Featured Paris Apartment for April
---
Need a Paris Hotel or Apartment for Your Visit?
Planning a trip to Paris? Use this hotel booking map to find hotels and apartments during your travel dates:
Check out the newest Paris hotels
---
More Fun Things to Do & See in Paris in April
---
---
More Articles about Things to Do in Paris in April