Paris Hotels: Understanding the Star Rating System
Look at any list of Paris hotels and the first thing you'll see are stars - as in 3-star hotel ... 4-star hotel ... 5-star hotel.
French law requires hotels to post their star rating on
But what to the stars actually mean, and how do you use them to choose a hotel?
The French use an official star-based system ranging from 1 to 5 stars to categorize hotels based on a variety of factors such as room and reception area size, reception staffing, services, and amenities.
In addition, each hotel must provide reliable information, demonstrate the ability to respond to customers and monitor customer satisfaction, provide some accommodation to those with special needs, and commit to sustainable development.
How to Star Ratings Relate to Hotel Rates?
What's Missing from the Paris Hotel Star Ratings?
Actually, quite a lot.
What the star ratings don't tell you are the qualitative factors that can significantly influence your happiness with your stay.
Are the beds comfortable? Is the staff helpful? Do they speak English (in 1-, 2-, and 3-star hotels)? Is the hotel clean? How fast and reliable is the wifi? Are rooms quiet at night - or will street traffic or music from a nearby club keep you awake all night?
And then there intangibles about the hotel's location to consider.
Is the hotel's location convenient? How close is it to a Métro stop, restaurants, the major attractions you want to visit? What is the surrounding neighborhood like?
---
How to Find Out What the Stars DON'T Tell You
These include size of rooms and the reception area, whether or not the reception staff speaks languages in addition to French, hotel amenities such as
Almost every Paris hotel has an official star rating. Look at any listing of Paris hotels, and usually
But you may also have some practical questions: what kind of weather to expect, what to pack, what's the difference between Left Bank and Right Bank?
This article answers these questions, and more - you'll find 10 quick facts about essentials such as money and credit cards in Paris, the city's layout, electrical current, getting around, and wifi.
You'll even find information about what to do if you get sick or have an emergency, although hopefully you won't need it.
Paris Facts for Visitors
1. Size PUT INTO BOX
Size: Paris measures about 8 miles from east to west, and 6 miles from north to south, and covers about 40 square miles. Compared with other major international cities, it's relatively small and compact. You could easily walk across the city, although perhaps not as quickly as you'd imagine due to traffic, hilly areas, and interesting diversions along the way.
Population: About 2.2 million people live within the city, plus another 10 million or so reside in its surrounding suburbs.
Importance: Paris is the capital of France, and the country's biggest city.
Tourists:
1. Layout: Left Bank, Right Bank, The Islands
Imagine an egg, resting on its side. That's roughly the shape of Paris.
The Seine River divides the city, east to west, into two portions. The Right Bank is the area north of the Seine, and the Left Bank lies below it.
Traditionally, the Right Bank was seen as traditional and conservative, while the Left Bank was considered avant-garde and bohemian.
But times change. Today, the wealthy and upper-class neighborhoods of Western Paris, both above and below the Seine, get the "conservative" label while formerly working-class neighborhoods in Eastern Paris now are regarded as edgy and hip.
In the middle of the Seine are two natural islands, Île de la Cité and Île Saint-Louis. (In addition, the Seine has a few smaller human-made islands, such as the beautiful Île des Cygnes , where you can enjoy some of the best Eiffel Tower views.)
Île de la Cité (along with a narrow swath of the Left Bank) is where a group of Celtic Iron Age people called the Parisii settled in the 3rd century BC - a settlement which the Romans called Lutetia after they arrived in the 1st century AD, but later became known again as Paris. Numerous famous attractions such as Notre Dame Cathedral, Sainte-Chapelle, and the Conciergerie pack the island, and 10 bridges connect it with the Left Bank, Right Bank, and Île Saint-Louis.
Île Saint-Louis, by contrast, is filled with elegant 17th and 18th century mansions containing some of the city's most coveted apartments, small boutique hotels, appealing shops, and restaurants. Berthillon, where you'll find what is considered to be the best ice cream in Paris, is located here.
2. Paris Arrondissements & Neighborhoods,
The City Paris is divided into 20 administrative districts called arrondissements , numbered from 1 to 20.
The 1st arrondissement is the core of the city - it includes the western half of Île de la Cité and a chunk of the Right Bank just above the island. The 2nd arrondissement is immediately above the 1st, and then the others spiral around them in a clockwise pattern.
A ring road, the Périphérique, circles the city. Beyond the Périphérique are Paris suburbs, the banlieues.
To the east and west are Paris's two large parks with forests and recreational attractions, the Bois de Bologne and the Bois de Vincennes. Although they are outside of the Périphérique, they are still considered part of the City of Paris.
Paris Discovery Guide Tip: What You Need to Know about Arrondissement Numbers
All Paris 5-digit postal codes start with 75, which tells you that the address is in Paris, and end with the arrondissement number, such as 07. Why is this useful to know? For example, if you have an address for a restaurant and the postal code ends in 04, you know that it is located in the 4th arrondissement.
Lower arrondissement numbers are closest to the center of the city; higher numbers are farther out.
If the postal code starts with a number other than 75, it is for a location outside of Paris. For example, 92800 is the postal code for La Défense, a Paris suburb.
Paris neighborhoods, such as the Latin Quarter, Pigalle, and the Marais, may correspond to a particular arrondissement - or they may not. For example, the Latin Quarter covers a fairly large part of the 5th arrondissement. Pigalle straddles the border of the 9th and 18th. The Marais covers much of the 3rd and 4th. Étoile refers to the area in the 8th, 16th, and 17th around the Charles de Gaulle/Etoile Métro station.
One more thing to know: each arrondissement contains four named quartiers . Although you'll hear some of the names, such as Saint-Germaine-des-Prés, most are not in common use.
More about Paris arrondissements plus a map
Find out about the best Paris neighborhoods for tourists
3. Getting to Paris
Paris has two

international airports

as well as a couple of others:
Charles de Gaulle Airport

(also called Roissy after the town where it is located) is the largest Paris airport. It is located 16 miles (25 km) to the northeast of the city. Most transatlantic flights from the US land and depart from here.

Orly Airport,

located 8 miles (13 km) south of Paris, also is used for some international flights, but mostly for flights to other parts of France and Europe.

Beauvais Airport,

53 miles (85 km) north of Paris, used by charters and European budget carriers such as Ryan Air.

Le Bourget Airport,

7 miles (11 km) northeast of Paris, is used only for non-commercial business flights. It is also the site of the huge Paris Air Show during odd-numbered years, and France's

Air and Space Museum.
Paris Discovery Guide Tip: Connecting Flights
If you will be in Paris only for a short layover before connecting to another flight, be sure you are booked to arrive and depart from the same airport.
A variety of public transportation options including trains and buses are available to and from all Paris airports.
More about transportation from Paris airports into the city
4. Getting around Paris
Paris provides excellent public transportation that makes getting around the city easy, fast, and relatively cheap.
The Paris Métro (subway) has almost 250 stations within the city limits, and almost 60 more in the nearby suburbs. There are 14 separate lines and 2 major branches. Because of the system's design, you'll never be more than a few blocks away from a station in most parts of the city. In most cases, the station-to-station Métro transit time is between 40 and 60 seconds. Over 4 million people ride on the Métro every day.
The Paris bus system provides even more extensive coverage of the city. Bus stops are even closer together than Métro stations, and are ideal when you need to go short distances. Depending on traffic, going longer distances may be slower than if you took the Métro - but since the buses travel above ground, you get to see a lot more!
The RER is the system of express trains linking the City of Paris to the surrounding suburbs and suburban attractions. For example, you can take the RER to Charles de Gaulle Airport, Orly Airport, Disneyland, Versailles, Le Bourget, and the La Vallée Village discount shops. The RER's 5 lines (called A, B, C, D , and E ) has a limited number of stations within the city - but if you are, for example, near the RER-C station at Musée d'Orsay and want to go to the famous flea market at Saint-Ouen, also on the C line, the RER is the fastest way to get there.
For stations within the City of Paris (Zones 1-2), the Métro, bus system, and RER use the same tickets and passes. If you take the RER outside of the city (Zones 3-5), you will usually need an additional ticket.
Paris taxis are plentiful, with reasonable fares. You can flag them down (look for a white light on the roof), but it can be easier to find a taxi stand, usually located near major crossroads (look for a blue sign). Virtually all taxis are equipped with GPS systems that will automatically show the driver the quickest route to your destination while taking into account traffic delays and congestion, construction/road blockages, and 1-way streets.
More about the Paris Métro
Best Paris bus routes
Getting around on the Paris RER
5. Paris Hotels & The Star System
Paris hotels are rated every 5 years, and assigned stars based on national standards. The stars, which hotels display on their signs and in online information, somewhat simplify choosing a hotel once you understand what the stars mean - and what they don't mean.
Ratings range from 1-star to 5-star, with a special Palace designation awarded to the most exceptional 5-star hotels.
Although a number of factors affect the number of stars awarded to a hotel, most pertain to factors such as room and lobby size, the number of languages spoken by staff members, the number of hours the reception area is open, and availability of amenities such as room service, a concierge, valey parking, air conditioning, and so forth.
More about the French star system - What it means, and what it doesn't
See our complete Paris Hotel Guide
Find tips for renting Paris apartments
6. Electricity in Paris
Electrical outlets in Paris deliver 230-240 volts - more than double the 110 volt service in the U.S.
Most American electronic devices must be used with a voltage converter; otherwise, you will "fry" your device by blasting it with 240 volts of electricity when it is only designed to handle 110 volts. But there are exceptions.
Electrical plug shapes also differ between the two countries, so you must have an adaptor to plug your American electronic devices into French wall outlets.
More about converters and adapters required to use your electrical devices in Paris
7. Parisian Wifi
Free wifi (pronounced wee-fee by the French) is available on the Métro and in public spaces, including parks, during business hours.
Most Parisian hotels (3-star and above) offer free wifi. If you are planning to rent an apartment for your stay in Paris and wifi is important to you, verify that it is included.
In general, wifi service is fast and reliable in Paris - although if you are visiting during in August, when many Parisians are away for vacation, service disruptions may take considerably longer than usual to get fixed.
Money
Paris, like almost all European Union members, uses the Euro as currency.
Will wifi be easy to find and use in Paris?
3. Paris weather
Because Arènes de Lutèce is hidden from view even if you walk right past it, you are unlikely to stumble upon it by accident. However, once you know where to spot the entrances, it is easy to access.
You can enter at three points: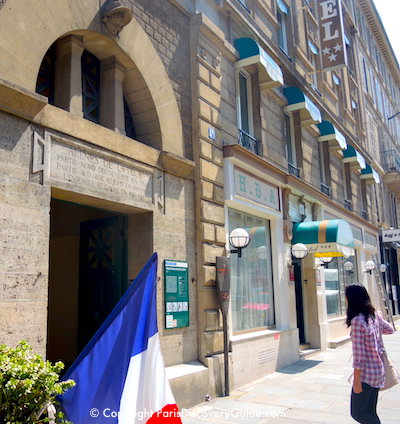 49 Rue Monge

- Closest Métro: Cardinal Lemoine

Street-side, look for an unobtrusive entrance with Arènes de Lutèce and a Roman helmet carved in the stone over the door - or look for the more visible Hôtel des Arènes sign next door.

You'll pass through a short passageway between buildings, and then walk up a flight of fairly steep stairs, as you figuratively step back in time.

At the top, the Roman arena stretches out before you with the amphitheater rising around it.
---
Rue de Navarre

- Closest Métro: Place Monge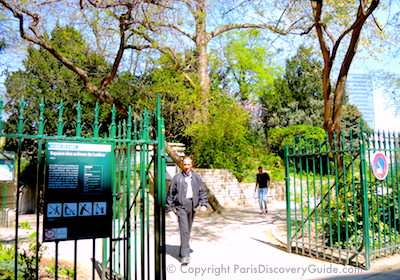 This entrance leads you straight down to the arena, offering a rather dramatic vista.
On Rue de Navarre, look for the open gate in the green wrought-iron fence along the street.
Go straight down a tree-shaded path to go directly into the arena, or follow one of the smaller winding paths to reach the top of the amphitheater in order to look down at the entire expanse.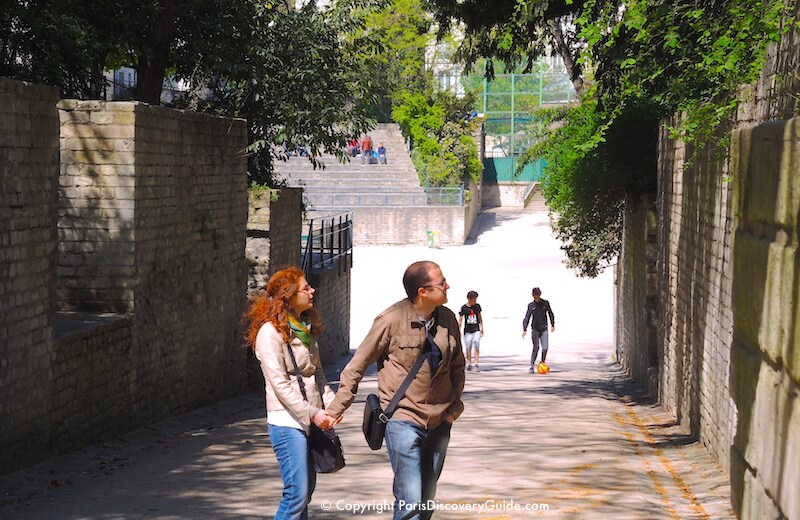 ---
Rue Linné

- Closest Métro: Jussieu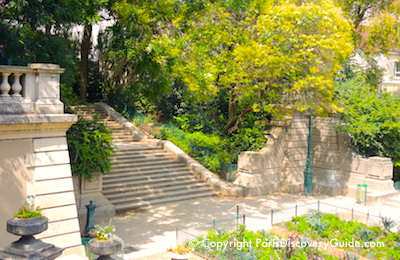 Turn off Rue Linné onto Rue des Arènes and almost immediately look on your left for a gate through the green fence leading to a children's playground and a discovery theme garden named L'illusion- this is Square Capitan.
The flights of stone steps that you'll see just beyond the garden lead you up to the grass lawn edging the amphitheater, where you can then look down on the arena.
---
Essentials: Arènes de Lutèce
Location:

49, rue Monge, Latin Quarter, 5th Arrondissement, Paris

Open:

9am-7:30pm or 8:30pm, April-October; 8am-5:30pm, November - March

Admission:

Free

Métro:

Jussieu (L 7 & 10), Place Monge (L 7), Cardinal Lemoine (L 10) 

Bus:

47, 67, 89
Things to See & Do at Arènes de Lutèce
Surrounded by a small but lovely woodland park filled with flowering plants and trees, the Arènes gives you a rare opportunity to see an actual Roman amphitheater outside of Italy and Southern France. Measuring about 433ft x328 ft (132m x 100m), it is an unusual oblong shape and historians believe it may be the largest of its kind built by the Romans.
Much of what you see is not actually original. The Gallo-Roman inhabitants of Lutetia carted off a number of larger stones to fortify Île de la Cité in the 3rd century after Germanic tribes (the "barbarians" mentioned on signs posted around the park) invaded.
During the 1200s, King Phillip II (Philip Augustus) ordered a wall to be built around the city to fortify it against possible English invaders while he fought in the Third Crusade, and as a result, the arena was filled in. (A few remnants of Philip Augustus's medieval wall still remain - you can stroll over to 12 Rue Clovis to see the section closest to the arena.)
Although Parisians continued to call the neighborhood les Arènes, eventually no one remembered the arena's location until archaeologist Theodore Lacquer discovered its northern end in 1869 during construction of Rue Monge as part of Baron Haussmann's grand redevelopment scheme for the city,
Over the next half-century, excavations revealed the area you can see today, although buildings along Rue Monge displaced one whole side of the Arènes and other parts were destroyed and then later restored as this part of the city modernized.
The best vantage points for viewing the arena are along the top of the amphitheater, which you can easily reach by any of the meandering paths, or by simply walking around the arena itself.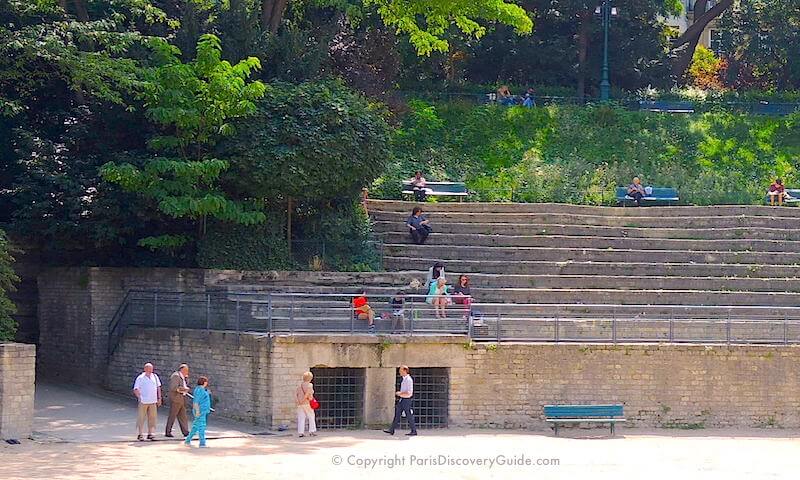 If you are visiting with teens, encourage them to join the soccer players or just go for a run around the arena.
Younger children? Stake out a spot on the grass for games and a picnic.
Or copy the Parisians - buy a sandwich and drink at a nearby boulangerie, and find a quiet spot to enjoy your lunch and a book. Spend a moment trying to imagine the early Parisians who gathered here for recreation almost 2,000 years ago. Carpe diem!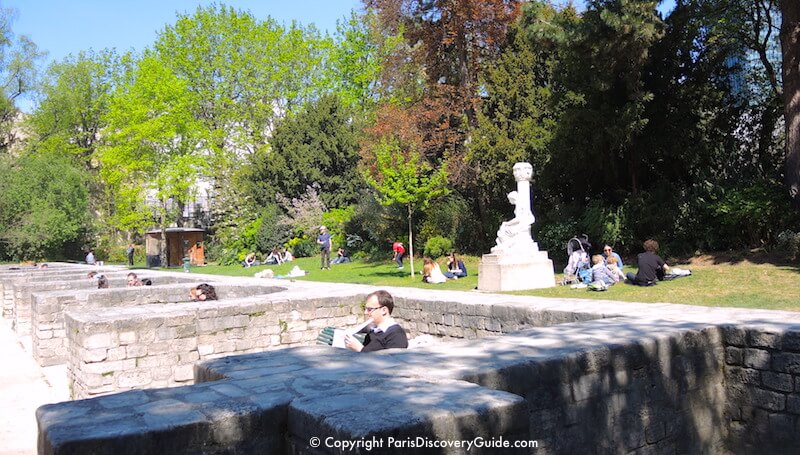 If your children are a bit older, head to the enclosed playground in Square Capitan, behind the Arènes where they can run around and try the slides while you sit on a bench.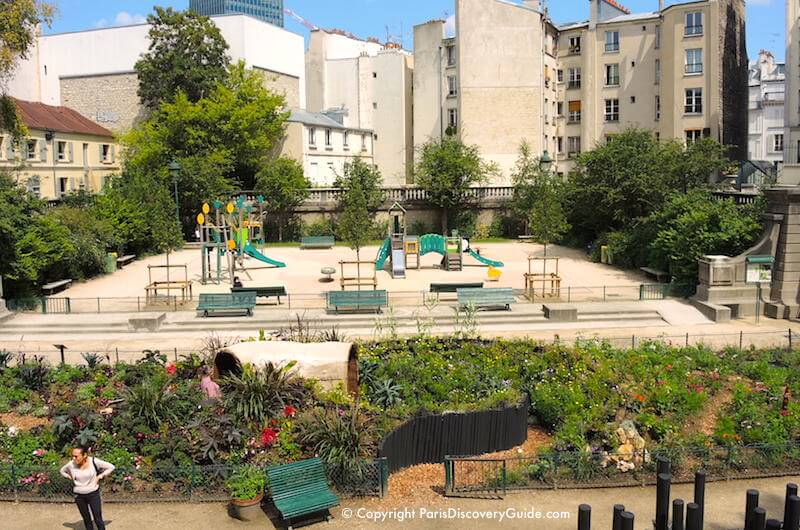 Hotels near Arènes de Lutèce - Where to Stay
Two comfortable 3-star Paris hotels close to the Arena's Rue Monge entrance offer moderate rates, air conditioning, and excellent value.
Their Latin Quarter location close to the Arènes, Paris Zoo, other nearby attractions, and 2 Métro stops also puts them only a 10-minute walk from Notre Dame, the Pantheon, and Luxembourg Garden. Both hotels serve breakfast.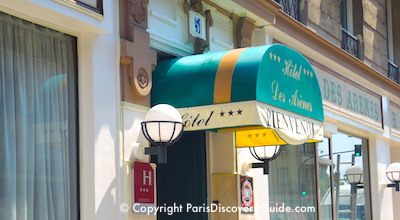 Hôtel des Arènes (51, rue Monge), located next to the arena entrance, has 52 rooms. Those at the back overlook the Arènes, and some feature small balconies.
---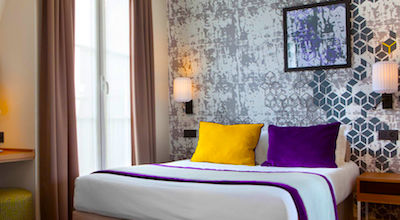 Hôtel des Nations Saint-Germain (54, rue Monge) offers 36 rooms (including a few hard-to-find quadruples and triples) recently renovated in a chic, upbeat style.
Where to Eat near Arènes de Lutèce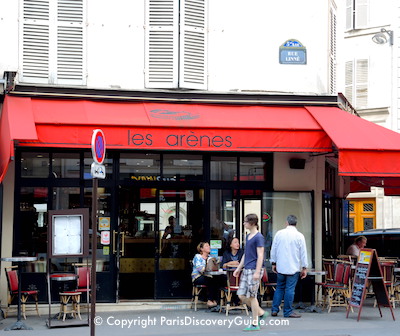 Rue Monge and other streets surrounding the arena are full of appealing cafés, boulangeries, markets, and bistros attracting mainly Parisians. You can buy sandwiches, fruit, and wine for a picnic, or enjoy an inexpensive meal.
Just a couple of blocks away, however, you'll find Place de la Contrescarpe, made famous by Hemingway, James Joyce, George Orwell, and other 20th century writers. Here, you'll find plenty of tourists clustered around numerous cafes and bistros, as well as clothing boutiques and souvenir shops.