Paris events during January ring in the New Year with celebrations and good cheer.
Although days are still short and the weather can be damp and chilly, you'll find plenty of warmth inside cozy Paris bistros, jazz clubs, museums, and concert halls, making January the perfect month to explore the "real" Paris without lines of tourists everywhere.
The eagerly awaited January Winter Sales markdowns bring a lot of excitement almost as soon as the New Year's celebrations end, with discounts offered on almost everything in the city: designer fashions, decorative items, jewelry.
If you don't want to brave the weather, you'll find plenty of tours and cruises to keep you dry while letting you experience top Paris attractions.
Top photo: Signs in Paris stores in the Marais neighborhood announcing savings for the biannual sales
---
Winter Sales on Designer Fashions - 2022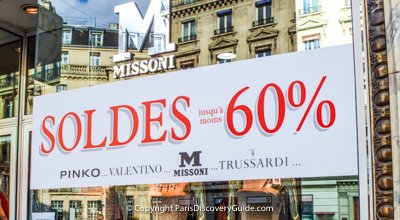 The famous Paris winter sales for 2022 run from January 5 - February 1. (To be confirmed)
As always, Winter Sales savings will be spectacular.
Look for Soldes signs in store windows all over the city, often followed by the amount of the reduction - typically 30-40% at the beginning but soaring as high as 70-80% at toward the end.
Best places to find bargains? Everywhere! Luxury labels such as Chanel, Valentino, and Armani draw huge crowds - ditto for the designer boutiques in the "Big 4" department stores: Galeries Lafayette, BHV, Bon Marché, and Au Printemps. But don't ignore smaller boutiques (head to the Marais, Les Halles, Saint-Germain-des Prés) and even global mid-market chains like Zara and H&M.
When will the special Hermes sales start? As usual, coveted Hermès bags, ties, scarves, jewelry, and other goodies go on sale for only 2-3 days - rumored to be January 5-7 at Palais de Congrès near Porte Maillot - but those dates are not yet confirmed, so check back again closer to the event.
Find out more about Paris Winter Sales 2021
---
Paris Tours for Fashionistas
---
Paris Concerts & Musical Events - January 2022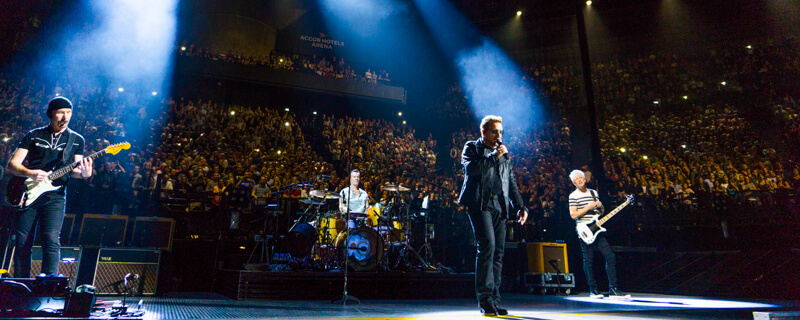 January Concerts in Paris
More Paris classical concerts during January
More Paris rock, pop, jazz, rap, indie, & other concerts during January
Find Paris concerts for other months
---
Paris Museum Exhibitions - 7 Must-See Shows for January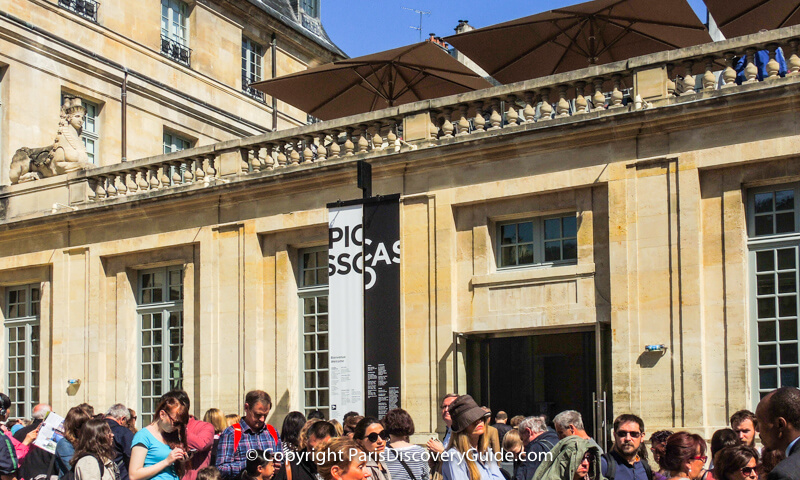 Picasso & the Comic Strip
@ Picasso Museum, Through January 3, 2021- Picasso loved comics! This fascinating, illuminating, and entertaining exhibition is the first devoted to taking a close look at the influence of graphic arts on his work - and vice-versa.
Admission: Exhibit included with museum admission. Get skip-the-line priority tickets online or with a Paris Museum Pass
Location: 5 rue de Thorigny, 3rd arrondissement; closed Mondays
Metro: Saint-Sébastien-Froissart
Aubrey Beardsley
@ Musée d'Orsay, through January 10, 2021 - Aubrey Beardsley died far too young but his bold, erotic, and imaginative drawings had an outsize impact on fin-de-siècle England. You'll see 100 of them in this importand show, plus posters and some of the his illustrations appeared.
Reserved-access tickets; free admission when you have a Paris Museum Pass
More about visiting Musee d'Orsay
Monet, Renoir, Chagall - Journeys Around the Mediterranean
@ Atelier des Lumières - through January 3, 2021 - Immersive video/digitized exhibition of Monet's, Renoir's, and Chagalls's masterpieces accompanied by original music. Tickets must be purchased online on the L'Atelier website
Open: 7 days/week
Where: 38 Rue Saint Maur, 11th arrondissement
Metro: Saint-Maur

Leonardo da Vinci
@ Musée du Louvre, October 24 - February 24 - This highly-anticipated blockbuster show marks the 500th anniversary of the painter's death and brings together 5 core works, includinging the Mona Lisa, plus many more of his paintings and drawings. The show is free, with the cost of regular admission, but you must reserve a date and time-slot ticket in advance online. Book as far in advance as possible to get your preferred date/time.
Location: Rue de Rivoli, 1st arrondissement
Closed: Tuesdays, January 1, May 1, and December 25
Tickets: 17€ (purchased online); includes admission to permanent exhibits as well; free for under 26
Stay nearby: Hotels near the Louvre
Nearest Metro: Palais Royal/Musée du Louvre, Pyramides
More info: https://www.louvre.fr
Interested in a Louvre Museum guided tour? Find out how to choose one
New Show: Permanent Collections
@ Musée Yves Saint Laurent, Through January 1 - This new presentation of the museum's permanent collection features trend-setting designs in the famous fashion designer's 16th arrondissement former haute couture workshop. Tickets 10€; open Tuesday - Sunday 11am-6pm (until 9pm on Fridays).
Location: 5 Avenue Marceau, 16 arr
Nearest Metro: Alma Marceau
More info: https://museeyslparis.com
The Great Naive Masters
@ Musée Maillol, September 11 - February 23 - Maillol Museum brings together over 100 works created between the two world wars by Henri Rousseau, Séraphine Louis, and lesser-known "primitive" artists to examine their subversive statements against the modernism of that period.
Location: 61 rue de Grenelle, 7th arr
Tickets: 13.50€ (available online for timed entry)
Nearest Metro: Rue du Bac
More info: www.museemaillol.com
Golden Age of English Painting
@ Grand Palais, through February 16 - English masterpieces from the 1760s to 1820 - spectacular paintings by Reynolds, Turner, Gainsborough, and more.
Closed on Tuesdays. Tickets 14.50€
Location: Grand Palais, Avenue Winston-Churchill, 8th arr
Closed: Tuesdays
Nearest Metro: Champs-Élysées-Clemenceau
More info: https://www.grandpalais.fr
---
Paris Museum and Attractions Passes
Get free admission and skip-the-line access to 60+ museums in and near Paris when you have a Paris Museum Pass for 2, 4, or 6 days. More info
---
Epiphany Day & Galette des Rois in Paris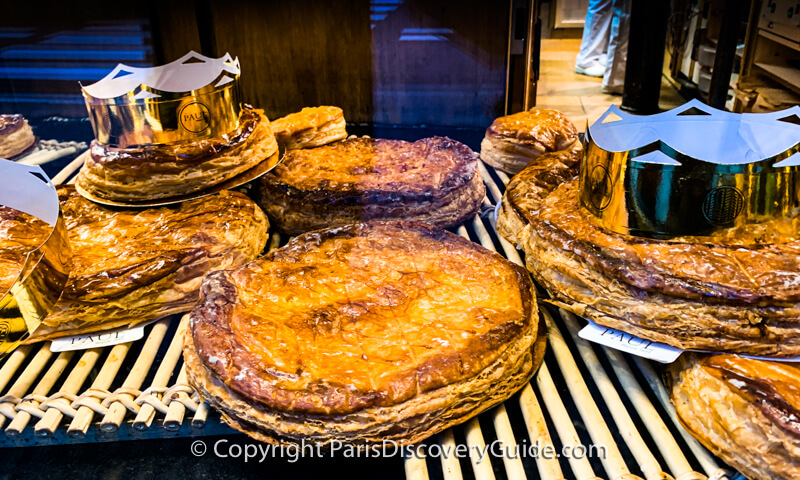 Paris (and the rest of France) observes Epiphany, the arrival in Bethlehem of Three Wisemen bringing gifts to Baby Jesus, on the first Sunday after January 1st - January 4 in 2021.
The tradition in France is to celebrate with champagne and galette des rois - Kings' Cake. This delectible confection is made from buttery puff pastry and almond paste with a tiny porcelein figurine or bean - la fève - hidden somewhere inside. When the cake is sliced and served, whoever finds the fève (hopefully without breaking a tooth in the process) gets to wear a golden paper crown for the rest of the day and even better, enjoy good luck for the coming year. Even though Epiphany is only one day, bakeries keep their windows filled with tantalizing displays of galette des rois in all sizes throughout most of January. Then the cakes disappear for the rest of the year - but you can enjoy a similar taste with an almond croissant.
---
Paris Fashion Week - January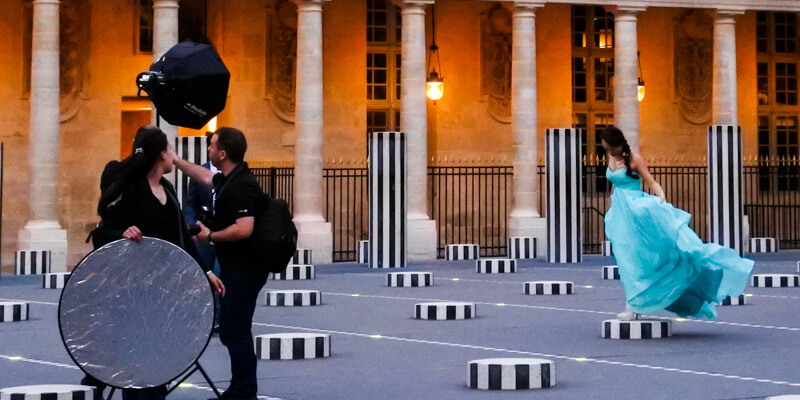 Fashion Week brings a special buzz to Paris during January, when designers, celebrities, and fashionistas from around the world converge to see the latest trends in Men's Ready to Wear (January 19-24) and Haute Couture (January 25-28). Due to the ongoing Covid-19 pandemic, the expectation is that these shows will be primarily digital.
The best places to glimpse the models (assuming you're not going to the invitation-only shows) are around the venue locations - the Grand Palais in the ritzy 8th arrondissement, Palais de Tokyo in the 16th, Espace Eiffel near the Branly Museum in the 7th, Palais Brongniart in the 2nd, and at a variety of smaller, hipper venues scattered around the city. The trendy Marais neighborhood, especially around Place des Vosges, and Palais Royal are always good model-spotting locales.
Even if you're not remotely interested in these shows, here's what you need to know: every hotel in central Paris neighborhoods fills up with attendees and rates soar (unlike Paris hotel rates during the rest of January) - so if you're planning a visit during this period, book as early as possible to get the best rates. One silver lining to the pandemic - this probably won't be an issue in 2021!
---
More Fun Things to Do & See in Paris in January
---
Need a Paris Hotel or Apartment for Your Visit?
Planning a trip to Paris? Use this hotel booking map to find hotels and apartments during your travel dates:
Check out the newest Paris hotels
---
Pin Now, Read Again Later
---
More Things to Do & See in Paris in January