What could be more magical than celebrating New Year's Eve in Paris?
With French Champagne flowing, a fantastic light show at the Arc de Triomphe, and
- but even more so during the Christmas holiday season when brilliant decorations light up the city, hot mulled wine and roasting chestnuts warm you as you browse through the Christmas markets, and Bûche de Noël and other seasonal treats fill the windows of every patisserie you pass by.
With fantastic holiday window displays at all the city's biggest department stores, pop-up ice skating rinks at iconic sites, spectatular Christmas and New Year concerts in historic churches (plus a don't-miss Handel's Messiah sing-along), and tempting sales to make your holiday shopping even more exciting, you'll discover lots of wonderful things to do and see during the holiday season.
Here are our recommendations for special ways to enjoy Paris during the holidays, including the best places to enjoy the Christmas lights and decorations, wonderful holiday tours and cruises, the best Christmas markets, churches where you can see nativity scenes and attend Christmas mass and church services, tips for where to enjoy Christmas dinner in Paris, and everything else you need to know to join in the spirit of the Christmas season in Paris.
Top photo: New Years Eve at Arc de Triomphe - photo credit: Ninara
Arc de Triomphe
To see the most lavish display of Christmas lights and decorations in Paris, head straight to Champs Élysées, where a million (yes, literally!) sparkling blue and white lights cover street trees between Place de la Concorde and the Arc de Triomphe.
As you walk along the sidewalk, you'll also see festive decorations and even more lights in most of the stores lining this famous avenue.
Although the Christmas lights usually stay on from 5pm to 2am, they will be on all night for Christmas Eve and New Year's Eve.
Stay nearby: Hotels near Arc de Triomphe
More fantastic places to see Christmas lights in Paris
More Ways to Experience Paris at Christmas
Paris Christmas Markets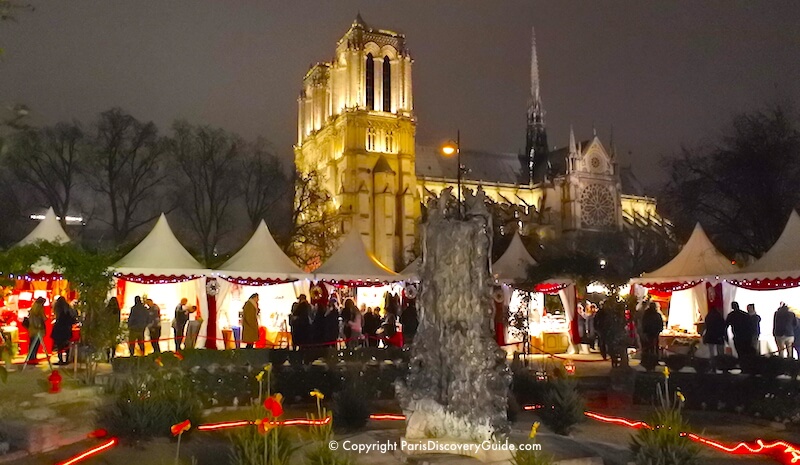 Starting in November, Christmas Markets pop up all over Paris, offering a wide variety of arts and crafts , regional food specialties, and other gifts.
With sparkling lights, brightly decorated Christmas trees, and visits from Saint Nicolas - or Père Noël, as Parisian children call him - these festive street markets attract crowds of shoppers until well into the night.
So copy the Parisians - sip hot mulled wine, munch on roasted chestnuts, and sample delicious sausages and cheese while exploring all these markets have to offer - a tradition that's been around since the Middle Ages.
Check out our recommendations for the best Christmas Markets in Paris
---
More to Do in Paris in December
Where to See the Best Christmas Windows & Displays in Paris Department Stores
Starting in early November, the four biggest Paris department stores - the grands magasins - dazzle children and adults alike with imaginative Christmas window displays featuring elaborate animated scenes complete with sparkling lights, holiday music, and plenty of jolly Santas, festive Christmas trees, teddy bears, and beautifully wrapped gifts.
Galeries Lafayette boasts the most elaborate - and most anticipated - windows, inspired by a different theme each year. For 2020, the theme is bees - you'll see them working in their kitchens, preparing for a holiday party, and conducting a royal procession for the Queen Bee. The traditional Christmas tree inside the cupola will also feature magical bees along with winter flowers. Every half hour, you'll see the tree's lights fade as bees fly around the cupola and put on a spectacular show.
Find out more about the Paris department stores' holiday windows, including locations & map
Find dates for when each store reveals its holiday windows
Where to Hear Fabulous Christmas Music in Historic Churches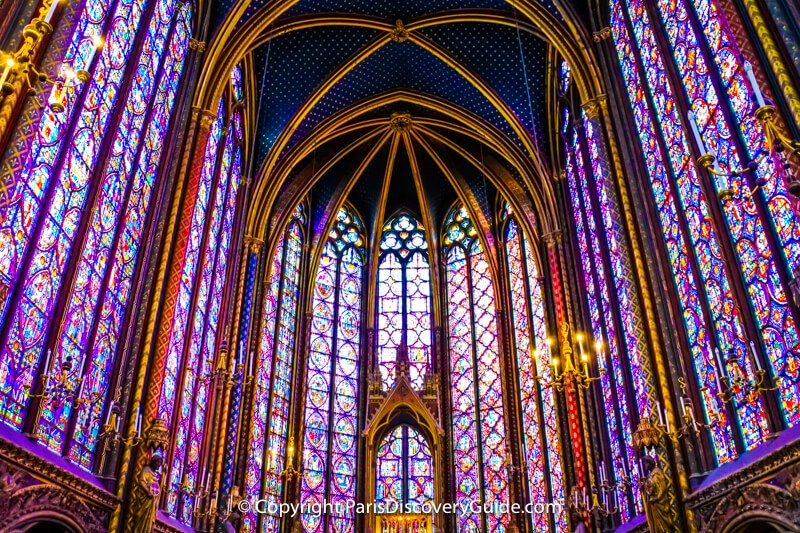 Many of these popular Christmas holiday and New Year's concerts sell out far in advance - so book your tickets now to avoid disappointment!
Christmas & Christmas Eve Concerts in Paris
More Christmas Eve & Christmas Day Performances
New Year's Eve Concerts in Paris
Plan Where to Eat Your Christmas Eve & Christmas Day Dinners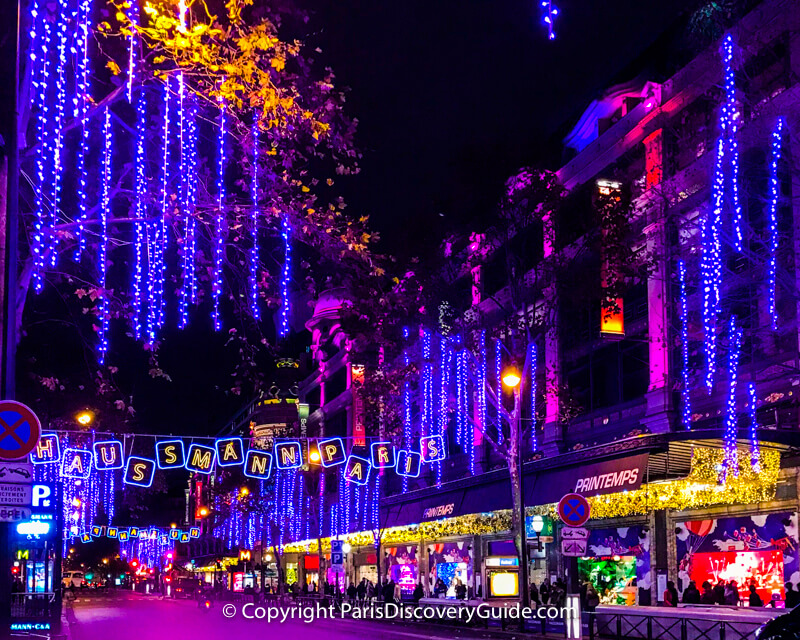 Parisians typically celebrate Christmas Eve and Christmas Day at home with family and friends over sumptuous feasts featuring traditional French holiday specialties - raw oysters, foie gras, bûche de noël, and much more!
If you're visiting Paris during this special holiday season, you can enjoy the same type of meal - but you'll need to do some preplanning and make reservations. Although many family-owned restaurants, cafes, and even brasseries will be closed for the holiday, you can still find plenty of excellent choices among the city's larger brasseries and restaurants, especially those in 4- and 5-star hotels. For a fancy dinner, expect to pay in the range of 100€-200€ per person, depending on the number of courses, Champagne, and wine. Be prepared to pay even more if Michelin stars are involved - but you can expect a meal to remember!
For something less elaborate, less traditional, and less pricy, head to the Marais where plenty of Jewish delis will be open or to the 13th arrondissement's Quartier Asiatique (Chinatown) around Place d'Italie for tasty Chinese and Vietnamese food.
Another popular option:
6. Sample Bûche de Noël & Other Special Christmas Foods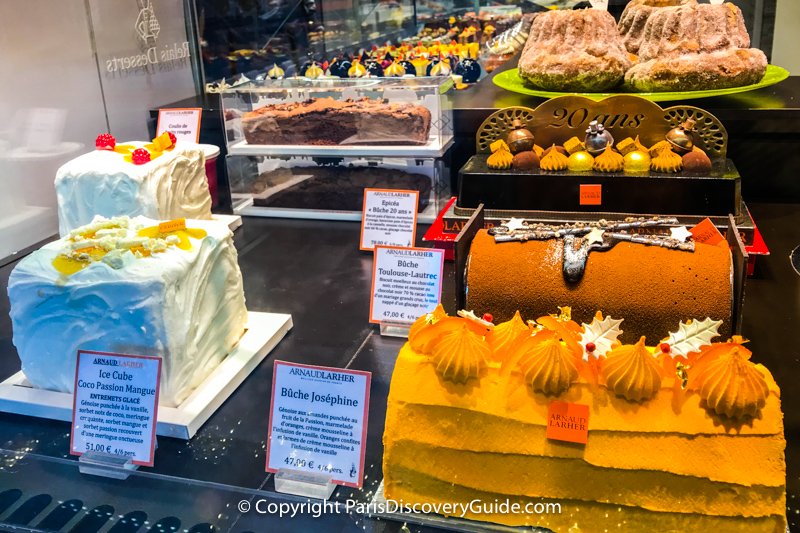 By early December, every pâtissier in Paris has filled its windows to overflowing with creative versions of bûche de noël, the traditional French Christmas log cake.
Although Parisians buy an entire cake to take home and serve to family and friends for Christmas dinner, you can easily experience this delicious concoction in many Paris tea rooms and restaurants.
Some suggestions: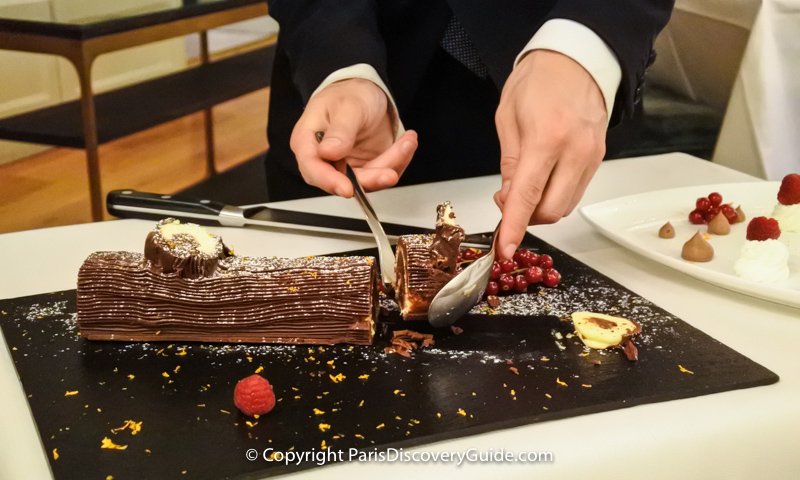 7. Take a Holiday Cruise on the Seine River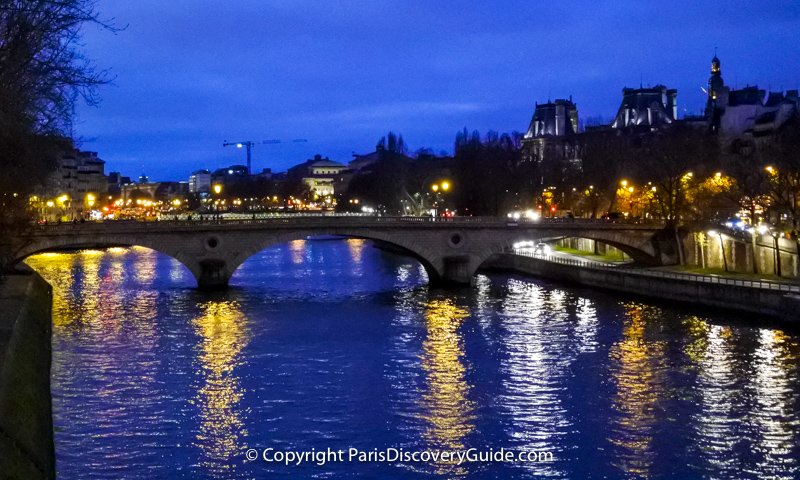 To see famous Paris lighted attractions, sparkling Christmas lights, and even the Eiffel Tower light show, take one of these popular Paris Illuminations cruises:
More Paris Christmas Tours & Cruises:
8. View Nativity Scenes in Paris Churches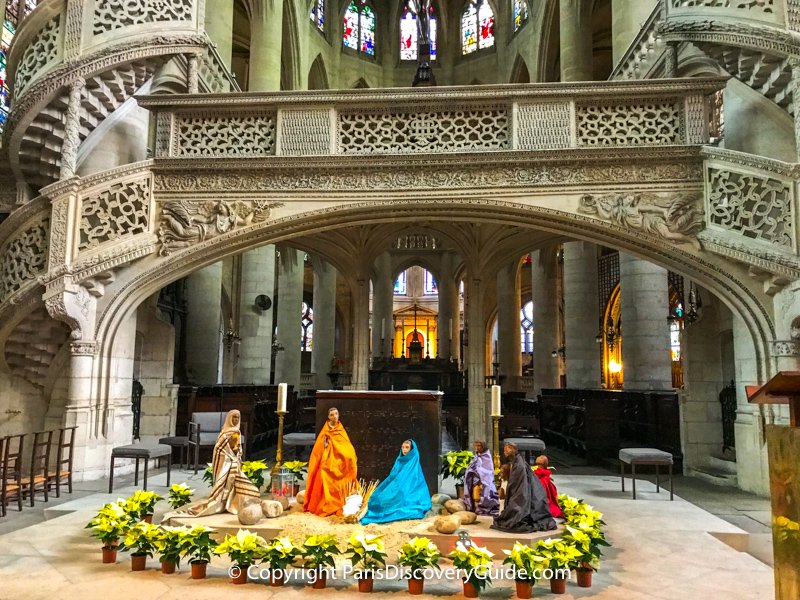 Paris churches also get into the spirit of the Christmas season. Look for special Advent calendars and displays, nativity scenes, garlands and flowers, and even the occasional Christmas tree.
For an especially memorable experience, attend a candlelight concert in a church during December.
More about Paris church concerts
9. Attend Christmas Eve Mass or Church Services in Paris Churches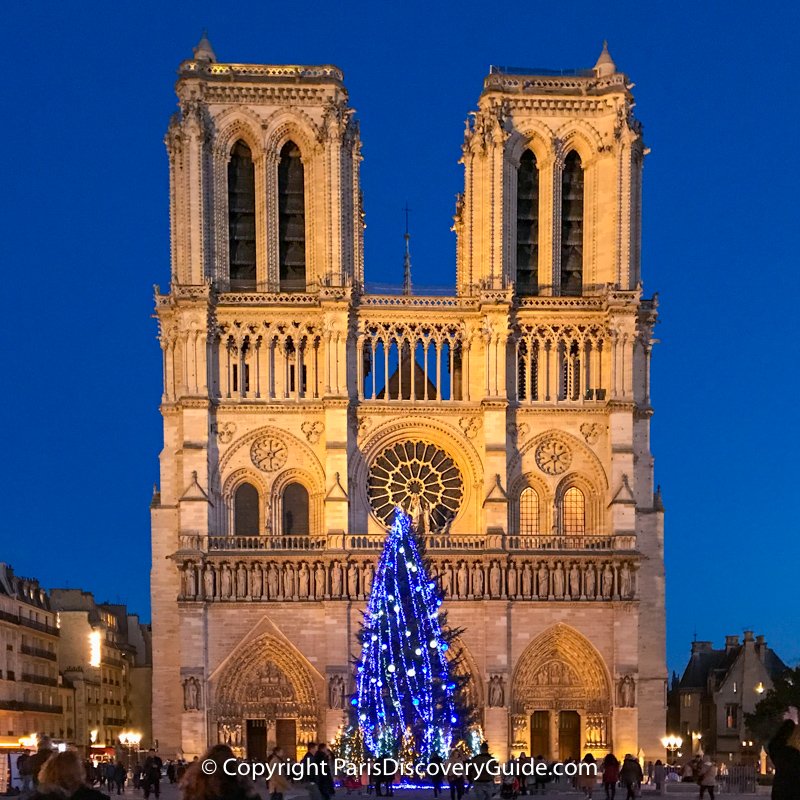 Want to attend special Christmas Eve Mass or church services in Paris?
You'll find lots of wonderful options throughout the city, from the city's grandest historic churches where you can view nativity scenes and hear spectacular organ and choral music to six smaller places of worship offering services in English.
More about where to attend Christmas Eve services, and what to expect
10. Experience Christmas at Disneyland Paris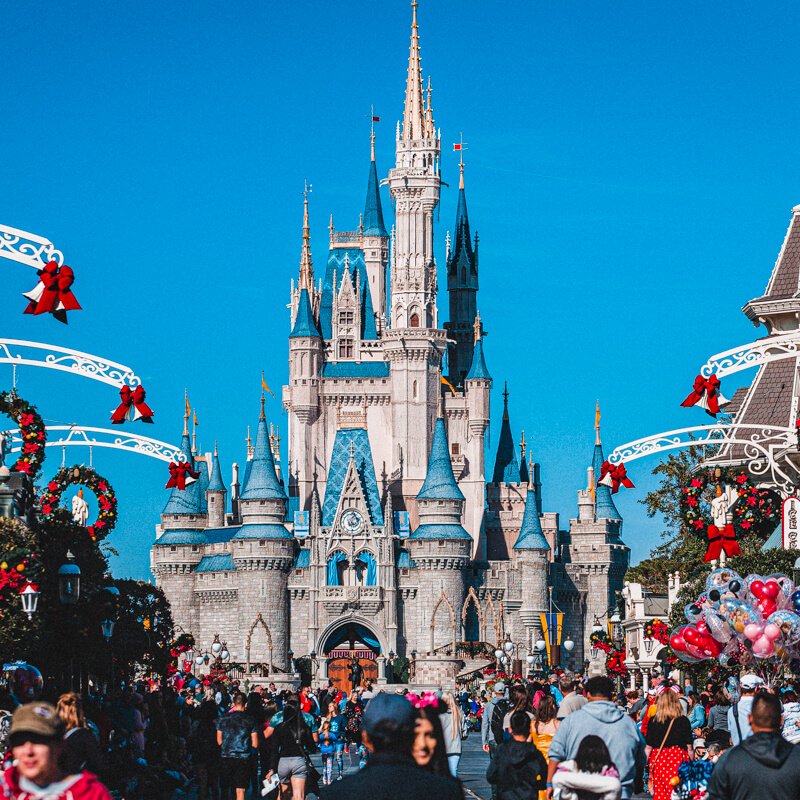 Christmas celebrations begin at Disneyland Paris in early November with plenty of entertainment and fun for everyone.
You'll find a spectacular giant tree, entertaining shows, festive Christmas parades, and dazzling holiday decorations everywhere. Don't miss two brand-new holiday shows at Walt Disney Studios® Park this year, a new immersive nighttime extravaganza, and singing carols with Santa, Mickey, and Minnie for a magical experience you won't forget!
When: Early November through early January

Disneyland Paris and Transportation
Take RER A to the Marne-la-Valee station, walk across a small plaza to Disneyland Paris, and buy your tickets at the gate - or check out these advance ticket options to make your trip faster and easier:
11. Ice Skate in Iconic Paris Locations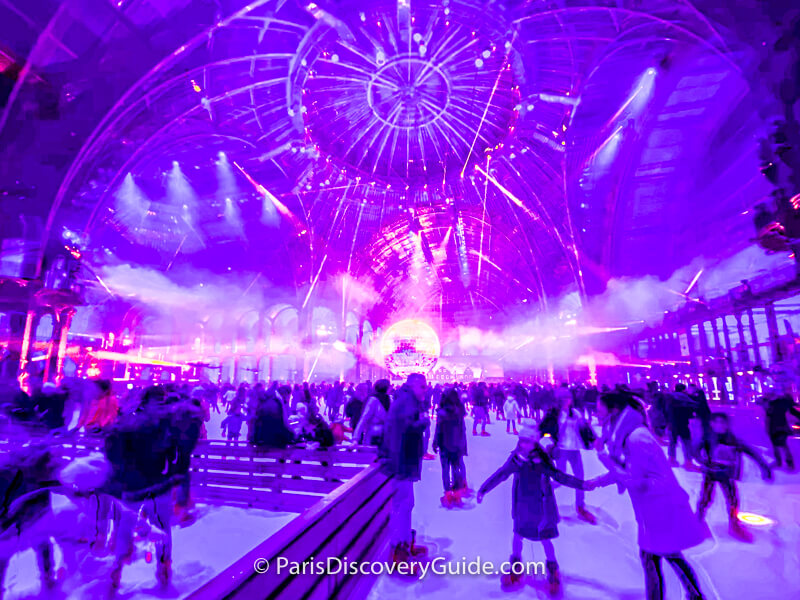 Ice skating rinks pop up in a few Paris locations just for the holidays - so don't miss this wonderful chance to skate in iconic sites (and of course take memorable selfies).
Locations vary each year - here what's planned for this year:
12. Shop for Gifts at Pre-Christmas Sales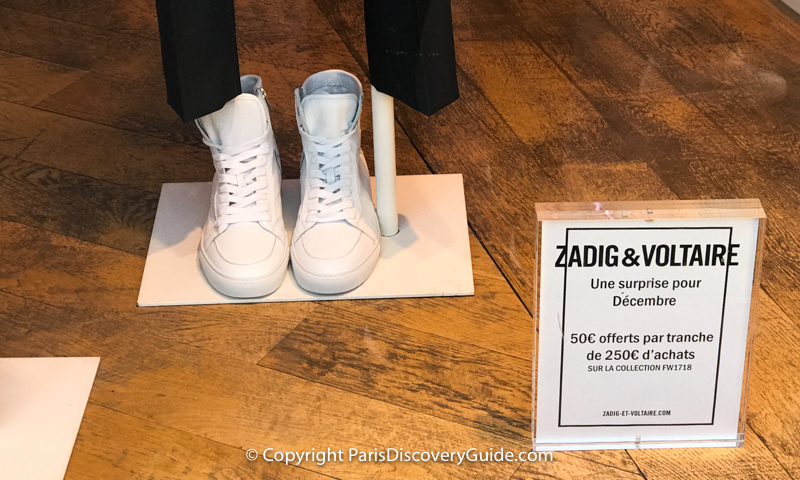 Although the famous January sales don't begin until a week or so after New Year's Day, pre-Christmas sales during December are a "Paris insider's secret" that can save you significant money on your holiday gift shopping.
How much? Clothing by well-known designers and brands usually runs around 20% off, but home decor and gift items may be reduced as much as 50%. You have to look around because by no means does every store do this - but if you happen to spot something you want, you'll be thrilled!
Stores along and around the Grands Boulevards and Champs-Elysees, as well as boutiques in the Marais are a good place to start looking - but be alert as you're walking around, because you'll see these discrete "offerts" or "reduction" signs all over the city.
13. See Paris at Night on the "Big Wheel"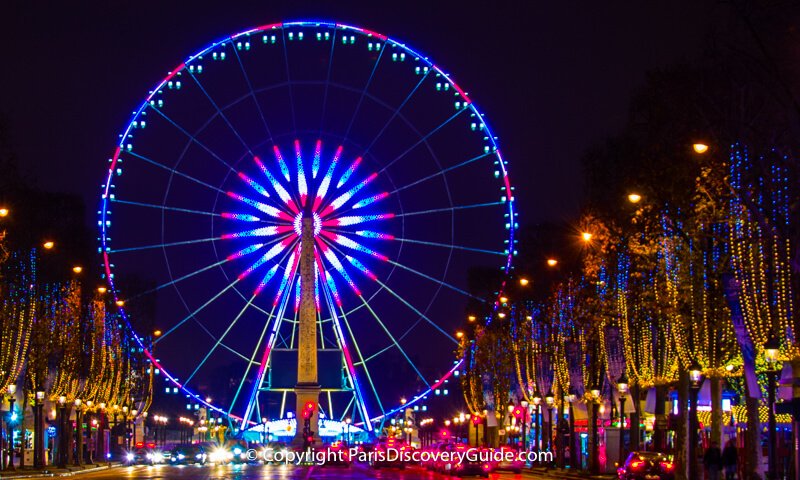 Take a ride on the "Big Wheel" ferris wheel at Place de la Concorde and get a panoramic view of holiday lights across Paris.
14. Sing Handel's Messiah in the American Cathedral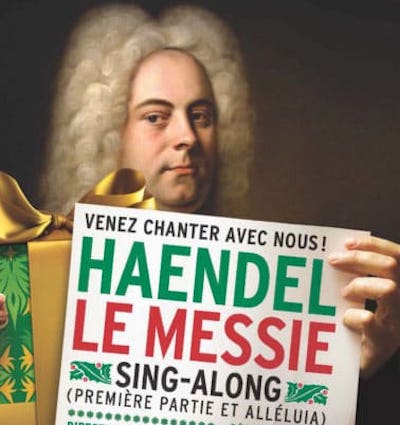 Celebrate the holiday season in Paris by joining the Paris Choral Society and a group of other Messiah enthusiasts in their annual sing-along of Handel's Messiah Part 1 plus the famous Hallelujah Chorus at the American Cathedral (23 Avenue George V, 8th arr).
If you don't already know the words or have a score, no worries - you can rent or buy one at the door.
See our December Events page for date and ticket information.
More Things to Do for Christmas in Paris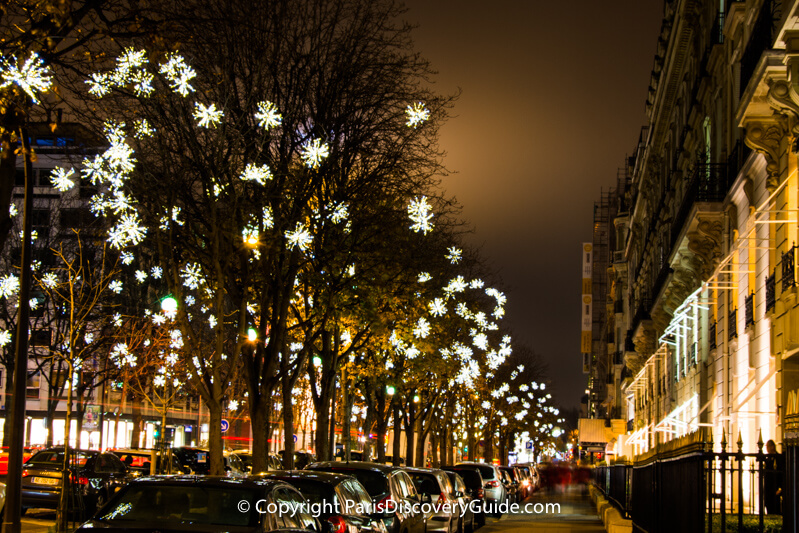 Need to Book a Paris Hotel for Your Christmas Visit?
Planning a trip to Paris during the holiday season? Use this hotel map to find hotels near your favorite Christmas events and Paris attractions:
More ways to save on Paris hotels & apartments
More Christmas Activities in Paris